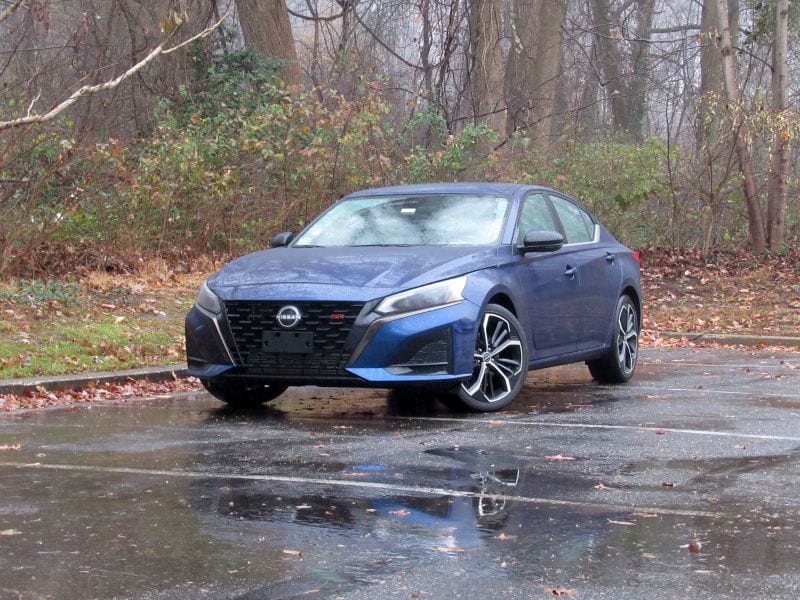 2023 Nissan Altima SR ・ Photo by Brady Holt
Less than a decade ago, the mid-size sedan was most mainstream automakers' bread and butter. They were the heart of the lineup and most brands' best-sellers. 
Since then, many buyers have shifted their allegiance to SUVs. Chrysler, Dodge, Ford, Mazda, and Volkswagen are among the brands that have discontinued their mid-size SUVs since 2013. Now, the 2023 Nissan Altima faces just six rivals. However, that doesn't mean the competition isn't fierce. To keep itself relevant in this shrinking segment, this year's Altima received an overhaul that includes updated styling and an upgraded infotainment system. We just spent a week in a fully loaded 2023 Nissan Altima SR VC-Turbo. Keep reading to learn about this sedan's pros and cons and whether it's the right family-friendly four-door for you.
Lots of Features for the Money
The 2023 Nissan Altima starts at $25,290 for the base S model and just $800 more for the popular SV. Both come packed with standard safety features that cost extra on most rivals, but the SV's modest price premium is an easy choice. It nets you an 8-inch infotainment screen with Android Auto and Apple CarPlay integration (instead of a 7-inch unit without this smartphone connectivity), a power-adjustable driver's seat, push-button starting, nicer dashboard materials, and 17-inch alloy wheels instead of 16-inchers with plastic wheelcovers. 
Next up is the sporty SR, which starts at $27,490 with a stiffer suspension, revised seats, 19-inch wheels, and sport-themed interior and exterior styling cues. The luxury SL, $31,990, includes all the Altima's major options like leather upholstery, a 12.3-inch infotainment screen with GPS navigation, wireless smartphone charging, heated front seats, an electronic parking brake, a sunroof, a surround-view parking camera, and adaptive cruise control. (Most of these features are options on the SV and SR, too.) The SR VC-Turbo, like our test vehicle, combines the SR's sporty elements with the SL's features while adding a more powerful engine; it costs $34,990.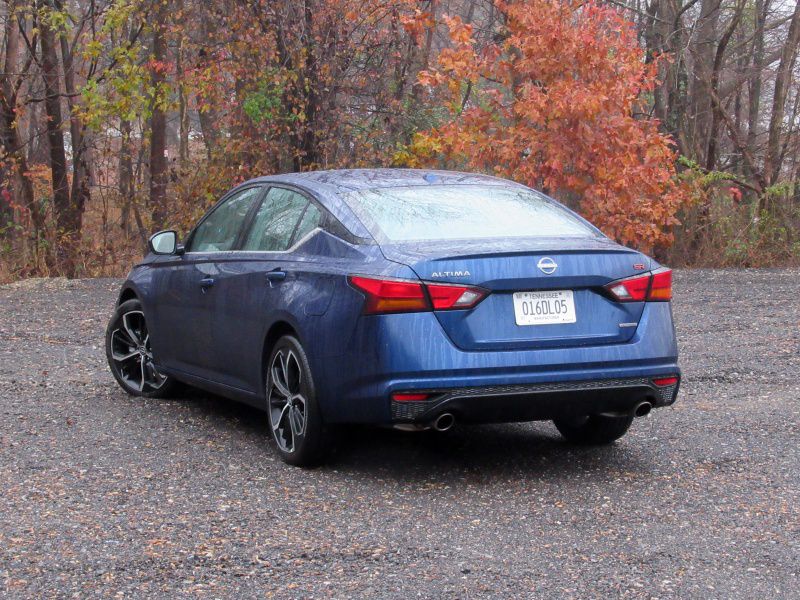 Photo by Brady Holt
Updated Exterior
The Altima has a big grille that runs all the way from the hood down to the ground, an aggressive element on a sedan that's otherwise crisp and simple. The headlights and taillights are slim, and together with the low grille, they emphasize a low, wide stance. Nissan's "floating roof" connects the side windows to the rear windshield, and the roof flows smoothly into the trunklid. This doesn't look like a car that was first styled, then stretched to the necessary dimensions; it flows gracefully from nose to tail. 
For 2023, Nissan has brightened up the headlights with crisp new LEDs, and it tidied up the thickly chromed grille by providing a slimmer chrome accent that now peels off to the underside of the headlight. Intricately redesigned wheels cap off the styling changes. Overall, the Altima strikes an appealing balance: It's assertive enough to avoid being dully generic, without being overly aggressive or showy. Indeed, this year's less-chromed grille tones down last year's only polarizing design element.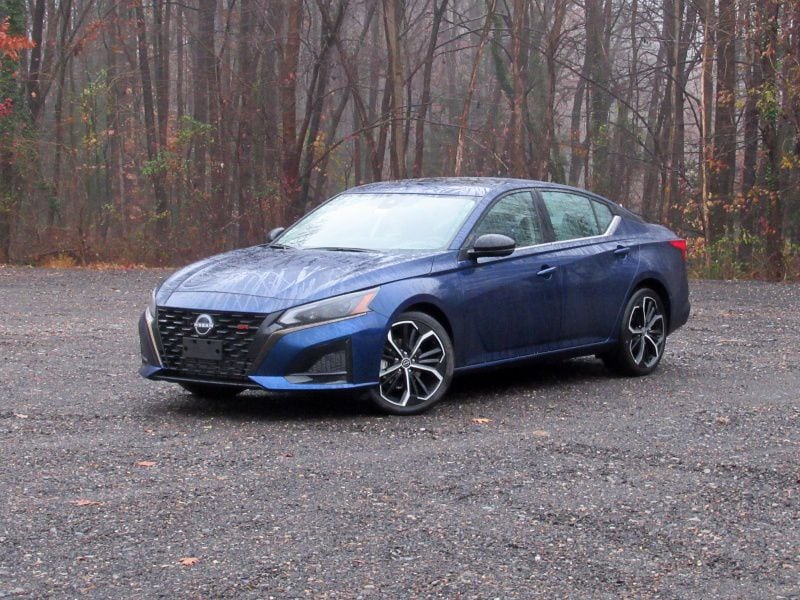 Photo by Brady Holt
Big New Touchscreen
One of this year's biggest Altima changes is on its dashboard: a brand-new 12.3-inch touchscreen infotainment screen. That's a bigger screen than any of the Altima's rivals, giving you space to see more things (like radio information next to a GPS navigation map) or spread out the display of a single selected function. What's more, the bigger screen fits better on the dashboard, filling in a space plagued by ill-fitting pieces of plastic trim. 
The big screen is an option on the Altima SV and SR, and it's standard on the SL and SR VC-Turbo. The base Altima S gets a 7-inch screen, while most SVs and SRs get an 8-inch unit. Whichever you pick, the Altima has easy-to-use controls and a generally well-finished interior (except for the misaligned plastic that remains at the base of the smaller screens). You wouldn't consider even a loaded Altima to rival a luxury car in terms of style or materials, like the latest Honda Accord or even Hyundai Sonata, but it's a pleasant place to be.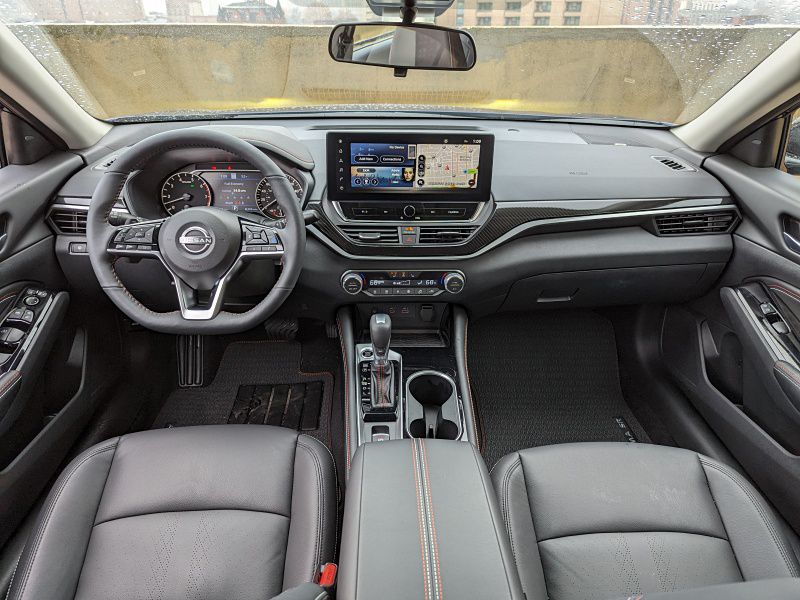 Photo by Brady Holt
Plenty of Space
Mid-size cars are sometimes known interchangeably as family sedans. And while many families have moved on to SUVs, the Nissan Altima still fits the bill with spacious seating for five passengers. 
The Altima uses what Nissan calls "Zero Gravity" seat foam, which it says provides uncommon support. We do find the Altima's seats comfortable, and buyers can choose between standard front seats in the S, SV, and SL or "sport seats" in the SR and SR VC-Turbo. (Our own pick is the cushier standard seats.) Nearly all Altimas have power driver's seats, and heated seats are standard or optional on most models as well. However, you can't get ventilated seats like on some rivals. The backseat is comfortable and has plenty of legroom, though head space is tight in the center position, and you can't get heated rear seats. Trunk space is a class-competitive 15.9 cubic feet.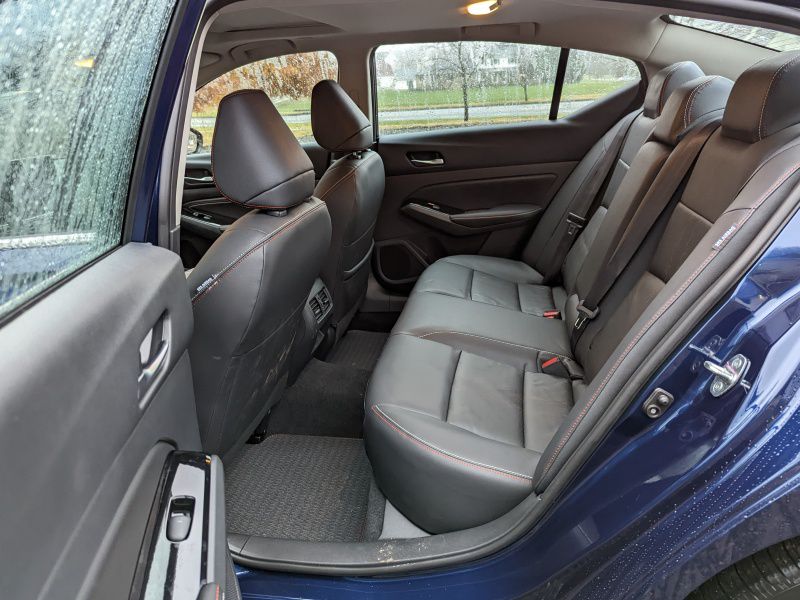 Photo by Brady Holt
Smooth Ride and Handling
Nissan likes to position the Altima as a sporty sedan. That's a promise that its steering and handling don't quite live up to. Instead, the Altima is supremely easy to drive — it glides along smoothly at whatever speed you want, fast or slow. The steering is too light for some tastes, but it's natural and responsive. And the ride is smooth and comfortable. Available intelligent ride control automatically and imperceptibly applies the brakes to help smooth out the suspension's reactions to a big bump. 
One caveat: The SR and SR VC-Turbo have a sport suspension with a stiffer ride. Bumps can slam through more harshly, and the car is less relaxed as it cruises along the highway. If sharper handling is a top priority, we'd choose a Honda Accord over the Altima. Otherwise, we'd just stick with the Altima SV or SL with the standard suspension. However, unlike the Accord, the Altima has an optional all-wheel-drive system.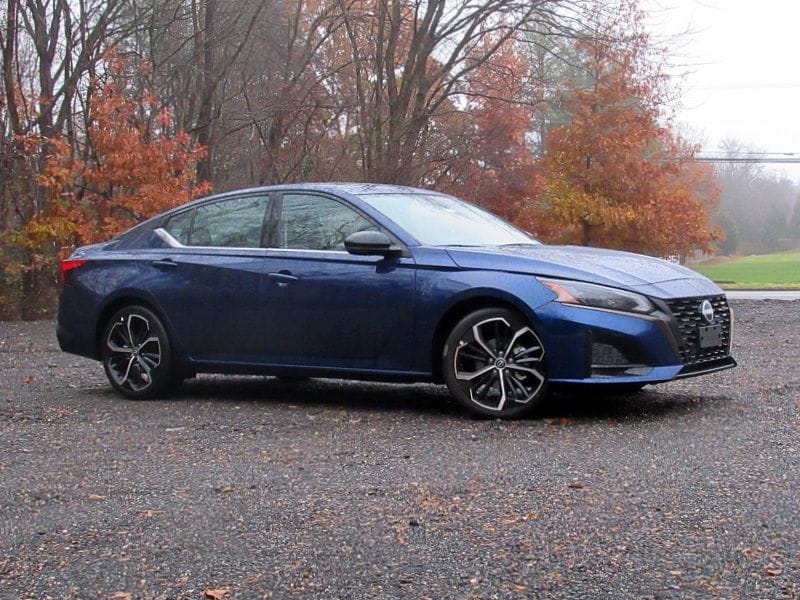 Photo by Brady Holt
Choice of Engines
The Altima comes with a choice of two engines. Most trim levels use a 2.5-liter four-cylinder with 188 horsepower and 180 pound-feet of torque, paired with a continuously variable automatic transmission. This isn't a high-performance machine, but it gets you moving without too much fuss. We prefer it to the base engines in the Hyundai Sonata and Toyota Camry, but you get more punch from the Kia K5 and Honda Accord. 
The SR VC-Turbo, meanwhile, has Nissan's unique variable-compression turbocharged engine. It has 236 horsepower and 267 lb-ft of torque, which gets it moving in a hurry with an effortless roar. Variable compression means the engine can automatically adjust itself to maximize either power or efficiency as circumstances warrant, a valuable asset. However, only the $34,990 SR VC-Turbo offers this engine. Not only does selecting the turbo mean you need the sport suspension and all the luxury features, but it also locks you into front-wheel drive. Every all-wheel-drive Altima uses the base engine.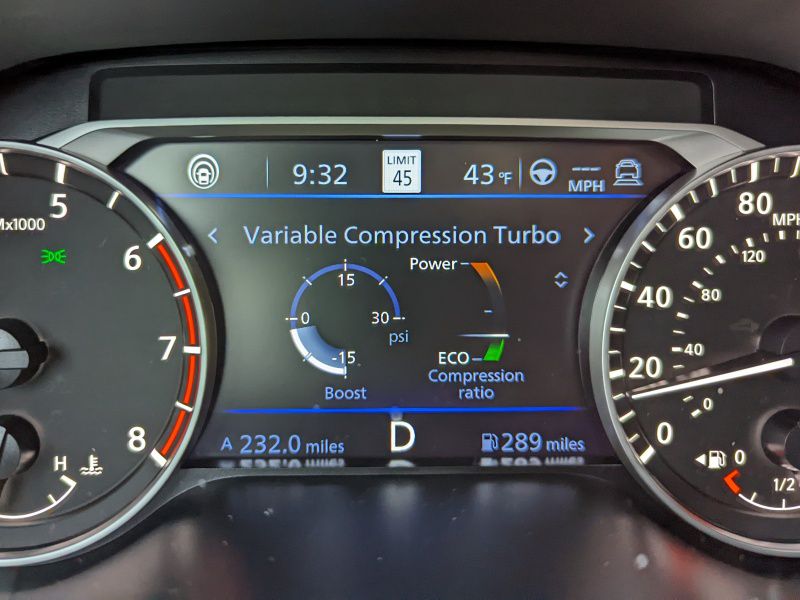 Photo by Brady Holt
Great Gas Mileage for What It Is
The mid-size Nissan Altima gets fuel efficiency that eludes some economy cars. The S and SV models achieve an EPA-estimated 27 mpg in the city, 39 mpg on the highway, and 32 mpg combined; the SR and SL dip slightly to 27 mpg city, 37 mpg highway, and 31 mpg combined; and all-wheel-drive models manage 26 mpg city, 36 mpg highway, and 30 mpg combined. 
The turbo engine is right behind at 25 mpg city, 34 mpg highway, and 29 mpg combined, trouncing rivals' uplevel engines (if they even offer one). The Toyota Camry's 301-hp V6 and the 2022 Honda Accord's 252-hp four-cylinder each average just 26 mpg. We averaged 35 mpg in a 2.5-liter front-drive S model and 33 mpg in the SR VC-Turbo, excellent real-world showings. However, unlike the Accord, Camry, or Hyundai Sonata, you can't get an Altima Hybrid with 40-plus miles per gallon. The gas-only Altima gets incredible mileage on the open highway, but in stop-and-go conditions, it can't come close to a good hybrid.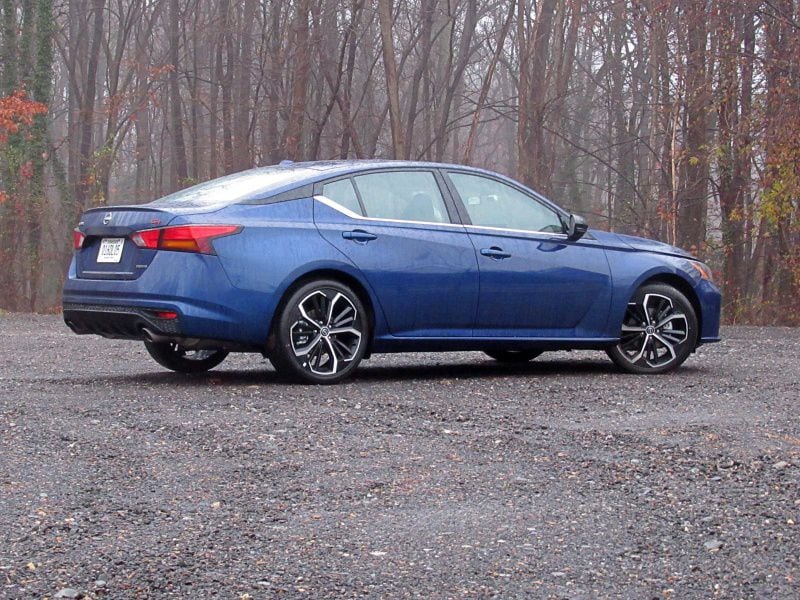 Photo by Brady Holt
Strong Competitors Remain
Even with a dwindling number of mid-size sedans on the market, the Altima still faces tough rivals. Its closest competitor is the Toyota Camry, which similarly prioritizes comfort, safety, and ease of use without slipping into dull design or lazy driving manners. We'd pick the Altima for its seamless smoothness and longer list of standard safety features, but the Camry's hybrid option is compelling. 
The Honda Accord is another mid-size go-to. Newly redesigned for 2023, the Accord feels like a higher-end vehicle than the Altima, with crisper moves and a more sophisticated interior. And like the Camry, it's available with a fuel-saving hybrid. But the Altima is cushier and less expensive. On the value end of the class, you'll the Chevrolet Malibu (nice to drive but lacking standard safety features), Hyundai Sonata (roomy and slickly styled, with an available hybrid, but dull to drive), Kia K5 (a less posh version of the Sonata with more power and features for the money), and Subaru Legacy (roomy, functional, and a snoozer to drive or look at).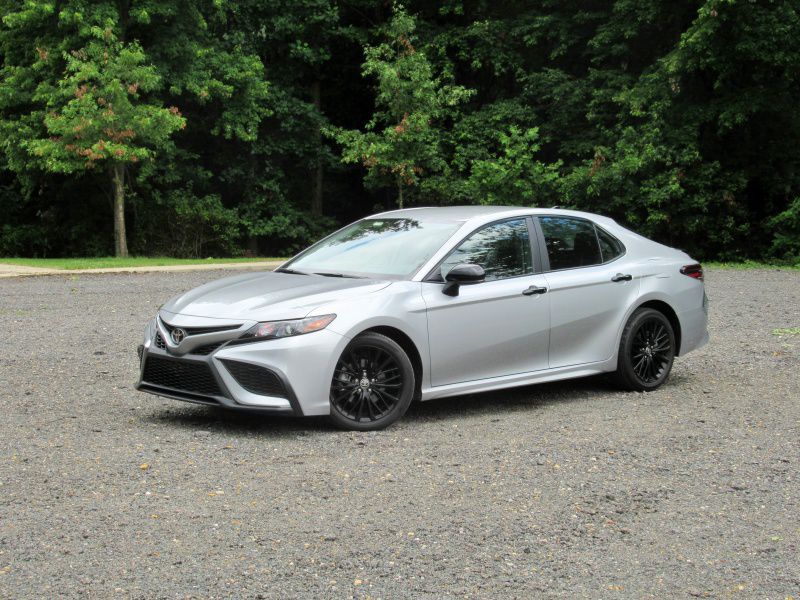 Photo by Brady Holt
Final Thoughts
The 2023 Nissan Altima is a solidly nice mid-size sedan with few glaring weaknesses and plenty of strengths. We enjoy driving it in any condition except exploring its handling limits. The driver and passengers can stretch out comfortably inside. It's packed with standard safety features at a reasonable price. Its well-executed engines deliver respectable power and excellent gas mileage. 
You can find competitors that feel more luxurious, more fun to drive, more economical (in hybrid form), or even less expensive than the Altima. We wish Nissan had provided better fit and finish, especially with the base infotainment systems. And we wish we could get the excellent turbo engine without the SR model's stiffer ride and sport seats. But overall, it's a worthy, well-priced mid-size sedan that holds up well in a still-competitive class.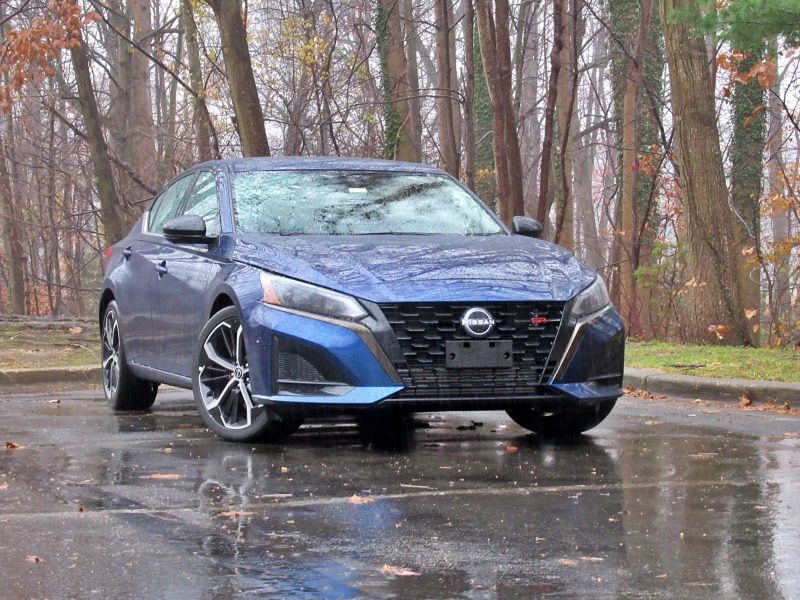 Photo by Brady Holt