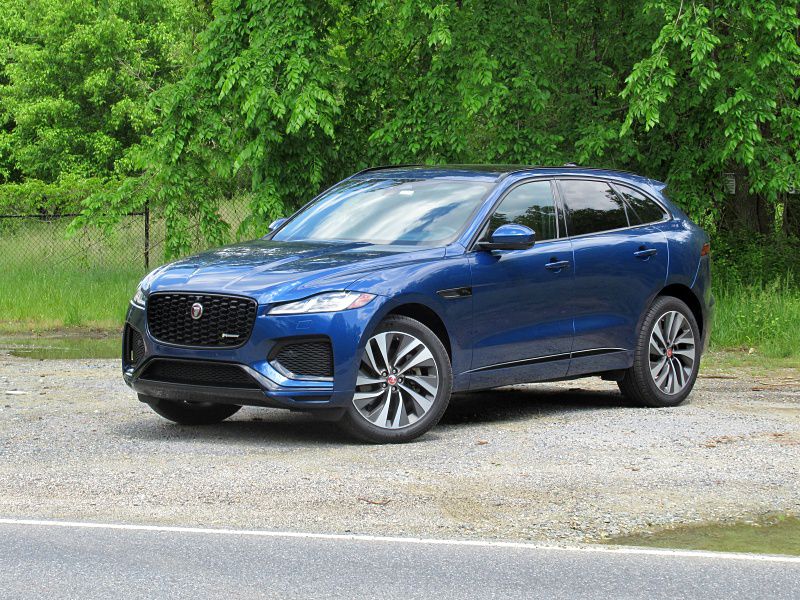 2021 Jaguar F-Pace ・ Photo by Brady Holt
When Jaguar first introduced the F-Pace way back in 2017, it was still novel for a brand like Jaguar to introduce an SUV. Now, it would be bizarre if anyone didn't. The 2023 Jaguar F-Pace faces a sea of rivals in the hot compact luxury crossover segment. 
Jaguar hasn't let the F-Pace fade into irrelevance. Over the past six years, the British carmaker has changed out its top SUV's engines, dashboard, and infotainment technology, while also making various other styling and mechanical adjustments. And while Jaguar can seem like an elite luxury marque like Maserati or Bentley, the sporty F-Pace starts at a comparatively attainable $52,400. We spent a week testing a mid-level F-Pace to check in on these improvements and see whether Jaguar still makes a competitive luxury SUV after all these years. Keep reading to see what we learned. 
Jaguar Styling, SUV Body
Most compact luxury crossovers are their brands' entry-level SUVs. Those brands can't let them outshine the pricier models that are sold in the same dealership. Jaguar doesn't have that problem. It sells two conventional crossovers, and the F-Pace is the bigger of them. (The other is the subcompact E-Pace; there's also a low-slung electric Jaguar suv called the I-Pace.) 
The F-Pace's slim headlights and taillights and a hunched-forward body speak to its performance intent. Yet it also has the size and height of a true SUV, not a slightly taller hatchback like the rival Porsche Macan. And it uses its purposeful silhouette to emphasize its sporty nature, not relying on gimmicky aggressive details; this is a clean-looking vehicle overall. It's a perfect translation of Jaguar's design language onto an SUV body.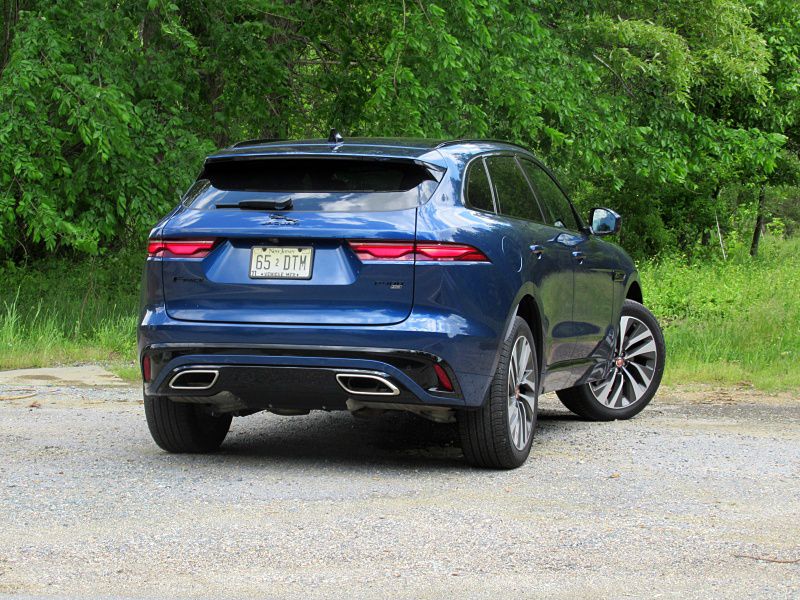 Photo by Brady Holt
An Interior Worthy of the Badge
Jaguar interiors were once known for their acres of burled wood and swaths of decadently supple leather. Then the brand went through an austere performance-focused stage that, to us, came across as downright drab. That was still Jaguar's prevailing design scheme when the F-Pace debuted in 2017. 
If you haven't looked at the F-Pace lately, look again. Jaguar completely redesigned its dashboard in the 2021 model year, and the F-Pace now has one of the richest cabins of any compact crossover. Instead of anonymous curves and empty expanses of plastic and vinyl, today's F-Pace cabin has crisp lines, rich leather, and textured aluminum. Like the exterior, the interior is cleanly designed — using simplicity to be upscale rather than dull. A big 11.4-inch touchscreen infotainment system, standard even on the base model, also dresses up the cabin; the gauge cluster is also a reconfigurable digital display. Some of the controls could be simpler to figure out, but we have nothing but compliments for the looks or build quality. And a couple of labels say "Est 1935, Coventry" to remind you of Jaguar's storied English heritage.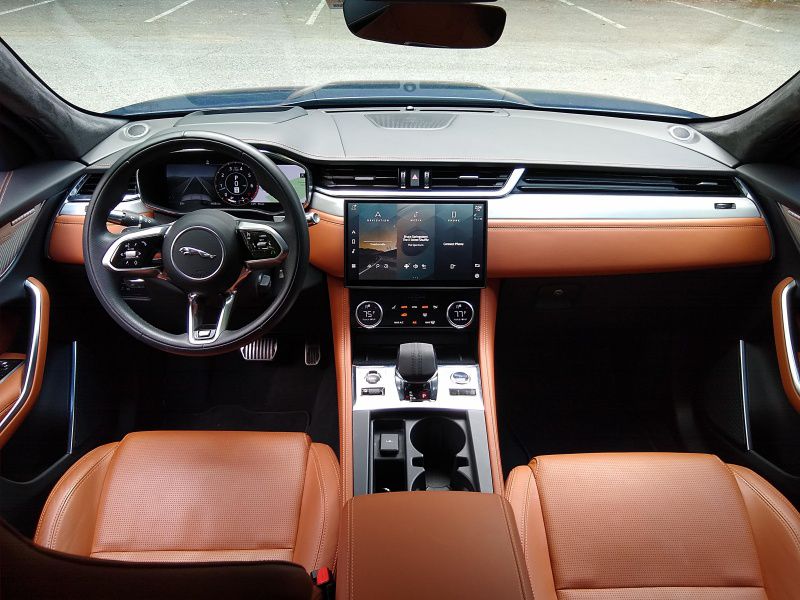 Photo by Brady Holt
Land Rover Relationship Keeps It Useful
We mentioned how many compact crossovers, especially performance-focused models, are barely higher off the ground than sedans. That's not the case in the Jaguar F-PACE. Jaguar is the sister brand of off-road icon Land Rover, and it borrowed some Land Rover lessons in building its first SUV. 
The F-Pace's front seats might as well be plucked from a sports car and placed up on a pedestal. You get the beautiful and supportive buckets of a Jaguar F-TYPE roadster, yet you look out over its roof from the F-Pace's cockpit. There's also plenty of room to spread out for this size of vehicle. The rear seat is adult-friendly, too. Cargo space is another pleasant surprise. Despite this SUV's sporty shape and compact dimensions, it provides 31.5 cubic feet of luggage room behind its rear seat and 69.1 cubic feet with the rear seat folded. That's more than even the mid-size Porsche Cayenne, to say nothing of the compact Macan. And it boasts a class-leading towing capacity of 5,291 pounds, even with its base four-cylinder engine.
Photo by Brady Holt
Sporty Handling and More
You'll appreciate those supportive bucket seats when you reach a winding road. As befits a Jaguar, the F-Pace is both comfortable and fun to drive. 
The best part is the handling. The F-Pace is quick-witted and responsive, with natural-feeling steering and high handling limits. Along with the Porsche Macan, Alfa Romeo Stelvio, and BMW X3 and X4, it's among the nimblest SUVs you'll find. The high seating position means you won't forget you're in an SUV rather than a sports coupe, but you can still play with this Jag on the pavement. Selectable driving modes include comfort, dynamic, and eco, letting you choose your desired flavor. And an available adaptive suspension adjusts itself automatically in response to pavement conditions. Even in comfort mode, this isn't a cushy car. Still, it's agreeably smooth and quiet, and it avoids being overly disturbed by bumps. What's more, Land Rover DNA rears its head again with an above-average 8.4-inch ground clearance and an advanced all-wheel-drive system that's engineered to help you through messy conditions.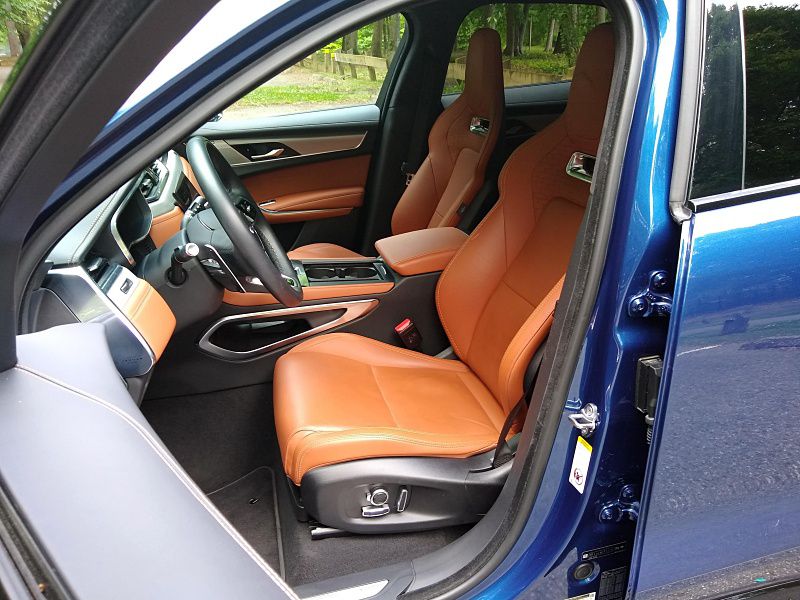 Photo by Brady Holt
Choose Among Fast, Faster, and Fastest
The 2023 Jaguar F-PACE comes with a choice of three engines. The base engine is a 2.0-liter turbocharged four-cylinder that Jaguar calls the P250. It makes 247 horsepower and 269 lb-ft of torque and reaches 60 mph in less than 7 seconds. That's quick enough for many drivers, but performance lovers have other options to consider. 
Next up is the P400, like our test vehicle. Its 3.0-liter inline six-cylinder engine features turbocharging, supercharging, and mild-hybrid electric boost, which bring the total output to 395 hp and 406 lb-ft of torque. (Jaguar has discontinued a 335-hp version of this engine that it called the P340.) We found the P400 engine to be rich-sounding and furiously quick yet also easy to drive gently; it hits 60 mph in 5.1 seconds. If that's not wild enough, you can even go for the P550, whose supercharged 5.0-liter V8 makes 550 hp and 516 lb-ft of torque. Its 0-60 time is a mere 3.8 seconds.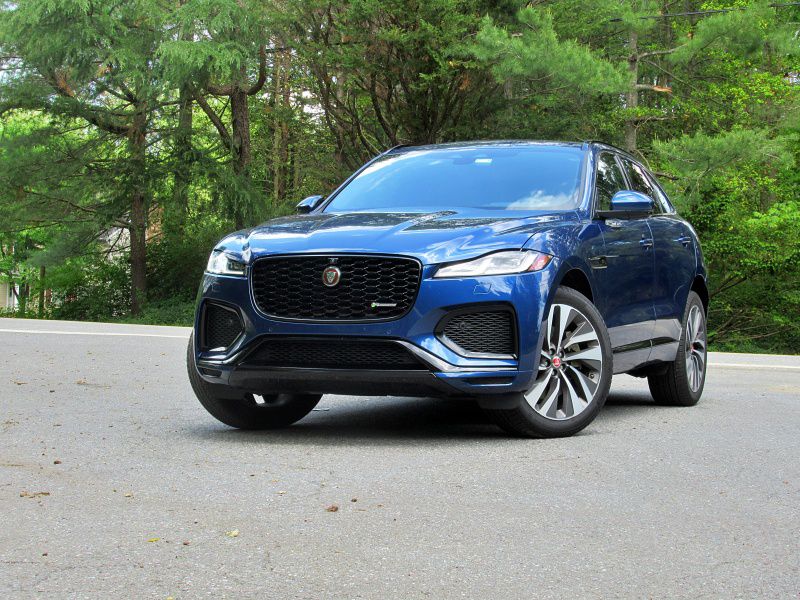 Photo by Brady Holt
Not Even a Gas-Guzzler
The F-Pace wasn't built as a fuel-sipper, especially in an era of electric and plug-in-hybrid SUVs. And Jaguar discontinued its road-trip-friendly diesel engine years ago. Still, the F-Pace's gas mileage stacks up well against conventional rivals with equivalent performance. 
The four-cylinder P250 achieves an EPA-estimated 22 mpg in the city, 27 mpg on the highway, and 24 mpg combined. And the six-cylinder P400 is rated at 19 mpg in the city, 26 mpg on the highway, and 22 mpg combined. You can find some competitors with even better gas mileage, but these numbers are definitely class-competitive. The V8 P550 does make you pay for its extra noise and speed with an estimated 15 mpg city, 21 mpg highway, and 17 mpg combined.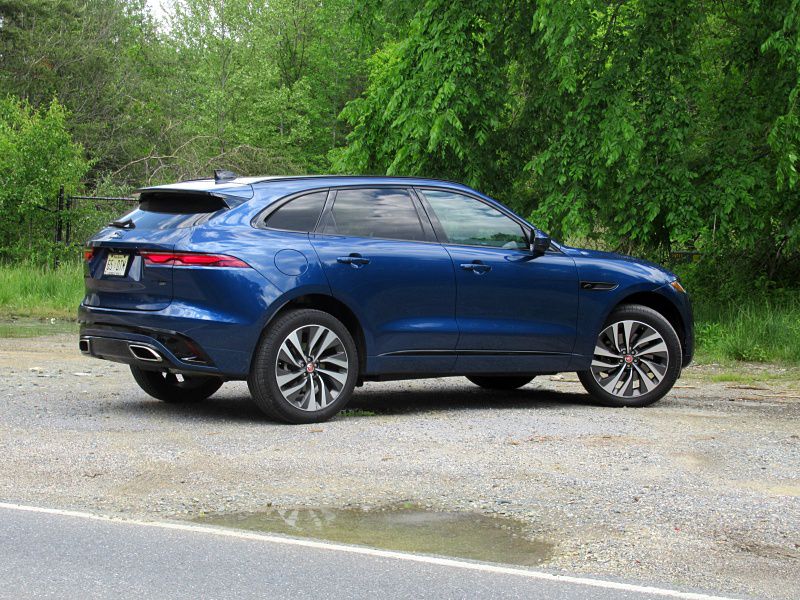 Photo by Brady Holt
Less Expensive Than It Could Be
The F-Pace isn't a budget-priced SUV. It starts at $52,400, among the highest of any compact crossover and about $7,000 more than the Audi Q5 or BMW X3. Upgrading to the Jaguar's six-cylinder engine means spending at least $64,800, and our six-cylinder test vehicle swelled all the way to $82,245 with options. The V8-powered SVR model starts at $89,500 and can hit six figures. 
On the other hand, Jaguar has several important justifications for that elevated price. First, it has a lot of standard features, including all-wheel drive, a panoramic sunroof, front and rear parking sensors, and a suite of advanced driver aids, items that cost extra on most competitors. Secondly, the F-Pace is roomier than most of its fellow compact crossovers, making it an alternative to some costlier mid-size models. And lastly, if you move to its upgraded engines, you'll struggle to beat the F-Pace's horsepower for the dollar in the luxury segment. Not many SUVs have a 550-horsepower V8 at any price.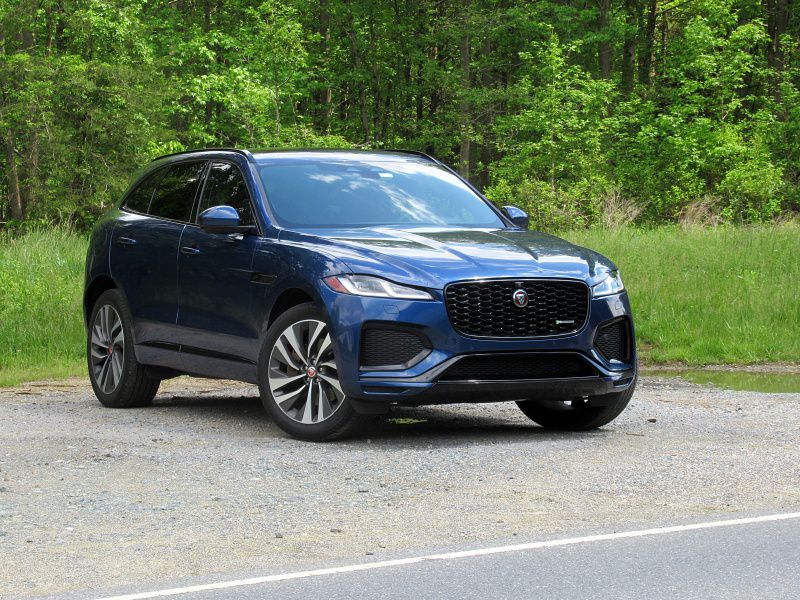 Photo by Brady Holt
Competitors to Consider
The market for performance-focused compact luxury crossovers is surprisingly robust. In addition to the F-Pace, your options include the Alfa Romeo Stelvio, Porsche Macan, and Maserati Grecale, along with the well-rounded and fun-to-drive BMW X3 and Genesis GV70. From an objective standpoint, the F-Pace is on the pricier end of this group but has a roomier and more opulently finished interior than most of the others.
You could also consider the F-Pace as an alternative to larger mid-size SUVs like the BMW X5, Porsche Cayenne, Mercedes-Benz GLE, and Lexus RX. It has the style, opulence, and usefully roomy interior to run with these SUVs, and its prices are much more palatable in their company. Meanwhile, if you're more interested in panache than performance and haven't fallen in love with the Jaguar in particular, our favorite purely sensible models in this class include the X3, the GV70, and the value-priced Acura RDX and Lincoln Corsair.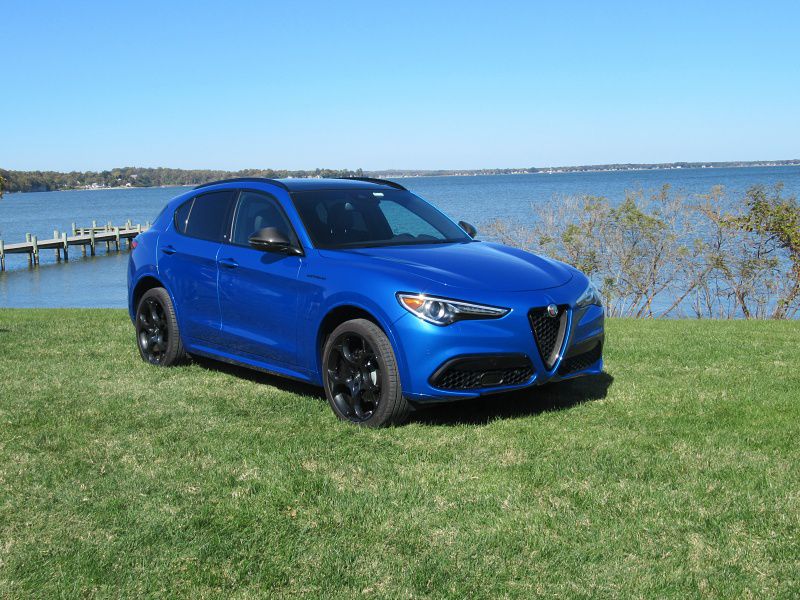 Photo by Brady Holt
Style, Performance, Luxury, and Utility
Since its debut, the Jaguar F-PACE has artfully married slick styling, lively performance, and unexpected levels of usefulness. And unlike back in 2017, today's F-Pace also includes the beautiful interior this excellent SUV has long deserved. 
From a purely logical perspective, the F-Pace is more expensive than its rivals and has clunkier controls. If nothing about the F-Pace's beauty or performance has captivated you, there is a long list of sensible alternatives. But with a spacious cabin, excellent driving manners, and incredible performance from its optional V8, the F-Pace doesn't rely exclusively on its English charm. If this Jaguar has you under its spell, it has the substance to back up its beauty.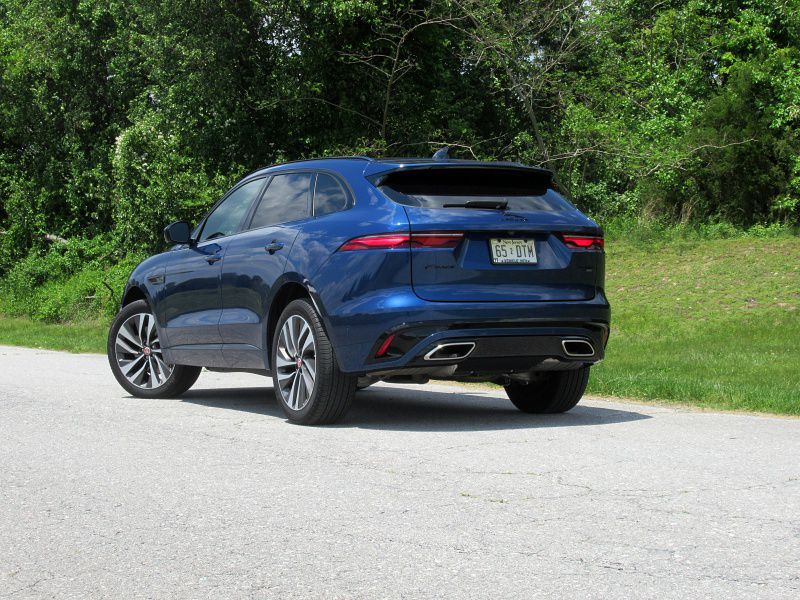 Photo by Brady Holt