2022 Toyota Corolla XSE ・ Photo by Brady Holt
The Toyota Corolla has been one of America's best-selling cars for decades. That's typically not because this compact sedan wins over the automotive press with its gorgeous styling or sporty performance. Rather, it's because the Corolla is an affordable way to get Toyota's sterling reputation for reliability.
Today's Corolla does even more. This isn't merely basic but solidly built transportation. The current Corolla, introduced as a 2020 model, looks sharper, drives better, and has a better-finished interior than past generations. Of course, the Corolla's competitors keep getting stronger, too. While many Corolla buyers are happy to stick with their reliable winner, we're going to evaluate how it fits into a crowded marketplace of excellent compact sedans. We just tested a 2022 Toyota Corolla so we can evaluate its pros and cons. Keep reading to learn all the details and find out if this is the right choice for you. 
Affordable Pricing
Affordability is key to the Corolla's success. It's not the least expensive compact sedan you can buy, but Toyota doesn't command a steep price premium for this highly respected name.
The 2022 Corolla sedan starts at $20,075 with a long list of standard features. The L model isn't unbearably sparse, providing a long list of convenience, comfort, infotainment, and safety features. But most people will spend a bit more for the volume-leading LE, priced from $20,525, to add a keyfob for remote door locking/unlocking (singlehandedly justifying the price bump), a larger infotainment touchscreen, automatic climate control, and heated side mirrors. The XLE, $24,475, brings leatherette upholstery, heated front seats, a power driver's seat, alloy wheels, push-button starting, and a moonroof. The SE, $22,525, is a $2,000 premium over the LE with similar features except for dressier design details (including big 18-inch alloy wheels) and a larger engine. The same is true of the XSE versus the XLE, though in this case it's just $1,500 extra. Lastly, there's a gas-electric Corolla Hybrid; it costs $23,650 with a few more standard features than a gas-only LE, but no high-end options. Comparably equipped, it's a premium of about $2,500 over the gas model.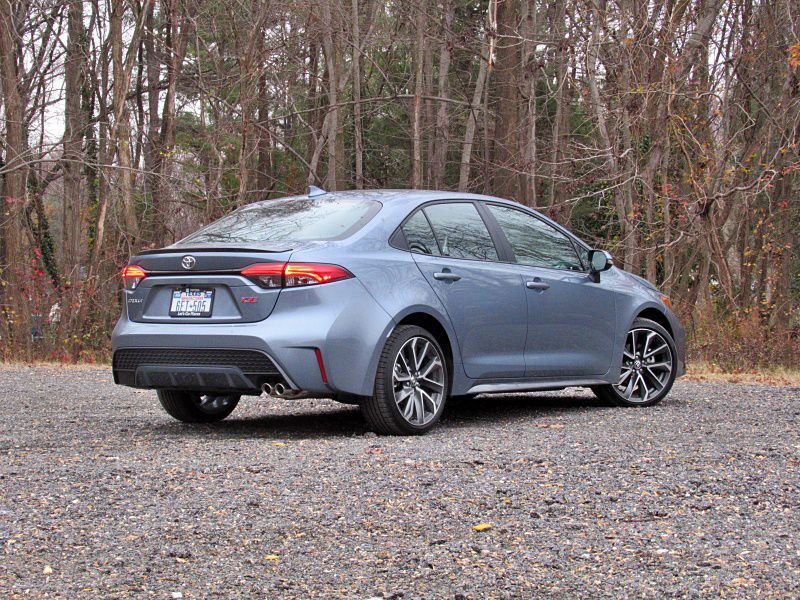 Photo by Brady Holt
Sharp Styling
Though it's known for being conservative, the Corolla has picked up more style in recent years. The 2014 to 2019 model became chunky and assertive, while the 2020 redesign brought slimmer, crisper headlights for a subtly assertive squint. A slim black grille connects the two intricately detailed headlights, with a larger opening occupying the front bumper below it.
Though sharper than before, the Corolla doesn't have an in-your-face design like the Honda Civic or the upcoming Hyundai Elantra — if you don't want your car to draw attention, the Corolla will comply, especially from the rear end. We also appreciate the way Toyota didn't leave prominent placeholders to indicate where optional foglights would have been. Instead, the dressy sport-themed models include a more aggressive front bumper, along with bigger, flashier alloy wheels and a rear lip spoiler. And even without the fog lights, Corollas like this pictured XLE still look sharp.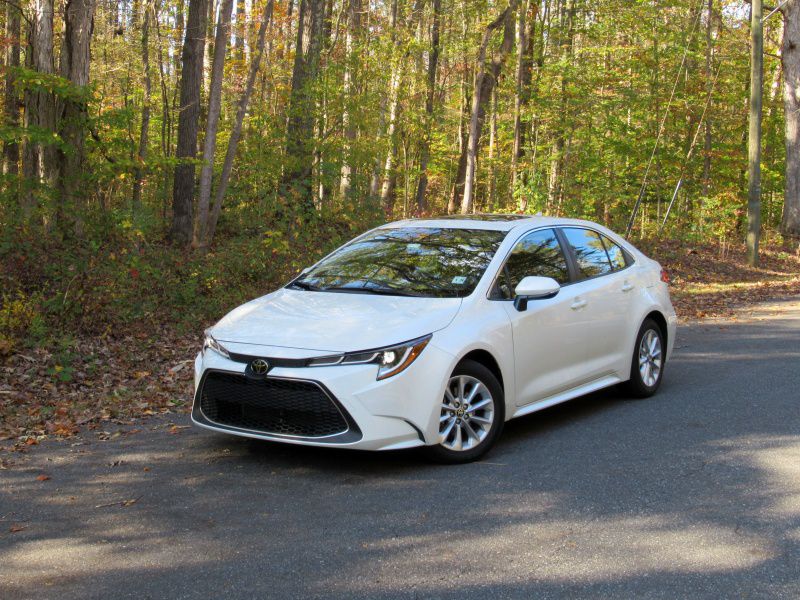 Photo by Brady Holt
Modern But User-Friendly Dashboard
Toyota has long been known for user-friendly controls and high-quality interiors. Not every Corolla has lived up to that, but the current model is strong on both counts.
The Corolla's dashboard clearly delineates the upper dash from the center console, providing a distinctive and minimalistic aesthetic without compromising functionality. The infotainment touchscreen (7 inches on the base model, 8 inches on all other trim levels) sticks out from the top without being totally perched atop the dashboard, and simple buttons and knobs are along its sides and below it. Both screens support Android Auto and Apple CarPlay smartphone integration. Large, clear, blue-hued gauges look upscale, and dashboard materials are also significantly richer than past Corollas and some budget-focused competitors. Available blue-striped upholstery also dresses up the cabin. Still, this isn't the small sedan you'd pick for maximum luxury. You can't get genuine leather upholstery, and some details still come up short: The doors and exterior door handles feel light and flimsy, and the center console bin slams closed violently if you don't gently ease it down.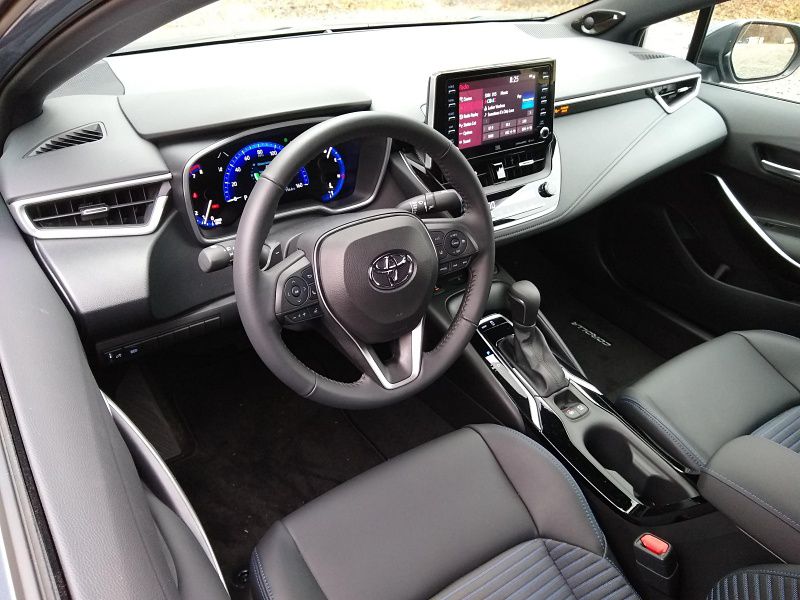 Photo by Brady Holt
Decently Spacious
The previous-generation Corolla was one of the roomier compact sedans, with generous rear legroom that made it a great fit for Uber service. Instead, the current model is more in line with what you'd expect from a compact sedan. That means you can carry adults easily in the front seat, but the rear seat is less generously accommodating. Still, only the Honda Civic does much better in this segment, and several models have even less space. (So does the five-door hatchback version of the Corolla.) 
The SE and XSE models have more thickly bolstered "sport seats," and we're fans. We found them more comfortable and more attractive than the flatter seats in the L, LE, and XLE. However, you may feel differently, so we'd recommend trying both versions. Whichever seats you get, the Corolla's upper trim levels offer a power-adjustable driver's seat and heated front seats. Trunk space is decent but unexceptional for a compact sedan at 13.1 cubic feet.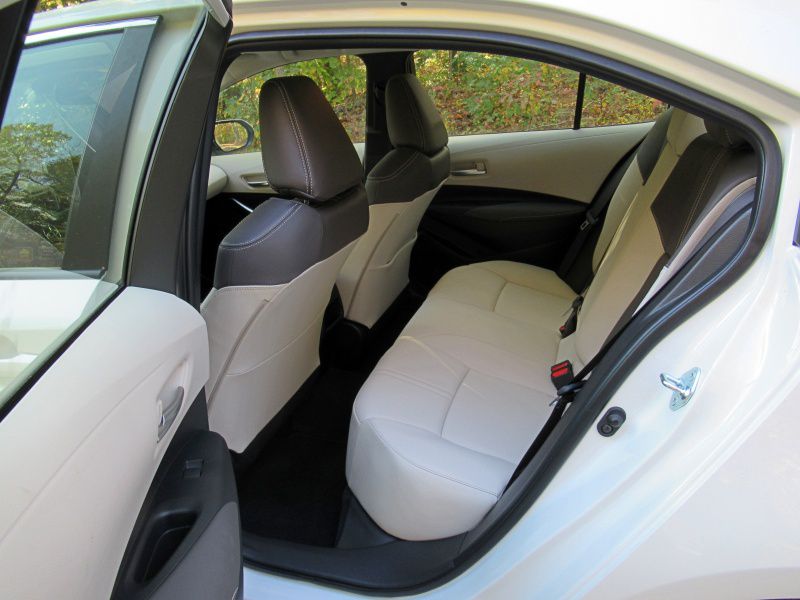 Photo by Brady Holt
Choice of Engines
The Corolla sedan comes with a choice of three powertrains, and we've tested each of them. The most popular trim levels have a 1.8-liter four-cylinder engine that makes 139 horsepower and 128 lb-ft of torque, which is on the low side for the compact sedan class. The sport-themed SE and XSE upgrade to a more competitive 2.0-liter four-cylinder with 169 horsepower and 151 lb-ft of torque. And the gas-electric Corolla Hybrid makes 121 horsepower. 
Both engines come standard with a continuously variable automatic transmission, but the 2.0-liter is also offered with a six-speed manual — an increasingly rare treat, especially since it isn't restricted to an undesirable base model. The 2.0-liter is quicker and quieter than the 1.8-liter, while also getting better EPA-estimated fuel economy. Gas mileage impresses, though: EPA ratings vary slightly by trim level, but generally they are an excellent 31 mpg in the city, 40 mpg on the highway, and 34 mpg overall with the 2.0-liter, and a still-decent 30 mpg city / 38 mpg highway / 33 mpg overall with the 1.8-liter. The Corolla Hybrid tops 50 mpg.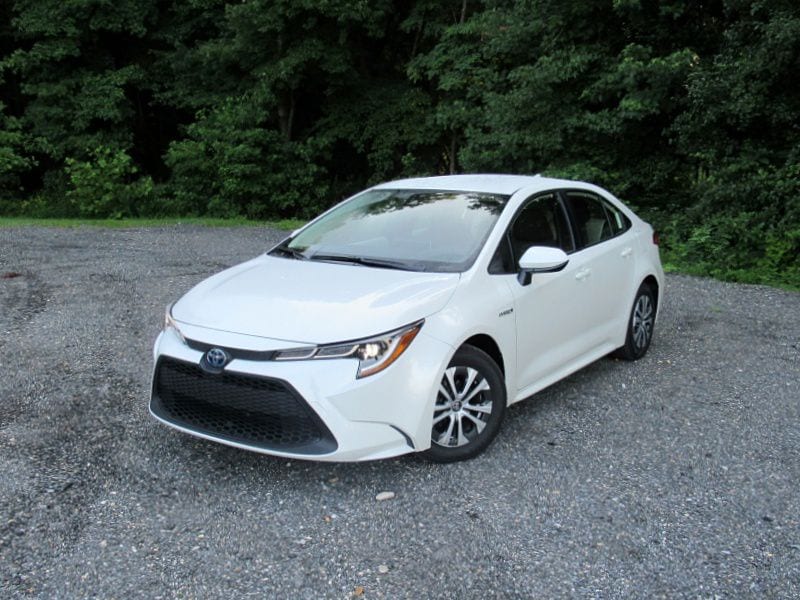 Photo by Brady Holt
Nice to Drive, Yes; Sporty, No
We've mentioned the Corolla's "sport-themed" models. Toyota doesn't sell a competitor to the Honda Civic Si, Hyundai Elantra N-Line, or Volkswagen Jetta GLI with 200 horsepower and a performance-focused suspension tune. The closest is an Apex Edition that stiffens the ride for little real-world handling benefit. 
And for many buyers, that's fine. The latest Corolla drives far better than the previous generation, whose steering felt strangely weighted and unnatural, and which wanted to wander on the highway. Today's model has light, easy, natural steering that sends the car where you want it without fuss or concern, though without stirring excitement. The ride is smoother than before, too, on everything but the Apex Edition. The main complaint is the engine: whichever one you buy, you'll sacrifice acceleration and quietness for better gas mileage. We'll note that the Honda Civic has both, but some buyers will prefer the simplicity of the Corolla's engine over the turbocharged Honda's.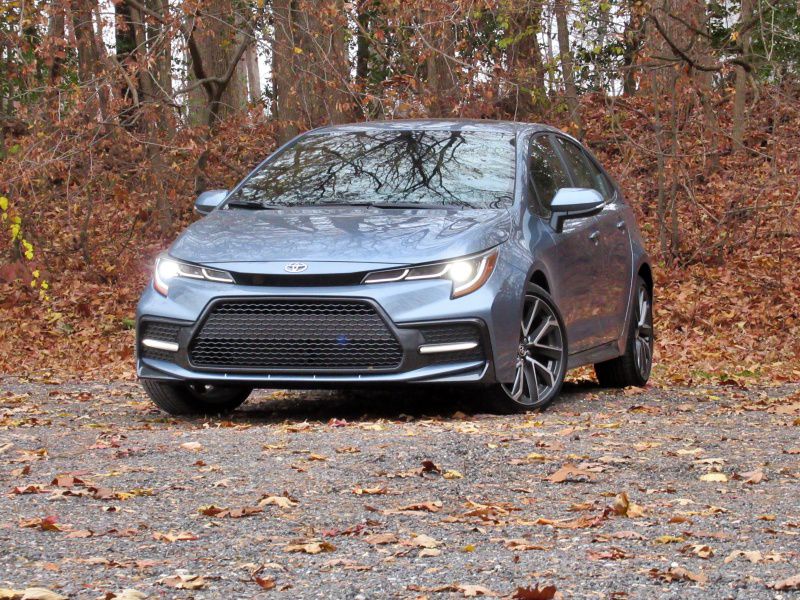 Photo by Brady Holt
Top Safety Pick
The 2022 Toyota Corolla has more standard safety features than most of its competitors, despite its competitive pricing. Every model includes a forward-collision warning with automatic emergency braking and pedestrian-detection capability, radar cruise control with stop-and-go functionality, a lane-departure warning with steering assistance, automatic high beams, and road-sign recognition. Some of this technology is restricted to upper trim levels of competing small sedans, or not offered at all. Blind-spot monitoring is standard or optional on most Corolla models.
If this technology doesn't prevent a crash, rest assured that the Corolla earned a Top Safety Pick designation from the Insurance Institute for Highway Safety and earned a top five-star score in every crash test from the National Highway Traffic Safety Administration. The Corolla got dinged only in its IIHS headlight evaluation; most models scored only Marginal (the second-lowest of four tiers). However, that score is common among economy cars, and several competitors earned the lowest Poor. Top-of-the-line Corollas have optional curve-adaptive headlights — they turn with the steering wheel — with the second-highest mark of Acceptable.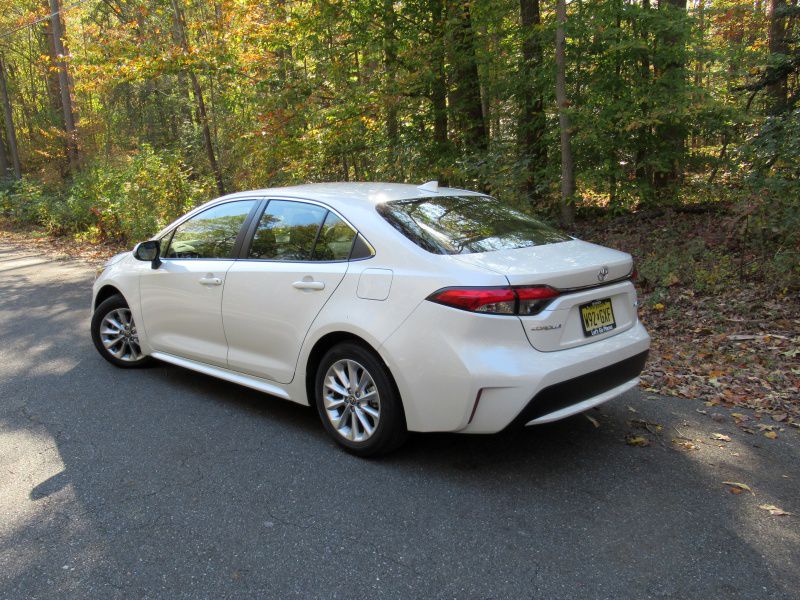 Photo by Brady Holt
Close Competitors
The Toyota Corolla and Honda Civic have been mentioned in the same breath for years. However, the Corolla is simpler, while the Civic is sportier and more upscale. That's especially true with the Civic's new and excellent 2022-model redesign, which also has a much roomier cabin than the Corolla. The new Civic is also more expensive than a comparably equipped Corolla. And this new Civic, breaking with tradition, is styled more conservatively than the Corolla. 
An even closer alternative to the Corolla is the Nissan Sentra. In 2019, both were unusually spacious but unusually sorry to drive. Now, both are more stylish, sharper-handling, and less roomy than before. The Sentra has arguably slicker styling inside and out, and a richer interior with available pleated leather upholstery, while the Corolla offers a wider range of powertrains and a longer list of advanced driver aids. The Corolla also faces off against two value-priced Korean sedans: the Hyundai Elantra and Kia Forte. They're all-around competitive at excellent prices, and they have more tech and luxury features than the Corolla like plus-sized touchscreens and ventilated front seats. But the Toyota has a better-finished interior and a bit more real-world rear legroom.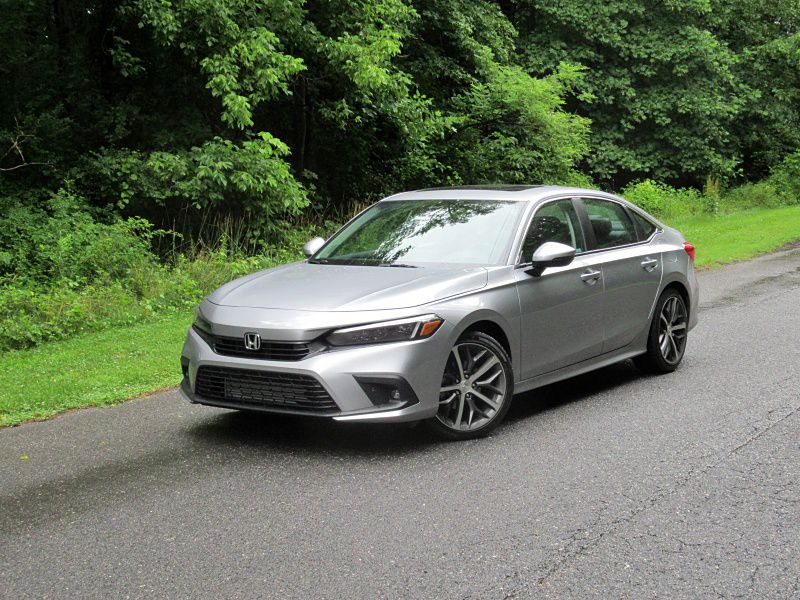 Photo by Brady Holt
A Low-Stress Choice
Lots of people buy the Toyota Corolla without carefully considering the competition, and these days, we don't think they'll necessarily suffer for it. The current Corolla has solved its predecessor's most glaring deficiencies, and it's not especially expensive to buy or operate. It's safe, attractive, economical, and easy to drive.
That's not to say it's perfect. We think some loyal Corolla buyers would be impressed with the Korean competition's even greater bang for the buck, might prefer the Sentra's design, or could decide that the Civic's huge interior, sportier driving dynamics, and more upscale interior details are worth a couple thousand extra bucks. But as long as you're not looking for luxury or excitement, the 2022 Toyota Corolla is a worthy option to consider.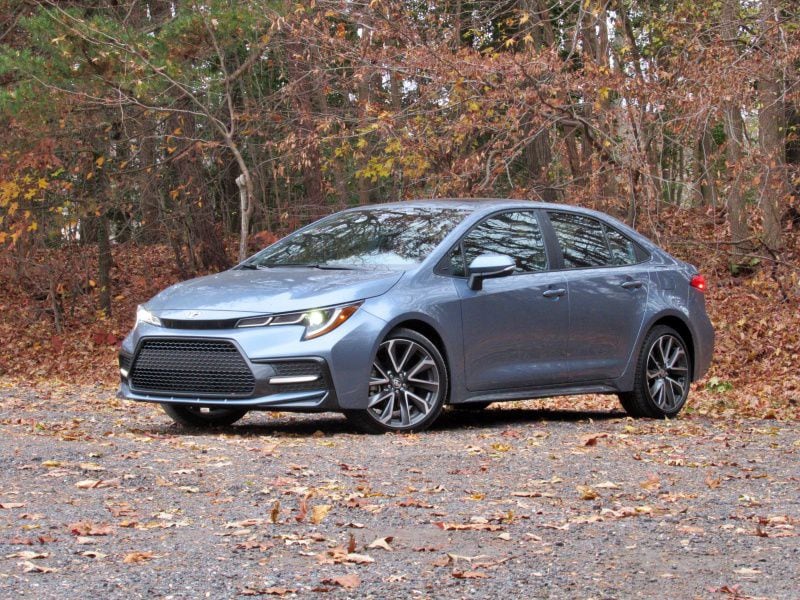 Photo by Brady Holt