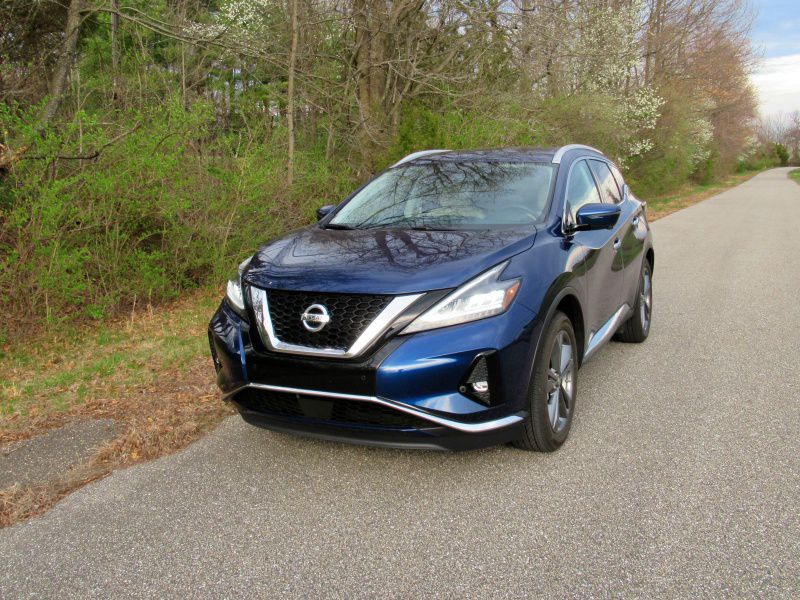 Nissan Murano ・ Photo by Brady Holt
When the crossover SUV class was in its infancy, the 2003 Nissan Murano was the automaker's first entry. The mid-size Murano was notable for its powerful V6 engine, agile handling, and wild styling. Compared with chunky SUV-looking competitors, the Murano was a wild-looking sports car. 
These days, the third-generation Murano is in its eighth year since a full redesign. It's no longer a performance car, and it's no longer a crossover pioneer, but it still avoids looking like an ordinary SUV. Currently priced from $33,210, it's a five-seat model that's posher and more powerful than the similarly roomy Nissan Rogue and more graceful-looking than the roomier, similarly priced three-row Nissan Pathfinder. Here's how the 2022 Murano stacks up today against its wide variety of competitors.
Still Looks Unique
Few 2022-model vehicles look as similar to their 2003 counterparts as the Murano. Yet rather than looking out of date, the Murano continues to look different from most other crossovers. 
The Murano's silhouette shows a series of gentle curves, with no trace of SUV boxiness. The bumper curves up and around into the front end and then the hood, arching over the front fender. The windowline tapers toward the rear of the vehicle, then jumps back down to meet the bottom of the rear windshield. The headlights and taillights both feature spears that jump upward. The Murano doesn't look like a brand-new car, since the latest trends call for sharper creases than the gently curved Nissan. But it wasn't a cookie-cutter design when the first generation appeared in 2003 or when the current iteration arrived in 2015, and it isn't today. The only thing that looks much like a new Nissan Murano is an older Nissan Murano.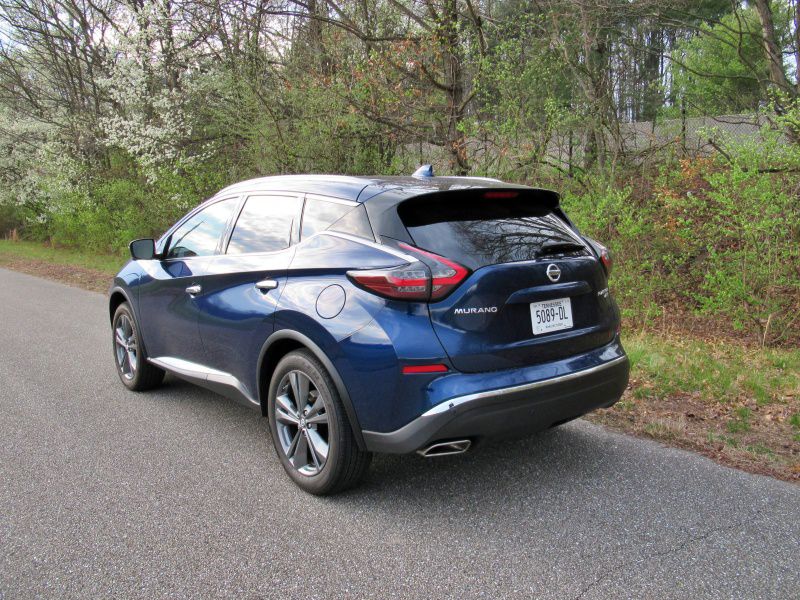 Photo by Brady Holt
User-Friendly Dash
The Murano's exterior design may be distinctive and timeless, but the interior is plainer. Many materials are rich, particularly on our tested top-of-the-line Platinum test vehicle, which has diamond-patterned leather upholstery; wood trim on the dashboard, doors, and center console; and decorative metal inserts on the edges of the front seats. But the big, largely unadorned dashboard and its small 8-inch touchscreen lack design pizzazz. 
The flip side is a user-friendly control layout. If competitors' interiors seem too daunting, especially if you're looking at luxury-brand SUVs, you'll likely welcome the Murano's traditional buttons and knobs. And while the infotainment screen is modestly sized for a modern $30,000-plus vehicle, and its bright-colored graphics look out of place, it works fine and supports Android Auto and Apple CarPlay smartphone integration.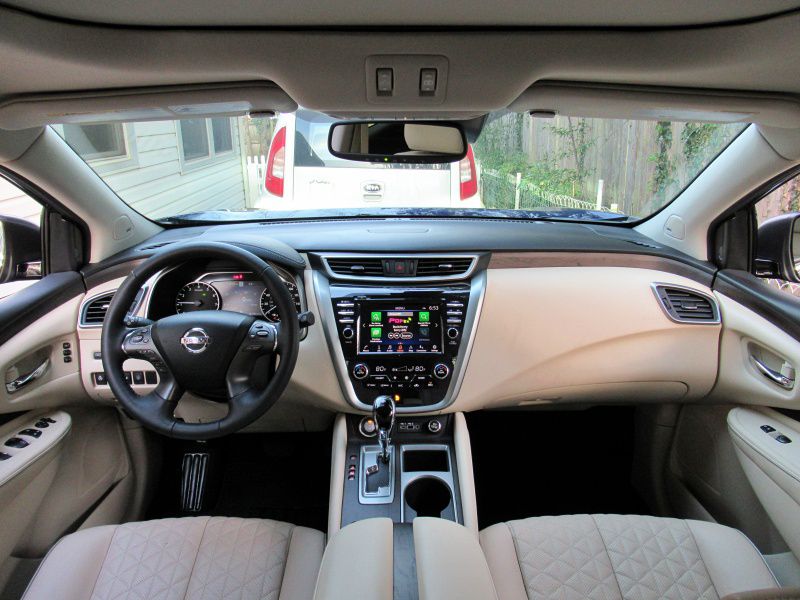 Photo by Brady Holt
'Zero-Gravity Seats'
Nissan is proud of what it calls "Zero Gravity" seats, which means that the shape and padding were developed to provide maximum long-term support. In our experience, Nissan's approach works. We might have picked some extra lateral support in the Murano, to hold occupants in place better as the car turns, but it's a relaxing place to pass time on a long trip. 
Unlike many mid-size crossovers, the Murano seats only five passengers with no option for a third-row seat. But adults can fit in both the front and rear seats, and the backseat is wide enough for three adults to sit side by side without too much squeezing. It's also wide enough to fit three car seats. By not wedging in a third row, the Murano also maximizes second-row legroom, unlike some smaller three-row models. All Muranos but the base S model come with either leatherette or genuine leather upholstery.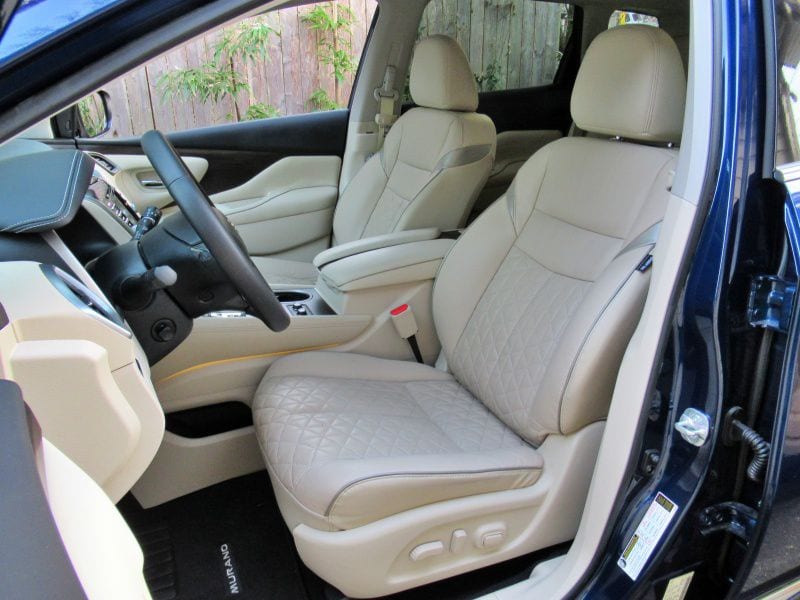 Photo by Brady Holt
Useful Cargo Hold
The Murano doesn't have as much cargo space as most mid-size crossovers. You get 32 cubic feet behind the rear seat, which you can fold down for a total of 67 cubic feet behind the front seats. Not only is that lower than you'd find in most mid-size crossovers, but even most compact crossovers (including the Nissan Rogue) have more room. The problem is a high cargo floor and low, sloping roof. 
Still, this is a useful amount of space for many buyers, even if some competitors have more. It's also more cargo room than you'll find in many similarly style-focused luxury crossovers, such as the Lexus RX or Acura RDX. Towing capacity is definitely low for a six-cylinder mid-size crossover, though, at a mere 1,500 pounds.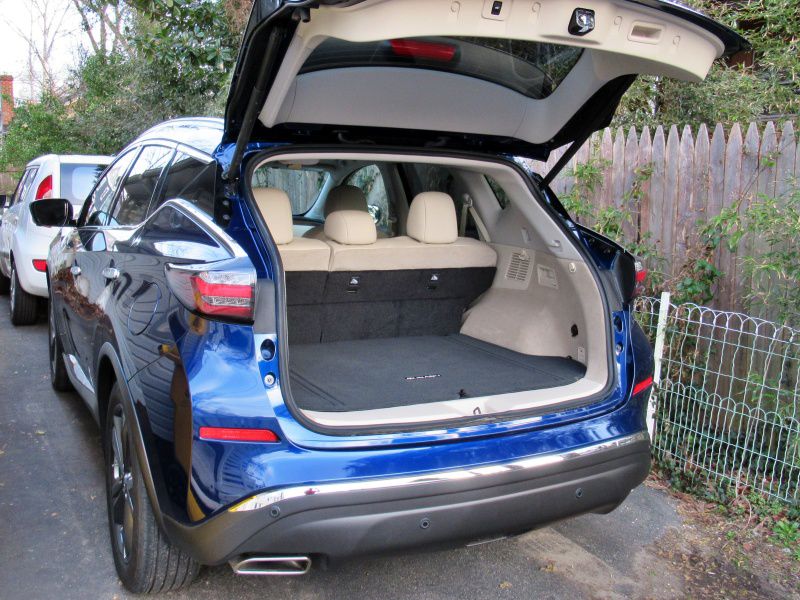 Photo by Brady Holt
Economical V6
Although the first-generation Murano was designed for sporty performance, its successors focused on comfort and fuel economy. So although it comes standard with a powerful 260-horsepower V6 engine, the Murano isn't going to set your pulse racing. The continuously variable automatic transmission sends the engine revving unexpectedly high under gentle acceleration, but it's not going to win any races despite making extra noise. We prefer the new nine-speed automatic transmission in the Nissan Pathfinder. We prefer the Pathfinder's steering; the Murano's is heavy at low speeds but too light as you speed up. The ride is smooth and quiet, at least. 
Despite the Murano's age and its V6 engine, it's economical for a mid-size SUV. The EPA estimates that it will return 20 mpg in the city, 28 mpg on the highway, and 23 mpg combined whether you choose the standard front-wheel drive or the optional all-wheel drive. Some competitors do even better, but that's more economical than a four-cylinder Volkswagen Atlas Cross Sport. Our AWD Murano test vehicle edged out the EPA estimate to average 24 mpg in mixed driving.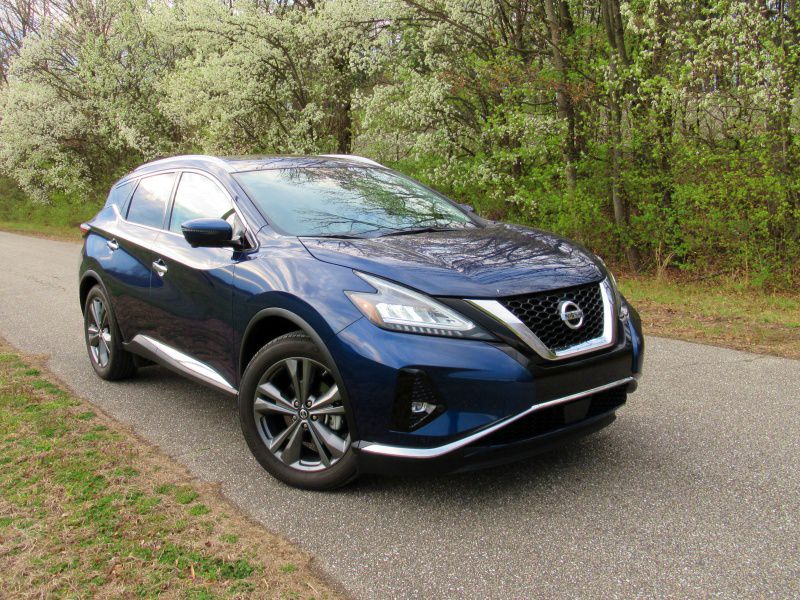 Photo by Brady Holt
Top Safety Pick Plus
The Murano earned the highest possible designation of Top Safety Pick+ from the Insurance Institute for Highway Safety, reflecting perfect crash-test scores and collision-avoidance systems. Even its base model earns an elusive Good score for headlight illumination. It also received a top five-star score from the National Highway Traffic Safety Administration, both for overall performance and in each of its three individual crash tests (one frontal and two side-impact evaluations). 
You also get a generous collection of safety equipment, which is also included even on the base model. It includes front and rear automatic emergency braking, lane-keeping steering assistance, and blind-spot monitoring. Upper trim levels also get a surround-view parking camera, which provides a bird's-eye view of the Murano and surrounding obstacles like curbs, cars, and parking lot stripes.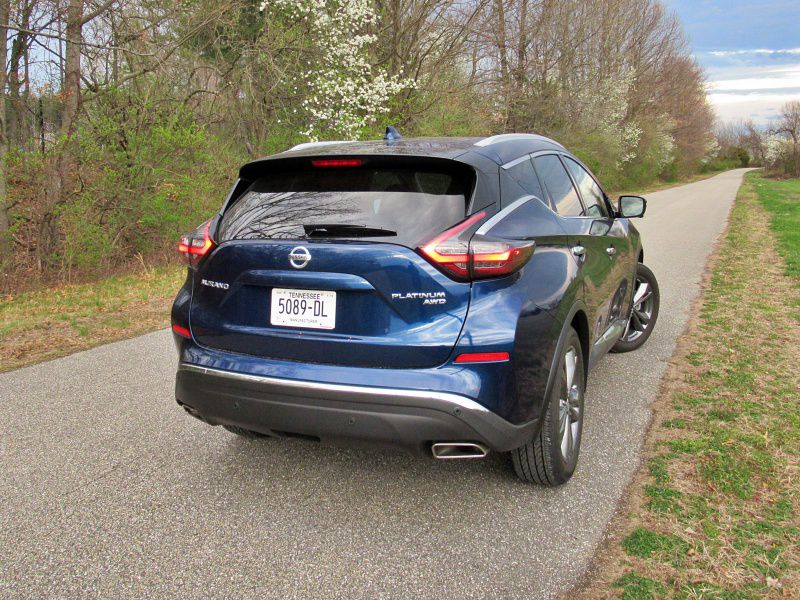 Photo by Brady Holt
Choice of Four Trim Levels
The 2022 Nissan Murano comes in a choice of four trim levels. All come standard with the same V6 engine, and all let you upgrade to all-wheel drive for an extra $1,700. 
The base S model costs $33,210, and in addition to the safety equipment we mentioned on the previous page, it includes niceties like automatic climate control, push-button starting, and alloy wheels. Still, the SV ($36,750) is the introduction to the Murano's more premium features: leatherette upholstery, heated front seats, a power-adjustable driver's seat, and adaptive cruise control. The SL ($40,710) brings genuine leather, a heated steering wheel, heated rear seats, GPS navigation, an 11-speaker Bose stereo, a hands-free power liftgate, and the surround-view camera. The Platinum like our test vehicle has upgraded interior trim along with ventilated front seats, a power-adjustable steering column, and a panoramic moonroof; it costs $44,760. You'll find cheaper mid-size SUVs than the Murano, but depending on what features you're interested in, the SV and SL can make a particularly tempting alternative to a luxury-branded model.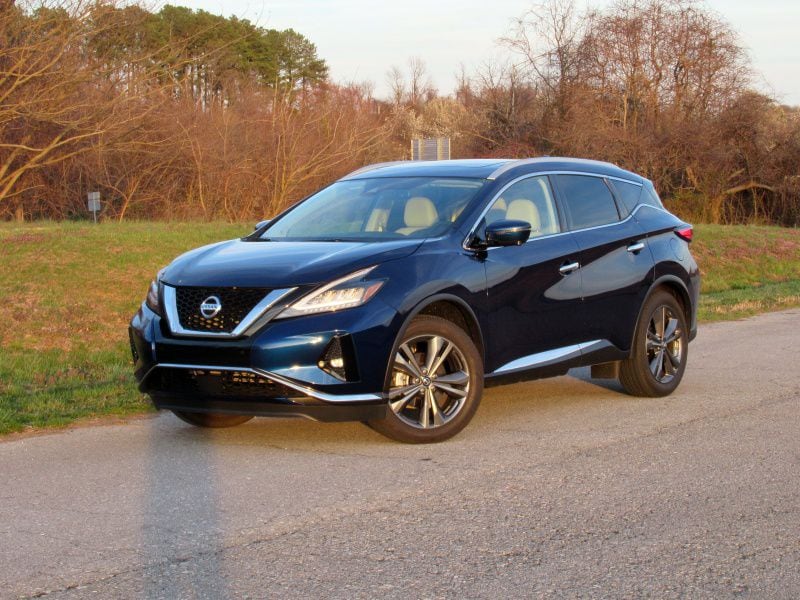 Photo by Brady Holt
Varied Competitors
There are a lot of possible alternatives to the Murano. Its most direct competitors are fellow five-seat mainstream-brand crossovers, mainly the Chevrolet Blazer, Ford Edge, Honda Passport, Hyundai Santa Fe, and Volkswagen Atlas Cross Sport. These models offer sportier handling than the Murano (while preserving comfortable rides), and most also have more interior room. 
The Murano is arguably the most elegant of the bunch, though, which also makes it an alternative to luxury-branded SUVs like the Lexus RX, Acura RDX, and the Infiniti QX50 from Nissan's premium division. These crossovers have more available features than the Murano, along with more modern interiors and generally better driving manners. But for thousands of dollars less than those models, the Murano has appealing value if you're looking for style, safety, and comfort without demanding the highest tier of luxury. On the flip side, if you're interested in a mid-size crossover for its utility, the Murano comes up short. If practicality is important and you're not attached to sleek styling, the roomier, sharper-driving, better-finished Nissan Pathfinder makes entirely more sense. And the compact Nissan Rogue and its similarly sized competitors have comfortable seating for four adults (though not really five) and more cargo room than the Murano. 
Photo by Brady Holt
Affordable Luxury
Objectively, the Nissan Murano doesn't make a lot of sense. You can get roomier, more economical, better-driving crossovers with bigger infotainment screens for less money. But then again, luxury doesn't have to make sense on paper. And viewed as a luxury suv, the Murano can be fairly sensible. 
As long as you're willing to forgo a high-end badge, the Murano provides distinctively elegant styling, a smooth and quiet ride, plenty of power, and a roomy enough interior for five passengers and some cargo. It has a perfect safety record and decent gas mileage, and it's priced thousands of dollars less than a Lexus or Acura — to say nothing of a BMW or Mercedes-Benz. If that sounds like a promising fit, try out the Murano to see if it's the right affordable luxury SUV for you.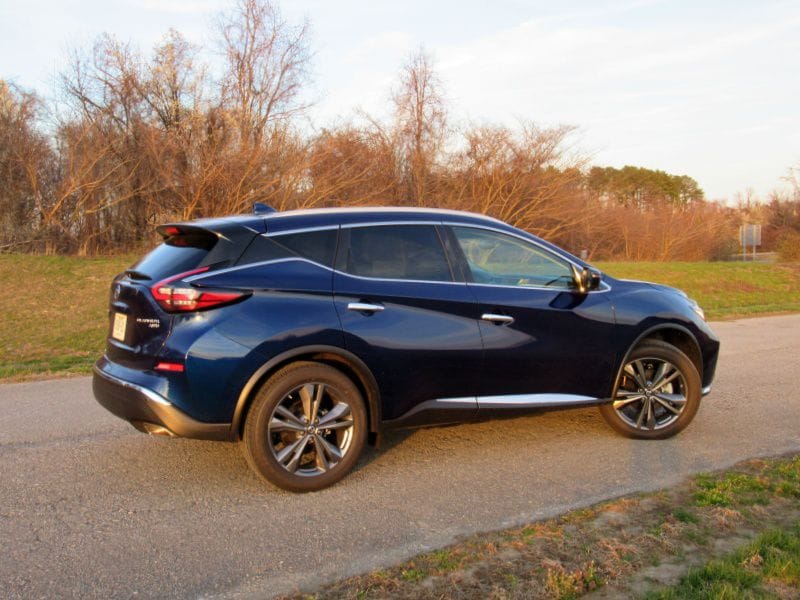 Photo by Brady Holt