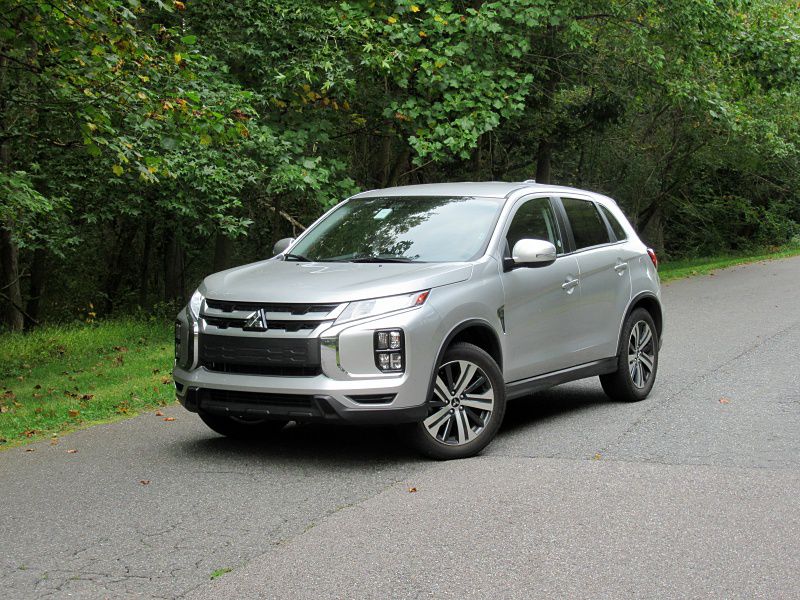 2021 Mitsubishi Outlander Sport SE ・ Photo by Brady Holt
"Sport" is a confusing part of many cars' names. Sometimes it really does mean a sportier vehicle. More often, it's a trim level — and a fairly low-end trim at that. And in other cases, it's an entirely different car. That's the case with the Mitsubishi Outlander Sport and the Mitsubishi Outlander. 
The Outlander Sport is the U.S. name for a subcompact crossover known internationally as the Mitsubishi RVR or ASX. With this name, Mitsubishi elected to capitalize on the name recognition of its popular, longer-running compact crossover: the Outlander. Today, the Outlander is newly redesigned and borrows its mechanical components and much of its interior from the excellent Nissan Rogue. In addition to being smaller, the Outlander Sport (pictured on this page) is an older design, but it has received repeated styling and technology updates since its debut in 2011. And it costs thousands of dollars less than the larger Outlander. For this review, we tested the Outlander and Outlander Sport to explore what you get for your money, and which Mitsubishi crossover is better for you.
Exterior Design
You'd never know at a glance that the Outlander Sport is more than a decade old, especially if you see it from the front. Last year, Mitsubishi replaced the entire front end to remove its original design language and bring it in line with the rest of the lineup. That means high, slim headlights astride a bright chrome grille. It's too aggressive for some tastes, but it's definitely not old or dull. The vehicle's stubby profile doesn't quite match the flashy front end, but some buyers will appreciate how it looks taller and more purposeful than some lower, sleeker models in this class. Mitsubishi also dresses up the Outlander Sport with big 18-inch wheels on all but the base model. 
The all-new 2022 Outlander looks even more modern, both because of its fresher bones and because it's slightly newer than even the updated Outlander Sport. But it's also more polarizing, taking the "small headlights, bright grille" theme to an extreme while also rounding off the front end. Around the back, though, the Outlander's crisp, straight lines look like a more elegantly tailored Toyota Highlander — a mid-size crossover costing some $10,000 more. We won't choose an overall styling winner. 
Tie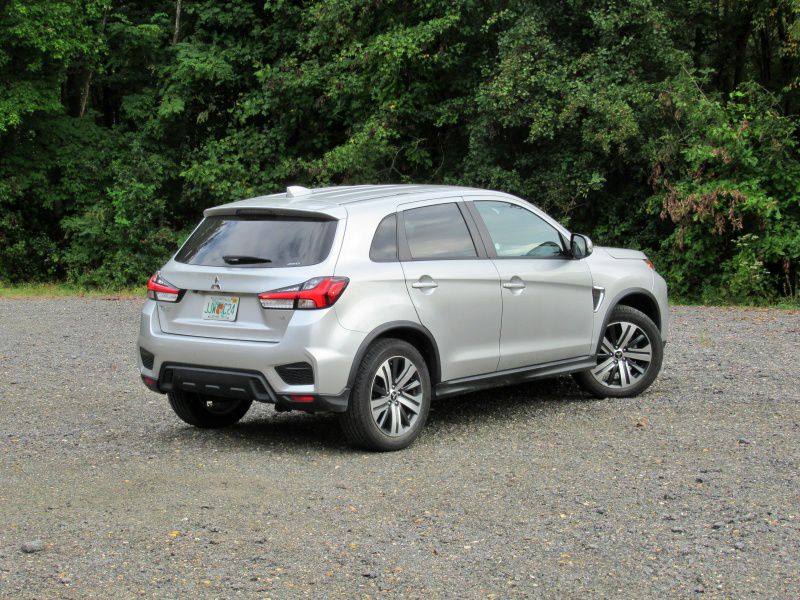 Photo by Brady Holt
Interior Design
The Outlander looks nothing like its Nissan Rogue cousin from the outside. But inside, it borrows the Nissan's user-friendly infotainment system and straightforward, classy dashboard design. We think the Outlander's cabin looks and feels even better than the Rogue's, too. The dashboard is a straight line stretching from door to door, with an infotainment screen above it and climate controls below. All but the base ES get a 9-inch touchscreen, while the ES measures a still-respectable 8 inches. 
The Outlander Sport, meanwhile, hasn't changed as much inside as outside. Its dashboard is mostly made from plain plastics, and even many of the soft-touch surfaces look like they'd be rock-hard. There's little design verve to this gently rounded dash, but the controls are user-friendly and the gauges are attractive and easy to read. Still, Mitsubishi has kept the infotainment up to date. It's not gorgeous, but our test vehicle included a decent-sized and functional 8-inch touchscreen with Android Auto and Apple CarPlay. (Entry-level trims have a 7-inch screen without advanced smartphone integration.) While the Outlander Sport's interior could be much worse, the Outlander's is much better.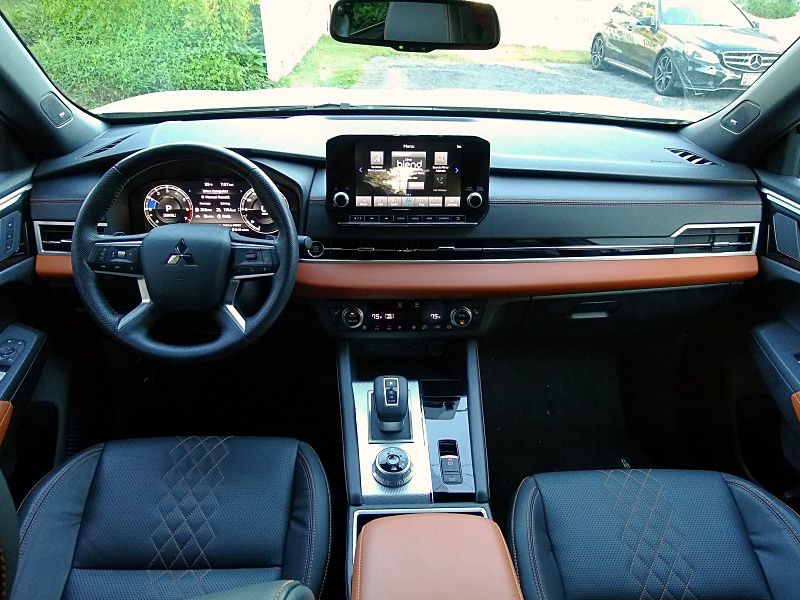 Photo by Brady Holt
Passenger Accommodations
The Outlander has come standard with seven-passenger seating since back in 2007. In such a small vehicle, the third row is only big enough for occasional emergencies — but if that emergency comes up, you'll be happy this seat has been hiding in your car. The second row adjusts fore-aft, so you can slide it forward to create more third-row legroom when it's in use. The front seats are comfortable and the second row can fit three adults. You'll be comfortable in this crossover even if you don't care about seven-passenger seating. 
The much smaller Outlander Sport does match the Outlander in one important way: Unlike many subcompacts, it has a high seating position. This feels like an SUV from behind the wheel, not a mere hatchback. But the front seats are flat and rear legroom is just OK. You also can't get the Outlander Sport with many of the Outlander's available comfort features, like leather or even leatherette upholstery, ventilated seats, or even a power-operated driver's seat.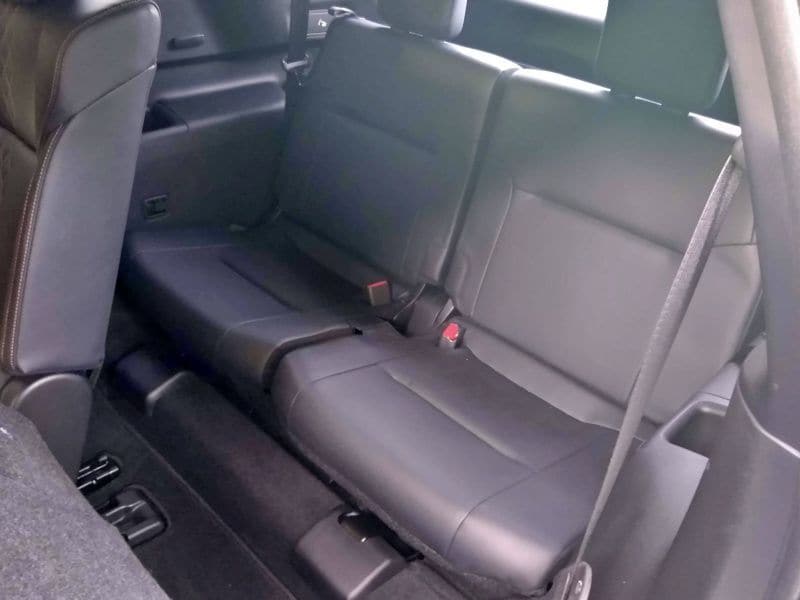 Photo by Brady Holt
Cargo and Utility
One issue with the Outlander's third row is that it takes up some cargo space, even when it's folded down. The result is 33.5 cubic feet behind the second row seat, about 3 cubic feet less than the Nissan Rogue. And with the third row in use, there's a tiny 11.7 cubic feet left for your stuff. Folding the Outlander's second and third rows yields 79.7 cubic feet. We wish the folded seatbacks lay flat, but that's outstanding volume for a compact crossover. And you can tow a trailer weighing up to 2,000 pounds. 
The Outlander Sport is roomy for a subcompact crossover, but it can't come close to the Outlander's utility. By the numbers, it has 21.7 cubic feet behind its rear seat and 49.5 cubic feet with the rear seat folded. That's about the same as a Honda Civic hatchback — enough to be useful, but not extra-generous. The Outlander Sport isn't rated to tow a trailer, and unlike the Outlander, a power liftgate isn't available.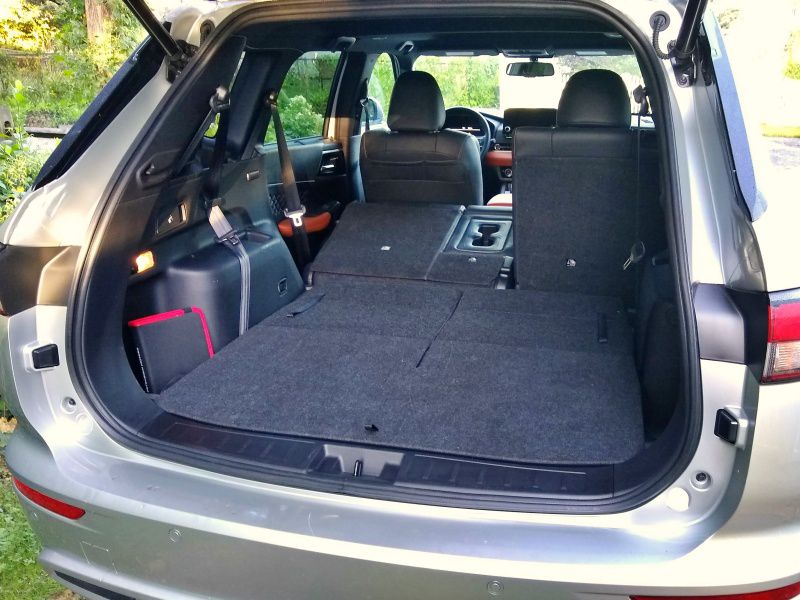 Photo by Brady Holt
Driving Impressions
Forget the "Sport" part of the Outlander Sport's name. This isn't a vehicle tuned for exciting performance. The ride is agreeably smooth, and the steering feels natural when you're driving gently. But it's not zippy and fun. And the suspension loses its composure alarmingly if you hit a bump while taking a turn. Worst of all is the engine. Most trim levels, including our test vehicle, pair a 148-horsepower 2.0-liter four-cylinder with a continuously variable automatic transmission. It's a sluggish pairing, and a raucous, droning engine racket makes it feel even slower. The top GT model improves a bit with a 168-hp 2.4-liter, but it's still neither quick nor quiet. 
The Outlander isn't a speed demon, either, but its 187-hp 2.5-liter engine is smoother, quieter, and quicker than either Outlander Sport engine. This engine wouldn't make you fall in love with the vehicle, but at least it's not such a liability. And we appreciate the Outlander's firm, responsive steering; composed handling; and comfortable, agreeably quiet ride. The smaller Outlander Sport has a tighter 34.8-foot turning radius, but even the Outlander's is pretty tidy at 36.1 feet.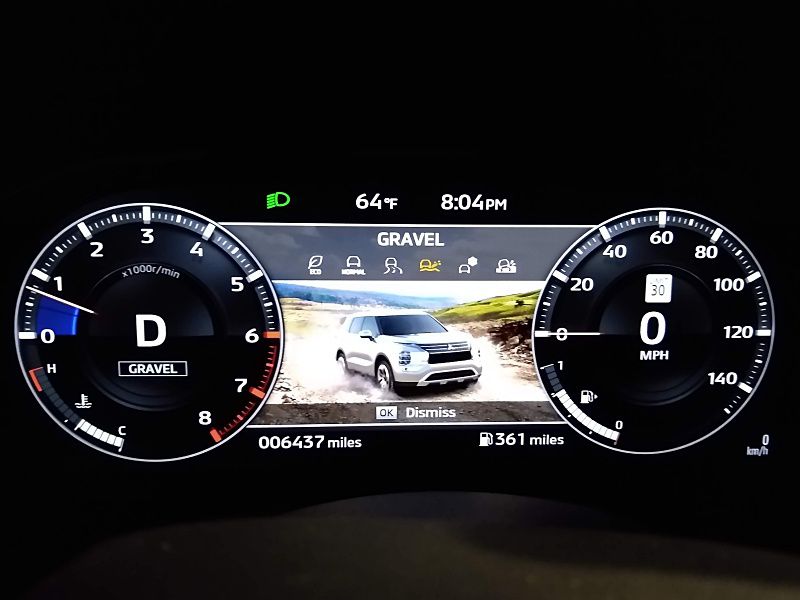 Photo by Brady Holt
Fuel Economy
Even though the Outlander is bigger and more powerful than the Outlander Sport, its more modern engine turns out to be slightly more economical. The EPA estimates the Outlander will average 24 mpg city, 31 mpg highway, and 27 mpg combined with front-wheel drive and 24 mpg city, 30 mpg highway, and 26 mpg combined with all-wheel drive. That's not outstanding for a compact crossover, but it's better than the Outlander Sport. 
The EPA rates the 2.0-liter Outlander Sport at 24 mpg in the city, 30 mpg on the highway, and 27 mpg combined with front-wheel drive and 1 mpg less with AWD. Opting for the 2.4-liter cuts mileage to 25 mpg combined with either front- or all-wheel drive. We didn't conduct scientifically precise drives, but we averaged 29 mpg in our tested all-wheel-drive Outlander — yet only about 25 mpg when we tested either the 2.0-liter or 2.4-liter Outlander Sport.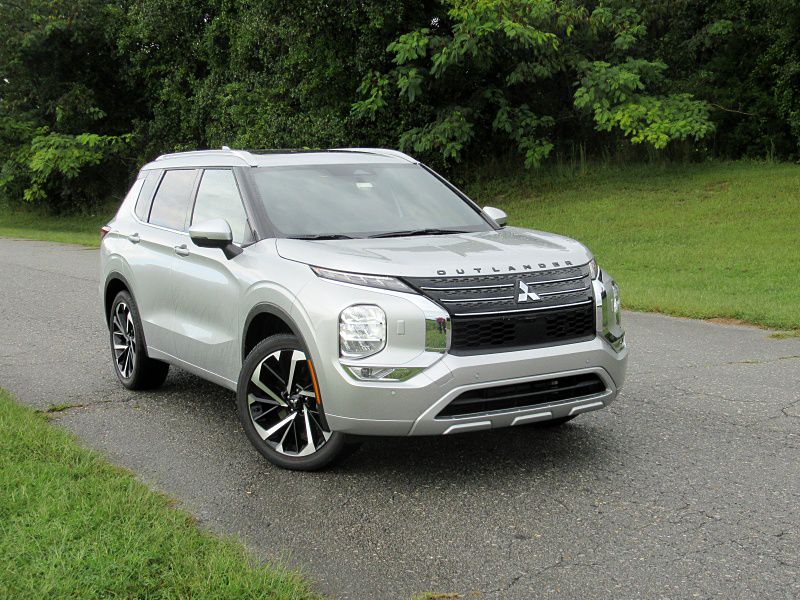 Photo by Brady Holt
Safety
Mitsubishi has kept the Outlander Sport's safety technology up to date over the years. It includes a forward collision warning, forward automatic emergency braking, pedestrian detection, and a lane-departure warning even on its base model. Blind-spot monitoring with a rear cross-traffic alert is included on upper trim levels. Crash-test performance matches many newer crossovers, too. 
Still, the Outlander is even better on both fronts. It earned the highest possible rating of Top Safety Pick+ from the Insurance Institute for Highway Safety, while the Outlander Sport provides just "Acceptable" protection in a challenging small-offset frontal collision, and its pedestrian-detection capabilities are merely "Basic." The Outlander Sport scored four out of five stars in National Highway Traffic Safety Administration crash testing, though NHTSA hasn't yet tested the new Outlander. In terms of technology, the Outlander adds blind-spot monitoring, a rear cross-traffic alert, and reverse automatic braking as further standard features.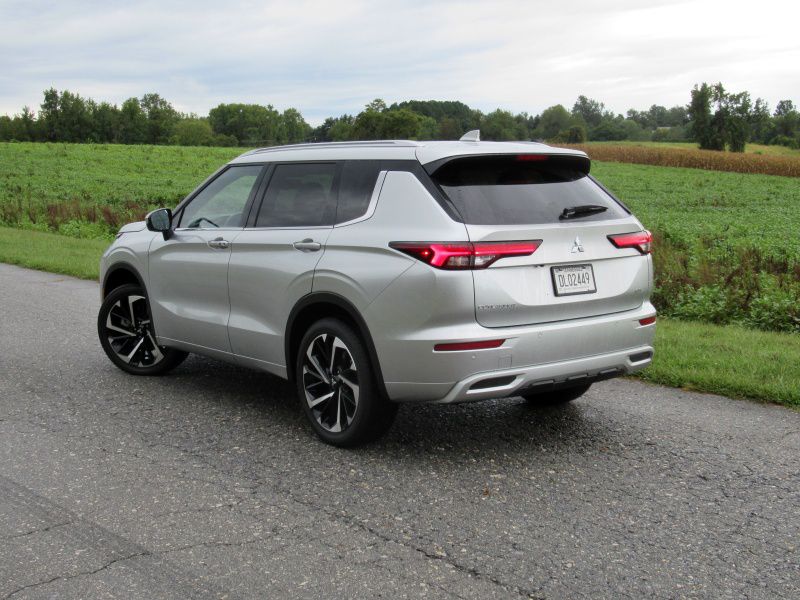 Photo by Brady Holt
Pricing and Features
Lots of cars have gotten more expensive over the years. Take the Mitsubishi Outlander. In 2011, it started at $21,995, compared with $25,795 for the 2022 model. By contrast, the Outlander Sport has only edged up about $1,500 (if you account for the automatic transmission, which cost extra at the time). As we mentioned, today's Outlander Sport also comes standard with safety features that were almost science fiction in 2011, along with a touchscreen infotainment system. However, the base S model is lacking Android Auto, Apple CarPlay, alloy wheels, and all-wheel drive, and the price jumps by several thousand dollars if you want them. 
The Outlander has extra standard features: alloy wheels, a fully featured infotainment system, a power driver's seat, a third-row seat, push-button starting, and more safety features. The base Outlander ES is most comparable to the high-end Outlander Sport SE, like our test vehicle — and its sticker price of $24,695 isn't far behind the $25,795 for the Outlander ES. The Outlander also lets you add many more options. Still, when you're looking for a budget option, the Outlander Sport can cost thousands less than its sibling.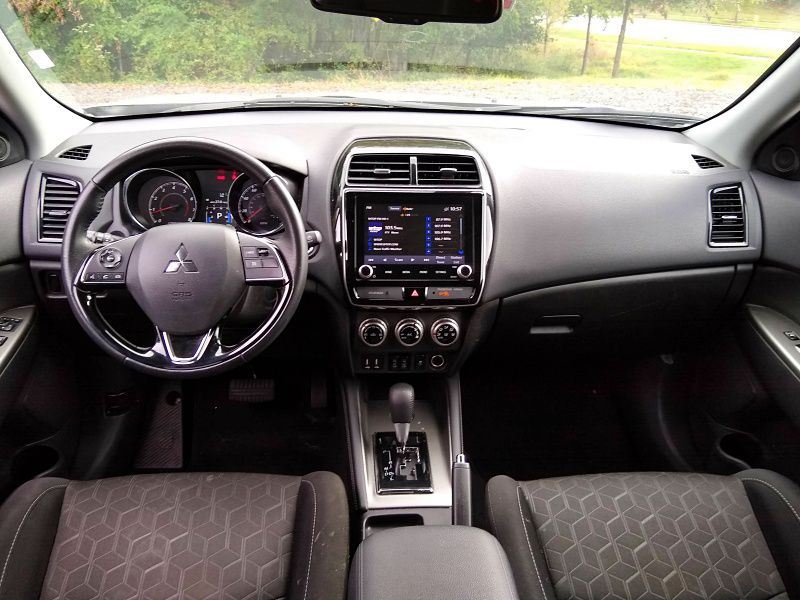 Photo by Brady Holt
Final Thoughts
Mitsubishi has done a lot of work to keep the Outlander Sport viable as a brand-new car. Modern styling, modern infotainment, and modern safety features arrive even at 2011-like prices. And the old bones always offered the benefit of a high seating position and decent-sized cargo hold. 
But unless you're dead-set on the lowest possible price or need a tiny vehicle for crowded city conditions, the Outlander is easily worth the extra money — especially if you'd be interested in the Outlander Sport's extra-cost options. The Outlander is a genuinely good crossover at a reasonable price; it's upscale yet functional, and comfortable yet agile. The Outlander Sport has some good qualities, but its slow yet thirsty engines are especially hard to overlook. And when equipped comparably to the Outlander, it's not even that cheap. If you're dedicated to a smaller Mitsubishi than the Outlander, we'd pick the more modern Eclipse Cross over the Outlander Sport. And if you're open to other brands, we'd carefully shop other high-value small crossovers like the Kia Soul, Seltos, and Sportage; Hyundai Kona and Venue; Nissan Kicks; and Toyota Corolla Cross.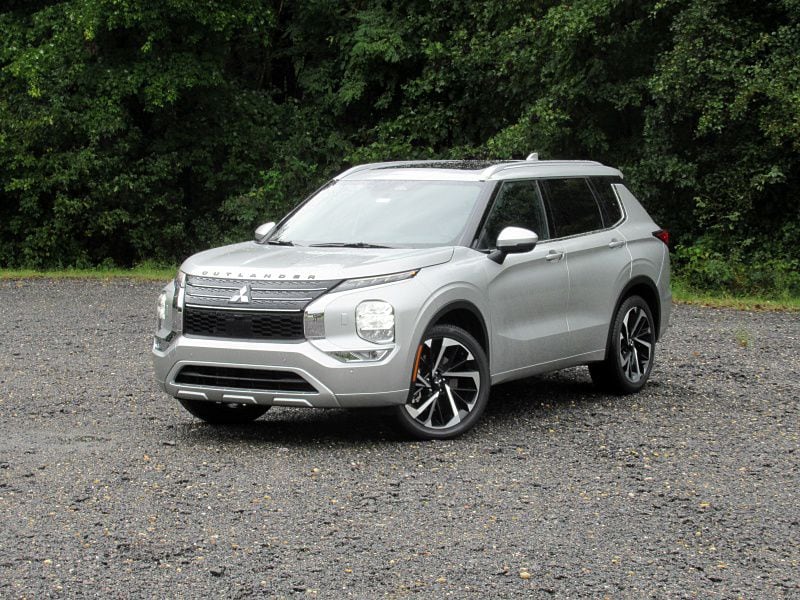 Photo by Brady Holt