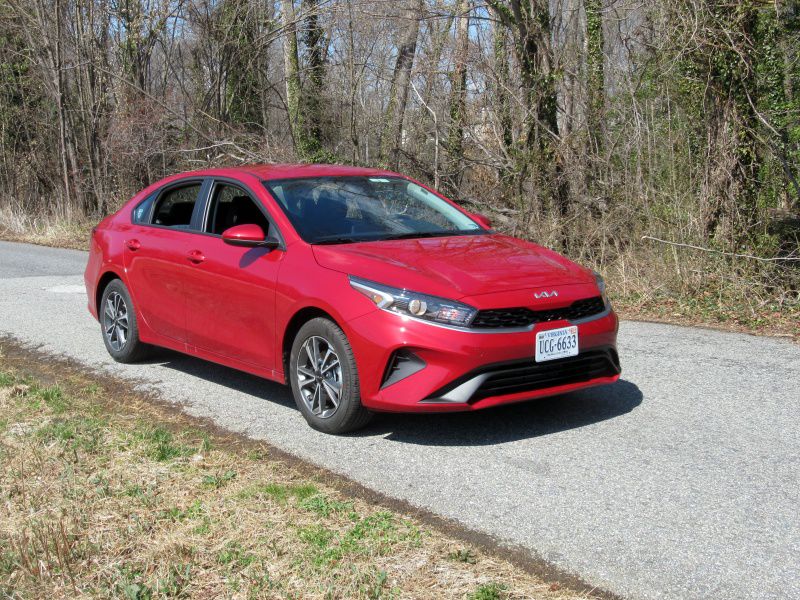 2022 Kia Forte LXS ・ Photo by Brady Holt
Even among economy cars, it's easy to find style, panache, performance, and technology. Most small sedans are styled and engineered to come across as more than merely an affordable transportation appliance. 
But maybe that's exactly what you'd want from your compact car — something simple and inexpensive in a world where auto prices have soared. If so, it's time to take a look at the 2022 Kia Forte. This sedan is relentlessly competent, especially after a series of upgrades this year. And it's priced from just $19,090 despite a healthy collection of standard features. And if you're willing to spend more, the Forte is a still-affordable path to high-end amenities like heated and ventilated front seats, a Harman Kardon stereo, GPS navigation, and a 201-horsepower turbo engine. If that sounds appealing, keep reading to learn more about this budget-friendly sedan.
Bargain Pricing
It's increasingly rare to find new cars for less than $20,000, but the 2022 Forte continues to stay below that limit. The base FE model costs $19,090 with a long list of convenience, infotainment, and safety features coming standard. We tested the next-up LXS, which costs just $500 more and adds 16-inch alloy wheels, upgraded interior materials, and a split-folding rear seat. When budget-friendly transportation is the top goal, the Forte LXS should be more than satisfactory. 
But you can also enjoy plenty of upgrades while still sticking below some competitors' base models. The next-up Forte GT-Line ($21,290) brings sport-themed styling changes (including LED lighting and 17-inch wheels) along with a bigger infotainment screen with built-in navigation, push-button starting, automatic climate control, blind-spot monitoring, upgraded partial-leatherette upholstery, and a six-speaker stereo instead of the standard four speakers. Optional equipment on the GT-Line includes full leatherette, heated and ventilated front seats, a 10-way power driver's seat, a sunroof, adaptive cruise control, a wireless smartphone charger, and an eight-speaker Harman Kardon sound system. Even with all those features added, the Forte stays at $23,990. The top GT model adds the turbo engine and starts at $23,490.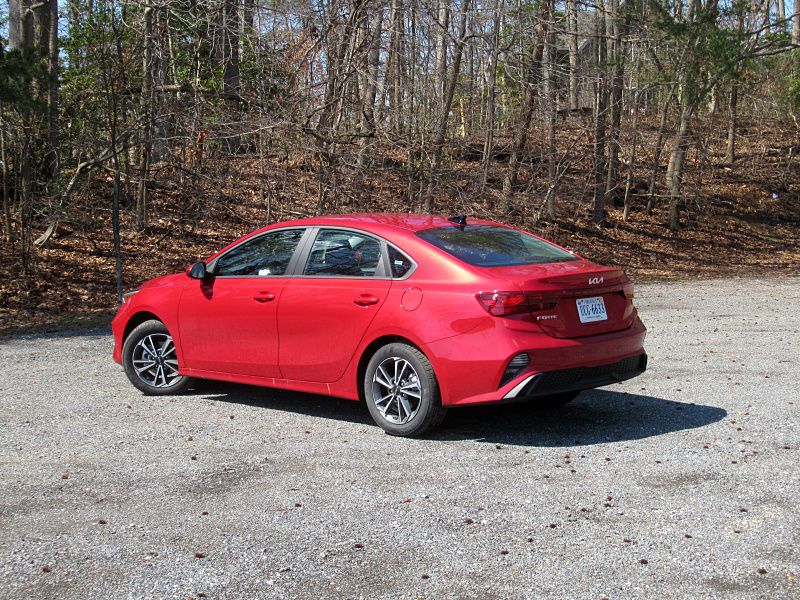 Photo by Brady Holt
Updated Styling
The current-generation Forte debuted as a 2019 model. We found its design to be quietly classy, but nothing that would make people stare. And that hasn't changed much in the 2022 update. 
Kia says the new Forte features a "more expressive" front end to "accentuate a wider, stronger image." The main difference is that the headlights are higher than before, a bit more rectangular, and connected to the grille. The Forte also now wears Kia's redesigned logo, which drops the oval that had surrounded the "Kia" lettering. Its most distinctive angle remains the rear end, where a lightbar connects the high, slim taillamps, but the Forte's most notable quality is its quiet simplicity. The smooth door panels are free of wild creases, and the car avoids looking angry. Kia did discontinue the luxury-themed EX model, meaning you need the sport-themed GT-Line to get higher-end amenities. It has red accents on the front bumper and grille, it leaves off the EX's chrome around the windows, and it has sporty-looking 17-inch wheels. That's about as close as the Forte comes to either sparking passion or risking offense.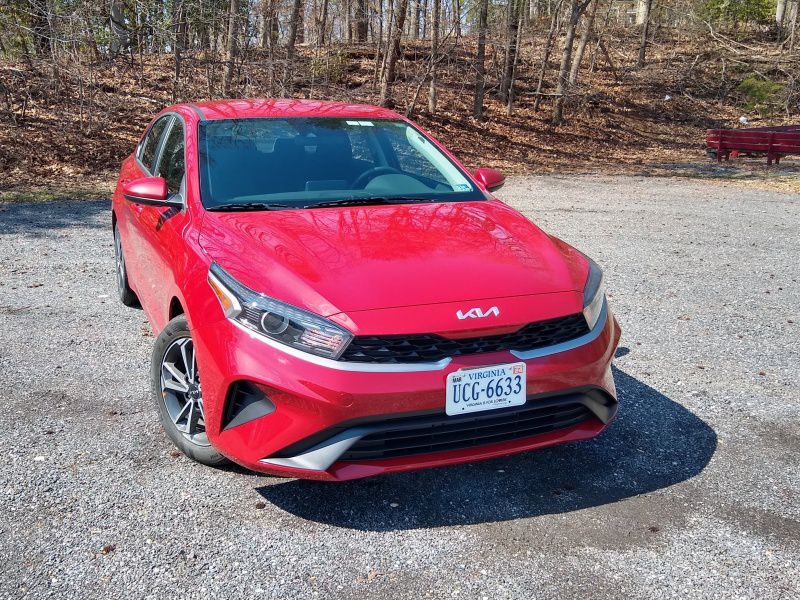 Photo by Brady Holt
Extra-Simple Interior
The Forte's design simplicity extends to its interior. Round dashboard vents and a slim strip of false metal across the passenger side are the closest things to style. The rest is purely intelligent ergonomics. 
Sitting up on the top of the symmetrical dashboard is the infotainment touchscreen, which measures 8 inches on the FE and LXS and — new this year — 10.25 inches on the GT-Line and GT. A volume knob sits on one side of the screen, a tuning knob on the other. Below it are the climate-control system's equally simple knobs and buttons. The base infotainment system newly includes wireless connectivity for Android Auto and Apple CarPlay smartphone integration, letting you use your phone's apps on the touchscreen without even needing to plug in your device. As on other Kia models, the bigger screen does require your phone to be plugged in. The Forte's interior doesn't have much flair or many posh surfaces, but it's all nicely assembled, its upholstery is pleasant, and its moving parts operate smoothly. That's more than we can say about some flashier-looking interiors.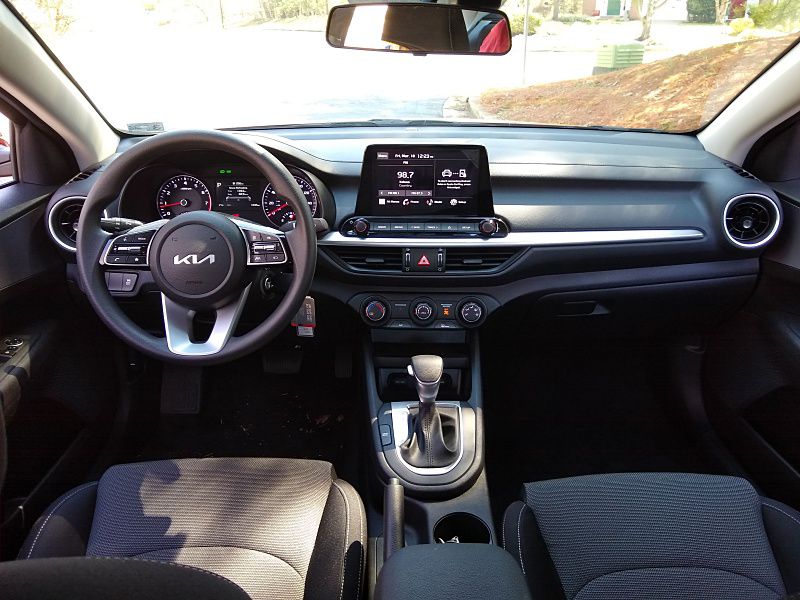 Photo by Brady Holt
Small But Roomy
The Forte is a small sedan, but it's agreeably roomy. The front seats are comfortable and supportive, and the available 10-way power adjustments are generous. Adults can't stretch out and relax in the rear seat like they could in the latest Honda Civic, but the Forte's interior space otherwise compares well to other compact sedans. 
There's lots of room for your cargo, too. With a best-in-class 15.3 cubic feet of trunk space, the Forte will fit more of your stuff than some mid-size sedans. However, unlike some older Forte generations and some current competitors, you can't get the Forte as a roomier five-door hatchback.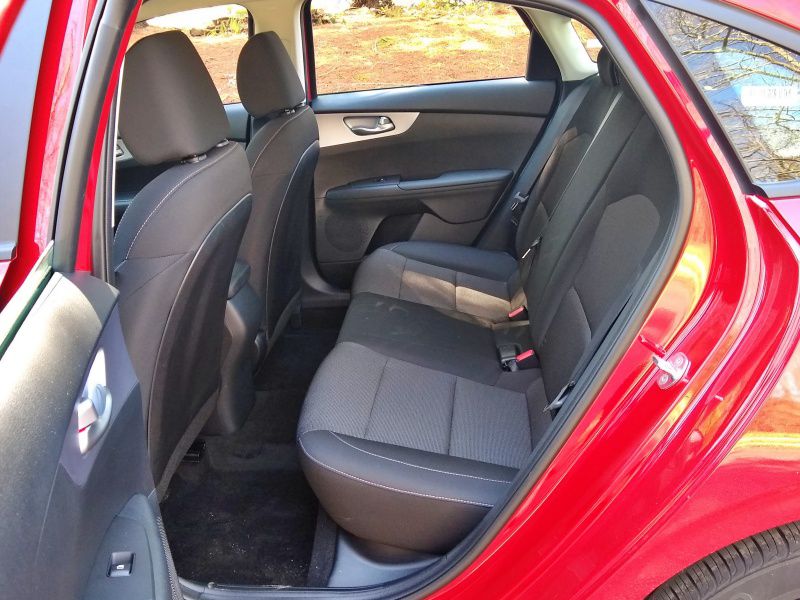 Photo by Brady Holt
Easy to Drive
There's nothing to driving the Forte. Hop in and it'll hum smoothly along. The ride is steady, the steering is natural, and the handling is responsive. The base model has a 2.0-liter four-cylinder engine that makes 147 horsepower and 132 lb-ft of torque, paired with a smooth continuously variable automatic transmission. That's nothing special for a compact sedan, and the engine starts to moan if you try to push it hard, but it's not disastrously slow. Similarly, the base Forte shows its handling limits as you drive it harder, rather than urging on an enthusiastic driver. 
If you're interested in speed, the Forte is the cheapest new car with more than 200 horsepower. The GT's 1.6-liter turbo makes 201 hp and 195 lb-ft of torque, and it also has a stiffer suspension with higher handling limits. The standard transmission is a seven-speed dual-clutch automatic, while a six-speed manual is also available. The Forte GT doesn't have the poise or polish of a Honda Civic Si or Volkswagen Jetta GLI, but it's significantly quicker than the mainstream-grade Civic or Jetta that you'd find south of $25,000.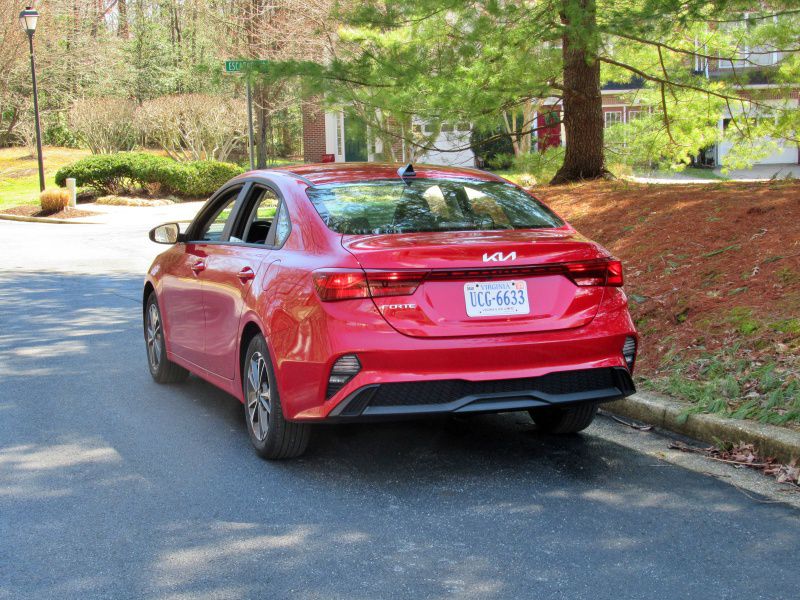 Photo by Brady Holt
Fuel-Sipping Engine
The Forte's base engine delivers an EPA-estimated 31 mpg in the city, 41 mpg on the highway, and 35 mpg combined on the FE trim level, while the LXS and GT-Line dip to 29 mpg, 39 mpg highway, and 33 mpg combined. That's good but not incredible for a compact sedan. However, we did beat those ratings, seeing about 38 mpg in mixed driving and an exceptional 44 mpg in mostly highway conditions. 
The turbo engine does pretty well, too, given its performance. With the automatic transmission, the EPA pegs it at 27 mpg city, 35 mpg highway, and 30 mpg combined, though the manual drops to 22 mpg city, 31 mpg highway, and 26 mpg combined. We've comfortably beaten the EPA ratings in other Kia and Hyundai models that use this engine, including the Forte's corporate cousin: the Hyundai Elantra. With the 1.6-liter turbo and six-speed manual, our Elantra averaged 36 mpg — well above the EPA estimates.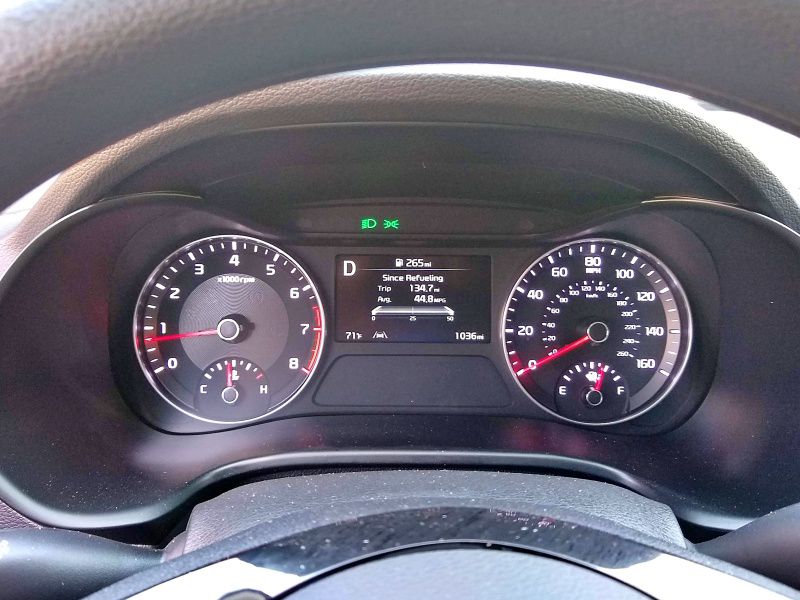 Photo by Brady Holt
Upgraded Safety Features
For 2022, Kia upgraded the Forte's safety and driver-assistance features. Its standard automatic emergency braking system can now recognize pedestrians, and a new optional upgrade can brake to avoid cyclists as well. The blind-spot monitoring system (a $500 option on the LXS and standard on higher trim levels) now includes rear automatic braking. Kia also upgraded the lane-keeping steering assistance, and Fortes with the optional adaptive cruise control can also adjust their speeds automatically in response to changing speed limits and upcoming curves. 
If a crash happens anyway, the Forte earned top scores from the Insurance Institute for Highway Safety. Results from the National Highway Traffic Safety Administration were less stellar: four out of five stars overall, including just three stars for front-passenger protection in a frontal impact.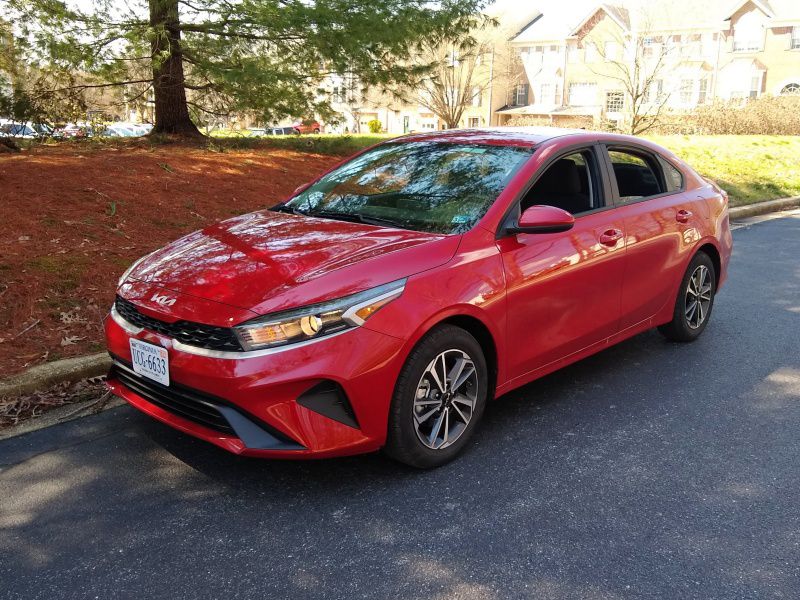 Photo by Brady Holt
Pricier Competitors
You can find small sedans with sportier acceleration and handling than the Forte, notably the Honda Civic and Mazda3. You can find small sedans with flashier styling, such as the Hyundai Elantra, Nissan Sentra, Mazda3, and even the latest Toyota Corolla. And you can find small sedans with better gas mileage, especially if you opt for the gas-electric hybrid versions of the Elantra or Corolla. 
But these competitors all cost more. And except for the Elantra, none of them matches the Forte's warranty coverage: five years or 60,000 miles on most components, and 10 years or 100,000 miles on the engine and transmission.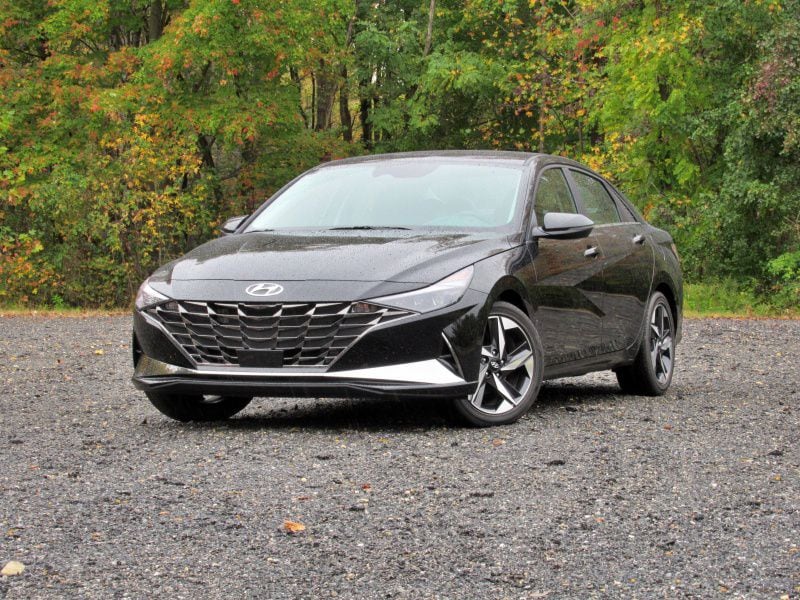 Photo by Brady Holt
Basic in a Good Way
The Forte looks like basic transportation, and it delivers exactly what it promises — in a good way. 
For less than $20,000, you can buy a sedan with a roomy interior, smooth ride, economical engine, long warranty, and lots of safety features. Except for a couple of middling crash-test scores, the Forte is as competent as it is unexciting. What's more, if you get excited about high-end features or a 201-horsepower engine on a low-end budget, the Forte delivers even more. If you're looking for more pizzazz, a number of alternatives are available. But if you're looking for a better bargain, that's a tougher challenge. Especially after this year's fresh upgrades, the 2022 Kia Forte is a solid economy car at an excellent price.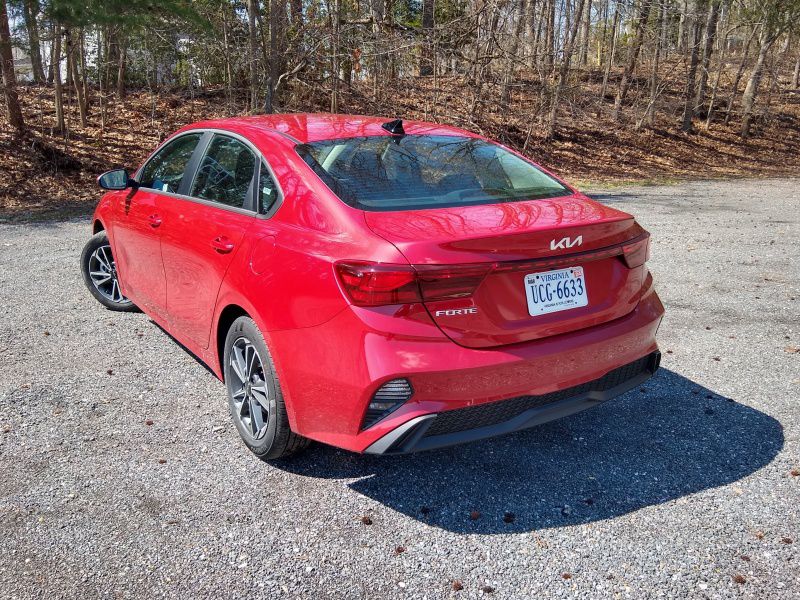 Photo by Brady Holt