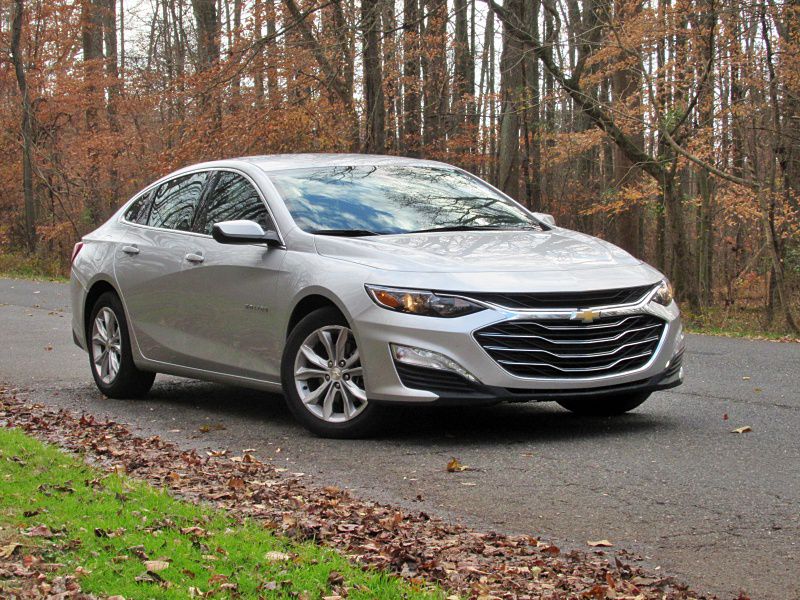 2021 Chevrolet Malibu LT ・ Photo by Brady Holt
For much of this year, you couldn't buy a Chevrolet Malibu even if you wanted to. Facing a shortage of computer chips, General Motors did some production triage and put its resources into SUVs and pickup trucks instead of its mid-size sedan. In February 2021, it stopped building the Malibu. Within a few months, the entire nationwide Malibu inventory was all but picked clean. 
Skeptics doubted Chevrolet's only remaining sedan would ever be built again. There was precedent. The rival Chrysler 200 had died even before the pandemic, and the Fusion was the last Ford sedan in the U.S. when the company stopped making it in July 2020. But last month, GM fired up its Kansas City factory and resumed cranking out new Malibus, now priced starting at a reasonable $23,400. Now that you can buy a Malibu again, we've tested one to see if this budget-friendly Chevy is worth your business. 
Graceful Design
The current Malibu generation debuted back in 2016. It was a style leader at that time — long, sleek, and elegant. Chevy's split grille dips low to the ground, but its gentle curves keep the distinctive look from getting too in-your-face. We're fans of a styling update that followed in 2019, which made the grille lower and its horizontal bar (housing the Chevrolet bowtie logo) smaller. If you find newer mid-size sedans either too flashy or too stodgy, we think the Malibu's design has aged gracefully. 
Another thing that keeps the Malibu looking upscale is its generous standard aesthetic equipment. Unlike a base-model Nissan Altima, the entry-level Malibu LS already includes 16-inch alloy wheels rather than plastic wheelcovers. And unlike an entry-level Honda Accord, every Malibu bumper is dressed up with foglamps rather than leaving gaping black cutouts where the lights would have gone. What's more, for just $1,000 extra, you can upgrade from the Malibu LS to the sport-themed RS and get 18-inch wheels, a rear spoiler, dual exhaust outlets, a dressier grille, and blacked-out badging. It's easy for cheap cars to look cheap; instead, the Malibu looks expensive.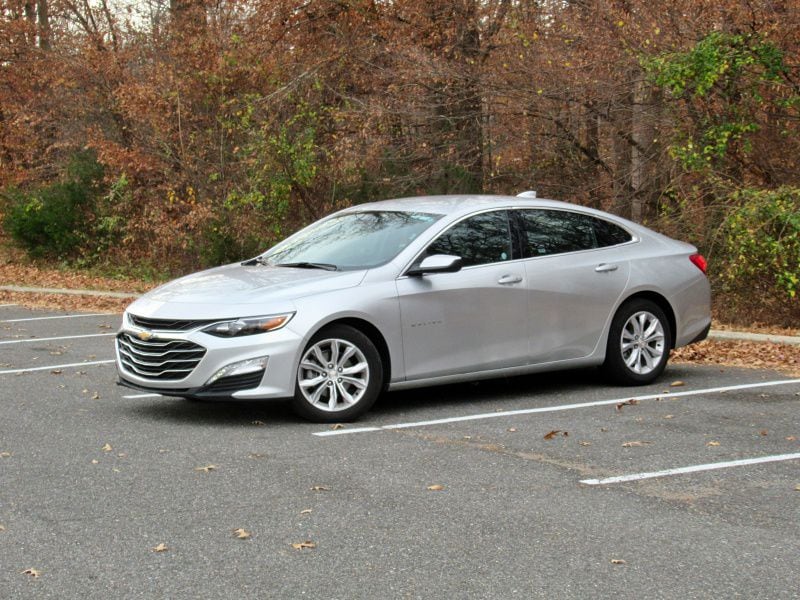 Photo by Brady Holt
User-Friendly Interior
Like its exterior, the Malibu's interior has gently flowing lines. Aluminum-accented curves wrap around the sides of the dashboard, linking the dashboard vents and bordering upholstery that matches the seats (black cloth on our mid-level LT test vehicle). Some might find the look dull by now, but we think it's still a pleasant look. Simple controls — including a nicely executed 8-inch touchscreen infotainment system with wireless Apple CarPlay and Android Auto connectivity — are no less welcome. Upscale touches include graceful climate controls that house the cabin temperature right in the dial, along with nice-feeling rubber-lined steering wheel controls. New for 2022, an electronic parking brake switch replaces last year's clunky old footbrake. 
This isn't a luxury-car interior, though. Even the top Premier trim level has a mix of opulence and rough, basic plastics, and lesser models feel simpler still. Our LT didn't even include a leather-wrapped steering wheel, though it's included on the cheaper RS; you grip it right along a seam where two different textures meet, too. We have complaints about details in several other mid-size sedan cabins, but the Malibu's feels lower-rent than most.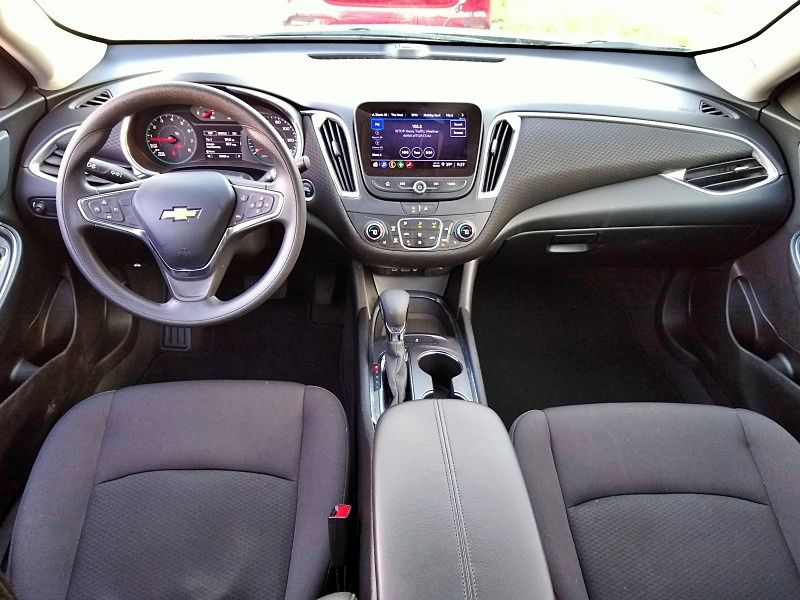 Photo by Brady Holt
Plenty of Room
The risk of a low, sleek roof like the Malibu's is a cramped backseat. It's why many big luxury sedans have unexpectedly pinched rear quarters. Fortunately, while the Malibu doesn't lead the class in interior space, adults will fit just fine in the back. 
The front seats have plenty of space, too, including generous fore-aft travel. The seats themselves are nothing special — we prefer the extra-cushy yet more supportive Nissan Altima and Toyota Camry chairs — but nor did they give us trouble during our test. Height adjustability is standard on the driver and front-passenger seats, a welcome perk in a low-riding sedan. The Honda Accord doesn't offer height adjustments for the front passenger at any price, and most other models at least charge extra. All but the base Malibu LS add eight-way power adjustability for the driver; heated front and rear seats and a heated steering wheel are also available on certain models. You can't get ventilated front seats like on the Hyundai Sonata and a few other competitors, but overall, the Malibu's interior is a comfortable place to ride.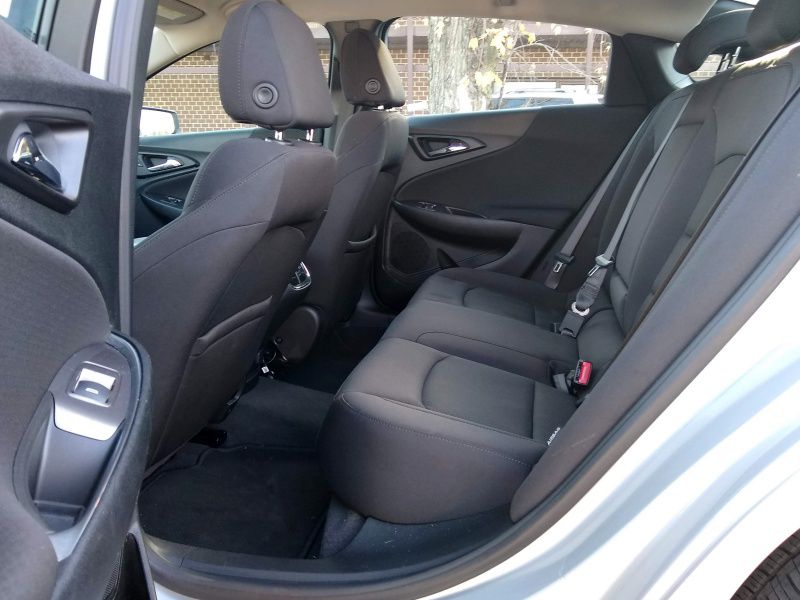 Photo by Brady Holt
Quiet and Composed
If the Malibu was built to cost little, nobody told the engineers who developed its driving manners. This is a serene sedan that's perfect for eating up long stretches of open highway, with a stable, steady, and hushed ride. Even the LS includes upscale technologies like active noise cancellation and an acoustic-laminated windshield. But don't expect a soft floaty boat, either; the Malibu also handles with impressive composure. It doesn't have the precise steering that would make it truly fun to drive, but it feels entirely natural to hustle this car along a winding road. 
Our test vehicle featured the most popular 1.5-liter turbocharged four-cylinder engine, which makes a modest 160 horsepower but a healthy 184 pound-feet of torque. Mated to a continuously variable transmission, this engine provides effortlessly natural acceleration in gentle driving and enough punch to get you moving when you push it harder. We appreciated that the engine emitted more of a whir than the gravelly growl you'd hear when gunning a base Toyota Camry. The top Premier model has a 2.0-liter four-cylinder turbo with 250 hp and 260 lb-ft of torque; it's quick and quiet even when you're in more of a hurry.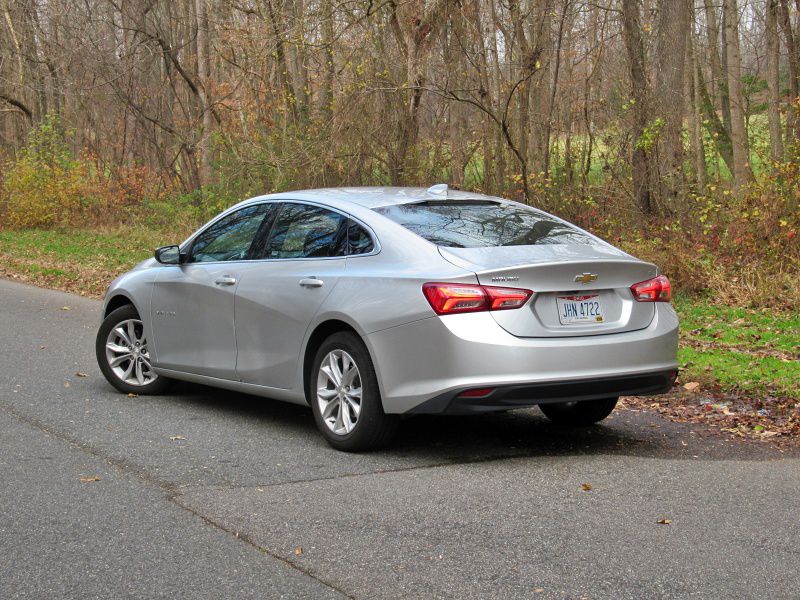 Photo by Brady Holt
Still Economical
Fuel economy improves rapidly in new cars, but the Malibu's EPA estimates remain excellent for a mid-size sedan. The 1.5-liter model is rated for 29 mpg in the city, 36 mpg on the highway, and 32 mpg combined — matching or exceeding most competitors. The 2.0-liter Malibu achieves 22 mpg city, 33 mpg highway, and 26 mpg combined, though Chevrolet recommends premium-grade fuel for the bigger engine. 
In our non-scientific testing, we averaged 32 mpg in the 1.5-liter Malibu but an incredible 36 mpg when we last tested a 2.0-liter. We've also beaten EPA estimates in recent tests of the Toyota Camry and Nissan Altima. For maximum fuel savings, though Chevrolet no longer sells a Malibu Hybrid; the Malibu has ceded that niche to gas-electric versions of the Honda Accord, Hyundai Sonata, and Toyota Camry.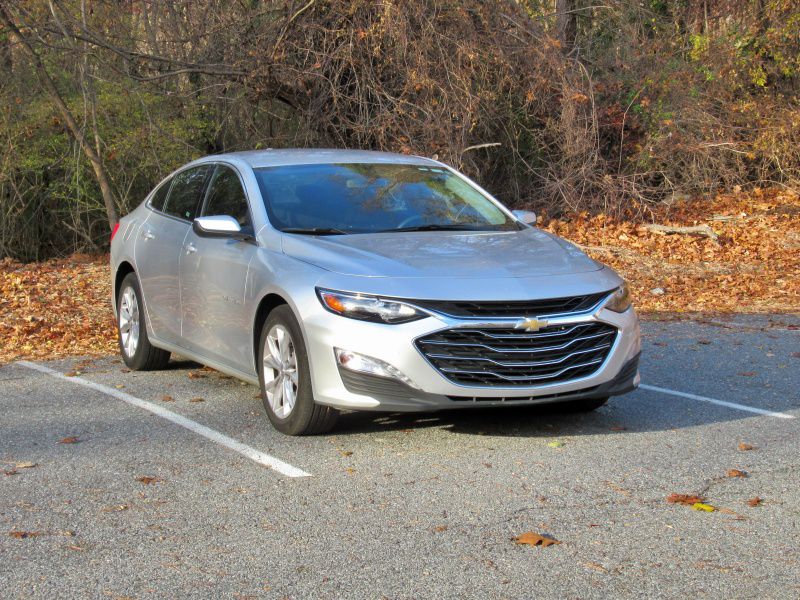 Photo by Brady Holt
Optional Safety Technology
In 2016, advanced driver-assistance technologies were often restricted to cars' high-end trim levels — if they were offered at all. Now, the Malibu is the only mid-size sedan to charge extra for automatic emergency braking. You also pay for lane-keeping assistance, adaptive cruise control, and blind-spot monitoring, which are also standard on many competitors. All you get for free are federally mandated systems like airbags, stability control, and a low-resolution backup camera. 
The good news, at least, is that most of those options have become available even on the base Malibu. (You do need the Premier for a higher-resolution backup camera, adaptive cruise control, and an "enhanced" automatic emergency braking that works above 50 mph.) In crash testing, the Malibu earned four out of five stars from the National Highway Traffic Safety Administration, with its lowest marks in a side-impact test that its competitors ace. And while the Malibu earned top scores in most Insurance Institute for Highway Safety evaluations (including side impacts), it struggled in the IIHS's challenging small-overlap passenger-side frontal test. Also, the Malibu's lower-cost automatic emergency braking system slowed the car little in a 25-mph IIHS test, and even the "enhanced" version provided little protection for pedestrians.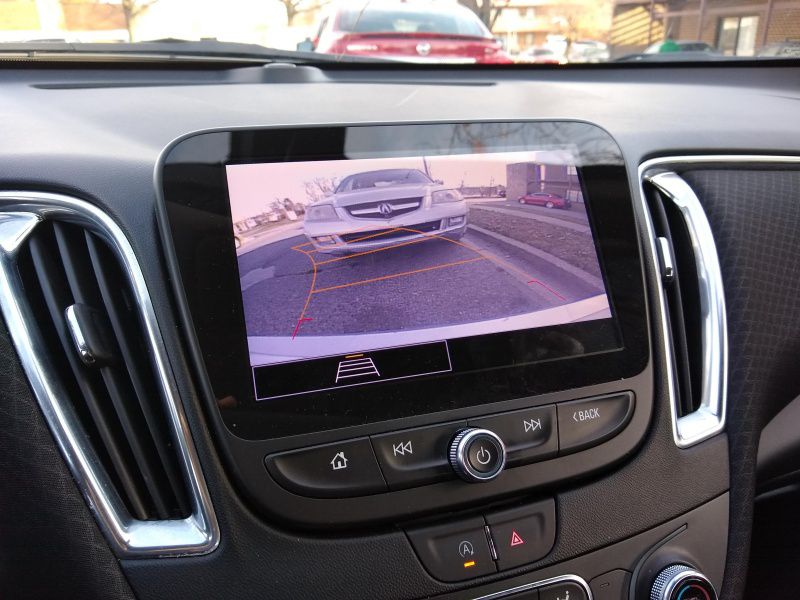 Photo by Brady Holt
Bargain Pricing
The base 2022 Malibu LS starts at $23,400, and it comes equipped with 16-inch alloy wheels, a proximity key with push-button starting, and an 8-inch infotainment touchscreen. As on other trim levels, blind-spot monitoring, paired with rear parking sensors, costs $545. For another $550, you can add automatic emergency braking with pedestrian detection (for speeds below 50 mph) and lane-keeping assistance. 
The Malibu RS, $24,400, upgrades to a leather-wrapped steering wheel, a power driver's seat, and 18-inch wheels and other dressy exterior add-ons. If you want an affordable car that doesn't look cheap, it's the steal of the Malibu lineup. We tested the LT, $26,800, which brings automatic climate control, heated front seats, and satellite radio. That's a steep jump, especially since you also drop down to 17-inch wheels and lose the leather-wrapped steering wheel. However, the LT is the cheapest way to get the Malibu with leather upholstery ($1,590) or a sunroof ($1,050). The top Premier costs $33,500 and comes loaded with luxury features in addition to the bigger 2.0-liter engine; getting its advanced safety features is a steep $2,095 upcharge, though.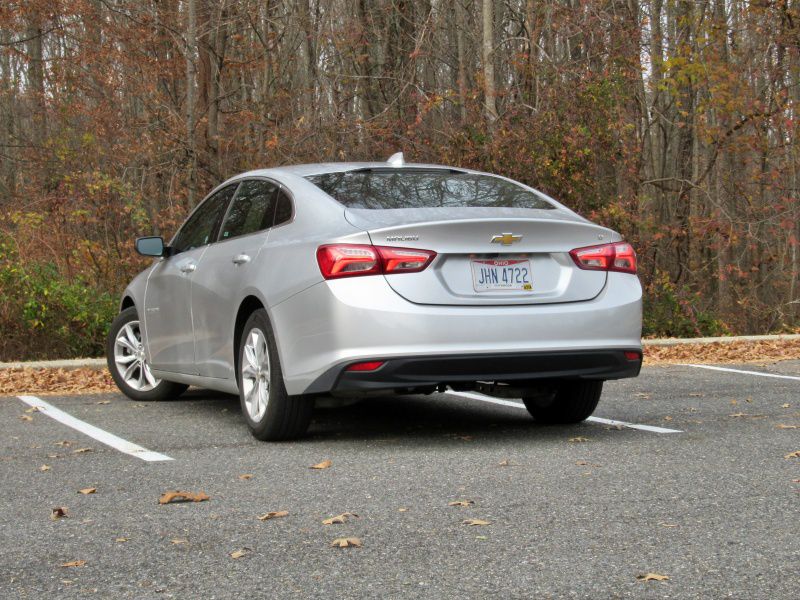 Photo by Brady Holt
A Shrinking Field
Once the heart of any major automaker's lineup, the mid-size sedan has dropped in stature. Four of the Malibu's top competitors back in 2016 have either been discontinued already or are on their way out. Still, some strong alternatives still remain. 
For affordability, the Hyundai Sonata, Kia K5, Nissan Altima, and Volkswagen Passat are the notable standouts. Of those, the Sonata is the most luxurious, the K5 is the sportiest, the Altima is the most comfortable, and the Passat is the roomiest. But all four are well-rounded, and if you want high-end features like leather or leatherette upholstery, they can undercut the Malibu's price tag. We also like the slightly pricier Honda Accord and Toyota Camry; of those, the Accord feels like a premium sports sedan while the Camry matches up closely to the Altima. Until auto markets settle, though, a big point will be what you can find and what dealers will charge for it. We'd expect fewer people lining up at the Chevy dealer for the aging Malibu than for a hotter new model, and that should work in prospective buyers' favor.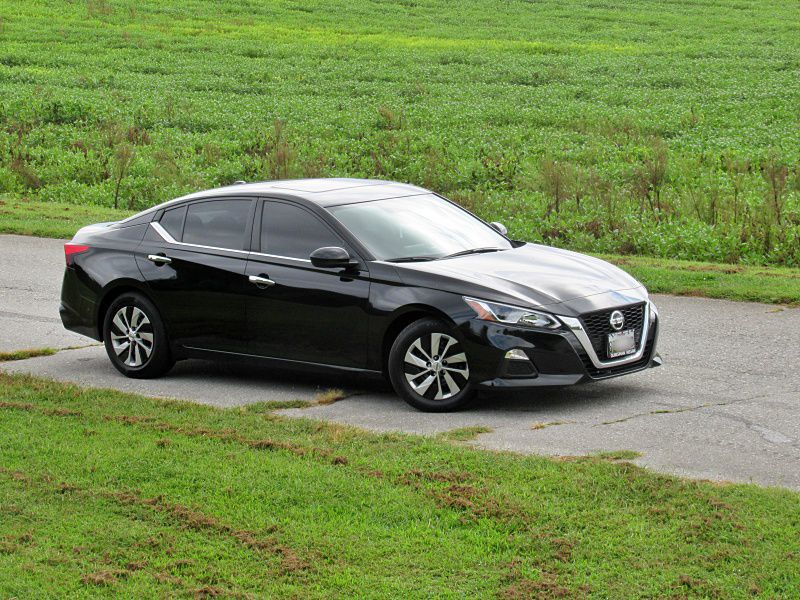 Photo by Brady Holt
Still a Contender
As it begins its seventh year since a major update, the 2022 Chevrolet Malibu faces long odds. But for the right buyer, it overcomes them. Sleek without being aggressively sporty, it looks nothing like today's other mid-size sedans. Packed with noise-abating technology and riding on a carefully calibrated suspension, it drives with a panache that belies its price. And even if some of them cost extra, it is available with modern safety and infotainment features. Affordable, economical, roomy, comfortable, and tech-friendly, this is hardly a sedan that time forgot. 
This is far from the perfect mid-size sedan. The Malibu's interior decor and safety record are notable drawbacks. If you want options like leather upholstery and a sunroof, you're looking at a $30,000 sticker price — higher than key competitors even without the Chevy's extra-cost safety features. And it's hardly the only affordable four-door with a smooth, quiet ride. Still, if you find a Malibu at a nice price, it remains a lot of car for the money.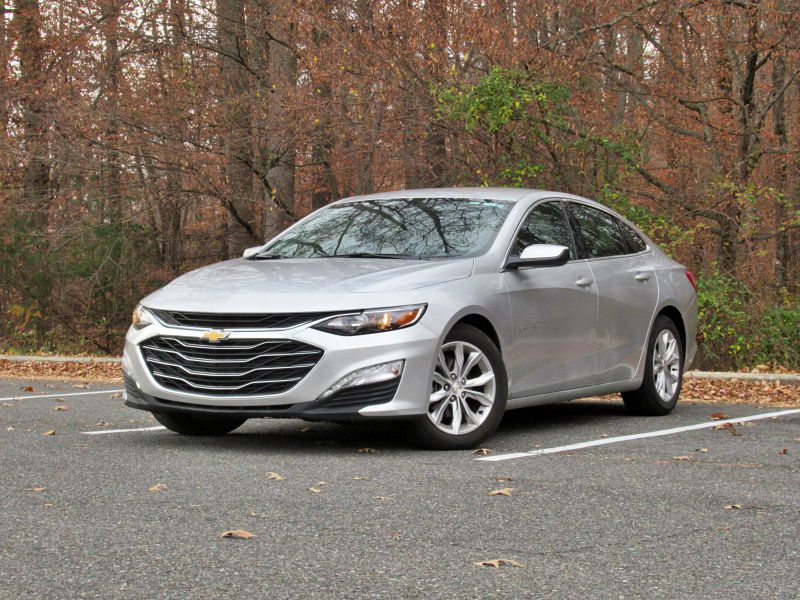 Photo by Brady Holt