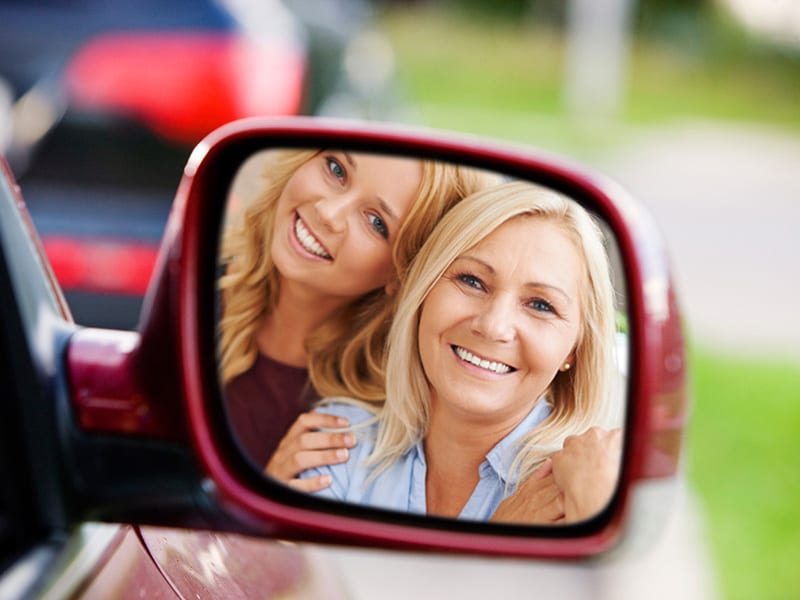 If the oft-repeated statement is true — that being a mother is the most important job in the world — at least car manufacturers are trying to make it a little bit easier for the moms out there. Driving around a bunch of kids is a chore, but a thoughtful touch can make carpooling duty more convenient. Popular family-friendly vehicles, like station wagons and crossovers, are often the first to receive new high-tech features that help make your most precious cargo safer and more comfortable. And, as you'll see, some of our favorite options don't even need any technical wizardry.
Let's take a look at some of the most interesting and convenient family-friendly features that are offered on the current crop of SUVs, minivans, wagons and sedans.
Easy Speak Microphone
The Toyota Highlander and Toyota Sienna both offer a feature called Driver Easy Speak that's designed to help moms' voices be heard. Shouting to the passengers loaded in the back of a cavernous SUV or minivan is no fun, and it can be dangerous and distracting. Even more, it's a little too easy for the kids back there to pretend they can't hear what's going on. So, without turning around or taking eyes off the road, Mom can activate the Driver Easy Speak system through Toyota's infotainment screen, and talk into a built-in microphone (the same one used for the Bluetooth smartphone interface). Whatever the driver says is then amplified through all the speakers in the vehicle. No more turning around just to give the kids a good scolding.
Vehicles that offer Easy Speak microphone: Toyota Highlander Toyota Sienna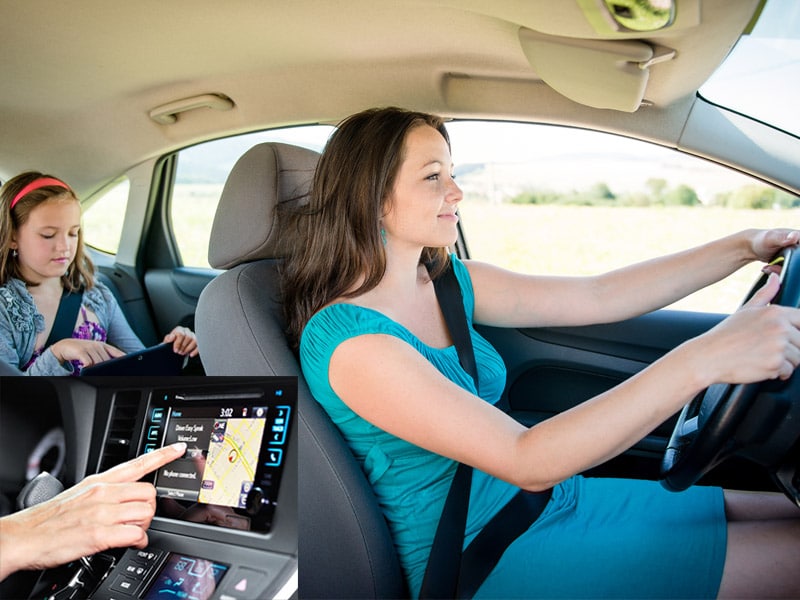 Purse Hanger
The Honda Odyssey is full of so many clever features Mom's would love, that it deserves its own article, but one that is so simple, yet so helpful, is the purse hook located just left of the glovebox - within reach of the purse-slinging driver. Sure, minivans are made for convenience, not image, but this hook could have many uses beyond the simple purse holder. It could hold a trash bag, a bag of groceries, a wet bathing suit or a one-shot camera.
Vehicles that offer purse hanger: Honda Odyssey (passenger-side) Kia Sedona (back of front seat) Toyota Sienna (2nd and 3rd rows)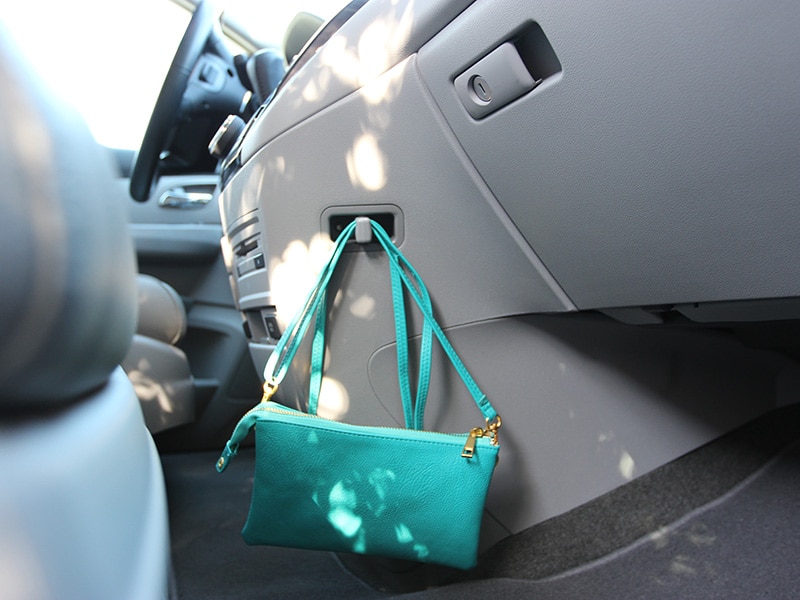 Photo by TJ Keon
Keyless Entry Keypad
Ford's entry keypad has been around for awhile, but that doesn't make it any less relevant. The latest SecuriCode system, available on most Ford models, is just as convenient for parents as ever, and offers some benefits that would have blown the hubcaps off Grandma's old Taurus. If you can't dig out your keys while struggling with grocery bags, or mischievous kids lock the door from the inside, a five-digit code is all it takes and you're in again. But that's not all. Pressing certain keys can also unlock all the car's doors, open the power liftgate (if the car has one), and activate the driver's memory settings for radio and seat preferences.
Vehicles that offer Keyless Entry:  Select Ford models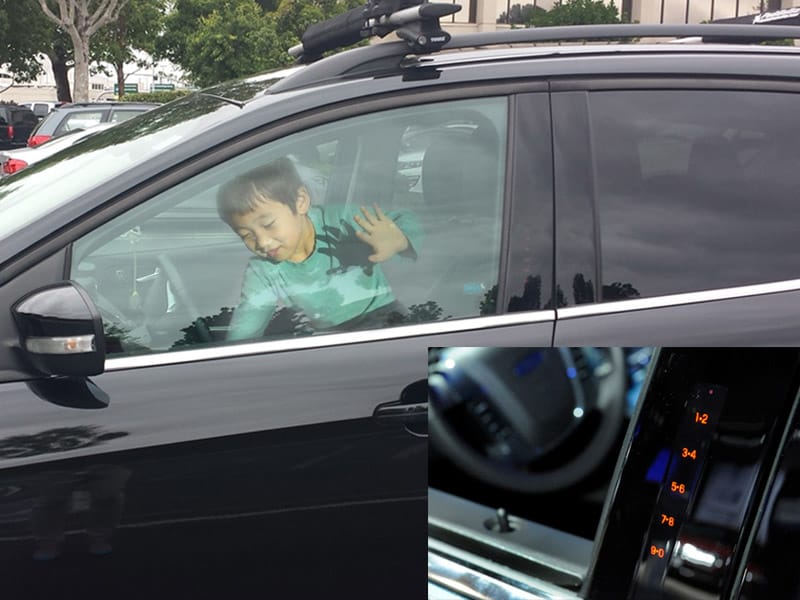 Large Center Console For Mom Bag
Most female drivers, not just moms, could use a good place to tuck away a purse, and in many cases, a mom-sized bag. Not only do these roomy consoles keep purses and other valuables away from sticky little fingers, they also keep them hidden from strangers' prying eyes. 
Vehicles that offer large center consoles: Acura MDX Ford F-150 Honda Odyssey Kia Sedona Toyota Highlander Toyota Sequoia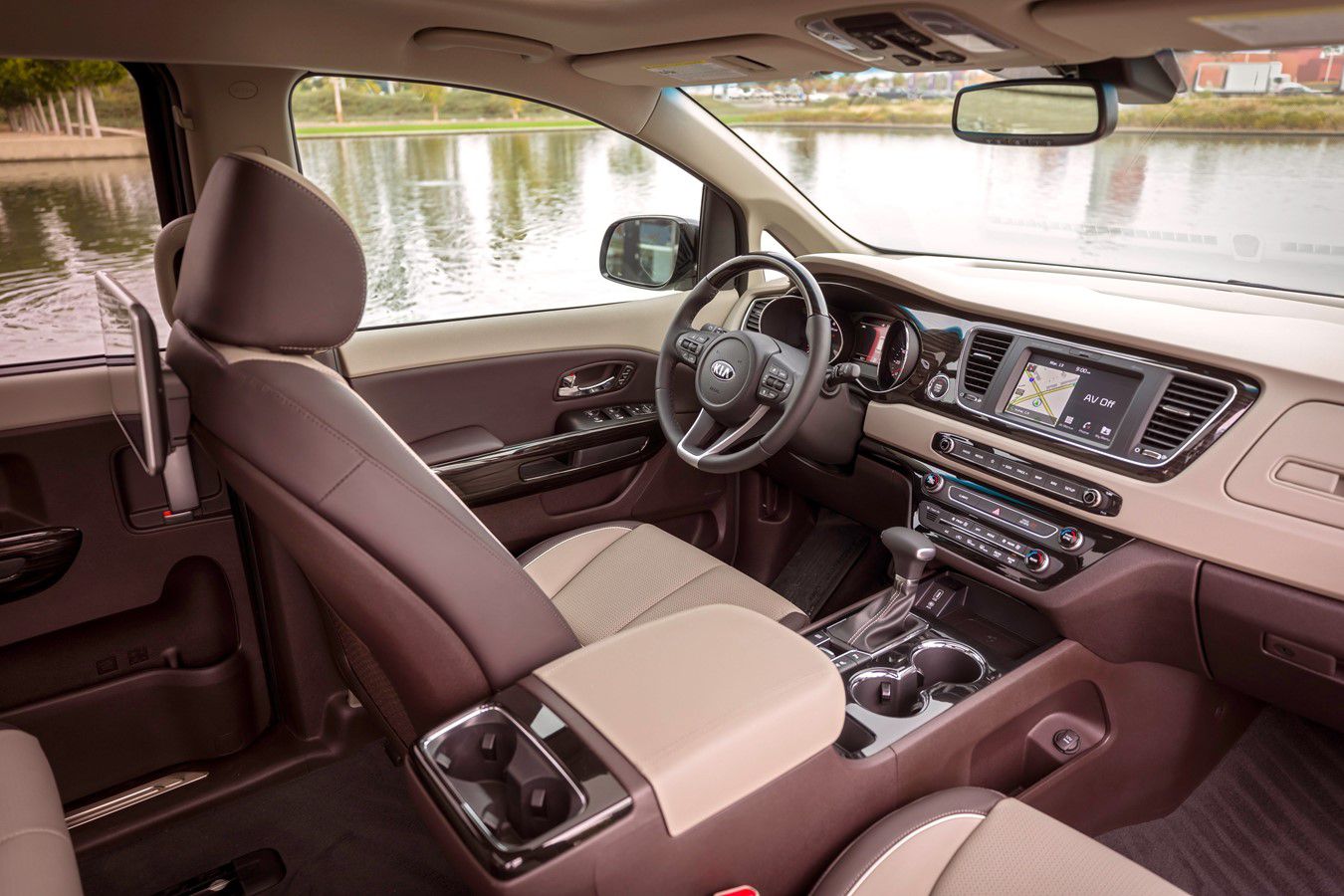 Photo by Kia
Hidden In-Floor Toy Chest
In-floor storage prevents daily drivers from turning into chaotic playrooms. And with cars like the Dodge Caravan, Dodge Journey and Honda Odyssey conveniently situating in-floor storage in the rear passenger area, kids can play an active role in keeping their toys and sports equipment out of sight. 
Vehicles that offer in-floor storage: Acura MDXAcura TSX Sport Wagon (retired) Chrysler Town & Country Dodge Grand CaravanDodge Journey Honda Odyssey Nissan Pathfinder Nissan Quest Toyota Sienna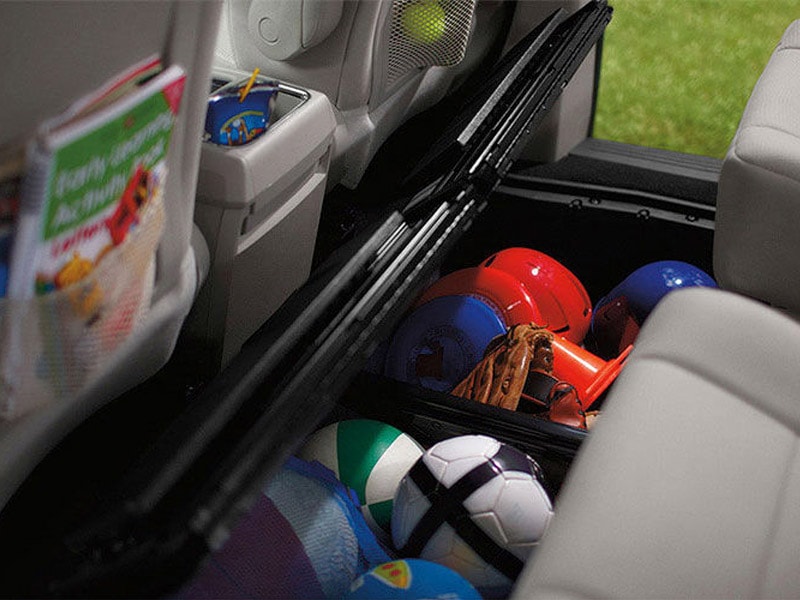 Flip-Up Trash Bag Ring
Tired of finding empty juice boxes in the door pockets, sticky candy wrappers wedged between the seats, and drive-thru receipts on the floor? (Come on, you know the kids aren't the only ones guilty of littering in the car.) The designers of the Honda Odyssey understand all too well how quickly a minivan can become a rolling dumpster, because getting to your destination safely is your priority, and keeping the car spotless, well, isn't. So, now some Odyssey models come with a removable center console that features a trash bag holder. This flip-up ring can use regular trash bags, but it's also a great way to recycle plastic grocery bags. So easy, the kids might even remember to use it. 
Vehicles that offer trash bag ring:  Honda Odyssey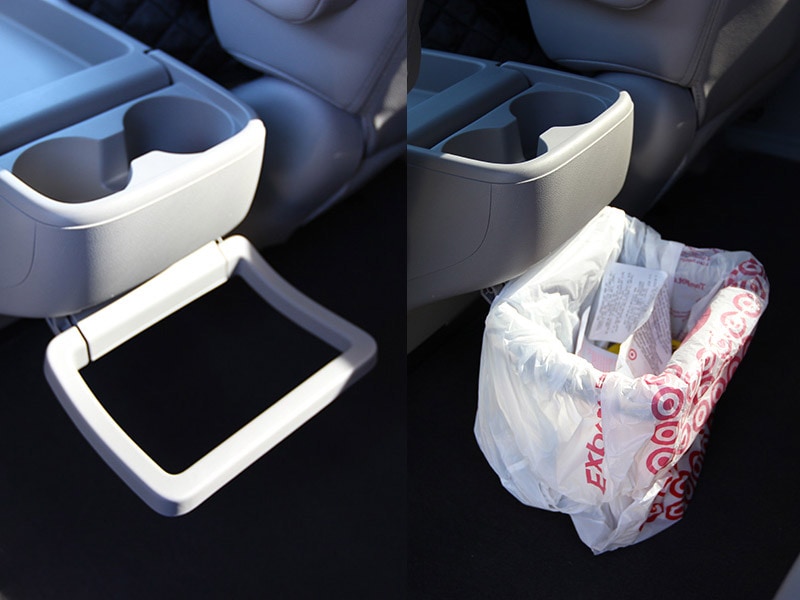 Cool Chamber for Juice Boxes and Snacks
The Ford Flex is known for its polarizing styling, but moms love its vast array of family-friendly features. One of the most popular options is the refrigerated center console in the passenger area, with enough room to hold enough juice boxes, water bottles, or fruit to make any road trip go a little more smoothly. The console actually runs off a compressor, which means it offers a refrigeration setting of 41 degrees Fahrenheit, as well as a freezer setting of 23 degrees Fahrenheit. This chill console is only available as an add-on feature on the Flex's fancier trim levels, when equipped with second-row captain's chairs (which means, unfortunately, it reduces the vehicle's maximum available seating by one). But just think of how refreshing it'll be after soccer practice! Vehicles that offer a cool chamber: Ford Flex Dodge Journey Honda Odyssey Land Rover Range Rover (optional feature) Land Rover Range Rover Sport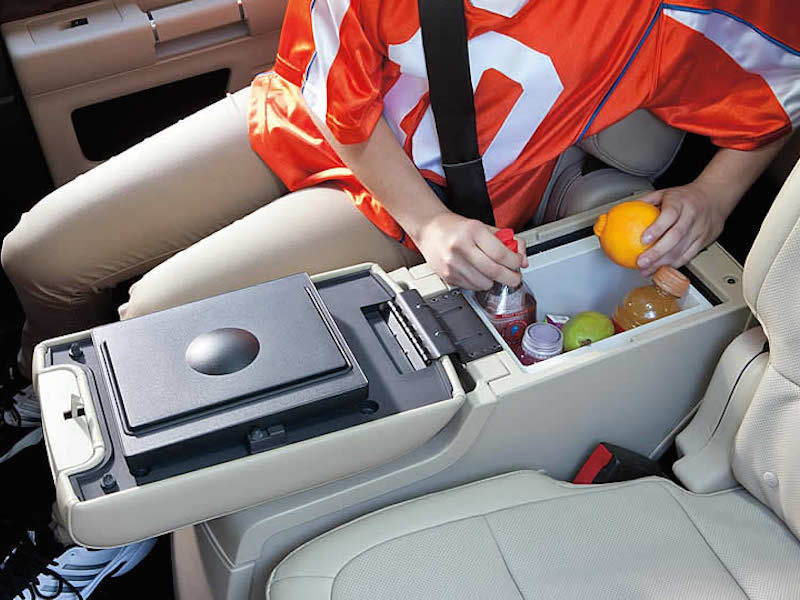 Photo by Ford Media
Mom's Spyglass
Moms no longer have to worry about "What's going on back there?" with the clever conversation mirror. Situated above the rear-view mirror, the spyglass provides a panoramic view of the backseat so moms can safely keep an eye on sleeping babies and backseat shenanigans without having to turn their heads away from the road.
Vehicles that offer conversation mirror: Chrysler Town & Country Dodge Grand Caravan Dodge Journey Kia Sedona Honda Pilot Honda CR-V Hyundai Entourage Toyota Highlander Toyota Sienna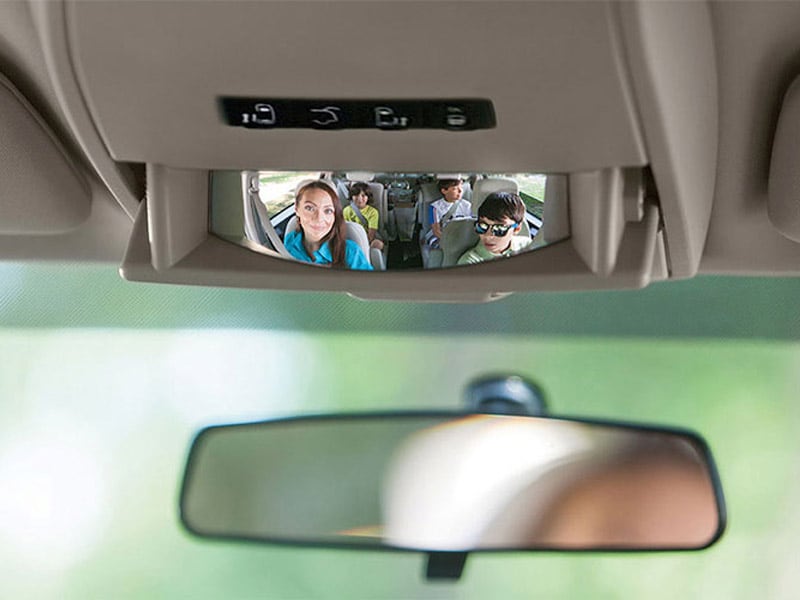 Motion-Sensing Liftgate
Several SUVs on the market offer a hands-free liftgate, enabling the driver to swipe her foot under the rear bumper without fumbling around for the key or putting shopping bags on the ground. (The key fob has to be nearby, though.) However, Cadillac claims the recently updated system on the 2015 Escalade is the first of its kind in the class. The Escalade's motion-sensing liftgate is programmable, so instead of opening all the way, the liftgate will only open to a predetermined height. That's right, no more hitting the garage ceiling when the liftgate automatically opens! And shorter moms won't have to jump or struggle to close the gate, either; the Escalade shuts the door with another swipe of the foot. Vehicles that offer motion-sensing liftgate: Cadillac Escalade Ford Escape Volvo XC90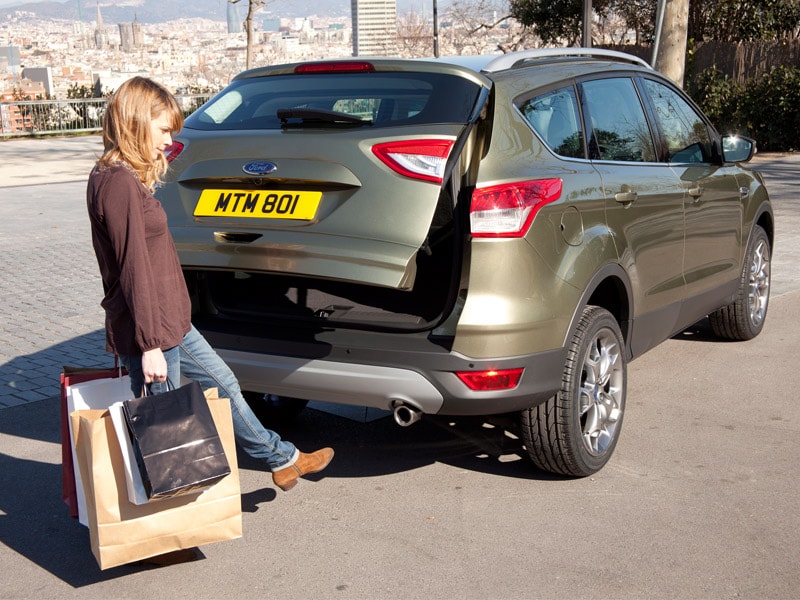 Built-in Vacuum Cleaner or Cheerios Sucker
Born out of the brilliant idea of a Honda engineer's 10-year-old daughter, the Honda Odyssey's HondaVac is powerful enough to suck up all the remnant Cheerios that kids leave behind.  Vehicles that offer built-in vacuum:  Honda Odyssey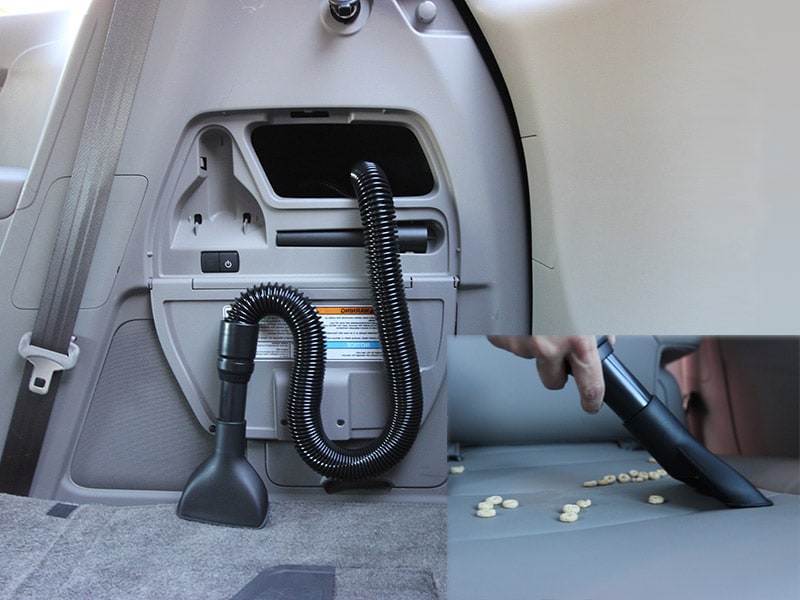 Photo by Honda