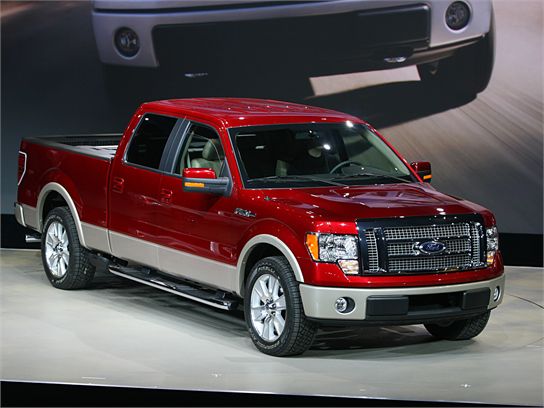 A good truck can pull mountains and carry the leftover rocks in its bed, all while keeping passengers safe, sound and comfortable. And though this year saw the debut of only a few trucks, they are nonetheless significant: In the fall of 2008, shoppers will get to test drive the redesigned 2009 Ford F-150 and Dodge Ram. While the F-150 and Ram represent critical new models for their respective automakers, on the horizon is a pickup that may shake things up in a big way: the Toyota A-BAT. Featured on Page 10, the A-BAT is a hybrid pickup for commuters and weekend warriors – and very well could be Toyota's next hit.
 By Staff Photo Credit: Staff, Automakers
Page 2
The 2010 Pontiac G8 Sport Truck is like cats and dogs living together. Or, say, Obama and Clinton sharing a ticket in 2008. It's plain weird, in a good way, but also in the way that makes you shake your head and smile at the guy who still wears a mullet. You know: business up front and party in the back. That's the Sport Truck, as a matter of fact. Business up front by way of the Pontiac G8 sedan and it's marvelous V-8 powertrain and a party in back, courtesy of a truck bed welded on at the B-pillar.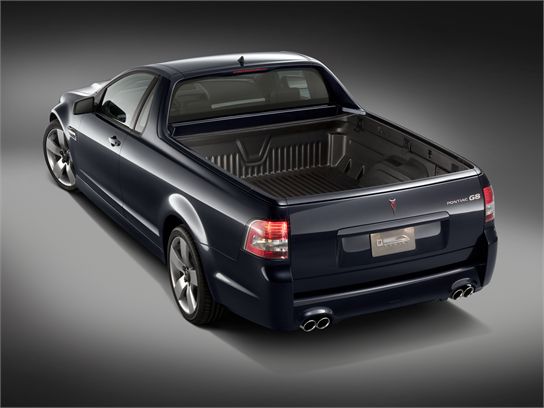 Page 3
Remember the El Camino? A pickup based on a car, the El Camino lasted for years until it was finally cancelled in the mid '80s. Yet the basic concept has lived on in Australia, where these "utes" are quite popular, especially GM's Holden Ute, based on the Commodore sedan. Which brings us to the GMC Denali XT Concept. The powertrain is GM's two-mode hybrid. The engine in this case is a smaller ethanol-capable 4.9-liter version of GM's small-block V-8, good for 326 horsepower thanks to direct-injection technology. It's mated to the two-mode transmission system, allowing the XT to travel on pure electric power at low speeds.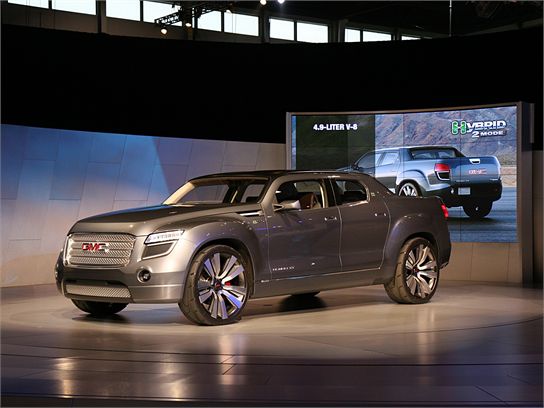 Page 4
As go Chevrolet's full-sized pickups, so go GMC's. When Chevy introduced the Silverado hybrid in Los Angeles last year, we set our stopwatches for when the GMC Sierra version would show up. Well, the timer just went off, as GM's truck-only division pulled the wraps off its own hybrid pickup. Due to go on sale in the last quarter of 2008 as a 2009 model, it promises 40 percent better city fuel economy, 25 percent better overall, but without a serious compromise on towing or hauling capacity.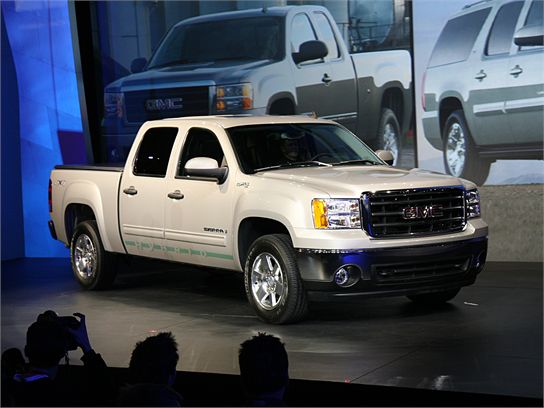 Page 5
Rumors of an H3 with a truck bed have abounded ever since the SUV was introduced. Turns out the rumors were true. The H3T boasts five-passenger seating and a five-foot truck bed big enough for dirt bikes, a snowmobile or the good ol' sheet of plywood. The engine choices for the H3T are the same as those for the full-bodied H3. Base models get the lackluster 3.7-liter inline-5, while Alphas get the 5.3-liter V-8 with 300 horsepower. It also comes standard with full-time four-wheel drive, with of course user-selectable low range for off-road duties.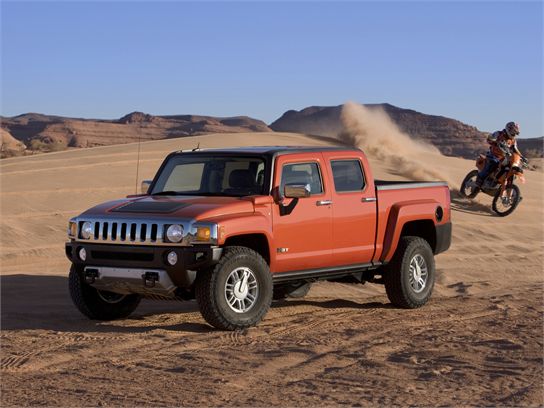 Page 6
It should come as no surprise that people who like motorized toys own trucks. After all, it's a little difficult to haul your dirt bike on the roof of a Camry, and the Chevrolet Malibu, for all its improvements, it just can't tow very much weight. Suzuki, as a major player in the toy department, is aiming a rebadged version of the Nissan Frontier at its bike and ATV buyers. Funny thing is, with a better warranty and a restyled front end, they just may have improved Nissan's mid-sized pickup. The Equator will go on sale this fall.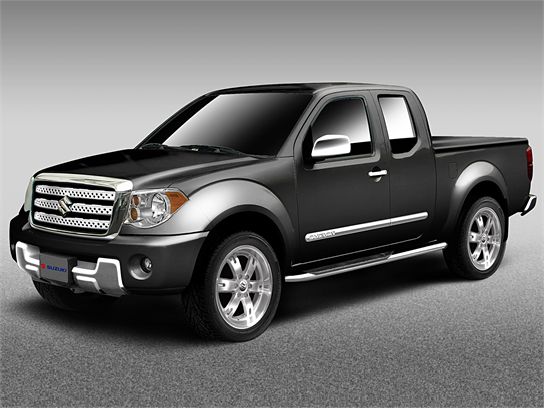 Page 7
Debuting at the Detroit Auto Show, the fourth-generation RAM pickup retains much of the big truck styling. Dodge has a new 5.7-liter, multi-displacement, V-8 Hemi, which produces 380 horsepower and 404 lb.-ft. of torque, yet is supposed to get better mileage. A 4.7-liter V-8 and a 3.7-liter V-6 are also offered. Transmissions include a six-speed manual and four- and five-speed automatics. In addition to the Hemi V-8, there will be hybrid and a light-duty diesel for the 1500 model.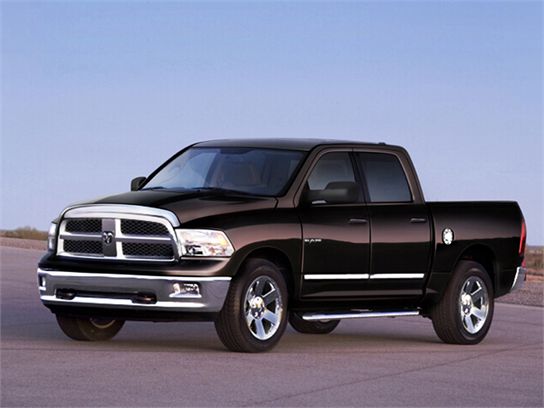 Page 8
When you're the best at something, especially for multiple decades, there's a lot of motivation and pressure to maintain that ranking. That mentality keeps Ford continuously improving its most important vehicle, the F-150 pickup. Taking center stage at the 2008 Detroit Auto Show, the redesigned 2009 model will debut style that's "a touch more civilized" than the Super Duty and features designed to keep competitors at bay, such as a new side step for the tall bed, added safety features, and a top-of-the-line Platinum trim. Look for the complete package to hit dealer lots later this year.
Page 9
The Japanese automaker calls this model a "cross-utility vehicle." Engineered with 4-wheel drive, it's been built with the outdoor's set and rough terrain in mind, although one version has been designed to boost street cred. Its most appealing feature is that it can be up-fitted with extra modules, like the Camper, which sleeps two adults; the Rescue, designed to convert this people and goods carrier into a rescue and safety workhorse; and the Fashion, which adds urban style.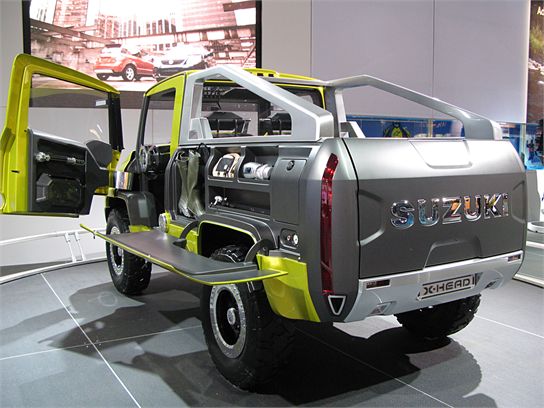 Page 10
Toyota made quite a name for itself with its small pickup truck in the 1980s, and the company describes the A-BAT as a return, at least somewhat, to those beginnings. With a modern Honda Ridgeline/Chevy Avalanche profile, and a four-cylinder gasoline engine combined with Toyota's hybrid system, the concept targets suburban dwellers who commute to work and need to haul things from big-box stores or their weekend warrior toys. The A-BAT parts ways with its pickup truck kin by being built on a car-based platform.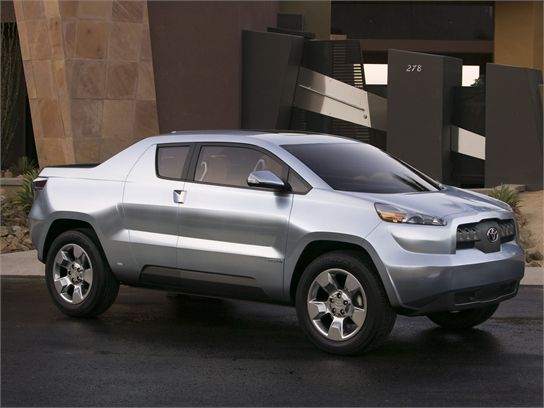 Page 11
For a boxer it might be hammering a bruised kidney and for a Jenny Craig client it might be avoiding buttered dinner rolls. The point is to focus on an area that will provide the greatest impact, and that's just what Chevrolet will do when it launches the 2009 Silverado Hybrid in late 2008. With a reported 40-percent improvement in fuel economy while still providing plentiful V-8 power and a 6,100-lb. towing capacity, Chevy's full-size pickup could potentially provide an impact equivalent to all of GM's current hybrid passenger cars combined.