Call it a game of automotive catch-me-if-you-can, except that it's not much of a contest when no one gets captured. That seems to be the case when it comes to the race for reliability between domestic automakers and their Japanese competition. According to the recently released Consumer Reports annual issue on reliability, the domestics are improving - but not quite enough to put a significant dent in the lead held by Honda and Toyota. And now they're looking up at some new competition. It appears that Subaru has had no trouble catching the leaders, as they edged Honda for the best reliability record by brand. Subaru had a reported 8 problems out of 100 cars, compared to Honda's nine. Another automaker - Hyundai - leapt over the domestics and garnered most reliable honors for their Sonata sedan, which reported only two problems per 100 vehicles. The 2004 Ford Mustang - since replaced by a new 2005 model - was the most reliable car made by a U.S. automaker with five problems per 100. The most reliable European car was the Volvo S40/V40. The survey is based on responses for 810,000 privately owned or leased vehicles. In the survey, subscribers were asked to report serious problems they experienced during the previous year, ranging from the engine and transmission to body hardware and electrical systems. These responses allow Consumer Reports to calculate problem rates for 1997 through 2004 vehicles and to predict reliability for 2005 models. The analysis is based on the number of problems per 100 vehicles.
Sonata wins big
The Hyundai Sonata, which will be replaced by an all-new model in 2006, tops off a remarkable turnaround for Korean automaker. Long thought of as one of the worst vehicles in terms of quality, Hyundai has changed that reputation into one based on reliability, features, warranty and aggressive pricing. So get those 2004 Sonatas while they last, folks. And while you're at it, don't take the news that domestics have once again trailed imports as an indication that if you buy Detroit Iron, you're getting yourself a trip or ten to the service bay. Scores are improving: DaimlerChrysler, Ford, and General Motors inched closer to Asian automakers with an overall problem rate of 17 per 100. Last year, U.S. automakers had a combined problem rate of 18 per 100. Ford and Pontiac were the highest rated domestic brands, with a rating of 15 out of 100 vehicles. The worst domestic brand was also the worst overall, as Lincoln registered a combined 26 problems per 100 vehicles. The Lincoln Navigator was a primary culprit, rating a lousy 49 problems out of 100, bad enough to tie the Nissan Quest at the bottom of the list.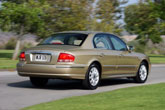 Europeans suffer decline
At least the likes of Ford, DaimlerChrysler and General Motors don't have to worry much about the Europeans. Europeans once again came in last in the Consumer Reports reliability index, rising to 21 problems per 100 vehicles. The lone European automaker that fared well in the survey was Audi, with a problem report of 12 per 100 vehicles. Combined, Japanese and Korean automakers led the way with a trouble rating of 12 per 100 vehicles, followed by the domestic automakers with a score of 17 out of 100. The newest darling of the automotive set - hybrid cars - are proving to be quite dependable. The Honda Civic Hybrid and the Toyota Prius registered a trouble rating of just 5 problems per 100 cars. By far the worst automakers were the ones that are supposed to be the best: luxury makers such as BMW (21 problems out of 100), Mercedes-Benz (25 out of 100) and Lincoln (26 out of 100). That means that for those who bought luxury, a 25 percent will suffer from problems. At least they'll get a groovy loaner car from the dealer.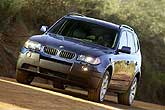 Brand Rankings
Consumer Reports ranking, by Automaker brand, problems per 100 vehicles: Subaru 8 Honda 9 Acura 10 Toyota 10 Hyundai 11 Infiniti 11 Lexus 11 Audi 12 Mini 13 Ford 15 Pontiac 15 Cadillac 16 Chevrolet 16 Chrysler 16 GMC 16 Jeep 16 Mazda 16 Saab 16 Dodge 17 Mercury 17 Volvo 17 Buick 18 Nissan 19 Saturn 19 BMW 21 Volkswagen 23 Mercedes-Benz 25 Lincoln 26