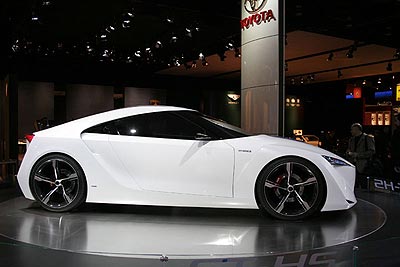 Detroit Auto Show: Top Ten Studs of Detroit – Each year, Detroit hosts the automotive equivalent of Beauty and the Beast, or more appropriately, Beauties and the Beasts. Whether it's due to lighting, color, or what the crowd had for lunch, some rides are greeted with favor while others are treated to "It's hideous. What's next?" Collected here are what we've deemed the 10 Studs of the 2007 Detroit Auto Show, the best of the best, the production cars we can't wait to drive and the concepts we pray will make it to showrooms.
Acura Advanced Sports Car Concept
Despite a relative dearth of power and few major updates over its 15-year life cycle, the Acura NSX was, and remains, a respected sports car. That was with a six-cylinder engine, so one can only imagine the capabilities of the next-generation NSX, which the Advanced Sports Car Concept previews. With its sleek, muscular shape comes a monster V10 packed into a front-engine/rear-drive chassis. It also includes a two-wheel adaptation of Acura's Super-Handling all-wheel-drive technology that's currently used on the RL and MDX. No word yet on specs from the V10, but we're betting it'll be enough to put a smile on your face and adrenalin in your veins.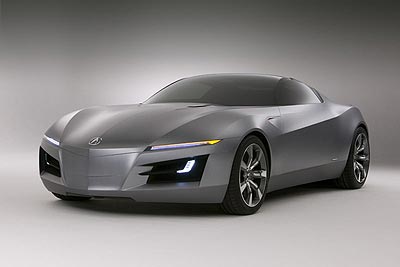 2008 Cadillac CTS
Until now Cadillac's renaissance was incomplete. Engineers and designers had worked to update, transform, or simply improve nearly every model in the Cadillac lineup, with one glaring exception – the entry-level CTS. Yes, there was the CTS-V with hair-raising power, but it lacked the polished nature of the Escalade and STS. However, with the introduction of the 2008 CTS, the transformation is complete. Included with the new CTS are a new upscale interior, a revised yet still recognizable exterior, and a 300-horsepower V6. More important, at least to driving enthusiasts, is the availability of a six-speed manual transmission. Let the BMW and Lexus comparisons begin.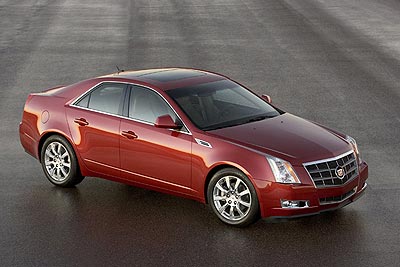 Chevrolet Camaro Convertible Concept
If the Camaro concept is cool, the Camaro Convertible concept is cooler. You'll find basically the same ride, albeit without the hard top. Our editors are split on whether the drop top looks better than the coupe, but it's really a pointless distinction – they both look hot and hold the possibility of being big sellers for Chevy. Aside from the 'Vette, when was the last time you heard that from someone outside of Detroit? The show car seen here offered few details about the roof, but with the General's recent work on retractable hard tops, one could logically assume you'll see a 2009 Chevrolet Camaro Convertible delivered sans soft top.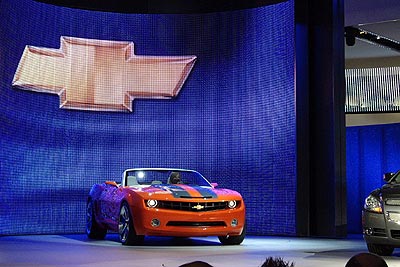 Ford Interceptor Concept
Leave it to the domestics to offer a new take on the bad-ass family sedan. OK, the Ford Interceptor concept isn't exactly new since we saw the similar 427 concept years ago, and the market currently supplies a Hemi-powered Chrysler 300. That German-inspired Chrysler offers its own take on aggression and four-door transportation, but even it doesn't match the Interceptor's pavement-emulsifying six-speed manual tranny. Couple that to the 400-horsepower racing engine that drinks E-85 ethanol, not to mention the four-point belts that inflate for rear passengers, and you've got one helluva fun corn burner.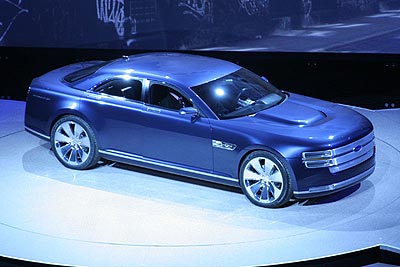 Honda Accord Coupe Concept
"Honda releases a new Accord Coupe!" Yawn. Somebody wake us up when something exciting happens. No offense, Honda, but a redesigned family coupe doesn't exactly get the blood pumping. Or so we thought. The Accord Coupe, technically a concept but in reality a very strong indicator of what we'll see for production, looks like it has officially dropped any ties to mainstream styling, opting instead for much sleeker lines and a sportier presence. Think of it as a next-generation Acura RSX with a Honda badge.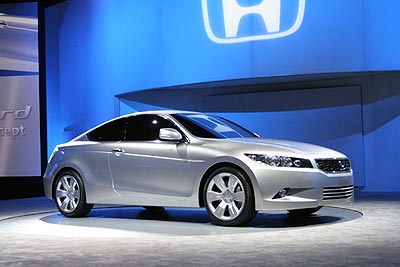 Jaguar C-XF Concept
It's the precursor to the S-Type replacement, the Jaguar XF. Offering a bold departure from traditional Jag styling, while staying true to family roots with its supercharged 4.2-liter V8, the C-XF marks Jaguar's introduction into the four-door coupe segment currently occupied by the Mercedes-Benz CLS-Class and others. Unique features exhibited by the C-XF are ceramic side vents, carbon-fiber housings for the engine wires, and interior wood that has been scorched to give it a truly one-of-a-kind appearance. Up front are lights that dazzle when the engine is started (um, yeah, we'd probably scratch that little feature for production, guys).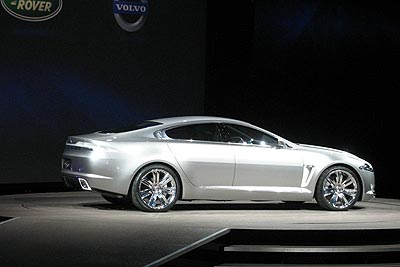 2008 Lexus IS-F
If only we had nickels for all the times we've heard "It's poised to take on the best from BMW." Domestics, Japanese, Europeans, and probably even the Koreans and Chinese will soon be guilty of making such a claim. To date, few such promises have held water. However, Lexus came to a split decision in its pitched battle with the 3 Series when it launched the IS 350. Now it's going one further with an M3-fighter, the 2008 IS-F. To ensure an even fight, Lexus has stuffed a 400-horsepower 5.0-liter V8 under the hood along with a rev-matching eight-speed automatic tranny featuring paddle shifters. Lexus estimates a 0-60 mph time of 4.9 seconds.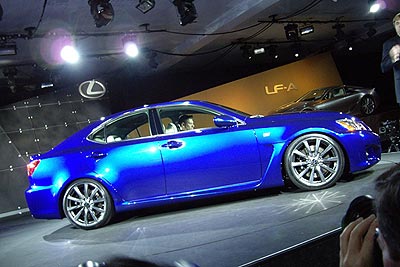 Lincoln MKR Concept
At the risk of losing all credibility, we're putting a Lincoln on our list of Detroit Studs. Before sending hate mail, hear us out. Unlike the Town Car (which, interestingly, was hidden in a back corner of the show floor), the MKR is fresh, sexy, elegant, and with a twin-turbo V6 under the hood, dare we say aggressive? Admittedly, what you're looking at won't be peddled by the guys in polyester suits at your local dealership, but the use of traditional versus suicide doors, the use of an existing 3.5-liter V6, and the use of a stretched rear-drive Mustang platform with a previously-developed independent rear suspension all point to possible production.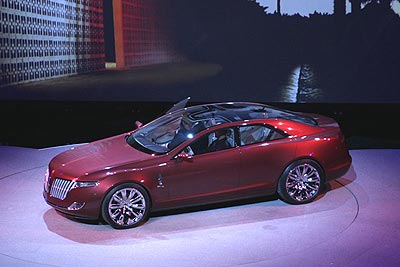 Mercedes-Benz Ocean Drive Concept
Based on the S600 platform, the Mercedes-Benz Ocean Drive concept teases drop-top lovers everywhere with its soft convertible roof. With the top lowered (a task that requires 20 seconds), the Ocean Drive is a beautiful four-door machine, offering elegant lines, spectacular 21-inch alloys with 36 spokes, and the performance of a 517-horsepower V12.
Toyota FT-HS Concept
We call it the next Supra. Toyota calls it the FT-HS concept. Whatever name you tie to it, you're talking about a sports car that'll do 0-60 mph in about four seconds. No big deal, right? Right, unless you're talking about a modern Toyota, one with a hybrid powertrain. The FT-HS houses a 3.5-liter V6 mated to an advanced hybrid system that puts out a collective 400 horsepower. Other features that exemplify the FT-HS's Studness are a carbon-fiber Kevlar roof, a rear wing that rises at higher speeds (thanks, Porsche), and a hubless steering wheel (meaning the airbag goes where?).
Photos courtesy of the manufacturers and our staff