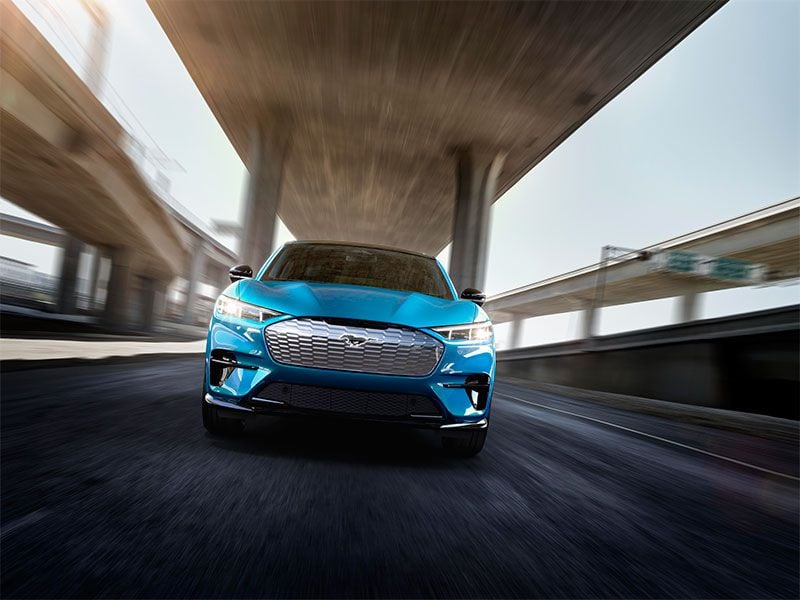 2021 Ford Mustang Mach E ・ Photo by Ford
Did you love the Ford Taurus, Fusion, Focus, or Fiesta? Well, you can forget about those. The market demanded crossovers, SUVs, and trucks, and that's where Ford is putting its attention. It no longer sells a single sedan or hatchback in the U.S., and its only passenger car is the sporty Mustang.
But if — like so many people these days — you're ready to move on from the passenger car, Ford has a wide variety of compelling and interesting models. It has been growing its lineup and updating its old favorites with surprising qualities you might not have noticed. Here are the top 10 Ford vehicles you should know about.
1. 2021 Ford Bronco
The Bronco is back. This iconic Ford suv, last sold in 1996, has returned to take on the hot-selling Jeep Wrangler and Toyota 4Runner. Like these models, the mid-size Bronco prioritizes off-road performance rather than the everyday commuting conditions; when you want something gentle, Ford has every size of light-duty crossover on offer. Also like the Wrangler, you can get a choice of two-door and four-door Broncos, and you can remove the roof and doors for a rare open-air experience.
The retro-styled Bronco doesn't match Jeep's wide-ranging powertrain lineup, which includes a fuel-efficient plug-in hybrid or diesel, plus a crazy-fast V8. But Ford provides a 270-horsepower turbocharged four-cylinder, available with either a manual or an automatic transmission, or an automatic-only 310-hp turbo V6. And there's more off-road gear than we can list here, including Dana front and rear axles, a sway-bar disconnect, 11.6 inches of ground clearance, and selectable G.O.A.T. ("go over any terrain') modes. Inside, you can get conventional cloth, marine-grade water-resistant vinyl, or higher-end leather, along with a choice of 8-inch and 12-inch infotainment screens. Sticker prices start at $28,500 when the Bronco goes on sale this summer, but they rise fast.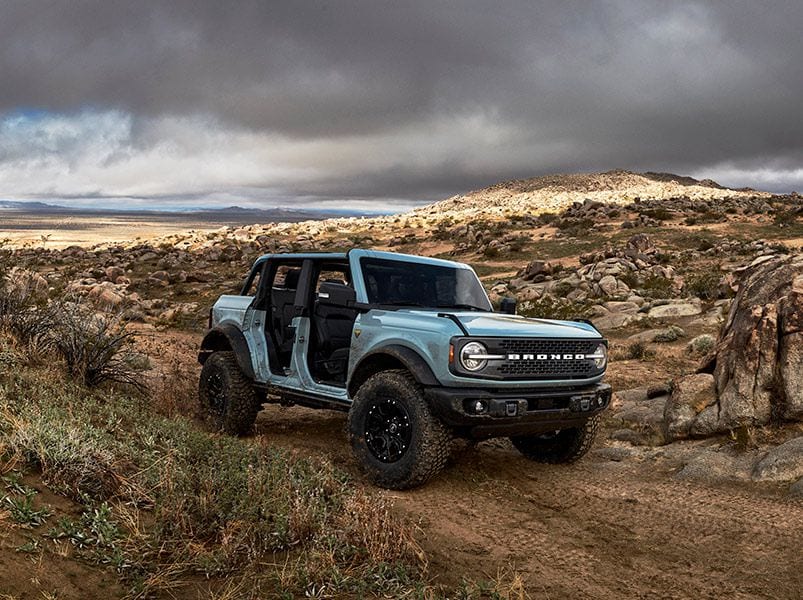 Photo by Ford
2. 2021 Ford Bronco Sport
Do you want the Bronco's style and some off-road capability, but in a smaller, more affordable, and more fuel-efficient package? Meet the 2021 Ford Bronco Sport, a boxier and more capable variant of the wildly successful Ford Escape compact crossover.
Some Ford fans have bemoaned the Escape's softening over the years, and today's model (which we'll discuss in a few pages) has become particularly gentle-looking. The Bronco Sport offers a return to the more rugged looks of the generation sold from 2008 to 2012. It's not all show, either — especially if you pick the Badlands model, which sets out to challenge the Rubicon variants of Jeep's crossovers. With a choice of a 181-horsepower three-cylinder engine or a 245-horsepower four-cylinder and front-wheel-drive-based architecture, this isn't a rival to the true Bronco. But if you find most small crossovers to be a sea of sameness, the Bronco Sport might be worth your attention. It's priced from $26,820; that might sound dangerously close to the bigger, more capable Bronco, but the Sport has a lot more standard features.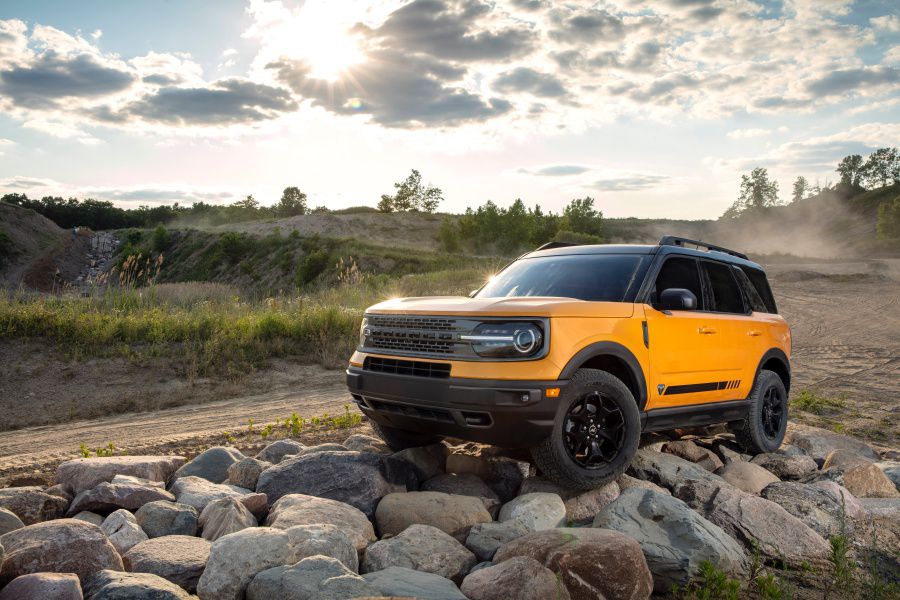 Photo by Ford
3. 2021 Ford Mustang Mach-E
Everyone knows the Ford Mustang. You've had nearly 60 years to find out about this stylish, powerful, rear-wheel-drive coupe and convertible. It's even fairly common knowledge that today's model lets you choose between ridiculously powerful V8s and a powerful yet decently economical four-cylinder. So instead of the classic Mustang two-door, let's focus today on the latest member of the family: the 2021 Ford Mustang Mach-E.
The Mach-E borrows Mustang styling cues and continues the rear-drive tradition, but it's an entirely different concept. It's an all-electric four-door mid-size crossover, bringing iconic styling to the battle against electric-car superstar Tesla. Like other electric vehicles, it can be scary-quick, reaching 60 mph in as little as 3.5 seconds in its max-performance model. On each charge, it can travel 211 to 305 miles, depending on the model you buy. The high-tech cabin has a huge 15.5-inch vertical infotainment screen, along with spacious seating for five passengers. Sticker prices start at $42,895, but buyers can claim a $7,500 federal tax credit.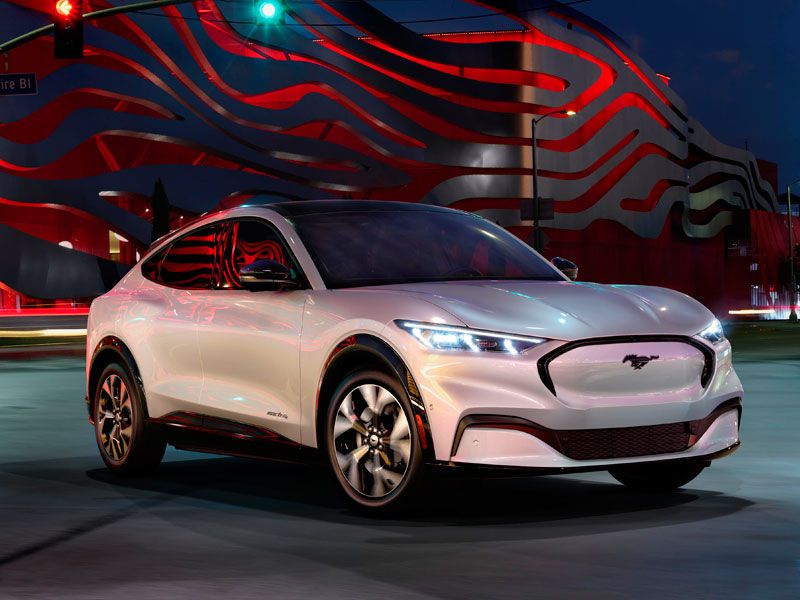 Photo by Ford
4. 2021 Ford F-150
The Ford F-Series is perennially America's best-selling vehicle, and the half-ton Ford F-150 is the most popular member of the F-Series lineup. At least in general, you do already know about this truck.
But did you know that it was fully redesigned this year? Familiar styling disguises an upgraded interior with nicer materials, bigger infotainment screens (a choice of 8 inches or 12 inches), and a fold-down surface that converts the center console into a workstation or lunch tray. There's also a new hybrid model called the PowerBoost, which uses an electric motor to increase the vehicle's acceleration and fuel economy; it also builds in a 7.2-kilowatt generator. Even the carryover engines continue to impress, including fuel-efficient turbocharged V6s, a burly V8, and a fuel-sipping diesel. A redesign of the off-road-ready Raptor model is still on the way, though. F-150 prices start at $28,490, and you can choose anything from a stripped-down work truck to a full-fledged luxury vehicle.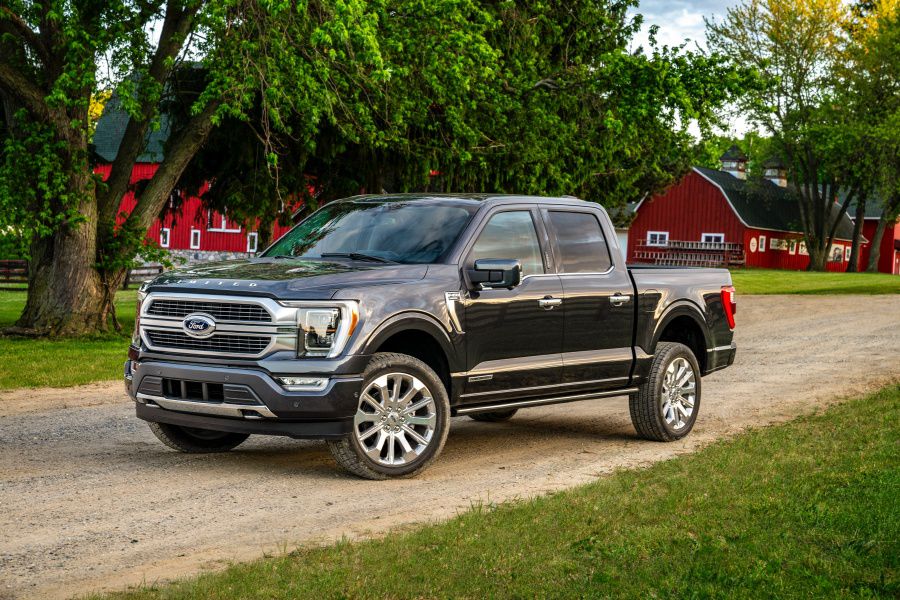 Photo by Ford
5. 2021 Ford Escape
After the F-Series, the Escape is Ford's most popular model in the U.S. Like other compact crossovers, it hits the sweet spot for many buyers: It's not so big that it becomes bulky or expensive, yet it's not too small to be practical, comfortable, and refined.
The Escape has some unique tricks up its sleeve to distinguish itself in its market segment, though. In addition to above-average handling agility, it's also one of the few small suvs available as a gas-electric hybrid; the Escape Hybrid gets EPA ratings of up to 44 mpg in the city and 37 mpg on the highway. And an upcoming plug-in hybrid variant, the Escape PHEV, will let you plug into the electric grid for up to 37 miles of all-electric driving before needing any gasoline. If you want to stick with conventional gas engines, you can get the same three-cylinder and four-cylinder options as the Ford Bronco Sport — and for less money, as the 2021 Escape starts at $24,885. You should know that some competitors have more cargo space, though.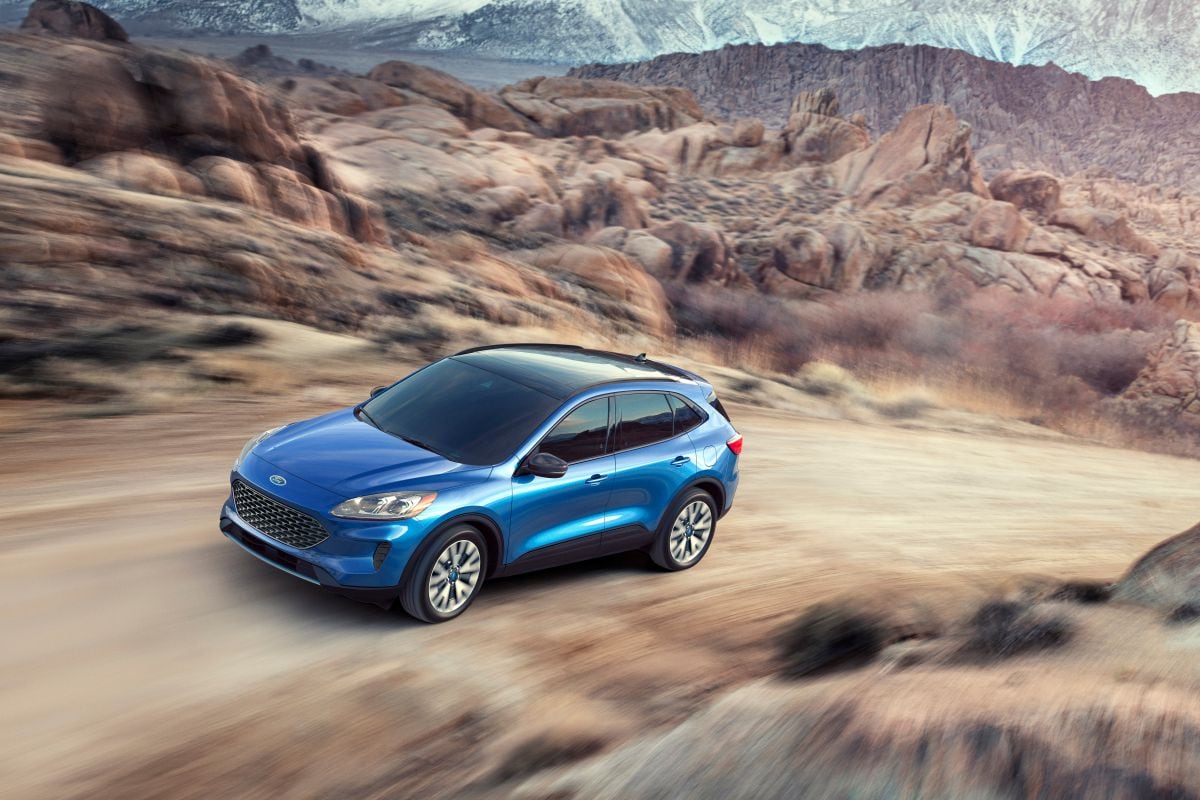 Photo by Ford
6. 2021 Ford Ranger
The Ford Ranger used to be a basic little pickup truck that used rock-bottom prices to compensate for its lack of refinement. These days, it's more expensive, but you do get what you pay for: a speedy yet relatively economical 270-horsepower turbocharged four-cylinder engine, the latest safety and infotainment technology, above-average towing and hauling capabilities, and a spacious and comfortable cabin by the standards of a mid-size pickup.
Although it uses similar underpinnings to the high-style Bronco SUV, the Ranger looks relatively anonymous; that's because this generation was on sale internationally for a few years before returning to the U.S. market in 2019. But if you prefer an understated truck, the Ranger's restraint might be a welcome contrast to butcher-looking competitors. Prices start at $24,820, and the Ranger is sold in a choice of extended cab and crew cab body styles.
Photo by Ford
7. 2021 Ford Edge
Not everyone sells a five-passenger mid-size SUV anymore, and that means the 2021 Ford Edge has fallen off many buyers' radars. Folks who want five-seaters head for compact models, while those who want bigger vehicles end up in something with three rows of seats, including Ford's own Explorer.
But if you want big-car refinement without big-car bulk, the Edge slips into a comfortable middle ground — literally. This is a smooth-riding crossover with cushy seats, a quiet ride, and plenty of power. It's significantly smaller than an Explorer, yet it's even more comfortable for five passengers. And Ford redesigned the interior this year to retrofit a big vertical 12-inch infotainment touchscreen, which is standard equipment on all trim levels. Most models use a peppy 250-horsepower turbocharged four-cylinder engine, while a speedier 335-horsepower V6 is also available. The Edge is priced from $31,250.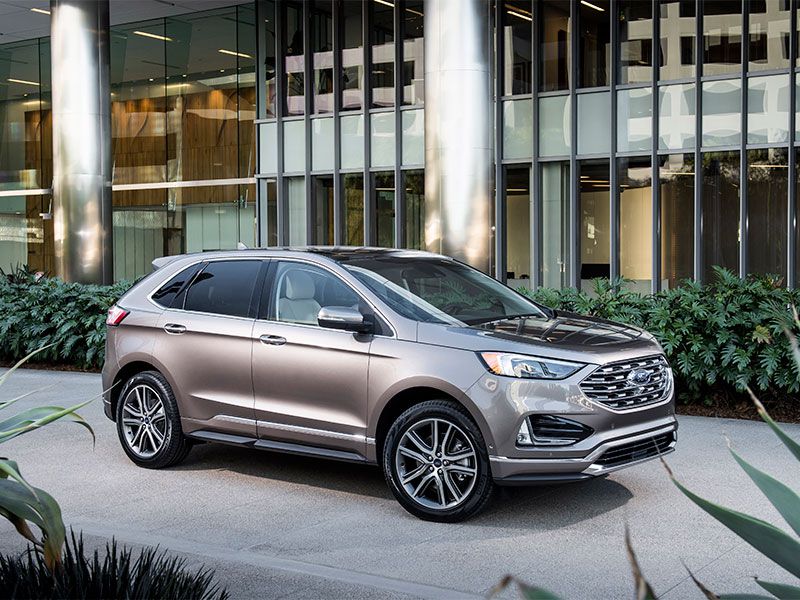 Photo by Ford
8. 2021 Ford Expedition
The Expedition rocked the full-size SUV world with its last redesign, which was back in 2018. The award-winning redesign brought handsome styling, a fancier interior, and class-leading cabin space to its segment. And unlike the normal V8 engine in this class, the Expedition brought in a 375-horsepower turbocharged V6 that's quick, relatively fuel-efficient, and excellent at towing.
This year, the Expedition's best-selling from Chevrolet and GMC have overtaken it for interior space and appointments, and their newly available diesel engines are stealing its fuel economy crown. But the Expedition remains a well-rounded vehicle for folks who need something huge and capable, and its V6 turbo continues to outmatch GM's standard V8. This much size and towing capability is a luxury, though, so you'll pay luxury-grade prices of $49,995 and up. For even more space, the extended-length Expedition Max starts at $54,810.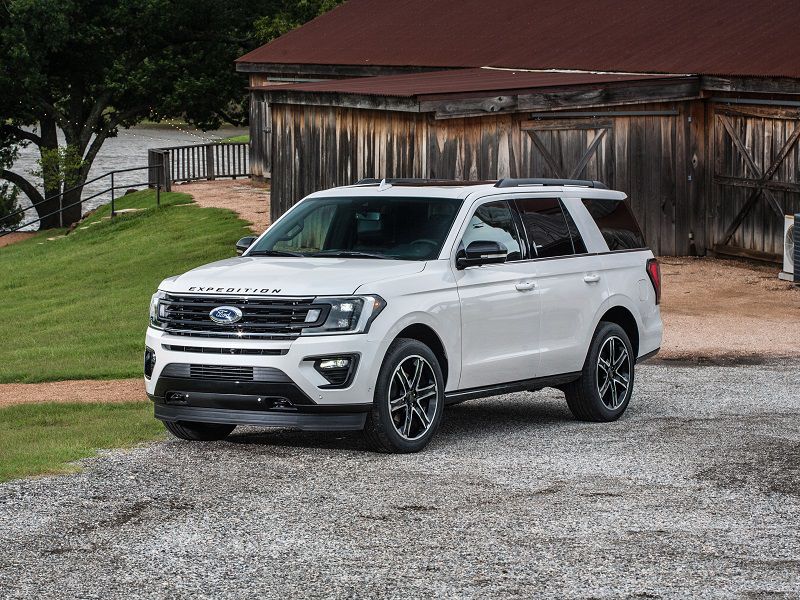 Photo by Ford
9. 2021 Ford Super Duty
We covered the Ford F-150 earlier on. You should also know about Ford's even mightier full-size pickup trucks: the Super Duty lineup, meaning the F-250, F-350, and F-450. These are commercial-grade machines with incredible capabilities, yet which can also serve as spacious luxury vehicles.
Though bigger than the F-150 and featuring higher towing and payload limits, the F-250 in particular isn't much more expensive than a comparably equipped F-150. Instead of the purchase price, you face the tradeoffs of a more cumbersome, less gentle-riding vehicle. These trucks have become pretty civilized, but they're still awkward to park and still require extra attention while driving.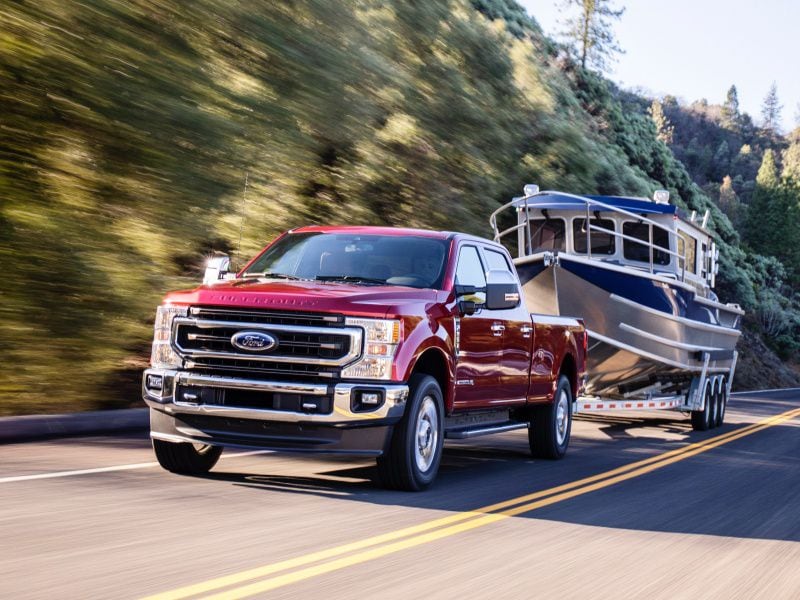 Photo by Ford
10. 2021 Ford Transit
Another unexpectedly civilized commercial-grade vehicle is the 2021 Ford Transit, a full-size van. These are the vans used by plumbers, electricians, and Amazon delivery drivers. If you work in one of these fields, or if you need to rent a van to lug some cargo or carry 15 passengers, you should know that these vans are unexpectedly agreeable to drive.
We recently tested a Transit that showed off its optional all-wheel drive, 310-horsepower turbocharged V6 engine, and standing-height roof. There was none of the white-knuckle experience that defined driving a previous generation of full-size van. The big Transit looks intimidating, but exceptional visibility and unexpected agility it a breeze to drive — at least until it proved too tall for the parking garage at our local Ikea store. You even get a modern infotainment system and advanced safety features. You probably won't trade in your Honda minivan for a Transit, but if you do need something this useful, rest assured that you don't have to fear it. You'll find it even easier to drive the much smaller Ford Transit Connect, a commercial van that drives like a great compact car, though its cargo capacity is closer to an ordinary SUV's.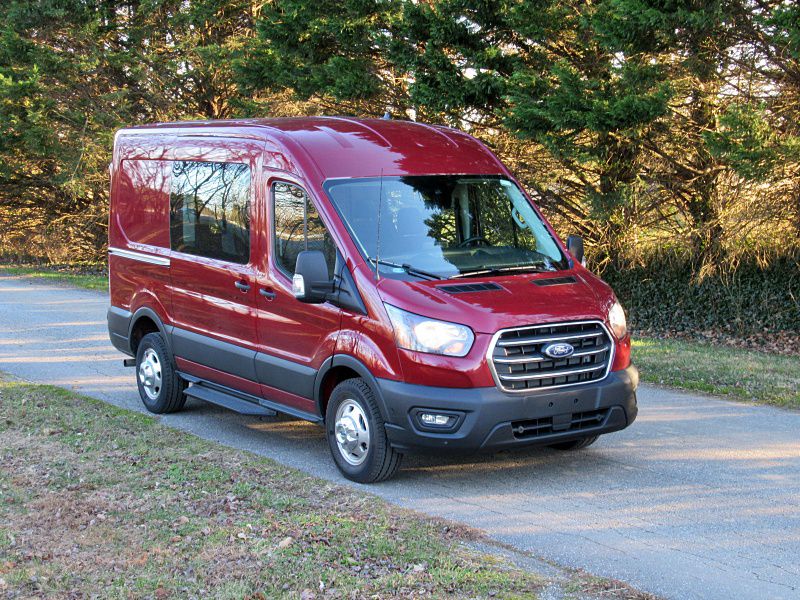 Photo by Brady Holt