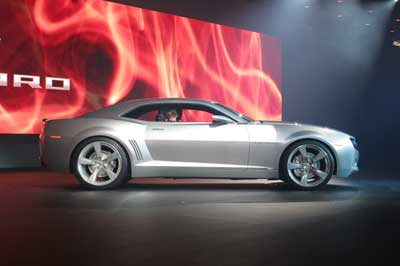 They can't all be winners, and usually, they're not. More than 100 new production and concept vehicles debuted at the 2006 Los Angeles Auto Show and North American International Auto Show in January, each hoping to capture the imagination – and ultimately, the expendable income – of potential customers through design, innovation, sensibility, or value. But only a few will manage to achieve real success if, or when, they reach the marketplace. To form this top ten list, our editors selected the ten best cars and trucks from both shows, ranking the vehicles in order of preference. These are the vehicles that most captured our interest during a week of press conferences, the models that we predict will become big hits in showrooms, and the concepts that we hope will find their way down a production line in the near future. Some of our selections are obvious – Chevrolet Camaro Concept, anyone? Others are rather surprising choices, and at least one vehicle polarized our staff enough to land on both this "studs" ranking and our "duds" list. Though you might be dismayed to find that several mainstream models like the completely redesigned 2007 Toyota Camry don't make the cut, remember that the majority of the debuts are deemed neither studs nor duds. Its not that cars like the new Camry won't prove to be sales studs when they roll onto American roads, it's just that they don't represent the cream of the crop, the most desirable and impressive new production and concept cars to come of out of L.A. and Detroit. With this list we're for extra spicy, not bland.
Chevrolet Camaro Concept
Call us predictable, but we unanimously chose the Chevrolet Camaro Concept as one of the studs of the 2006 North American International Auto Show. Considered to be "retro done right" by our staff, the Camaro is at once contemporary and classic, the perfect blend of modern style and yesteryear's design cues. That goes for the interior, too. And if it makes production with its Corvette-derived, 400-horse, 6.0-liter V8 and 30-mpg highway fuel economy rating, the Camaro will prove to be newfound muscle for the masses.
Dodge Challenger Concept
Had it not been for one voter who despised the original Challenger's design, this Dodge concept would have tied with the Camaro for top honors on our "studs" list. Though it contains thoroughly modern technology under the skin, the Hemi-powered Dodge Challenger Concept embodies a purer interpretation of the car that inspired it than the Chevy Camaro. At a glance, you might not be able to tell the difference between this 425-horsepower concept and a restored retro-mod original. But under the skin, it's all Dodge Charger SRT-8, riding on a shortened version of that car's chassis. Possibility for production is excellent.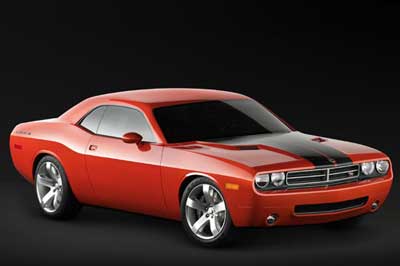 Chrysler Imperial Concept
Perhaps Chrysler should have dusted off the Polara name for this concept, since it polarized our staff. Half of us loved this Rolls-Royce knockoff, the other half despised it. Designed to slot in above the Chrysler 300 as a flagship luxury sedan, if produced the Imperial Concept would get a 340-horsepower, 5.7-liter Hemi motor and a stretched wheelbase to create the ultimate luxury bargain. Aft of the front end, the Imperial strongly recalls the Rolls-Royce Phantom, while up front designers intended to transfer classic Virgil Exner styling cues from the early 1960s Imperials, including horizontal grillework and round "floating" headlights.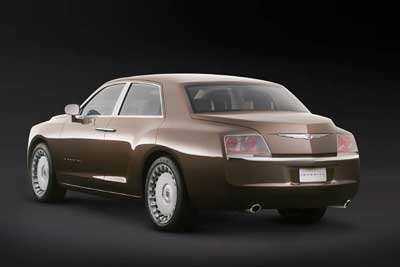 Aston Martin Rapide Concept
If you've been lusting for a new Aston Martin DB9 but want for additional passenger space, the Rapide Concept is your ride. Just a concept for now, the Aston Martin Rapide could easily be produced to tackle the Mercedes-Benz CLS55 AMG and upcoming Porsche Panamera in the four-door "coupe" war. The Aston Martin Rapide concept is stretched nine inches over the DB9 sports coupe upon which it is based, and features a 480-horsepower V-12 engine driving the rear wheels through s six-speed automatic transmission. Acceleration to 60 mph would take about 4.6 seconds, top speed is 186 mph, and if produced, Aston Martin expects a price tag of around $200,000.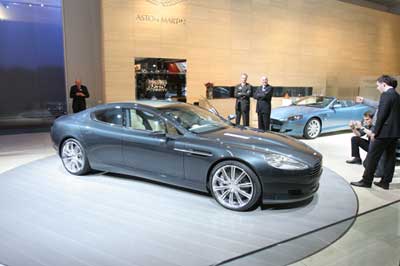 2007 Hyundai Santa Fe
In case you haven't heard, Hyundai is finally ready for prime time, and we're not talking the UPN network. The Korean automaker's entire lineup is worthy of consideration, from the bargain-basement Accent to the luxurious flagship Azera. And now there's a new, larger, stylish Santa Fe coming soon. The 2007 Hyundai Santa Fe is based on the capable Sonata platform, equipped with a four-cylinder or a V6, and able to hold up to seven passengers. It slides up into the midsize CUV category to battle the new Ford Edge and take on segment stalwarts like the Nissan Murano and Toyota Highlander, leaving the smaller Tucson to appeal to people looking to spend less on a smaller SUV. Good looking, and equipped with a stylish interior constructed of quality materials, upon first inspection the new Hyundai Santa Fe looks like a winner.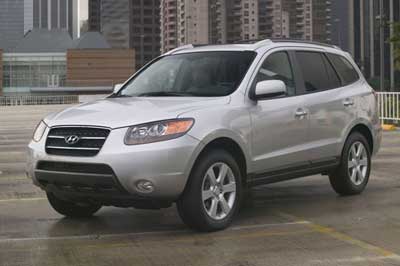 2007 Pontiac Solstice GXP
Thanks to a turbocharged, intercooled, 2.0-liter four-cylinder engine making 260 horsepower and 260 lb.-ft. of torque that comes on early and is spread thickly across the powerband, the 2007 Pontiac Solstice GXP is exactly what the doctor ordered. Expect to pay a $5,000 premium over the base model to get into GXP trim, which includes several features in addition to the blown motor, and then add a few grand to the bottom line to satisfy your local dealer's greed. But there's no denying that Mazda has its work cut out for it in developing the next Mazdaspeed MX-5, and even with a full load of equipment and price markups, the Solstice GXP should cost less than a Honda S2000. Now, if they could just spend a few extra bucks on that interior and offer a hardtop version with a real trunk, the Solstice would be perfect.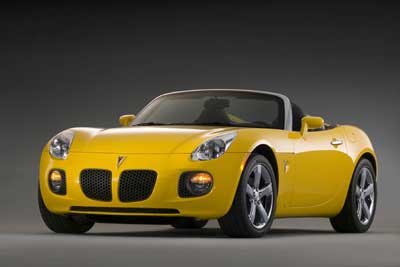 2007 Dodge Caliber
The 2007 Dodge Caliber is a terrific idea, but the price sold us on the car. Dodge will ask less than $14,000 for a base version, with prices rising from there depending on equipment and engine choice. And that entry model is decently equipped, too, allowing Dodge to address growing interest in small, fuel-efficient cars with a larger and more useful vehicle than some competitors offer. Choose from SE, SXT, or RT trim when the Caliber goes on sale this spring, or wait for the rumored SRT-4 performance model which is due later in the year. Any way you go, you'll get an appealing five-door hatchback with plenty of space inside, and those living in cold-weather climates will appreciate the optional all-wheel-drive system.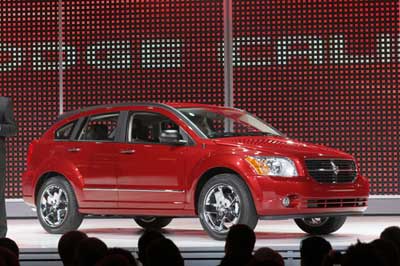 Lamborghini Miura Concept
Should an Italian supercar manufacturer do retro design? Based on response to the Lamborghini Miura Concept shown at the Detroit Auto Show, the answer is a resounding "Yes!" For once, the assembled press focused on the car, and not the shapely models with which Lambo drapes its display each year. Intended to show how Lamborghini might compete with the Aston Martin Vantage V8, Ford GT, Mercedes-Benz SL65 AMG, Porsche 911 Turbo, and other performance machines priced between $100,000 and $150,000, the Miura is patterned after one of the most beautiful sports cars ever built: the 1966 Lamborghini of the same name.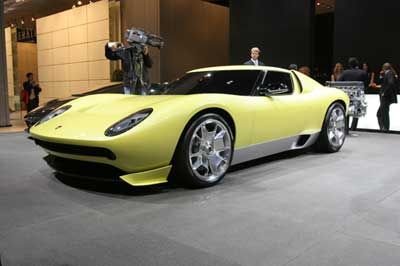 2007 Ford Mustang Shelby Cobra GT500
With 485 horsepower, racing stripes, and a snake emblem in the grille, the production version of the 2007 Ford Mustang Shelby Cobra GT500 was a shoe-in for our "studs" list. As in the 1960s, Ford is first out of the chute with a high-powered retro pony car, but is likely to be joined by the Chevy Camaro and Dodge Challenger before the end of the decade to wage a battle for retiring Baby Boomer investment and inheritance wealth. Offered in coupe and convertible format, the only thing missing here is an independent rear suspension.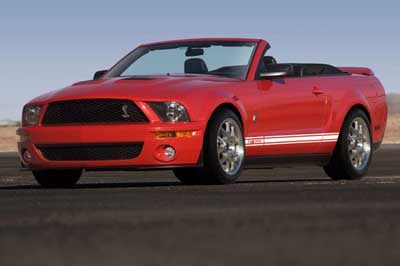 Volvo C30 Concept
You may never have noticed, but in addition to crafting some of the safest vehicles on the market Volvo is also building some of the most stylish automobiles for sale right now, and the C30 Concept shown in Detroit is a harbinger of things to come. This slick little three-door hatchback will slot into the lineup under the S40 sedan and V50 wagon, creating a lower price-of-entry point to the Volvo brand. It will compete against the Mini Cooper and Volkswagen GTI, and to a lesser extent its FoMoCo stable-mate, the Mazda 3. The Volvo C30 Concept isn't screwing around, infused as it is with a 260 horsepower five-cylinder engine that the company claims will accelerate the car to 60 mph in about six seconds. The C30 Concept is also equipped with 19-inch wheels, performance tires, and Brembo brakes – some or all of which could make it to production when the real deal debuts later this year at the Paris Auto Show. Expect to be able to buy one of these babies next year.
Photos courtesy of the manufacturers