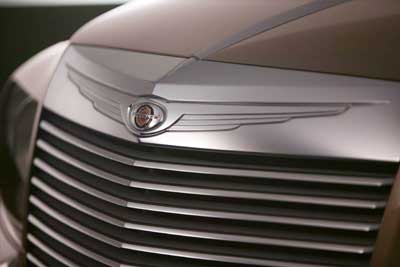 Everyone's a critic. With the advent and popularization of message boards, online consumer ratings, and blogs, the amount of praise and vitriol floating around in cyberspace is enough to make your head spin. Making matters worse, there's no context around which to wrap amateur observations. One man's pain can be another's pleasure; who do you trust? Trust us, yo. The experts, the people who trawled the convention centers in Los Angeles and Detroit and actually put hands on the newest cars and trucks to determine the winners and losers of the first major auto shows of 2006. To form this "duds" list, our experienced team of opinionated editors selected the ten worst cars and trucks from both shows, ranking the vehicles in order of least appealing to, uh, most least appealing. These are the vehicles that don't make any sense to our veteran team of car critics, the models that we predict will sit unsold in dealer showrooms, and the concepts that we hope never will find their way down a production line. Now, you might not agree with us. You might scratch your head in wonder, tell yourself we don't know what the heck we're talking about, and some of these cars and trucks might actually sell in profitable numbers once they reach dealer lots. But this will only serve to prove the theorem postulated in paragraph one: everyone's a critic.
Chrysler Imperial Concept
That's how our editors responded to the beautiful but hideous, luxurious but gaudy Chrysler Imperial Concept. For those voting it to the Dud List, this concept represents a throwback to the days when Chrysler sedans wore extra chrome trim to differentiate themselves from mainstream Dodges and Plymouths, when a padded vinyl fake convertible roof was glued to the top of the car, when ill-fitting wire wheelcovers prone to rust wobbled within whitewall radials. The new Chrysler Imperial Concept takes a page from the Chrysler 300's design philosophy, but in this case the styling bogey is Rolls-Royce instead of Bentley. Well, Rolls-Royce with horrific early 1960s Virgil Exner cues mixed in. For half our team, the response to this Hemi-powered behemoth's debut was a loud "Ugh!"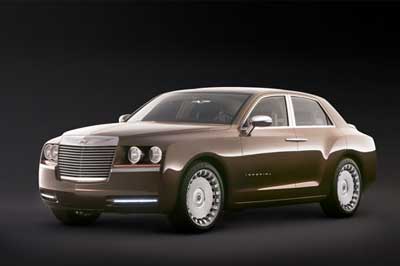 Audi Roadjet Concept
Audi's on a roll these days. A string of hits ranging from the new A3 to the amazing S8 has given this German automaker one of the most appealing model ranges in the luxury car class. And now, with the seven-passenger Q7 set to debut and an all-new TT sports car waiting in the wings, Audi seems to have all the cards. So what's up with this lame-ass concept car? Well, it's supposed to be a preview of something called the Q5, a small crossover vehicle that Audi plans to bring to market. But in Roadjet form, it reeks of redundancy between the excellent A3 and perennial favorite the A4 Avant. Highlights include a 300-horsepower 3.2-liter V6 and a 1,000-watt Bang & Olufsen audio system. Lowlights include four-passenger seating with individual rear controls for all manner of technology, including twin DVD entertainment screens, and a goofy on-board espresso machine. Ultimately, all the Audi Roadjet Concept managed to do in Detroit was detract attention from the new Q7, the awesome S6, and the brilliant S8.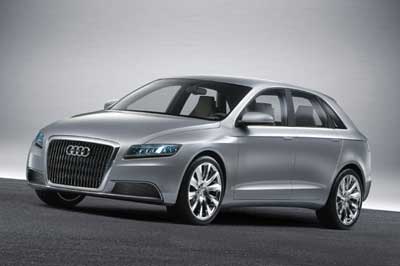 2007 Jeep Compass
You're looking at the first Jeep ever approved for production that hasn't a snowboarder's chance in Cancun of running the Rubicon Trail. If we were immature sorts, we'd stand in front of the 2007 Jeep Compass and hold a thumb and index finger up to our foreheads in the shape of an L. The Compass is a rebodied Dodge Caliber (one of our auto show studs), which means it'll have trouble clearing a parking block much less anything past the corn stand on the side of Route 66. Evidently, Jeep thinks it needs to be in the crossover business, and the Compass is the company's bid to attract the sort of folks who want to look like they can take the path unpaved but have no intention of traveling farther than the gravel parking lot at the County Fair. Plus, it looks kinds like an IMSA-bodied AMC Gremlin. Clearly, the marketing geniuses at Jeep have forgotten what the brand stands for in the chase for incremental market share. Anyone notice how that worked out for Volkswagen when it tried to pitch itself as a luxury brand? Good thing there's a redesigned Wrangler coming to restore dignity to Jeep.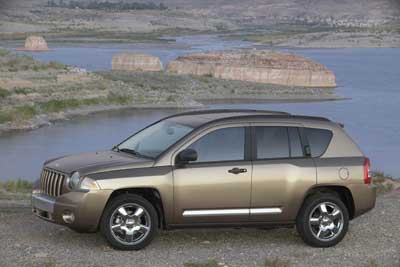 2006 Bugatti Veyron 16.4
Price tag: 1.25 million. Horsepower: 1001. Styling: God-awful. With the same cash, you could buy a Ferrari F430 Spyder, a Mercedes-Benz S65 AMG, a Hummer H1 Alpha, a '69 Yenko Camaro, and a waterfront condo on the Big Island of Hawaii. Need we say more?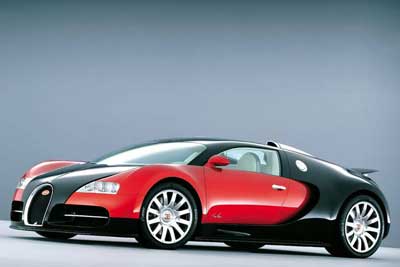 Subaru B5-TPH Concept
Let's get this straight. Hybrids have been on the market for five years, at least. Sales of powerful V6 hybrids aren't setting the world on fire. The new Subaru "fuselage and wings" front styling has more than one detractor on the planet. So what does this once focused and proud company do in Detroit? It displays a turbocharged performance hybrid with a face only Karl Malden's mother could love. The most redeeming factor of the Subaru B5-TPH Concept is its slick three-door wagon/hatchback design. On a positive note, we didn't need to once again sit through the PR pitch about how Subaru is moving upscale to compete against Audi and BMW. Whew.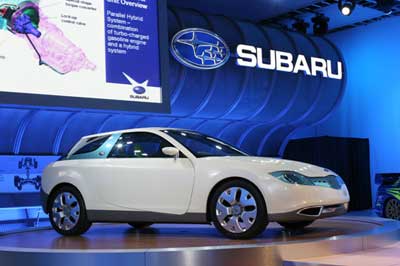 2007 Saturn Vue Green Line
First off, the Saturn Vue is not a segment-leading crossover utility vehicle (CUV). Secondly, the new hybrid powertrain that General Motors is installing in the 2007 Saturn VUE Green Line is nothing ground-breaking. The technology is remedial, unable to accelerate the Vue solely on the batteries like the Ford Escape Hybrid, Mazda Tribute Hybrid, or Mercury Mariner Hybrid. Unless you're a GM die-hard, or you fall for that slick Green Line marketing pitch, you should skip this new Saturn for the Ford, Mazda, or Mercury when shopping for an affordable hybrid CUV.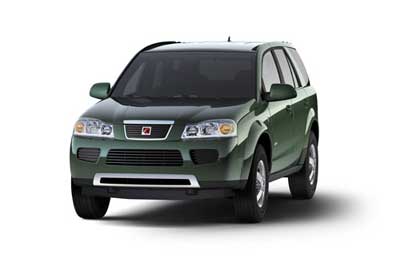 2007 Kia Optima
Evidently, the 2007 Kia Optima's lack of innovation prompted half our staff to name it one of the top 10 duds from the L.A. and Detroit auto shows. All new, and based on the critically-acclaimed Hyundai Sonata's platform, the Optima is undeniably a huge improvement over the existing model. But in a market where more powerful Hondas, Nissans, and Toyotas rule, Kia brings little more than a low price and a terrific warranty to the table with the redesigned Optima.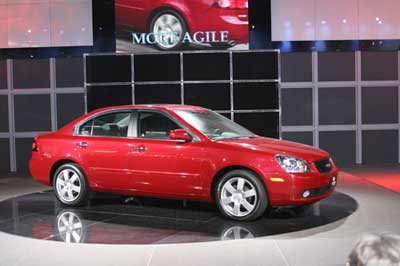 2007 Chrysler Aspen
Just when the last stragglers to the full-size SUV party are stumbling toward the exit with a fuel-price hangover, Chrysler debuts the 2007 Aspen, a seven-passenger, body-on-frame, Hemi-powered, full-size sport-ute based on the Dodge Durango. Not only is the segment shuddering to a stop, but Chrysler dredged up the name Aspen for its latest SUV. Anyone over the age of 40 remembers the Dodge Aspen, an awful midsize sedan from the 1970s that rusted before it stopped running – right after the warranty ran out. Chrysler's going to market with two strikes against the new 2007 Aspen. We predict consumers will deliver the third.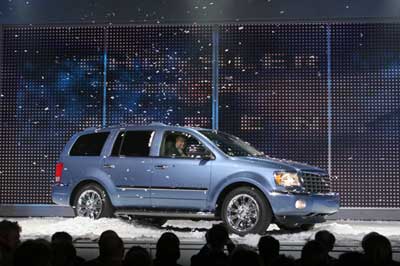 Lincoln MKS Concept
For some reason, Lincoln thinks the all-wheel-drive MKS Concept, which is essentially the replacement for the rear-drive LS sport sedan, is going to help it turn the corner in North America, appealing to hard-working Americans with solid American values who don't wish to flaunt the rewards of a life well lived. Well, no flaunting except for that chrome waterfall grille, the sparkly wheels, and the knockoff 1970s Pontiac Trans-Am fender vents. On paper, the 315-horsepower, V8-powered, Volvo-based Lincoln MKS looks terrific. In the flesh, it strikes us as little more than the progeny of an Acura and a Buick, certainly not the game-changing vehicle Lincoln needs to rescue it from the brink of irrelevance.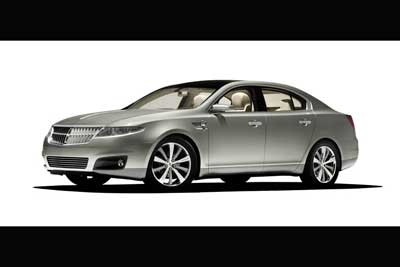 2007 Lincoln MKX
Anyone remember the Lincoln Versailles, a luxed-up, chrome-plated, vinyl-roofed exercise in badge-engineering based upon the lowly Ford Granada? The 2007 Lincoln MKX, which until December was to be known as the new Aviator, amounts to little more than a plush Ford Edge with different front styling and a redesigned dashboard. Whether the vehicle is sound or not is irrelevant. Fact is, there's little here to justify an inflated price tag over a loaded version of its Ford sibling. Plus, this new CUV suffers the ignominy of ushering in Lincoln's new alpha naming strategy, which consigns classic nameplates like Continental and Mark to the trash bin in favor of meaningless gibberish that didn't work at all for the terrific but universally ignored LS sport sedan. But hey, if the scheme works and puts the focus on "Lincoln" instead of "Aviator," then people will starting thinking that all Lincs are lame rather than specific models.
Photos courtesy of the manufacturers