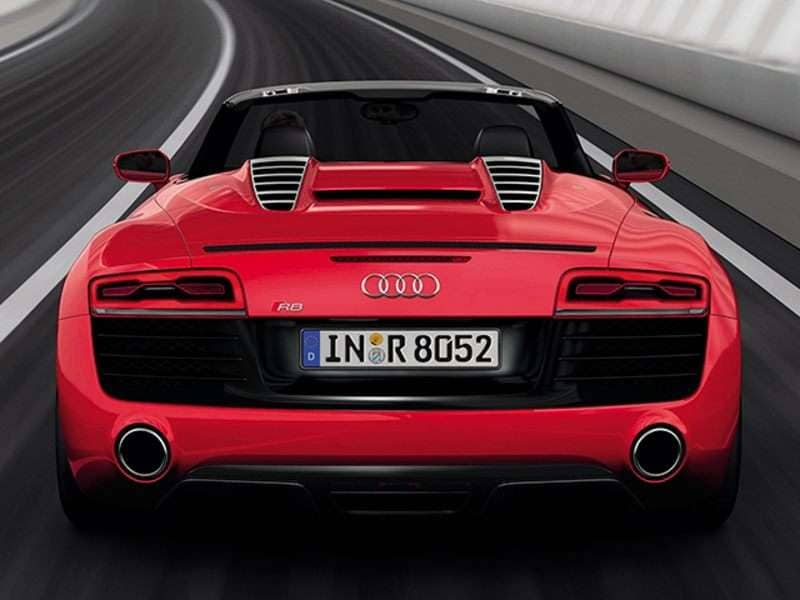 A high performance, fast convertible is probably one of the most luxuriously impractical automotive purchases anyone can ever make. After all, for many enthusiastic drivers, an exceptionally powerful engine is just as much of a luxury as lamb's wool carpeting, a nineteen-speaker stereo system, or a suede headliner. When ultra-high performance is combined with the ultimate in devil-may-care motoring—a convertible roof—being seen in a truly fast droptop says to the world, "Yeah, I have money to burn, and check me out, y'all, I'm burning it faster than you can earn it, right now."
You see, a convertible is the most impractical choice of what many would consider the most impractical type of car. Think about it, if you really wanted the ultimate top speed model of any given car, just to have the ultimate top speed version of the car, you'd buy the hardtop iteration of that car. After all, logic would render the soft top a diametrically opposed choice if ultimate performance were the primary goal. Convertible roofs inherently induce more drag into a given design, making that model slower than its hardtop counterpart. Plus, anyone who has ever driven a convertible with the top down at over 100 miles per hour will tell you there are a lot quieter and more comfortable ways to get from Atlanta to Boston. In a convertible, wind buffeting at triple digit speeds, even with the windows up and a wind blocker in place can be quite extraordinary. Assuming, of course you care one whit about practicality. 
With that said, and given all the cars on this list of the 10 fastest convertibles are easily capable of exceeding 150 miles per hour (many of them even approach 200), odds are they won't do it often. Thus, a super high performance convertible represents the ultimate in impracticality and therefore luxury. Insanely expensive, outrageously capable and seldom employed to its true potential; if that doesn't describe an ultimate luxury item, please tell us what does.
1) 2015 Aston Martin Vanquish Volante
Light car plus big engine equals huge performance. And, that is exactly the case with the Aston Martin Vanquish Volante (Volante is convertible in Aston-speak). Boasting 568 horsepower and 465 lb-ft of torque from a 5.9-liter V12 engine, the Aston Martin DBS Volante is capable of a top speed in the range of 201 miles per hour. An all-new eight-speed automatic transmission actually helps the Vanquish Volante achieve faster speeds than the manual unit found in other Aston Martin vehicles.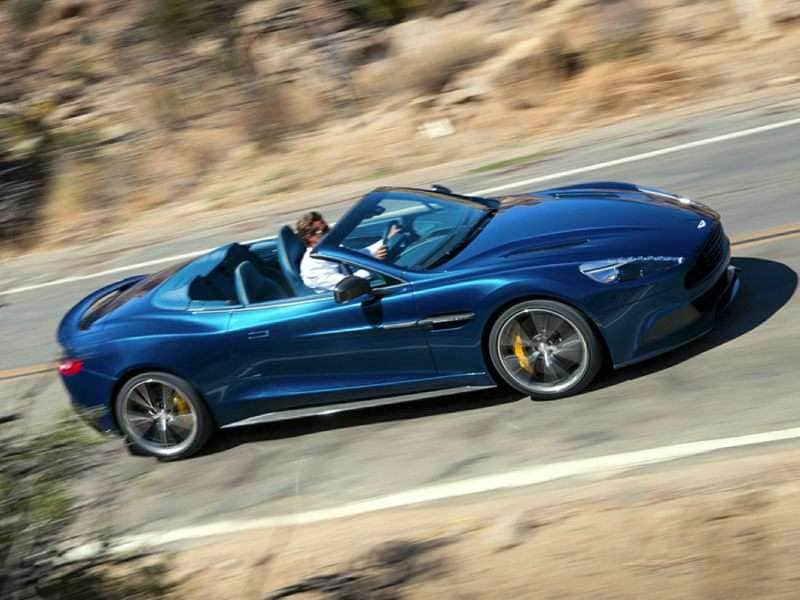 2) 2015 Audi R8 Spyder V10
Something of an anomaly in the realm of hyper-exotic sports cars, the Audi R8 places no special demands upon its driver in order to derive maximum enjoyment from it. The Audi is almost laughably easy to drive, exceptionally comfortable and even boasts excellent outward visibility (when the top is lowered). The V10 trim of the R8 is a high performance version of the sports car running a 525-horsepower version of the Lamborghini-sourced 5.2-liter V-10 engine, which also produces 391 lb-ft of torque. A run to 60 from zero can be accomplished in four seconds seconds flat. Top speed for the Audi R8 Spyder V10 is quoted at 194 miles per hour.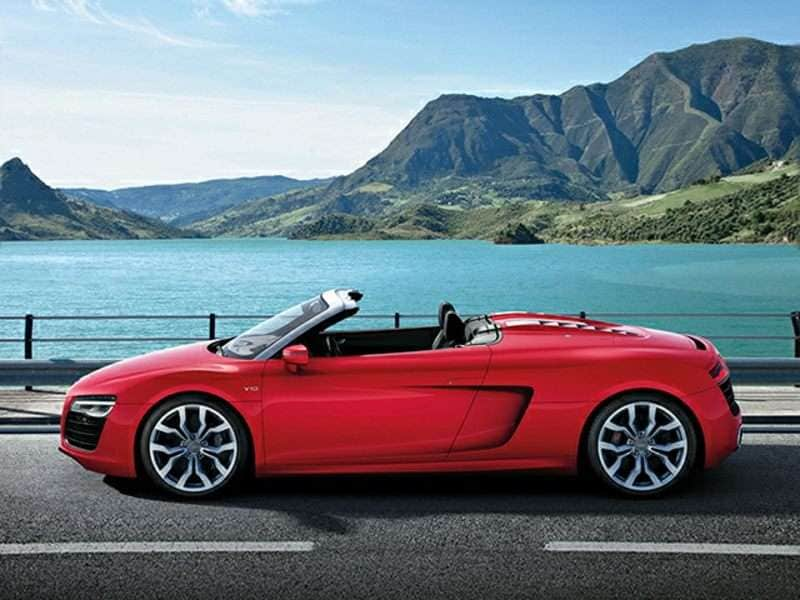 3) 2015 Bentley Continental GT Speed Convertible
Take every conceivable automotive luxury feature currently known to humankind, pack it into an outrageously large, handsome, upright, and formal all-wheel drive motorcar. Then, endow that distinctive-looking automobile with an eight-speed automatic transmission fed by a twin-turbocharged 6.0-liter 12-cylinder engine producing some 626 horsepower and 685 lb-ft of torque. Next, remove the roof and replace it with a hand-sewn multilayer woolen folding top and you'll have yourself a Bentley Continental GT Speed Convertible. Capable of a zero to 60 acceleration run in a quoted four seconds and a top speed of 206 miles per hour (with the roof deployed), the Bentley Continental GT Speed Convertible is one exceptionally fast convertible car—as well as one of the fastest convertibles money can buy.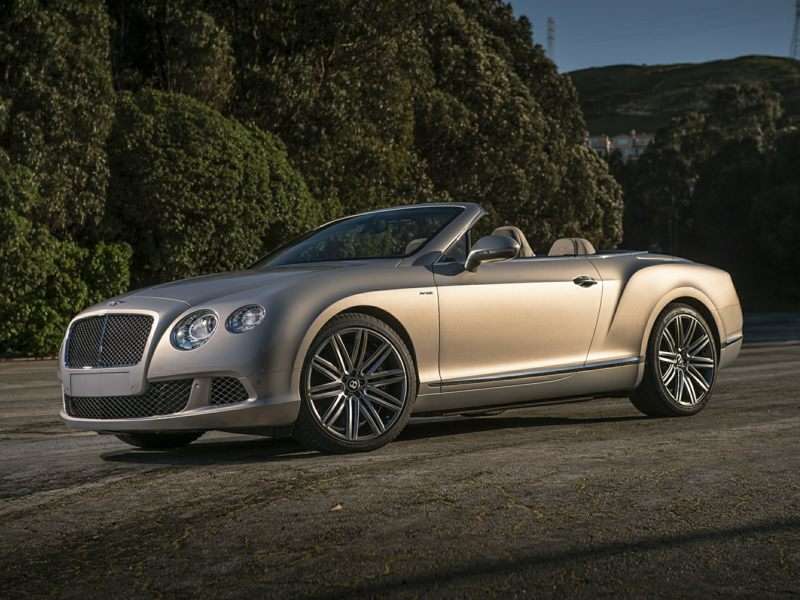 4) 2015 BMW M6 Convertible
BMW's M6 features 560 horsepower and 500 lb-ft of torque for 2015, to qualify as one of the fastest convertibles of the year. This rear-drive coupe's prodigious power comes courtesy of a twin-turbocharged 4.4-liter V-8 engine feeding a seven-speed direct shift dual clutch transmission. The M6 Convertible's streak from zero to 60 takes place in 3.9 seconds and its top speed would easily approach the 200 miles per hour mark… if BMW's management team hadn't chosen to limit the glamourous convertible's top speed to 155 miles per hour. Thus, the M6 Convertible appears here with an asterisk. While it is technically one of the ten fastest convertibles of 2015, BMW legal would have everyone believe otherwise.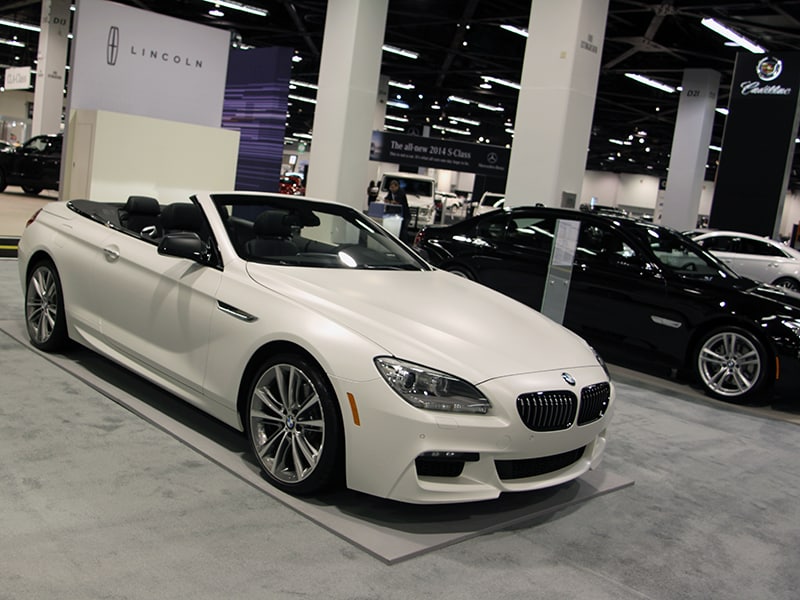 5) 2015 Bugatti Veyron Grand Sport Vitesse
Ladies and gentlemen, in the photographs over there to the right, you are looking at the world's fastest convertible. The Bugatti Veyron Grand Sport Vitesse will accelerate from zero to 60 in 2.4 seconds. It is blessed with 8.0 liters of engine, 1200 horsepower, 1106 lb-ft of torque, four turbochargers, 16 cylinders, four fuel pumps, a seven-speed auto clutch transmission, and all-wheel drive. Because of current tire technology, its top speed is electronically limited to 255 miles per hour with the top closed (233 with the roof open). It is estimated the top dog on our list of the 10 fastest convertibles is capable of upwards of 270 miles per hour unlimited. While we're discussing estimates, it's been said the Bugatti will consume 26.4 gallons of fuel in eight minutes at full throttle.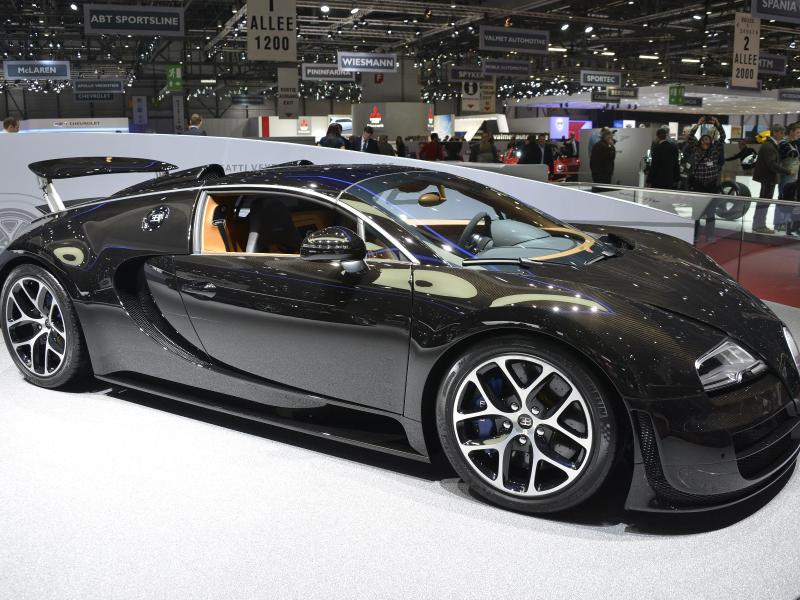 6) 2015 Chevrolet Corvette Z06 Convertible
Chevrolet's Corvette Z06 has definitely earned a place as one of the few domestic vehicles on this standout list of imports, and it marks the first time in a while that the top-level Corvette has been available in drop-top form. The Z06 has exclusive styling and also offers a lot of additional features to differentiate the Z06 from the base Stingray version of the Corvette. The 650-horsepower supercharged V-8 displaces 6.2 liters, makes 650 lb-ft of torque, and funnels it to the rear wheels through a seven-speed manual or an eight-speed automatic transmission. Zero to 60 happens in three seconds.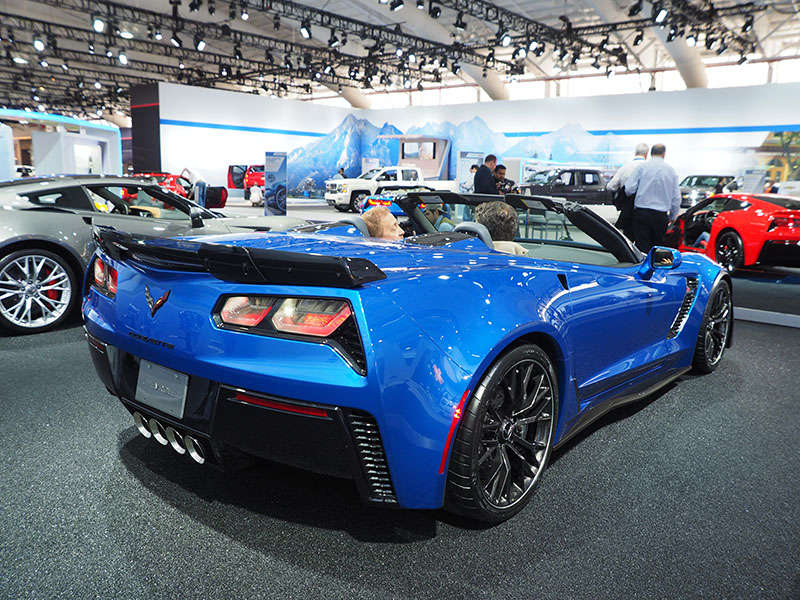 7) 2014 Ford Shelby GT500 Convertible
Wondering if you just found a genuine 200-mile per hour Mustang? Well, yes and no. The 2014 Ford Shelby GT500 Convertible pumps out 662 horsepower and 631 lb-ft of torque to the rear wheels through a six-speed manual transmission. The 5.8-liter V-8 engine responsible for this is supercharged to within mere minutes of its life. Which is not to say the engine is unreliable, but rather the engine is under significant pressure. With this engine, Ford claims the bragging rights (for now—at least) for building the most power production V-8 ever offered for sale in a street car. This one also appears on our list of the ten fastest convertibles with an asterisk because while it is capable of topping 200 miles per hour, Ford has decided to limit the convertible to 155. If you want the full 200 miles per hour capability unleashed, you have to buy the closed coupe version of the car. It's worth noting that the 2014 model year version of this car makes our list because, while production of the Shelby GT500 is on hiatus for 2015, the car is still available for sale. Keep a look out for the all-new version expected to arrive sometime in 2016.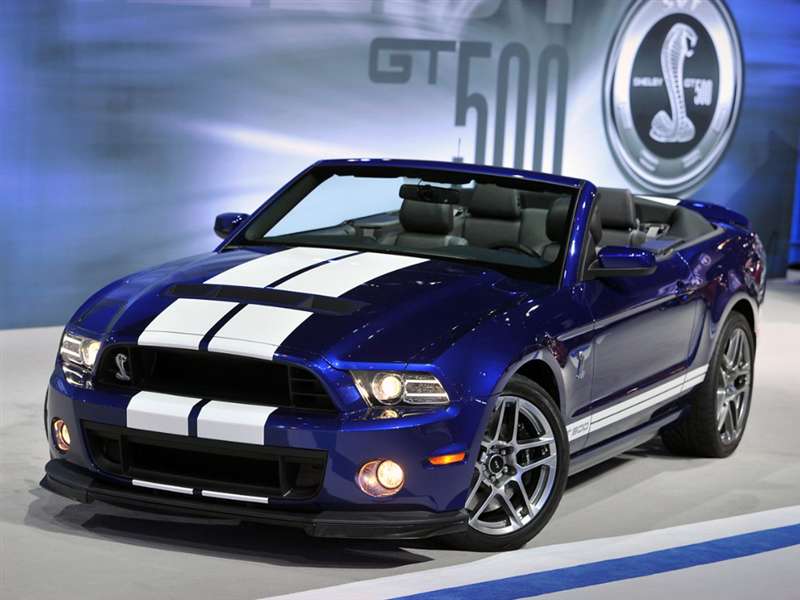 8) 2015 Ferrari 458 Spider
If you follow the model nomenclature Ferrari applies to its mid-engine sports cars, you already know the 458 Spider runs a 4.5-liter V-8 engine (4-5-8). Out of that highly sophisticated powerplant screams some 562 horsepower and 398 lb-ft of torque. That mechanical fury is transmitted to the rear wheels by way of a seven-speed dual clutch automated manual transmission. According to Ferrari's spokespeople, the Italia will accelerate to 60 in approximately 3.4 seconds and has a top speed approaching 195 miles per hour. The Ferrari's folding hardtop enables the Italia to function as both a coupe and a convertible, offering its owner the best of both worlds in one of the ten fastest convertibles for 2015.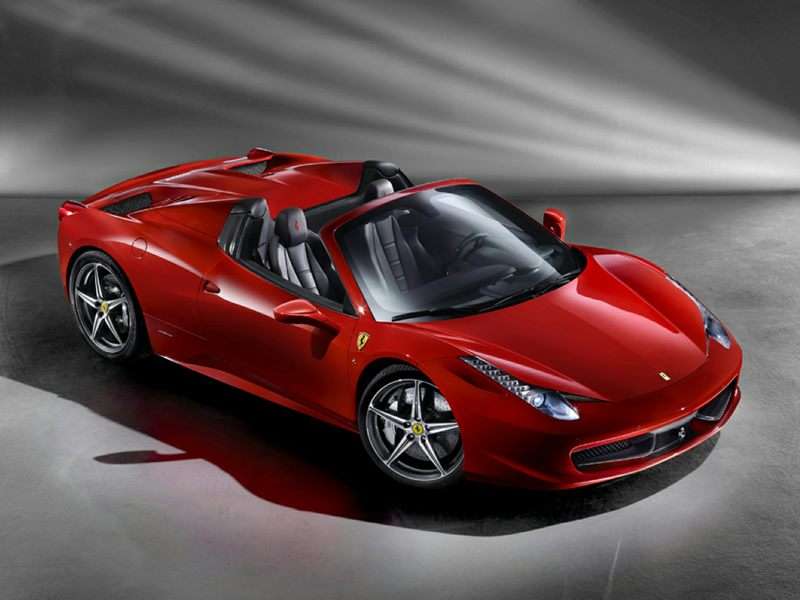 9) 2015 Jaguar XKR-S Convertible
There was a time when the top speed of Jaguar's grand touring sports car was limited by politics, rather than aerodynamics, physics, or the capability of the marque's engineers. As a member of Ford's Premier Automotive Group, Jaguar was forced to reside in the shadow of its Aston Martin stablemate. (Can't have the less-expensive Jags outrunning the ultra-pricey Astons, now, can we?) With the divestiture of all the premium European brands by Ford's management team, Jaguar sports cars were at last permitted to come into their own and demonstrate their true potential. The fastest Jaguar convertible currently available is the 2015 Jaguar XKR-S, boasting 550 hp and 502 lb-ft of torque from a 5.0-liter supercharged V-8. With a zero to 60 time of 4.3 seconds and a top speed of 186 miles per hour, the Jaguar XKR-S easily claims a spot on our list of the fastest convertibles.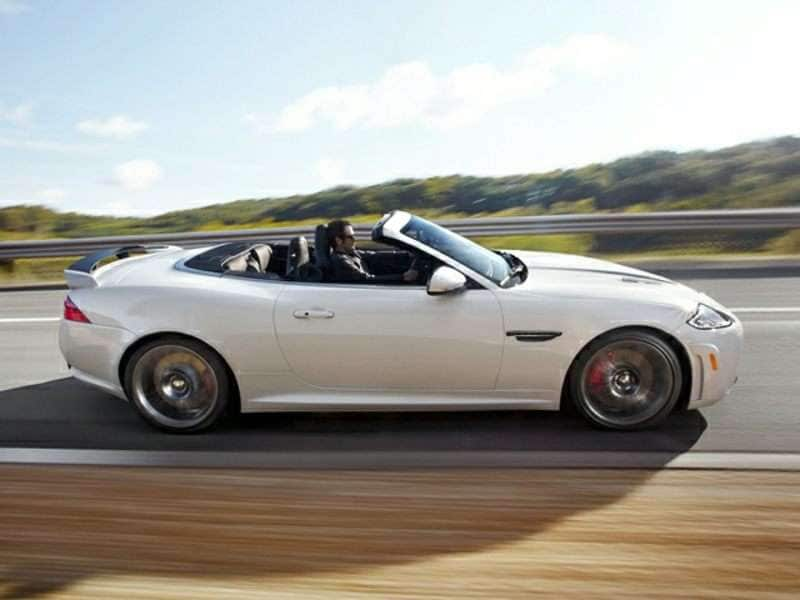 2015 Lamborghini Gallardo LP 570-4 Spyder Performante
Benefitting mightily from its ownership by the Volkswagen Group, Automobili Lamborghini's cars are more usable, more comfortable and more reliable than ever. Further, the product diversification permitted by the developmental money flowing forth from Lamborghini's corporate parent has enabled the storied Italian manufacturer to offer more versions of the Gallardo than anyone can shake a stick at. The ultimate open version of the baby Lambo is the Gallardo LP 570-4 Spyder Performante. Sporting a 5.7-liter V-10 engine and all-wheel drive, the hot open version of the littlest Lamborghini has 570 horsepower and 397 lb-ft of torque at its disposal. This enables zero to 60 times in the low three second range and top speeds approaching 200 miles per hour—in addition to a spot on the list of the ten fastest convertibles for 2015.