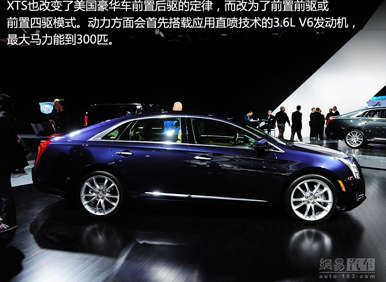 The Chinese auto market remains one of the most important in the world, and all of America's erstwhile Big Three continue working overtime to expand their business there. For the latest, here's a quick update from the 2012 Beijing International Automotive Exhibit, where all three of this country's "domestic" automakers announced significant plans for growth in China.
Beijing Auto Show: Chrysler 300 Ruyi Concept
For the Chrysler brand, the Beijing event kicked off its return to the Chinese market under its new Fiat-based leadership, representing another important step forward in the Chrysler Group's overall recovery process. Leading the way, of course, will be the Chrysler 300 flagship sedan, which debuted in Beijing as the 300 Ruyi Design Concept.
The car takes its name from the "ruyi"—a ceremonial scepter that symbolizes prosperity and good fortune in China—and shows off design cues specifically tailored for that country's buyers. Among them: A special Maximum Steel body color with a variety of chrome and metal accents, both inside and out; custom-look seats with light-toned leather seating surfaces and suede bolsters; 22-inch, 10-spoke wheels with a design informed by the traditional curved look of a ruyi; and—in a move no doubt related to China's ongoing efforts toward greener transportation solutions—a powertrain that includes a Pentastar V6 engine and eight-speed automatic transmission. Remember: In the U.S.-market Chrysler 300, that combination delivers EPA ratings of up to 31 mpg highway.
The party line from Saad Chehab, president and CEO of the Chrysler brand: "We celebrate our reentry into China with a vehicle that symbolizes an auspicious beginning for the Chrysler brand. By integrating our distinctive American design and technology with timeless Chinese inspiration, we are looking to attract an emerging set of customers who are driven and dare to be different. We look forward to gathering the reaction of Chinese customers to the Chrysler 300 Ruyi, to surprise them with future models incorporating elements that we can see today in this design concept."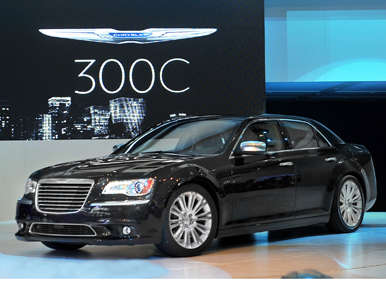 Beijing Auto Show: More from Jeep and Mopar
The Chrysler Group's Jeep and Mopar divisions also got in on the action in Beijing, with the former showing a Jeep Wrangler Dragon edition that combines traditional Jeep design cues with a dragon motif to also celebrate 2012 as the Chinese "Year of the Dragon." 
Mopar pitched in with components on the 300 Ruyi concept, then also brought thoroughly Moparized versions of the Jeep Wrangler Artic Edition and Fiat Freemont—the initial Fiat vehicle to leverage the Chrysler Group's expertise in developing larger vehicles for the partnership; the fashionable Freemont is based on the same underpinnings as the Dodge Journey.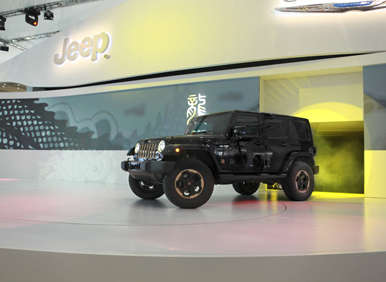 Beijing Auto Show: Ford's 15X15 Program
The Blue Oval also is playing catch-up in China, where it plans to open up the floodgates by launching 15 new vehicles by 2015. As part of these efforts, Ford showcased four fresh faces in Beijing, including the high-performance Ford Focus ST and three crossovers: The Ford Explorer, EcoSport and Kuga—the latter of which is the global version of the new 2013 Ford Escape. As for the Focus ST, it will be the first of Ford's performance variants ever offered in the country.
Unsurprisingly, Ford will support this product offensive by greatly expanding Chinese production, too.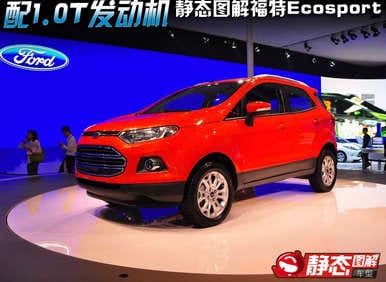 Beijing Auto Show: Ford Production Plans
  This includes a $760 million investment to build a new, state-of-the-art manufacturing facility with its Chinese joint-venture partner in Hangzhou. The plant will be capable of producing 250,000 vehicles annually when it opens in three years, bringing Ford's total Chinese production capacity to 1.2 million units per year—effectively doubling the number of vehicles that Ford can build in China.
Said Dave Schoch, chairman and CEO of Ford China: "The Chinese auto market remains one of the most vibrant in the world. This expansion will allow Ford to deliver on our aggressive plan to bring 15 new vehicles and 20 new powertrains to China by 2015, giving Chinese consumers more choice in Ford's next-generation of high quality, fuel efficient, fun-to-drive vehicles. This latest plant expansion again highlights that Ford is ready to go further for its customers in China"
Beijing Auto Show: GM Puts Cadillac in the Spotlight
GM has been by far the most successful U.S. automaker in China, thanks primarily to the popularity of its Buick division. In fact, with the brand doing so well there—and Chevy quickly gaining ground—GM has been the No. 1-selling global automaker in that country for seven years running. And now, the General is looking to expand that lead by expanding its Cadillac brand in China as well.
Thus, while it showed some 40 different vehicles in Beijing, the big news from GM was that the all-new Cadillac XTS full-size sedan, destined for U.S. customers later this spring, will go into production in China this fall.
"China is the second-largest market for Cadillac, and of course is one of the largest and strongest markets in the world for luxury cars, so it is a core part of our vision as a brand," said Don Butler, Cadillac vice president of marketing. "It is projected that by the end of the decade half of all luxury purchases in the world—all categories, not just cars—will occur in China."