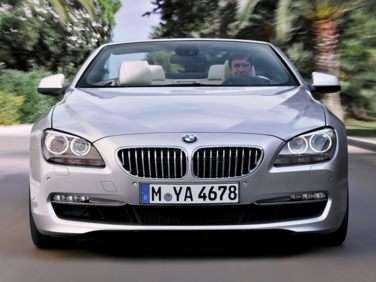 On the face of it, combining all-wheel drive with a convertible top seems like a contradiction. After all, if you're buying a convertible it means you're living someplace the weather is mild enough to enjoy top down motoring quite often. Or, it means you're buying the car to use only when the weather is nice enough to drive around with its interior exposed to the elements.
All wheel drive on the other hand is generally thought of as providing superior traction in inclement conditions. In other words, you buy all-wheel drive if you live where there's a preponderance of rain, snow or a mixture of the two. However, to think of all-wheel drive only in those terms is to miss one of the biggest performance advantages available.
Even a cursory glance at the collection of automobiles on this list, immediately reveals each of the listings here is either an extremely high performance machine, or has a very high performance variant in its lineup. There's a reason the builders of cars like the Lamborghini Gallardo, Bentley Continental and Audi R8 specified the prodigious power those cars are capable of generating get to the ground through all four wheels.
In a word, that reason is traction.
You want a truly fast car to corner better? Let it work with all four wheels powered. You want that car to have superior grip at very high speeds? Let it use power to all four wheels. You have a front-drive platform you want to infuse with more horsepower than its current powertrain can handle comfortably? Feed some of that power to the rear wheels too.
Conversely, if you have a fabulous car with huge power, along with the exceptional traction and stability afforded by all-wheel drive and you want to make it just a tad more extraordinary? Give it a folding roof too. What follows is our list of the cream of such cars; the best of 2012's all-wheel drive convertibles.
Best 2012 AWD Convertibles: Audi A5 Quattro Cabriolet
Audi's coupe is one good-looking machine. Huge wheel arches containing equally huge wheels dominate its muscular profile. Its rippling bodywork absolutely screams power and performance. Inside, the A5 delivers all the fabulous you'd expect. From cutting edge technological comfort and convenience features, to premium materials blended in an extremely harmonious fashion. Audi has the reputation of fitting the nicest interiors on the road to its cars and it is wholly justified. The A5 Cabriolet features a soft folding roof, where many of the cars in its class have gone to folding metal. However, this choice reduces weight, leaves more room in the trunk, and keeps the styling of the Audi sleeker. Powering the A5 Quattro Cabriolet is a 2.0-liter inline four-cylinder engine, which produces 211 horsepower and 258 ft.-lbs. of torque. The powertrain is rounded out by an eight speed automatic transmission.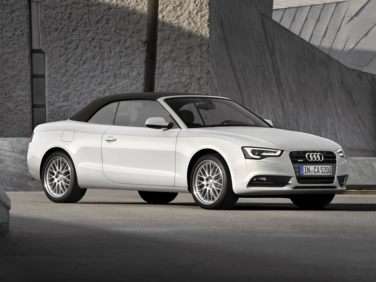 Best 2012 AWD Convertibles: Audi S5 Cabriolet
Take the accolades we just heaped upon the Audi A5 Quattro Cabriolet in the previous entry; add in the joys of a high protein engine, bigger tires and wheels, better brakes, and a suspension system geared towards better handling—but without compromising ride quality—and you'll find yourself in possession of an Audi S5 Cabriolet. Racy, in a wholly sophisticated manner, the 2012 S5 Cabriolet offers buyers the luxury they've come to expect from a Mercedes-Benz, along with much of the performance capability for which BMW is renowned. However, neither the BMW M3 nor the Mercedes E 550 Cabriolet provide the superior traction afforded by all-wheel drive. Thus, the Audi S5 Cabriolet makes our list of the best AWD convertibles, while neither of those cars qualifies. A 333 horsepower, 3.0-liter supercharged V6 making 325 ft.-lbs. of torque powers the 2012 Audi S5 Cabriolet. Completing its all-wheel drive powertrain is a seven-speed dual-clutch automated manual transmission as standard equipment.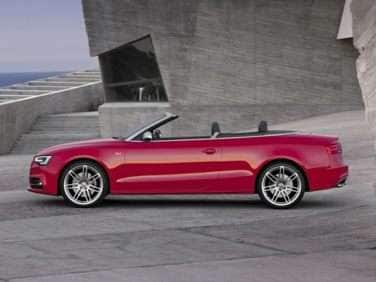 Best 2012 AWD Convertibles: Audi R8 Spyder
When Audi decided to add a mid-engine exotic sports car to its portfolio, you can bet the brand's Quattro all-wheel drive system was also at the top of the list of specifications. Easily one of the best AWD convertibles for 2012, the Audi R8 Spyder has been lauded as much for its good looks as it has its driving characteristics. The best news is you can get the R8 in each of its configurations with a folding roof. The 2012 Audi R8 Spyder 4.2 is powered (as its nomenclature suggests) by a 4.2-liter V8 mounted directly behind the passenger compartment. The engine sends 430 horsepower and 317 ft.-lbs of torque to all four wheels through either a six-speed manual transmission with a gated metal shifter (standard equipment), or a six-speed single-clutch automated manual (known as R tronic in Audi-speak) as the optional gearbox. The 2012 Audi R8 Spyder 5.2 uses a 5.2-liter V10 capable of generating some 525 horsepower and 391 ft.-lbs. of torque. The same transmission choices are offered with the V10 in this configuration. The R8 GT Spyder 5.2 boasts an amplified power output of 560 horsepower and 398 ft.-lbs. of torque from the 5.2-liter V10. The R tronic gearbox is the only transmission offered with the R8 GT Spyder 5.2.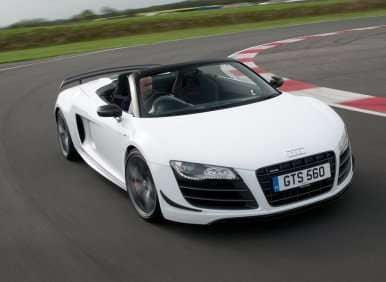 Best 2012 AWD Convertibles: Audi TT/TTS
Given Audi's excellent reputation for building superior all-wheel drive automobiles, it should come as no surprise the first four entries on this list of the best all-wheel drive convertibles are all Audi models. And of all its models, Audi's TT (before the arrival of the R8) has probably drawn the most notoriety. With its distinctive exterior styling, high quality and innovative interior treatment, and its careful blending of sports and grand touring characteristics, the Audi TT immediately carved a niche for itself upon its North American introduction for the 2000 model year. Redesigned for the 2008 model year, the second generation of Audi's iconic model is longer, lower and wider than the first generation. The Audi is available as a convertible in both its base TT form, as well as its higher performance TTS iteration.  Powering the 2012 Audi TT is a 211-horsepower, turbocharged 2.0-liter four-cylinder engine that produces 258 ft.-lbs. of torque. All-wheel drive is standard. The TT's six-speed dual-clutch automated manual transmission (known in Audi lore as S-tronic) is both capable of functioning like a traditional automatic or like a traditional manual with the shift lever on the center console or shift paddles on the steering wheel. The 2012 Audi TTS is powered by a 265 horsepower version of the turbocharged 2.0-liter four-cylinder which produces 258 ft.-lbs. of torque. The TTS also uses Audi's S tronic six-speed dual-clutch automated manual transmission.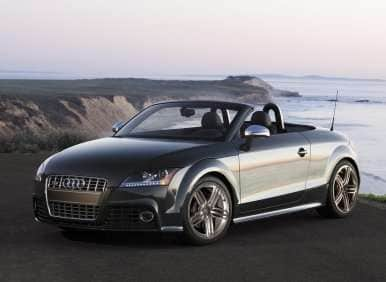 Best 2012 AWD Convertibles: Bentley Continental GTC/GTC Speed/Supersports
If you ever wanted to see a pictorial definition of the word fabulous, visit the Bentley Website and feast your eyes on the 200 mph Continental GT series of cars. While the Continental coupes are the sheer and utter personification of the word gorgeous, the convertibles elevate that concept to an even loftier realm. Bentley motorcars are a careful blending of extremely high performance and absolutely hedonistic levels of luxury. Think Rolls Royce presence and craftsmanship paired with Lamborghini power and handling and you'll have the Bentley Continental formula nailed. Inside a Bentley, everything is real; there are no simulated materials. The glass, wood, wool, leather, and chrome are all the genuine articles. And, underneath it all lays true high performance componentry. For a car weighing in excess of 5500 pounds to accelerate to 60 in under five seconds there has to be some serious power underfoot. Convincing all of that mass to corner like a sports car takes some exceptionally sophisticated chassis engineering too. As you might well imagine, all of this comes at a rather significant price point, but hey; while the best things in life may be free, they are never cheap. The Bentley Continental GTC and GTC Speed are powered by a twin-turbocharged 6.0-liter W12 engine, which is paired with a six-speed automatic transmission. The base GTC produces 552 horsepower and 479 ft.-lbs. of torque, which takes the GTC from zero to 60 in 5 seconds. The GTC Speed features 600 horsepower and 553 ft.-lbs. of torque, and it gets to 60 in 4.6 seconds. If neither of those suits your intentions, consider the 2012 Bentley Continental Supersports Convertible. This version of the Continental GT is also powered by the 6.0-liter W12; except for this application it's configured to produce an atmosphere-shredding 621 horsepower and 590 ft.-lbs. of torque for a 3.8-second run to 60. All-wheel drive and a six-speed automatic transmission are standard for the Supersports Convertible as well.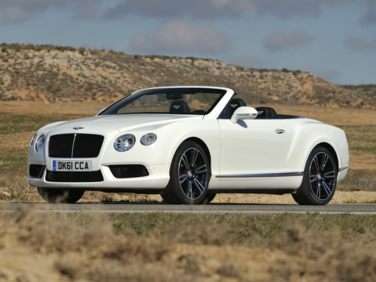 Best 2012 AWD Convertibles: BMW 650i xDrive
With the recent acquisition of Porsche by The Volkswagen Group, the only car on this list of the best all-wheel drive convertibles that isn't a VW product is the BMW 650i xDrive. Completely redesigned for the 2012 model year, the BMW 6 Series grand tourer gets all-wheel drive for the first time. This, along with its new look expands the desirability factor of the stunningly beautiful coupe by an ever more significant margin. As BMW's top coupe, the 650i is graced with a broad array of standard features, cutting edge comfort and convenience technology, and of course exemplary fit and finish for its luxuriously appointed passenger compartment. It also goes like a guided missile, thanks to the 4.4-liter twin-turbocharged V8 engine, which is readily capable of generating 400 horsepower and 450 ft.-lbs. of torque. The engine's output is routed to all four wheels through an eight-speed automatic transmission with manual shift control. No other transmission is offered with the BMW's all-wheel drive system.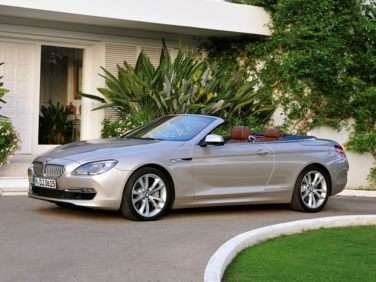 Best 2012 AWD Convertibles: Lamborghini Gallardo LP560-4 Spyder/ LP570-4 Spyder Performante
What's the point of having a car as fantastic as the Lamborghini Gallardo if people can't see you driving it? Hey, it's a reasonable question to us, and more than enough reason to consider one of the open versions of the baby Lamborghini. Available in two flavors, spicy and extra spicy, the Gallardo is as Italian as they come. And by that we mean, outstanding good looks, an incredible sound, and a desirability quotient off the charts. To say the Gallardo Spyder is a good-looking car is to master the art of understatement. The 2012 Lamborghini Gallardo LP560-4 Spyder derives its motivation from 5.2-liter V10 good for 560 horsepower and 397 ft.-lbs. of torque. A six-speed manual transmission with a gated metal shifter is the standard gearbox. A six-speed, single-clutch automated manual transmission (which can be found listed as e-gear in the Lamborghini catalog) is optional. The LP570-4 Spyder Performante harnesses an even more powerful version of the 5.2-liter V10; this one good for 570 horsepower and 397 ft.-lbs. of torque. The e-gear transmission is standard there too.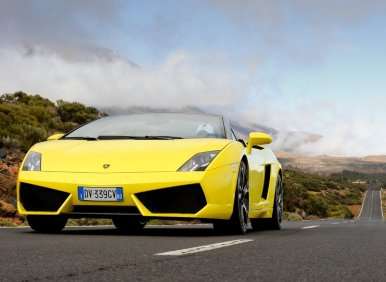 Best 2012 AWD Convertibles: Porsche Carrera 4/Carerra 4S/Carrera 4 GTS/Turbo/Turbo S
Easily the most iconic of the best all-wheel drive convertibles, the venerable Porsche 911 is a timeless beauty with classic lines dating all the way back to the time John F. Kennedy was president of the United States. As is fairly well known by auto enthusiasts by now, rather than reinventing the 911 every five to seven years, Porsche incorporates whatever automotive advancements have occurred since the last 911's redesign into the overall design. Thus the 911 has evolved over time. The first all-wheel drive 911 convertible appeared in 1989. Today's 911 is available in five different guises with all-wheel drive and a convertible top. The Carrera 4 (C4) uses a 345-horsepower, 3.6-liter horizontally opposed six-cylinder engine with 288 ft.-lbs. of torque. The C4 S model gets a 3.8-liter flat six with 385 horsepower and 310 ft.-lbs. of torque. The C4 GTS gets a 408 horsepower version of the 3.8. The Turbo's twin-turbocharged version of the 3.8 produces 500 horsepower and 480 ft.-lbs. of torque. An overboost function cranks its torque output to 516 ft.-lbs. for short bursts. In the Turbo S, the 3.8 makes a remarkable 530 horsepower and 516 ft.-lbs. of torque.