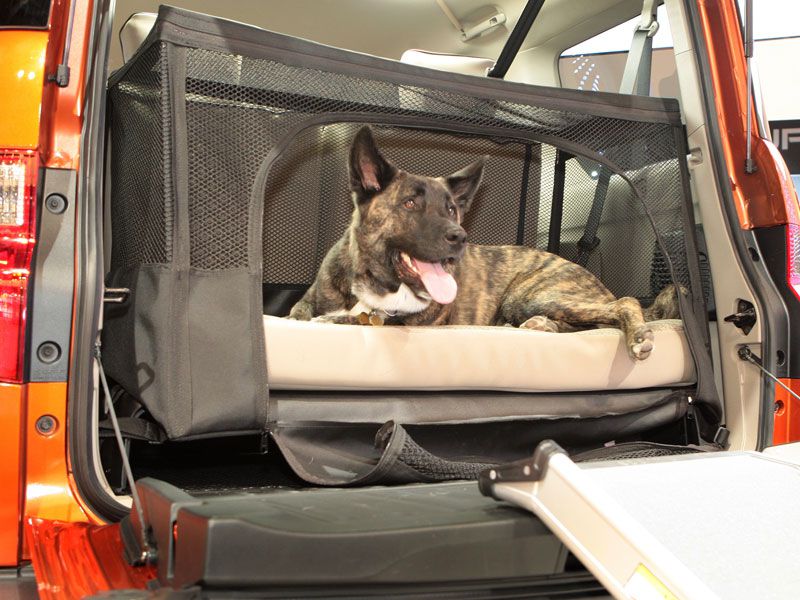 Dog Friendly Honda Element
At first glance, a list of the 10 best cars for dogs might seem to be a superfluous topic. After all, your dog would theoretically be happy riding in whatever vehicle you have—right? And, in most cases, yes, this is true. However, if you truly care for your pet, and you're going to be buying a new car anyway, why not take your four-legged family member's needs into consideration, too? All of the cars on this list are currently available new models with a certain group of attributes in common. Whether or not you agree with our specific picks, or if you're shopping for an older used model that wouldn't be covered here, there are a number of particularly desirable features that should be considered.
Desirable Features
The best cars for dogs have a separate cargo area with plenty of room, although it's important to ensure the cargo area's climate can be adjusted. Preferably, the rear windows can be power-operated from the driver's seat, which provides much-needed ventilation for your pet. Remember, dogs are "air cooled."  As much as possible, in hot weather, they need flowing air to maintain a comfortable body temperature. Also, look for a vehicle that has climate control for the cargo area. While fresh air is great, it's obviously not a solution year-round or on long road trips. Your dog should be as comfortable as the rest of the family, and an unconditioned cargo area can quickly get dangerously hot or cold. If at all possible, the cargo area should have flat sides, with no spare tire or anything else intruding into it, so as to give your dog as much room back there as possible. The cargo area should also be fitted with some sort of attachment apparatus so you can secure the dog's carrier or harness. For instance, the 2016 Volvo V70 Cross Country has a handy barrier that separates the cargo area.  Ideally, the cargo area won't be carpeted so it doesn't trap hair. While you can always buy a rubberized liner for the floor, if the sides of the cargo area are carpeted, there's not a lot you can do about that. In a perfect world, that cargo area would also feature in-floor storage so you can carry items you might need while keeping the dog's area clutter free. Another important consideration is ease of ingress and egress. The entrance to the cargo area should be as low to the ground as possible to make it easy for the dog to get in and out, especially as your beloved canine companion starts to age. A rear hatch is also preferable to side doors, for the ease of loading and unloading a crate or carrier. The cargo area should also have child-safe doors that can't be opened from the inside, and you and your pet must be able to see each other.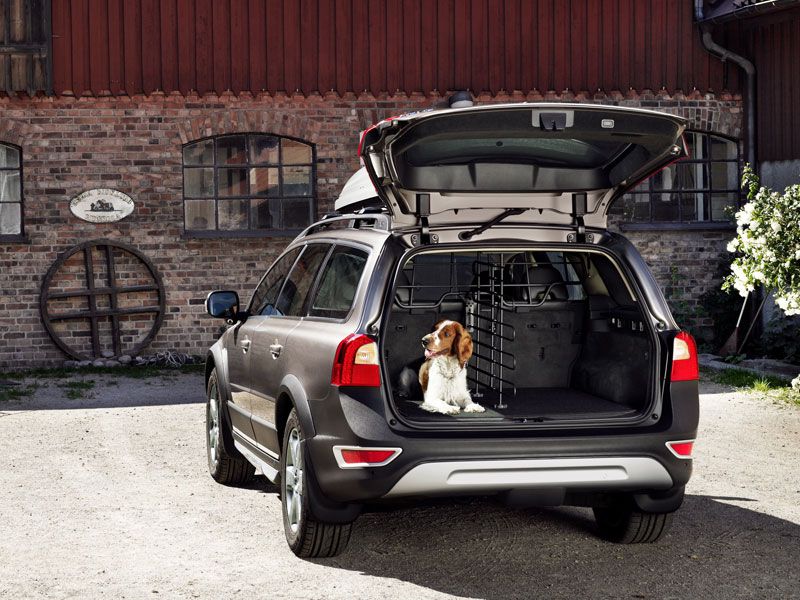 Desirable Features—Continued
We've touched on this already, but it bears repeating: a pet-friendly vehicle needs tie-down hooks for harnesses (or carriers, if you prefer). The harness issue is very important. It keeps the dog from jumping out of the car should it say, see a cat in the next car at a traffic signal, and it restrains the canine in the event of a crash. Think about it. In a crash on the highway at 65 miles per hour, if your dog isn't properly restrained, it could potentially become a missile flying at 65 miles per hour through the interior of your car. Whatever it hits, odds are, the dog will die. If it hits a person, that individual is going to suffer a significant injury (or possibly death) as well. This is something so many pet owners overlook until it's too late. Bottom line, get your dog a harness or specialized carrier like the Sleepypod Mobile Pet Bed, fitted nicely here in the 2016 Kia Sorento.
Fold flat rear seats give you more room inside the car to allow your pet to roam a bit—just make sure you keep the harness fastened. You'll also want to make sure the any fabrics in the car can be vacuumed easily, so pet fur doesn't become an issue. Also, folding the seats means you'll be less likely to have to worry about what your human passengers are sitting in when you open them up for people. So now, with all of that said, here's the Autobytel list of the 10 best cars for dogs.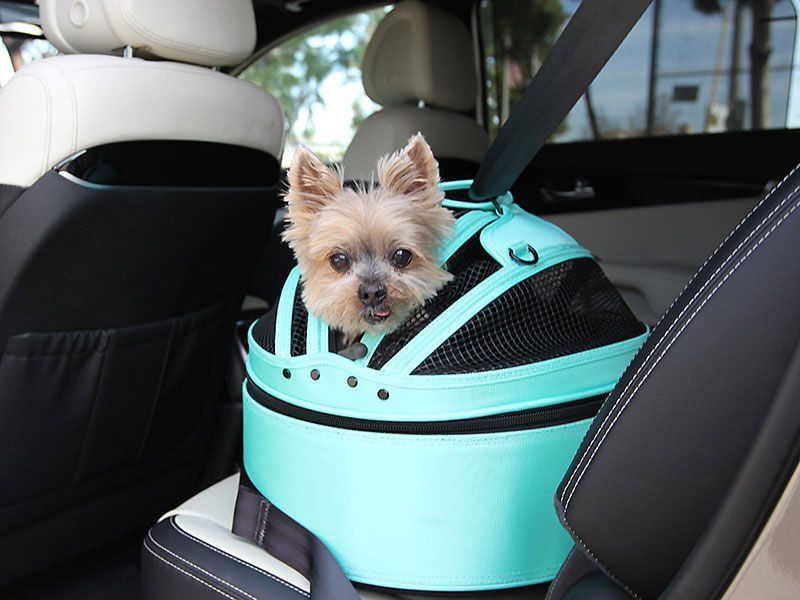 Photo by Center for Pet Safety
2016 Ford Flex
The Ford Flex features a huge cargo compartment, its rear seats fold flat, and it can be had with a refrigerator large enough to keep cool water and fresh treats on hand, for both you and your dog. The rear hatch opens very wide and the floor of the Flex is close to the ground, so your older dog won't have to struggle to get into it, and vast expanses of glass will give your pup a good view. A broad array of comfort and convenience features also makes the Flex a nice ride for your two-legged family members. The Flex has undergone few changes since its introduction in 2009, which means a clean used example is a good choice for families on a budget.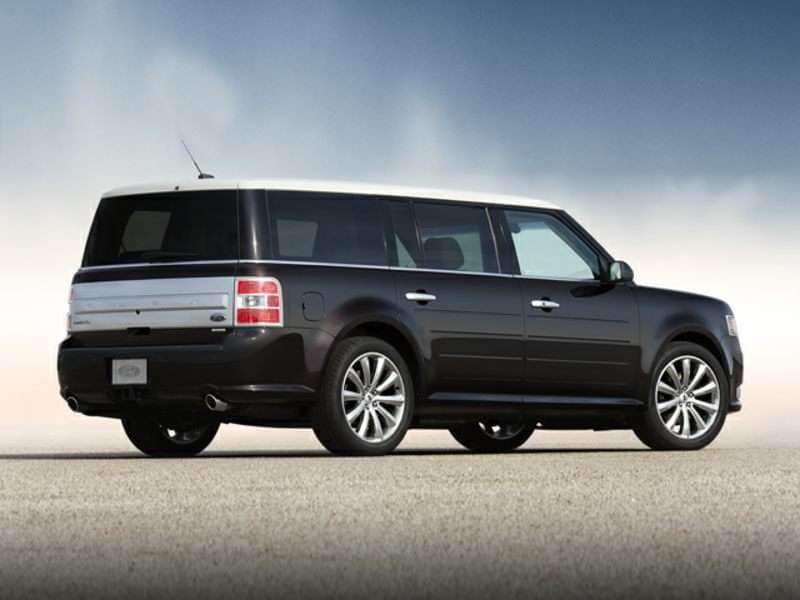 2016 Honda Odyssey
The Honda Odyssey is a great option for both people and pets, with seating for up to eight passengers and plenty of cargo space. This class-leading minivan offers plenty of features to keep kids entertained and comfortable on even the longest of road trips. The Odyssey's sliding side door makes it easy to load a pet crate in the main passenger compartment, although the back hatch is also available, and the van's low step-in height is convenient for loading and unloading. The Honda Odyssey also offers a unique pet-friendly feature, the HondaVAC built-in vacuum cleaner, which helps keep the van clear of dirt, fur, and other debris.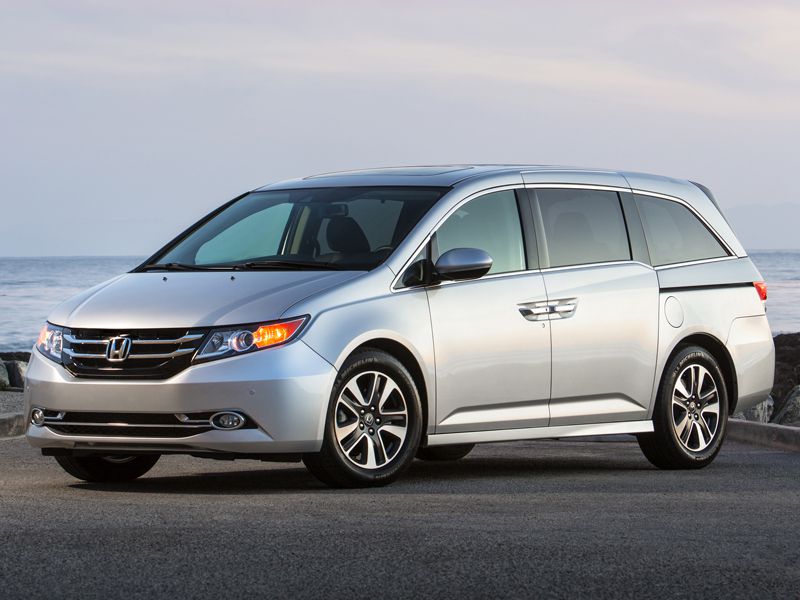 Photo by Honda
2016 Land Rover Range Rover
Granted, the Land Rover Range Rover doesn't come cheap, but buyers who spend a lot of time out on the road (or out in the forest) with their four-legged family members will find this full size luxury suv is worth the extra expense. Stylish outside and comfortable inside, Land Rover excels at keeping everyone happy. The Range Rover features power-folding rear seats as well as a hands-free liftgate, which makes it especially easy to load a crate. Power sunshades in the back help protect your pet  (and human passengers) from excessive sun, and optional quad-zone climate control keeps the cargo area at the perfect temperature.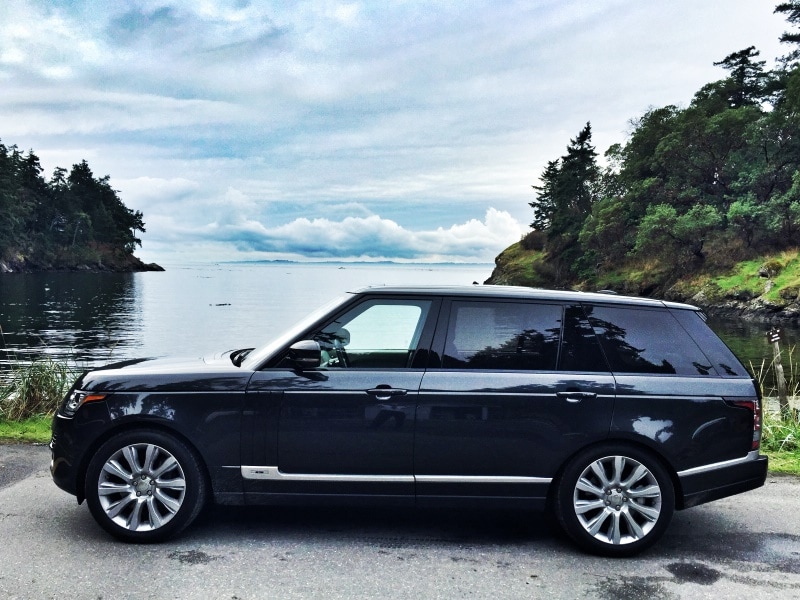 2016 Kia Soul
A lot roomier than its exterior dimensions suggest, the Kia Soul is a good choice for transporting smaller and mid-size breeds. Kia offers a number of dealer installed accessories to make the Soul even more pet friendly. These include thick, heavy-duty floor mats, cargo compartment liners, and pet-resistant seat back covers. Optional puddle lights illuminate the ground to make it easier to load and unload the vehicle at night. If you have a smaller dog and you're looking for reasonably priced pet-friendly transportation, the Kia Soul is a stylish way for you to go.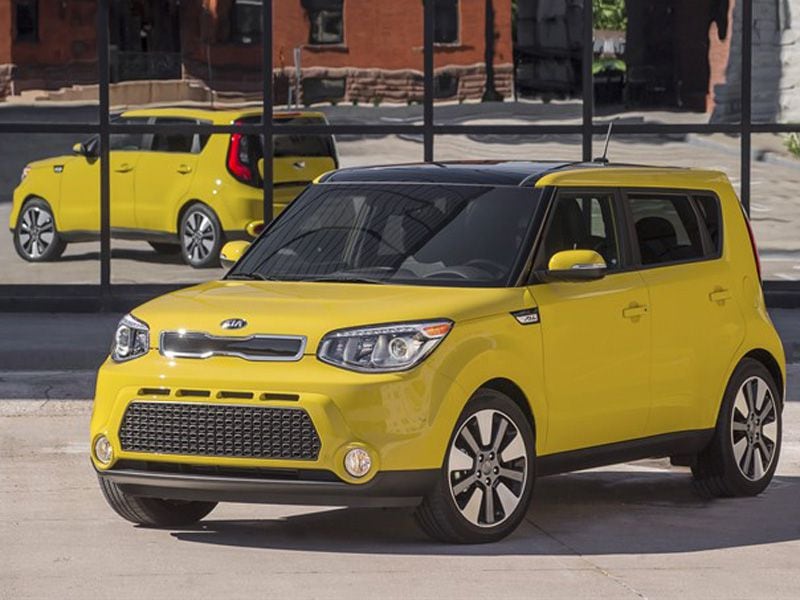 Photo by Kia
2016 Hyundai Tucson
The Hyundai Tucson, a small five-passenger SUV, has been totally redesigned for this year, and makes a budget-friendly option for a new family vehicle. The Tucson offers a couple engines, so buyers can decide whether power or price is more important. The cargo area is a good size for the class, but it might be too small for large dogs that require very large crates or carriers. An optional hands-free liftgate makes it easier to load and unload. The Tucson features lots of interior cargo compartments. The Tucson also offers privacy glass, which helps protect occupants from the sun's strong rays and will help keep your dog cool and calm.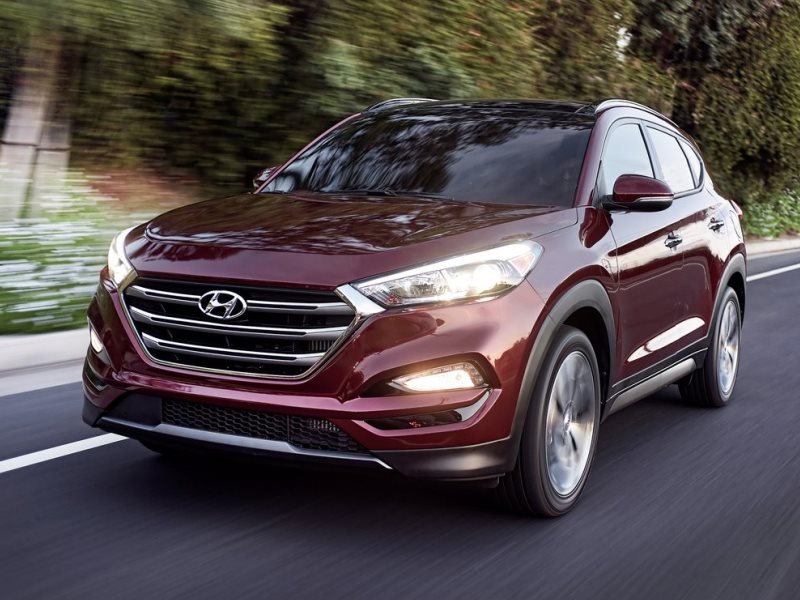 2016 GMC Acadia
The GMC Acadia offers minivan-like capacity, with seating for up to eight passengers, with the capabilities of an SUV. With 116 cubic feet of cargo space, the Acadia has enough space to travel with people, pets, and plenty of everyone's stuff. The Acadia has a strong all-wheel drive system and plenty of ground clearance, so it's a strong contender for adventurous families who enjoy camping or other outdoor pursuits. And it offers tri-zone climate control, which allows drivers to keep a close eye on the temperature in the cargo area, so furry friends don't overheat or get too cold.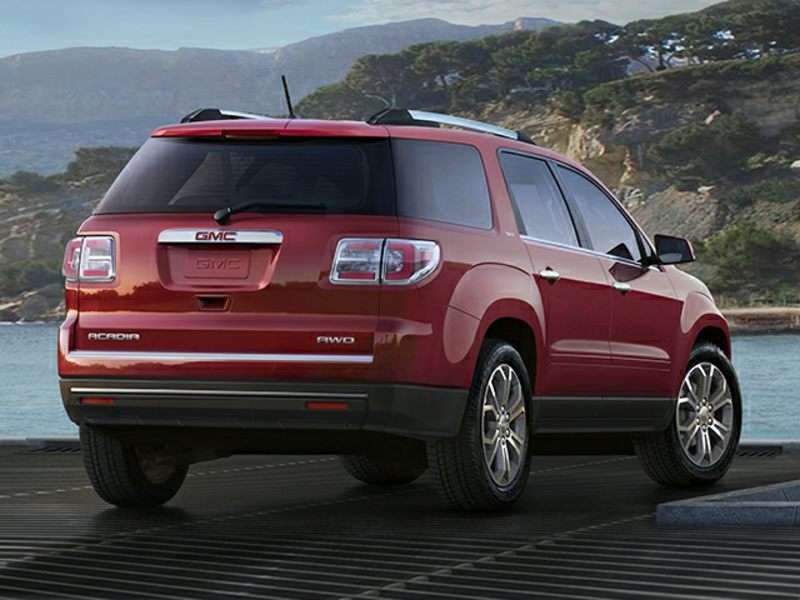 2016 Subaru Forester
The Subaru Forester offers roomy, comfortable accommodations for people and pets. Plus, with the Subaru's all-wheel drive system, you can even venture onto mildly rugged trails to let your dog run free in the woods. The Forester's cargo capacity with the rear seats folded is a cavernous 74.7 cubic feet in the base trim (higher trim levels sacrifice a little cargo room in favor of other amenities).The Forester offers a hands-free liftgate for convenient access to the cargo area, and for those times when you need them, there are ample tie-down points to secure a kennel in the Forester.
2016 Toyota Highlander
The 2016 Toyota Highlander is a mid-size SUV with many of the same amenities and features found in bigger SUVs. The Highlander offers families and their pets a generous interior that can accommodate up to eight passengers with three available rows of seating. Though it's not a luxury SUV, the Highlander offers upscale styling and excellent safety ratings. The Toyota Highlander has a fold-flat cargo area, which provides plenty of room to safely carry pets and all of their accessories.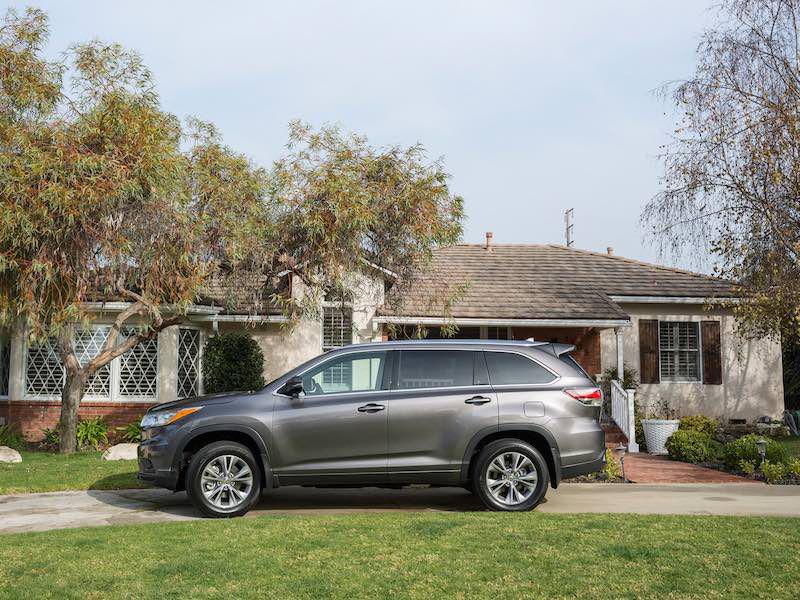 Photo by Toyota