Bailouts, bankruptcies and a billion-dollar buy-back program. It's been a rough ride for the auto industry in 2009, as carmakers limp through the final leg of a year everyone would much rather forget. But amidst the doom and gloom of plummeting sales and closing factories, there were some bright spots – cars worthy of praise and full of promise. So, in the spirit of the season, here are the 12 cars we're really thankful exist, some already in production and others just around the corner.
Photos courtesy of manufacturers
Page 2
Earlier this year, GM shuttered its High Performance Vehicle Operations unit – but not before giving the world the Cadillac CTS-V. Not only is it the fastest, most powerful Cadillac ever, it's the fastest, most powerful American four-door ever. The mad Caddy's supercharged 6.2-liter V-8 (derived from the mighty Corvette ZR1) sends 556 hp and 551 lb-ft. of torque to the rear rubber, rocketing the CTS-V to 60 mph in under four seconds. With the base car's everyday drivability still intact, the vicious V's upgrades – including stiffened suspension and massive Brembo brakes – make it a force to be reckoned with.
A red-, white- and blue-blooded response to German sports sedan supremacy

Page 2
Porsche ticked off the sports car purists years ago with the Cayenne SUV, so the four-door Panamera sedan is no big deal. Although the hatchback body style gives the car a slightly awkward rear, there isn't much else to bemoan. The 4.8-liter V-8 makes 400 hp and 369 lb-ft. of torque in S and 4S spec, or a bracing 500 hp and 516 lb-ft. of torque in the Panamera Turbo. Imbued with Porsche's industry-leading chassis control system technology and PDK dual-clutch transmission, there is nothing watered down about the Panamera driving experience. Of course, if it were diluted, it would be with chilled Perrier, since the Panamera offers an optional rear seat refrigerator unit.
Porsche stays true to its roots while expanding the brand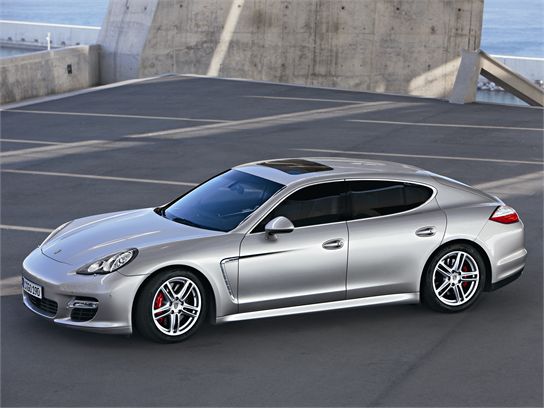 Page 2
When it appeared in late 1999, the two-door Honda Insight was the first hybrid for sale in North America. Now all grown up, the new five-passenger Insight takes dead aim at the reigning green machine, the redesigned Toyota Prius, and hits. Though the combined 41 mpg from the Insight's 1.3-liter four-cylinder gasoline engine and 10-kilowatt electric motor is shy of the Prius' combined 50 mpg, so is the Insight's $19,800 starting sticker. Plus, engaging the Insight's Eco Assist system automatically limits engine power and reduces air conditioning operation, allowing for periods of overall fuel economy approaching 60 mpg.
Nearly as green as the Prius, but for less cash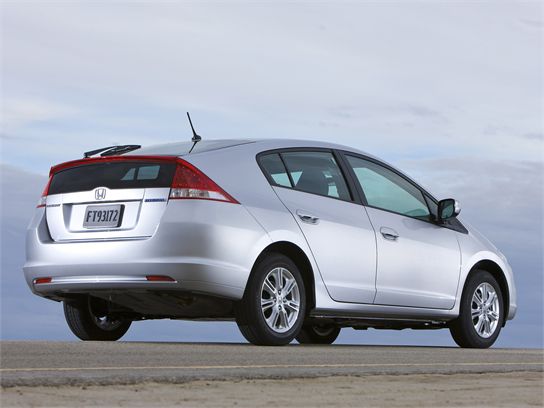 Page 2
This year, pony cars were back with the biggest bang since their 1960s heyday. Leading the charge was the new Chevrolet Camaro. There was stiff competition from the all-new Ford Mustang and Dodge Challenger, but the Camaro range is simply more compelling from top to bottom. The 2SS trim's 426-hp 6.2-liter V-8 offers big power in a package capable of attacking winding roads with surprising grace, while the $22,000 V-6-powered LS model is a performance steal compared with the slightly sluggish six-cylinder offerings from Ford and Dodge. Plus, the Camaro's cartoonish love-it-or-hate-it styling is bound to turn heads.
This fast-changing world still needs some chest-thumping, tire-smoking muscle

Page 2
Like a lot of drivers, we had a hard time letting go of perceptions of Hyundai as a bargain basement Asian also-ran – until we drove the Genesis Coupe. Hot on the heels of the luxe-for-less Genesis Sedan, Hyundai offers up serious rear-wheel-drive competition for pure-bred pony cars and pricey import coupes alike. On the road, the top-of-the-line Genesis Coupe 3.8 Track feels both incredibly solid and exceptionally light. The 3.8-liter V-6, rated at 306 hp and 266 lb-ft. of torque, is potent and wonderfully refined. For $32,750 a nicely optioned 3.8 Track is definitely a bargain. But basement? No way.
Real performance with a very realistic price tag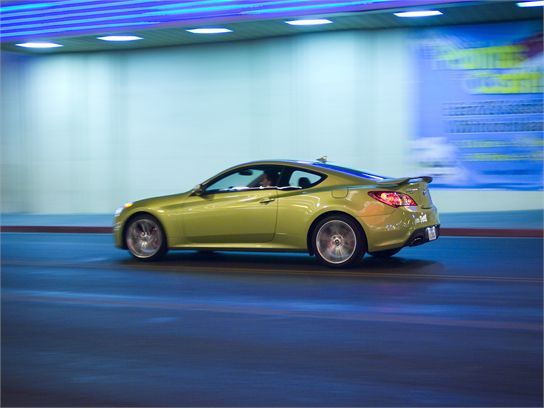 Page 2
Ten years ago, the Ford Taurus was the best-selling family car in the U.S. Then came the dubious redesigns and the Japanese competition and – poof! – America's once-favorite midsize sedan vanished in 2006. After an ill-fated re-badging as the full-size Ford Five Hundred, the Taurus is back, and it has even gone a bit up-market. Though it could woo some drivers who ditched its predecessors for Accords and Camrys, a well-optioned Taurus Limited for around $35,000 is more entry-level luxury car – complete with refined road manners and an elegant, commodious cabin. For a bit more firepower, Ford has also revived the Taurus SHO ("Super High Output"), packing a 3.5-liter twin-turbocharged V-6 making a hearty 365 hp and 350 lb-ft. of torque.
An old favorite returns with a very promising future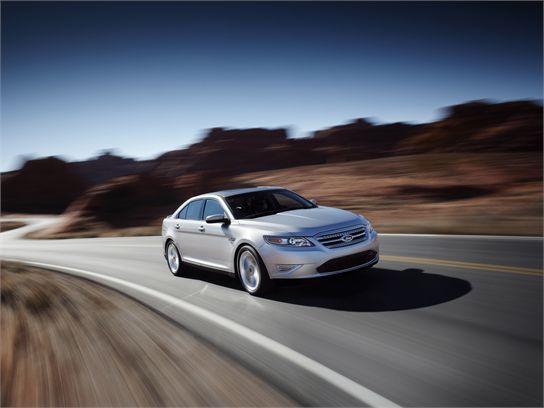 Page 2
With its arresting exterior design, unsurpassed handling and driver-friendliness, few cars in recent memory have received as much universal praise as the mid-engine Audi R8. There was, however, one universal gripe about the 420-hp V-8 supercar: it felt a bit underpowered. Audi has answered its critics by slipping a 525-hp V-10 into the glass-encased engine compartment of the R8 5.2. Other than a modified transmission, little else has changed – and rightfully so. And for anyone who complained that the R8's low-slung cabin was too confining, Audi has taken care of that as well: an open-top R8 Spyder is also on the way.
Sometimes, horsepower-hungry automotive dreams really do come true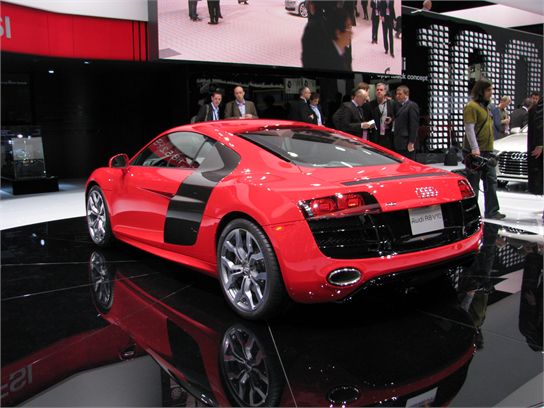 Page 2
After years of wrenching existing Mercedes-Benz cars into fire-breathing variants, in-house performance arm AMG finally got a crack at ground-up development. The forthcoming Mercedes-Benz SLS AMG will replace the McLaren-produced SLR as the three-pointed-star's halo car. Known as "the new Gullwing," the SLS is a stylistic homage to the iconic 1950s Mercedes 300SL with its overall shape and namesake upward-opening doors. But the retro-inspired SLS is packed to its side gills with cutting-edge engineering, including a weight-saving aluminum space frame. With AMG's hand-built 6.3-liter V-8 massaged to 571 hp and 479 lb-ft. of torque, the SLS should hit 60 mph in under four seconds.
AMG finally delivers a refined track star with style to spare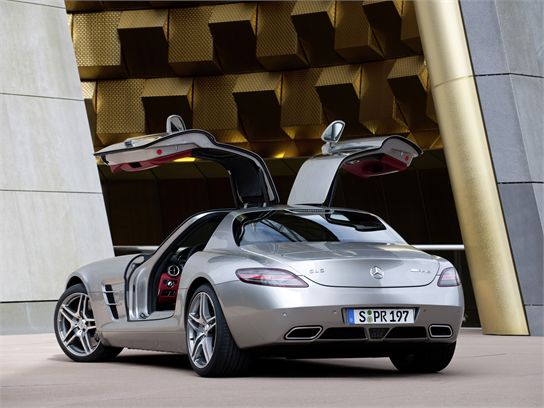 Page 2
Somehow, this year's sun-seeking Ferrari California convertible left purists cold with its un-Ferrari-like retracting hardtop and front-mounted V-8. Now Maranello is getting back to what it does best with the 458 Italia, a mid-engine replacement for the brilliant F430. With a bump of 79 additional ponies courtesy of its 4.5-liter V-8, the 570-hp 458 Italia should sprint to 60 mph in less than 3.4 seconds, easily eclipsing the spry F430 and getting into serious Enzo territory. Speaking of which, Pininfarina borrowed heavily from the million-dollar supercar for the 458 Italia's chiseled, somewhat radical exterior styling.
A new Ferrari is always big news – especially when it's blindingly quick and this good-looking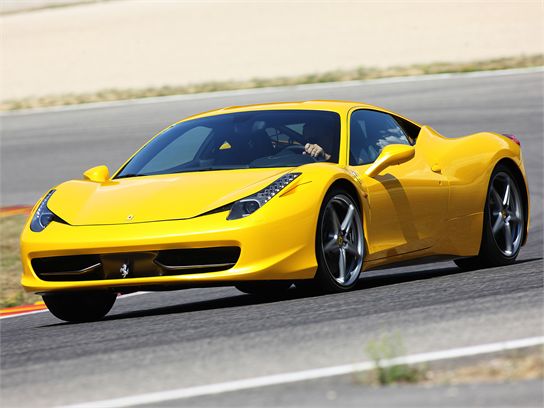 Page 2
While Bentley has busied itself creating variants of its "entry-level" Continental line, including the scary 621-hp flex-fuel Supersports coupe, its flagship Arnage has aged. Enter the Mulsanne, an all-new $300,000 (give or take) sedan positioned above the retiring Arnage. Though the limo-like Mulsanne is longer and wider than the Arnage, it is meant to be driven, not driven in. Bentley's familiar 6.75-liter V-8 will deliver 505 hp and a staggering 752 lb-ft. of torque, while a dynamic control system lets drivers select from three standard modes – Comfort, Sport or "Bentley" (seriously!) – or dial up custom steering, suspension and throttle response combinations.
There is still a leatherworker in Crewe willing to spend 40 hours hand-stitching a steering wheel for you (okay, maybe not you …)