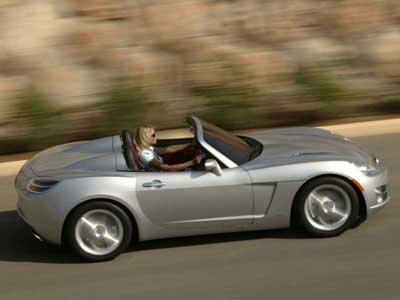 Step outside and take a deep breath, unless you live within sniffing distance of a sewage treatment plant or slaughterhouse. Smell that? It's mown grass, blooming flowers, and budding trees. Depending on where you live, you can even whiff that moist humidity that flows into parts of the country from the Carribean and Gulf of Mexico, carrying with it visions of sandy palm-lined beaches, scents of suntan lotion, and tastes of fruity drinks with umbrellas in them. Spring is here, and summer is coming. What better time to consider buying a convertible, one of the Industrial Revolution's brilliant remedies for the demands of daily life? Liberating and carefree, driving a convertible with the top down drains stress and scatters it to the wind. Taking the long way home, cranking up the music, letting the breeze ruffle your hair, and soaking up the scents lining the road is a delightful way to escape the pressures of real life – if only for a little while. Here, we present ten affordable convertibles for this summer and next, all with base prices under $30,000 to keep financial pressure at bay. Depending on your preferences and priorities, any of these open-top cars can reduce stress and enhance quality of life. Most can theoretically seat four people, and three are revitalized roadsters that will redefine the term "cheap thrill" after their debut for 2006. Just make sure to slather on the sunblock before taking your test drives.
Chrysler PT Cruiser
Chrysler PT Cruisers are great cars that nobody buys. When it first debuted, the car sold for sticker price or more, and people waited months for the chance to own one. Today, well, rebates are fat and dealers are overstocked, despite the addition of a new convertible model for 2005. That makes the summer of 2005 a better time than ever to try the spunky PT Cruiser. Like the original flavor, the new PT Cruiser Convertible seats four adults comfortably, and is available in a wide variety of trim levels at affordable prices. Choose from Standard, Touring, GT, and Dream Cruiser models ranging in price from the low 20s to the low 30s. Our favorite is the GT model, with its standard, turbocharged, high-output, 220-horsepower, 2.4-liter four-cylinder engine. Keep the revs high, and the PT GT whooshes about with verve while delivering combined fuel economy above 20 mpg. And though the driver sits high and the body rolls in turns, the PT Cruiser GT's sport-tuned suspension and wide 17-inch wheels and tires make for great fun on a twisty road. Peel back the top by releasing a center-mounted latch and pressing a button. In just 12 seconds, the PT Cruiser Convertible goes from completely closed to completely open, drenching the interior in sunlight. At low speeds, wind buffeting isn't bad, but out on the highway, be prepared to wear a sweater and crank the heat on chilly days – and hope you opted for the heated seats The top stacks up above the trunk, which is small but can be expanded by folding the back seats. Thanks to a glass rear window with defogger, visibility on cold days is improved, but with the top raised, seeing out of the PT Cruiser Convertible is not easy. But hey, when the sun's out and the day is warm, that top's gonna be down. Driving the stylish, roomy, and fun to drive 2005 Chrysler PT Cruiser Convertible is a great way to spend the summer.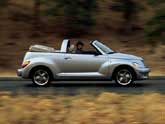 Chrysler Sebring
Fly to a tropical location for a vacation, and chances are excellent that your rental will be a Chrysler Sebring Convertible. Anyplace with palm trees is littered with the things, scurrying about airports and tourist traps like ants on chocolate. Though its ubiquity in rental fleets diminishes enthusiasm for the Sebring, and its rapidly advancing age makes it the least compelling vehicle on our list of affordable convertibles, there's real value to be had in this ragtop if you measure bang-for-the-buck by rebates and incentives. Offered in Base, GTC, Touring, and Limited trim levels, there's a Sebring Convertible to suit almost anyone's tastes, with prices ranging from just over $26,000 to almost $32,000. But don't forget that Chrysler offers big discounts to keep the metal moving, and actual transaction prices are substantially lower by thousands of dollars. Just be forewarned that handling is mediocre, and performance from the 200-horsepower, 2.7-liter V6 that comes in all but the Base four-cylinder model is lacking. In fact, everything about the Sebring Convertible's nuts-and-bolts is unrefined, from the steering and suspension to the brakes and transmission. Ditto the Sebring's interior, which looks low-rent despite leather upholstery and fake wood grain trim. But the Sebring Convertible does offer true room for four adults and a decent amount of luggage space in the trunk. Plus, the top is quick to pop, requiring only the manual release of the latches and the push of a button for it to whir away into its well. And some people really like the styling. Unless you're a sucker for 25-percent-off sales, though, we'd recommend something else, and leave the 2005 Chrysler Sebring Convertible to honeymooners on Hawaii.
Ford Mustang
When it comes to the 2005 Ford Mustang Convertible, retro isn't a concept that's limited to design. This car drives like a relic from yesteryear, too, despite significant upgrades in performance, refinement, and sophistication for 2005. But that's all part of the Mustang's undeniable appeal, and with the arrival of a convertible model just in time for summer, it's more fun than ever to own this American icon. Ford offers the 2005 Mustang Convertible in V6 and GT trim levels, and the primary differences between the two are price and power. The 210-horsepower Mustang V6 drop-top starts in the mid-20s, leaving plenty of wiggle room for options, while the V8-powered Mustang GT Convertible runs about $30,000 – or $100 per horsepower. Stomp the throttle of the GT model, and the rear tires streak the pavement with rubber as 300 ponies gallop to the rear wheels, which are suspended by a live rear axle perfect for taking the abuse of smoky burnouts. Just like Mustangs of yore, this new 2005 model dives when you brake, squats when you accelerate, jitterbugs down the road like a rickshaw, and features road feel on par with a Buick. Despite this oddly entertaining driving character, we managed an impressive 18.7 mpg during our test drive of the GT convertible. On sunny days, UV radiation is just 20 seconds away. Release the Mustang's outboard roof latches and power the top down to bathe the chrome-accented cabin in sunshine. Even with the side windows lowered, the Mustang's cabin is relatively draft free. On chilly days, with the windows raised, it's easy to stay toasty warm. Top up visibility is enhanced with a glass rear window, but as with almost any convertible, huge blind spots exist. Transport yourself back in time 40 years with the 2005 Ford Mustang Convertible. It's a literal retro-ride that looks, sounds, and drives like it roared out of the 1960s. Groovy, man.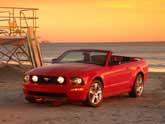 Jeep Wrangler
Retro before retro was cool, the Jeep Wrangler has an undeniable and undying appeal. It represents American adventure, authenticity, and audacity. Plus it's almost unstoppable no matter what the terrain. Now, with the addition of a new extended-length Unlimited model to the lineup that starts just under $25,000 and rises to about $30,000 before options, it's easier to make any trip a Jeep Thing with two extra passengers. When it comes to convertibles, you can't buy a vehicle more exposed to the elements than the 2005 Jeep Wrangler Unlimited. Once you've wrenched open the latches holding the top secure to the windshield, you can either enjoy the Sunrider sunroof feature or tackle the maze of zippers and snaps that comprise the convertible top. Either way, wind is going to blast the cabin no matter what speed you're traveling, especially if you remove the doors and fold the windshield down. Because the convertible top takes minutes rather than seconds to raise or lower, leave yourself a cushion of time to get the Wrangler buttoned up before it rains, or you'll need a change of clothes before continuing the journey. We think the Jeep Wrangler is plenty of fun to drive, even though it performs terribly on paved roads and is among the most uncomfortable vehicles for sale today, because it's a distinctly unique driving experience. This Jeep is noisy, rough riding, and difficult to enter and exit. Operating the manual shifter is like rowing the towering stick of a school bus, but our test car came with a four-speed automatic hooked up to the Unlimited's standard 195-horsepower, 4.0-liter inline six, with which we managed to extract just 15.1 mpg. The Wrangler lurches, rocks and tosses about on its short wheelbase and stiff suspension, though the Unlimited's 10-inch stretch between the front and rear tires does smooth the ride out some. Steering is utterly lifeless yet transmits so much road shock you might as well be gripping a jackhammer. Interior materials rank sub-par, the front seats are mounted low and stuffed full of mushy foam, and the cabin drones like seat 25A on a Boeing 757 – and that's with the hard top installed. Think Douglas DC-3 with the soft top. But you know what? We love this damn thing anyway.
Mazda MX-5
Call 2006 the return of the affordable roadster. Mazda is redesigning the venerable Miata, renaming it the MX-5 and boosting both power and performance. With styling cues culled from the RX-8 sports car and a redesigned interior that's both larger and more upscale, the new MX-5 features a more masculine exterior design and additional power while remaining a lightweight handling champ. Expect the MX-5 to weigh in at about 2,500 pounds with its new free-revving, 2.0-liter, four-cylinder engine making about 170 horsepower, plenty to boost performance over the current Miata. A six-speed manual transmission drives the rear wheels, and like the original Miata, the redesigned 2006 version features a double-wishbone front suspension and a multi-link rear suspension, this time equipped with anti-dive and anti-squat geometry. The handsome multi-spoke 17-inch wheels are one size larger in diameter, and wear 205/45 performance tires. They front a four-wheel-disc braking system with larger rotors, stiffer calipers, and other modifications designed to produce short pedal travel and linear brake application. Mazda has also retuned the power rack-and-pinion steering, and when combined with the new MX-5's wider track, larger tires, and stiffer body structure, it should produce quicker response and better handling. Manually operated like before, the top drops to fit flush and smooth with the 2006 Mazda MX-5's body, eliminating the need for a snap-on tonneau cover. The top includes a glass rear window with a defogger, and a detachable hardtop is optional for both foul-weather climates and to meet amateur racing regulations. Black is the standard top color, with saddle (tan) available on upper trim levels. Prices are likely to run between $22,000 and $28,000, depending on equipment. Three interior color schemes, each matched to the piano black trim and silver control accents, complement the eight exterior colors. Base 2006 Mazda MX-5's have black cloth seats, while higher-grade models are equipped with a choice between monotone black leather or a black-and-saddle leather treatment. A Special Edition model – of which 1,500 numbered versions are planned – wears unique Velocity Red paint, chrome exterior accents, special 18-inch alloy wheels, and a red leather interior with silver trim. We haven't driven the new 2006 Mazda MX-5, but it's easy to believe that this latest iteration of the world's best-selling roadster will inspire a whole new love affair with open-air motoring.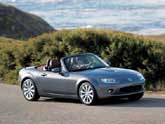 Mini Cooper
Blitzing down a favorite canyon road in a scrappy MINI Cooper S ranks as an unforgettable experience. Now, with wind tousling your hair, sun dancing on the chrome-dipped gauges, and the blat of the supercharged four's exhaust resonating in the background, it's more fun than ever. Mini sells two versions of the new Cooper Convertible. Base models get a 115-horsepower motor, but we'd definitely recommend the 168 supercharged ponies under the scooped hood of the Cooper S, even if it does require more expensive premium fuel. Either model includes a taut suspension and sharp steering, but the Cooper S gets bigger wheels and tires for better grip in the turns. Use the Cooper Convertible's power sunroof feature, which opens a panel in the cloth top for quick access to the sun, or drop the fully automatic top completely. There are no manual latches to wrestle with on the Mini. But since there's not much room to stow the top when it's lowered, it stacks above the trunk lid, obscuring visibility to the rear. Making matters worse are exposed safety roll bars and large rear head restraints. Better to fold those back seats, which can't hold people much larger than a toddler anyway, increasing cargo space. A Mini Cooper Convertible starts at $22,420, but we'd suggest the John Cooper Works (JCW) package, which comes only on the S model. The JCW package bumps the Mini's horsepower, adds a bunch of handling upgrades, and jacks the price $4,775 over the S model's base sticker of $25,870. And it's easy to personalize the Cooper Convertible using the extensive options list, but the value equation erodes quickly. Heck, a fully equipped Cooper S JCW ragtop can surpass the $40,000 mark. Better to exercise restraint and discover that few cars can define the phrase "cheap thrills" like the 2005 MINI Cooper Convertible.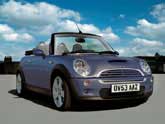 Pontiac Solstice
Arriving this fall with a starting price just under $20,000, the 2006 Pontiac Solstice is a terrific looking two-seat sports car, equipped with an aluminum, 2.4-liter, 177-horsepower four-cylinder engine and a close-ratio five-speed manual transmission driving the rear wheels. But with a target curb weight of 2,860 pounds compared to the Miata's 2,500-pound measurement, it'll feel like Kirstie Alley is always riding shotgun in the Pontiac. That kind of muscle and mass won't make the Solstice a rocket. Sometime after launch, it seems likely that GM will install a supercharged 2.0-liter engine under the Pontiac Solstice's hood, a motor that generates 205 horsepower in the Saturn Ion Red Line and Chevrolet Cobalt SS Supercharged. Underpinning the 2006 Pontiac Solstice is a four-wheel-independent short- and long-arm suspension system, large 18-inch wheels with 245/45 tires, and four-wheel-disc brakes. ABS is an available option. The Solstice's manual convertible top folds flat behind a clamshell cover on the rear deck, completely hidden from view when the sun is shining into the driver-oriented cockpit. Designed to envelop the driver, the instrument panel features simplicity and quality – a departure for Pontiac. Engineers and designers reportedly spent plenty of time getting the placement and feel of the shifter just right, and with the standard manual transmission, the pedals have been placed to offer optimum heel-and-toe downshifting. When leather is ordered, the cabin is treated to an upscale two-tone treatment. Styling is always a subjective matter, but the 2006 Pontiac Solstice is likely to land in the pantheon of the most beautiful American cars ever designed. From its honeycombed twin-port grillework to its thick exhaust outlet, the Pontiac Solstice offers a stunning blend of proportion and balance. If it doesn't make you drool, check your pulse.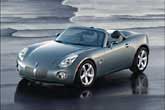 Saturn Sky
A perfect halo car, the 2007 Saturn Sky is an affordable roadster upon which the brand's identity can be pinned, an exciting sports car that will lure consumers to Saturn showrooms, where they will buy the new Aura sedan, the Honda-powered Vue SUV, the sporty Ion Red Line Coupe, and the family-friendly Relay minivan. It is Saturn's savior, sharing its bits and pieces with the highly anticipated Pontiac Solstice. Saturn's Sky roadster rides on the same platform as the Solstice, and is powered by the same engine, preliminarily rated for 170 horsepower in the Saturn. This means that the Sky rides on a four-wheel-independent short- and long-arm suspension system, attached to the new Kappa rear-wheel-drive architecture from General Motors. It's got a close-ratio five-speed manual transmission, 18-inch wheels and tires, and four-wheel-disc brakes with ABS. However, this also means that the Sky suffers the same weight penalty as the Solstice, when compared to its chief rival, the 2006 Mazda MX-5. Differences between the Solstice and the Sky lie primarily in design and equipment. Where the Pontiac is voluptuous and sparsely equipped, the Saturn is angular and expected to include more standard features, giving it more upscale positioning and a higher expected base price approaching the mid-$20s. Like the Solstice, the Sky's top folds under a hard rear clamshell cover, creating a clean appearance during open-air motoring. The Sky will also benefit from engineering scrutiny designed to make it a true driver's car, such as optimum positioning of the pedals and shifter for enthusiastic driving by people who know what they're doing. Arriving after the first of the year, the Sky will be available with a 225-watt Monsoon audio system, XM satellite radio, and OnStar telematics – among other options. And don't be surprised to see a supercharged Red Line edition of the Sky for the summer of 2006, pushing at least 205 horsepower to the pavement.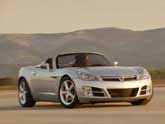 Toyota Camry Solara
You want to buy a luxury car, something along the lines of the shapely Lexus SC 430, but your pockets are lined with little but lint. Besides, there's nowhere for the kids to ride in the SC. If luxury is what moves you, take a look at the 2005 Toyota Camry Solara Convertible. It looks a little bit like the Lexus inside and out, exuding an entry-luxe vibe that escapes the other vehicles on this list, but is far less expensive and much roomier inside than even the cleanest certified-used SC 430. We test-drove the top-of-the-line SLE V6 model with a stability control system and touch-screen navigation, totaling more than $32,500, but Solara Convertibles start at a price just north of $26,000. Given the refinement and comfort levels, however, there's tremendous bang-for-the-buck here, as long as it's not measured in terms of performance. Driving excitement isn't on the Camry Solara Convertible's menu. It's got a smooth 225-horsepower V6 that gets the car quickly up to speed, but handling is forsaken for a plush ride quality best appreciated during leisurely drives to wine country or along the coastline with good friends. Four adults can fit comfortably, and the trunk has plenty of space for a quartet of weekend duffels. Just be prepared to arrive at your destination sporting the windblown look, because the Camry Solara Convertible is drafty – even with the windows raised. An optional windblocker resolves the problem, but clips in over the back seat, limiting capacity to two occupants. Raising the roof against the chill takes about the same amount of time as dropping the top – about 20 seconds – and the Camry Solara Convertible includes one-button operation of all four windows. Emphasizing practicality over performance, the Toyota Camry Solara is an entry-luxury ragtop in all but name.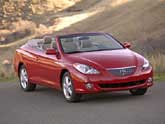 Volkswagen New Beetle
Nothing screams "Chick Car" like a pastel-colored Volkswagen New Beetle Convertible with a flower in the dashboard vase, Justin Timberlake blaring out of the 10-speaker Monsoon audio system, and a witty personalized license plate frame that says "Life Is More Fun With Your Top Off!" It is the image you see right now that keeps 9 out of 10 men from buying this Volkswagen, even if they secretly covet a modern interpretation of an iconic original that died in 1979 after a 34-year run. At least our test car was silver. And no, we didn't have a flower in the bud vase, or Justin rapping: We kept the top up, put on dark sunglasses and a baseball hat, and went incognito during our week behind the wheel, just like Brit-Brit would. Either a wheezy 115-horsepower inline four-cylinder engine, a torquey turbodiesel that gets great gas mileage, or a turbocharged version of the standard 1.8-liter powerplant that makes 150 horsepower powers the 2005 Volkswagen New Beetle Convertible. Even though VW's turbodiesel doesn't smoke much, we cannot imagine that the scent of the exhaust is pleasant with the top down. Choose between a five-speed manual or a six-speed automatic transmission, which sends power to the front wheels. Our VW New Beetle Convertible had the base engine and an automatic transmission, resulting in a very slow car that got terrible fuel economy. We averaged 18.1 mpg in a mix of city and highway driving. Indeed, the New Beetle Convertible is likely best when matched to the 150-horse turbo motor. Where this car shines, literally, is in top-down driving. The roof stacks behind the rear seat in just 16 seconds, and raises in equal time when it starts to rain. When dropped, the New Beetle feels more open than any car on this list except the Wrangler, thanks to the forward location of the windshield. There's plenty of blue sky above and a little bit of room to bring three friends along for the ride. Wind buffeting is significant unless the wind blocker is installed, and rearward visibility is unimpressive whether the top is raised or lowered. Prices start at, like, just under $22,000. "I'm Justin's Girlfriend" wife-beater not included.
Photos courtesy of the vehicle manufacturers