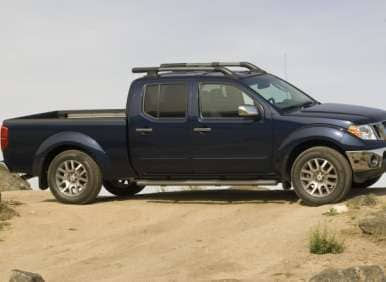 The mid-size truck market in the United States is essentially a footnote to the sales behemoth that is the full-size truck segment, a reality that is reflected by the scarcity of options out there for anyone interested in a pickup that offers more modest dimensions than the current, hyper-competitive crop of large domestic and import trucks. One of the few remaining mid-size contenders is the Nissan Frontier, a vehicle that hasn't suffered from the lack of buyer attention in terms of its engineering, styling, or capabilities, and which presents one of the best-rounded packages amongst small pickup options.
The 2012 Nissan Frontier Crew Cab PRO-4X we drove is the most off-road ready member of the Frontier lineup, but it also features solid practicality and good day-to-day drivability. Together, these attributes help to make it an appealing choice for those who want a truck that doesn't require its own zip code when it's time to park for the night.
2012 Nissan Frontier Crew Cab PRO-4X: Competition
We've already mentioned that the mid-size pickup herd has been dramatically thinned over the past 10 years, with even stalwarts such as the Ford Ranger compact truck disappearing for the current model year.  That being said, the 2012 Nissan Frontier Crew Cab PRO-4X is frequently cross-shopped against the segment-leading, similarly-priced Toyota Tacoma mid-size pickup, which offers a greater range of body styles but very similar drivetrain configurations and optional equipment.
Other mid-size pickups that can be mentioned in the same breath as the Nissan Frontier are the GMC Canyon / Chevrolet Colorado twins and the Honda Ridgeline, although none of these vehicles offer the same level of off-road prowess.  It's important to note that the Suzuki Equator, although hard to find due to a dearth of dealerships, is essentially the platform twin of the Frontier, with only minor styling differences and a lower level of luxury setting the two vehicles apart.
2012 Nissan Frontier Crew Cab PRO-4X: Pricing and Trim Levels
The Nissan Frontier offers five different trim levels: S, SV, SV V6, PRO-4X, and SL.  Each of these can be had in either King (extended) or Crew Cab (four full-size doors) body styles, with the exception of the Crew Cab-only SL.  A base Nissan Frontier S King Cab starts at an MSRP of $19,010, while the top-of-the-line SL retails for an MSRP of $29,540.
Our week-long test vehicle was a 2012 Nissan Frontier Crew Cab PRO-4X 4X4 provided by Nissan Canada.  As configured, the MSRP for this pickup was $40,413 CAD, and translating that to the American market and adding in each various options packages found on our vehicle gives it an MSRP of $33,995 USD.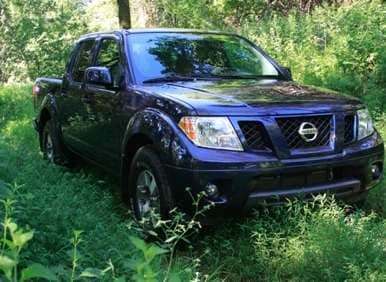 2012 Nissan Frontier Crew Cab PRO-4X: Exterior
The 2012 Nissan Frontier Crew Cab PRO-4X is a handsome truck and one that wears well the rugged off-road-inspired elements brought by the PRO-4X trim level.  Body-color fender flares are found at each corner, with the front pair blending into a similar color-keyed plastic bumper and grille treatment.  Roof rails are present and accounted for - although quite short given the compactness of the passenger compartment compared to say, the extended roofline of an SUV - and in a nice change of pace there are no running boards hanging off the side of the pickup to get caught up on rocks or other obstacles on the trail.  16-inch alloy wheels are shorn with all-terrain tires, and mud flaps hang from the bottom of each fender well in order to help keep the truck at least somewhat clean when playing in the muck.
One of the most noticeable attributes of the Nissan Frontier Crew Cab is the shortness of the cargo area.  Our PRO-4X came with the standard five-foot box (a six-footer is available as an option on certain trims levels), and while this helped to keep the pickup relatively maneuverable in an urban environment it did pose a few challenges when it came to hauling gear.  The pickup was put through quite a workout, carrying a full-size BBQ, ladders, chairs, boxes, tool boxes, and a long list of other objects that would commonly be tasked to such a practical vehicle, and we found that thanks to Nissan's inclusion of an extremely useful cargo management system we were able to get the job done every single time.  The Frontier we were driving featured a set of sliding tie downs at the front and on each side of the box - along with dual tracks set into the bed itself - which made it a snap to keep items stable so that they wouldn't slide across the bedliner and over the edge of the truck's bed rails.  This enabled us to handle even oversized items such as the ladder without having to put the tailgate down.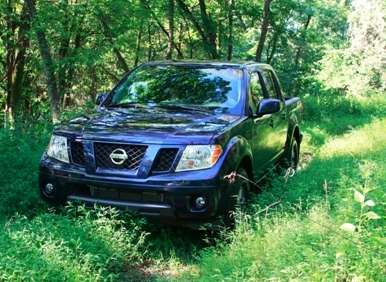 2012 Nissan Frontier Crew Cab PRO-4X: Interior
The 2012 Nissan Frontier Crew Cab PRO-4X that we were driving was equipped with the optional Leather Package, which added such niceties as black leather upholstery with red stitching, power adjustments for both driver and front passenger, seat heaters, and an armrest for those riding in the second row.  The PRO-4X trim brought with it a number of other welcome features, such as a moonroof, power windows and door locks, an upgraded Rockford Fosgate stereo, Bluetooth connectivity, and satellite radio.
The Rockford Fosgate sound system was surprisingly robust, delivering the kind of deep bass that automotive audiophiles would envy from such a modest physical package.  The bucket seats were comfortable and provided reasonably good support when bouncing down uneven terrain, and there was plenty of legroom available for front and rear row occupants - an important consideration in a mid-size crew cab pickup.  Interior storage capacity was also excellent thanks to the ability to easily fold up the rear seat cushion and create a 'trunk' space that is protected from the elements.  Nissan even included a net-covered cubby carved into the plastic anchorage underneath the back bench, which was deep enough to house loose items without having to worry about them rolling around the cabin.
It's worth mentioning that the Nissan Frontier's switchgear, including the audio, climate, and off-road feature controls all fell readily to hand and were simple and intuitive to use.  The only 'gotcha' was the moonroof.  Covered as it was by the roof rack, it didn't offer us the same kind of open-air feeling we might have gotten had the Frontier's top been completely bare.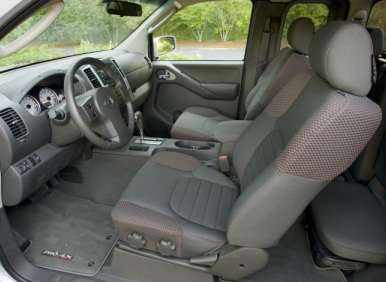 2012 Nissan Frontier Crew Cab PRO-4X: Powertrain and Fuel Economy
The 2012 Nissan Frontier starts out with a 2.5-liter, four-cylinder engine under the hood that can be counted on to deliver 152 horsepower and 171 lb-ft of torque while returning fuel mileage figures of 19-mpg city and 23-mpg highway.  Transmission choices for this unit include a five-speed manual and a five-speed automatic.
Our PRO-4X model was outfitted with the Frontier's optional 4.0-liter V-6, which is a requirement for that particular trim (as well as any crew cab body style truck).  Capable of producing 261 horsepower and 281 lb-ft of torque, this motor can be shifted via either a six-speed manual gearbox or a five-speed automatic.  Four-wheel drive is available with V-6 Frontier models, and fuel economy is listed at 15-mpg city and 20-mpg highway.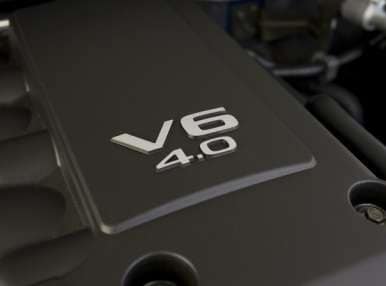 2012 Nissan Frontier Crew Cab PRO-4X: Driving Impressions
The 4.0-liter V-6 sitting under the hood of the 2012 Nissan Frontier Crew Cab PRO-4X that we were driving offered plenty of get-up-and-go, making it a cinch to spin the chunky tires from a stoplight, as well as simplifying passing out on the highway.  Our test vehicle's five-speed automatic transmission delivered smooth shifts at the right moment, and even when the truck was fully loaded down it never felt like it was breaking a sweat - a testament to the veracity of its 6,100 lb tow rating.
From a handling perspective, the PRO-4X Frontier rides tall and features a solid rear axle, which means that when empty drivers will undoubtedly notice some lateral back-end movement over larger bumps.  The truck didn't have much issue executing tight turns when required, although it was necessary to keep in mind that a larger-than-usual radius was needed despite the smaller-than-full-size dimensions of the pickup.  Noise inside the cabin was acceptable at all speeds, the truck never felt tippy or ungainly, and electronic stability control had no cause to kick in during our week with the truck even when negotiating slick pavement.
We were fortunate enough to test out the Frontier Crew Cab PRO-4X's various off-road features (minus the skid plates, of course) in a variety of different situations.  A particularly steep - and wet - driveway was the perfect opportunity to engage the pickup's hill-descent control and hill-start assist systems, both of which functioned flawlessly and took the drama out of backing a heavily-laden truck down into a dark loading bay.  Four-wheel drive was handy when blasting through six-inches of water and mud, giving the Nissan an almost invincible feel when set free from the confines of asphalt, and the PRO-4X's standard Bilstein shock absorbers took a beating without complaint.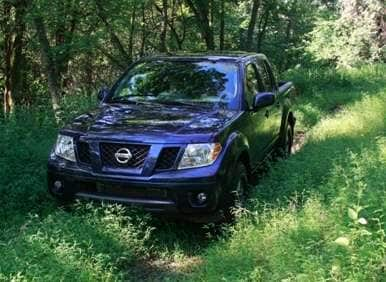 2012 Nissan Frontier Crew Cab PRO-4X: Safety
The 2012 Nissan Frontier Crew Cab PRO-4X offers a respectable complement of standard safety gear.  Seat-mounted side-impact airbags and forward airbags protect the first two seating positions, while side-curtain airbags deploy across the length of the entire passenger compartment.  Electronic stability and traction control are standard, and some models of the truck also feature an electronically-locking rear differential in order to further improve grip in slippery conditions.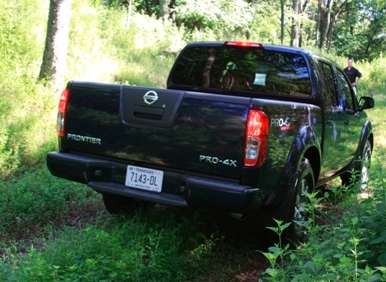 2012 Nissan Frontier Crew Cab PRO-4X: Final Thoughts
After spending time with the Frontier, it's clear that for the majority of truck owners this vehicle represents an exceptional balance between daily practicality and hardcore pickup functionality.  The 2012 Nissan Frontier Crew Cab PRO-4X is the perfect size: not so big as to be a burden in traffic, but still capable of towing and hauling at a very reasonable level, especially if the six-foot box is ordered.  The Frontier also boasts good driving manners, doesn't drink down fuel at an alarming rate, and is quite comfortable in both on and off-road environments. 
In short, the Nissan Frontier Crew Cab PRO-4X is a five-passenger sedan replacement that adds quite a bit of utility without asking for radical sacrifices at the fuel pump or when creeping through rush hour traffic.  While the all-terrain capabilities of the PRO-4X package might not be needed by the majority of truck owners, the Frontier can be ordered in a wide range of different configurations and should be test driven by anyone looking to avoid taking the full-size pickup plunge.
What We Like About The 2012 Nissan Frontier Crew Cab PRO-4X:
Good looking inside and out
Crew Cab offers substantial passenger room
Solid power, reasonable fuel economy, and good off-road capability
Very comfortable around town
We Aren't So Hot On: