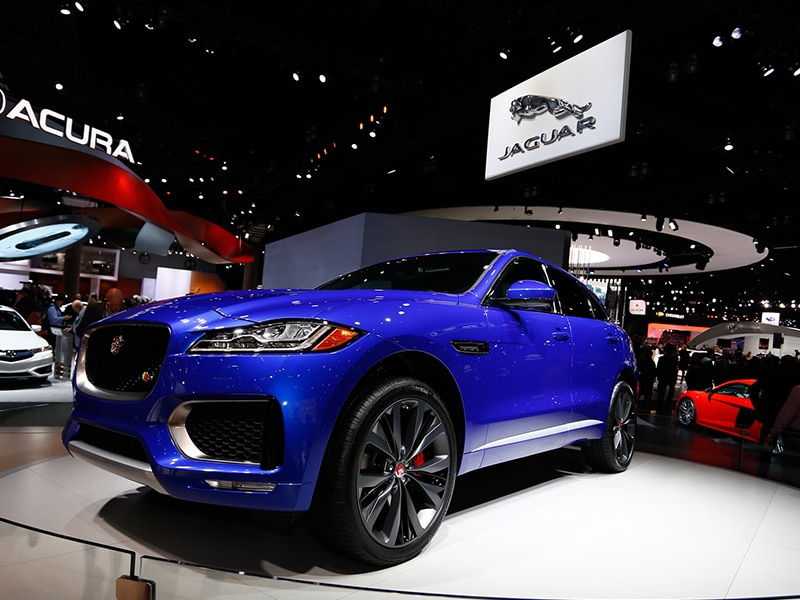 2017 Jaguar F-Pace at the 2015 LA Auto Show ・ Photo by Rex Torres
Crossovers comprise an exciting portion of today's market, representing the perfect marriage of sports car prowess and family-hauler utilitarianism, and the segment debuts at this year's LA auto show certainly did not disappoint. 
Jaguar introduced the production version of the F-Pace, their first-ever SUV, while sister company Land Rover debuted an interesting interpretation of the archetypal drop-top. In addition to these stark breaks with British tradition, many other established players in the SUV/XUV game also came equipped with solid offerings, ensuring there's bound to be a little something for everyone at this year's show. 
Check out our editors' must-see picks for the 2015 LA auto show, and let us know what you think. 
2017 Infiniti QX30
The 2017 Infiniti QX30 kind of qualifies as an SUV. Infiniti describes it as a "premium activity crossover" whatever that might mean. In reality, it's like a compact hatchback (albeit a classy one, involving leather upholstery and a panoramic moonroof) with an elevated ride height. Note how the wheels seem a tad too small for their wells. However, they are turned by an intelligent all-wheel drive system with propulsion coming from a 208-hp 2.0-liter turbocharged four-cylinder engine that makes 258 lb-ft of torque. The transmission is a seven-speed, dual clutch automated manual. Hardware is just part of the picture, though. Everyone will make up their own minds on the styling, but it's certainly dramatic and not short of character lines.
 This model is all new.
 Summer 2016.
 To be announced nearer launch time, but a starting price in the high 30s is an educated guess.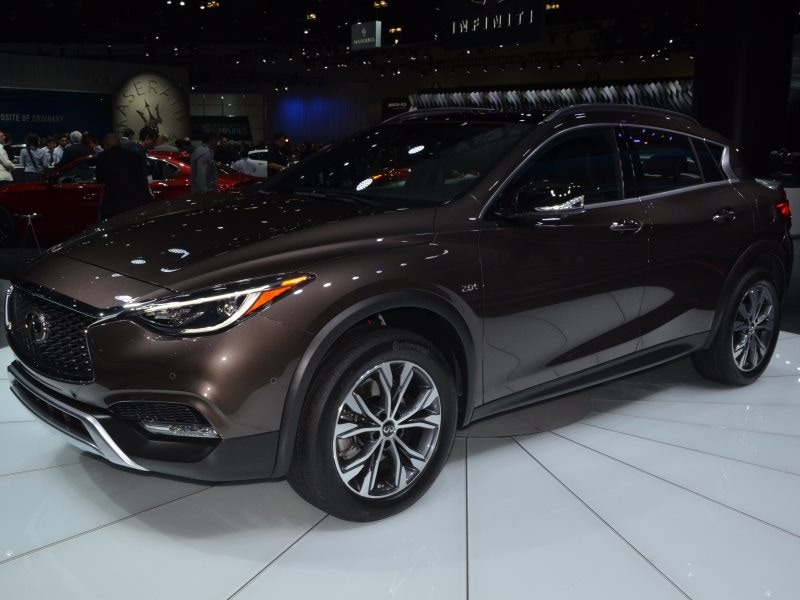 Photo by Newspress USA
2017 Jaguar F-Pace
The 2017 Jaguar F-PACE is the British brand's first foray into the SUV fray. Sharing its basic architecture with the also-new Jaguar XE sport sedan, the F-Pace promises to offer family shoppers a practical, yet still fun to drive luxury ride. Aimed squarely at rivals like the Audi Q5 and the Porsche Macan, the F-Pace will offer best-in-class interior storage to go with its choice of either a 340 horsepower, 3.0-liter supercharged V-6 or 180 horsepower, 2.0-liter four-cylinder turbodiesel (which also produces 318 lb-ft of torque). All-wheel drive is, of course, standard across the board with the Jaguar F-Pace.
The 2017 Jaguar F-Pace is a brand-new model
Spring of 2016.
The base turbodiesel F-Pace 20d will set you back $40,990. Gas models (F-Pace 35t) start at $42,390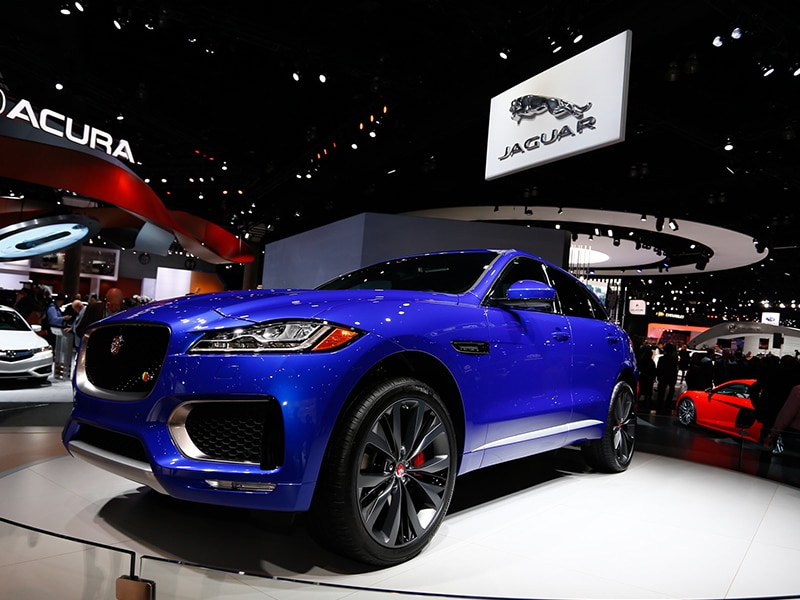 Photo by Rex Torres
2017 Kia Sportage
There's no shortage of compact crossovers, but the fourth-generation 2017 Kia Sportage is still welcome. Especially when it's the most refined Sportage ever, with soft-touch materials in the cabin, a suite of up-to-the-moment active safety features, more passenger and cargo space, and Apple CarPlay capability. Trims are LX, EX and SX Turbo. The first two employ a 181-hp, 2.4-liter four-cylinder engine; the SX Turbo (unsurprisingly) has a turbocharged four-cylinder cooking up 241 hp from 2.0-liters. Leather is available, as is all-wheel drive, and Kia expects the new Sportage to ace the latest crash tests.
 This is a whole new generation, from the frame out and the ground up.
 Some point in 2016.
 To be announced, but most likely mid-20s.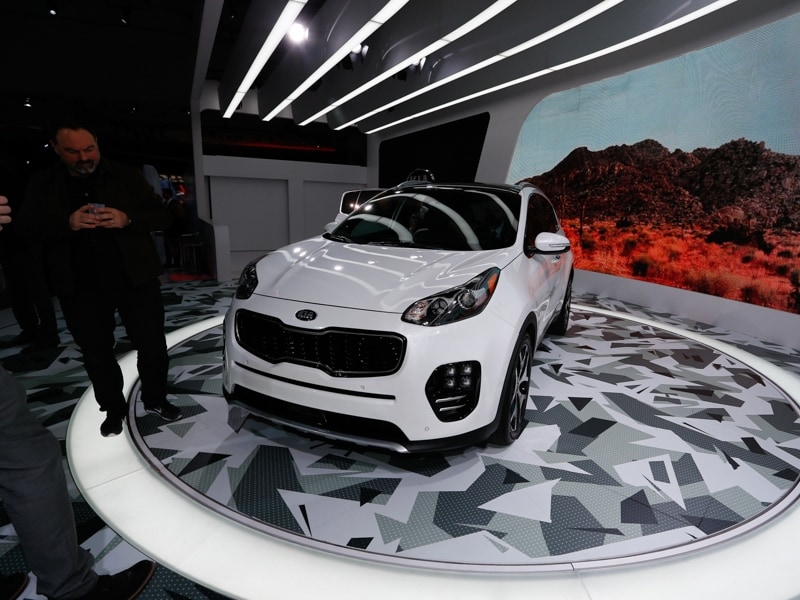 Photo by Rex Torres
2016 Mitsubishi Outlander Sport
The 2016 Mitsubishi Outlander Sport compact crossover is facelifted for this model year. The most noticeable aspect of which is the grille, which has been changed to be more like the midsize Outlander sibling. Engine choices remain the same. The entry level unit is a 148-hp, 2.0-liter, four cylinder with 27 combined mpg (automatic transmission, front-wheel drive); the "upgrade" is a 2.4-liter four cylinder good for 168 hp and 25 combined mpg in front-drive form. In both cases, all-wheel drive lops one mile per gallon from the combined figure. Equipment options are still pretty basic; the positive aspects are a comparatively low price and good warranties.
 As well as a restyled grille and redesigned steering wheel (it's still round), the Outlander Sport gets new power folding mirrors, a fresh design for the 18-inch alloy wheels, new 6.1-inch display, and an auto-dimming rearview mirror.
 Now.
 From $20,455 (including $850 destination).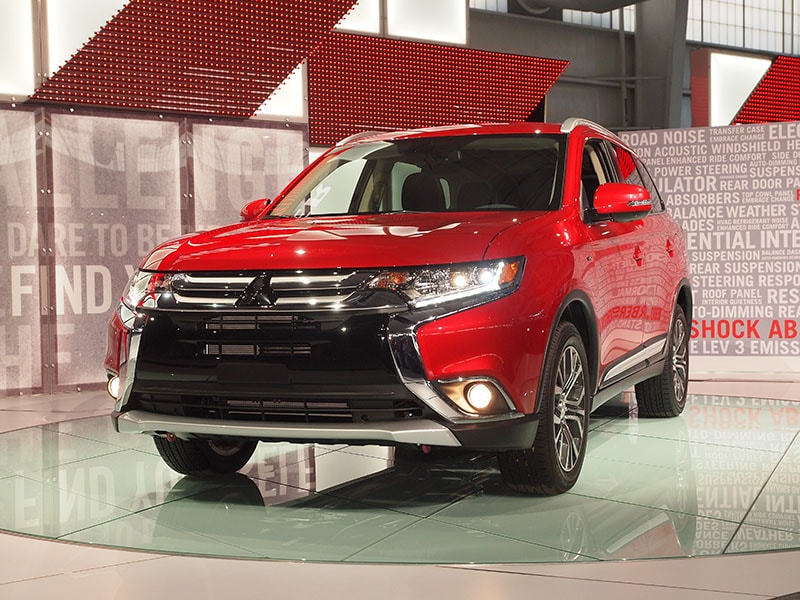 Photo by Megan Green
2016 Toyota RAV4 Hybrid
The 2016 Toyota RAV4 Hybrid marks the first time that Toyota — leading proponent of hybrid technology — has made a gasoline/electric version of its perennially popular compact crossover. And it almost has this sub-category to itself (the only other contender at the moment is the Subaru XV Crosstrek Hybrid). This variant comes along at the same time as the regular RAV4's mid-generation revamp, and looks only subtly different to the gasoline-only model, with a much smaller grille, blue Toyota logo and bespoke alloy wheels. It comes in XLE and Limited trims, both in the upper levels of luxuriousness and equipment. Total system output is 194 hp and 206 lb-ft of torque, while fuel consumption runs to 34 mpg city, 31 mpg highway and 33 mpg combined. Cargo space is only compromised by a few cubic feet and still offers 70.6 cubes.
 Redesigned front and rear, plus some tweaks in the cabin (in common with the rest of the RAV4 range), hybrid technology now available.
 Now.
 Starts at $29,270 (including $900 destination charges).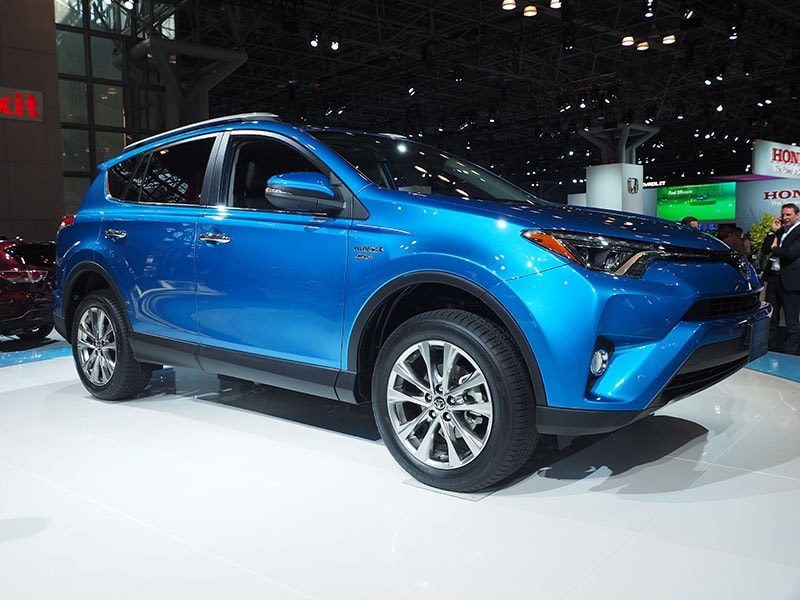 Photo by Megan Green
2017 Mercedes-Benz GLS-Class
Farewell, GL. Hello, 2017 Mercedes-Benz GLS-Class. This seven-seater luxury suv has just been revamped, which was as good a time as any to adjust the name to reflect the fact that it's based on the S-Class flagship sedan, and is set to be the S-Class of its category. The intent of the revamp was to bring the exterior design more into line with the rest of the Mercedes-Benz portfolio, and tweak the interior as well. We also get some different hardware, mainly a nine-speed automatic transmission in non-AMG models. Power levels generally take a step up, but a new variant, the S450, slots in at the lower level with a 362-hp turbo V6.
 Looks, hardware and name.
 Summer 2016.
 Nothing official yet. Expect a starting price of around $65,000.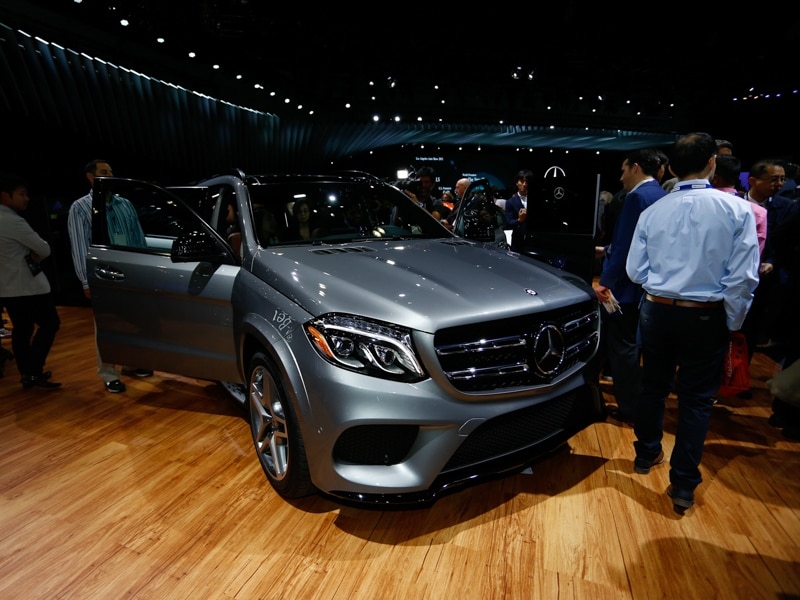 Photo by Rex Torres
2017 Land Rover Range Rover Evoque Convertible
The 2017 Land Rover Range Rover Evoque convertible takes the brand's entry-level compact SUV and removes the roof, creating a two-door off-road cruiser that is the very definition of niche.  Surprisingly stylish, the Land Rover Range Rover Evoque convertible brings to mind the original Ford Bronco - if, of course, the Bronco had been swaddled in leather and LEDs.  Power remains at 240 horses from the Evoque's 2.0-liter turbocharged engine, and a nine-speed automatic transmission and four-wheel drive are part of the standard package.
The Range Rover Evoque convertible is a topless version of the two-door Evoque SUV.
Plan on the summer of 2016.
The Evoque convertible will set you back $50,475.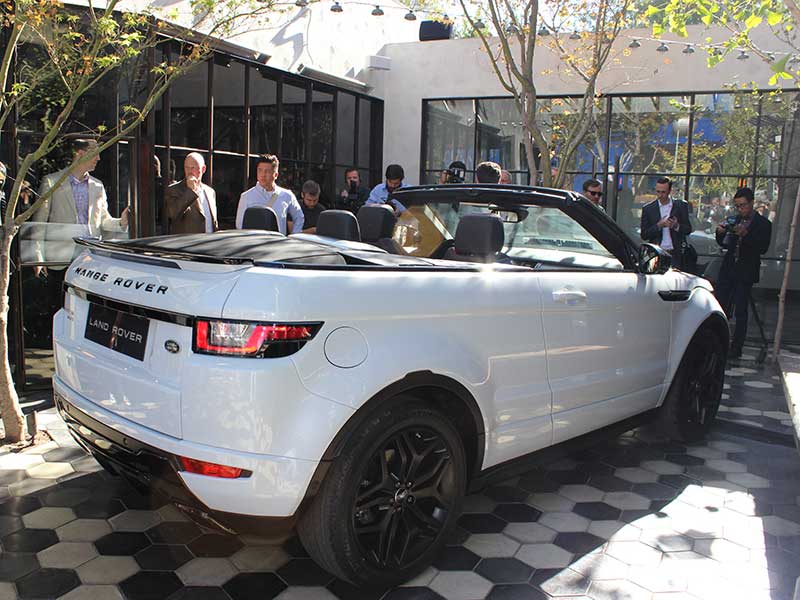 2017 Cadillac XT5
The first SUV to bear evidence of the luxury brand's new alphanumeric naming scheme, the 2017 Cadillac XT5 replaces last year's SRX as the automaker's entry-level crossover. The five-passenger XT5 adopts bolder styling that's well in keeping with Cadillac's current sedan and SUV line-up, and it features a 310 horsepower, 3.6-liter V-6 under the hood that is paired with an eight-speed automatic transmission. Front-wheel drive is standard, while all-wheel drive can be had as an option, and look for improved handling from the XT5 as it is almost 300 lbs lighter than the model it replaces. Finally, the passenger compartment of the crossover rises to the standard seen elsewhere in the Cadillac showroom, an important point when luring in premium family shoppers.
The 2017 Cadillac XT5 is an all-new model.
Early 2016.
Pricing information has yet to be discussed for the XT5.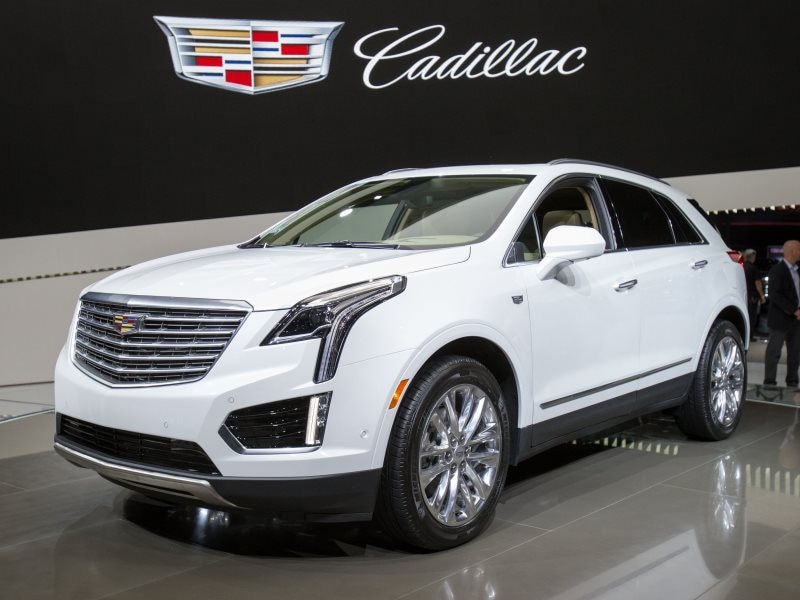 2017 Ford Escape
The 2017 Ford Escape brings with it a pair of new EcoBoost engines to accompany a slew of additional safety and technology updates. Wearing a broader grille to bring it closer to other members of the Ford SUV family, the compact Escape's 1.5-liter, four-cylinder engine steps in between the 2.0-liter turbocharged EcoBoost four-cylinder at the top of the line-up, and the 2.5-liter four-cylinder at the bottom to present buyers with 180 turbocharged EcoBoost horsepower of its own. That 2.0-liter unit has also seen a slight increase in output, with 245 ponies now on tap. All-wheel drive remains optional and a six-speed automatic transmission is standard with the Escape.
New engines, improved efficiency, and more techno toys and advanced safety features mark the revised Escape.
Look for the SUV in spring of 2016.
Pricing has yet to be released for the 2017 Ford Escape.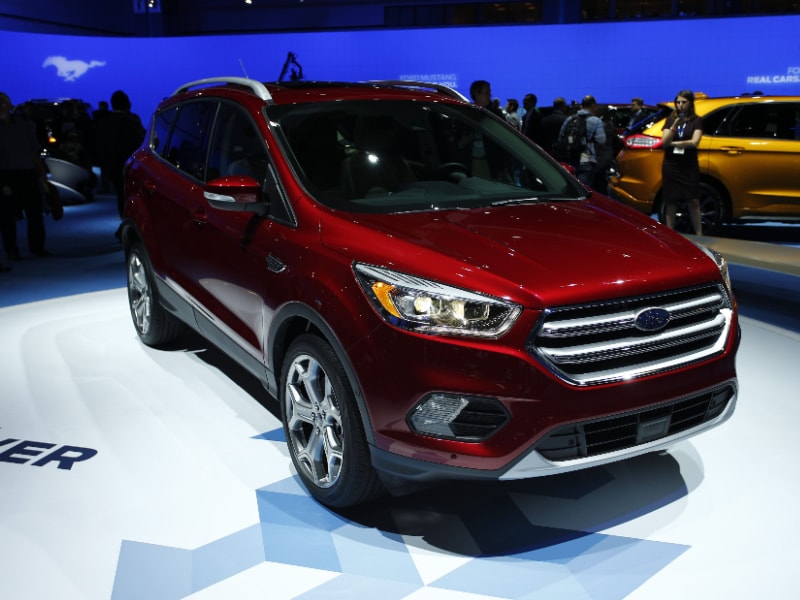 Photo by Rex Torres
2016 Mazda CX-9
We've waited a decade, but an all-new version of the Mazda CX-9 full-size crossover has debuted for the 2016 model year. It's easy to understand why Mazda kept the previous generation CX-9 on sale for so long: this seven-passenger people mover is one of the most profitable, and popular, vehicles sold by the company. Gone is the CX-9's V-6 and in its place is a 2.5-liter Skyactiv turbocharged four-cylinder that's good for 227 horsepower on regular fuel, and 250 if you spring for high octane fuel. This is a step down from the older engine, but Mazda claims it's moving in a more economical direction (and 310 lb-ft of torque help to make up for it). Interior room remains competitive, and styling inside and out has been thoroughly modernized.
The Mazda CX-9 has been completely redesigned.
Early next year.
Look for the CX-9 to start at just over $30,000.