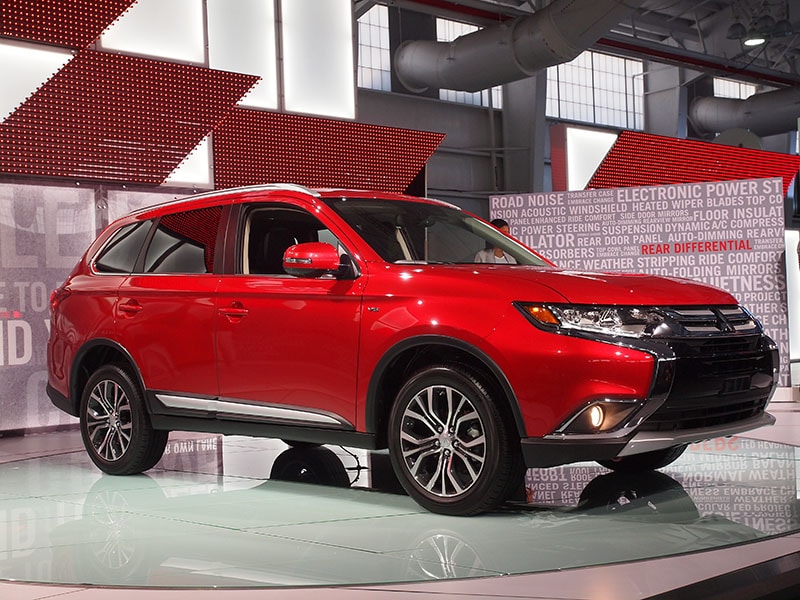 2016 Mitsubishi Outlander at the 2015 New York International Auto Show ・ Photo by Megan Green
If you need to get a gaggle of people from one place to another, and haul all of life's accessories along with you at the same time, then it's hard to beat the practicality of and SUV or a crossover. Running the gamut from luxurious rolling palaces to task-focused off-roaders to fun-to-drive performance models, sport-utility vehicles and their car-based crossover cousins are useful and stylish additions to the driveways of families and anyone with an active lifestyle.
Check out our picks of the must-see SUVs and crossovers at the New York International Auto Show.
2016 Mitsubishi Outlander
The 2016 Mitsubishi Outlander comes to the Big Apple with a new face, one that sets out the company's design approach for upcoming models. Mitsubishi claims more than just a cosmetic makeover for this seven-seater midsize crossover, though. Critics have noted a lack of refinement in the past, so — as part of the 100 engineering and design improvements the company says it has made — thicker rear glass and more sound insulation have been fitted. LED headlights come with GT trim, which also gets all-wheel drive as standard, along with a 3.0-liter V6 engine making 224 hp and 215 lb-ft of torque. Lesser trims use a 2.4-liter four-cylinder good for 166 hp and 162 lb-ft. The whole range has 18-inch alloy wheels as standard.
What changed? As well as a re-design, the suspension and the continuously variable transmission (CVT) paired with the 2.4 have both been updated.
When is it available? Summer 2015.
How much? To be announced, but shouldn't stray too far from the 2015 version's starting price of $24,045 including $850 destination.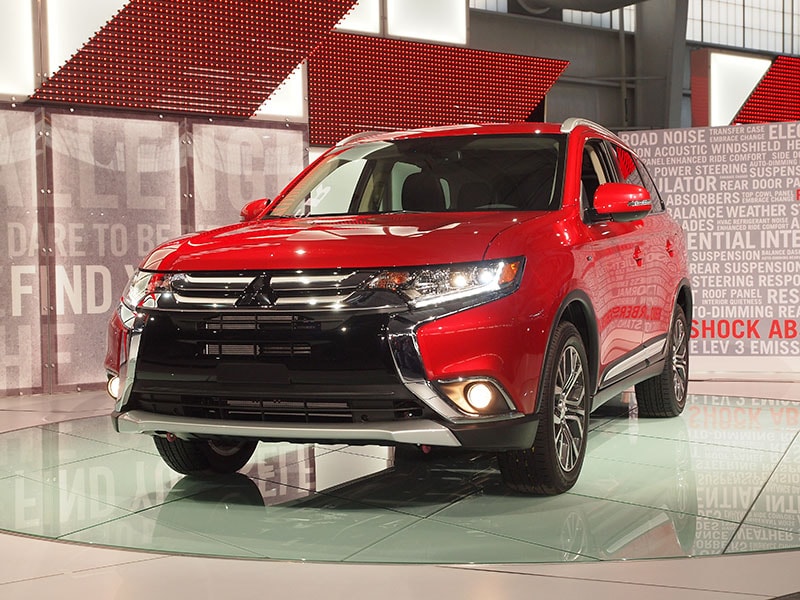 Photo by Megan Green
2016 Infiniti QX50
The 2016 Infiniti QX50 grows into its role as the entry-level crossover for the luxury automaker by adding 3.2 inches to its wheelbase. Available in either rear-wheel drive or all-wheel drive configurations, the Infiniti QX50 maintains last year's 325 horsepower, 3.7-liter V-6 but gains a new look up front as well as an interior that has been cribbed for more recent Infiniti sedans like the Q50 and the Q70. The larger QX50 improves on the somewhat compromised cargo and passenger capacity of the previous model. 
What changed? The QX50 benefits from a styling refresh as well as a longer wheelbase and more spacious interior (with 4.3 inches of extra legroom in the second row). 
When is it available? Infiniti has not yet set an on-sale date. 
How much? Pricing for the QX50 hasn't been released.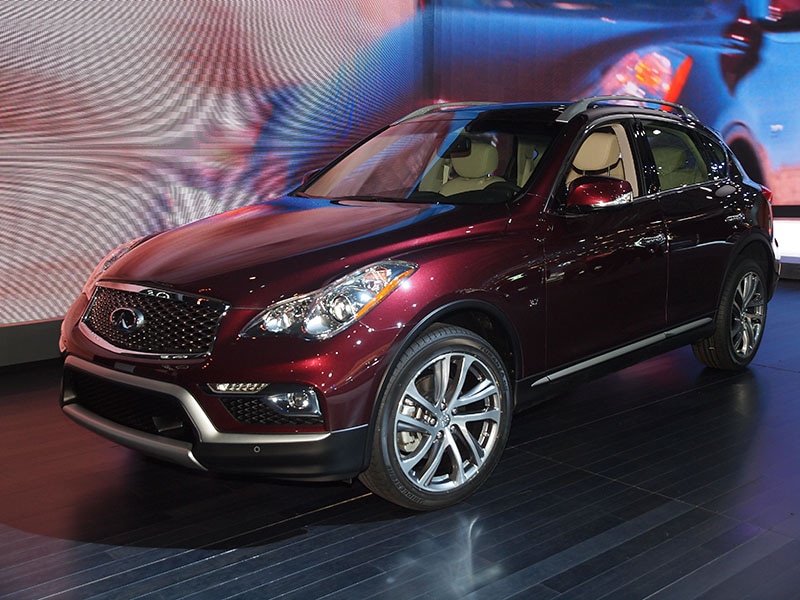 Photo by Megan Green
2016 Hyundai Tucson
The 2016 Hyundai Tucson compact crossover makes its North American debut in New York. This is an all-new generation, with more interior space, and greater refinement than the outgoing version. Maximum cargo volume is 31 cubic feet. The kind of safety features available are more often found in premium brands: pedestrian detection, automatic emergency braking, blind spot detection and lane departure warning. The entry level powertrain is a 2.0-liter four-cylinder engine with 164 hp, 151 lb-ft of torque and a six-speed auto transmission. Higher trim levels employ a 1.6-liter turbo four making 175 hp and 195 lb-ft. It's paired with a seven-speed, dual-clutch, semi-automatic transmission, which is a first for the segment.
What changed? Other segment firsts include ventilated front seats, heated rear seats, stain-resistant seating fabric, color LCD five-inch display, and an auto-open liftgate — just stand within a few feet of it for a few seconds with the key fob in a pocket or purse and the liftgate will open, no fancy footwork required.
When is it available? July 2015.
How much? To be announced. The current model starts at $22,525 including $875 destination charge.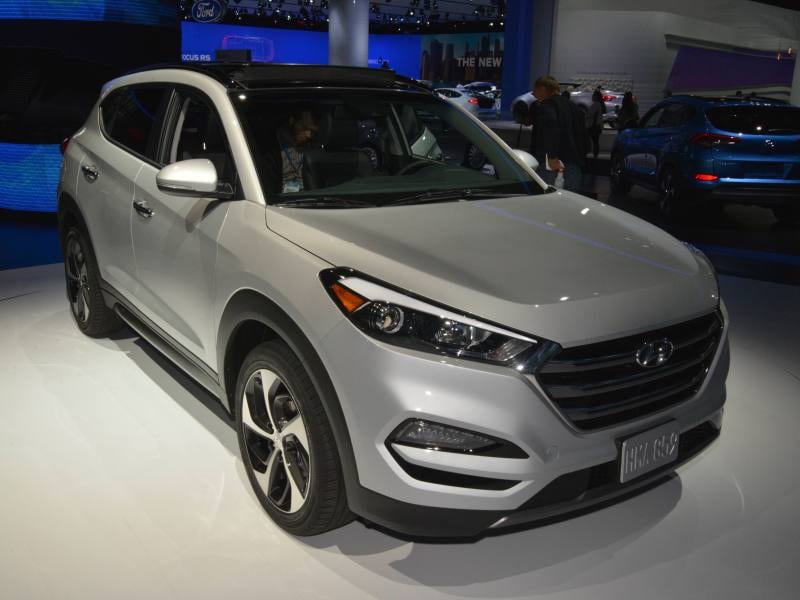 2015 Land Rover Discovery Sport
Chances are most owners of the 2015 Land Rover Discovery Sport won't fully explore their vehicle's remarkable range of all-terrain capability. But it's there all the same, because this is a Land Rover. Which means it can go deeper into the wild than other premium compact crossovers like the Audi Q5 or BMW X3, even if there's almost two feet of water to wade through. At the heart of that capability is the Terrain Response System that adjusts transmission settings, throttle responses and steering inputs to cope with whatever challenging surface is encountered. Even more high-tech is the autonomous emergency braking feature and off-road navigation system. Land Rover claims seating for seven (unusual for a compact SUV), but two of those passengers had better be small.
What changed? This is a completely new model. What has probably changed is the assumption that something so comfortable off-road could never deliver sharp on-road dynamics.
When is it available? Summer 2015.
How much? From $37,995. All current versions have a 240-hp 2.0-liter turbo four-cylinder engine and a nine-speed automatic transmission.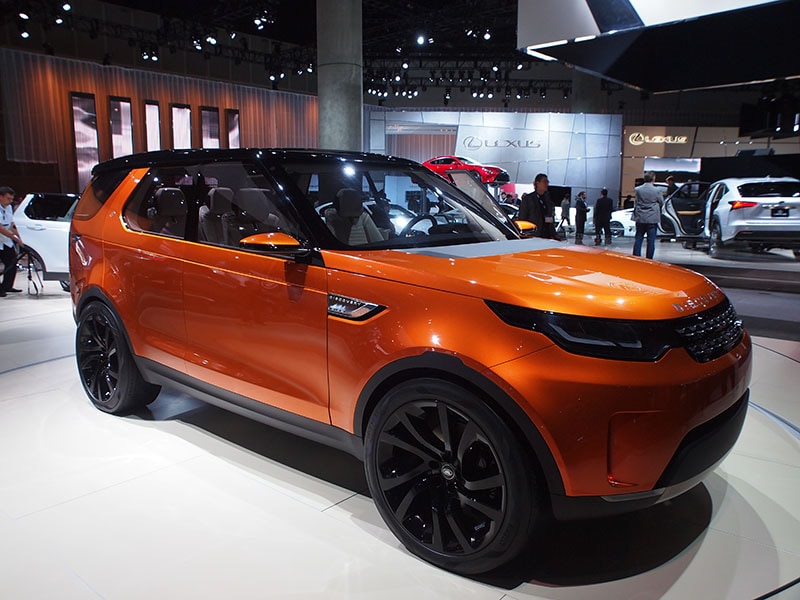 Photo by Megan Green
2015 Ford Edge
The 2015 Ford Edge is the introductory model year for this midsize crossover's second generation. A new, well-equipped Titanium trim level comes in just below the top Sport version and brings an emphasis on luxury. In general, the Edge offers a wide array of tech features like self-parking, cameras front and rear, lane-keeping assistance, inflatable rear seat belts, heated steering wheel, and the power lift gate that operates by wagging a foot at the rear bumper. This generation also enjoys an updated cabin with improved ergonomics, plusher materials and a large panoramic glass roof. The Sport version gets a new engine, a 2.7-liter V6 developing 315 hp and 350 lb-ft of torque, which is more than enough to justify the Sport name.
What changed? Although the first generation also offered a 2.0-liter EcoBoost turbocharged engine, the one available in the 2015 Edge is essentially all-new. It now makes 245 hp and 275 lb-ft of torque, which allows it to be used in all-wheel-drive versions and with the tow package (maximum towing capability for this engine is 3,500 pounds).
When is it available? Now.
How much? From $28,995 (including $895 destination charges) for the front-drive SE model.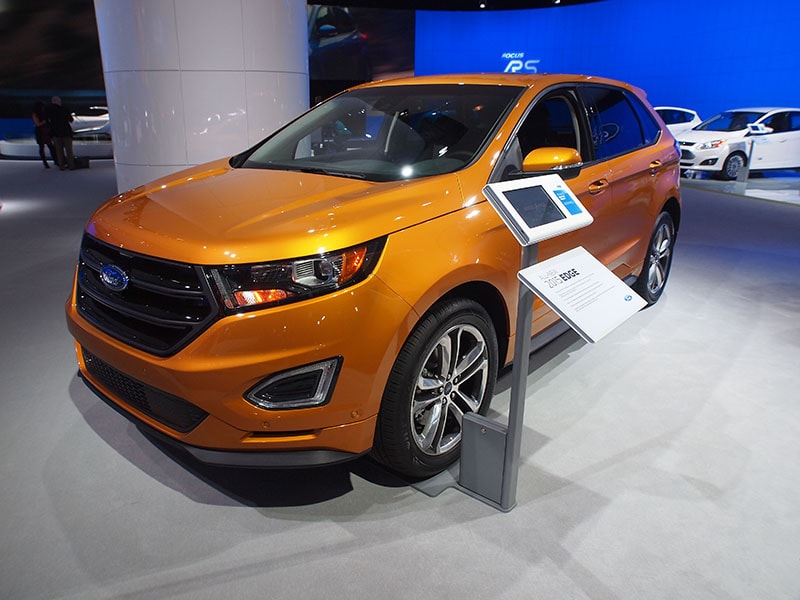 Photo by Megan Green
2016 Ford Explorer
The 2016 Ford Explorer represents a mid-cycle refresh for this highly capable seven-seater full-size crossover SUV. A new range-topping trim, Platinum, has arrived at the same time, along with a new 2.3-liter turbocharged four-cylinder EcoBoost engine that replaces the previous 2.0-liter unit. Output is 270 hp and 300 lb-ft of torque, which is sufficient muscle to be paired with the optional all-wheel drive system as well as the towing package. The base engine remains a 3.5-liter V6 with 290 hp and 255 lb-ft. Platinum and Sport versions are propelled by a turbocharged version of this engine that delivers 365 hp and 350 lb-ft. A six-speed automatic transmission is standard on all models.
What changed? Outwardly, the lights, grille and front bumper have been reshaped. Cabin materials are now somewhat higher-grade, and where there used to be touch-sensitive areas for audio and air conditioning controls, there are now real buttons.
When is it available? Summer 2015.
How much? From $31,595 (including $895 destination charges) for the base front-drive model. The equipped-to-the-gills Platinum model is $53,495 (including destination).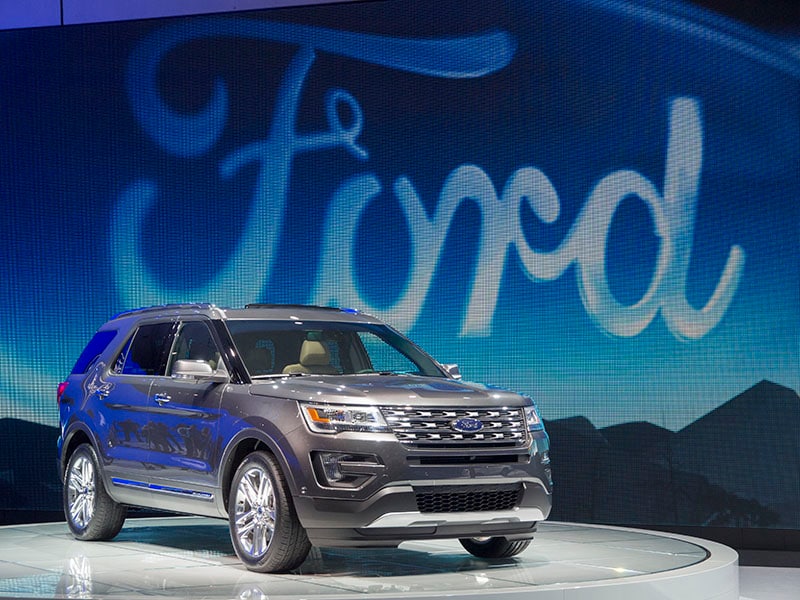 Photo by Megan Green
2016 Mazda CX-3
Sub-compact crossovers like the 2016 Mazda CX-3 are a relatively new and growing segment. The Jeep Renegade and Honda HR-V are two more examples. The CX-3 is, unsurprisingly, smaller than the popular CX-5 and based on a new generation of the Mazda2 runabout, but with dimensions increased slightly to house passengers, cargo and the option of all-wheel drive. In the engine bay is a 2.0-liter four-cylinder; if it's the same as the one in the Mazda3, we're looking at 155 hp and 150 lb-ft of torque along with combined fuel consumption of at least 33 mpg. And if the rest of the current Mazda range is any indication, we can expect an agile chassis with a classy cabin.
What changed? This is a completely new model.
When is it available? Summer 2015.
How much? Nothing official yet, but a starting price of just below $20,000 is anticipated.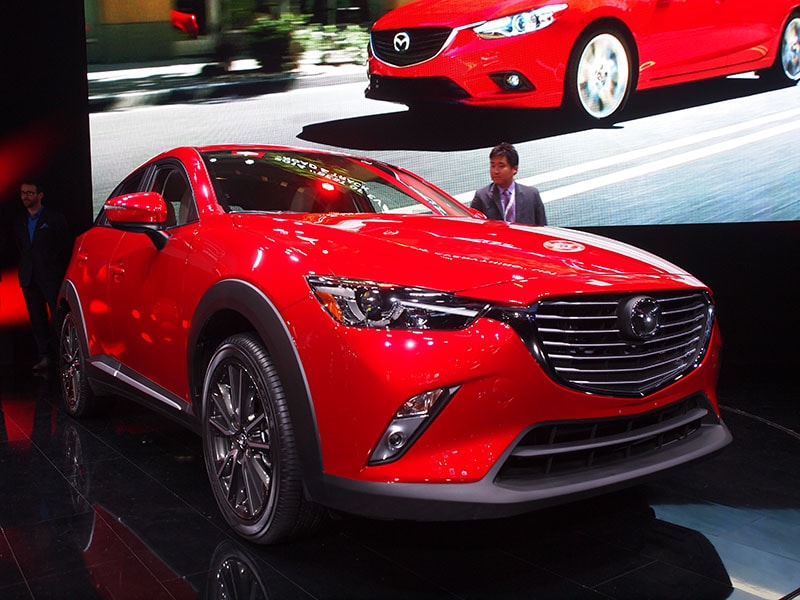 Photo by Megan Green
2015 Volvo V60 Cross Country
The 2015 Volvo V60 Cross Country could seem like a wagon that wants to be an SUV. But that raised ground clearance (by 2.5 inches over the regular V60), higher ride height, and faux-SUV cladding and skid plates might be enough to sway some people from buying one of the usual crossover suspects while still enjoying a commanding driving position as well as Volvo's many excellent safety features. Assuming extreme off-roading is not top of many families' weekend activity lists, but perhaps some gravel roads will be involved, then the all-wheel drive system with hill descent control are welcome pieces of standard equipment. Maximum cargo volume is 43.8 cubic feet. This compact wagon comes in "base" (still well equipped) and Platinum trim levels.
What changed? The regular V60 is an excellent car to drive, a fine blend of agility and practicality, and with a choice of engines. The Cross Country treatment (much like the Audi allroad, one of the few real rivals) offers one drivetrain: a 2.5-liter, five-cylinder engine turbocharged to make 250 hp and 266 lb-ft of torque, which is linked to a six-speed automatic trans
When is it available? Now.
How much? From $41,940 (including $940 destination charges).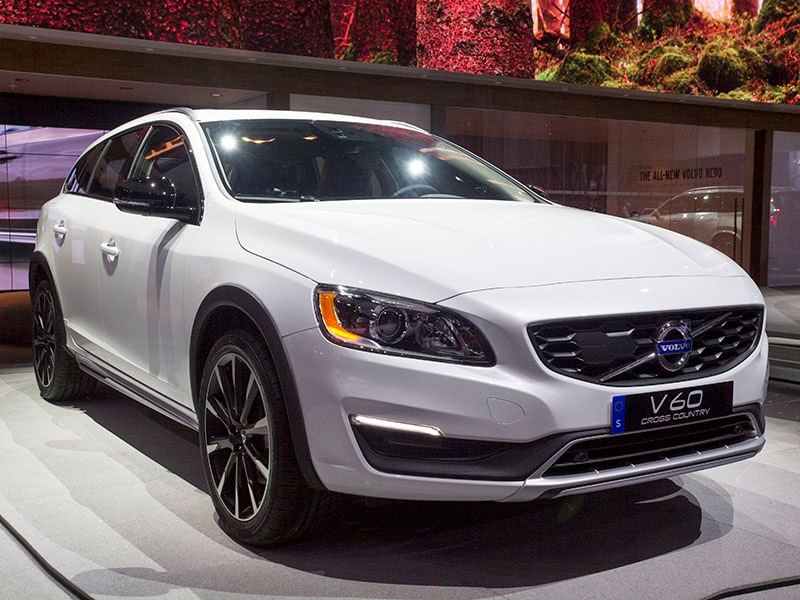 Photo by Megan Green
2016 Volvo XC90 T8 Twin Engine
The 2016 Volvo XC90 T8 Twin Engine is in a class of one. Right now, there are no other car makers that can offer a seven-seater plug-in hybrid (PHEV) SUV. It's also been designed from the outset to accommodate all the necessary hardware, so cargo capacity is not compromised by having to locate a lithium-ion battery pack. Range in electric-only mode is around 25 miles. Recharging the battery pack with a 240-volt outlet takes 2.5 hours. Total output from the gasoline and electric motors is 395 hp and a phenomenal 472 lb-ft of torque, driving all four wheels via an eight-speed automatic transmission. No EPA figures yet, but the equivalent of 59 mpg is an anticipated average.
What changed? This is a whole new generation of Volvo's full-size SUV, with the first conventionally propelled versions going on sale in the summer, so virtually everything has been changed from the basic architecture to the drivetrains to the cabin.
When is it available? Fall 2015.
How much? To be announced nearer the launch.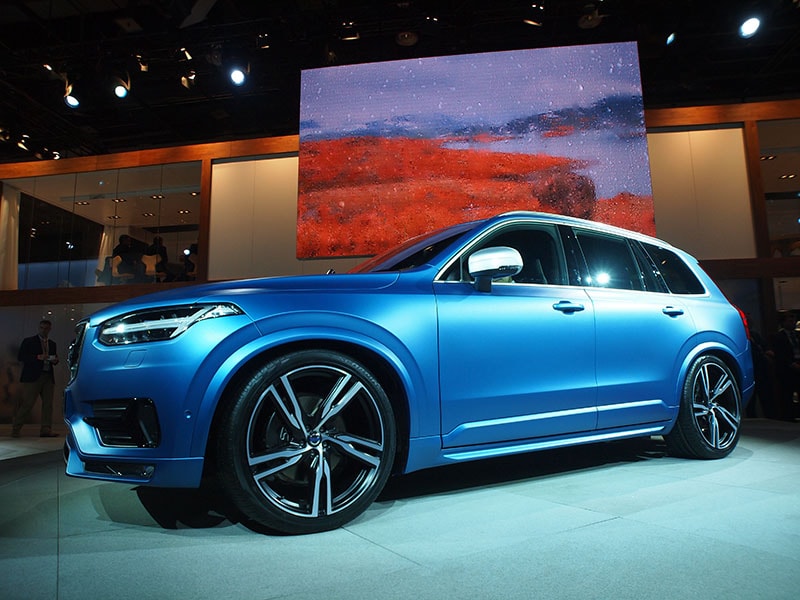 Photo by Megan Green
2016 Mercedes-Benz G65 AMG
The upright styling of the Mercedes-Benz G-Class has made the anachronistic SUV an icon, and its 2016 refresh hasn't messed much with that successful formula. Wider and lower than the model it replaces, the Mercedes-Benz G-Class continues to offer exceptional off-road capability (four-wheel drive is standard), along with a ridiculously-quick G65 AMG variant that provides 603 horsepower and 738 lb-ft of torque from a twin-turbo V-12 engine. There's a slightly-less-crazy G63 AMG also on tap (563 horsepower), as well as a base G550 (over 460 horses).
What changed? The G-Class has been given a new twin-turbo 12-cylinder engine plus a refreshed platform for 2016.
When is it available? Later this year.
How much? You'll start at a tick over $115k for the 2016 G-Class.