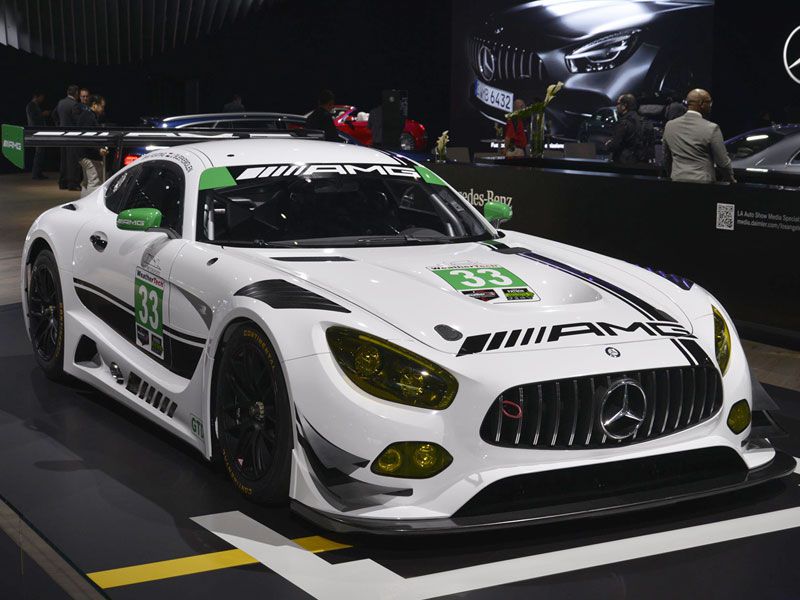 Mercedes AMG GT3 at LA Auto Show ・ Photo by Newspress USA
Like other car shows, the 2016 Los Angeles Auto Show has a bubbling mix, with crossovers at one end of the spectrum and electric vehicles at the other. But there's usually space on a few stands for a sports car or two. In these times of low emissions and the move toward autonomous driving, the enthusiast can still find something to get the blood stirring, because a lot of car companies employ enthusiasts. There's joy to be found and we've saved you the trouble by collating some of the sportiest and most intriguing machines to grace downtown Los Angeles this year.
2017 Acura NSX
Sure, $156,000 is a lot of money. But not as much as $845,000 — which was the Porsche 918 hybrid sports car's price. The brand-new all-wheel drive Acura NSX has three electric motors and a twin-turbo 3.5-liter V6 for a system output of 573 horsepower. It will rush from standstill to 60 mph in a fleeting 2.9 seconds, then hit a top speed of 191 mph. Yet there's still a touch of luxury to the cabin. This is a true 21st-century supercar, with driving modes that go from Quiet to Track. It's built to order; options include carbon ceramic brakes, high-performance tires and a carbon fiber roof.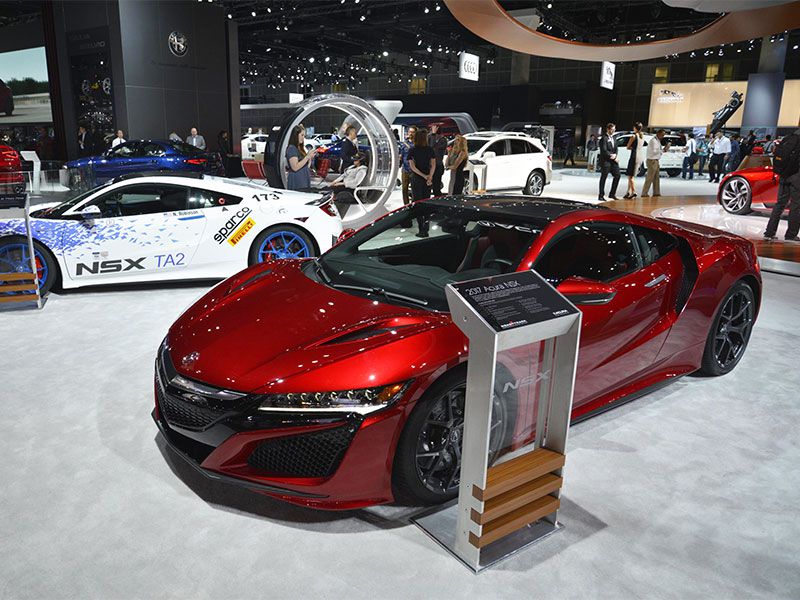 Photo by Newspress USA
2017 Audi R8 V10 Plus Exclusive Edition
Finished in Quantum Gray and sporting 20-inch alloy wheels with a gloss black finish, this special Audi R8 also comes with carbon ceramic brakes, fixed rear spoiler, racing shell seats, and laser high beam technology. Audi says this illumination innovation "greatly enhances visibility by projecting a low and wide beam of light." That's all on top of the 610 horsepower from the gorgeous V10 engine, top speed of 205 mph, all-wheel drive as standard and the Virtual Cockpit display. This version is limited to a run of just 25 examples, each one costing $229,200. Expensive, yes. But, lasers.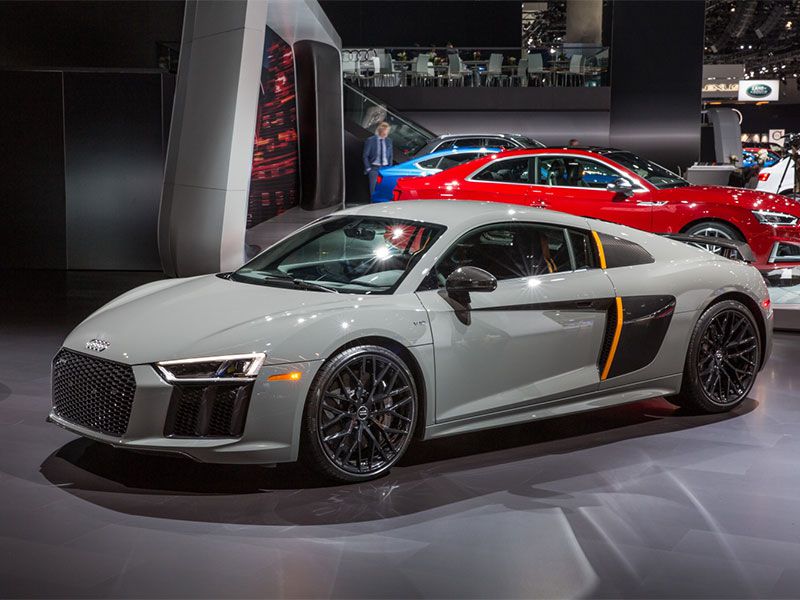 Photo by Audi
2018 Audi S5 Sportback
Subtle is good. The Audi S5 Sportback keeps a fairly low profile, like its A5 relative. These cars are based on the new generation of A4 platform that debuts for the 2017 model year. For the first time, the United States can choose this 5-door model (like the A7, only one size down) or the 2-door coupes and cabriolets. The all-wheel drive Sportback is so well executed, though. It's elegant as well as practical. And the S5 version motors along with an impressive 354 horsepower and 369 lb-ft of torque from its newly developed turbocharged 3.0-liter V6. The outgoing S5 coupe starts at $53,100. Expect the Sportback version to be somewhat pricier at its spring 2017 launch.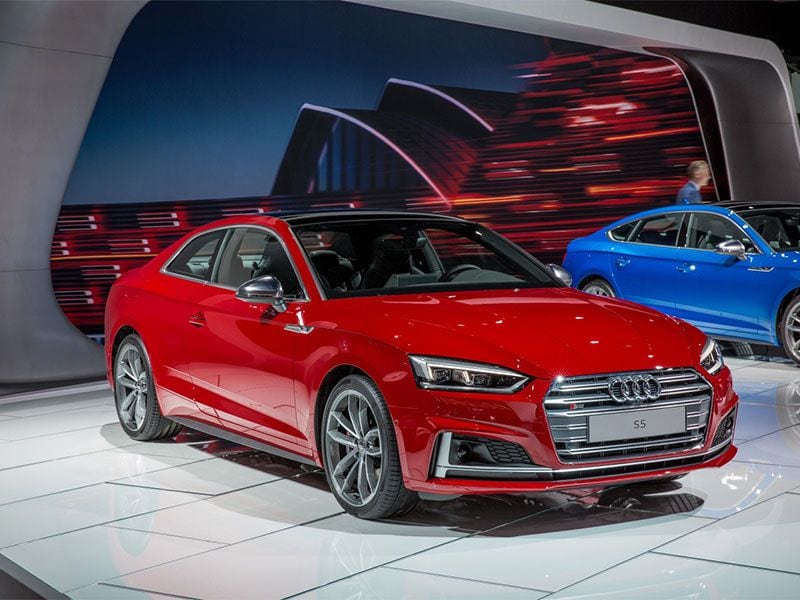 Photo by Audi
2017 Fiat 124 Spider Abarth
Italian open-top cars are invariably called Spider or Spyder. The 124 Spider is based on the excellent new-generation Mazda MX-5 Miata, which gives us that great combination of European style and Japanese build quality. The MX-5 can easily handle more power (Mazda gives it 155 horsepower). Fiat's turbocharged 1.4-liter engine has been tuned by its Abarth performance division to produce 164 horsepower. It also fitted a Bilstein suspension, took 100 pounds of weight out of the car (which wasn't that heavy in the first place), swapped in Brembo brakes and Recaro sport seats, then added a few badges with that cool black scorpion emblem. Anyone who thinks the MX-5 isn't sporty enough should try this.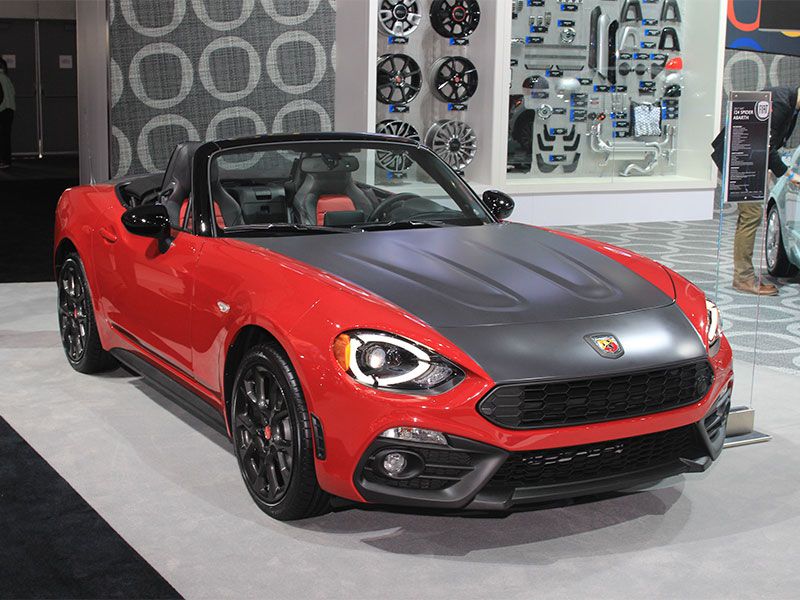 Photo by Matt Carpenter
2017 Honda Civic Si
Among certain drivers, the Si (sport injected) designation is revered. Now it's revived for the current generation of Civic as Honda unveiled an Si Prototype in Los Angeles. The production model will be the fastest, most powerful Si Honda has ever built, using a 1.5-liter turbocharged 4-cylinder engine linked to a 6-speed manual transmission. No power numbers are available yet, but it has to be more than 205 horsepower, which was what the previous-generation Si had. The company also says it will be the best-handling yet; options include an active suspension, active steering and a limited slip differential. In coupe and sedan form, the Honda Civic Si hits American streets some time in 2017.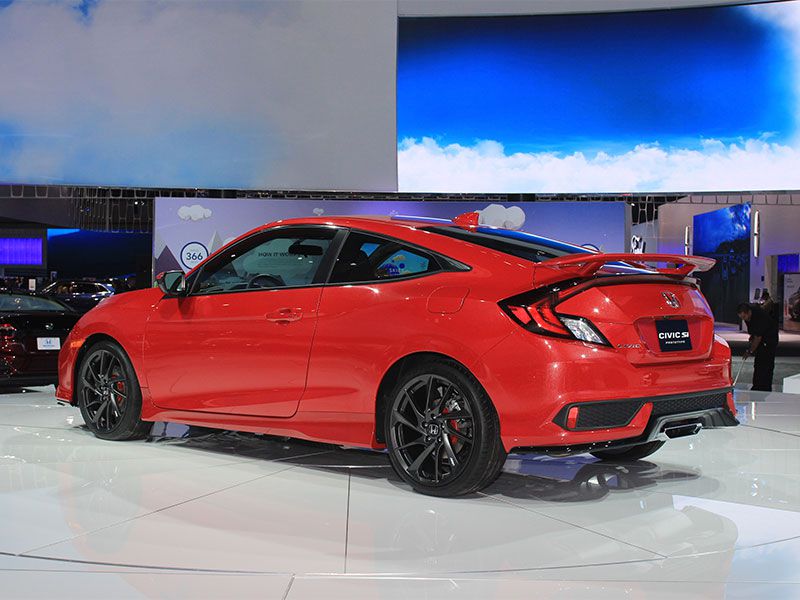 Photo by Matt Carpenter
2017 Lexus IS Special Edition Sriracha Sauce
Hot versions of cars normally make high performance their goal. This special Lexus IS celebrates a different kind of heat, the extreme spiciness of Sriracha sauce. So no, it's not a sports car as such, but there'll be some kind of rush when negotiating the 43 bottles of this pungent condiment stored in the trunk. The exterior paintwork is inspired by the sauce's red color (although there's a kind of orange-ness to it under the LA Auto Show lights). Look closely to see the tiny gold specks intended to emulate chili flakes. The cabin has light tan leather upholstery with the logo of Sriracha's manufacturer — Huy Fong Foods — embroidered into the front headrests. Oh, and the steering wheel is a saucy red/black leather affair.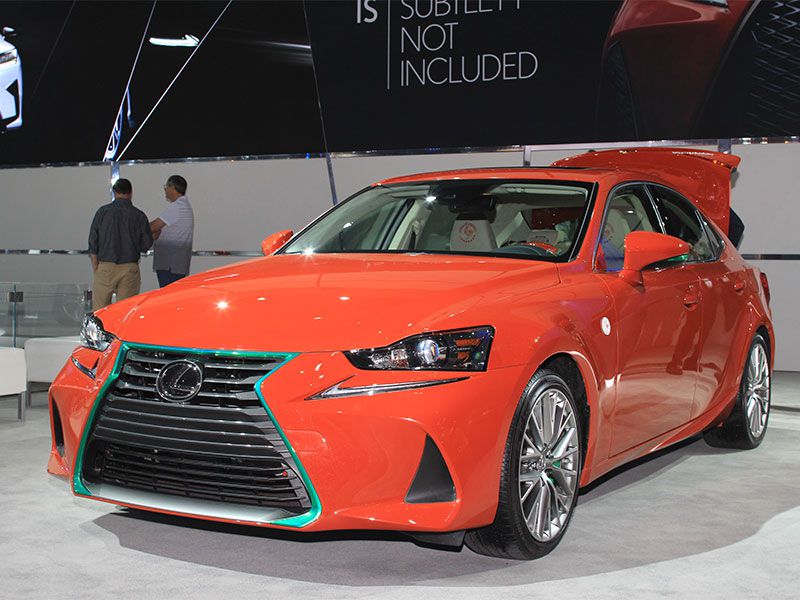 Photo by Matt Carpenter
2018 Lexus LC
The LC is kind of a sports car. It was "inspired" (according to Lexus) by the high-performance LF-LC concept. But the LC is undoubtedly imposing. It's a flagship coupe, around the same size as the Mercedes-Benz S-Class coupe, and has such a striking profile that many will forgive it that huge, arguably awkward grille. The cabin isn't just plush, it's actually won an EyesOn Design award for best designed interior. The LC 500 has a 471-horsepower 5.0-liter V8 and a 10-speed automatic transmission, while the LC 500h variant uses the latest 354-horsepower multi-stage hybrid system for fuel efficiency balanced with brisk acceleration. The LC range is due to go on sale in spring 2017.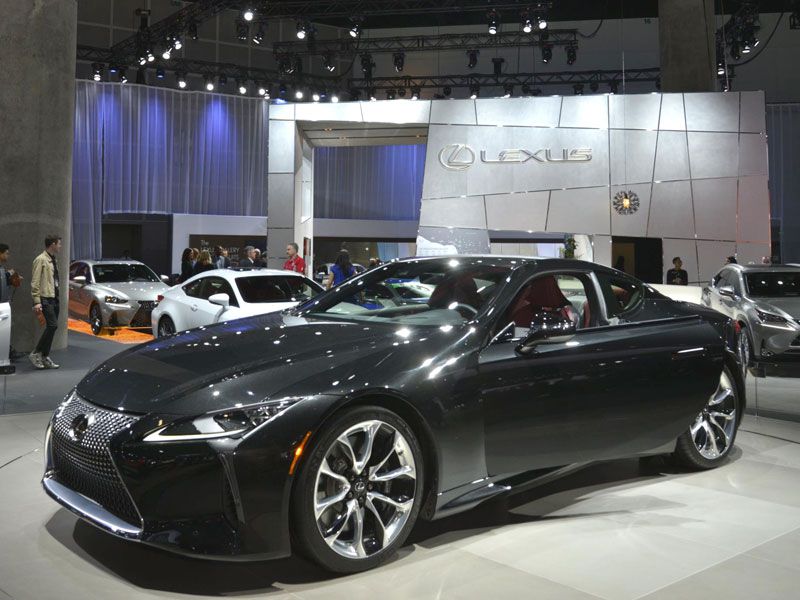 Photo by Newspress USA
2017 Mazda MX-5 RF
Apart from the one-millionth MX-5 coming to town, Mazda's LA show stand also has a couple of the RF variants. RF stands for "retractable fastback." It's a power-folding hard top. Older versions of the MX-5 had something similar, but never as good-looking as this. With the roof up, it takes on the appearance of a sleek little 2-seater coupe. It's not any more powerful than the regular soft-top version (155 horsepower), but both RF trims (Club and Grand Touring) have a 9-speaker Bose audio system as standard. The RF Club starts at $31,555, although the initial run of 1,000 units has already sold out. Easy to see why.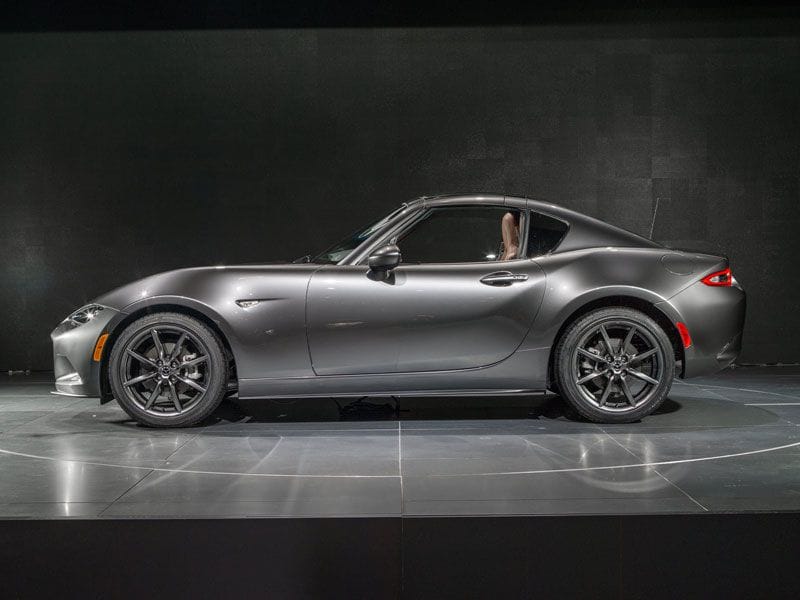 Photo by Mazda USA
2018 Mercedes-AMG E63 S
It's possible to order the "plain" E63 AMG version of the new-generation E-Class and be perfectly happy with 563 horsepower. But if we've come this far, then why not go all the way and specify the S version for a delicious 603 horsepower from that growling twin-turbo 4.0-liter V8? Chances are that some will not perceive the difference in acceleration to 60 mph: 3.3 seconds in the S compared with 3.4. And they may never reach the 155 mph top speed of the non-S car, let alone hang on until 186 mph shows up on the speedo in the S. It's just the knowledge that this is the "best" one. Coming summer 2017.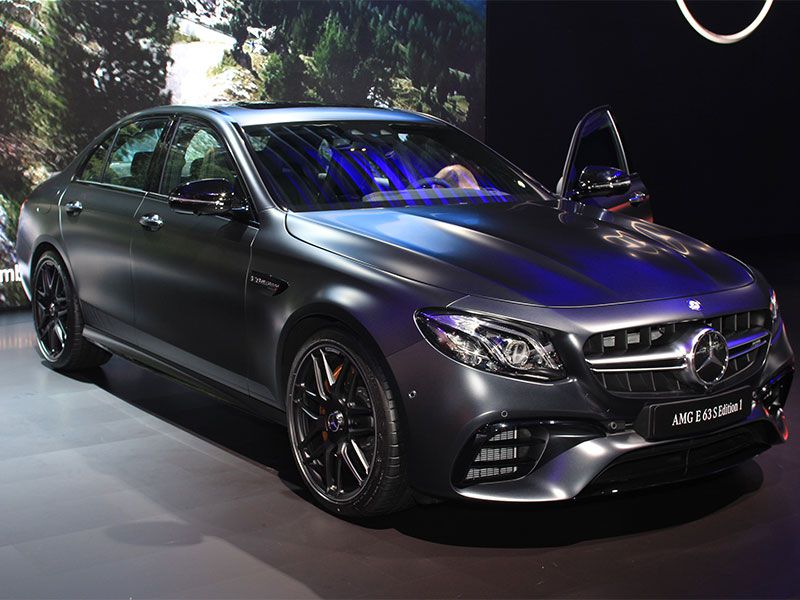 Photo by Matt Carpenter
2018 Mercedes-AMG GT Roadster
Right now, the new hard-top Mercedes-AMG GT is burnishing its reputation as a rival to fabulous sports cars like the Porsche 911 and Audi R8. It's an original offering from AMG (the high-performance section of Mercedes-Benz), as opposed to souping up an existing car. Come the autumn of 2017, two soft-top versions will be also available. This is the first, with 469 horsepower developed in a hand-built twin-turbo 4.0-liter V8. It will sprint from standstill to 60 mph in just 3.9 seconds and run to a top speed of 188 mph. There's luxury, too, with fine leather and the optional Airscarf system that directs warm air out of vents set into the seats at neck level.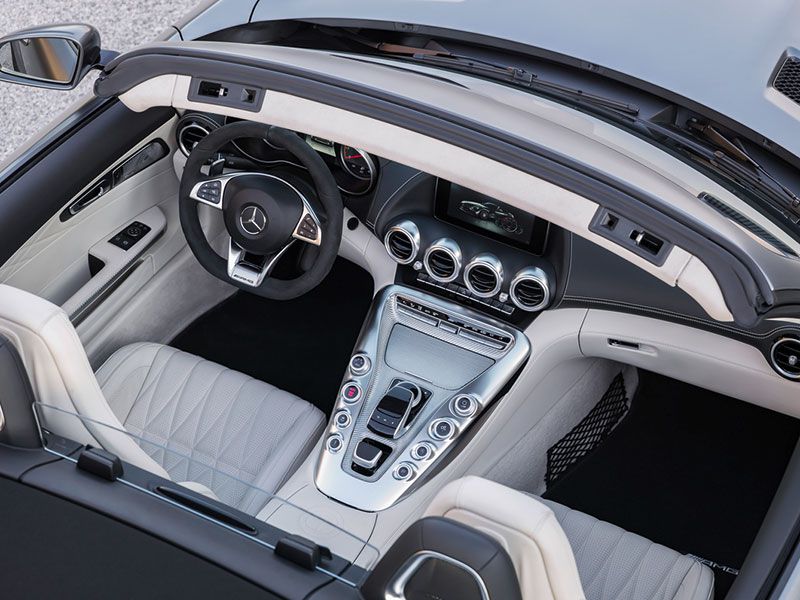 Photo by Mercedes-Benz Media