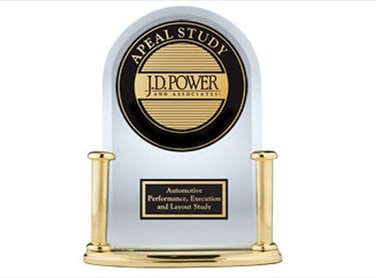 While today's auto industry remains in rebound mode as far as sales go, customer satisfaction with today's vehicles has never been higher—and it's an unlikely brand that's helping lead the way. That's the bottom line from the J.D. Power and Associates 2011 Automotive Performance, Execution and Layout (APEAL) Study, which gauges how "gratifying" a vehicle is to drive and own during the first 90 days after delivery. The average brand score in this year's study climbed three points to 781 (on a 1,000-point scale), with a resurgent Dodge tying BMW for the most individual segment winners (three). The highest-rated brand was Porsche, which scored 879 points.
More than 73,000 drivers of 2011 vehicles bought or leased between February and May of this year participated in the study, evaluating their vehicles across more than 80 different aspects of the ownership experience.
Page 2
"The auto industry has taken a battering during the past few years," said David Sargent, vice president of global vehicle research at J.D. Power and Associates. "However, it is clear that throughout this period, automakers have never lost sight of the fact that survival—and ultimately success—only comes from winning over customers in the showroom. Offering highly appealing vehicles is one of the primary means to succeed."
This comes into even sharper focus when you consider another important finding in the 2011 APEAL Study: The gap in scores between older models and fresher ones is expanding quickly as a new generation of vehicles hits the market with dramatically higher levels of satisfaction. Consider: In 2009, the average gap in APEAL scores between "recently launched all-new and redesigned models" and their "carryover counterparts" stood at 10 points, then rose to 18 points for 2010 and reached 29 points this year.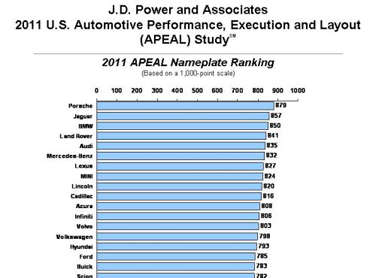 Other highlights of this year's APEAL Study:
• 18 brands had APEAL scores above the industry's average, including Porsche, Jaguar, BMW, Land Rover, Audi, Mercedes-Benz, Lexus, MINI, Lincoln, Cadillac, Acura, Infiniti, Volvo, Volkswagen, Hyundai, Ford, Buick and Scion.
• The three most improved brands were Hyundai, Jeep and Chrysler.
• Porsche was the highest-rated brand for the seventh consecutive year.
• The Chevrolet Volt became the first electric vehicle to win a segment, besting all comers in the Compact Car category.
• The Hyundai Equus was the highest-rated vehicle in the industry, marking the first time in the 16-year history of the study that a car other than the BMW 7 Series, Lexus LS or Mercedes-Benz S-Class achieved this feat.
• Three vehicles won their segments in both the APEAL Study and Powers' 2011 Initial Quality Study, held earlier this year. They were the Ford F-150, Dodge Challenger and Honda Ridgeline.
• Ford and Honda were the only other brands beyond BMW and Dodge with multiple segment-level winners, as both companies had two vehicles that were top-rated in their categories.
J.D. Power and Associates 2011 APEAL Honorees (segment winners listed first)
Sub-Compact Car: Ford Fiesta, Mazda MAZDA2, Honda Fit
Compact Car: Chevrolet Volt, Volkswagen Golf, Mitsubishi Lancer
Compact Sporty Car: Volkswagen GTI, MINI Cooper, Volkswagen Eos
Compact Premium Sporty Car: BMW Z4 Roadster, Mercedes-Benz E-Class Convertible/Cabriolet, Nissan 370Z
Entry Premium Car: Lexus IS, BMW 3 Series (tie), Volkswagen CC (tie)
Midsize Sporty Car: Dodge Challenger, Chevrolet Camaro, Ford Mustang
Midsize Premium Car: BMW 5 Series, Mercedes-Benz E-Class Coupe/Convertible, Jaguar XF
Large Premium Car: Hyundai Equus, BMW 7 Series, Audi A8
Midsize Car: Suzuki Kizashi, Hyundai Sonata, Kia Optima
Large Car: Dodge Charger, Ford Taurus, Nissan Maxima
Compact Crossover/SUV: MINI Countryman, Volkswagen Tiguan, Hyundai Tucson
Compact MPV: Scion xB, Kia Soul, Chevrolet HHR
Premium Crossover/SUV: BMW X3, Audi Q5, Volvo XC60
Midsize Crossover/SUV: Dodge Durango, Ford Flex, Ford Explorer
Large Crossover/SUV: Nissan Armada, Chevrolet Tahoe, Ford Expedition
Midsize Premium Crossover/SUV: Porsche Cayenne, BMW X6, Audi Q7
Large Premium Crossover/SUV: Land Rover Range Rover, Land Rover Range Rover Sport, Mercedes-Benz GL-Class
Large Pickup: Ford F-150, Chevrolet Avalanche, Ford F-250/F-350 Super Duty
Midsize Pickup: Honda Ridgeline, Nissan Frontier, Toyota Tacoma
Minivan: Honda Odyssey, Toyota Sienna, Chrysler Town & Country