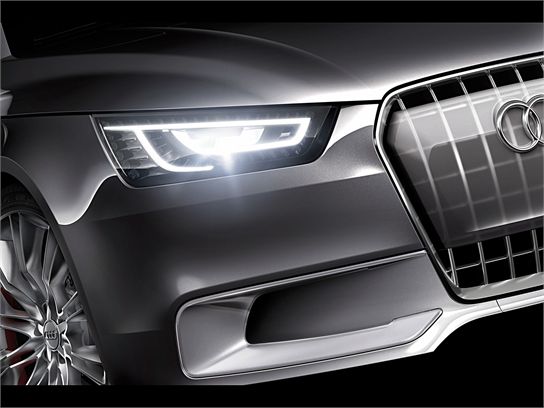 Don't know what your gearhead friends are talking about? Is the difference between an Audi A1 Sportback and a BMW X1 making your head spin? Would you know a Mazda Kiyora Concept if it bit you on the butt? If not, then have no fear. With our quick guide to the 2008 Paris Auto Show, you can sound like an expert in no time. We'll tell you what was there and what's cool. Hey, maybe you'll even sound like a gearhead yourself.
By Keith Buglewicz Photo Credit: Audi
Page 2
OK, here's the deal with the Audi A1 Sportback Concept. It replaces the Audi A2 – which was never sold here – and is the first real competitor to rival BMW's MINI Cooper. How? It boasts good looks, a snorty 4-cylinder under the hood, front-wheel drive and something the Mini Cooper doesn't have: five doors. Couple them with a reasonably-sized rear seat, and you have a distinct advantage over the Mini. The Audi A1 Sportback Concept also has a more aggressive look that dumps Mini cuteness for more of a pit bull growl.
Photo Credit: Greg Brown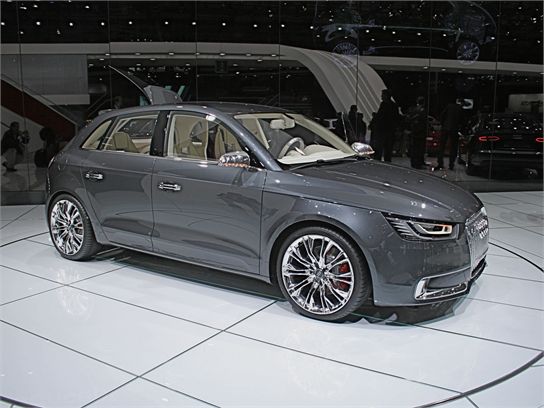 Page 3
Think of a nice, pleasant family-sized luxury car. Now give it enough power to light Sarah Palin's hometown. That's the 2009 Audi RS6 in a nutshell. This all-wheel-drive super-sedan boasts a V-10 engine that's boosted by twin turbochargers for a total of 580 horsepower. Thing is, it doesn't really look the part, since it differs only subtly from the less-insane versions of the Audi A6 upon which it is based. If you have a thirst for power, handling and speed – and have a big pile of money laying around – it's worth it.
Photo Credit: Audi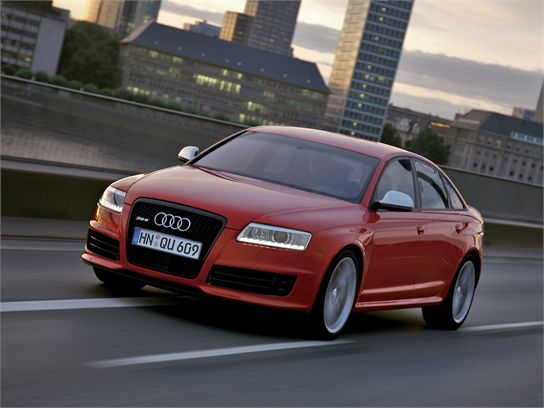 Page 4
To fully understand the 2009 Audi S4, simply read what we said about the 2009 Audi RS6 and reduce it all by about 25 percent. The car is smaller, the engine is smaller, and the power output is smaller. Like the RS6, the 2009 Audi S4 is based on the less nutso Audi A4, a car we have been gushing over for a little while now. OK, so it's not as quick as an RS6, but with a supercharged V-6 engine, the 2009 Audi S4 promises to be plenty quick, and thanks to an engine that's smaller than its peers, even slightly responsible.
Photo Credit: Audi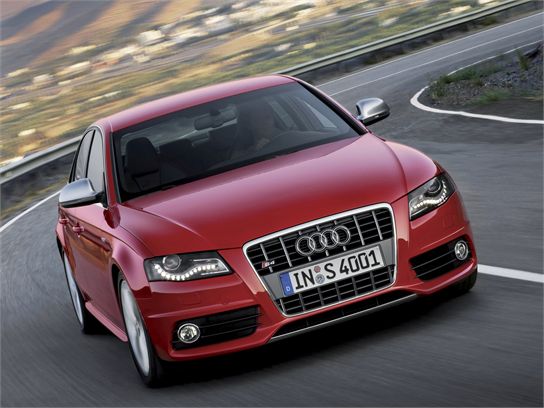 Page 5
In some ways, the Bentley Arnage is the last real Bentley, the last car designed before Volkswagen took over the brand. Since this is the last hurrah for this car, the 2008 Bentley Arnage Final Series is packed to the gunwales with everything you could expect: a small herd of cows covers the interior; there's enough power just from the audio system to power a Toyota Prius; huge power and torque figures. If you get insulted if people don't kiss your ring when they meet you, you're probably a good candidate to be one of the 150 lucky (and rich) souls to get a 2008 Bentley Arnage Final Series.
Photo Credit: Greg Brown

Page 6
The BMW Concept X1 is a very thinly disguised version of the upcoming production BMW X1. Slotting in below the BMW X3, the X1 is designed to appeal to the same people who like the BMW 1 Series, but need a little more cargo or passenger room. It's also weird looking, like some sort of mishmash of a shrunken X5 and the aforementioned 1 Series. BMW loves the crossover genre, but with the X1 and the recently released X6, we're not so sure we share the affair.
Photo Credit: Greg Brown

Page 7
The 2009 BMW 7 Series Active Hybrid is a direct response to the Lexus LS 600h L hybrid that was introduced a couple of years ago. It boasts a 400-horsepower V-8 coupled with a small electric motor. Thing is, while the Lexus is a full hybrid – meaning it can move under electric-power only – the BMW 7 Series Active Hybrid is only a mild hybrid. It shuts its engine off at a stop, but it can't move under electric power only. Considering that BMW could have used the same two-mode hybrid it jointly developed with GM, we're disappointed.
Photo Credit: Greg Brown

Page 8
Cadillac knocked it out of the park with the current-generation CTS sedan, and it's following up with a slew of cars based on the platform. The first was the CTS-V we reviewed recently (loved it), and next out of the box is the 2010 Cadillac CTS Sport Wagon. It builds on the already wonderful CTS – literally – by adding a full wagon body. Wagons are much hotter in Europe than in the U.S., which explains the Paris debut, but we can see that changing if wagons look more like this than a Country Squire.
Photo Credit: Greg Brown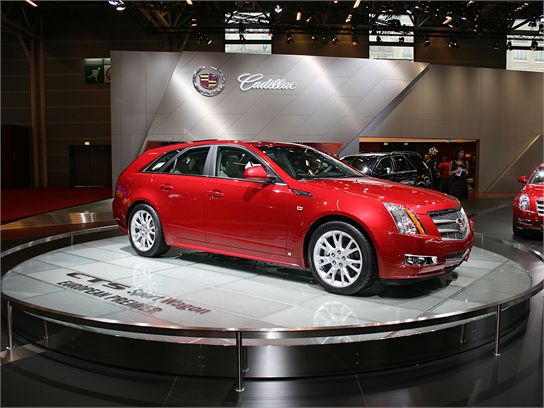 Page 9
Up is down, black is white, day is night, and Chevy is poised to introduce a class-leading small car. The 2011 Chevrolet Cruze won't go on sale in the U.S. for a while, much too long as far as we're concerned, because we want it now. The exterior is striking, with interesting styling elements that we're slowly coming to expect from Chevy, thanks to the Malibu and Traverse. But it's the interior that really impresses, with a clean and smoothly flowing center stack flanked with fabric swaths that match those on the seats. Did we just lust for the compact Chevy Cruze? Next thing you know, Democrats will be charged with saving the economy!
Photo Credit: Greg Brown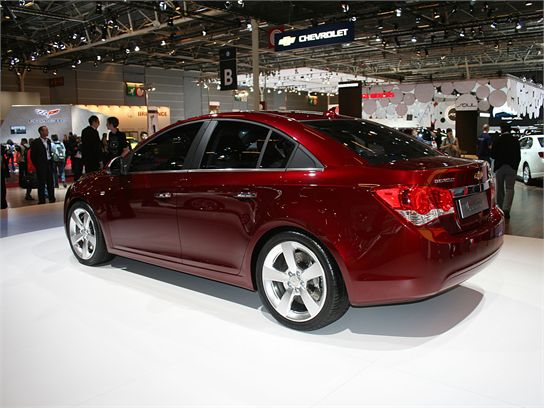 Page 10
The 2011 Chevy Volt has been the biggest headline grabber of late, but in case you've been to busy watching your AIG stock nosedive, here's a refresher. The Chevy Volt is a new generation of plug-in hybrids that run strictly on electricity. The Volt's gasoline engine takes over after about 40 miles of pure electric power, recharging the batteries and providing electricity to keep the Volt moving. Plug your Chevy Volt in overnight, keep your round-trip commute under 40 miles, and you'll rarely hear the little gasoline powerplant run. Plus, it looks neat, has an iPod-inspired interior, and will make Toyota Prius drivers feel like gross polluters.
Photo Credit: Greg Brown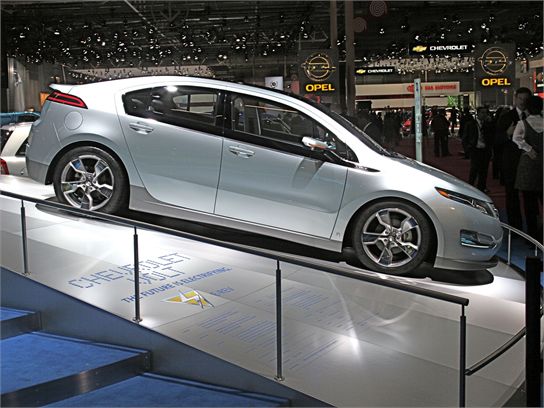 Page 11
Honda was actually the first carmaker to bring a production hybrid to market, a factoid largely forgotten in Prius-mania. The company is eager to remind us all however, and is introducing the Honda Insight Concept as a preview to a future Honda Insight that will be the Honda's hybrid-only offering. Yes, it looks like a Toyota Prius, but it's actually smaller and most importantly, will be significantly less expensive when the production version goes on sale sometime next year -- figure around $18,500 to start. Don't let the "concept" part of the name fool you: Honda lightly disguises production cars as concepts a few months before the official unveiling.
Photo Credit: Honda