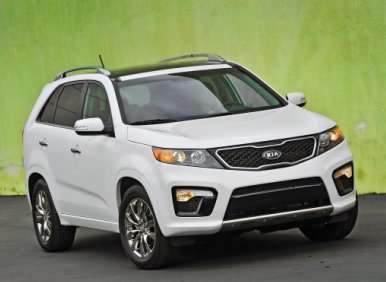 Coming up with the best-rated SUVs for 2012 depends a lot on who's doing the ratings. Like the vehicles themselves, the third parties that pass out the annual crop of automotive trophies come in all different shapes and sizes, and focus on different approaches to the ownership and driving experiences. Thus, to make things easy, this short list of top-rated SUVs for 2012 looks to five different sources for five different choices, each providing a different mix of customer-satisfying features—with one similarity: They're all players in the hotly competitive SUV and crossover segments.
Best-rated SUVs for 2012: Jeep Grand Cherokee
Hmmm, which team has the Jeep Grand Cherokee as one of its highest-rated SUVs of 2012? Autobytel and AutoPacfic, for starters. In the annual Ideal vehicle awards, presented by the just-named pair, the Grand Cherokee was ranked as the Most Ideal Mid-Size SUV of the year. But that's just the latest honor for the self-appointed most-awarded SUV ever. In addition to our personal selection as one of the top-rated SUVs for 2012, the current-generation Grand Cherokee also has garnered a slew of other prizes since its introduction, including a 2012 Autobytel/AutoPacific Vehicle Satisfaction Award.
Of course, the Grand Cherokee is no poser. Jeep's flagship combines offers all the off-road capabilities one would expect to find at the top of the brand's range, as well as true premium amenities, impeccable on-road manners and, in the shape of the Grand Cherokee SRT8, world-class performance. The most powerful, best-handling Jeep ever, the souped-up Grand Cherokee can rocket from 0-60 in 4.8 seconds, grip the skid pad to the tune of .90 g's, and provide ultra-lux features like a 19-speaker Harman Kardon GreenEdge sound system.
It's also the most expensive of our top-rated sport utility vehicles of 2012, with an MSRP that starts at $60,960—and just may be worth every penny.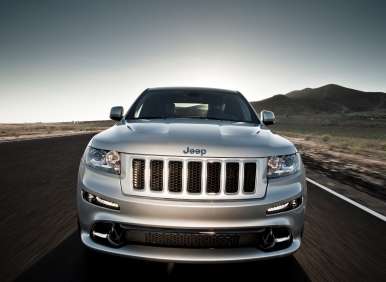 Best-Rated SUVs for 2012: Toyota RAV4
The Toyota RAV4 is an old pro on the list of top-rated SUVs for 2012, but it also happens to be a Top Pick of the year from Consumer Reports. In recognizing the RAV4 in the Small SUV category, CR called it a pace-setter that "provides a roomy interior, comfortable ride, and responsive handling, as well as excellent reliability."
And speaking of a "roomy interior," the RAV4's available third-row seating was singled out for praise as well, with CR calling it "small but useful." Also useful, pointed out CR: The vehicle's high EPA ratings of up to 22 mpg city/28 mpg highway/24 mpg combined in its two-wheel-drive configuration and 21 mpg city/27 mpg highway/24 mpg combined with a four-wheel-drive setup.
Admittedly, however, early adopters in California can trump those marks by leasing the most efficient of the top-rated SUVs of 2012, the Toyota Rav4 EV. The automaker will offer a limited number of these all-electric crossovers in the Golden State, but each one will be able to travel about 100 miles using no gasoline at all. The RAV4 EV can be charged in approximately six hours, and it also boasts a sport driving mode that can zip the vehicle from 0-60 in 7.0 seconds.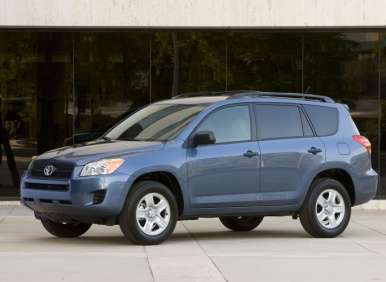 Best-Rated SUVs for 2012: Buick Enclave
A perennially popular pick among top-rated sport utility vehicles is the Buick Enclave, especially for customers who appreciate full-size comfort—and value. Consider: The Enclave recently won its third Vincentric Best Value in America Award, an annual automotive recognition based on cost-of-ownership measures. Leading the large premium crossover segment, the big beautiful Buick excelled thanks to "outstanding depreciation and insurance ratings and a well-rounded performance in all six other cost categories."
A fourth award could very well be in the offing, too, as the 2013 Enclave will arrive before the end of the year after an extensive exterior refreshing. Buick designers subtly but thoroughly evolved the vehicle's look with a new hood, grille and fenders, while also adding subtle enhancements like body-color fascias and rocker moldings, chrome accents, and LED lighting. Inside, improvements include a new instrument panel, stitched door trim, ambient lighting, and a new premium audio system.
But even the underpinnings of the Enclave received some extra TLC. In fact, a lot; the comfortable crossover's entire suspension has been revised, with new dual-flow dampers and rebound springs up front, and the introduction of low-velocity control shocks at the rear. The result is a much smoother, more car-like ride throughout one of the best-rated SUVs of 2012.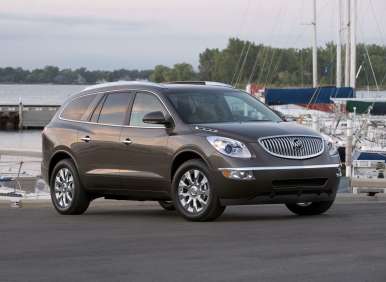 Best-Rated SUVs for 2012: Ford Expedition
Proving there's still room for a full-size body-on-frame entry on the list of top-rated SUVs for 2012, the Ford Expedition was the highest-ranked Large Crossover/SUV in two of this year's J.D. Power and Associates surveys—the Initial Quality Study and the Automotive Performance, Execution and Layout (APEAL) Study.
That's likely because the Expedition provides both true truck capabilities and some truly up-scale luxuries. For example, this fine Ford is powered by a standard V8 engine delivering 310 hp and 365 lb.-ft. of torque, along with a best-in-class maximum tow rating of 9,200 lbs. In addition, to help making hauling large loads that much easier, trailer sway control is standard on the Expedition, and drivers can add on Ford's four-mode Control Trac Four-Wheel-Drive System.
On the other hand, creature comforts are hardly in short supply. This one of the best-rated SUVs for 2012 offers heated and cooled front seats (and a heated second row), powered running boards, power-adjustable pedals, a premium sound system with 340 watts of power and a separate subwoofer, rain-sensing wipers, voice-activated navigations, a power liftgate, a dual-monitor rear-seat DVD entertainment system, and 20-inch wheels.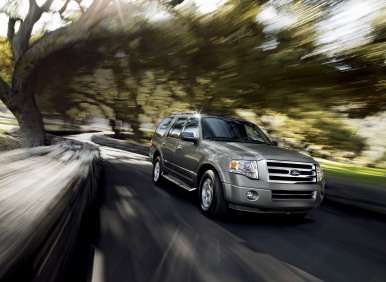 Best-Rated SUVs for 2012: Kia Sorento
With SUVs and crossovers spending so much time as family haulers, let's wrap up this look at the best-rated SUVs of 2012 by looking at the Kia Sorento—one of this year's top-rated sport utility vehicles as selected by Parents Magazine (with an assist from the automotive authorities at Edmunds). As detailed by the publication's Rick Newman, the Sorento proffers:
"A super smooth ride and available third row," with a "second-row seat that is among the widest in this category"
Two- and four-wheel-drive configurations
"Large seatback pockets for your kids' books and a rear armrest with cupholders"
Top Safety Pick status from the Insurance Institute for Highway Safety (IIHS)
Families also can choose from three engine choices, including a high-value I4 in the base model, a high-efficiency I4 with gasoline direct injection and the ability to reach 32 mpg on the highway, and a high-powered V6 that makes 276 hp and 248 lb.-ft. of torque; that last powerplant has enough grunt to pull 3,500 lbs., but it's still economical enough to return up to 26 mpg on the highway.
Naturally, the Sorento also displays Kia's signature design language for a dramatic, aggressive look that makes it one of the best-looking of the best-rated SUVs of 2012.