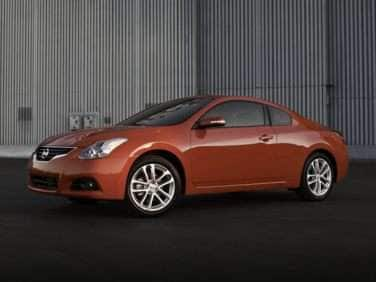 As an automotive category, six-cylinder coupes runs the gamut from the extraordinarily exciting, like Nissan's GT-R and Porsche's 911, to the more tame but still nice Honda Accord. Coupes occupy a special place in the automotive world because of their carefree attitude and what they say about the lifestyle of the driver. In a word, coupes imply a sporty, youthful, happy go lucky lifestyle—free from responsibilities and encumbrances.
Meanwhile, the six-cylinder engine resides in the sweet spot of today's marketplace, accounting for a significant portion of the annual sales volume. In fact, the only engine selling more than the six-cylinder is the inline four.
Unlike most other internal combustion engines, six cylinder powerplants come in a rather broad variety of configurations; including inline, Vee, and horizontally opposed (or flat). An inline six has all of its pistons arranged single file in the engine block, a V-6 has its pistons situated opposite each other, three to a side, in a right angle or at an acute angle to one another. The horizontally opposed (flat or boxer) six-cylinder engine also has its pistons set three to a side, however they lie flat in the engine block and are mounted to the crankshaft such that the opposing pistons move back and forth in opposite directions at the same time.
Most manufacturers employ the V-6 configuration because it is easiest to package. The block is shorter and more compact than the other arrangements. However, if ultimate smoothness is what a builder is after, the inline six-cylinder engine has but one parallel—the V12. Six cylinders in a row in an internal combustion engine achieve a balance no other configuration can approach.
The primary advantages to a flat-six engine are its compactness and low center of gravity. Because its profile is so shallow, the flat six can be mounted lower in the chassis of its host automobile, placing its weight closer to the ground—thus endowing a given vehicle with more agility than the other engine layouts.
Regardless of configuration however, today's six-cylinder engines are more than capable of producing power equivalent to, or greater than that of the V8 engines from only five years ago—while also besting them in fuel economy. With the advent of turbocharging, direct fuel injection and variable valve timing, manufacturers are getting as much as 620 reliable horsepower from a six-cylinder engine, making the configuration a paragon of both efficiency and performance.
What follows is our list of the best six-cylinder coupes of 2012.
Best V-6/6-Cylinder Coupes 2012: Chevrolet Camaro
While the fire breathing V8 models of Chevrolet's Camaro get all the attention, it is actually the six-cylinder models that claim the lion's share of sales for the venerable model. This has been true since the Camaro was introduced back in 1967, when the six-cylinder Camaro was known as the secretary's car because it was so popular with young working females. However, today's six-cylinder Camaro boasts horsepower and torque exceeding that of the V8 engines in early Camaro models. The six-cylinder 2012 Chevrolet Camaros come with a 3.6-liter V6 cranking out 323 horsepower and 278 ft.-lbs. of torque, easily qualifying them for our list of best V-6 coupes. A six-speed manual transmission is standard equipment, a six-speed automatic is optional.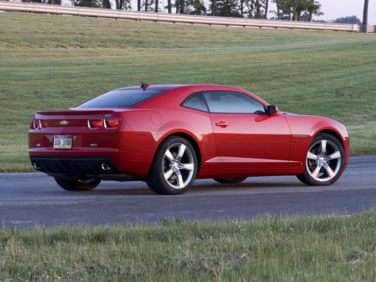 Best V-6/6-Cylinder Coupes 2012: Dodge Challenger
Like its rivals from Chevrolet (Camaro) and Ford (Mustang), the Dodge Challenger's halo is derived from its association with its all-conquering V8 HEMI-powered models. However, carving out its spot on the list of best V-6 coupes is the Challenger's 3.6-liter V6, producing 305 horsepower and 268 ft.-lbs. of torque. A five-speed automatic transmission is standard. Granted, this comes up a bit short when compared to the six-cylinder versions of the Mustang and the Camaro, but the six-cylinder Dodge Challenger also offers exceptional handling and good fuel economy in a handsome and dynamic package.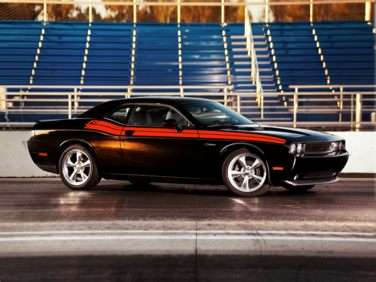 Best V-6/6-Cylinder Coupes 2012: Ford Mustang
One of the oldest continually produced nameplates in American automotive history; the Ford Mustang launched an entire genre of automobile, captured the imagination of both young and old alike, and is still a highly desirable automobile today. Indeed, the very appellation "pony car" was coined specifically for the Ford Mustang. A 3.7-liter engine producing 305 horsepower and 280 ft.-lbs. of torque powers the 2012 Ford Mustang V6. Sharing the showroom with heart stopping V8 models like the 444-horsepower Boss 302 and the 550-horsepower Shelby GT 500; the lowly six-cylinder engined Mustang might appear to be a bit soft. However, more six-cylinder Mustangs are sold than any other configuration. In that regard, the V6-equipped Mustang is the most powerful one Ford sells. Thus, earning its place on our list of the best V-6 coupes.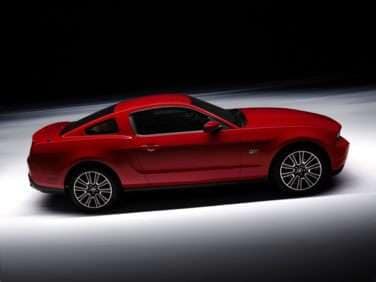 Best V-6/6-Cylinder Coupes 2012: Honda Accord
With its generous array of standard equipment, outstanding reputation for reliability, easy road manners and exceptional comfort, the Honda Accord Coupe is perennially one of the best-selling two-door models on the market. Combining style with practicality and respectability the way the Honda does is simply unmatched by any other manufacturer. When you factor in the exceptional fuel economy and outstanding fit and finish of Honda's automobiles it's easy to see why the Honda Accord Coupe is on our list of best V-6 coupes. The Honda Accord Coupe's V6 offering is a 3.5-liter engine good for 271 horsepower and 254 ft.-lbs. of torque (that figure drops to 251 ft.-lbs. the manual transmission option). A five-speed automatic transmission is standard and comes with shift paddles on the steering wheel. As we alluded to previously, the Honda Accord Coupe can also be equipped with a six-speed manual gearbox.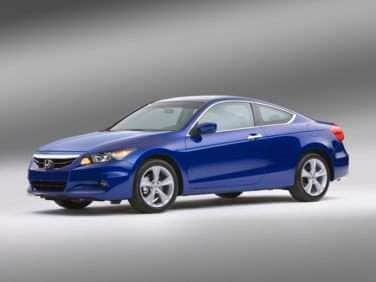 Best V-6/6-Cylinder Coupes 2012: Hyundai Genesis Coupe
If you're the sort of person who wants to drive a rare sporty car, but you don't have Ferrari, Lamborghini or Maserati money; consider the Hyundai Genesis Coupe. Yes, most people are still surprised to learn the Korean brand offers a respectable sport coupe. The fact of the matter is the Hyundai Genesis Coupe makes our list of the best V-6 coupes because it readily matches the capabilities of its six-cylinder rivals from Ford, Chevrolet and Dodge, while also challenging more upscale models such as the Infiniti G37. Blessed with a handsomely angular styling language, the rear-wheel drive Hyundai Genesis Coupe six-cylinder models come with a 3.8-liter V6 cranking out a robust 306 horsepower and 266 ft.-lbs. of torque. A six-speed manual transmission is standard, a six-speed automatic is optional.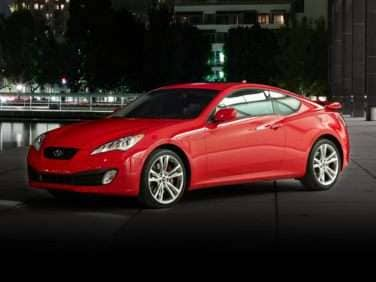 Best V-6/6-Cylinder Coupes 2012: Nissan 370Z
One of the most highly desirable affordable sports cars you can buy, the Nissan 370Z enjoys a robust following, exciting performance, and distinctive good looks. The Nissan's heritage goes all the way back to 1971. If you look at that first generation of the Z you'll see a considerable resemblance to the current model. With its V6 engine mounted behind the centerline of the front wheels in a front mid-ships configuration, the 370Z is actually an affordable mid-engined sports car—as well as a highly ranking entry on our list of best V-6 coupes. The rear-wheel-drive 2012 Nissan 370Z is powered by a 3.7-liter V6 that puts 332 horsepower and 270 ft.-lbs. of torque down to the ground by way of a six-speed manual transmission. On sport package equipped Z models, the manual transmission features the SynchroRev Match feature, which matches revs on downshifts. A seven-speed automatic transmission with steering-column-mounted shift paddles, which also performs rev-matched downshifts, is available as an option.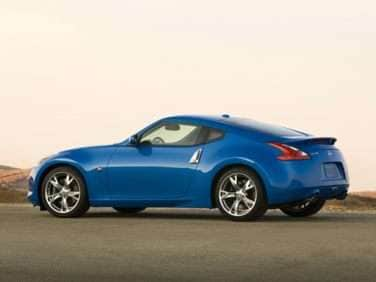 Best V-6/6-Cylinder Coupes 2012: Nissan Altima Coupe
Looking for all the world like a scaled-down Infiniti G37 with a different face, the Nissan Altima coupe is an affordable and sporty entry on our list of the best V-6 coupes for 2012. The sportiest version of the 2012 Nissan Altima Coupe is the 3.5 SR. This iteration of the attractive two-door Nissan is powered by a 3.5-liter V6, which produces 270 horsepower and 258 ft.-lbs. of torque. A six-speed manual transmission is provided as standard equipment. A continuously variable automatic transmission is an optional offering on the front-drive coupe.