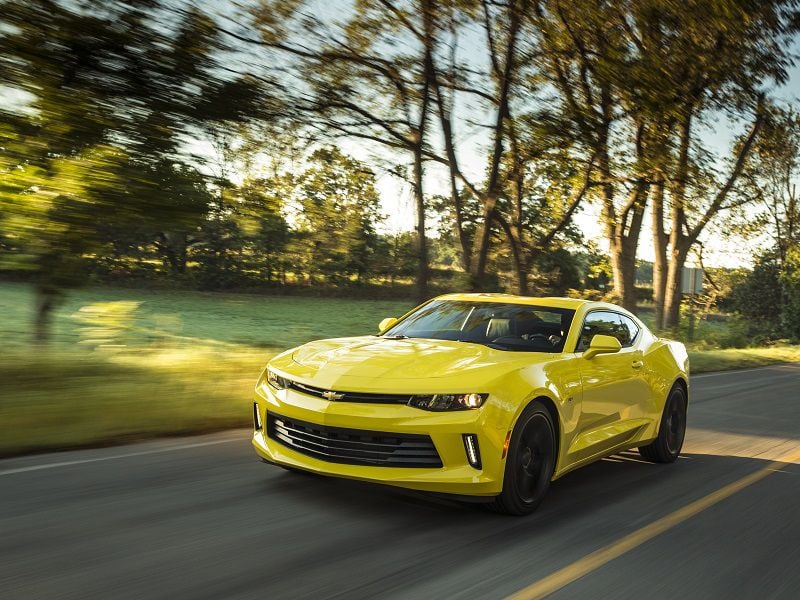 2018 Chevrolet Camaro Yellow Front Quarter ・ Photo by Chevrolet
Most of us dream of driving off on an epic road trip at the wheel of a brand-new car. But the beauty of the road trip concept is that a new car, while desirable, is certainly not a requirement. Given the right circumstances and company, you can have a memorable road trip in practically any car that will get out of its own way.
With that in mind, used cars, which are typically less expensive to purchase than new cars, are especially good choices when it comes to planning your next road trip. After all, if you spend less on the vehicle, that means you'll have more to spend on fun, food, and frivolity, all of which will make your road trip that much better. Of course, you don't want your road trip car to break down on you, so in putting together our list of the 10 best used cars for road trips, we have gravitated to cars that are about four or five years old — old enough to be inexpensive, new enough to avoid major repairs. 
2017 Fiat 124
The FIAT 124 Spider is mechanically very similar to the Mazda MX-5 Miata, so why would we choose it above the Mazda on this list? The simple answer is this: its looks. We like the way the 2017 (and subsequent) 124 Spiders pay tribute to the design of the 124 Spider of decades ago, an ageless shape that spells "sports car."
Of course, the Fiat 124 Spider also has the performance chops to deliver in virtually all aspects of the classic road tripper. Because it is a convertible, it puts you in the center of the scenery more immediately, and because it is a two-seater, that journey is intimate. Under the hood in the Abarth version of the 124 Spider is a 1.4-liter four-cylinder engine that delivers 164 horsepower, and it is backed by a six-speed manual or six-speed automatic. The car's rear-drive handling is stellar.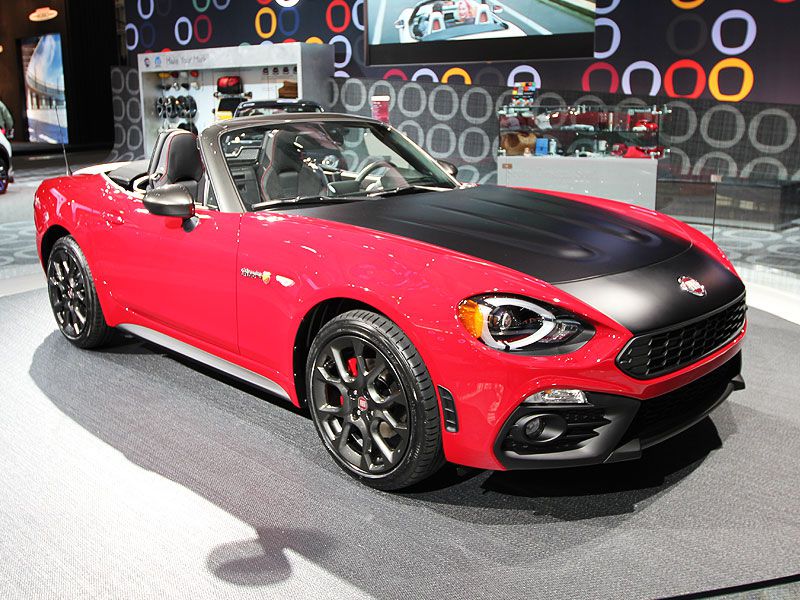 Photo by TJ Keon
2017 Chevrolet Corvette Grand Sport Convertible
A lot has been said about the all-new 2020 Chevrolet Corvette and its mid-engine configuration. But Corvette fans the world over know there is still a lot to like about the classic front-engine/rear-drive config of previous Corvettes. Arguably the best used Vette for a road trip is the 2017 Grand Sport Convertible, a wonderful confection of performance, looks, and handling. Just you, your chosen companion and an obscene amount of power — what's not to like?
The 2017 Corvette's shape still commands attention, and there is something deliciously selfish about keeping all that power just for the two of you. The Corvette isn't merely for profiling, though. As a performance car, the Grand Sport puts 460 horsepower under your right foot, and it will out-accelerate and out-handle all but a tiny handful of vehicles you might encounter on the road.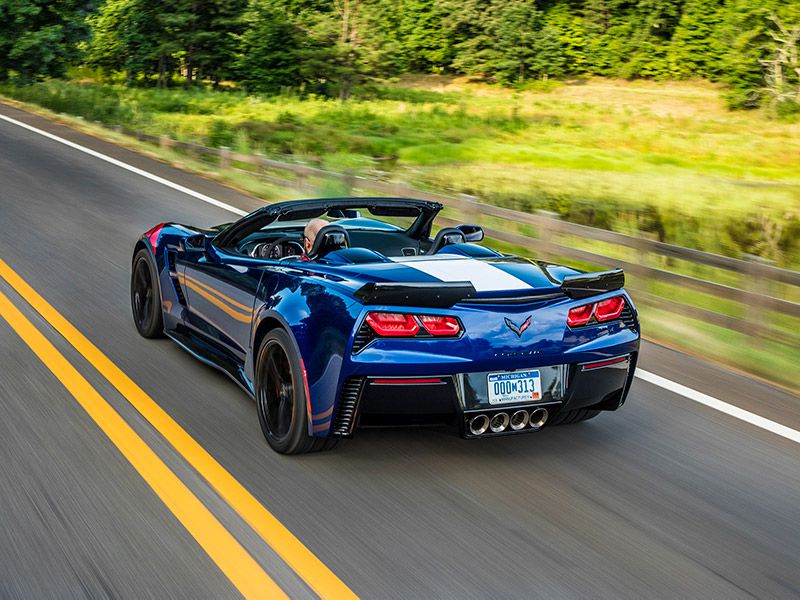 Photo by General Motors
2017 Mazda MX-5 Miata
There is an old adage that it is much more fun to drive a slow car fast than a fast car slow. While the 2017 Mazda MX-5 Miata isn't really slow, its overall persona proves the accuracy of that phrase. The 2017 Miata serves up just 155 horsepower and 148 lb-ft of peak torque from its 2.0-liter four-cylinder engine, but it is the way the car lets yours that modest power and torque that makes it a great road trip car.
From behind the wheel, it seems the Miata starts to turn the millisecond you think about turning, not with the delay usually associated with an automobile. For corner carving on a curvy mountain road, the Miata is one of the best in the world. In fact, with the top down, the Miata makes a quick run to the corner store a mini-epic road trip.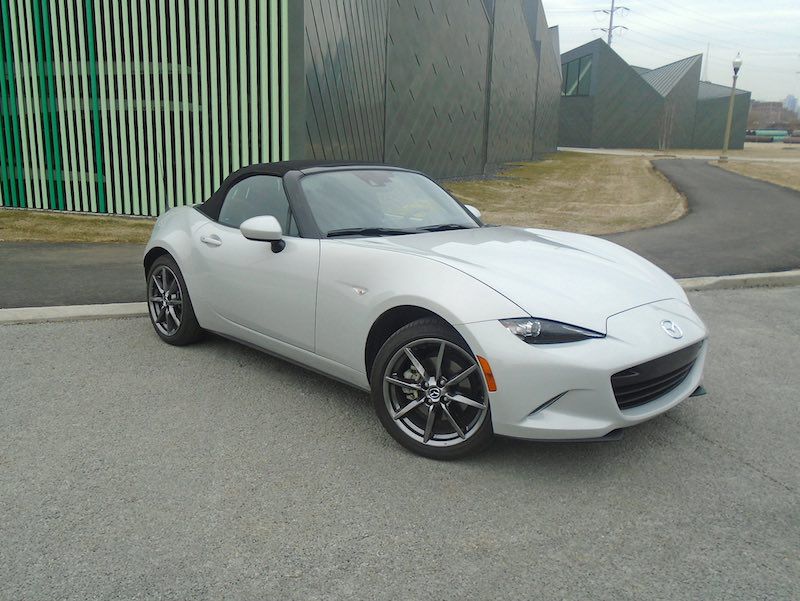 Photo by Cherise LaPine
2017 Chevrolet Camaro SS Convertible
The Chevrolet Camaro has always lived in the shadow of the Corvette. For decades, General Motors executives were careful not to allow the performance of hot Camaros to edge near the performance capabilities of "America's sports car." But in 2017, all bets were off, and the Camaro was offered in a SS version that sports 455 horsepower from its 6.2-liter V8, right there with the Vette's 460 horsepower.
Beyond that, if you were going to design a car to drive on summer nights in America, it would be just like the Chevy Camaro SS. It is a great car for cruising the hamburger stand and equally great for charging down Interstate highways perhaps faster than is technically legal. The car looks great, drives great, and offers one the most sophisticated suspensions ever seen in a pony car.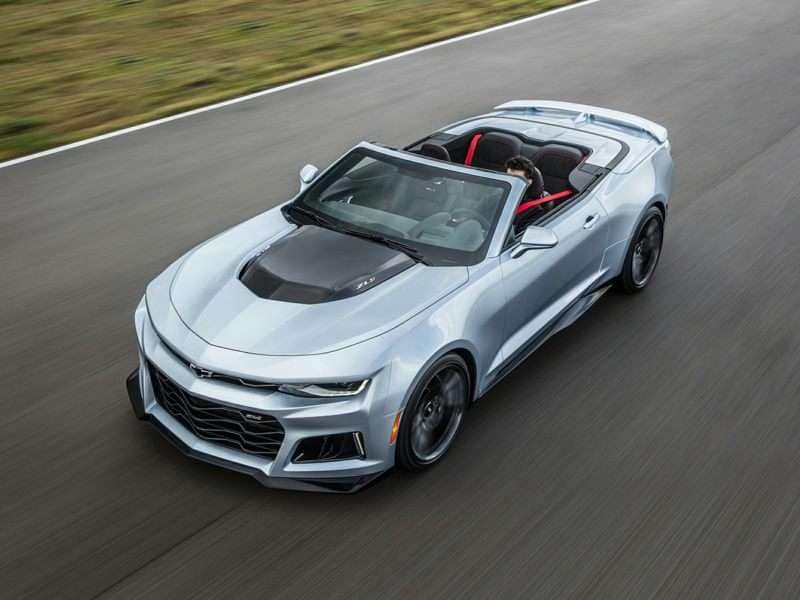 Photo by General Motors
2017 Ford Mustang GT Convertible
If you'd like to hit the road and leave your cares behind, the Ford Mustang GT convertible is your ticket to ride. It goes without saying that you will find yourself in the classic pony car shape that offers seating for four. But while the Mustang has retro appeal, it also offers a drivetrain and suspension that offer significant doses of pure handling and exhilarating acceleration.
The 5.0-liter V8 in the GT delivers 435 horsepower and 400 lb-ft of torque, and the available six-speed manual transmission keeps you engaged in the game. No, the Mustang convertible doesn't offer a ton of trunk space, but maybe that's what the rear seating area is really for. And the 2017 Mustang does offer modern amenities like adaptive cruise control.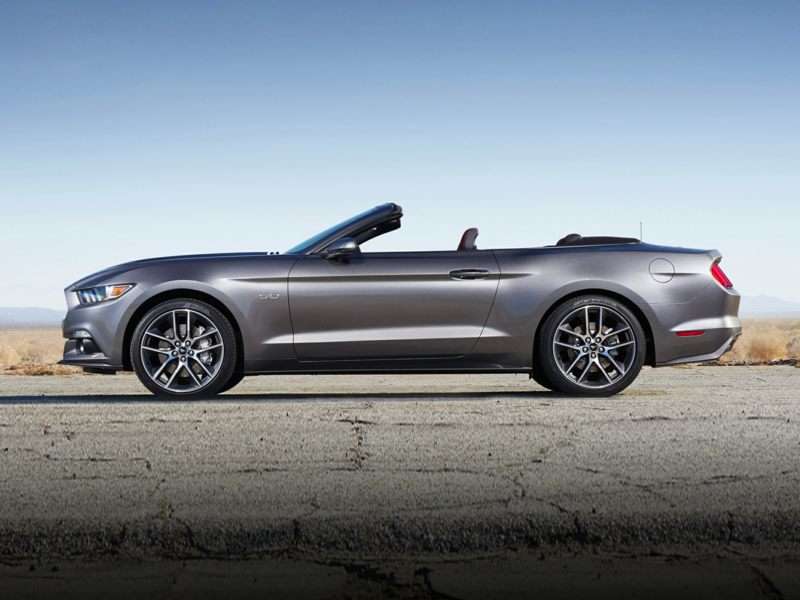 Photo by Ford
2017 Audi A8
Not every road trip involves just two people in a sports car. Some epic trips involve four people or more and require a large, roomy vehicle. As the flagship sedan of the Audi lineup, the Audi A8 fills the bill. With more cameras, scanners, sensors, and lasers than an international summit meeting, the A8 won't do your driving for you, but at times it will propel you down the road with only minimal participation required.
Despite the impressive driver-assist features, the A8 is also a very satisfying sedan to drive. Even with its relatively expansive 207.4-inch overall length, it feels as lithe and agile as a much smaller car. One contributor to that is its 333-horsepower 3.0-liter turbocharged V6. Its all-wheel-drive Quattro system will make short work of any rain, snow, or sleet that dares to occur on that road trip of your dreams.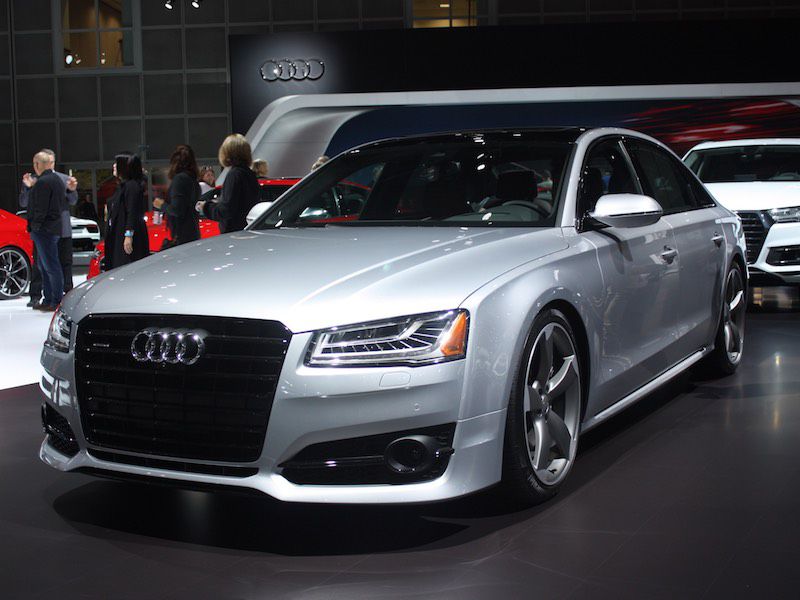 Photo by Ryan ZumMallen
2017 Alfa Romeo 4C
The 2017Alfa Romeo 4C is the polar opposite of a luxury sedan, but it is an equally valid choice for a road trip. Why? It is a car that is unlike anything else on the American market — a small, mid-engine sports car with European driving sensibilities.
Bearing the name of a brand legendary for success in competition, the 4C Coupe and 4C Spider feature seductive Italian styling with a racing-inspired carbon fiber monocoque chassis. Its all-aluminum-alloy 1.7-liter dual-intercooled turbocharged engine produces 237 horsepower and 258 lb-ft of torque, and it's fitted with a six-speed Alfa TCT (twin-clutch) transmission. Weighing less than 2,500 pounds, the 4C can scamper from zero to 60 mph in just over four seconds. And with selectable driving modes linked directly to the exhaust system, you can choose exactly how your road trip will not only feel but sound.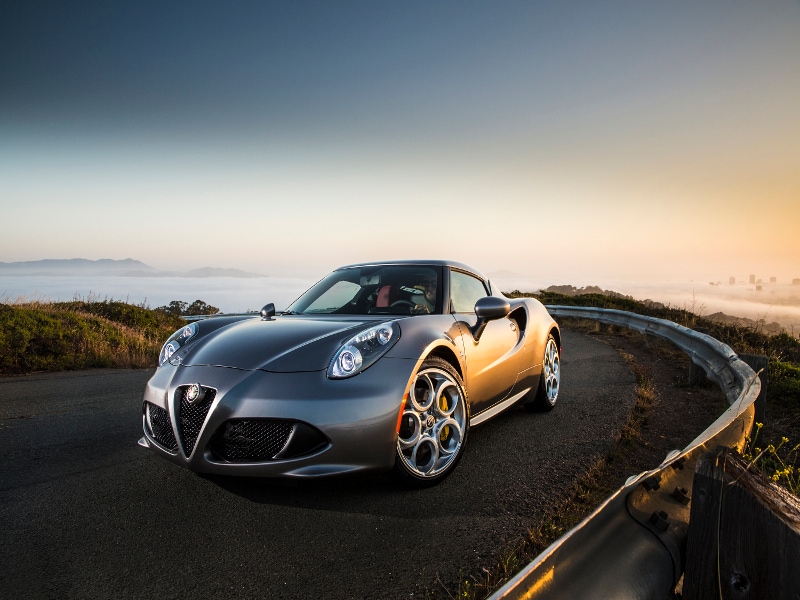 Photo by FCA Media
2017 MINI Convertible
The MINI Convertible isn't configured like a classic sports car. It doesn't have the traditional "long hood and short deck," and it is a front-drive vehicle for heaven's sakes. But properly fitted out the MINI convertible can more than hold its own in this august company of used cars for road trips.
When you acquire a John Cooper Works version of the car, you also acquire 228 horsepower from its 2.0-liter turbocharged engine, far more than in a 124 Spider or Miata. With handling refined by MINI's owner, BMW, the MINI Convertible is a revelation to drive as well. It's hard to believe a front-driver with that much horsepower could be so good. Plus, there is more to a MINI than simply is performance. Its cheeky good looks and inventive interior will constantly put a smile on your face.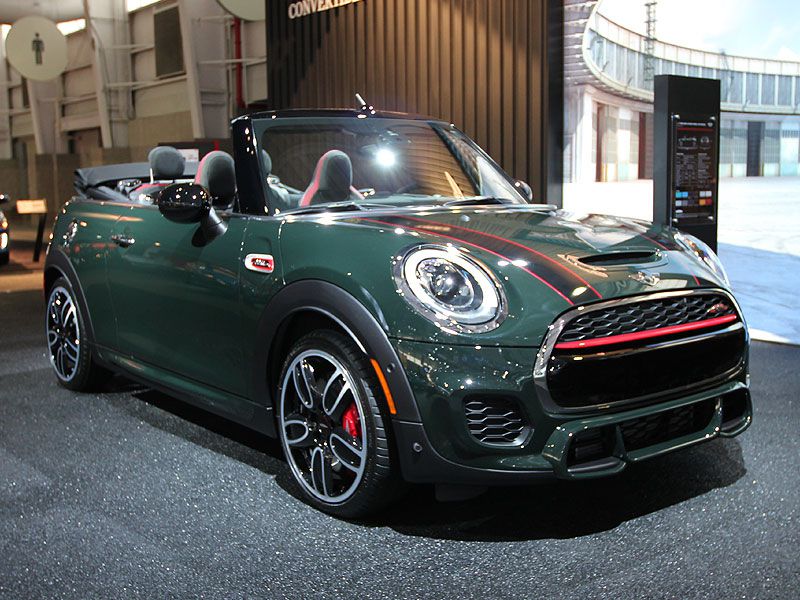 2017 Jaguar F-Type
The Jaguar F-TYPE is one of the most beautiful, sexy, and attractive sports cars on the market, so why wouldn't you want to drive it on an epic road trip? It is hard to decide which is better-looking, the coupe or the convertible.
Beyond its looks, the F-Type also offers a dazzling array of engine choices, electronic driving aids, and even all-wheel drive. Inside the Jag delivers the ambiance of a very exclusive British club, all rich leather and well-polished wood, while at the same time offering a touchscreen and other modern features. The top-of-the-line SVR all-wheel-drive model uses a 575-horsepower 5.0-liter V8, which offers enough brute force for all but the most over-the-top enthusiast drivers. If your trip doesn't require quite that much punch, supercharged 340- and 380-horsepower versions of the 3.0-liter V6 that grace the P340, P380, and R-Dynamic models will suit you just fine.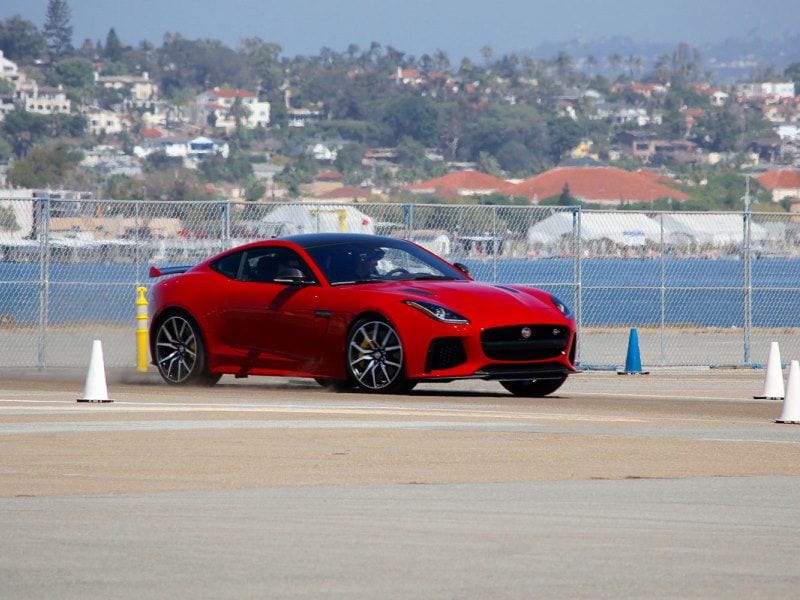 2015 Toyota Avalon
We felt our used cars for road trips should include one big, extremely cost-effective, and reliable sedan, the kind of car the whole crew can get into. And the logical choice is the 2015 (and 2013-14) Toyota Avalon.
Earlier versions of the Avalon were dependable, high-quality vehicles, but their looks were not the stuff dreams were made of. That changed for the better with the redesigned version for the 2013 model year when both interior and exterior were reworked. The Avalon features the 268-horsepower 3.5-liter V6 that is well-regarded for its longevity and more-than-reasonable 24 mpg combined fuel economy. A hybrid version of the Avalon is another excellent choice, and it will kick fuel economy up to a stellar 40 mpg. These days you can probably find a well-kept 2015 Avalon Hybrid for $20,000 or so, which will put more cash in your pocket for that road trip you've been dreaming about.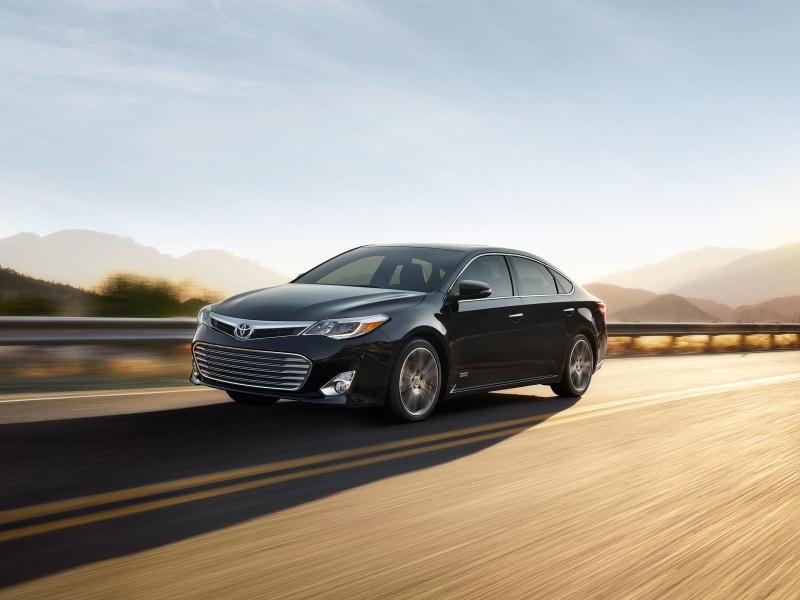 Photo by Toyota