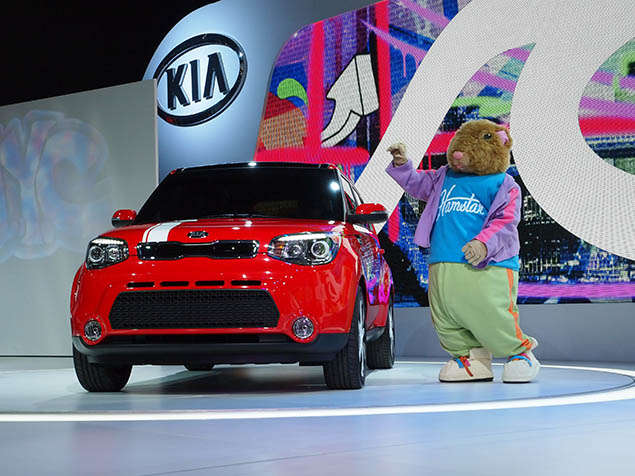 Photo by Megan Green
With more and more automakers introducing sub-subcompact vehicles in this country, the Autobytel honor roll of "10 Best City Cars 2015" marks an important breakthrough: There are finally so many industry options that automakers have to do more than just show up in the segment to earn a spot on the list; the vehicles themselves also have to provide positive benefits for their owners that go beyond merely fitting into city-sized parking spaces.
Now, truth be told, all of our 10 Best City Cars 2015 do showcase some fairly nimble dimensions. However, that's mostly because the debut of two highly touted prospects remains up in the air. The ultra-lux Mercedes-Benz S-Class Maybach and Pullman editions are expected to go on sale next year, with the latter stretching some two feet beyond the length of a Ford F-150 and offering a six-door, limousine-style ownership experience. And while they will put a noticeably different spin on "city" driving, you can be sure both will be among the top urban accessories when they do premiere.
As for the rest of the 10 Best City Cars 2015, they include the following:
10 Best City Cars 2015: Smart ForTwo/ForFour
One of the icons of the city-car segment, the smart fortwo will make the jump to a next-gen package some time during the next calendar year, leveraging the same platform that rests beneath the Euro-only Renault Twingo. The result should be a major upgrade in refinement for the Smart family, which is scheduled to add a new five-door ForFour model next year as well. Needless to say, specs for those models have yet to be released, although it's a safe bet that the cars won't grow much beyond the 106.1 inches of the current ForTwo.
Speaking of which, today's edition—in coupe and cabriolet configurations—still remains a surprisingly effective choice as one of the 10 Best City Cars 2015: It has a starting point of $13,270, surprisingly roomy seating for two and an EPA line of up to 34 mpg city/38 mpg highway/36 mpg combined. It's also worth noting that the smart fortwo is offered in select markets with an all-electric powertrain that provides a 68-mile driving range and a post-incentive net cost as low as $12,490.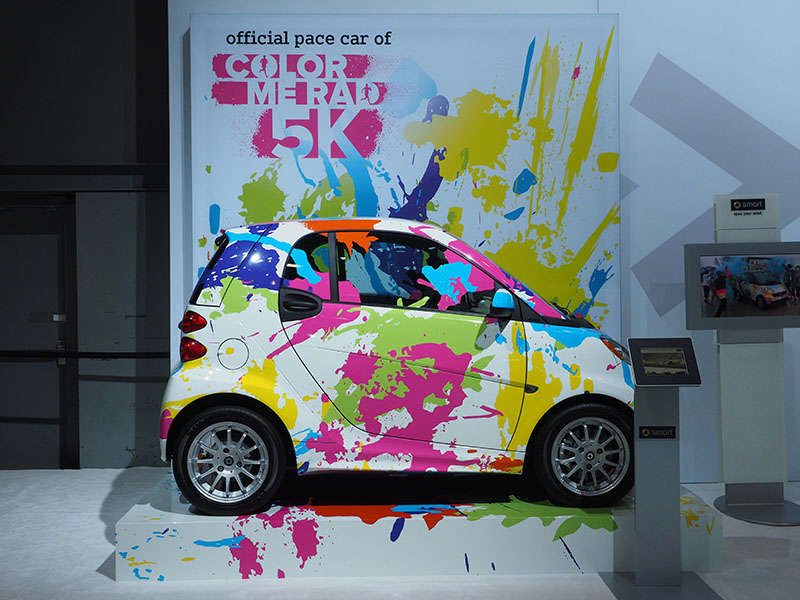 Photo by Megan Green
10 Best City Cars 2015: Scion iQ
The next of the 10 Best City Cars 2015—the Scion iQ—is sort of like a Smart ForTwo writ large(r). It offers the same kind of over-tall proportions as the latter, but leverages an extra 14 inches in length to make room for two more passengers. Like all Scions, the iQ delivers a notable emphasis on style, complemented by a standard six-speaker display audio system from Pioneer and
11 standard airbags. Also, like most of the 10 Best City Cars of 2015, the Scion can turn up some very strong fuel-economy numbers, especially in city and combined driving. In fact, the EPA grades for the Scion are even better than for the current Smart car, with a standard line of 36 mpg city/37 mpg highway/37 mpg combined.
The 2014 Scion iQ currently is at dealerships priced from $16,420.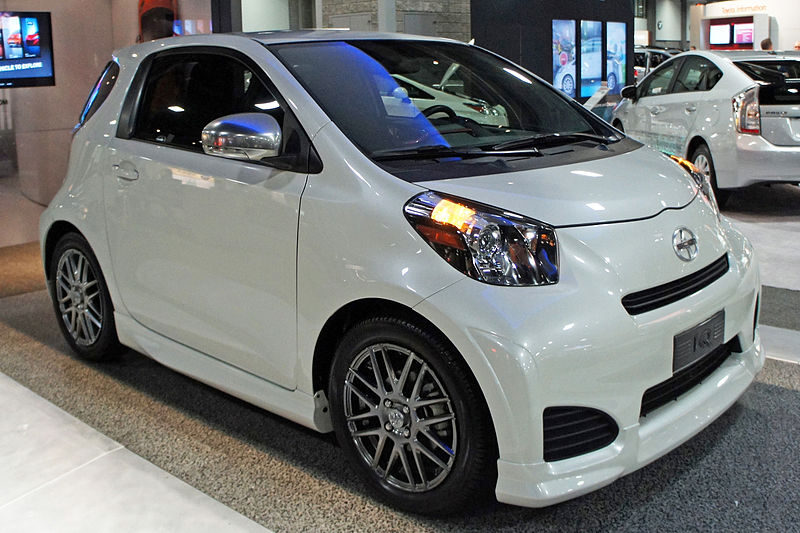 10 Best City Cars 2015: Chevy Spark
When the Spark first debuted in this country, most folks probably didn't foresee it landing on the list of 10 Best City Cars 2015. But now, about five years after it first went on sale, the Spark is the best-selling sub-subcompact in the country and continues to boast plenty of marketplace momentum. Consider: Half-way through the current selling season, the Spark has raised its volume by 26.8 percent on the strength of 22,299 sales. The No. 2 seller—and also a member of the 10 Best City Cars 2015 list—is the Mitsubishi Mirage that has tallied 8,267 first-half deliveries.
Along with a high-content, high-value MSRP of $12,170, the Spark also offers an EV version, with an 82-mile driving range, in a growing but limited number of markets.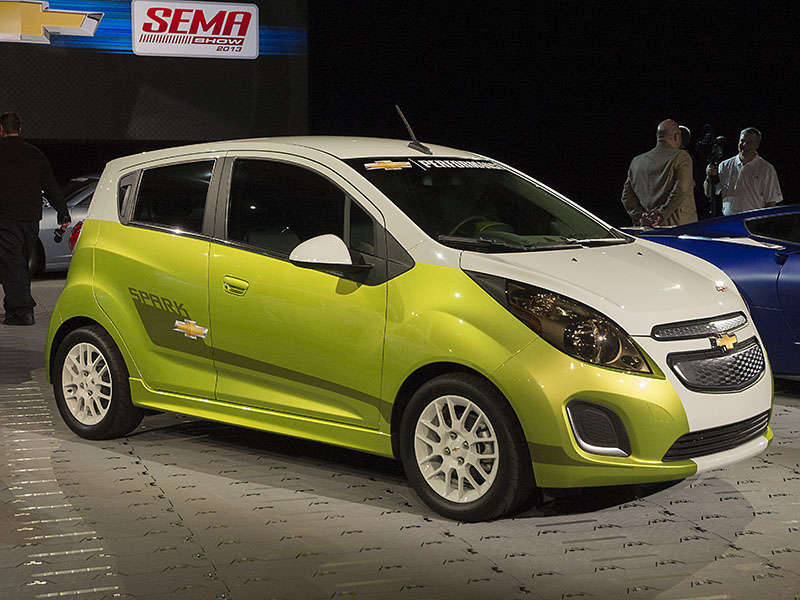 10 Best City Cars 2015: Fiat 500
Uncoincidentally, Fiat also is testing an all-electric powertrain in its entry among the 10 Best City Cars 2015, in the form of the FIAT 500 EV. But more drivers will be attracted by the 500's Italian flair, and particularly its combination of stylish design and peppy performance. As a reminder, not only does the 500 come in both convertible and coupe configurations, it also serves up a choice of two turbocharged engines. The power leader is found in the 500 Abarth, home to a 1.4-liter four-cylinder turbo with MultiAir technology and outputs of 160 hp and 170 lb.-ft. of torque.
On the other hand, even the standard FIAT 500 makes an excellent option as one of the 10 Best City Cars 2015, thanks to fuel-economy grades of up to 31mpg city/40 mpg highway/34 mpg combined, an entry cost of $16,445 and an available BeatsAudio sound system.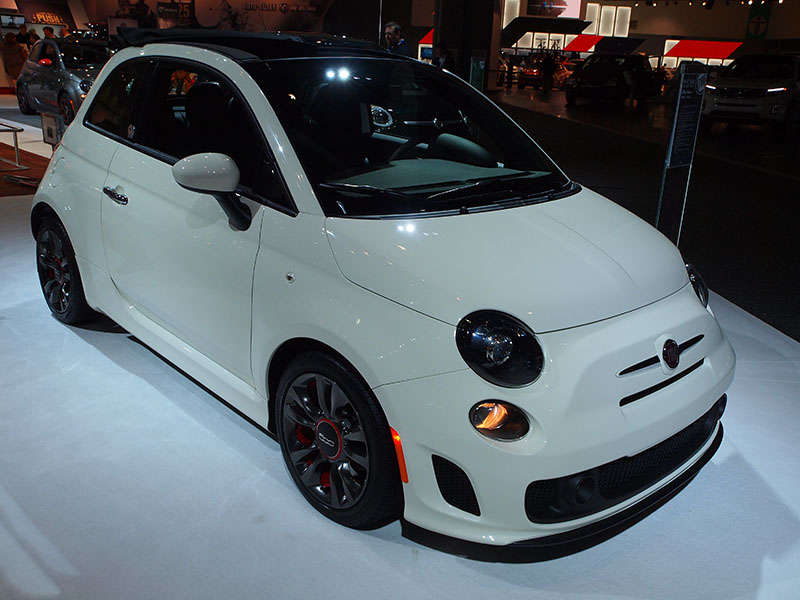 10 Best City Cars 2015: Mitsubishi Mirage
Already a modest hit in its first year on the U.S. market, the Mitsubishi Mirage is the most fuel-efficient, gas-powered, non-hybrid car in the country and has achieved EPA ratings of up to 37 mpg city/44 mpg highway/40 mpg combined. Yet even with that sharp focus on efficiency, and an MSRP that starts at $12,995, the Mirage brings an eminently livable package to our roster of 10 Best City Cars 2015. Standard features include automatic, filtered climate control with rear-seat heat ducts, a leather-wrapped steering wheel and shift knob, Bluetooth for hands-free calling, a multi-function steering wheel, seven airbags and a 140-watt sound system with four speakers and USB port.
Mitsubishi continues to fine-tune the Mirage, too, and deploys new interior chrome trim and a short-pole antenna for the new model year, making it an even better choice as one of the 10 Best City Cars 2015.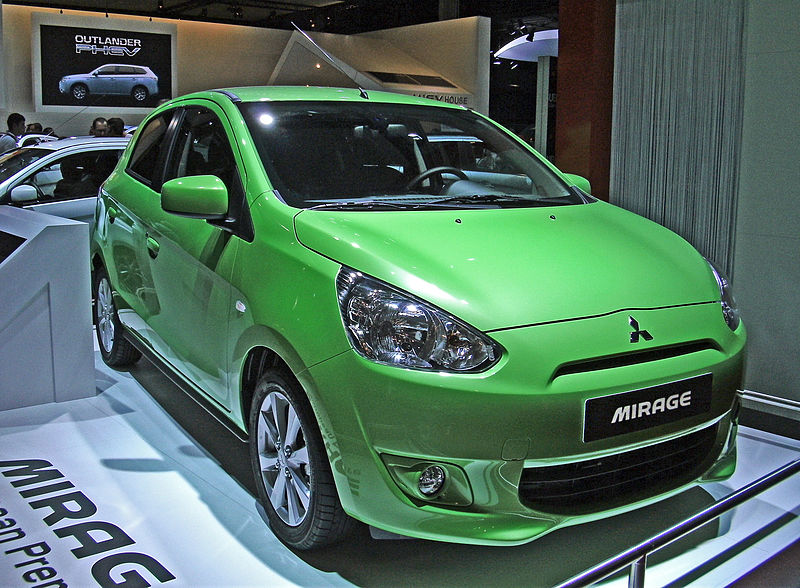 10 Best City Cars 2015: MINI Hardtop
True, the brand-new, next-gen MINI Hardtop is a bit bigger than the previous version, but it still fits into our 10 Best City Cars 2015 list with a length of about 150 inches. Even better, it also welcomes a new four-door model that will enable seating for five and a nice boost in versatility, yet while remaining one of the most fun-to-drive of the 10 Best City Cars 2015. 
Certainly helping matters is an all-turbo powertrain lineup that features a three-cylinder entry engine that complements 134 hp with an EPA line of up to 30 mpg city/42 mpg highway/34 mpg combined (in the Hardtop's two-door body style). For more pop beneath the hood, the available four-cylinder turbo ups the ante to 189 hp, yet still turns up EPA marks of 25 mpg city/38 mpg highway/29 mpg combined.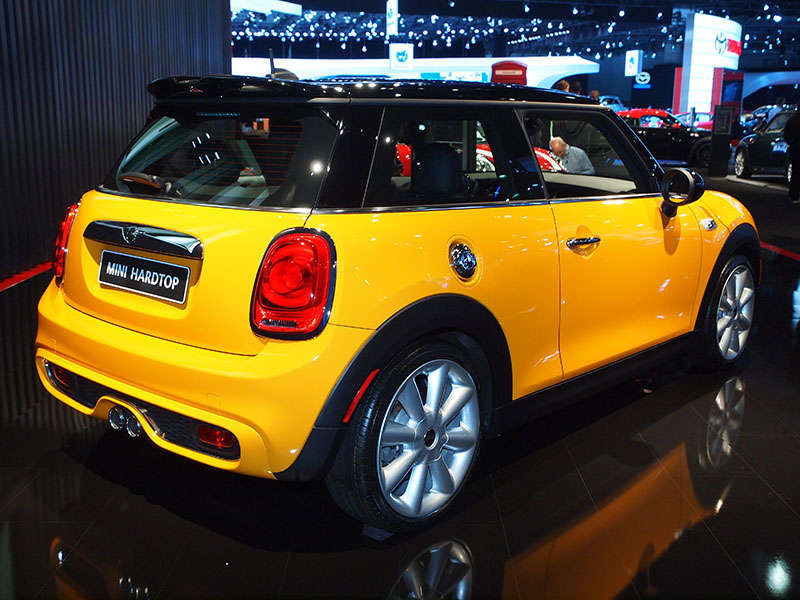 10 Best City Cars 2015: Honda Fit
At 160 inches in length, the all-new 2015 Honda Fit actually is the longest of the 10 Best City Cars 2015, and it makes full use of that space with an incredibly versatile cabin: With rear seats up, occupants enjoy 95.7 cubic feet of passenger volume, and with those back seats folded down, there's almost 53 cubic feet of space for gear—enhanced by the latest Honda Magic Seat cabin-configuration system.
The new Fit also benefits from a thoroughly modernized powertrain that has 130 hp and 114 lb.-ft. of torque on tap, and can break 41 mpg highway in its most efficient setup; and that grade is backed up by a 33 mpg rating in the city and a 36 mpg grade in combined driving.
As a full-on, mainstream subcompact, the Fit also offers one of the widest ranges of infotainment and connectivity features among the Autobytel 10 Best City Cars 2015.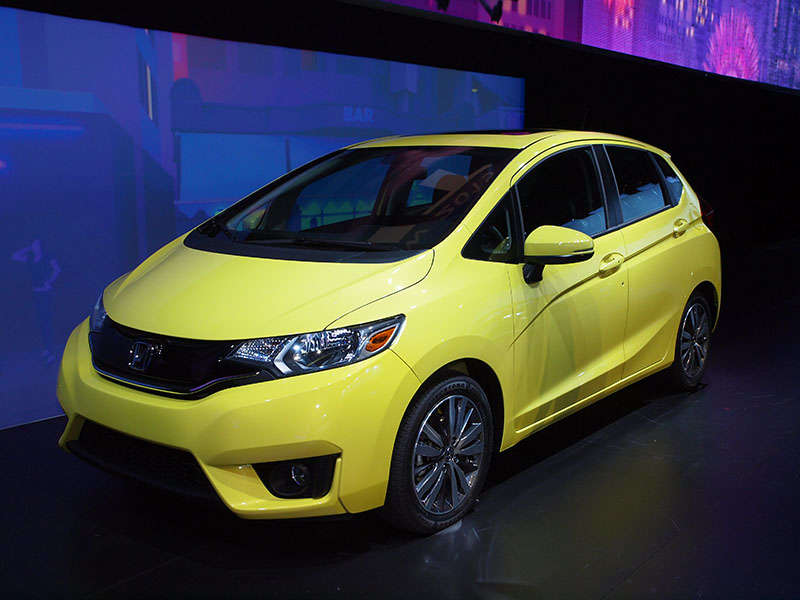 Photo by Megan Green
10 Best City Cars 2015: Toyota Prius c
Leading the 10 Best City Cars 2015 in terms of gas-powered urban fuel economy is the Toyota Prius c, courtesy of a Toyota hybrid system that significantly boosts efficiency over the gas-only Mitsubishi Mirage. The tale of the tape for the most petite of the Prii: 53 mpg city/46 mpg highway/50 mpg combined.
Currently stickered from $19,080, the Prius c also boasts a wealth of practical standard technologies, including Bluetooth for hands-free calling and audio streaming, and can be optioned up with a full Toyota Entune connectivity/infotainment system that features navigation with a 6.1-inch touchscreen. Throw in seating for five and a length of just 157.3 inches, and it's easy to see why the c is part of the 10 Best City Cars 2015 roster.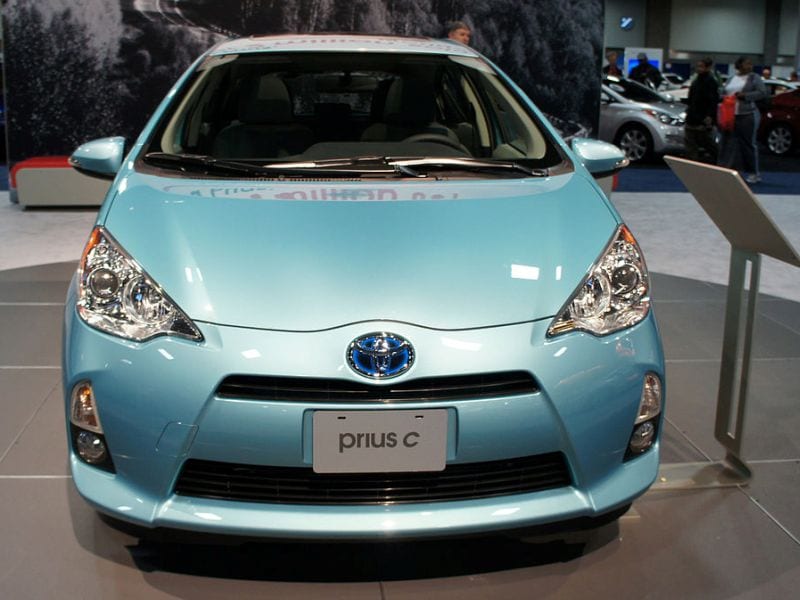 10 Best City Cars 2015: Nissan LEAF
The only dedicated, all-electric choice on the Autobytel honor roll of 10 Best City Cars 2015 is the Nissan LEAF, and with good reason: The EPA has certified the LEAF as able to deliver 84 miles of electric-only driving on a single charge, with travel coming at rates of 126 MPGe city/101 MPGe highway/114 MPGe combined.
Importantly, Nissan also is supporting EV drivers with a two-pronged effort to make charging easier and more convenient. The first step was the launch of the "No Charge to Charge" program, which provides complimentary charging at more than 2,600 public stations in 10 major U.S. markets, and will expand to at least 15 more markets next year. Further, Nissan has committed to installing 500 more public-charging outlets, both at dealerships and with business/municipal partners, in the coming months.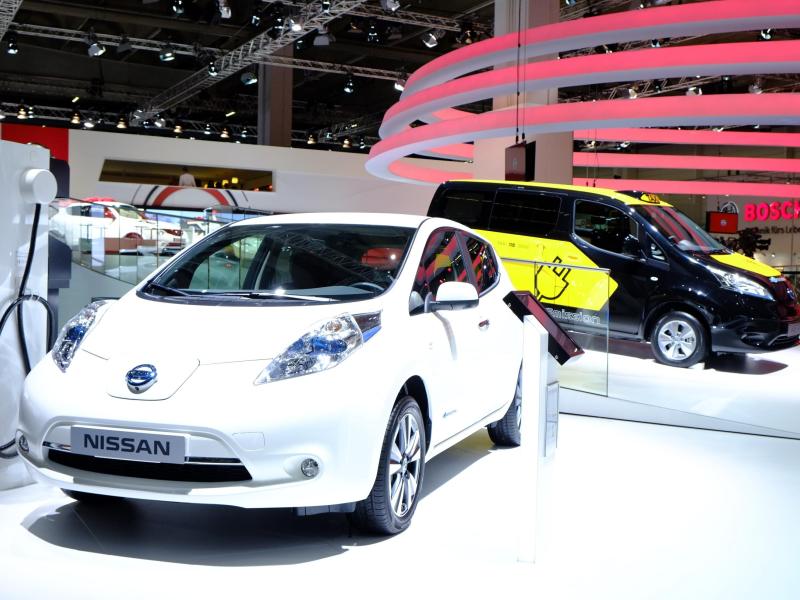 Photo by Nissan USA
10 Best City Cars 2015: Kia Soul
Simply put, no list of the 10 Best City Cars 2015 would be complete without Kia's "urban utility vehicle," now in its second generation and a recent segment winner in both the AutoPacific Vehicle Satisfaction Awards and the Strategic Vision Total Quality Index.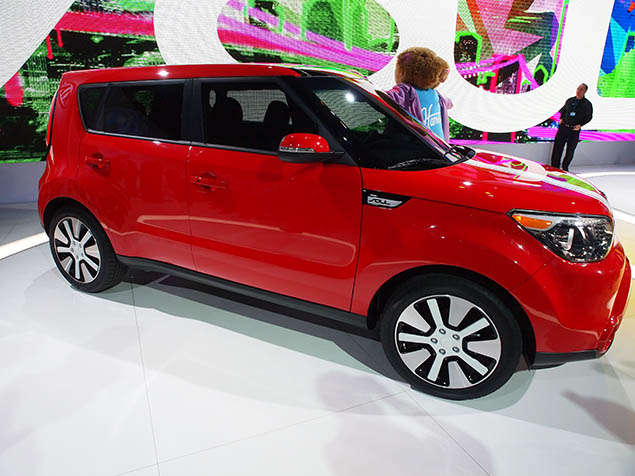 Photo by Megan Green