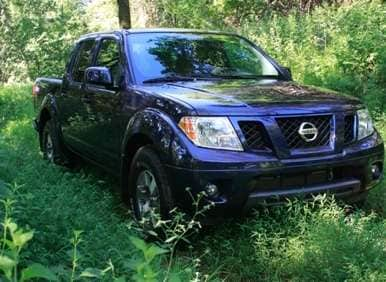 More pickup trucks are sold in America than any other type of vehicle. Rugged, versatile, and built to withstand abuse, pickups inspire fierce brand loyalty, and their owners use their trucks to project an image in same way that BMW, Mercedes-Benz and Porsche buyers do. Plus, they can go places and do things that other vehicles can't.
On the pages that follow, Autobytel takes a look at the five best 4x4 trucks of 2012. Nearly every pickup on the market is available in a trim level or with a specific package that upgrades the truck's off-road capabilities, but we've chosen the five models that we think qualify as the best 4WD trucks for 2012. These are the trucks that can get the job done during the week, venture over terrain that rear-drive pickups can't, and then look good all washed up and cruising Main Street on the weekend. Now, without further delay, we present our favorites among 2012 4x4 trucks.
Best 4x4/4WD Trucks for 2012: Ford F-150 SVT Raptor
You could see this one coming from a mile away. The 2012 Ford F-150 SVT Raptor is a product of Ford's Special Vehicle Team, which historically has served as an in-house tuner of Mustangs and, briefly, the Contour and Focus. With the Raptor, easily one of the best 4WD trucks of 2012, if not in history, the folks from SVT have created a factory Baja truck.
The F-150 SVT Raptor starts life as an F-150 SuperCab or SuperCrew model, and then gets an extreme makeover. Flared fenders add seven inches of width, and are stuffed full of 17-inch Euro-flange aluminum wheels wrapped in 35-inch mud-and-snow all-terrain tires. The front suspension is modified for additional travel, Fox Racing Shox are installed, and a Torsen limited-slip front differential is added. Full skid plates, Hill Descent Control, and a special Off-Road driving mode are also a part of the SVT Raptor package
Visually, the truck is set apart by unique front styling with functional air extractors and orange marker lamps, blacked-out trim, two-tone leather seats, and a steering wheel equipped with a bright orange centering stripe to help the driver keep the truck pointed in the right direction when blasting over moonscape surfaces. A standard 6.2-liter V8 makes 411 horsepower, and gets 11 mpg in the city/14 mpg on the highway.
Obviously, given the SVT Raptor's spec sheet, this truck qualifies as one of the best 4x4 trucks of 2012.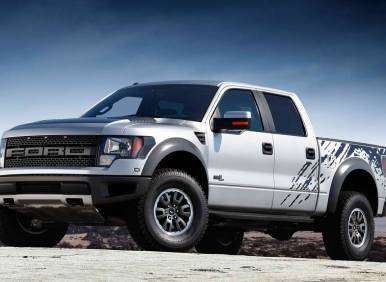 Best 4x4/4WD Trucks for 2012: GMC Sierra 1500 All-Terrain Z71
Chevy fans might be wondering why we're not talking about the Silverado Z71. The answer is simple. We prefer the look of the GMC Sierra, which is available with an All-Terrain Package that includes the same off-roading Z71 suspension components as the Silverado. Because different styling is the only thing that distinguishes the Chevy from the GMC, consider both trucks covered by this selection.
The All-Terrain Package can be added to Sierra Extended and Crew Cab models with SLE or SLT trim and a 5.3-liter or 6.2-liter V8 engine. It includes a Z71 off-road suspension with Rancho Tenneco shocks, a skid plate package, an automatic locking rear differential, and a heavy-duty trailering package. Oddly, the unique chrome 18-inch wheels come with on/off-road tires rather than all-terrain tires, and the latter aren't available, according to the GMC website.
This version of the Sierra is set apart from other models with a unique four-bar grille insert, fog lights, special door sill trim, a Z71 logo on the instrument cluster, brushed aluminum cabin trim, and an "All-Terrain" emblem.
Granted, among 2012 4x4 trucks, the Sierra All-Terrain Z71 takes a less aggressive approach than some, but for now, the is the most serious rock-hopper General Motors offers.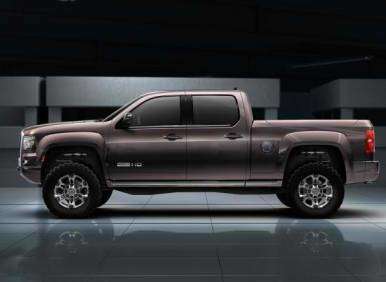 Best 4x4/4WD Trucks for 2012: Nissan Frontier PRO-4X
The small pickup market is much smaller than it used to be. Today, compact truck buyers can choose between the Chevy Colorado/GMC Canyon twins, the Nissan Frontier/Suzuki Equator twins, and the Toyota Tacoma. One of our favorites from this group, and in our opinion one of the best 4x4 trucks for 2012, is the Nissan Frontier PRO-4X.
Available in King Cab or Crew Cab body styles, the Frontier PRO-4X is equipped with skid plates, a locking rear differential, and Bilstein off-road shocks. Visual enhancements include body-color exterior trim, fog lights, a spray-in bedliner, and Nissan's Utili-track adjustable bed tie-down cleats. Inside, the PRO-4X has a leather-wrapped steering wheel, sporty white-faced gauges, and special seat cloth. This truck is also well equipped with a Rockford Fosgate premium sound system, Bluetooth, an eight-way adjustable driver's seat, and more.
Thanks to its 4.0-liter V6 engine, which cranks out 261 horsepower and 281 lb-ft. of torque, the Frontier PRO-4X is one gutsy little truck, and we wouldn't hesitate to take this Nissan wheeling. In our book, that makes it one of the best 4WD trucks for 2012.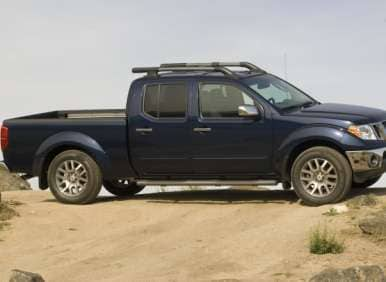 Best 4x4/4WD Trucks for 2012: Ram 2500 Heavy Duty Power Wagon
Remember how Tim Allen used to grunt on that old TV show called "Home Improvement"? That's exactly what you'll want to do every time you clamber aboard a RAM 2500 Heavy Duty Power Wagon, easily one of the best 4x4 trucks of 2012.
In addition to special 17-inch forged and polished aluminum wheels and 33-inch all-terrain tires, this Ram 2500 is equipped with a manual two-speed transfer case, skid plates, electronic Tru-Lok front and rear axles, a 4.56 rear axle ratio, a disconnecting front stabilizer bar for greater wheel articulation, Bilstein off-road shocks, greater ground clearance, and a Warn 12,000-lb. winch just in case you ultimately manage to get yourself stuck. Offered only in a Crew Cab, shortbed configuration, the Ram Power Wagon is equipped like the rather basic ST models. The SLT version adds two-tone paint, Power Wagon graphics, chrome exterior trim, and a nicer interior with cloth seats.
One notable complaint we have with this truck is that Power Wagon buyers can't swap the standard Hemi 5.7-liter V8 for a 6.7-liter Cummins turbo-diesel inline six-cylinder engine, good for 350 horsepower and a stump-ripping 650 lb-ft. of torque at 1,500 rpm. Bummer.
Nevertheless, we still love the Power Wagon, one of the best 4WD trucks for 2012.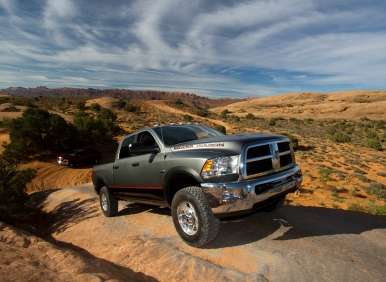 Best 4x4/4WD Trucks for 2012: Toyota Tacoma T/X
Toyota fans know that the Tacoma is offered is a wide variety of styles and trim levels, ranging from a bare-bones basic regular cab model with 2WD or a performance-tuned X-Runner Access Cab to a rugged looking Pre-Runner or this, one of the best 4x4 trucks of 2012, the Tacoma T/X.
To create the Tacoma T/X, Toyota starts with an Access Cab or Double Cab model equipped with four-wheel drive and the Toyota Racing Development (TRD) Off-Road Package. This model includes an off-road suspension with Bilstein shocks, a locking rear differential, an engine skid plate, Active Traction Control, and on versions with an automatic transmission, Hill Start Assist Control and Downhill Assist Control. This model also gets 16-inch aluminum wheels, fog lights, body-colored trim, sport front bucket seats, metallic cabin accents, and TRD Off-Road graphics on the bed.
Next, the T/X treatment adds unique beadlock wheels, BFGoodrich Rugged Trail tires, black side step rails, and a stainless steel exhaust tip. The T/X Pro model takes things a step further with a sport exhaust system and special graphics, helping to ensure this Tacoma's position on our list of the best 4WD trucks of 2012.