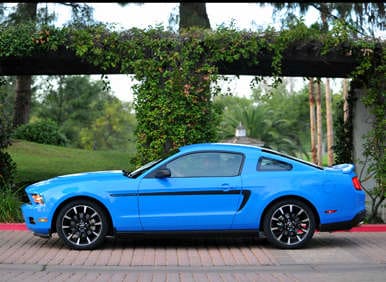 When we think of sports cars, we think of cars that are designed for performance and which are a blast to drive. Such a broad interpretation of the term "sports car" opens doors of possibility that narrower definitions can't, and in reviewing the roster of 2012 models in a quest to discover the most affordable sports cars of 2012, we discovered that many fun-to-drive vehicles don't fit the traditional ideal of a sports car. So please, dear reader, keep an open mind. We promise, based on our own seat time, that these are the best affordable sports cars for 2012.
Now that your expectations are properly set, we'll tell you that each of the selections on this list carries a base sticker price of less than $24,000 (prices do not include destination charge). All except one have a back seat, but only one could serve double-duty as a family car. There are no V8 engines in this group of affordable sports cars for 2012, but there are two models with rear-wheel drive, three cars with turbochargers, and all of 'em can be equipped with a manual transmission.
Curious yet? On the pages that follow, we list the most affordable sports car of 2012 in reverse order, starting with the most expensive of the quintet.
Affordable Sports Cars 2012: Volkswagen GTI
The Volkswagen GTI is the original pocket rocket, the first hot hatch, a performance-tuned VW Golf that's been available in the U.S. since 1983. Today's model wears a base sticker price of $23,995, and though it's the largest and most sophisticated GTI ever, it's also a terrific car to drive.
Credit the turbocharged, 2.0-liter four-cylinder engine for a big chunk of the fun to be had while piloting this practical and affordable sports car. With 200 horsepower available between 5,100 and 6,000 rpm and 207 lb-ft. of torque on tap all the way from 1,700 to 5,000 rpm, the 3,034-lb. GTI feels much stronger than the numbers would suggest. Peak power figures are essentially available from shortly after launch all the way to redline.
Combine this engine with a six-speed manual or Direct Shift Gearbox automated manual transmission, a performance-tuned four-wheel-independent suspension, 18-inch wheels with sticky tires, sport-calibrated steering, and a driver's seat with stiff side bolsters and jaunty plaid upholstery, and you've got an entertaining and affordable sports car.
The GTI is practical, too, with room for up to five passengers, as much as 46 cu-ft. of cargo with the rear seat folded down, and a highway fuel economy rating of 31 mpg. Volkswagen also tosses in a Carefree Maintenance plan for the first three years or 36,000 miles of ownership.
Affordable Sports Cars 2012: Mazda MX-5 Miata
The Mazda MX-5 Miata is more than just a genuine sports car – it is the genuine sports car. A two-seat roadster with a manual folding roof or a power retractable hardtop, the Miata is small, light, and driven by its rear wheels.
The Miata's 167-horsepower, 2.0-liter four-cylinder engine doesn't sound like much of a good time, but with just 2,447 pounds to motivate, it's got plenty of zoot. Just do yourself a favor and stick with the short-throw manual gearbox, because the automatic adds 62 lbs. and robs the engine of nine ponies.
Straight-line acceleration is not what the Mazda MX-5 is about. This is a car designed to tackle twisty roads, as evidenced by its 52/48 front-to-rear weight distribution. Upgrade to the Touring or Grand Touring trim levels, and the gearbox features six forward gears rather than five, as well as 17-inch aluminum wheels and a front strut tower brace. A Suspension Package adds sport-tuned underpinnings and a limited-slip rear differential.
Miata prices start at $23,470, less than the next cheapest roadster on the market, the 121-horsepower, front-wheel-drive MINI Cooper Roadster at $25,550. That means that in addition to being a genuine sports car, the Miata is among the most affordable sports cars for 2012.
Affordable Sports Cars 2012: Mini Cooper S
Speaking of Mini Coopers, the four-seat MINI Cooper S Hardtop makes our cut thanks to its turbocharged, 181-horsepower, 1.6-liter four-cylinder engine, fed by a functional hood scoop and delivering power to the front wheels through a six-speed manual gearbox.
Like many turbocharged engines, the Cooper's develops peak torque across a broad rev range, in this case making 177 lb-ft. of twist from 1,600 rpm to 5,000 rpm. It even includes an Overboost feature that automatically generates an extra 15 lb-ft. for short periods of time. Mini also claims that the Cooper S is quicker than the VW GTI or Mazda Miata, getting to 60 mph in 6.6 seconds and capable of a 141-mph top speed.
Prices start at $23,100, making the Mini Cooper S one of the most affordable sports cars for 2012. Mini offers buyers myriad ways to customize a Cooper S. A Sport button is standard, and recalibrates the steering and throttle response for extra entertainment. Key performance upgrades include a sport suspension for what Mini claims will provide "maximum go-kart feeling," a set of Recaro sport seats, and bigger wheels shod with stickier tires.
If that seems like a short list, it is, which means a Cooper S goes fast and has fun right out of the box. If that doesn't qualify it as one of the best affordable sports cars for 2012, we don't know what does.
Affordable Sports Cars 2012: Ford Mustang
Whether or not the Ford Mustang qualifies as a sports car is an ongoing debate. Purists think it's too big and heavy to be a sports car, but then, the 3,447-lb. Mustang is about the same size and weight as a Lamborghini Aventador, at a fraction of the cost. And nobody is claiming that the Lambo isn't a sports car.
Yes, we know we're dangerously close to missing the point, but no matter what you call the Ford Mustang, whether a pony car, a muscle car, or a sports car, one thing is certain: at $22,310, it sure is an affordable sports car.
Equipped with a 305-horsepower, 3.7-liter V6 engine and a six-speed manual transmission, the Mustang accelerates to 60 mph in less than six seconds while returning up to 29 mpg on the highway. The Mustang also handles athletically, thanks to a 54/46 front-to-rear weight distribution; electric steering that provides a Sport mode setting; and an optional Performance Package that includes sport suspension tuning, a strut tower brace, and a set of 19-inch wheels with summer performance tires.
Of course, if you want greater levels of power and performance, the Mustang provides it in the form of the GT, Boss 302, and Shelby GT500. But then again, those are not among the most affordable sports cars of 2012.
Affordable Sports Cars 2012: Fiat 500 Abarth
Wait a second. How can a FIAT 500 land on a list of sports cars? The answer is simple: When it's a Fiat 500 Abarth. And when it's among the best affordable sports cars of 2012.
This diminutive $22,000 hatchback is equipped with a turbocharged 1.4-liter four-cylinder engine cranking 160 horsepower and 170 lb-ft. of torque between 2,500 and 4,000 rpm. A five-speed manual gearbox with Torque Transfer Control puts the power to the front wheels, and Fiat says the 500 Abarth is "track-ready" thanks to performance-oriented suspension and braking components.
Though it weighs just 2,512 pounds, the 500 Abarth's weight distribution is nose-heavy, with 64 percent located over the front end. It is best, then, to upgrade from the standard 16-inch wheels to the 17s, which are wrapped in 205/40 Pirelli P Zero summer rubber.
That said, we've had the good fortune to enjoy a romp on the track at Nevada's Spring Mountain Motorsports raceway while behind the wheel of a 500 Abarth, and this car is a really good time, even without Catrinel Menghia riding shotgun.