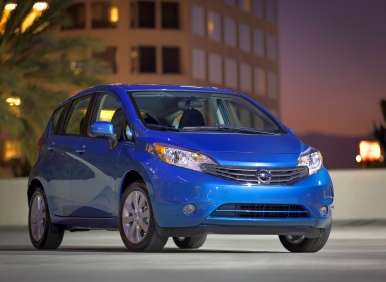 Nissan (including Infiniti) was the fastest-growing mainstream automaker in the country in April, transforming last month's 23.2 percent advance into 87,847 sales. The rest of the crew scored as follows:
General Motors—up 11.4 percent, 237,646 sales
Ford Motor Company—up 18 percent, 211,984 sales
Chrysler LLC—up 11 percent, 156,698 sales
Toyota Motor Co.—down 1.1 percent, 176,160 sales
American Honda—up 7.4 percent, 130,999 sales
Hyundai Motor America—up 1.7 percent, 63,315 sales
Kia—up by 6 sales
The Nissan division itself did the heavy lifting here, with 80,003 April sales that marked a 24.6 improvement over April 2012. And it's also worth noting that, when looking at last month's sales by brand, the Nissan division trailed only Ram, Cadillac and Subaru in the rankings. Even better, according to Jose Munoz, senior vice president for Sales and Marketing for Nissan Americas, the brand's success extended beyond the totals, to the retail side of the business, where "our sales rose more than 32 percent."
In the luxury department, Nissan's Infiniti brand lifted sales by 10 percent—outpacing its nemesis, Lexus, by about 7 percent—and delivered 7,844 units last month. Noted Ben Poore, vice president of Infiniti Americas: "April marks the first anniversary of full monthly sales of the Infiniti JX, and customers remain very favorable to its exclusive features such as the world's first back-up collision intervention system.
"In addition, we're pleased that the Infiniti G, with its 328 hp and available intelligent all-wheel drive, continues to be one of the most popular sports sedans in America."
As for the Nissan division's April winners, they're detailed below.
April Auto Sales: Nissan Brand Sets the Pace
The Nissan brand alone saw eight vehicles garner sales jumps north of 24 percent:
The high-volume Nissan Altima midsize sedan was up 35.4 percent on 21,991 sales, although it trailed the Ford Fusion by about 4,700 units and was well behind the Toyota Camry and Honda Accord.
The next-gen Nissan Sentra compact, completely redesigned for the new selling season, was the beneficiary of a 44.9 percent sales jump—on the strength of 10,734 sales.
The record-setting Nissan Rogue had its best April sales performance ever, with 11,904 deliveries and a 39 percent jump in volume.
The Nissan Pathfinder welcomed a massive 214.7 percent growth spike and 6,473 sales, thanks to a complete redesign for 2013.
Again outselling the Chevy Volt, the all-electric Nissan LEAF reveled in a 423.5 percent sales leap to deliver 1,937 units.
The Nissan Frontier saw a sudden surge of interest last month, when it delivered 5,155 units and reaped a 24.3 growth rate.
Buoyed by an industry-wide spike in demand for body-on-frame vehicles, the Nissan Xterra's 1,982 sales were ahead of last year's April mark by 79.5 percent.
Commercial customers drove Nissan NV deliveries up by 73.5 percent, although that reflected a modest 892 sales.
Moving forward, according to Munoz: "We expect to have gained market share in April due to our strong retail performance, which we have full intention to continue through the summer months given the building momentum that we are seeing with Altima, Sentra and Pathfinder in particular."