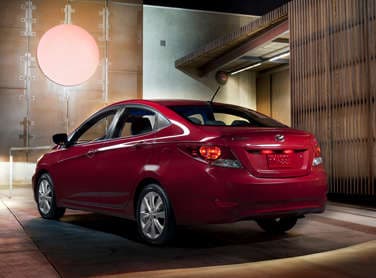 The 2012 Hyundai Accent debuted last month, and although it didn't help its nameplate's performance much—overall Accent sales were still down 21.7 percent—it does complete an important Hyundai hat trick. Now that that car has gotten its complete makeover, customers now have access to fresh Hyundai goodness in all three of today's key car segments, with the Accent in the subcompact class, the Hyundai Elantra in the compact category and the Hyundai Sonata among the mid-sizers. On paper, that's no doubt an impressive lineup; in the real world, however, we continue to see signs that Hyundai may be approaching its sales ceiling
I know that may be hard to believe when you consider that Hyundai just set a record for both June and first-half sales, but let's take a look at the numbers.
Page 2
Hyundai's Slowing Pace of Growth
Even with fuel prices easing recently, demand for compacts has remained at historically high levels in past months, and this trend continued in June, assisted by the fact that competition in this segment is likewise at historically high levels. In addition to the Elantra, the Honda Civic, Chevrolet Cruze, Ford Focus and Volkswagen Jetta are all essentially brand new, with the domestics getting significant quality upgrades, the Jetta receiving a big bump in affordability and the Civic maintaining the status quo—which means providing the same kind of package that has made the car one of the best-selling vehicles in the U.S. for years.
But in June, because of the disasters in Japan, limited Civic supplies limited Civic sales to 17,845 units, representing a 36.5 percent decline. At the same time and for the same reason, sales of the Toyota Corolla drifted southward by 17 percent. And the same problems also curtailed the performance of cars from smaller Japanese brands that could have picked up the slack, like the Mazda Mazda3. With overall demand for small cars surging, but supplies from Japan strictly limited, you might think Hyundai would be in an excellent position to conquest customers.
That really wasn't the case, though. Consider: In May, Volkswagen sold 13,713 Jetta sedans, 71.3 percent more than the same month in 2010; then VW followed this up by selling 14,513 units in June, for a 120.9 percent jump. At Chevy, the Cruze went from recording 22,711 deliveries in May—a 40 percent gain over the Cobalt—to 24,896 sales and a 145 percent leap ahead in June. The Focus saw volume slip from 22,303 sales in May to 21,385 in June, yet that still represented some progress because its rate of growth went from 31.7 percent in May to 41.2 percent last month.
The Elantra lost only 14 units of volume on a May-to-June month-to-month comparison, finding 19,992 sales in June, but its growth rate fell from 104.5 percent to 49.3 percent.
In other words, despite facing the weakest competition it's likely to see for some time, the Elantra wasn't able to take advantage of the situation for any kind of serious sales boost. And I don't think this can be attributed to Hyundai's production constraints, either. Past results clearly indicate the Elantra is capable of 21,000-22,000 sales per month, and with Hyundai selling about half that number earlier in the year, dealerships should have had plenty of inventory last month.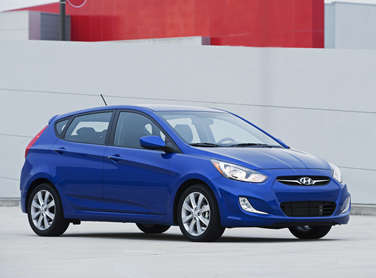 The Sonata at a Slower Tempo
The same basic story seems to be unfolding among the mid-size sedans. This segment isn't growing as quickly as the compacts, and the players are all noticeably older, but the Sonata still didn't gain the kind of ground in June that would lead me to believe Hyundai had any inherent advantage against the more established automakers.
There weren't any month-over-month standouts in the mid-size segment, but the Ford Fusion did notch its sixth straight monthly volume record and the Chevy Malibu is marking a bit of a revival as well. But with sales of the Toyota Camry plunging 24.8 percent and the Honda Accord off by 37 percent, there were a lot of mid-size customers up for grabs in June. It's just that the Sonata only found 18,644 of them, representing a meager 5 percent increase. Again, the ability to garner some 19,000 units of monthly volume shouldn't be discounted; it's just that the inability to outsell the Nissan Altima during the current market conditions makes me wonder how much more growth—if any—Hyundai can expect when the market returns to normal.
Interestingly, Hyundai's crossovers did make some gains in June, with sales of the Hyundai Santa Fe, Hyundai Tucson and Hyundai Veracruz combining for 13,369 sales (up 15.5 percent), as compared with the threesome's mark of 11,775 in May (up 5.2 percent). The crossover segments have been tough for the automaker to crack—which is a huge weakness in the U.S. marketplace—and it's interesting to note that these three vehicles are also now the oldest in the Hyundai lineup.
And that's probably going to have to change before Hyundai takes its next step forward.