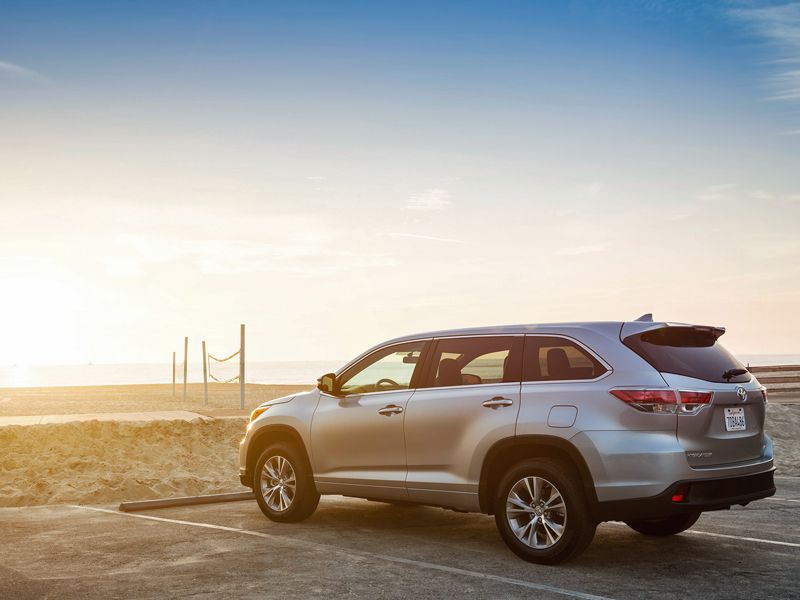 2016 Toyota Highlander ・ Photo by Toyota
Car buyers cite reliability as one of the most important factors that they consider when they're deciding which new model to purchase. For a long time now, SUVs have proven themselves to be among the most popular vehicles on the market. Naturally, then, we thought it would be a great idea to help you identify the most dependable SUVs for the 2016 model year.
To determine which SUVs are likely to provide trouble-free service, we cross-referenced ratings from both Consumer Reports and J.D. Power, the two most trusted and respected research companies for such information. Each of the vehicles included on this list earns high dependability and reliability ratings from both organizations, inferring consensus across a broad cross-section of the people who own them.
On the pages that follow, you will find nine SUVs that have proven to deliver quality, dependability, and reliability over time. They are listed in alphabetical order by make and model. We hope you find this information useful as you search for your next new SUV, and good luck!
2016 Buick Encore
Buick's cheeky little Encore was an unexpected hit when it arrived for the 2013 model year, and since then, the subcompact crossover suv has proven remarkably reliable, earning the highest possible rating from Consumer Reports as well as a dependability award from J.D. Power.
Priced from $25,385, the Encore is suitable for four passengers and carries 18.8 cu.-ft. of cargo behind its rear seat. Maximum capacity measures 48.4 cu.-ft. The turbocharged 1.4-liter 4-cylinder engine gets up to 30 mpg in combined driving, and the Encore receives favorable crash-test ratings.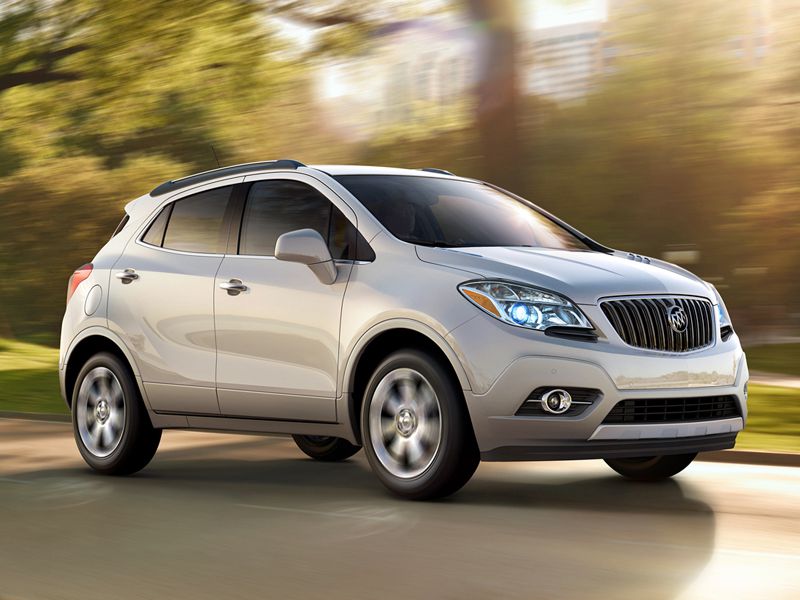 Photo by General Motors
2016 Chevrolet Equinox
Last redesigned for the 2010 model year, the Chevrolet Equinox is a 5-passenger crossover SUV sized between traditional compact and midsize models. Though the Equinox is not top-rated by either of our reliability data sources, it does rank better than average by both of them.
You can park an Equinox in your driveway for as little as $23,495. It seats five people, and holds 31.5 cu.-ft. feet of cargo at the same time. Fold the rear seat down to enjoy 63.7 cu.-ft. of space. A powerful V6 engine is an option, but the standard 4-cylinder delivers the best fuel economy, returning up to 26 mpg in combined driving.
Chevrolet needs to improve this SUV's performance in federal government tests, but the Equinox does receive a "Top Safety Pick" designation from the Insurance Institute for Highway Safety (IIHS).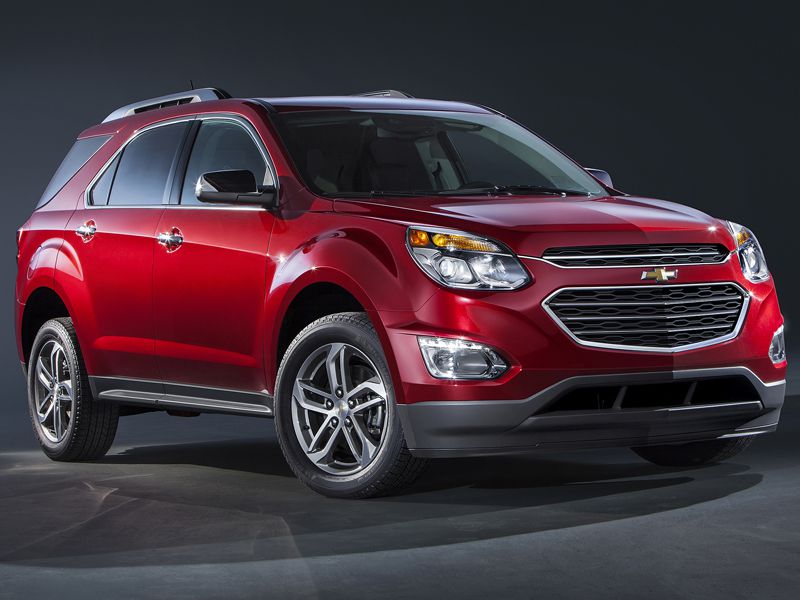 Photo by Chevrolet Media
2016 Lexus GX
A rugged, traditional SUV that shares its platform with the Toyota 4Runner, the Lexus GX is made to go places few other SUVs can. According to Consumer Reports, it is a top-rated model for dependability, and received an award from J.D. Power in this regard.
Serving as a mid-level luxury suv, it comes as no surprise to learn that the 7-passenger Lexus GX starts at nearly $52,000. A standard V8 engine, standard 4-wheel drive, and lots of weight produce a fuel economy rating of 17 mpg in combined driving. Maximum cargo space is tight for this size of vehicle, at 64.7 cu.-ft., and the Lexus GX hasn't been subjected to crash testing.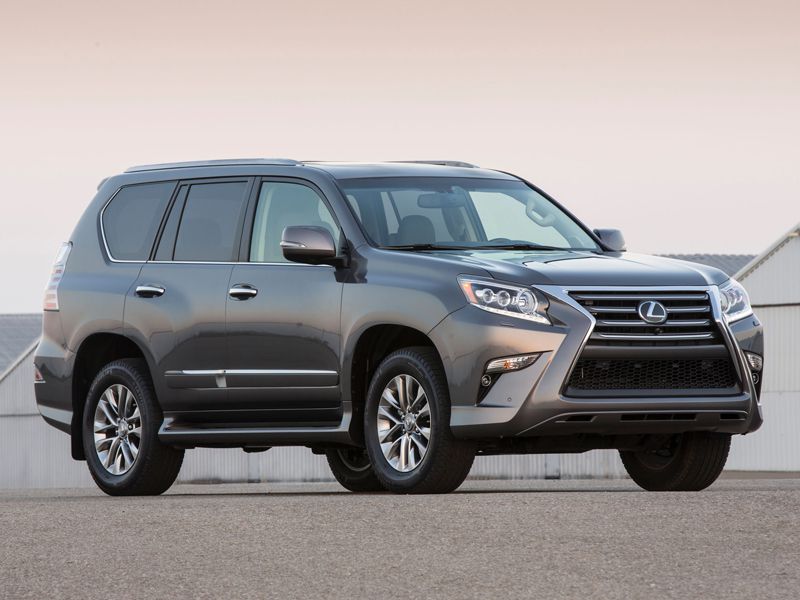 Photo by Lexus
2016 Lexus RX
You're looking at the most popular luxury vehicle in America: the Lexus RX. Completely redesigned for the 2016 model year, the latest RX aims to deliver more excitement, both in the way it looks and in the way it drives, while continuing to supply the dependability for which this crossover SUV is known.
For now, the RX seats a maximum of five passengers, and holds 18.4 cu.-ft. of cargo behind its rear seat. Maximum capacity measures 56.3 cu.-ft. Get the hybrid model for a combined fuel economy rating of 30 mpg. Choose the popular RX 350, and this SUV will get up to 23 mpg.
A "Top Safety Pick+" rating from the IIHS provides confidence, and the RX is priced from $42,850.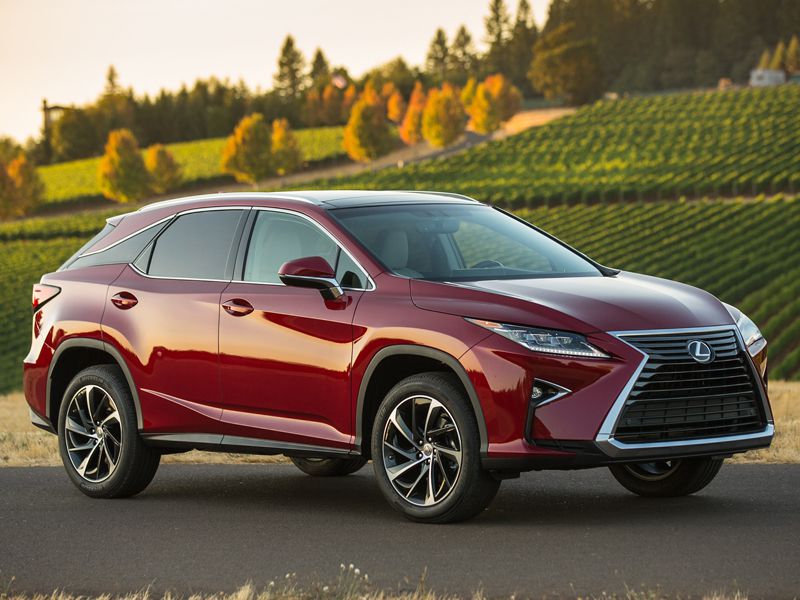 Photo by Lexus Media
2016 Nissan Murano
Nissan's midsize, 5-passenger, crossover SUV is a little wild-looking, but it has always been that way, ever since its original debut in 2003. The Murano has also consistently proven itself to be reliable, earning top ratings from Consumer Reports and an award from J.D. Power.
Pricing begins at $30,560, and a Murano with all of the extras still costs less than a basic Lexus RX. The trunk holds 32.1 cu.-ft. of cargo, and when the rear seat is folded down, a Murano swallows 67 cu.-ft. of whatever you need to carry. Maximum fuel economy measures 24 mpg, and the Murano earns a "Top Safety Pick+" rating from the IIHS.
Speaking from personal experience, my wife's 2005 Murano has rarely required anything more than routine service over more than a decade and 75,000 miles of driving. This has proven to be an incredibly dependable vehicle for my own family.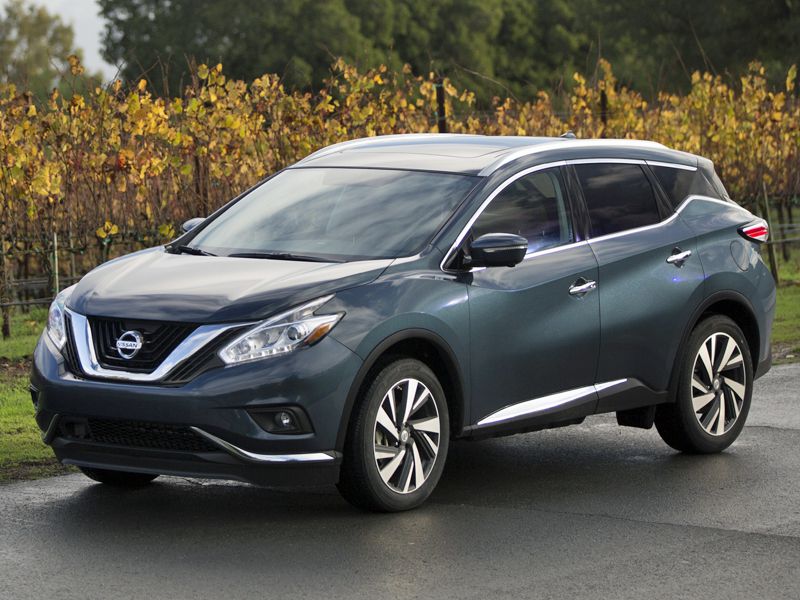 Photo by Nissan USA
2016 Porsche Cayenne
German vehicles might be expensive to maintain, but the good news is that their reliability has greatly improved during the past decade. Case in point: the 2016 Porsche Cayenne. It doesn't rank at the top of the luxury SUV class, but owners give this truly sporty utility vehicle high marks when surveyed by both of our sources for dependability ratings.
You will need a minimum of $60,650 to buy a Cayenne, and you should prepare to spend more, because everything you likely want is an option. The base V6 engine returns 21 mpg in combined driving, and Porsche offers more efficient diesel and hybrid powertrains as well as thirstier and more powerful engine options.
Never crash-tested, the 5-passenger Cayenne carries 23.6 cu.-ft. of cargo behind its rear seat and as much as 62.8 cu.-ft. with the rear seat folded. So then, it is almost as good at hauling cargo as it is at hauling… well, you know.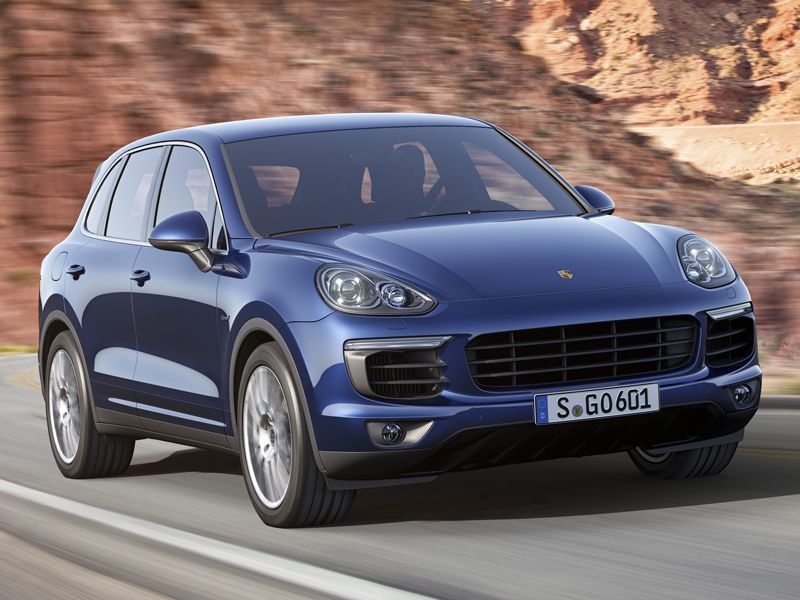 Photo by Porsche Cars North America
2016 Toyota 4Runner
Built to go places and to do things that most other SUVs can't, the 4Runner is a traditional sport/utility vehicle, one made for serious off-roading in addition to suburban kid shuttling. Good thing that this Toyota holds up well, then, earning high marks for its dependability and reliability.
The least expensive 4Runner costs $34,555. You can add a third-row seat to a 4Runner, bringing capacity to seven people. Really, though, this SUV is best with no more than five occupants and 46.3 cu.-ft. of cargo. Kick some people out, fold the seats, and a 4Runner can tackle 88.8 cu.-ft. of carry-on luggage, more than any other vehicle on this list.
Fuel economy isn't great, topping out at 19 mpg in combined driving, and between a couple of mediocre crash-test results and a 3-star rollover resistance rating, you're definitely going to want to avoid collisions or sudden moves while driving. But there's no denying that a 4Runner is dependable.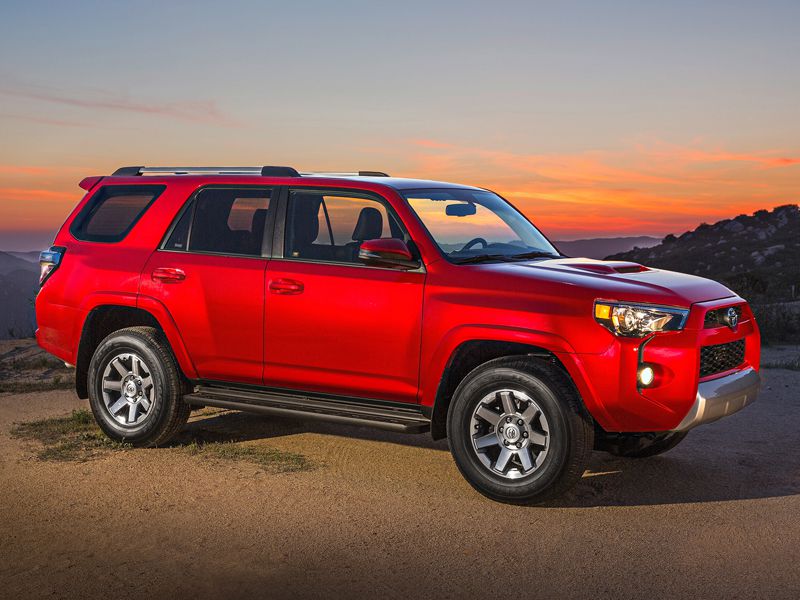 Photo by Toyota
2016 Toyota Highlander
The only family-sized, 3-row, crossover SUV to make our list of the most dependable SUVs, the Toyota Highlander ranks highly for reliability with both J.D. Power and Consumer Reports. Prices start at $30,890.
This year, the Highlander's crash-test rating is also improved, with the IIHS bestowing upon it a "Top Safety Pick+" rating. Toyota claims the Highlander can seat eight people, but when you've crammed that many bodies aboard, the only happy people will be riding up front.
A Highlander Hybrid model delivers 28 mpg in combined driving. Most people get the V6 engine, which can return as much as 21 mpg. Cargo space measures a scant 13.8 cu.-ft. behind the third-row seat. Fold it to enjoy 42.3 cu.-ft. of volume, while maximum cargo capacity is 83.2 cu.-ft.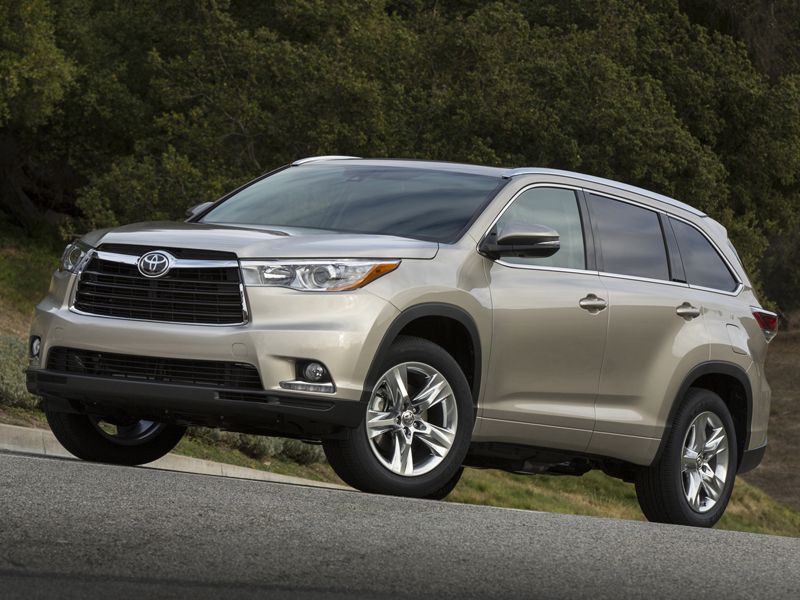 Photo by Toyota
2016 Toyota RAV4
Two decades ago, the original Toyota RAV4 kicked off the whole crossover SUV craze. So, you could say that the automaker has some practice building vehicles like this, which helps to explain the RAV4's high reliability ratings from both of our sources.
For $25,235, you can get a RAV4 LE with front-wheel drive. It seats five people, and carries 38.4 cu.-ft. of junk in its trunk. Fold the rear seat down to access 73.4 cu.-ft., a generous amount for the compact crossover segment. A new RAV4 Hybrid model gets 33 mpg in combined driving, while the standard engine returns up to 26 mpg. The RAV4 rates highly in crash-test assessments, too.
If you're looking for a roomy, efficient, safe, and affordable crossover SUV that will last for a long time, the RAV4 is a good choice.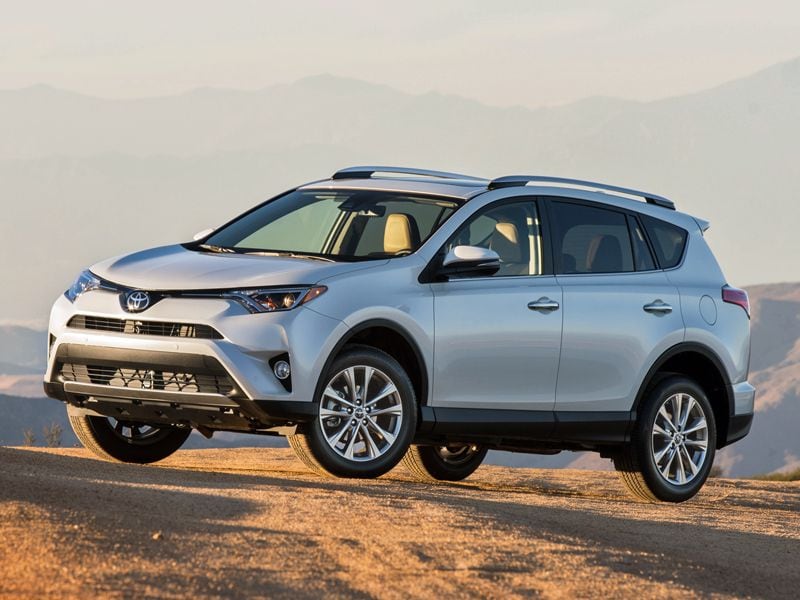 Photo by Toyota