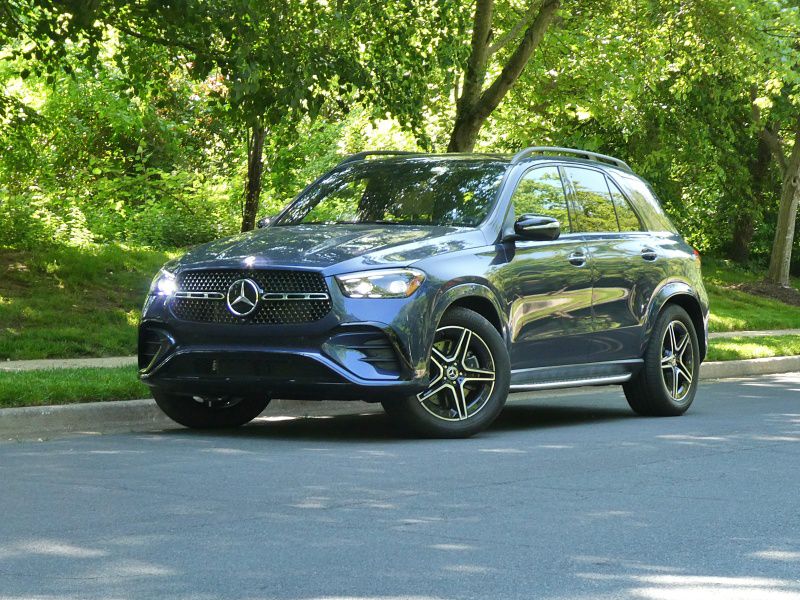 2024 Mercedes-Benz GLE 450 ・ Photo by Brady Holt
In the first quarter of 2023, Mercedes-Benz's American customers bought one model more than any other: the GLE mid-size SUV. Nearly 16,000 people took one home in that quarter alone, more than twice the volume of the German luxury brand's No. 2 best-seller. 
It's easy to understand why. The GLE bakes a familiar Mercedes formula of smooth, effortless power; an elegant yet high-tech interior; and decadent features into a high-riding spacious package. And while it's no value play with a starting price of $62,650, it avoids shooting into the stratosphere where even most Benz customers couldn't reach it. The current GLE generation dates to the 2020 model year, but Mercedes just updated the SUV to keep it fresh. We spent a week testing the midlevel 2024 Mercedes-Benz GLE 450 to see how it stacks up in the mid-size luxury SUV segment. Keep reading as we share its pros and cons to find out if it's the right fit for you.
New Year, New Updates
The updated 2024 GLE-Class wears revised styling inside and out, revises some engines to improve power or fuel economy, and adds a new plug-in hybrid version. Still, you wouldn't be able to see much difference at a glance. 
As before, you get a choice of a conventionally boxy SUV body like our test vehicle or, on performance-focused models, a "coupe" variant whose roof slopes gently down toward the rear end. (Just to be clear, we're not talking about a box like a Mercedes G-Class. The GLE SUV's rear end still swells out gently below the windshield and side windows, nothing like a slab-sided G-Wagon.) The two GLE versions share an upright front end with a big three-pointed star logo at its center. The grille juts out slightly from the confidently boxy headlamps, though Mercedes tweaked a few details on the grille's pattern for this year. There are also different grille styles available to denote various levels of performance versus luxury.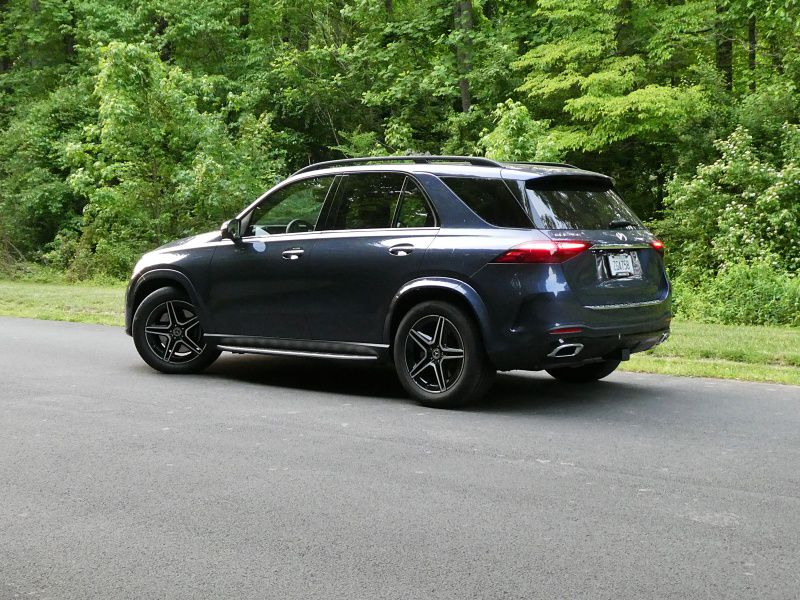 Photo by Brady Holt
Opulent Interior
The GLE's interior marries traditional opulence with a high-tech feel. A 12.3-inch central touchscreen connects to a 12.3-inch reconfigurable digital gauge cluster to create one big screen. This is an increasingly common cue even among mainstream cars, but in the Benz, these screens sit above a fat strip of wood trim. This year, Mercedes dressed up the trim around the dashboard's numerous climate vents as well. Distinguishing the GLE from a Mercedes sedan, the center console includes sturdy but leather-wrapped grab handles (which are lit at night). 
We found the GLE's interior to be a thing of beauty, both attractive and meticulously finished. And it's warmer and more welcoming than many modern luxury cars, yet without looking old-fashioned. Our chief complaint is that some of the car's numerous functions take many steps to operate, with designers prioritizing style over simple functionality. While that's an understandable (and common) choice in a luxury car, we think there are ways to accomplish both. The infotainment system does support Android Auto and Apple CarPlay smartphone integration if you'd rather stick with your phone's apps over the car's built-in system.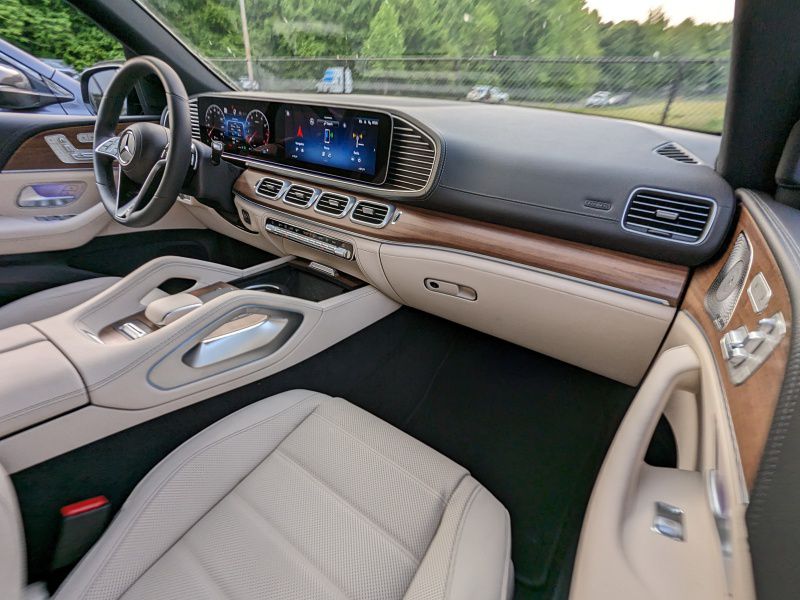 Photo by Brady Holt
Roomy for Five
The GLE is available with seating for up to seven passengers, and our test vehicle included the optional third-row seat. We could squeeze back there, and it's useful to have a couple extra seatbelts for emergencies, but this is really a five-seat SUV. And on that front, it excels. While some luxury automakers force you into a full-size model if you want a nice backseat, the GLE has stretch-out space for five passengers when you slide its adjustable second row all the way back. 
For cargo, the GLE SUV fits 33.3 cubic feet behind its second row and 74.9 cubic feet behind its front seats. That's only about as much as a compact Honda CR-V, but it's more than most luxury competitors. The GLE coupe model dips to 27.5 and 63.2 cubic feet, respectively. When you're hauling something that doesn't fit inside the cabin, the GLE can also tow up to 7,700 pounds, excellent for a mid-size SUV.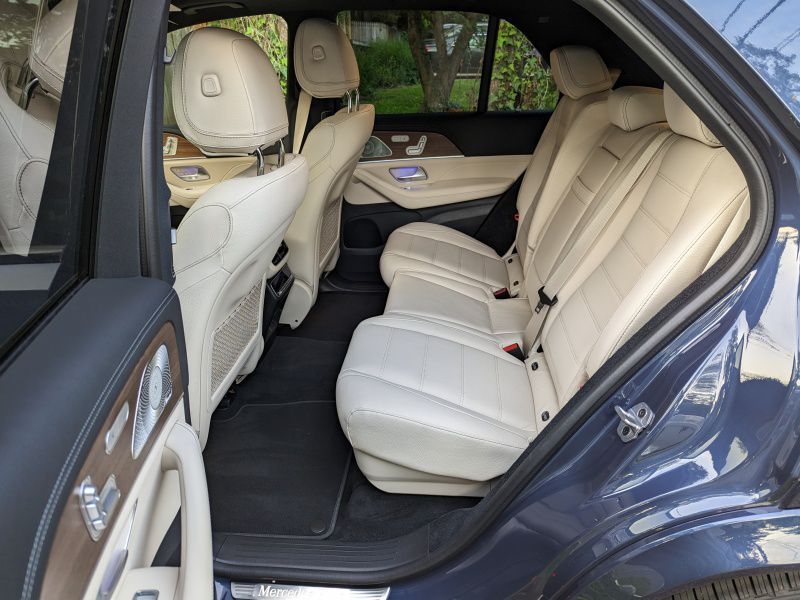 Photo by Brady Holt
Range of Powerful Engines
The GLE comes in a wide range of turbocharged four-, six-, and eight-cylinder engine options. The base GLE 350 has a 2.0-liter four-cylinder making 255 horsepower and 295 lb-ft of torque, capable of hitting 60 mph in 7 seconds while averaging an EPA-estimated 20 mpg in the city, 27 mpg on the highway, and 23 mpg combined. Our GLE 450 test vehicle has a 3.0-liter V6 with 375 hp and 369 lb-ft of torque, hitting 60 mph in 5.3 seconds and giving up just 1 mpg over the four-cylinder. And we averaged 23 mpg during our weeklong test. 
The GLE 580's 4.0-liter V8 makes 510 hp and 538 lb-ft of torque, gliding to 60 mph in 4.3 seconds but averaging 18 mpg in mixed driving. Alternatively, there are two AMG models that pair handling with speed: 429-hp V6-powered GLE 53 AMG and the wildest 603-hp GLE 63 S (0-60 in 4.9 and 3.7 seconds, respectively). Then there's the new GLE 450e plug-in hybrid, which is a speedier version of the GLE 350 four-cylinder that hits 60 mph in just 5.8 seconds. It will likely travel 30 to 40 miles per electric charge before needing the gasoline engine.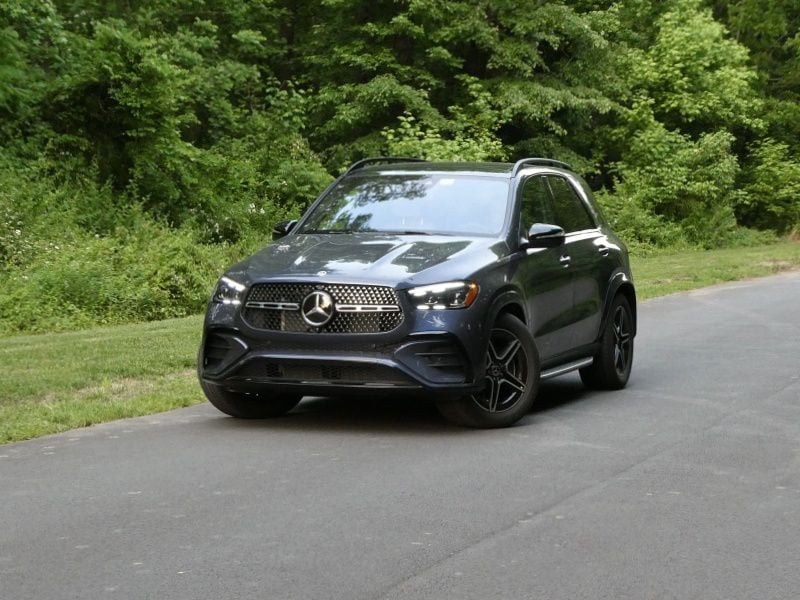 Photo by Brady Holt
Quiet Cruising
The GLE AMG is a lively handler whose sophisticated suspension keeps body roll in check without making the ride overly stiff. It won't match a Porsche Cayenne for driving engagement, but it's a different animal from other GLEs. 
The rest of the GLE line, like our GLE 450 test vehicle, is built for quiet cruising. We don't mean that its handling is clumsy, just that smooth refinement is its top priority. The rival BMW X5 and Audi Q7 have sharper moves, to say nothing of a Porsche. But it's whisper-quiet, and the ride is generally steady and comfortable. That may sound like faint praise for such an expensive vehicle, but a smooth ride isn't a given these days even among luxury suvs. An adaptive suspension system and a choice of driving modes are standard equipment on every GLE, which helps it balance its ride and handling.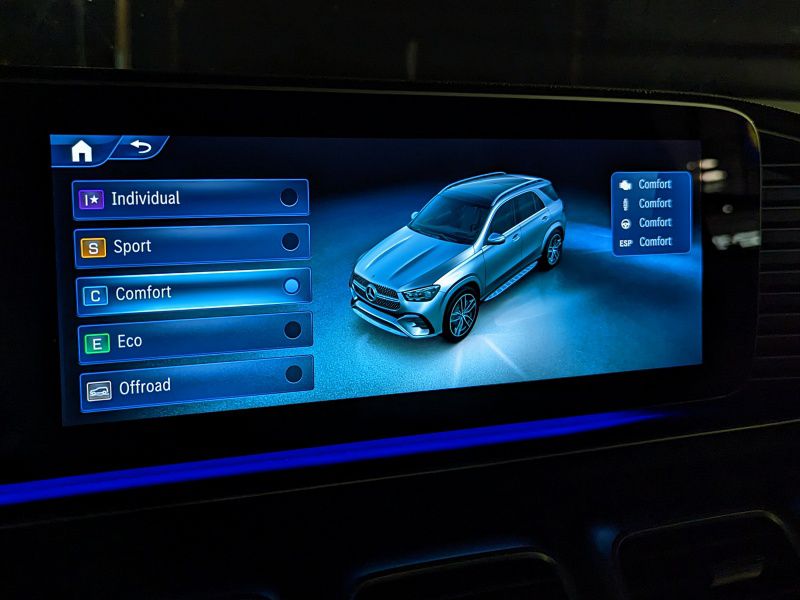 Photo by Brady Holt
Five-Star Safety
The 2023 Mercedes-Benz GLE earned the maximum five out of five stars in every crash test performed by the National Highway Traffic Safety Administration. And it scored the highest designation of Top Safety Pick+ from the Insurance Institute for Highway Safety (though the IIHS noted that an optional cross-traffic-detection system helps the SUV automatically brake better to avoid a pedestrian). 
In addition to forward automatic emergency braking with pedestrian detection, the GLE's standard safety and driver assistance features include blind-spot monitoring and a hands-free parking system. Extra-cost upgrades include the cross-traffic detection we mentioned earlier, along with adaptive cruise control, lane-keeping steering assistance, and a reconfigurable surround-view parking camera system.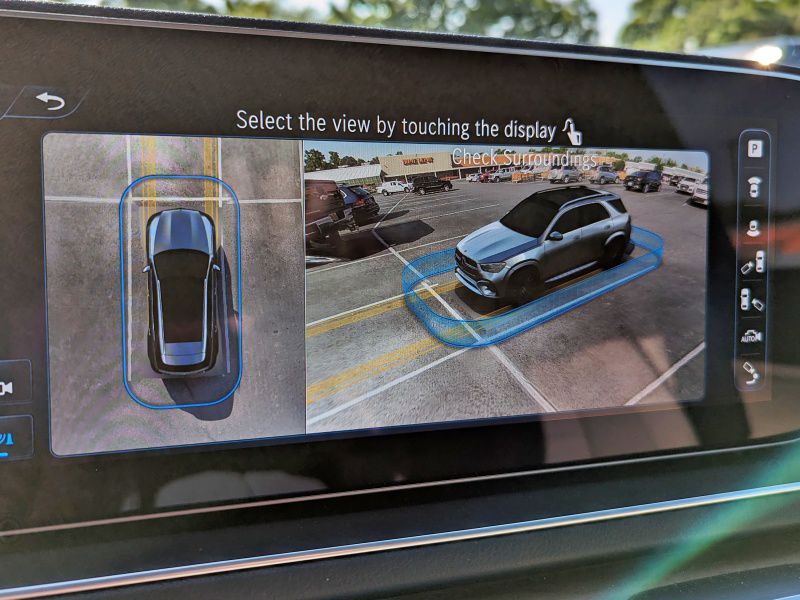 Photo by Brady Holt
Wide Range of Prices
The updated 2024 GLE-Class's price jumps by a couple thousand dollars to $62,650 for the four-cylinder GLE 350 and $69,500 for both the V6-powered GLE 450 and the new four-cylinder plug-in GLE 450e. While Mercedes hasn't yet said what it'll charge for the higher-end models, a similar bump from 2023 would bring the GLE 580 to about $86,000, the GLE 53 AMG to about $80,000, and the GLE 63 AMG to about $123,000. 
The GLE does include plenty of standard features at its base price, including a power driver's seat with a memory system, a sunroof, GPS navigation, a hands-free power liftgate, and an adaptive suspension. However, you have to pay extra for genuine leather upholstery instead of leatherette, along with the driver-assistance technology we mentioned on the previous page. Some rivals have all that standard, even at lower prices. 
Photo by Brady Holt
A Class of Fine Competitors
The GLE is a fine luxury suv facing many other fine SUVs in a hot market for such vehicles. Top rivals include two fellow Germans, the BMW X5 and Audi Q7, while the Genesis GV80, Lincoln Aviator, and Volvo XC90 are other tempting alternatives. 
The X5 and Q7 stand out for the sportiest handling; the Lincoln and Volvo are the most family-friendly; and all of them cost less than the GLE. Still, we found the Mercedes' interior to be warmer, more welcoming, and more spacious than many of the others. Indeed, if you're not attached to a third-row seat, you might find that the GLE saves you from needing to buy a full-size SUV from a competing brand. What's more, Mercedes' plug-in hybrid version trounces the Lincoln's efficiency and could even edge out the BMW's and Volvo's (while the Audi and Genesis don't even offer such a powertrain). If none of these SUVs has already captured your heart, these factors may help guide your search.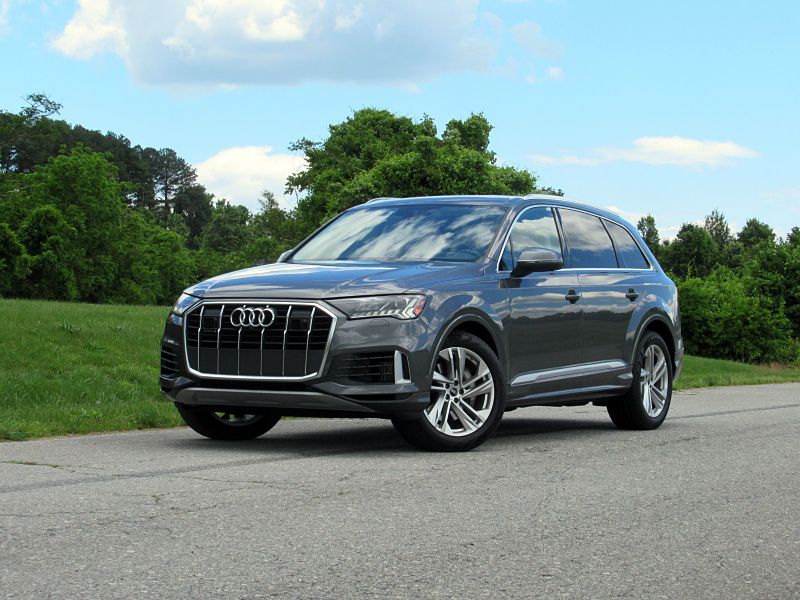 Photo by Brady Holt
Final Thoughts
There's more to a luxury car than the sum of its parts, though. In many cases, buyers are attached to a given vehicle or a brand in general. So while we may pick nits about how the 2024 Mercedes-Benz GLE stacks up in this way or that against a competing SUV, the important point is that this is a smooth, quiet, spacious, beautifully finished, and amenity-packed vehicle. 
Mercedes also provides an incredibly diverse range of engines for the GLE. You can get a relatively economical four-cylinder or a gas-free-commuting plug-in hybrid, or you can get bigger engines in a choice of silky or throaty flavors. So if this is an SUV you like, you'll find a version you like. Just don't expect to score it at a bargain price.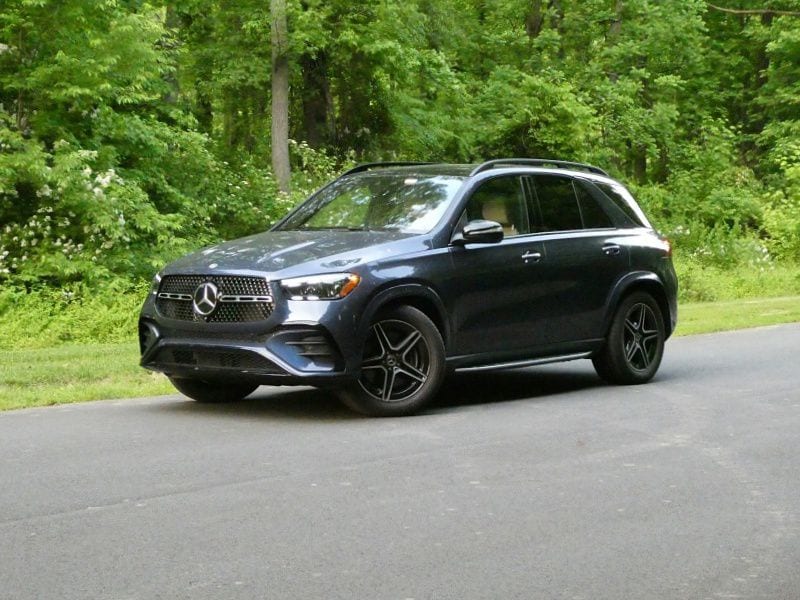 Photo by Brady Holt