2023 Toyota RAV4 Hybrid Woodland Edition ・ Photo by Brady Holt
Forget the mid-size sedan. The compact crossover is the default choice for the biggest swath of the U.S. auto market. And it's easy to see why. They have the cargo room, high seating position, and available all-wheel drive of an SUV, yet they increasingly have the driving manners and gas mileage of a car. 
The best-selling compact crossover in recent years is the Toyota RAV4. In addition to checking the standard boxes for this segment, the RAV4 has a more rugged vibe than most of its rivals, plus two gas-electric hybrid versions in addition to a standard gasoline engine. Toyota just updated the RAV4 this year with its latest-generation infotainment software and bigger screens. But it's facing a host of competitors, many of which have gotten complete overhauls in recent years. We just spent a week in the updated 2023 Toyota RAV4, which is priced from a reasonable $27,975. Keep reading to learn more about this best-selling crossover's pros and cons, and find out whether it's the right choice for you. 
Choice of Three Designs
Most compact crossovers have one of two styling themes: tall, gently rounded car, or edgy, sporty-looking, aggressive car. By contrast, Toyota borrowed from its off-road-ready 4Runner SUV and Tacoma pickup to make the RAV4 look more like a truck than most rivals. You see that in an upright front end, squared-off wheel wells, and angular headlights and taillights. 
What's more, Toyota gives you a choice of three design themes for the RAV4. The Adventure and TRD Off-Road models (available only with the gasoline engine) have a Tacoma-style grille with two horizontal bars across the middle, a bumper styled to simulate a skid pad, and squared-off housings for the fog lights. The SE and XSE, sold only with the hybrid powertrains, are intended to look sleeker and sportier, with shiny black trim that replaces hardy-looking plastic. And the rest of the lineup essentially splits the difference between these two approaches.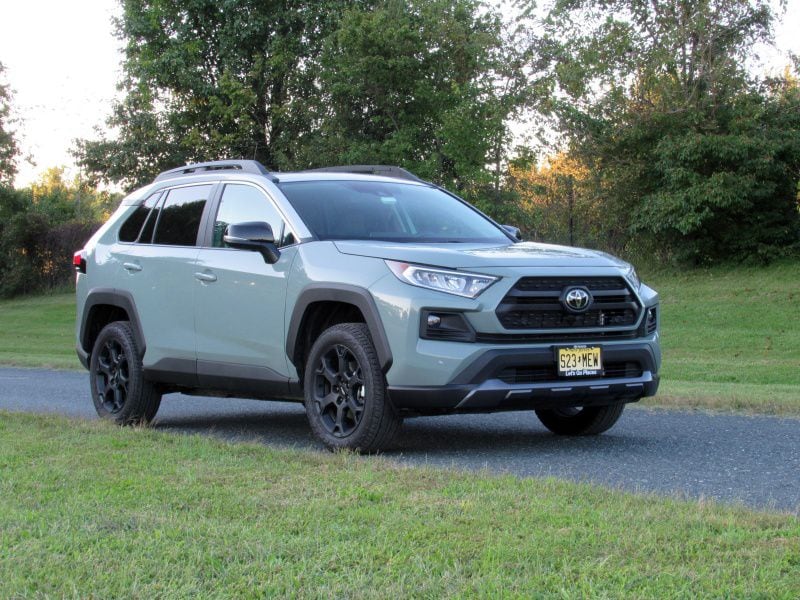 Photo by Brady Holt
Updated Interior
Like its exterior, the RAV4's interior feels more rugged than most rivals. The door pulls and even the dashboard knobs are trimmed in durable rubber, subtly reemphasizing Toyota's commitment to making this an off-road-friendly crossover. Poke all the plastics and check all the panel fits and it won't blow you away, but the ambiance remains appropriate — particularly given that the RAV4 doesn't pretend to be extra-fancy. 
This year, Toyota swapped out its old choice of 7- and 8-inch infotainment screens, which were showing their age against higher-tech competitors. An 8-inch screen is now standard, while top-of-the-line RAV4s get a bigger 10.5-inch unit. Both systems use Toyota's latest infotainment system, which has uncluttered graphics and quicker responses. We miss the way the old system let you view multiple things at a time rather than having to choose between, say, GPS navigation and radio information. And last year's RAV4 had more physical controls for less touchscreen reliance, another step backward for usability. But you can now wirelessly use Apple CarPlay or Android Auto on the screen, and the bigger, crisper screens are more attractive than before. Top RAV4s also now add a digitally rendered gauge cluster.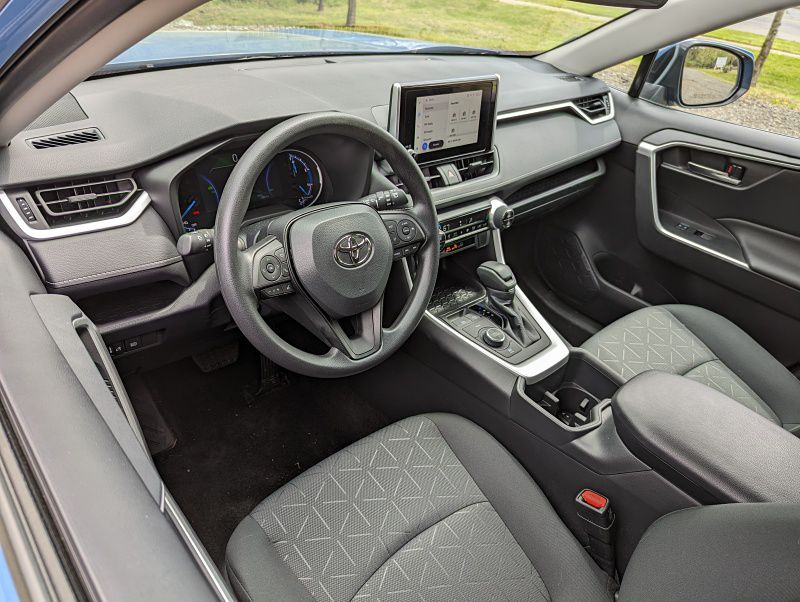 Photo by Brady Holt
Spacious Seating
Compact crossovers typically strike a great balance of being roomy without being too bulky, and the RAV4 follows this pattern. Adults have enough room in both the front and rear seats, and the seats are well-shaped and generally comfortable. We prefer the backseats of a few competitors, whose cushions are higher for better leg support, but this remains a good SUV for a family or carpool duty. 
The seating isn't as cushy-plush as a few rivals, though. You can't get genuine leather upholstery on any RAV4 (only cloth and SofTex, Toyota's imitation cowhide). And a few competitors make it easier to upgrade your crossover with options like ventilated front seats and heated rear seats. However, a power-adjustable driver's seat, heated front seats, and a heated steering wheel are either standard or optional on all but the base trim level.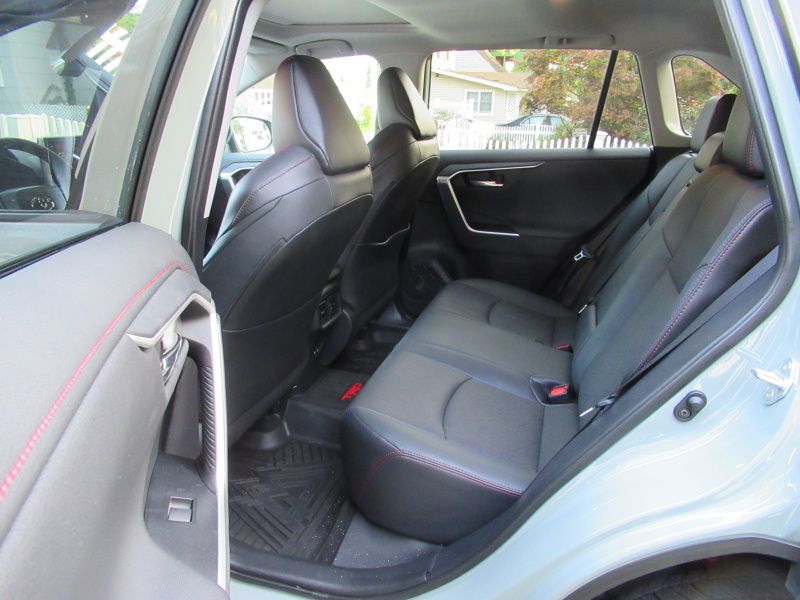 Photo by Brady Holt
Useful Cargo Capacities
While Toyota put a lot of effort into the RAV4's styling, it didn't come at the expense of cargo capacity. With 37.6 cubic feet of cargo room behind the rear seat, it has more luggage space than most of its rivals. (And the few exceptions edge it out only narrowly.) Even some mid-size crossovers have less room behind a second-row seat than the compact RAV4. 
Folding down the rear seat yields a useful 69.8 cubic feet, which does fall behind a number of key rivals. But Toyota has a notable comeback with unusually strong towing capabilities. Most trim levels can pull an already-competitive 1,500 pounds with the gasoline engine and 1,750 in hybrid form. The RAV4 Prime plug-in hybrid ups that rating to a hearty 2,500 pounds, and the Adventure and TRD Off-Road trims (with the gasoline engine) increase to an outstanding 3,500 pounds.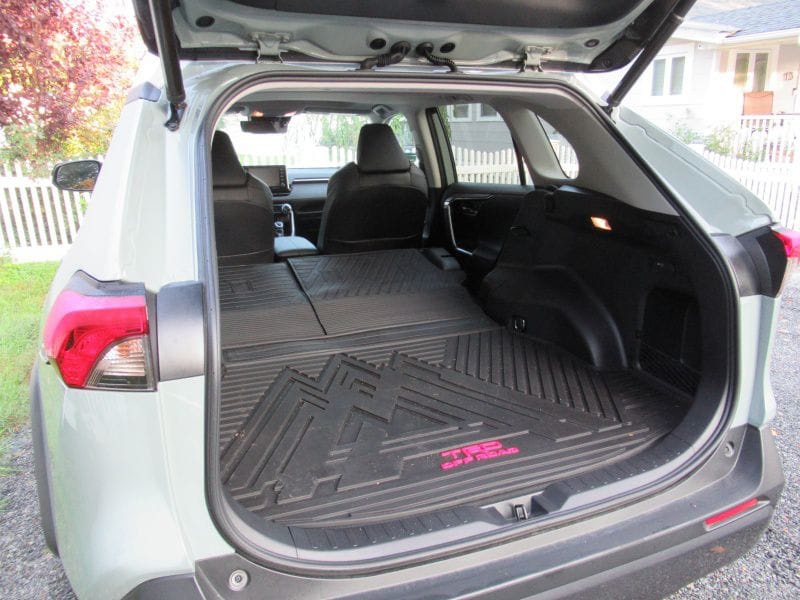 Photo by Brady Holt
Choice of Three Economical Powertrains
Most 2023 Toyota RAV4s come with a 2.5-liter four-cylinder engine that makes 203 horsepower and 184 lb-ft of torque. It's increasingly rare in its class for using natural aspiration rather than a turbocharger, and its on-paper output trumps most rivals. However, while this engine isn't slow, its eight-speed automatic transmission makes it rev loudly even under moderate acceleration. That makes the RAV4 feel slower than it is, in addition to the racket being unpleasant. 
The hybrid models are both quicker and quieter in addition to getting much better gas mileage. The standard hybrid scores EPA estimates of 41 mpg in the city, 38 mpg on the highway, and 40 mpg combined (with all-wheel drive coming as standard equipment). And the RAV4 Prime can travel up to 42 miles on an electric charge before averaging 38 mpg. Even the gas-only RAV4 gets good mileage for an SUV, though. The most economical version gets 27 mpg in the city, 35 mpg on the highway, and 30 mpg combined, while even the thirstiest RAV4 gets just 2 mpg less.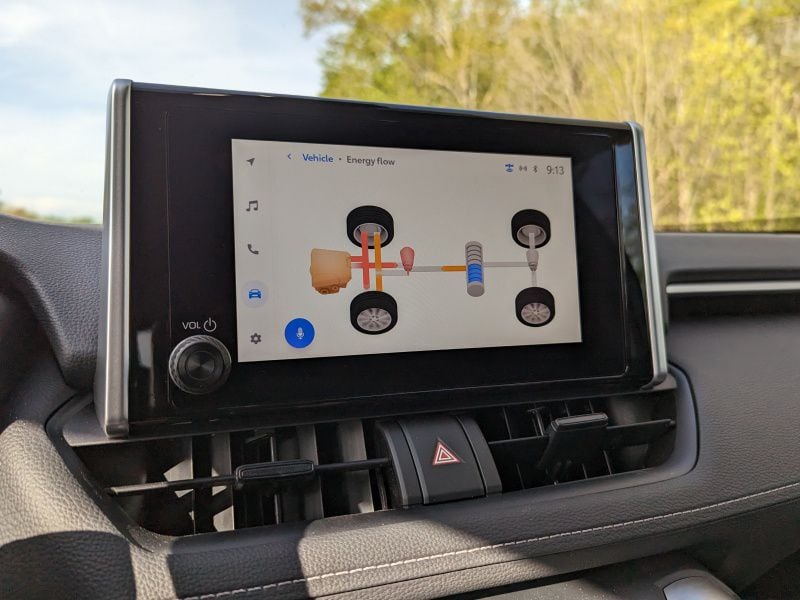 Photo by Brady Holt
Easy to Drive
Whether you get a gasoline engine or a hybrid, the RAV4 is comfortable and easy to drive. The steering is natural and responsive without needing too much effort, lightening up nicely for low-speed maneuvers like parking. And the suspension absorbs bumps well. It's not a finely honed luxury machine or a tautly tuned performance SUV, even by the standards of its class. But it's a comfortable and low-effort way to get around. 
The RAV4 also has a measure of off-road capability. You wouldn't follow a Jeep Wrangler or Toyota's own 4Runner up a tough trail, but we'd trust an AWD RAV4 in dirt, mud, and snow. Every RAV4 has at least 8.1 inches of ground clearance, above average for the class. The Adventure and TRD Off-Road models have a more sophisticated torque-vectoring all-wheel-drive system and separately tailored driving modes for Mud and Sand, Rocks and Dirt, and Snow. The TRD Off-Road also has different tires and suspension components to support extra capability.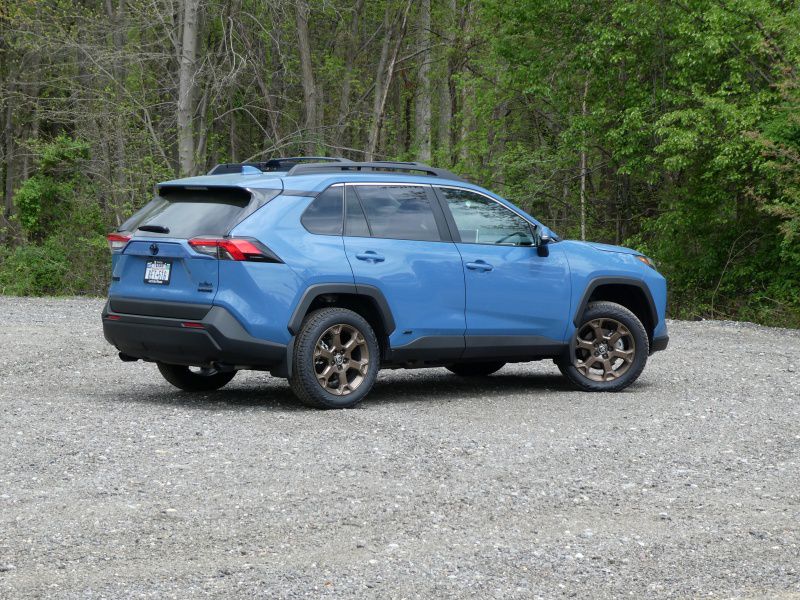 Photo by Brady Holt
Wide Range of Models
The RAV4 comes in a head-spinning array of configurations, with nine different trim levels and three different powertrains, plus a choice between front-wheel and all-wheel drive on the base gasoline engine. 
Prices start at $27,975 for the gas-only LE with front-wheel drive, $29,375 for the gas LE with AWD, and $30,725 for the AWD-only LE Hybrid. And the similarly equipped RAV4 Prime SE starts at $42,340. Even a base RAV4 includes some higher-end features, including adaptive cruise control, lane-keeping steering assistance, automatic climate control, three USB ports, and top-scoring LED headlights. Even the base model achieves a Top Safety Pick status from the Insurance Institute for Highway Safety, and the RAV4 even scored decently on the IIHS's tough, newly introduced crash tests. But you're looking at $30,000 and up when you want a power driver's seat, push-button starting, blind-spot monitoring, or alloy wheels. And even leatherette upholstery is a minimum of $32,375. The RAV4 can be a compelling deal in its lower trim levels, but it can get costly in a hurry compared with some rivals.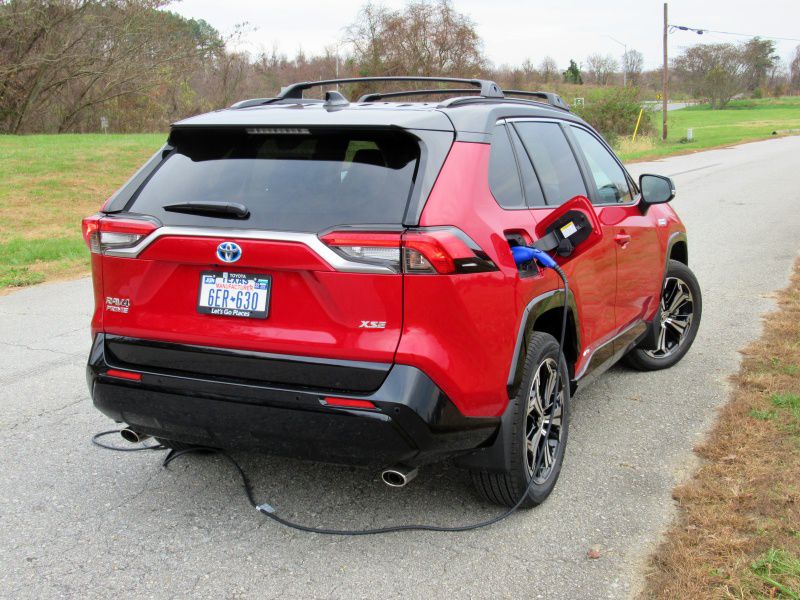 Photo by Brady Holt
Plenty of Strong Competitors
The RAV4 faces a number of excellent well-rounded competitors. The recently redesigned Hyundai Tucson and its Kia Sportage cousin offer roomy and high-tech interiors, pleasant ride and handling, affordable prices, and, like the RAV4, a choice of gas, hybrid, and plug-in hybrid powertrains. However, the Toyota gets better gas mileage. The other compact crossover with this choice of powertrains is the Ford Escape, which also has sportier handling, typically quicker acceleration, and lower prices than the RAV4. But the RAV4 has more cargo room and slightly better gas mileage, and its plug-in hybrid is much more powerful. 
Another leading compact crossover is the freshly redesigned Honda CR-V, available with a gasoline or hybrid engine. The CR-V has crisp ride and handling manners, a polished interior, and a roomy interior. But it costs a bit more than the RAV4, and the hybrid is also less economical than the RAV4. Meanwhile, if you're not interested in a hybrid, the gas-only Nissan Rogue offers a standout mix of zippy acceleration, excellent gas mileage, polished ride and handling, a roomy interior, and reasonable prices. And for a capability-focused rival, the all-business Subaru Forester is comfortable and well-priced, but it doesn't have much pizzazz or driving verve.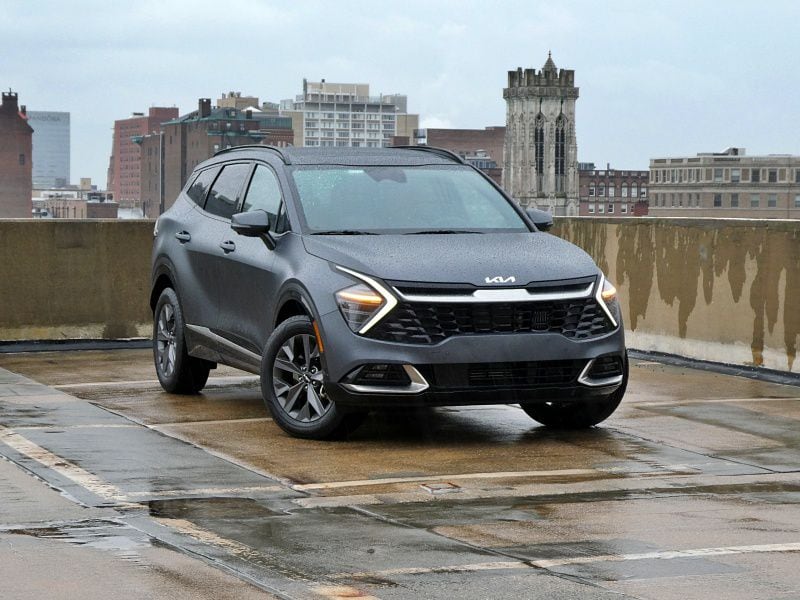 Photo by Brady Holt
A Less-Light-Duty Compact Crossover
The 2023 Toyota RAV4 isn't a dedicated off-road machine. But it provides a taste of capability while still providing the space, comfort, fuel economy, and ease of use that owners will use on a daily basis. If you deal regularly with messy conditions or tow a trailer, you'll appreciate its genuine advantages. 
If that balance isn't a priority to you, and you're just looking for something comfortable and useful, alternatives abound. But even then, there's a lot to like about the RAV4, especially if you'd be choosing its excellent hybrid over the noisy gas-only engine. And if you want your small crossover to look and feel at least a little bit like an SUV, the RAV4's vibe may put it over the top for you.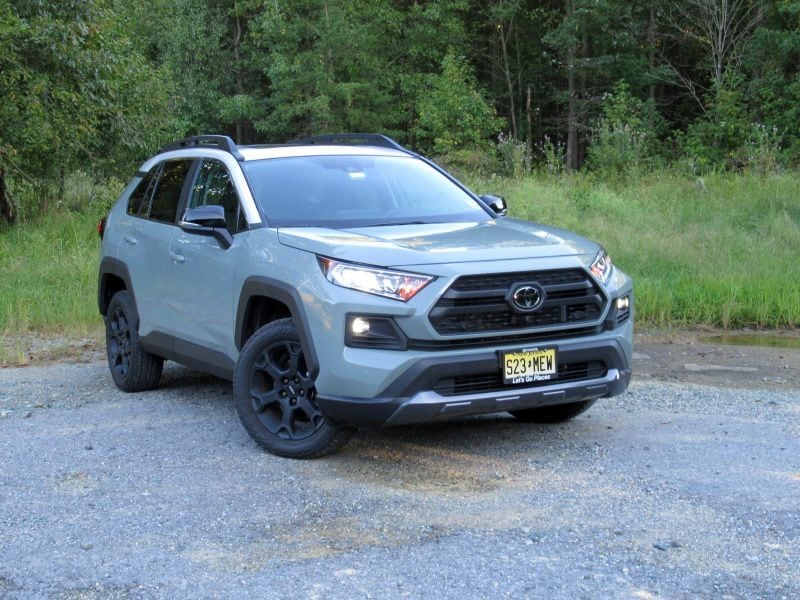 Photo by Brady Holt