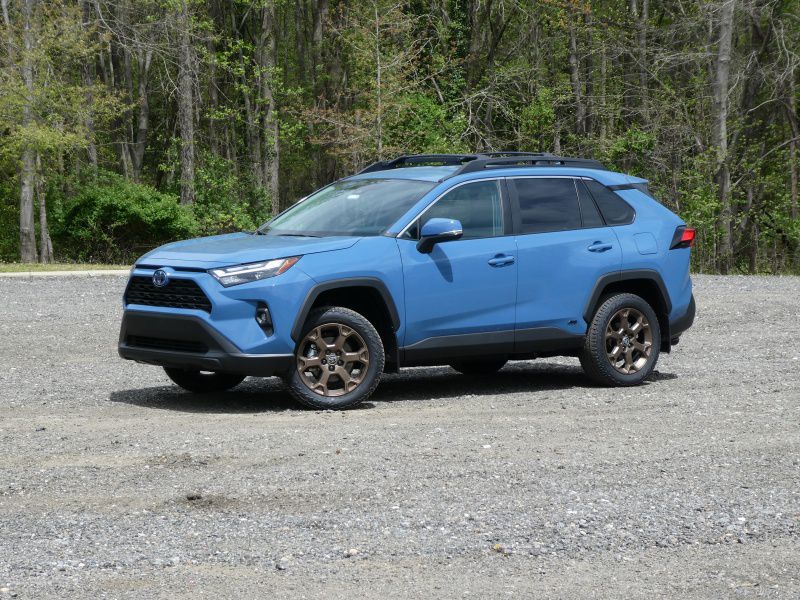 2023 Toyota RAV4 Hybrid Woodland Edition ・ Photo by Brady Holt
We were cruising at about 65 mph before the free-flowing highway congealed into stop-and-go traffic. In an ordinary car, that's when your gas mileage plummets. But we were driving a 2023 Toyota RAV4 Hybrid. Crawling along at low speeds, it kept its gasoline engine off for long stretches, relying mainly on its electric motors. Amid the slog, our test vehicle's reported fuel efficiency jumped by nearly 10 mpg to a peak of 49.8 mpg. 
And that's just one of the RAV4 Hybrid's talents. This is a roomy compact crossover SUV that, during this traffic jam, was comfortably transporting a family of four and their pile of luggage home from the airport. What's more, the RAV4 has more off-road talents than its rivals, exemplified by this year's new Woodland Edition. This year also introduced a new infotainment system with larger screens. Keep reading to learn more about the 2023 Toyota RAV4 Hybrid to see if it's the right small SUV for you. 
Priced From Just Over $30,000
The 2023 Toyota RAV4 Hybrid starts at $30,725 for the base LE version. Even the LE includes all-wheel drive and some higher-end features, including adaptive cruise control, lane-keeping steering assistance, automatic climate control, three USB ports, 17-inch alloy wheels, and top-scoring LED headlights. It's not dirt-cheap, but the RAV4 Hybrid only costs about $1,400 more than a comparable gas-only RAV4 LE AWD. 
Prices rise to $32,235 for the XLE version with a power driver's seat, blind-spot monitoring, push-button starting, and the chance to buy heated front seats, a heated steering wheel, a power liftgate, and a moonroof. The SE and Woodland, each based on the XLE, rise to $33,420 and $33,525 with a series of functional and aesthetic design tweaks. The XLE Premium, $35,125, comes standard with the XLE's options plus leatherette upholstery, and it lets you add more options. The XSE is a sport-themed version of the XLE Premium with a few more features, costing $36,385. And the top Limited starts at $39,030, pushing quickly past $40,000 with options.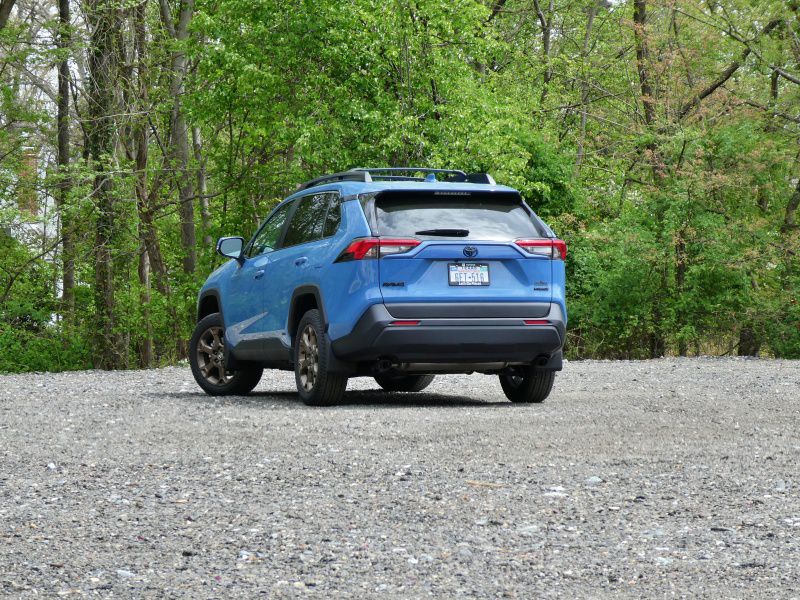 Photo by Brady Holt
Outstanding Efficiency
In EPA testing, most 2023 Toyota RAV4 Hybrid models average 41 mpg in the city, 38 mpg on the highway, and 40 mpg combined. The Woodland Edition, with off-road tires and the aerodynamic drag of a big roof rack, dips to 38 mpg city, 35 mpg highway, and 37 mpg combined. By comparison, the typical gas-only AWD RAV4 averages 27 mpg city, 33 mpg highway, and 29 mpg combined. 
That's a modest enough difference on the open freeway, but the gap is huge in the rush hour congestion we slogged through. Overall, we averaged 43 mpg during a week of mixed driving, well above our Woodland Edition test vehicle's EPA estimates. We also appreciate how Toyota lets you select an "EV mode" to lock in gas-free driving, using only the electric motors, in select low-speed circumstances. Toyota also switches off the engine automatically when it's not needed, and even when it's running, the electric assist means it doesn't have to work as hard. Toyota also sells an even more economical RAV4 plug-in hybrid called the RAV4 Prime, which we'll discuss later.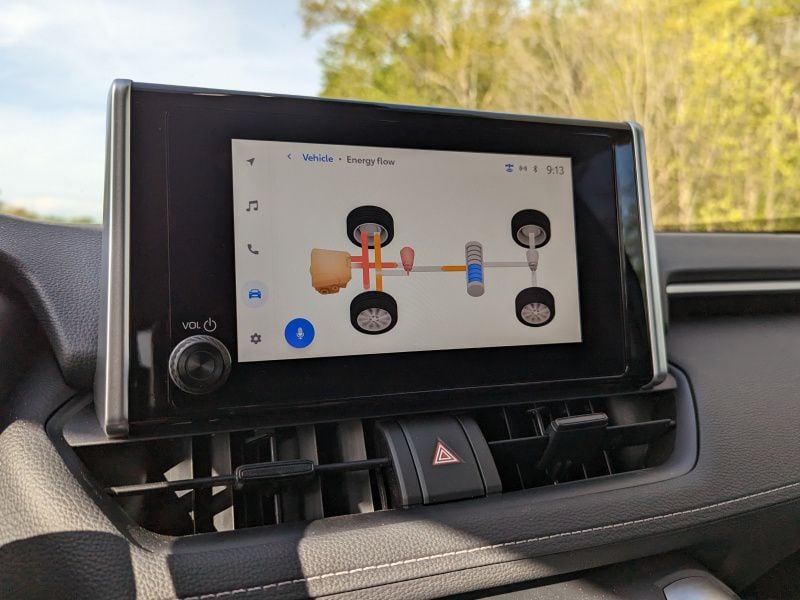 Photo by Brady Holt
Rugged or Sporty Exterior
The RAV4 Hybrid is nearly identical visually to its gasoline-only counterpart. There are small "hybrid" badges and a blue tinge around the Toyota logos, and that's about it. That means the hybrid gives the same off-road-ready styling cues, borrowed from Toyota's iconic 4Runner SUV and Tacoma pickup, as the gas model. It looks tougher than fellow hybrid crossovers. 
You get a different set of trim levels with the RAV4 Hybrid as the gas model, though, which gives you a choice of design aesthetics. The SE and XSE are sleeker, replacing some rugged plastic trim with shiny black, and adopting sportier wheel designs. And you can't get the RAV4 Hybrid with the gas model's Adventure or TRD Off-Road trim levels, with redesigned tougher-looking front ends. This year's new Woodland Edition helps bridge that gap with off-road tires, bronze wheels, and a big roof rack.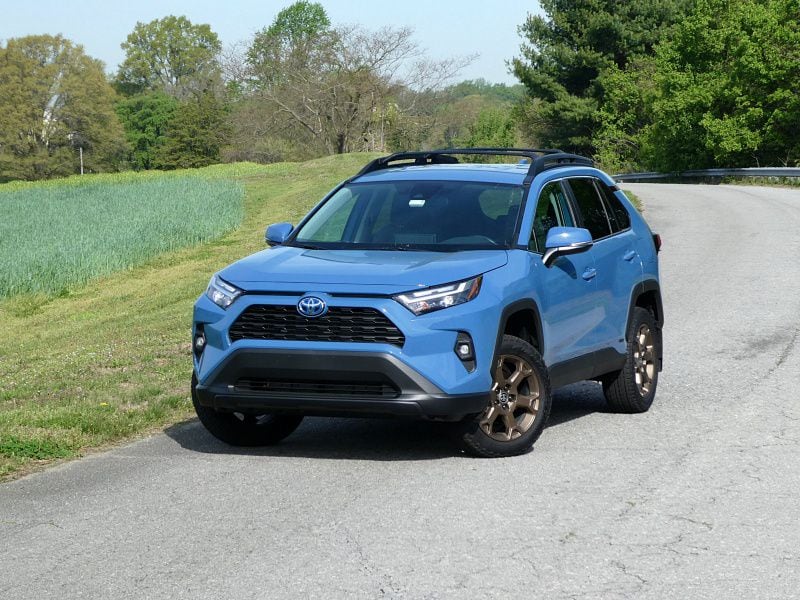 Photo by Brady Holt
Sturdy Interior With New Infotainment
A hybrid used to be a cutting-edge piece of technology. These days, they're more mainstream. So it's no surprise that the RAV4 Hybrid's dashboard is more rugged than high-tech slick or fancy. Rubber-trimmed knobs and door pulls reemphasize its hardy vibe. To us, that also helps excuse its areas of lower-grade plastic trim or imperfect panel fits; considering that the RAV4 doesn't put on airs about being a luxury car, the overall ambiance still feels appropriate. 
Toyota did add some fresh tech this year, though. The standard dashboard touchscreen now measures 8 inches instead of 7 inches, and a 10.5-inch screen is a new optional upgrade (while 8 inches was the old maximum). Top trim levels also now add a digitally rendered gauge cluster. In addition to their bigger sizes, the new touchscreens use Toyota's latest infotainment system. It's uncluttered and has attractive graphics, and it supports wireless Apple CarPlay and Android Auto smartphone integration. It's not perfect, though: We miss having a tuning knob for the radio, and the old system let you split your screen into multiple simultaneous views rather than needing to switch menus.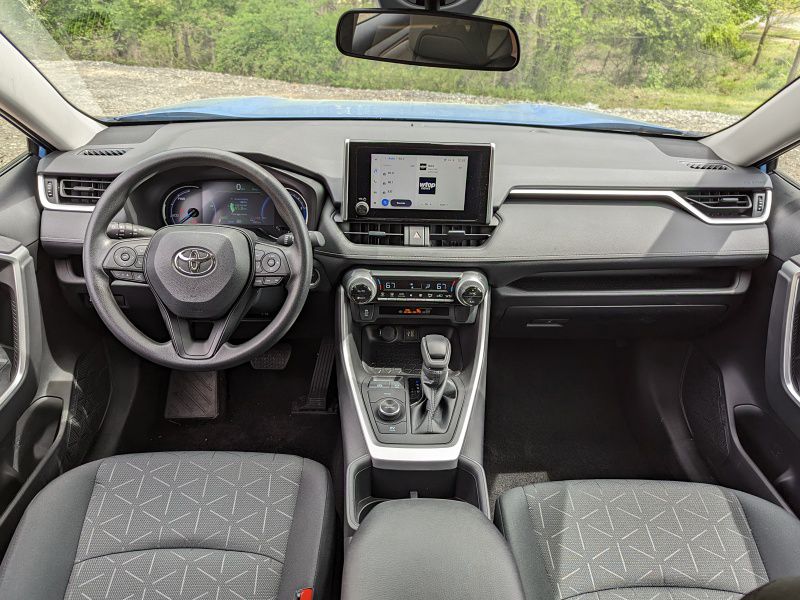 Photo by Brady Holt
Plenty of Room
The 2023 Toyota RAV4 Hybrid is a roomy compact crossover, with 37.5 cubic feet of cargo space behind the rear seat and 69.8 cubic feet with the rear seat folded. Those aren't class-leading figures, but they're better than most small suvs. We had no trouble fitting our luggage in the back, and we appreciated that the back hatch includes both right- and left-handed pull handles. (A hands-free power liftgate is optional.) The RAV4 Hybrid can also tow a trailer weighing up to 1,750 pounds. 
There's also plenty of room for passengers. Five adults will fit without too much squeezing. The front seats are well-shaped and comfortable, and most trim levels are available with a power-adjustable driver's seat, heated front seats, and a heated steering wheel. The top Limited model also adds ventilated front seats. We would have preferred a higher cushion and a less reclined seatback in the backseat, but we weren't uncomfortable overall.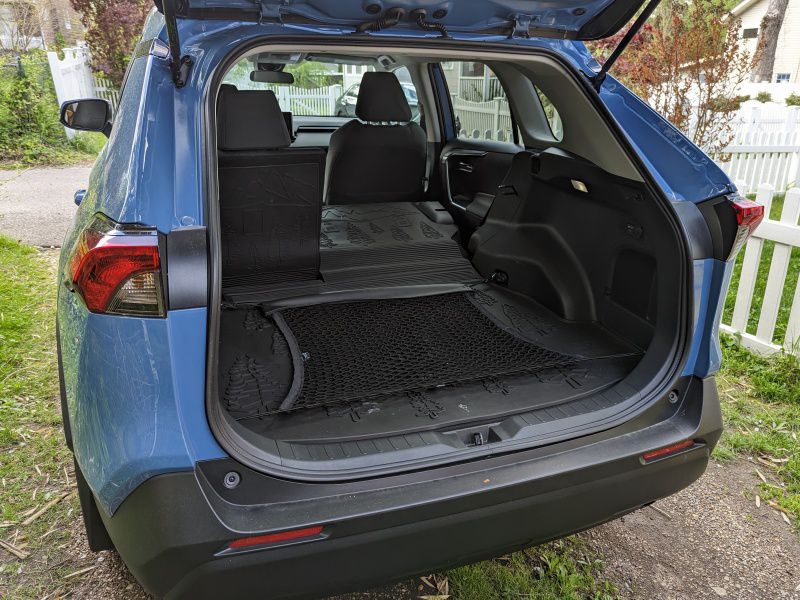 Photo by Brady Holt
Smooth Driving Experience
We doubt you were surprised to hear that the RAV4 Hybrid gets better gas mileage than its gas-only counterpart. But the gas-electric RAV4 is quicker and quieter, too. With its gasoline engine and two electric motors, it has a total output of 219 horsepower versus the gas model's 203 hp. And while its hum doesn't evoke a luxury machine, this engine is smoother and quieter under acceleration than the gas-only RAV4. Plus, at low speeds or when cruising, the gas engine can switch off entirely at times. 
The RAV4 Hybrid also rides and handles well. Our tested Woodland Edition has an off-road-tuned suspension, but we've previously driven the sport suspension in the SE and XSE, along with the standard suspension in other models, and we don't recall any significant difference. It doesn't have the tautly tied-down feel of a polished luxury suv, but it's comfortable without being clumsy. And there's a measure of off-road capability, with standard all-wheel drive, a selectable "Trail Mode" that optimizes wheelspin for tricky conditions, and 8.1 inches of ground clearance.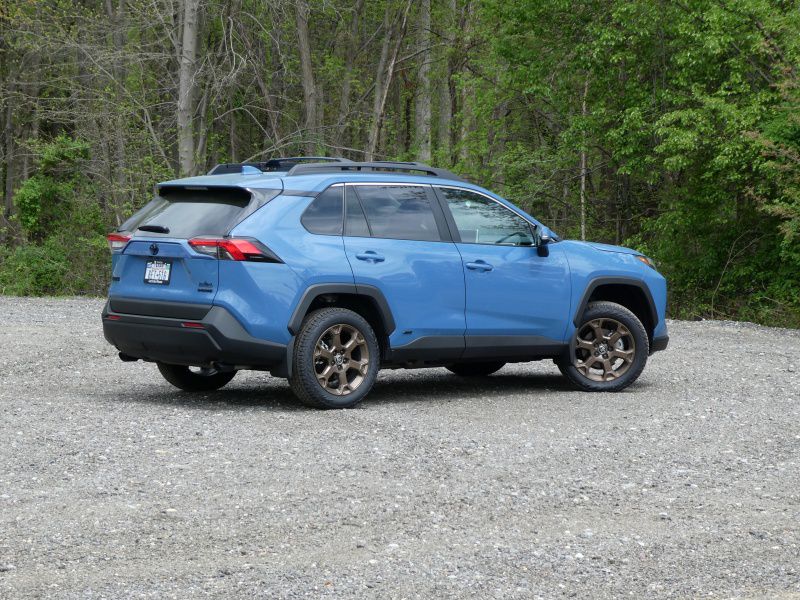 Photo by Brady Holt
The Prime Option
We mentioned that Toyota also sells a plug-in hybrid called the RAV4 Prime. The standard RAV4 Hybrid uses its engine and energy recaptured from braking to charge its small electric battery. The RAV4 Prime has a larger battery that you can juice up using electricity from the power grid, which provides an EPA-estimated 42 miles of all-electric range. It then switches to a standard hybrid operation to average 38 mpg until you charge it up again. And it accelerates much faster than the RAV4 Hybrid, too. 
The trouble is price. The RAV4 Prime used to qualify for a $7,500 federal tax credit, but Uncle Sam is no longer offsetting the cost of its big battery. Prices start at $42,340 for the SE version and rise to $46,210 for the XSE. That's a premium of roughly $10,000 over equivalent RAV4 Hybrid trims. We love the idea of a plug-in hybrid that can serve as an electric vehicle in everyday driving, yet which can take a long trip without having to worry about range anxiety and charging speeds. But we wouldn't likely spend such a steep premium for that perk.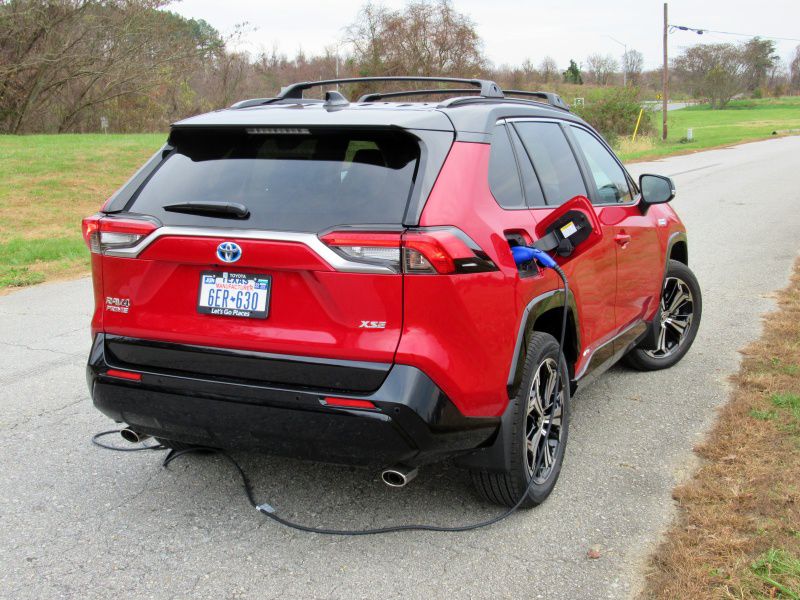 Photo by Brady Holt
Gas-Electric Rivals
The RAV4 Hybrid has several direct rivals: gas-electric versions of the Ford Escape, the Honda CR-V, and the Hyundai Tucson and Kia Sportage cousins. Toyota also sells an upscale, more expensive version of the RAV4 Hybrid called the Venza.
Of these, the RAV4 Hybrid gets the best gas mileage when you account for its standard all-wheel drive (a front-wheel-drive version of the Sportage beats the Toyota by 3 mpg, while the front-drive CR-V ties it). It's also the only one in the group with even a hint of off-road pretense. Meanwhile, the CR-V feels the most luxurious of this lot, the Escape has the sportiest handling, and the Hyundai and Kia have the flashiest designs. (We would pass on the Venza, which looks upscale but has cumbersome controls, has less space than the RAV4, and adds no polish to an all-business driving experience.) If you don't need much room, Toyota just introduced a hybrid version of its subcompact Corolla Cross — one size smaller than the RAV4. It gets 42 mpg (2 mpg better than the RAV4 Hybrid) and starts at $27,970 (nearly $3,000 less than its big brother).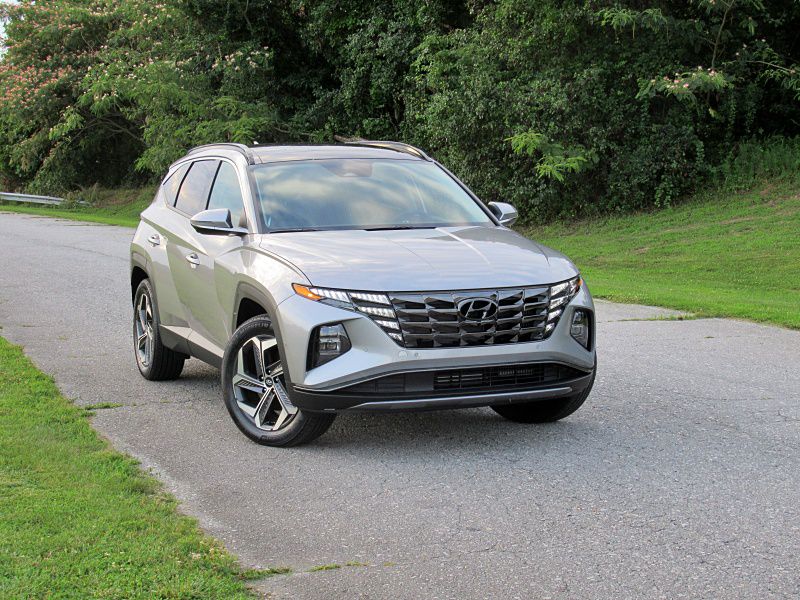 Photo by Brady Holt
Final Thoughts
A good compact hybrid crossover is a car that can do it all. It's comfortable, functional, and almost absurdly economical, especially in the sort of stop-and-go conditions that gas-only cars struggle in. 
The 2023 Toyota RAV4 Hybrid is one of several excellent choices in this segment. When a rugged vibe and top-notch mileage matter more than zippy handling, an upscale feel, or the spiffiest infotainment system, you'll have no trouble understanding why it's the class's best-seller. And we'd also choose it over the slower, noisier, only slightly less expensive gas-only RAV4 any day of the week.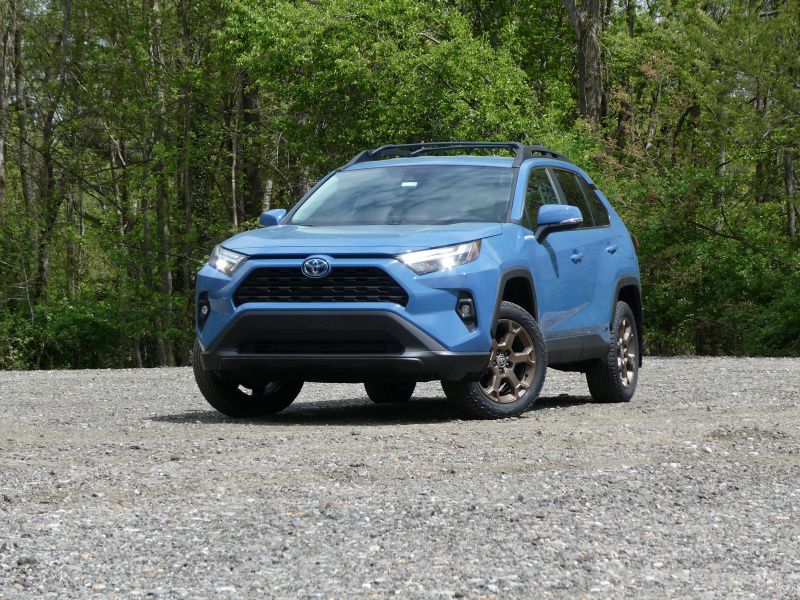 Photo by Brady Holt