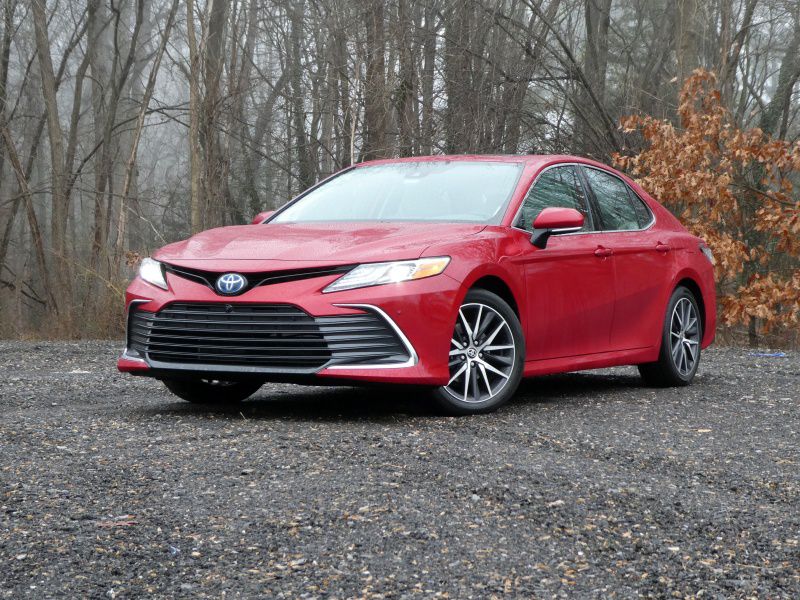 2023 Toyota Camry Hybrid XLE ・ Photo by Brady Holt
In 2022, more Americans bought Toyota Camrys than any other passenger car. It's no surprise to us. The Camry manages to offer something for everyone: Despite its reputation as a ho-hum appliance, it also has the style and performance to broaden its appeal. It's roomy, comfortable, and quiet; it's relatively affordable; and it also accelerates and handles well. 
Perhaps the best version of all is the 2023 Toyota Camry Hybrid. By pairing its affordable base engine with an electric motor, the Camry Hybrid improves not only its fuel economy but also its acceleration — without overly inflating the price. It's priced from just $28,040, which is just $2,000 more than a gas-only Camry and nearly $4,000 less than the rival Honda Accord Hybrid. We just spent a week with the Camry Hybrid. Keep reading as we share what we learned so you can find out if it's the right fuel-saving sedan for you.
How It Works
These days, electric vehicles are all the rage, leaving less enthusiasm for gas-electric hybrids. While both types have battery-powered electric motors, you charge an EV by plugging it into the wall. A hybrid like the Toyota Camry Hybrid, meanwhile, charges its own battery while you drive it. Any time the gas engine is running, it serves as a generator that juices up the Camry Hybrid's battery. And it recaptures energy from braking and coasting to pick up additional electrons as well. 
This sounds high-tech, but Toyota has been mass-producing smooth, reliable hybrids for more than two decades. In the Camry, the 118-hp electric motor is powerful enough to maintain speed or accelerate gently. A selectable EV mode lets you press a bit harder on the gas pedal before the 176-horsepower gasoline engine turns on. Floor it, and the powertrain develops a total output of 208 hp working in tandem. It'll reach 60 mph in about 8 seconds, on par with other four-cylinder family sedans and nothing like the stereotype of hybrids accelerating sluggishly.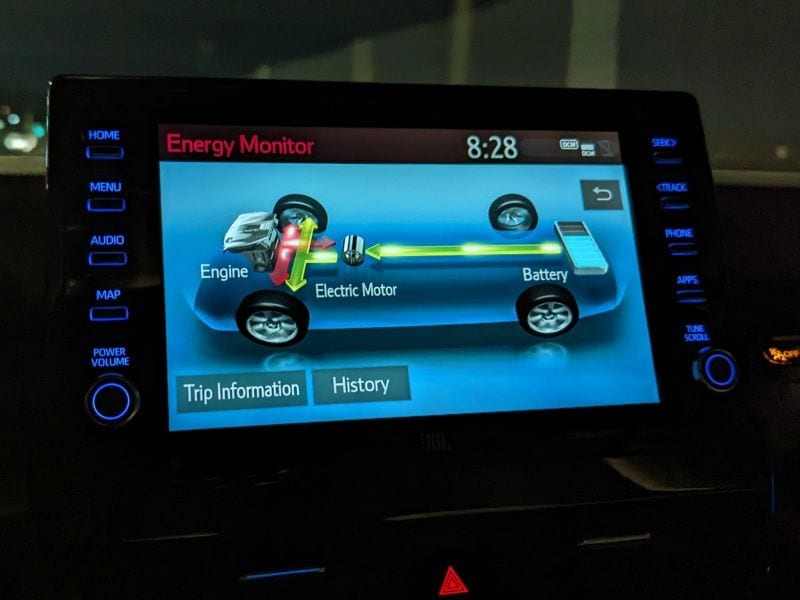 Photo by Brady Holt
Fuel-Sipping Results
The Camry's hybrid technology results in outstanding gas mileage for such a big and powerful sedan. The EPA estimates that most trim levels (including our XLE test vehicle) achieve 44 mpg in the city, 47 mpg on the highway, and 46 mpg combined. And the base LE is rated at an incredible 51 mpg city, 53 mpg highway, and 52 mpg combined, courtesy of the lightest weight, least grippy tires, and different battery technology. 
We averaged 44 mpg in a week of mixed driving. But there's an important caveat to this result and the EPA number: We've also averaged 42 mpg in a gas-only Camry in steady-speed highway driving (and even the EPA puts them at 39 mpg on the highway). At low speeds, where gas engines are their least economical, hybrids destroy gas-only cars by making heavy use of their electric motors. The Camry Hybrid can save you a lot of money if you commute in rush-hour congestion, but you'll do just fine with the gas engine if you'll rack up most miles cruising at high speeds.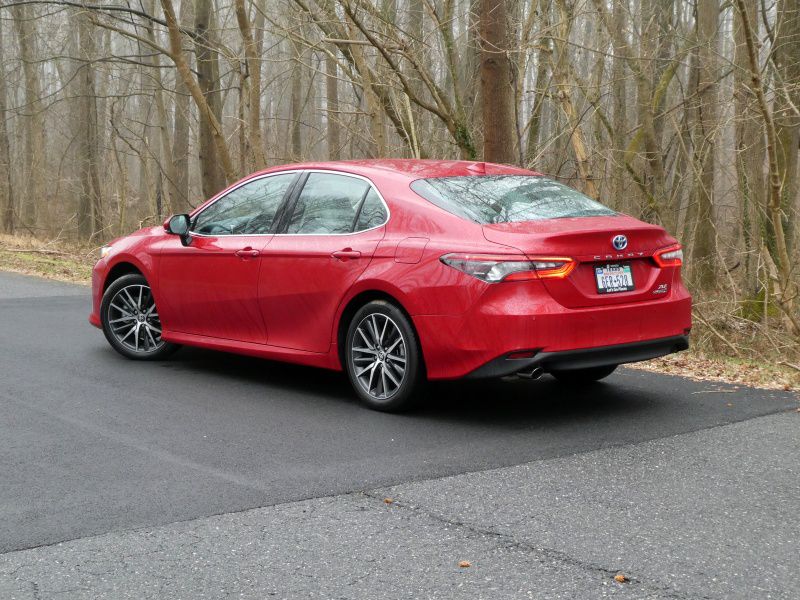 Photo by Brady Holt
Choose Your Style
Toyota last redesigned the Camry back in 2018 and tweaked the styling for 2021. It's still a rounded-off sedan with big windows, but with a crisply tailored front end and sharp but subtle creasework along the sides. 
Moreover, Toyota lets you buy the Camry in a choice of styles. The LE and XLE trim levels have gentler styling, with smoother bumpers and a slim grille between the headlights (above a horizontally slatted area that spans most of the front bumper). The sport-themed SE and XSE, like the vehicle pictured on this page, have a more aggressive grille, bumper, and wheels. The differences aren't entirely cosmetic, either. The SE and XSE have a sport-tuned suspension and paddle shifters, too, and the SE has upgraded partial-leatherette upholstery, a leather-wrapped steering wheel, and alloy wheels that the LE lacks. The Camry Hybrid is visually identical to the gas-only Camry except for a small "hybrid" badge on the trunk and blue-tinged Toyota logos.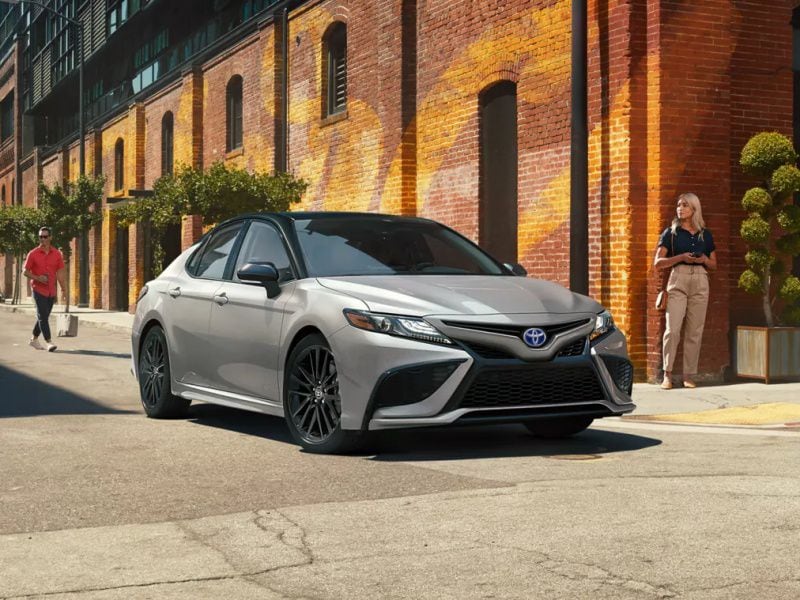 Photo by Toyota
Reasonable Price Either Way
The LE and SE, and the XLE and XSE, are priced and equipped similarly to each other. Toyota just provides two different ways to get the same car, so you can match your Camry to your preferred vibe. 
The 2023 Toyota Camry Hybrid LE starts at $28,040, while the next-up SE costs $29,615 (with the additional features we mentioned). Both cars come standard with a generous suite of safety and driver-assistance features that include adaptive cruise control, forward automatic emergency braking, and lane-keeping steering. They also include automatic climate control, push-button starting, and a power-adjustable driver's seat, and they make it affordable to add blind-spot monitoring, heated front seats, and a heated steering wheel. The XLE like our test vehicle starts at $32,970 with those features standard, along with leather upholstery, a wireless smartphone charger, and a bigger infotainment screen. The XSE tops the lineup at $33,520 with 19-inch wheels to the XLE's 18-inchers. The Camry Hybrid can get expensive when you add options like a navigation system, moonroof, or premium stereo, but you can also get a lot of car for the money.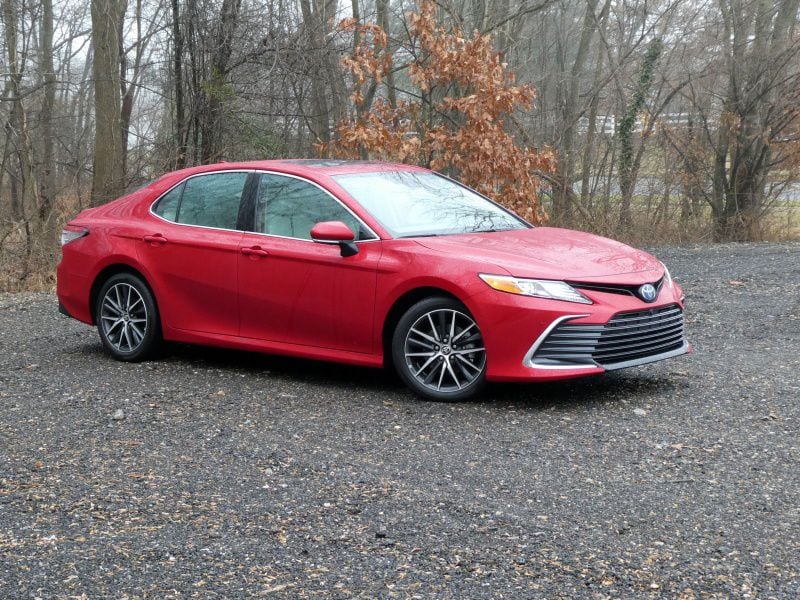 Photo by Brady Holt
Graceful Yet User-Friendly Interior
Many car interiors choose between flashy styling and easy-to-use controls. In our opinion, too many of them choose the former. But Toyota manages to give the Camry Hybrid some visual punch without messing with its ergonomics. 
The Camry's asymmetrical dashboard flows down from the driver's side around the shifter around to the passenger side of the center console. Another strip of trim (woodgrain on our XLE test vehicle, but it varies by model) pops up to decorate the passenger side of the dash. This isn't exactly high drama, but we appreciate that Toyota made things more interesting without doing any damage in the process. Buttons and knobs keep things simple for the audio and climate controls. Toyota doesn't have the world's most responsive infotainment system, and the base 7-inch screen is small for modern standards (our test vehicle has the available 9-inch upgrade). But it supports Apple CarPlay and Android Auto smartphone integration, and it's simple enough to figure out the system. Some of the Camry's interior plastics feel cheaper than a Honda Accord's, but the Toyota does cost less and still has a nice overall ambiance.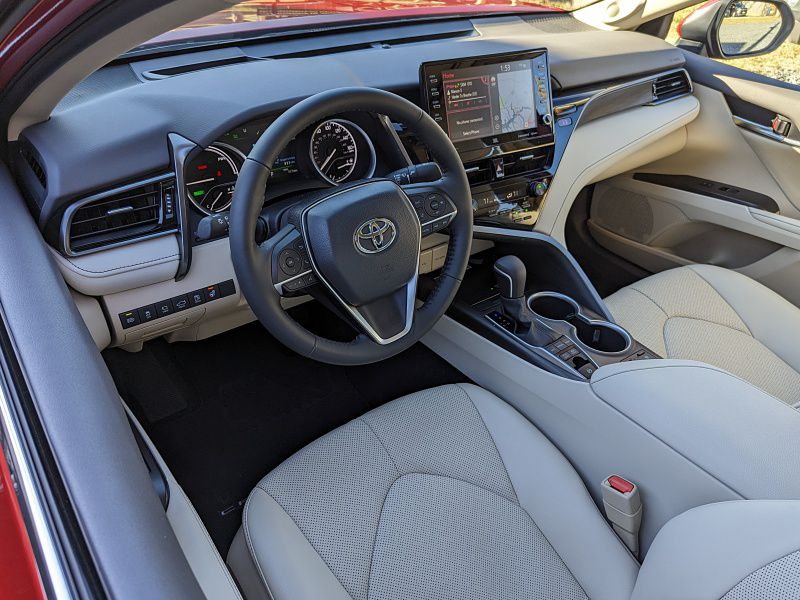 Photo by Brady Holt
Plenty of Room
When Toyota last redesigned the Camry, improving its sportiness and sporty styling was a top priority. But Toyota kept a clear eye on the sedan's comfort and functionality, too. 
Look at the Camry's front end, and you see an assertive-looking sedan. But look closer at its profile and you'll notice how Toyota avoided raising up the beltline or lowering the roof, protecting outward visibility and rear headroom. Five adults can still fit in a modern Camry on comfortable, well-shaped, and attractively patterned seats. As we mention, front-seat heating is widely available and a power driver's seat is standard. The XLE and XSE also throw in a power passenger seat and the option for ventilated front seats. The Camry's trunk isn't huge for a mid-size sedan at 15.1 cubic feet, but it's usefully shaped to make the most of its volume.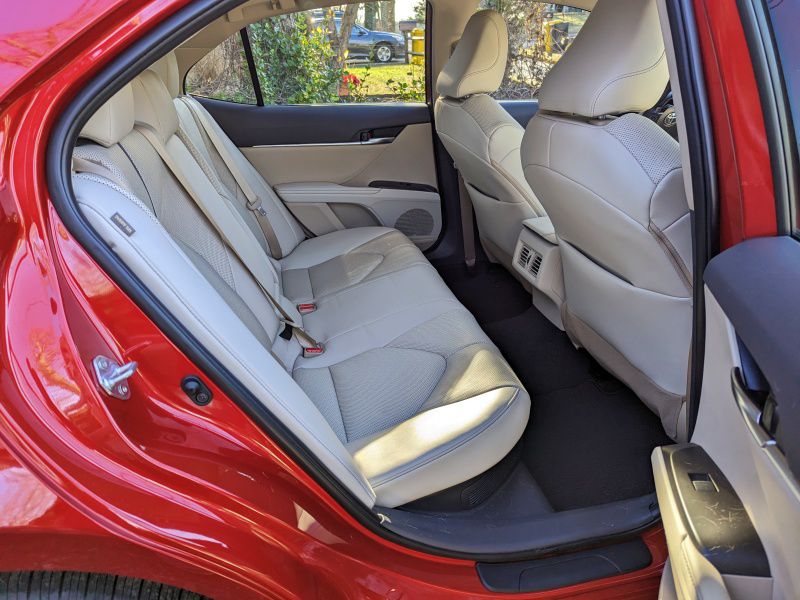 Photo by Brady Holt
Not Just a Smooth Ride
The Camry has long boasted a smooth ride, and that continues with the current-model hybrid. It's a stable, quiet way to glide down the road, though the gas engine can groan when you're in a hurry. 
But the Camry has more talents than that. It has also become agile, allowing itself to be hustled around a curve without feeling out of place. That's especially true of the SE and XSE models, which remain comfortable even as their sport suspensions give up a bit of ride plushness. But even our XLE test vehicle handled well. One Camry Hybrid drawback: You can't get the optional all-wheel-drive system that's available on the gas-only four-cylinder Camry or every other hybrid Toyota, including the Prius and Corolla economy cars. At least the Camry Hybrid's competing gas-electric midsizers don't offer AWD either.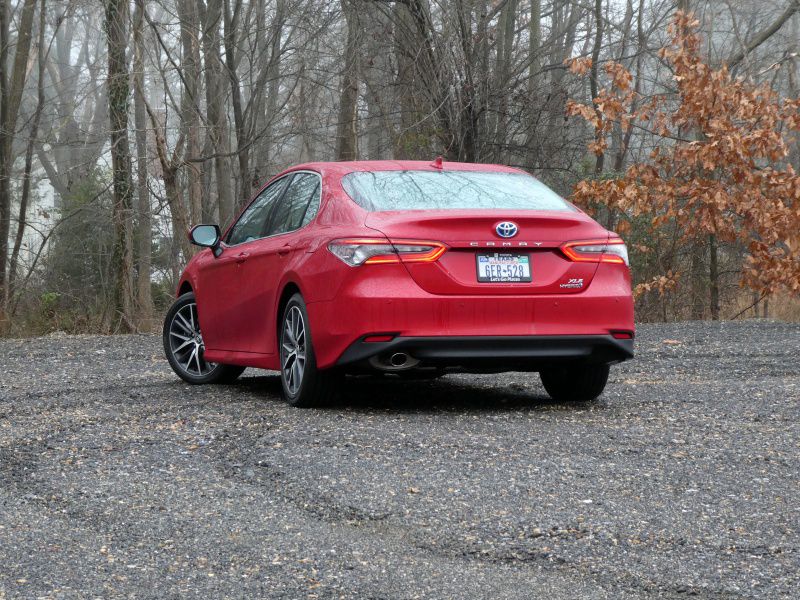 Photo by Brady Holt
Competitors to Consider
There used to be a large collection of mid-size hybrid sedans, but their ranks have dwindled to three as Chevrolet, Ford, Kia, and Nissan abandoned the segment over the years. In addition to the Camry, you can buy gas-electric versions of the Honda Accord and Hyundai Sonata. 
As we mentioned, the Honda Accord Hybrid is significantly more expensive than the Camry Hybrid, particularly if you want a lightly equipped base model. (The gap narrows as you add luxury features.) Newly redesigned for 2023, the Accord is quicker, quieter, sharper-handling, and better-finished than the Camry, and it achieves slightly better EPA ratings. However, in addition to costing more, it also has less of the Camry's cushy comfort for more of a sports-sedan edge. The Sonata Hybrid, meanwhile, is also quieter and more richly finished than the Camry Hybrid and has a longer warranty. And like the Accord, it gets slightly better EPA ratings than the Camry. However, the Camry is more agile than the Sonata. And although you might think of Hyundais as budget cars, the Sonata Hybrid costs more than the Camry Hybrid if you want certain features like leather upholstery or a power driver's seat.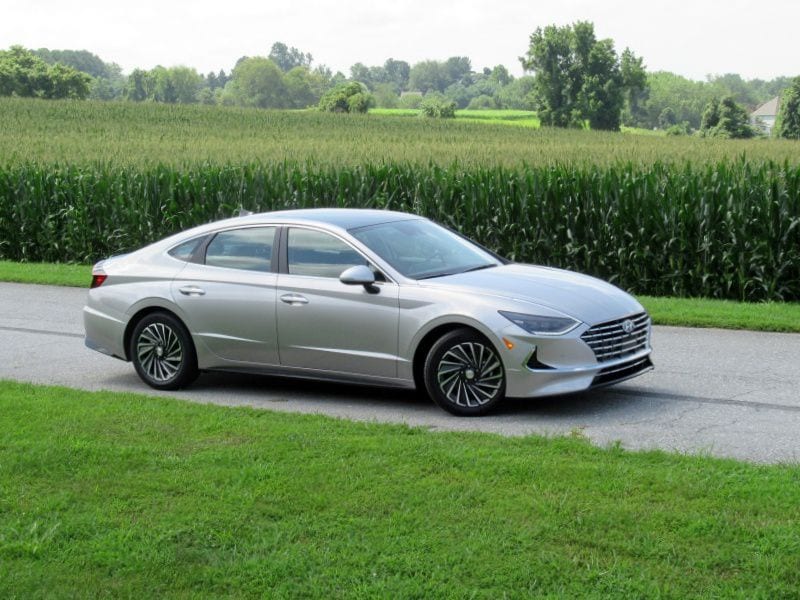 Photo by Brady Holt
Well-Rounded Efficiency
As we mentioned, the Camry has something for everyone. And by achieving incredible low-speed efficiency, the 2023 Toyota Camry Hybrid adds another valuable cost-saving, environmentally friendly benefit with minimal downside. 
Folks who'd pay extra for the Camry's 301-horsepower V6 engine would miss its smooth, rich, extra-strong speed. And those who drive mainly on the open highway would miss out on much of the hybrid's efficiency advantage over the already-thrifty gas four-cylinder. But the Camry Hybrid is a phenomenally efficient commuter car that's roomy enough for carpools, comfortable enough for a long road trip, and agile enough to tackle a winding road. It faces a pair of strong competitors, but there are plenty of reasons to choose this Toyota.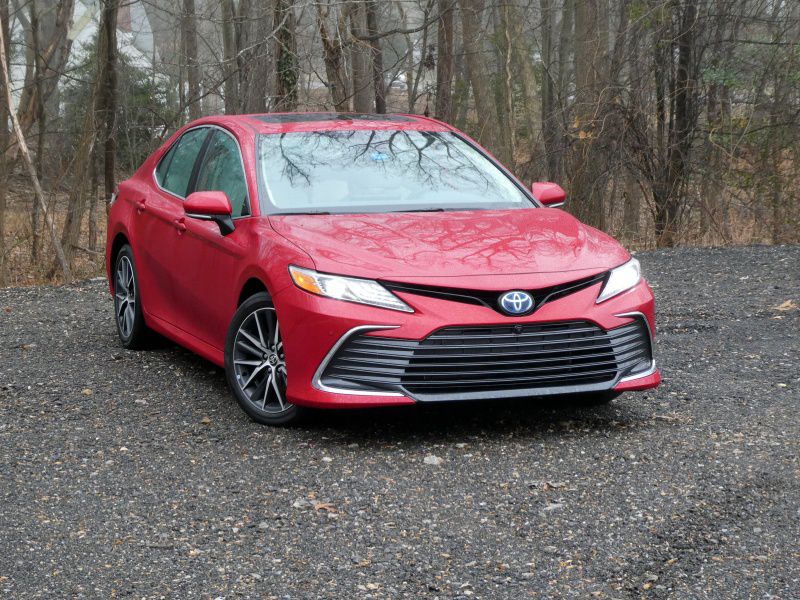 Photo by Brady Holt