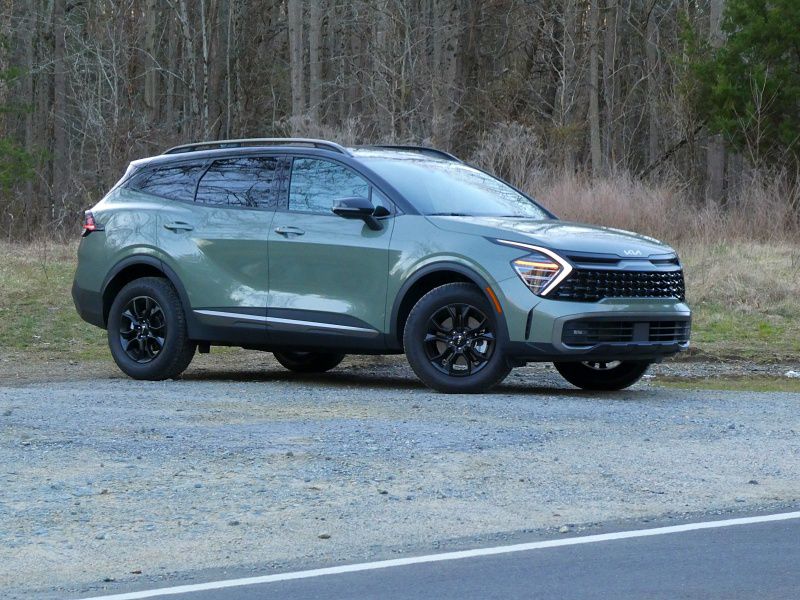 2023 Kia Sportage X-Pro Prestige ・ Photo by Brady Holt
For most of its quarter-century on American roads, the Kia Sportage was a little SUV. Even as models like the Honda CR-V and Toyota RAV4 grew much roomier, the Sportage remained at least half a size smaller. Last year's model sat uncomfortably between the subcompact and compact crossover classes. 
Now, Kia has jumped headfirst into the mainstream. The redesigned 2023 Kia Sportage grew 7 inches longer, grew its cargo capacity by about 25 percent, and amped up its style, technology, and fuel efficiency. Yet all the while, in a segment where key rivals now start at nearly $30,000, the base Sportage costs just $26,290 — and not because Kia skimped on the standard features, either. We just spent a week testing the new Sportage. Keep reading to learn more about its pros and cons to see whether it's the right compact crossover for you. 
Packed With Features
At its base price of $26,290, the Sportage comes dressed up with a 12.3-inch digital instrument cluster, LED headlights and taillights, and 17-inch alloy wheels, and packed with advanced safety features like automatic emergency braking with pedestrian and cyclist detection, lane-keeping steering assistance, and rear parking sensors. Adding all-wheel drive (an $1,800 option on most trim levels) also buys you heated front seats. 
The value continues as you move up the lineup. The EX, $28,290, costs less than most competitors' base models. Yet it already brings leatherette upholstery, heated front seats with driver's power adjustability, push-button starting, automatic climate control, a big 12.3-inch touchscreen with GPS navigation, a wireless smartphone charger, rain-sensing windshield wipers, blind-spot monitoring, and 18-inch wheels. There's also the SX with a Harmon Kardon stereo, panoramic sunroof, power liftgate, and adaptive cruise control ($31,790) and the SX-Prestige with ventilated front seats, a surround-view parking camera, and 19-inch wheels ($33,790). Three off-road-themed trim levels round out the lineup at a premium of about $1,000 to $2,000 over standard models with equivalent features.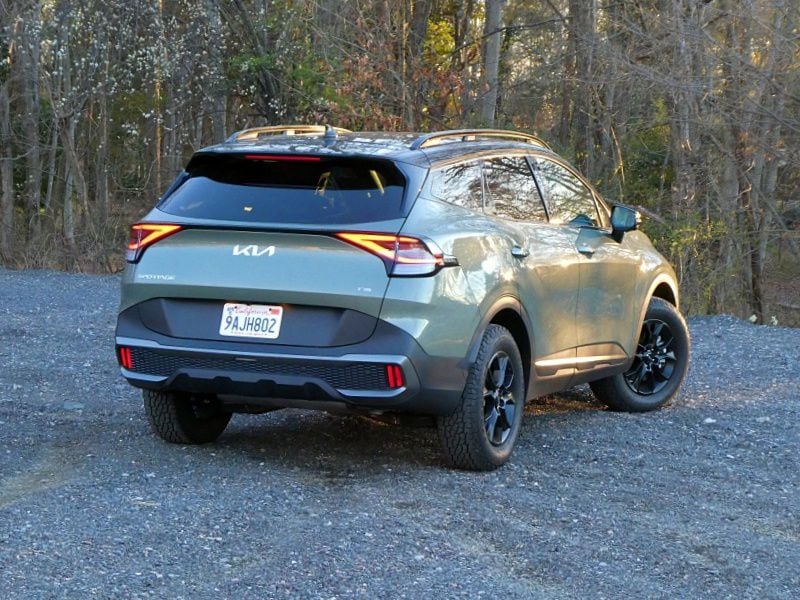 Photo by Brady Holt
Pizzazz Galore
Kia retained no visual trace of the old rounded-off Sportage in creating the new 2023 model. It stretches itself confidently across its new 183.5-inch length, appearing more substantial in profile. The side windows now reach to the back windshield rather than leaving a fat empty D-pillar like the old Sportage. And at least to our eyes, the new model's details are fresh and distinctive without being overwrought. The two-piece headlights are LED spears that Kia calls "boomerangs," which wrap around chunkier diamond-shaped lights beside the grille. Toward the back, a bulge above the rear fender flows into a crease that spans the rear end below the windshield. The top-mounted rear wiper hides under a roof spoiler for a cleaner look. 
An off-road vibe is new this year, too. The last-generation Sportage made no pretenses about being soft, aiming for upscale without a note of mud-splashing aggression. Now, you can choose one of the three "adventure-ready" models we mentioned on the previous page: the X-Line, X-Pro, and X-Pro Prestige (equipped equivalently to AWD versions of the EX, SX, and SX Prestige, respectively). They have blacked-out wheels and other styling details, along with available all-terrain tires, recalibrated driving modes, and raised roof rails.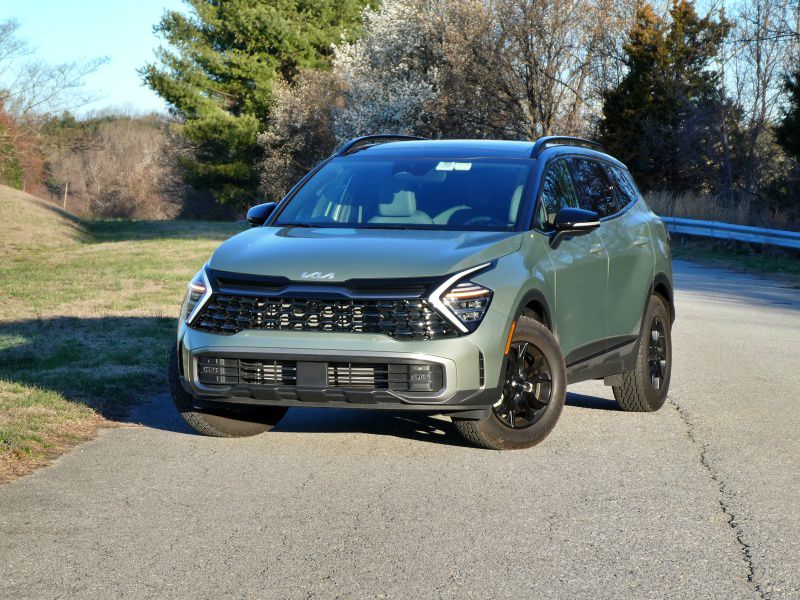 Photo by Brady Holt
The Dazzle Continues Inside
When we reviewed last year's Sportage, we described its interior as "restrained, user-friendly simplicity" with simple controls and high-quality materials. The new model, by contrast, is designed to dazzle. 
It's a digital-heavy experience. Every 2022 Sportage had an 8-inch infotainment touchscreen, which is still included on the base LX. But now, a 12.3-inch digital gauge cluster is standard. And on all but the LX, it connects seamlessly to the big 12.3-inch touchscreen at the center of the dashboard. Kia simplifies the look with dual-function audio and climate controls on these models; tap a button, and the knobs and touch-sensitive controls change their functions. It's a neat idea and looks cool, but it's not the easiest to use. And the big screen also takes a few taps or swipes to get away from a blank homescreen. The base LX model has conventional buttons and knobs, and it's the winner for ease of use. Bulging HVAC vents give the Sportage a rugged look, and most trim pieces fit together well, but some of the cabin's plastics feel cheap. We don't mean the Sportage feels junky or that its controls are impossible to figure out, but there was room to improve in both ways.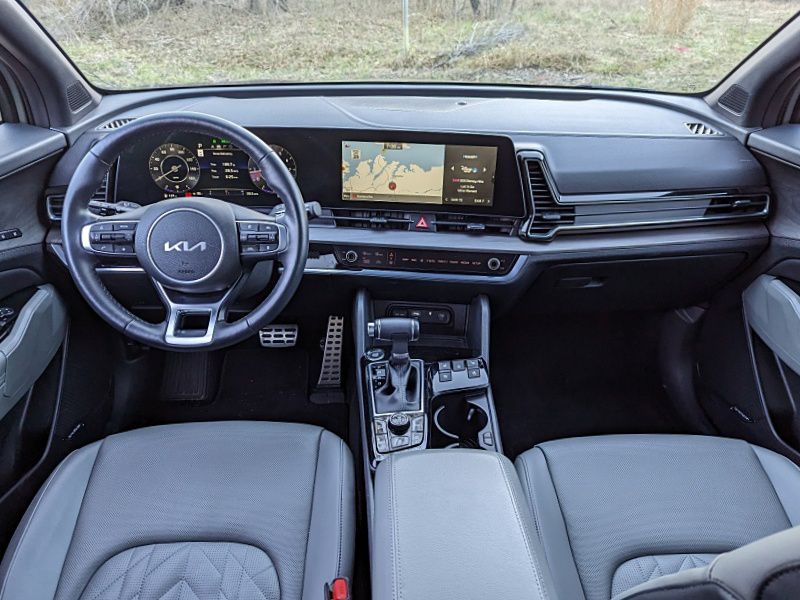 Photo by Brady Holt
Lots of Room, Too
We mentioned that the Sportage has grown, and you'll feel it in an instant inside. This Kia has gone from having less room than most compact crossovers to having more. The front and rear seats are comfortable, with space to spread out. And comfort amenities abound: All but the front-wheel-drive LX have heated front seats, all but the LX have a power driver's seat, the EX AWD and up have a heated steering wheel, and the Prestige models have ventilated front seats. You can't get heated rear seats or genuine leather upholstery, though. 
Cargo space measures 39.6 cubic feet behind the rear seat and 74.1 cubic feet with the rear seat folded down. As we mentioned, that's about 25 percent more than last year's Sportage, and it's among the best of any compact crossover. Towing capacity stands at 2,500 cubic feet, which is also above average for a compact crossover. 
Photo by Brady Holt
Well-Mannered Suspension
The Sportage rides and handles well. The ride is smooth and steady, absorbing bumps with aplomb and feeling stable. It's decently quiet, too. This isn't a luxury-car experience, but it's a comfortable ride that avoids feeling junky. Similarly, we appreciated the easy, natural-feeling steering and handling. A Mazda CX-50 or Ford Escape would have crisper moves, but the Kia never feels floppy or clumsy. 
Don't count on the Sportage for off-roading, though. Its 8.3 inches of ground clearance is above average for a crossover, and the X-Pro and X-Pro Prestige's driving modes will help out its all-wheel drive somewhat. You won't get stuck if the county fair's overflow parking area is a bit muddy. But this isn't a rock-crawling truck.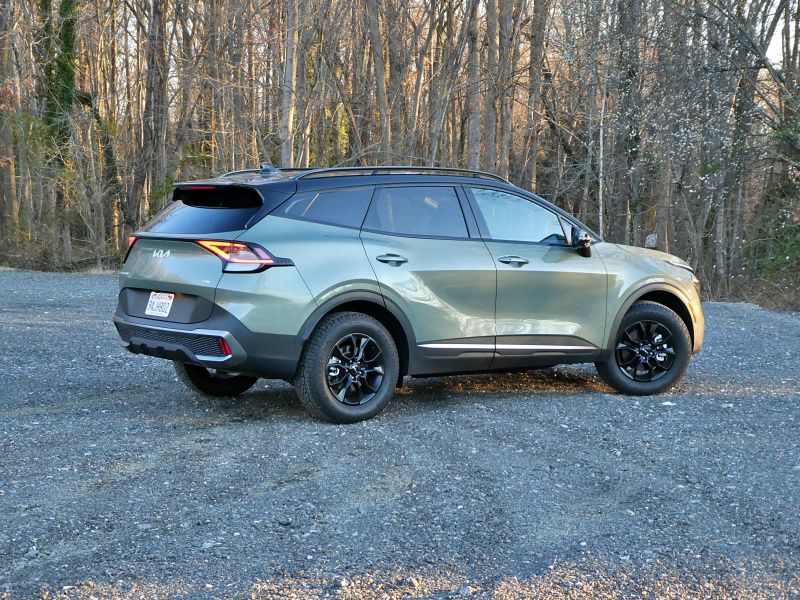 Photo by Brady Holt
Unremarkable Base Engine
Even as the Sportage grew bigger and sportier-looking, it didn't grow much under the hood. Its 2.5-liter four-cylinder engine sends a decent 187 horsepower and 178 lb-ft of torque through an eight-speed automatic transmission. That's an increase of 6 hp and 3 lb-ft from last year, and it's not enough to make this Kia zip. 
The Sportage isn't slow by historical standards. But most competitors zip forward more readily when you put your foot down. We didn't feel the power shortfall in everyday conditions, but when we put our foot down to merge, the engine got loud fast but accelerated the Sportage slowly. Even so, it trails the best competition's gas mileage. The EPA projects 25 mpg in the city, 32 mpg on the highway, and 28 mpg combined with front-wheel drive, while AWD incurs a whopping 3 mpg penalty. Our AWD X-Pro Prestige managed 27 mpg in a weeklong test. Last year's Sportage was available with a 2.0-liter turbo that made a livelier 237 hp, but this engine is no longer offered. Instead, Kia has other upgraded powertrains that we'll discuss on the next page.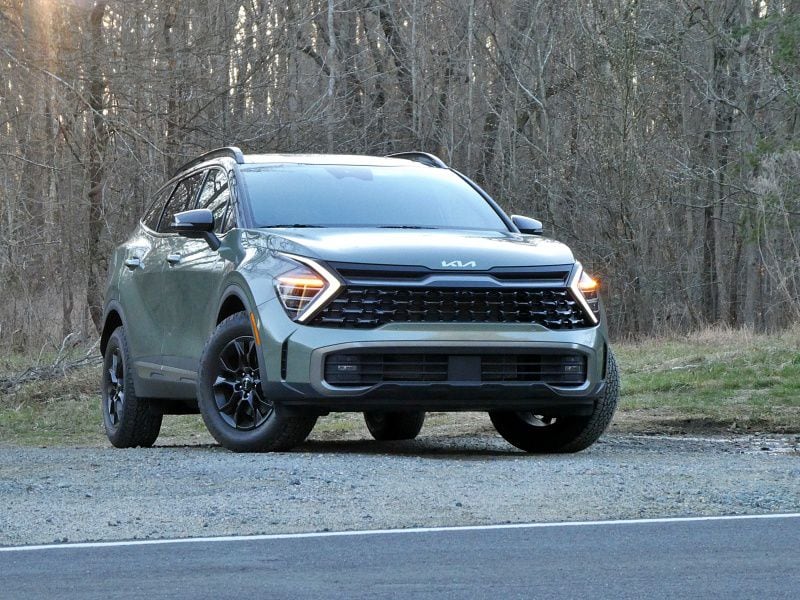 Photo by Brady Holt
Two Hybrids Elevate Its Game
For both more speed and better gas mileage, you want the newly introduced Sportage Hybrid. It pairs a turbocharged 1.6-liter four-cylinder engine with an electric motor for a total output of 227 hp. This powertrain is quicker, quieter, and smoother than the base 2.5-liter. EPA estimates are 43 mpg with front-wheel drive and 38 mpg with all-wheel drive. We only saw 34 mpg in our AWD test vehicle, but at a price premium of only about $1,000, this upgrade is worth it for the extra power and refinement alone. Any extra mileage you get is icing on the cake. (And even without hitting the EPA estimate, that's still 7 mpg worth of icing.) 
Kia also rolled out a Sportage plug-in hybrid. The idea is that you charge up a larger battery using energy from the grid, enjoy up to 34 miles of fully electric range, and then average 35 mpg once that range is used up. We love this idea in principle, but because the Sportage plug-in hybrid often runs the engine when you need the heater, we didn't get to enjoy the promise of making short trips without gasoline. At some $7,000 more than the standard hybrid, it's a tough sell.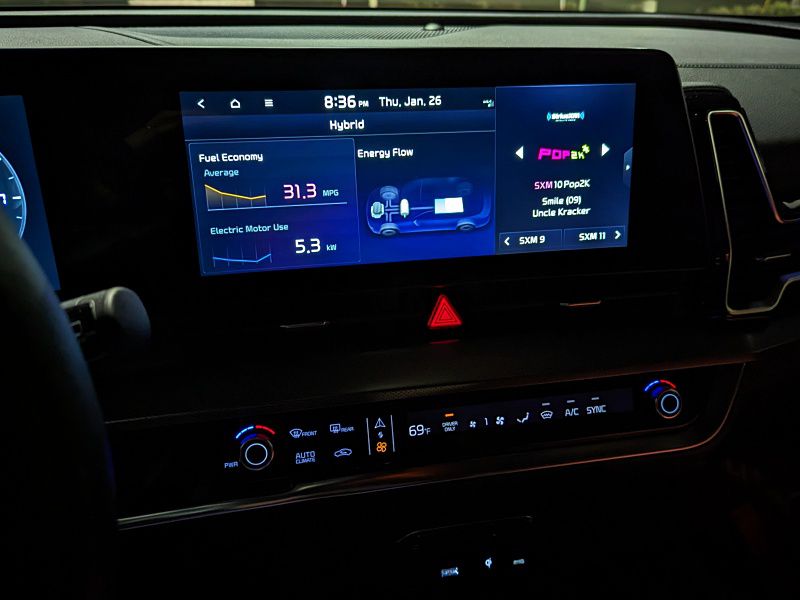 Photo by Brady Holt
Lots of Competitors
Compact crossovers are many automakers' biggest sellers, so the Sportage faces many strong rivals. Not least of all, it must compete with its corporate cousin: the similarly priced but differently styled Hyundai Tucson, with which it shares its engines and other mechanical components. We found the Kia's controls easier to use, but other differences are a matter of personal taste and how good of a deal you can find on the SUV you'd pick. 
Other budget-friendly compact crossovers include the Mazda CX-5 and CX-50, the Subaru Forester, and the Volkswagen Tiguan. Of those, the Mazdas have the sportiest handling and the richest interior materials, but they're the least roomy and have clunky control layouts. The Subaru and VW are both roomy, but the Forester is all about just-the-basics comfort, utility, and fuel efficiency; the Tiguan is more upscale but less simple and economical. Meanwhile, if you're interested in paying more for more polished driving manners; richer interior materials; and quicker, more economical gas engines, the Honda CR-V and Nissan Rogue are two winners. Lastly, if you miss the smaller old Sportage, see if you fit in the subcompact Kia Seltos, priced from just $23,340.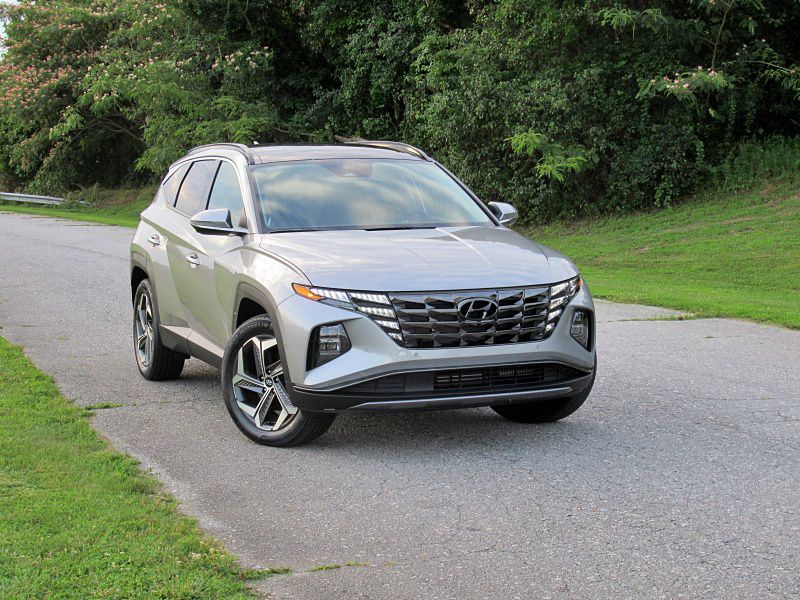 Photo by Brady Holt
Striking the Heart of the Market
The newly enlarged Sportage, and its newly enlarged lineup of available powertrains, drive straight into the heart of the compact crossover market. And whether it catches your attention with its bolder styling or below-average price, it has the goods to hold your interest: a well-rounded overall package that includes standout cargo room and value for the money. 
The Sportage's gas engine isn't great. It's neither quick nor economical. Fortunately, the Sportage is such a strong value that even the costlier hybrid version costs less than even many rival gas-only models. Once you've upgraded to the hybrid, you've solved the Sportage's primary deal-breaking flaw. Competing (costlier) hybrids are even more efficient. We'd have changed a few details about the interior's materials and control layout. And you might pick something that's more off-road-ready or on-road sporty. But the redesigned Sportage has a lot for anybody to like — especially in hybrid form.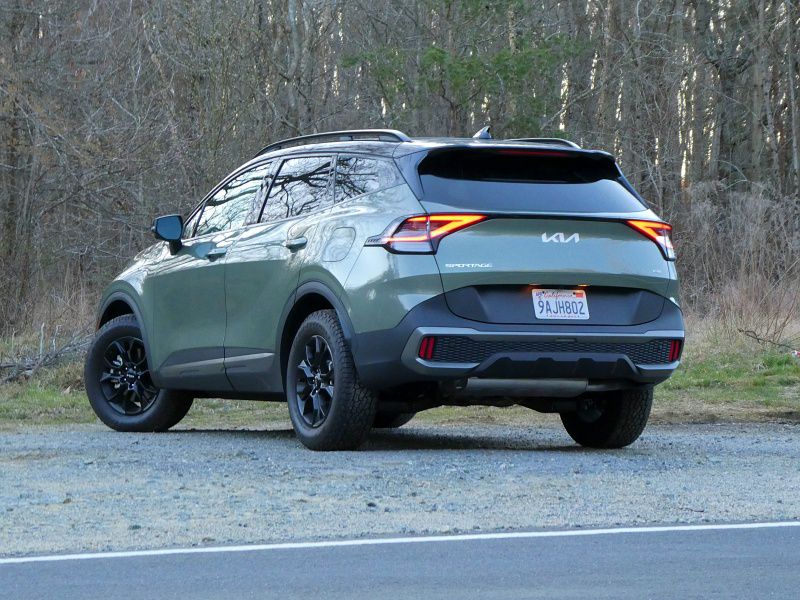 Photo by Brady Holt