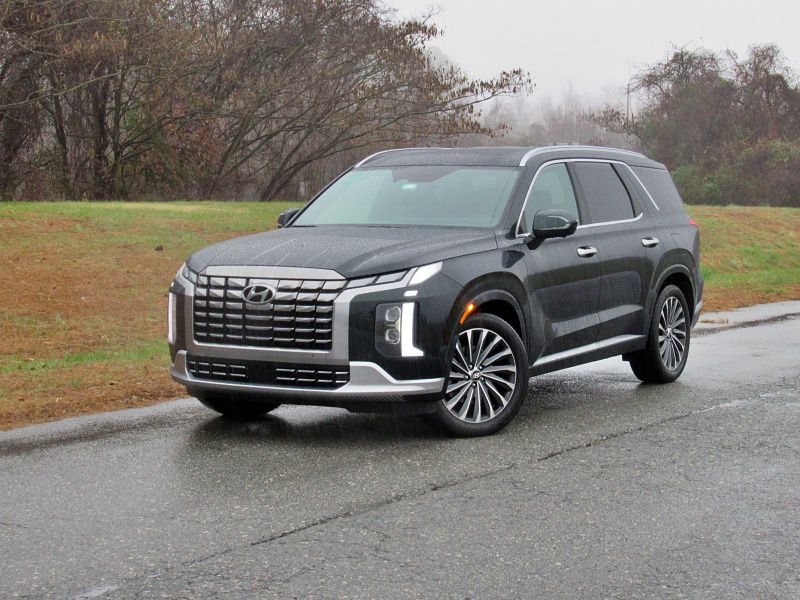 2023 Hyundai Palisade ・ Photo by Brady Holt
The 2020 Hyundai Palisade was a revelation. It stormed into the market as a rejection of its competitors' compromises. No longer did a three-row crossover SUV have to be family-friendly or luxurious or affordable. The Palisade ticked all three boxes with gusto. 
Now, after three successful years on the market, the 2023 Hyundai Palisade sees a comprehensive update to keep it near the top of the large crossover segment. In addition to styling revisions, it features upgraded infotainment technology and a long list of new features. It's a great SUV that just got even better. Keep reading to learn more about the updated Palisade's many strengths — and its handful of weaknesses.
Lots of New Features
The Palisade has always been packed with features that defy its status as a bargain-priced SUV, which came in fully loaded at the price of a mid-level Ford Explorer or Chevrolet Traverse. Hyundai further ratchets up its game for 2023. 
The base Palisade SE costs $35,250, while its trim levels span up to our tested $49,200 Calligraphy. That's a bit more than last year, but the new features more than cover the difference. Every Palisade now has a 12.3-inch infotainment screen with GPS navigation, a power driver's seat, push-button starting, a Wi-Fi hotspot, and auto-dimming side mirrors. They also include an updated suite of Hyundai's advanced driver aids like adaptive cruise control and more functionality for the Bluelink mobile app (like alerts if you left your windows open). Every other trim level now comes with heated leatherette or leather upholstery. Heated and ventilated second-row seats, a premium Harmon Kardon sound system, and a surround-view camera are now more widely available, and heated third-row seats are a new option. The Palisade continues to provide incredible luxury and convenience for the money.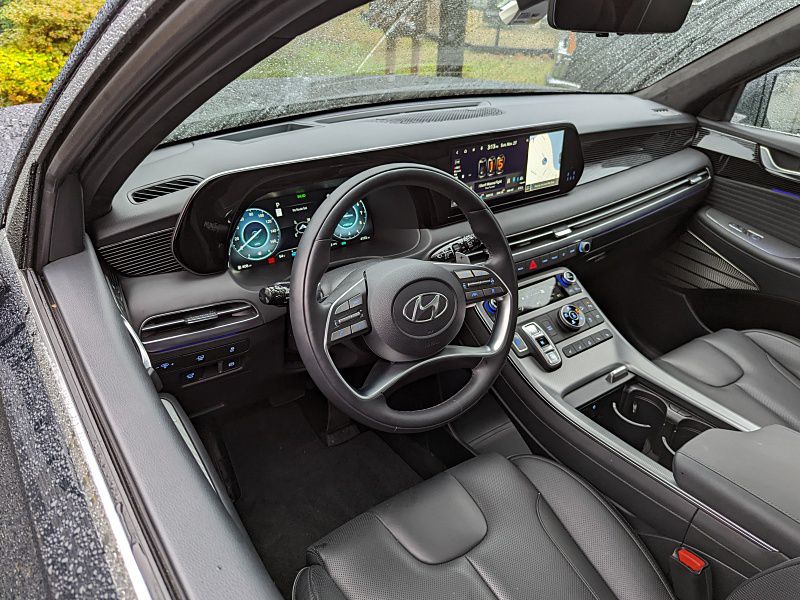 Photo by Brady Holt
More Cohesive Design
The Hyundai Palisade debuted alongside its corporate cousin, the Kia Telluride. The two SUVs took different styling approaches (the boxier Kia versus the more complex Hyundai), and we tended to hear more votes for the former approach. The 2023 Palisade's styling revisions should chip away at its critics without alienating its supporters. 
The Palisade still has a big chrome grille between two slit-like headlights. But the 2023 model integrates it all together more cohesively than before. The crisper headlights flow better into the big grille. And the more-vertical grille makes the Palisade look more purposeful while also better complementing the vertical LED spears that dip down from the headlights. Restyled wheels are simpler and classier. And a new XRT trim level introduces more rugged styling cues, providing a subtle taste of off-road flavor that past Palisades had never pursued.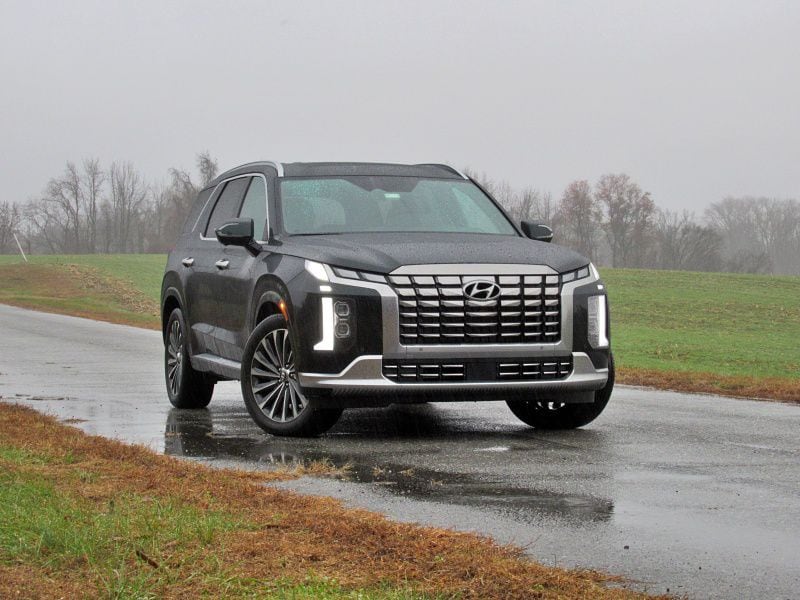 Photo by Brady Holt
Bigger New Touchscreen
Last year's Palisade offered a choice of 8-inch and 10.25-inch infotainment touchscreens. To stay at the top of the screen-size war, the SUV now comes standard with a single 12.3-inch unit on all trim levels. As we mentioned, Hyundai even throws in GPS navigation at this base price, and it now features over-the-air mapping updates. The system works well and is complemented with relatively simple physical controls, including straightforward volume and tuning knobs. Still, we wish the system supported wireless Android Auto and Apple CarPlay rather than making you plug in a cable to use your phone apps on the touchscreen.
The Palisade's interior styling updates include combining the dashboard vents into a single horizontal band across the dashboard. It runs between the touchscreen and physical buttons, simplifying the dash and providing a clean division between sections of the dashboard. The floating center console still flows up to meet the dash above an open storage area, and the big center console bins include clever reconfigurable cupholders. And cabin materials and assembly remain top-notch. 
Photo by Brady Holt
Seating for Eight
Some SUVs have three-row seating only for emergencies, with enough room only for small children to wedge into the far back for occasional emergencies. The Palisade is instead one of the roomier three-row crossovers. 
First of all, the Palisade is among those that can seat eight passengers with a second-row bench seat and seven passengers with second-row captain's chairs. A number of rivals have only two third-row seatbelts, dropping their capacities to seven and six, respectively. What's more, the Palisade's third row is usable for even adults. No one would pick it over a shotgun position, but it's far from a torture chamber. It's even available with heated cushions on upper trim levels. The Palisade also has a useful amount of cargo space: 18 cubic feet behind the third row, 45.8 cubic feet with the third row folded, and 86.4 cubic feet behind the front seats. Some competitors have even more space, though. Towing capacity is similarly competitive yet not class-leading at 5,000 pounds, and the 2023 Palisade has a new selectable towing mode.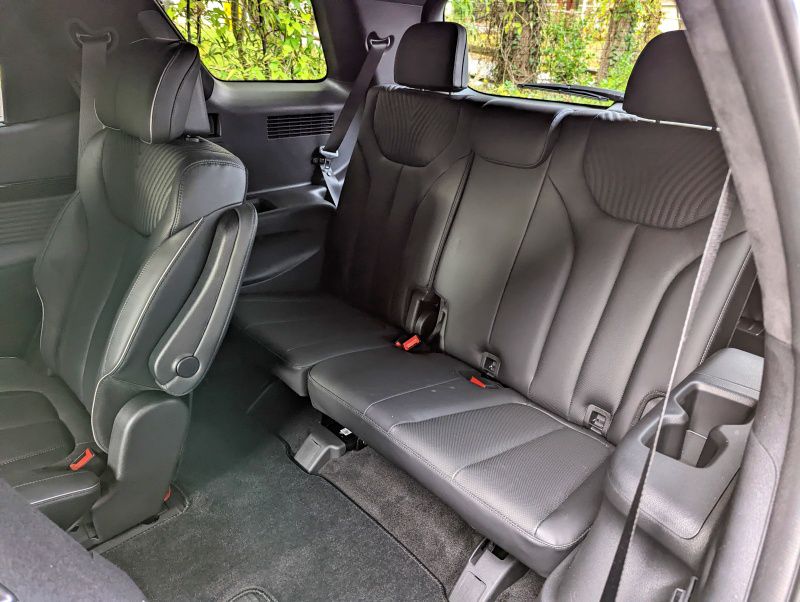 Photo by Brady Holt
Genteel Drive
Some three-row crossovers aim to be tough and burly. Others offer sporty performance. The Palisade instead provides supreme competence with an air of serene gentility. It has the same comfortable, easy-to-drive composure that would make a great minivan, but not a lot of personality.
We don't mean to understate the competence, though. The Palisade rides and handles quite well for an SUV. New laminated windows keep even more sound out of the cabin. And the 3.8-liter naturally aspirated V6 engine makes 291 horsepower and 262 lb-ft of torque, enough to accelerate this big crossover with ease (if not invigorating thrills). This big-displacement engine — paired with a smooth-shifting eight-speed automatic transmission — also sounds traditionally rich and smooth in an era of turbocharged four-cylinders. You can select a "Sport" driving mode that tweaks the steering, throttle, and transmission responses, and some drivers will indeed pick it every time.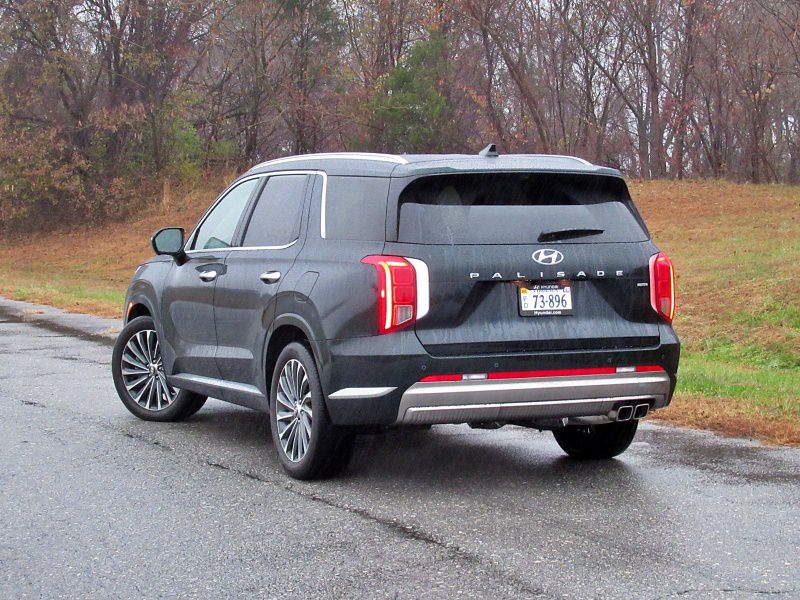 Photo by Brady Holt
Decent Gas Mileage
The EPA estimates that the front-wheel-drive Palisade will average 19 mpg in the city, 27 mpg on the highway, and 22 mpg combined, while all-wheel-drive models will get 19 mpg city, 25 mpg highway, and 21 mpg combined. We averaged about 22 mpg in a week of mixed driving in an AWD Palisade, edging out the EPA estimate. 
These are competitive but not exemplary figures for this class. Four-cylinder rivals like the Volkswagen Atlas, Toyota Highlander, and Ford Explorer manage another mile per gallon or two. So does the V6-powered Nissan Pathfinder. And it's to say nothing of the admittedly smaller gas-electric Toyota Highlander and Kia Sorento hybrids. Hyundai also has no answer to the planned hybrid version of the upcoming Toyota Grand Highlander.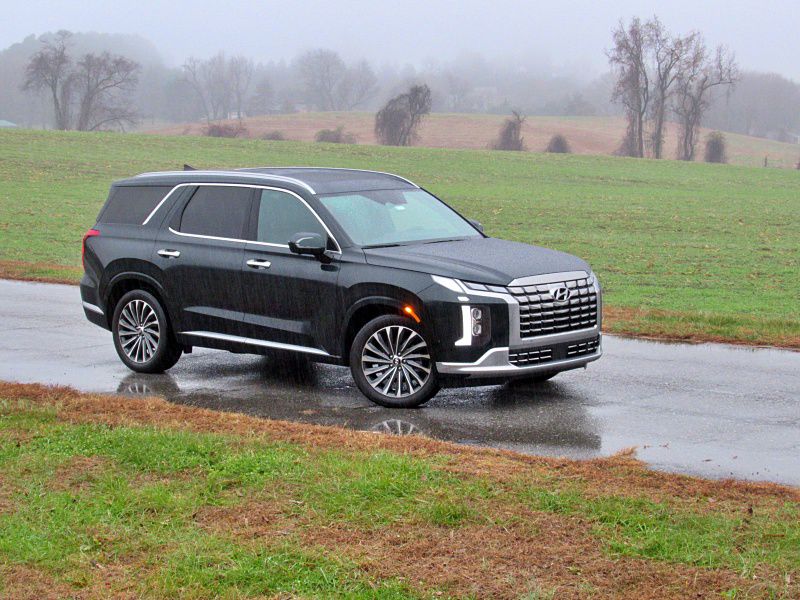 Photo by Brady Holt
Highest Safety Status
The 2022 Palisade earned the highest designation of Top Safety Pick+ in crash testing and other evaluations from the Insurance Institute for Highway Safety, along with five out of five stars from the National Highway Traffic Safety Administration. The updated 2023 model hasn't yet been tested as of this writing, but we have no reason to doubt the Palisade's safety bona fides. 
This year, the Palisade's standard safety gear includes forward automatic emergency braking that can detect pedestrians, bicyclists, and turning cars; blind-spot monitoring with a rear cross-traffic alert; a lane-departure warning with lane-keeping steering assistance; and newly introduced second-row torso-protecting side airbags to complement the existing head protection. You can also add rear automatic emergency braking, a surround-view parking camera, and a blind-spot camera that activates in the gauge cluster when you signal a turn. It would be impossible to fault the Palisade's safety bona fides, either in protecting occupants in a crash or in helping the driver avoid one in the first place.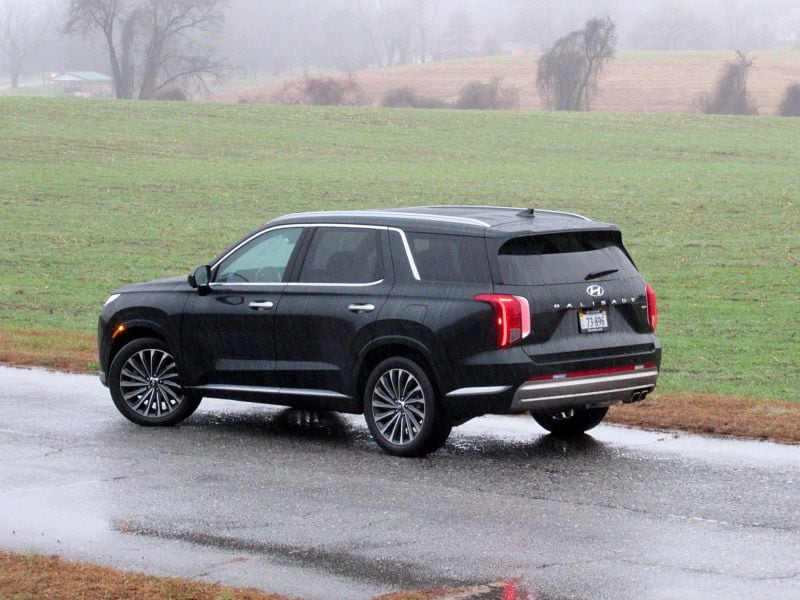 Photo by Brady Holt
Competitors to Consider
As good as the Palisade is, it faces a number of strong competitors. The closest is its cousin, the Kia Telluride, which has mostly aesthetic differences from this Hyundai. You can choose based on your preferred style, preferred dealer, or preferred deal. The Palisade does have a bit more console storage, thanks to using a push-button gear selector instead of the Telluride's conventional lever. It also includes Hyundai's three years or 36,000 miles of free scheduled maintenance; Kia lacks that perk. 
Our other favorite three-row crossovers include the newly redesigned Honda Pilot and Nissan Pathfinder, the Volkswagen Atlas, the Mazda CX-9, and the Toyota Highlander Hybrid. The Pilot, Pathfinder, and CX-9 are crisply refined in their driving manners and interior finishes and the new Pilot offers standout cargo room. However, the Mazda has a lot less room than the Palisade, the Honda costs thousands more, and all three lag for infotainment. The Atlas is hugely roomy yet surprisingly agile, but its interior decor is solidly budget-grade rather than aspirationally upscale. And the Highlander Hybrid lacks the Palisade's effortlessly smooth driving manners, low sticker prices, and adult-friendly third-row seat, but it gets an incredible 36 mpg in EPA testing.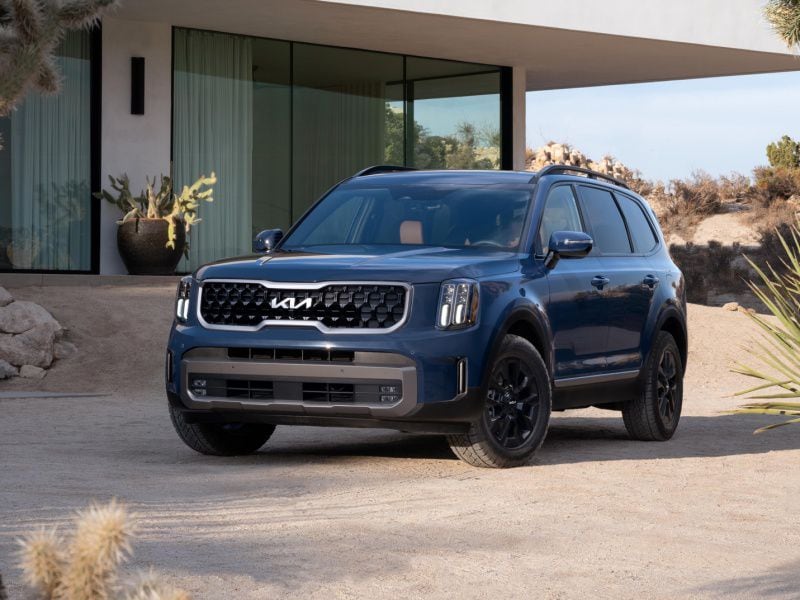 Photo by Kia
Final Thoughts
Do you want a family-friendly crossover with lots of features for the money? The 2023 Hyundai Palisade delivers space, safety, and value. How about a bargain-priced luxury ride? Enjoy a serene ride, richly finished interior, and long list of high-end options. Or do you just want a great three-row SUV without sweating the price tag? The Palisade's supreme competence goes far beyond its value advantage. 
Some of the Palisade's competitors edge it out here and there. If one of those specific areas is a top priority for you — be it gas mileage, towing capacity, a character-infused driving experience, or cargo capacity — you may be happier in one of those rivals. But except for the near-identical Kia Telluride, no other three-row SUV can match it as a complete package. We'd caution you to watch out for steep markups, as many Hyundai dealers know what a compelling package they have. (Others are reportedly willing to part with their Palisades at sticker prices, so shop around.) But the Palisade is worth more than its sticker price. Especially with this year's new upgrades, don't overlook this excellent three-row SUV.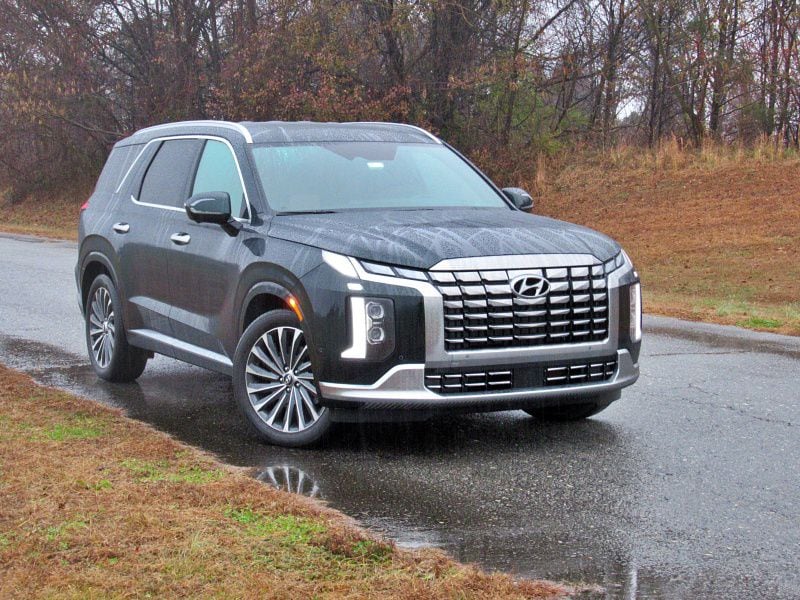 Photo by Brady Holt