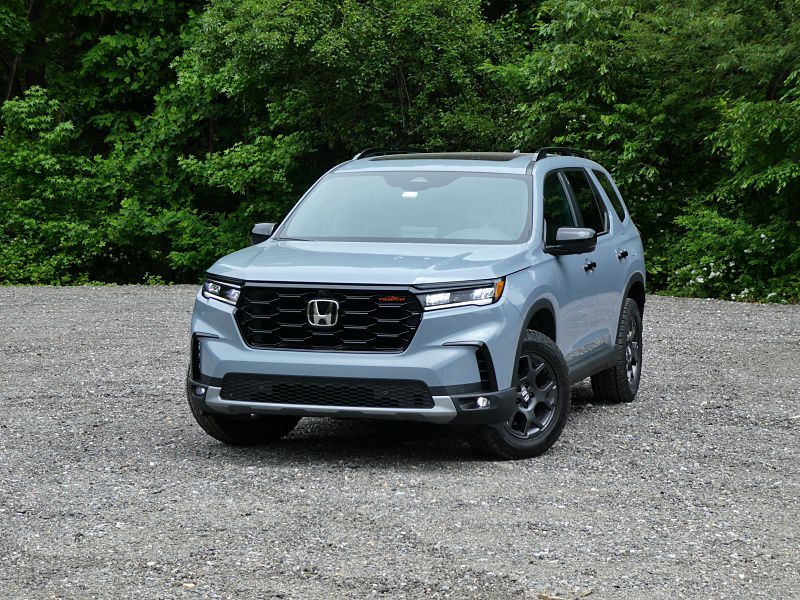 2023 Honda Pilot TrailSport ・ Photo by Brady Holt
In many ways, a great family-friendly three-row crossover SUV is a minivan without sliding doors. But following that formula too religiously can get an automaker into trouble.
Consider the Honda Pilot. It helped create the three-row crossover segment 20 years ago, putting an SUV body on more space-efficient, better-driving, and more economical minivan bones. But after a couple generations of blocky toughness, the 2016-2022 Pilot became softer and smoother. It had less character, both visually and from behind the wheel. We liked the old Pilot, but we heard from plenty of detractors that Honda needed to restore some of the old SUV flavor. That's what we see in the all-new 2023 Honda Pilot. This fully redesigned model has a blockier body and a new off-road-focused model, along with more agile handling, an upgraded interior, more cargo space, and a lower starting price. We just spent a week testing the new Pilot to learn about its pros and cons. Keep reading to learn what we found and see whether it's the right eight-passenger SUV for you. 
More Affordable Base Model
Most new cars have gotten more expensive lately. With the 2023 Pilot, the Honda added a new base LX model for $35,950, more than $2,000 less than the cheapest 2022 model, called the Sport. That means there are fewer standard features (no more heated and power-adjustable front seats or blind-spot monitoring system), and the 2023 Pilot Sport with those features costs $39,150 — $1,000 more than last year's Pilot. But we're glad Honda now gives you the choice to pay less for fewer features, and even the LX still includes high-end items like tri-zone automatic climate control, adaptive cruise control, push-button starting, and a seven-speaker stereo with a subwoofer. 
Other Pilot trim levels include the leather-trimmed EX-L ($41,950); the Touring model with a Bose stereo and panoramic roof ($46,450); the top Elite with ventilated front seats, heated second-row seats, rain-sensing windshield wipers, and power-folding side mirrors ($52,030), and the off-road-ready TrailSport ($48,350). All-wheel drive costs $2,100 extra on all trim levels but the Elite and TrailSport, where it's standard. Honda forces you into pricey trim levels for some common features like a sunroof, but the Pilot is otherwise priced well for many customers.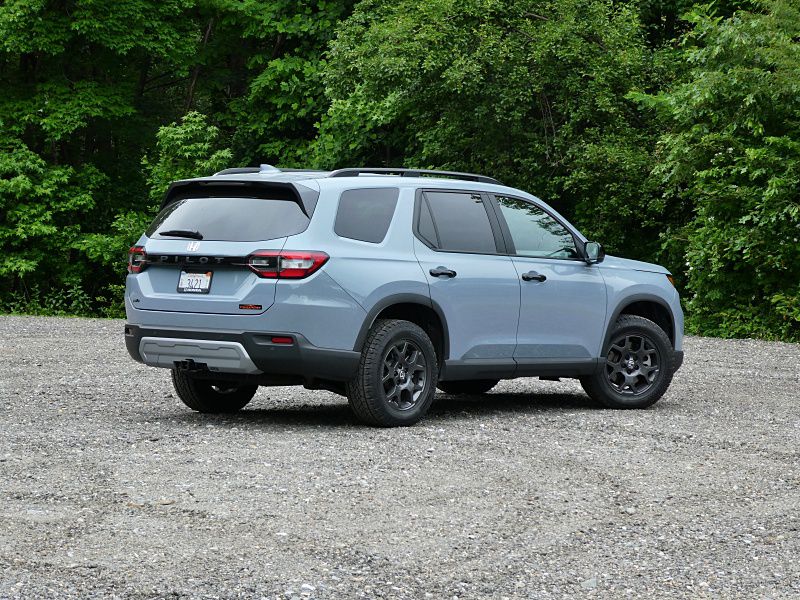 Photo by Brady Holt
Styled Like an SUV Again
We mentioned that the previous-generation Pilot lacked the styling verve of many rivals. It was neither off-road aggressive nor on-road sporty nor sleekly avant-garde. It was just a big, minimally decorated rounded-off box. 
The 2023 Pilot changes that. A squared-off front end and more chiseled body return it to the SUV-esque look of the 2010-2015 Pilot generation, though with a more conventionally attractive face. And the TrailSport model like our test vehicle lends some additional SUV cred. It includes 18-inch alloy wheels (versus the 20-inchers that are included on other upper-trim Pilots) that are designed to minimize scrapes, and which come wrapped in all-terrain tires — a Honda first. The TrailSport also includes a higher ground clearance, an off-road-tuned suspension, and protective skid plates. The Pilot joins a growing field of rugged-looking rivals, including the latest Nissan Pathfinder, Ford Explorer, and Kia Telluride (each of which has its own off-road-focused variant), so this design philosophy isn't exactly novel. But the many folks who like it will be happy to consider the Pilot alongside those models. And as we'll discuss, there are good reasons to do so.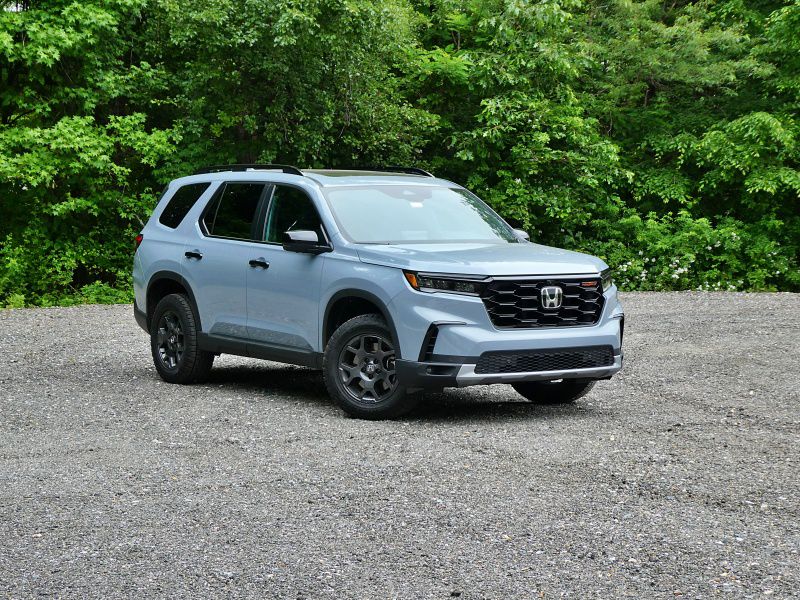 Photo by Brady Holt
User-Friendly Interior
The 2023 Pilot has a minimalist dashboard compared with last year's model. It's built as a straight line with an infotainment touchscreen perched on the top, above a pair of vents. The climate controls are below those vents, making the dashboard look less cluttered than last year's Pilot, which had the vents to the side of the screen and climate controls. Cabin materials have generally improved, too, though the generally high-quality feel doesn't extend all the way to dazzling opulence. 
Last year, every Pilot came with an 8-inch touch screen. This year, the LX and Sport step down to a 7-inch unit, while other trim levels now have 9-inch screens. Both of these screens are on the small side for today's standards, though we like how the smaller screen does save room for a tuning knob. The latest Honda Accord offers a 12.3-inch screen, which we expect to become a Pilot option before long as well; the Pilot's dashboard already looks like Honda set aside space for this eventuality.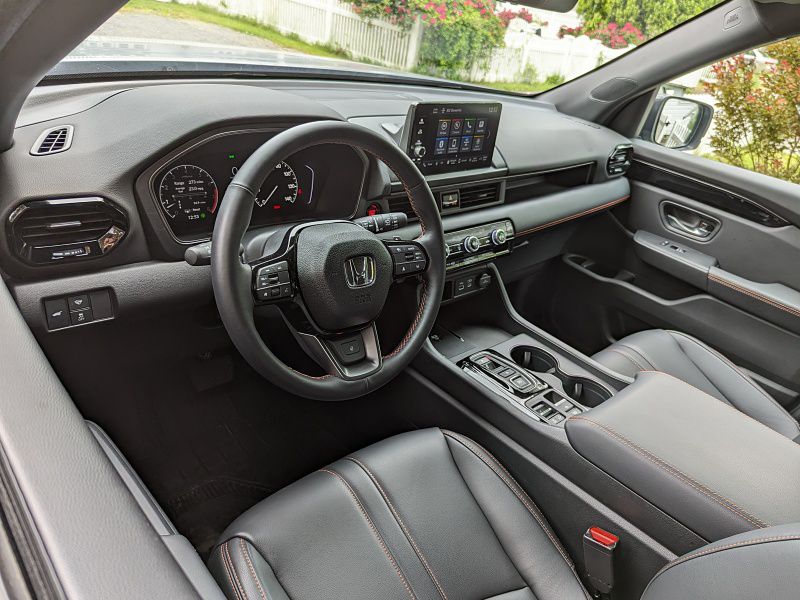 Photo by Brady Holt
Flexible Seating for Eight
The Pilot has always been a usefully roomy family hauler, and it continues to offer eight-passenger seating on most trim levels (the TrailSport and some EX-Ls only seat seven). The front and second-row seats are spacious and comfortable, and adults can squeeze into the third row with less fuss than in some rivals. As we mentioned, heated and power-adjustable front seats are standard on all but the base LX, but ventilation and second-row heating are limited to the top Elite. 
A new feature this year is the stowable eighth seat. This means that on the Touring and Elite, you can install a middle position in the second row between two captain's chairs. That gives you space, comfort, and a passage to the third row when you aren't loaded up with people, while letting you whip out an extra position in emergencies. (The extra seat fits under the cargo floor.) The LX and Sport come only with second-row bench seats, and the EX-L gives you a choice of a bench seat or captain's chairs — without the ability to ever seat eight.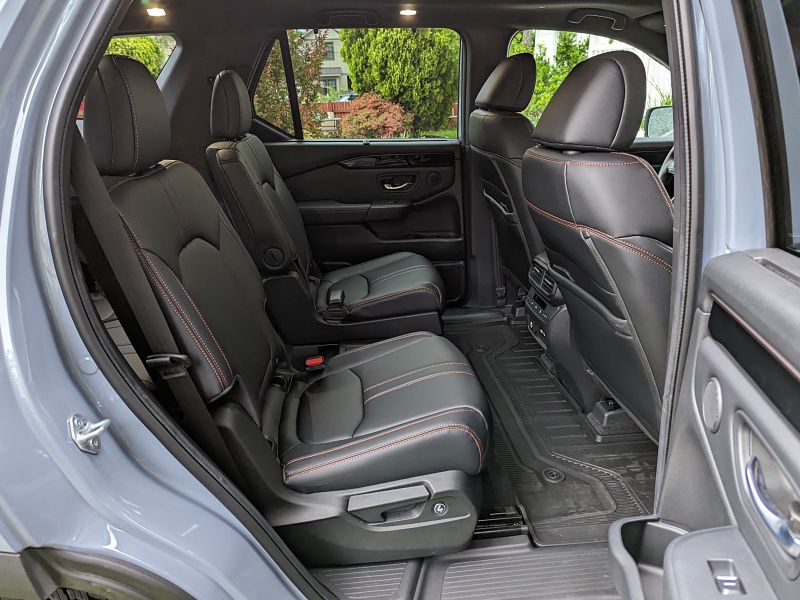 Photo by Brady Holt
Improved Cargo Capacity
Honda has also upgraded the Pilot's cargo-carrying capabilities with the new redesign. There's now 18.6 cubic feet behind the third-row seat, 48.5 cubic feet with the third row folded, and 87.0 cubic feet behind the front seats. 
This isn't best-in-class volume, but it's a bit more than last year's model and plenty of room for your stuff. You're most likely to notice the extra 2.1 cubic feet behind the third row, which can represent the difference between fitting all your family's stuff or needing to leave something behind or pack it in a roof box. When you need to bring something that wouldn't fit inside any SUV, the Pilot can tow up to 5,000 pounds with all-wheel drive or 3,500 pounds with front-wheel drive. That's in line with competing three-row crossovers.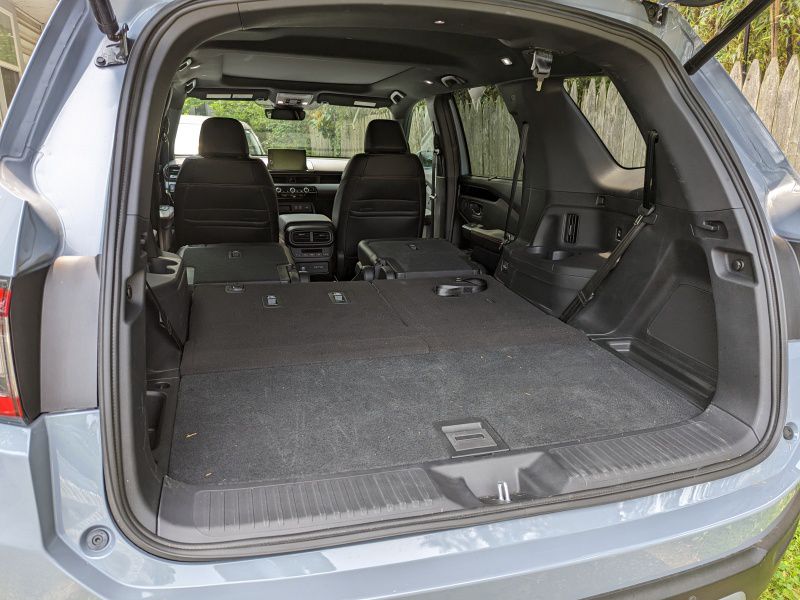 Photo by Brady Holt
V6 Power With Reduced Emissions
As most crossovers drift toward turbocharged four-cylinder engines, gas-electric hybrid powertrains, or even full electrification, the 2023 Honda Pilot has an anachronism: a 3.5-liter non-turbocharged V6 making 285 horsepower and 262 lb-ft of torque. More unusual still, this is a newly engineered engine at a time when many automakers are dialing back their development of gasoline powertrains. And its specifications are nearly identical to the old engine. 
The difference is the new Pilot's improved emissions. This engine is designed to provide similar acceleration, performance, and smooth, rich-sounding acceleration to last year's model, while polluting less. Honda also switched to a smoother-shifting 10-speed automatic transmission. Overall, the Pilot is decently quick without being invigorating, and its gas mileage is class-competitive but not outstanding. In EPA testing, front-wheel-drive Pilots get 19 mpg in the city, 27 mpg on the highway, and 22 mpg combined and most all-wheel-drive models get 19 mpg city, 25 mpg highway, and 21 mpg combined. The TrailSport, like our test vehicle, dips to 18 mpg city, 23 mpg highway, and 20 mpg combined, and we averaged 22 mpg in a weeklong test.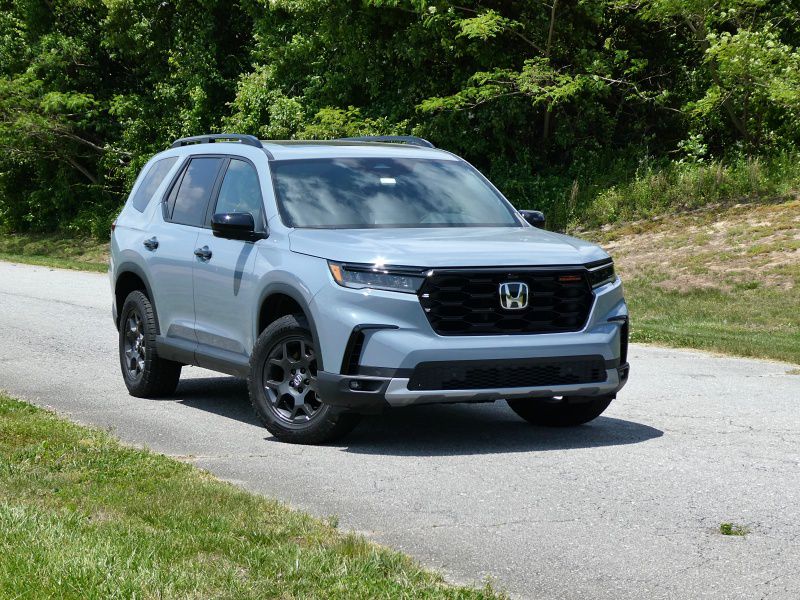 Photo by Brady Holt
Smooth Ride With Nimbler Handling
While many Hondas opt for a firm ride that trades some cushiness for livelier handling, the Pilot remains focused on smoothness. The new generation also adds further sound-deadening material, particularly on upper trim levels, to isolate occupants from wind, road, and engine noise. 
Still, after the previous-generation Pilot's vague steering and lazy handling, the new model tightens things up a notch. This is still a big, softly sprung SUV, particularly on the TrailSport model. But the new Pilot inspires more confidence and feels more connected to the road than its predecessor, especially in the selectable Sport driving mode. We also preferred the feel of the new model's brakes. Just don't assume even the TrailSport to rival a Jeep Grand Cherokee or Toyota 4Runner in off-road conditions. With 8.3 inches of ground clearance and a selectable Trail mode, it'll get through a bit more snow and mud than regular Pilots. Just remember that it's not built for hardcore folks who go off road for off-roading's sake.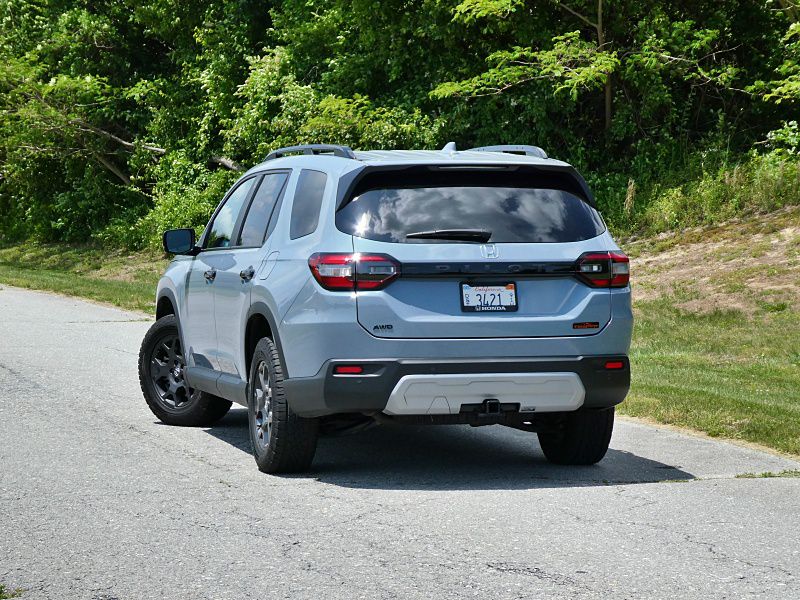 Photo by Brady Holt
Plenty of Competitors
The newly improved Pilot is an obvious upgrade for existing Pilot owners. But it does face a tough set of rivals, of which we'll highlight a few on this page. 
The Kia Telluride and Hyundai Palisade have established themselves for blending luxury, comfort, functionality, style, and affordable pricing. They have more standard features than the Honda, bigger infotainment screens, and quieter rides, and this year introduced their own TrailSport-rivaling off-road trims. The latest Nissan Pathfinder and Ford Explorer deliver sharper ride, handling, and acceleration than the Pilot, with better gas mileage to boot. And Toyota has just introduced a Grand Highlander model, a size larger than the best-selling Highlander, to finally top the Pilot's spaciousness while throwing in fuel-sipping hybrid engines. Still, the Pilot has a roomier, better-finished interior than most of these rivals, along with one of the lower starting prices.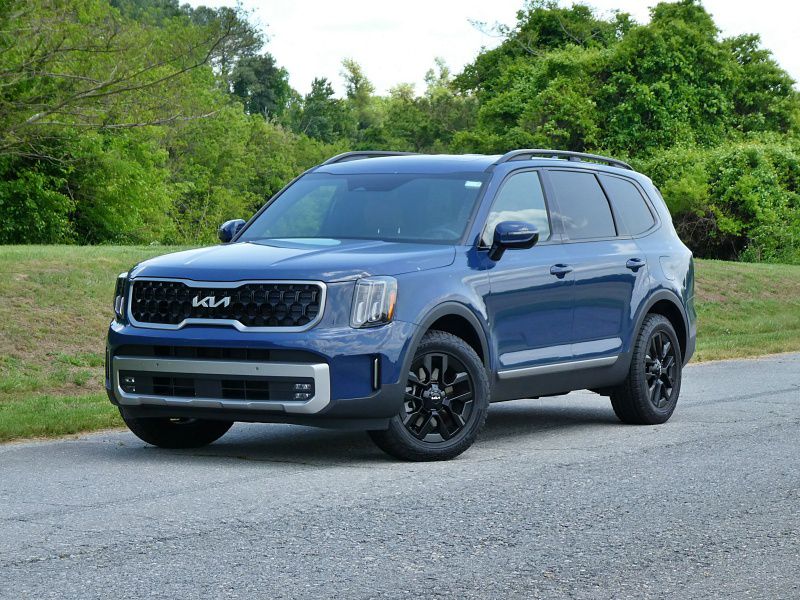 Photo by Brady Holt
Final Thoughts
The 2023 Honda Pilot didn't set out to conquer the world. Its spec sheet doesn't stomp the competition's, whether you're looking at horsepower, gas mileage, touchscreen size, or cargo capacity. If you were counting on the Pilot to revolutionize its segment, it could be a disappointment. 
But if you were looking for a Pilot that's demonstrably better than its predecessor without taking any risky steps backward, this is a successful redesign. The Pilot remains comfortable and family-friendly, and it now has a more handsome body, upgraded interior materials, simpler controls, more cargo room, a cleaner-burning engine, superior crash-test performance, and additional features, all at a lower starting price. We wouldn't tell you to buy one without also checking out the competition. But we also wouldn't tell you to buy the competition without checking out the new and improved 2023 Honda Pilot.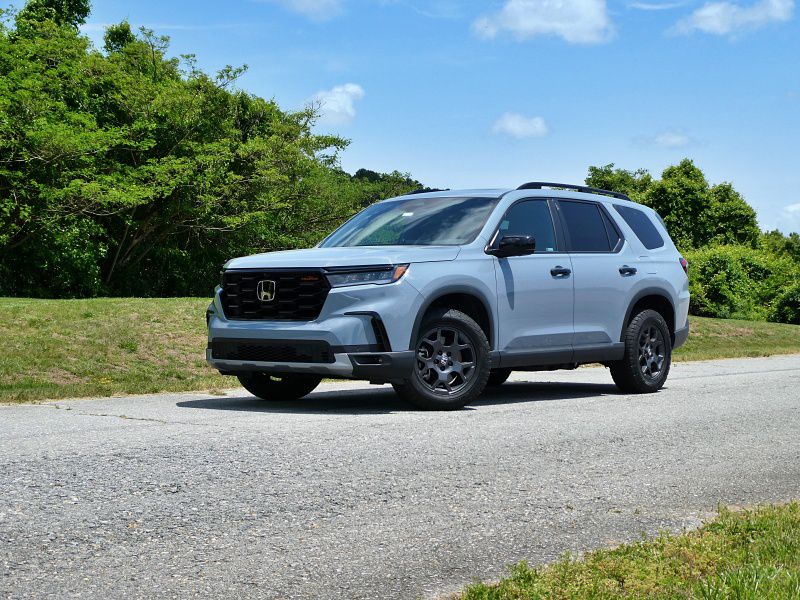 Photo by Brady Holt