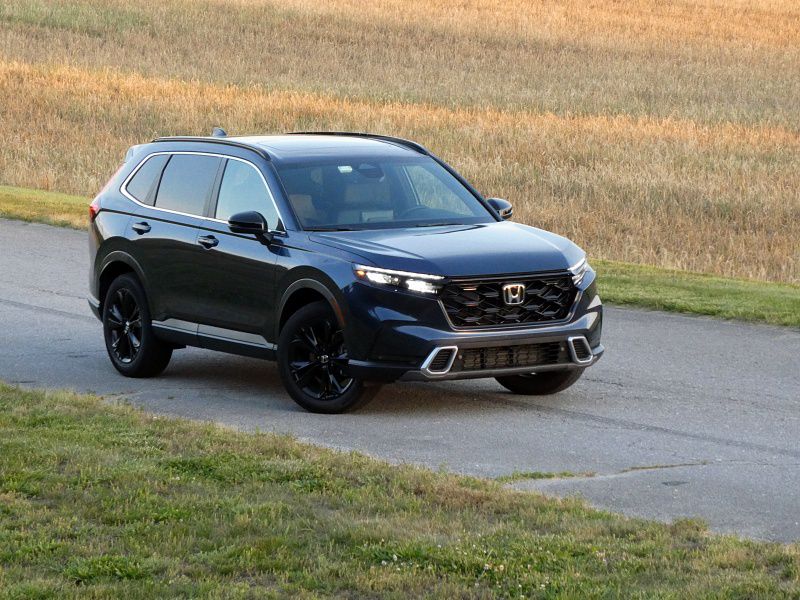 2023 Honda CR-V Hybrid Sport Touring ・ Photo by Brady Holt
The Honda CR-V has become one of America's best-selling vehicles in recent years. It's a beloved brand's entry in the hot compact crossover class — a segment that the CR-V helped create back in the Clinton administration.
Since 2020, Honda has added a gas-electric CR-V Hybrid to its lineup. But now, the freshly redesigned 2023 Honda CR-V Hybrid has overtaken the gas-only CR-V. Last month, the CR-V Hybrid outsold not only the gas CR-V but every other Honda model. We just spent a week testing the new CR-V Hybrid, priced from $32,400, so we could learn what customers were rushing to and whether you should join them. Keep reading as we explore its pros and cons, so you can find out if it's the right small SUV for you.
The Mileage Question
The first question for a hybrid is about its fuel economy: What kind of mileage does it get? The answer is that it's excellent by most standards, but it faces tough competition. 
In EPA testing, the 2023 CR-V Hybrid achieves 43 mpg in the city, 36 mpg on the highway, and 40 mpg combined with front-wheel drive and 40 mpg city, 34 mpg highway, and 37 mpg combined with all-wheel drive. That's excellent gas mileage for an SUV, especially in stop-and-go conditions. And the new front-drive option lets this year's model beat out the AWD-only 2022 CR-V Hybrid, along with the rival Ford Escape and Hyundai Tucson hybrids. However, if you are interested in AWD, the CR-V Hybrid's EPA ratings tie the Tucson for the least thrifty hybrid compact crossover. We did beat the EPA ratings in our AWD test vehicle, averaging 41 mpg in mixed driving. That also beats the 38 mpg we got from a 2020 model and the 39 mpg we averaged in a Hyundai Tucson Hybrid, admittedly in non-scientific conditions.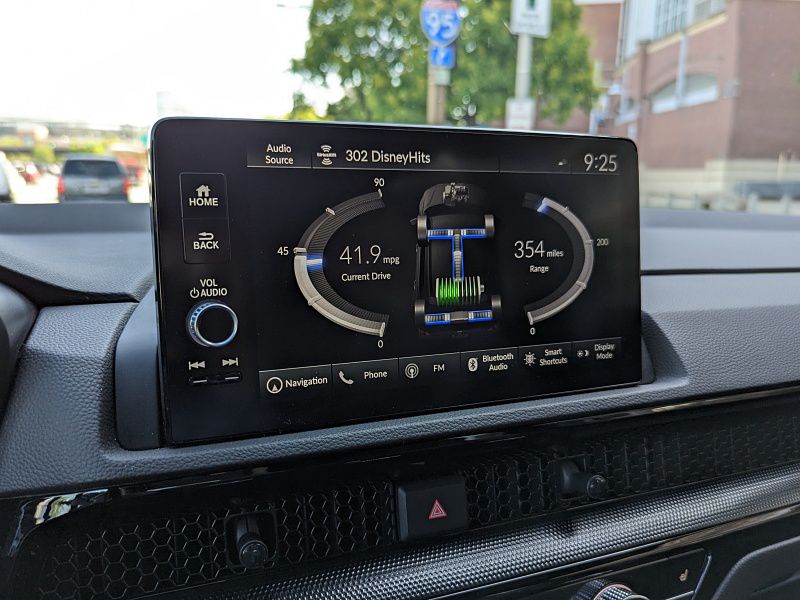 Photo by Brady Holt
It Drives Well, Too
Folks aren't just buying the CR-V Hybrid for its gas mileage. It drives well, too. Honda upgraded the powertrain this year to increase output from 201 horsepower to 204 hp, but the bigger advantage is how everything works together. The gasoline engine switches on and off seamlessly as needed, and it delivers smooth, lively acceleration without the raspy drone you'll find in some hybrids. Don't expect the performance to blow your doors off, but the CR-V Hybrid is quick and refined for an affordable compact crossover. 
We also appreciated the new CR-V Hybrid's ride and handling, which picked up some fresh polish this year. Some drivers will wish for lighter steering, but its touch of firmness helps it hustle around a corner with confidence. The tautly tuned suspension is up to the task, and the CR-V Hybrid is comfortable yet supremely composed. And an active noise cancellation system helps keep the cabin quiet. Don't expect racecar-like performance, but it's one of the best-driving affordable suvs out there.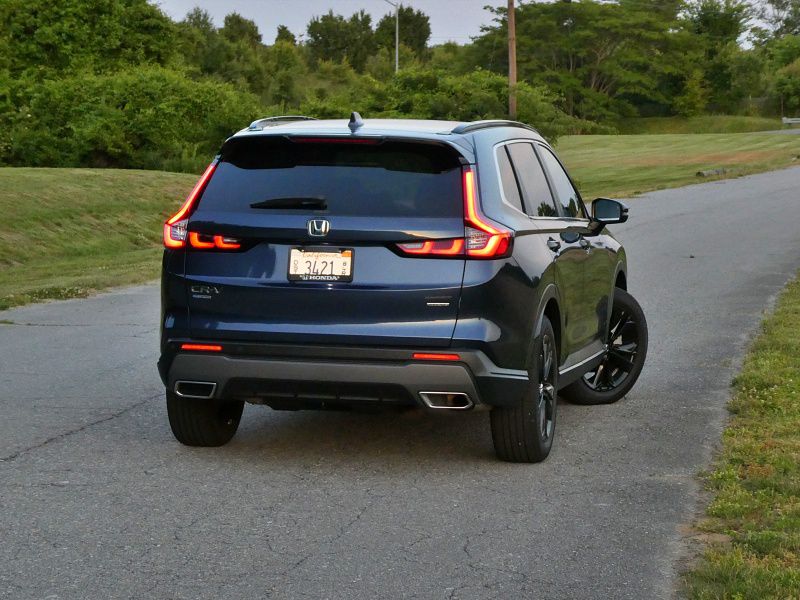 Photo by Brady Holt
Roomy and Comfortable
It's not only economical and fun to drive, but the CR-V Hybrid is incredibly useful, too. It has a traditionally SUV-high seating position, easy visibility, well-shaped and comfortable front seats, and enough space for three adults in the back. Every CR-V Hybrid includes heated front seats and a 10-way power-adjustable driver's seat, while the top Sport Touring trim level adds a heated steering wheel. However, you can't get ventilated front seats or heated rear seats. 
For cargo, you get 36.3 cubic feet of space behind the backseat and 76.5 cubic feet with the backseat folded down. Those are among the best figures of the compact-crossover class, though a gas-only CR-V has a bit more space. Ample cabin storage includes a biggest-in-class center console bin. And for the first time, the CR-V Hybrid is now rated to tow a trailer, albeit a modest 1,000-pounder.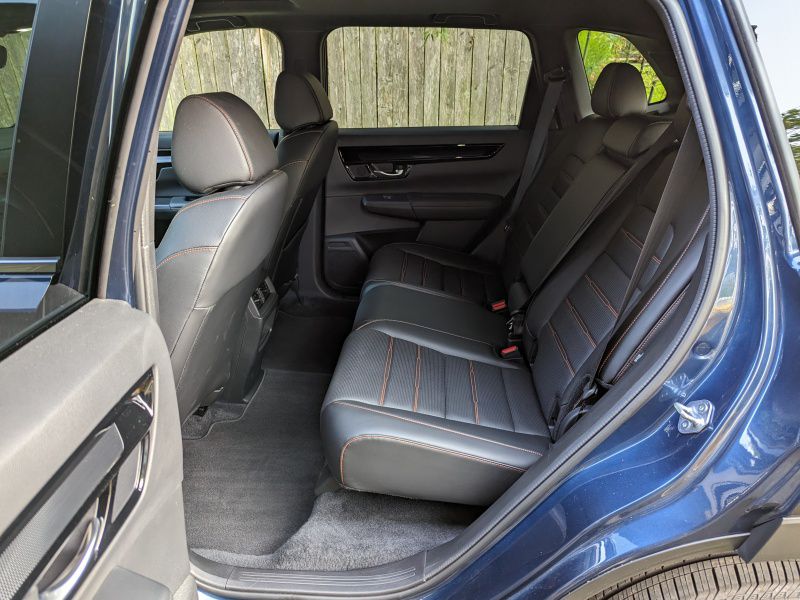 Photo by Brady Holt
Upgraded Dashboard
The old CR-V's interior impressed us with its luxury veneer when it first hit the market in 2017. But by the end of the model's life, its woodgrain trim and small, sluggish 7-inch infotainment touchscreen had become weak points. The new CR-V Hybrid is a big step forward in style, build quality, and technology. 
Now, to be clear, the base CR-V Hybrid Sport still uses a 7-inch infotainment screen — tiny for 2023. But it's more responsive and easier to use than last year's system, and the upper Sport Touring model like our test vehicle gets a 9-inch screen. Both dashboards share their design with other recent Hondas: A honeycomb strip conceals the climate vents, running below a touchscreen and above some physical controls. Buttons and knobs feel luxury-grade precise, trim pieces fit together well, and most materials are excellent for this price point. And the controls are mercifully simple to use.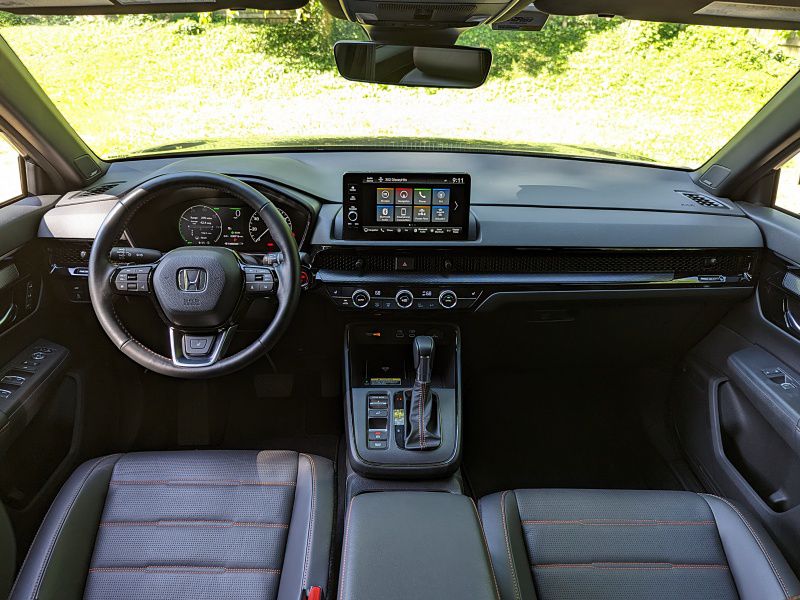 Photo by Brady Holt
Top-Tier Safety
The 2023 Honda CR-V earned the highest designation of Top Safety Pick+ from the Insurance Institute for Highway Safety. The redesigned model includes improved side-impact protection and headlights that now provide excellent illumination even on low-end trim levels. The National Highway Traffic Safety Administration hasn't yet tested the new CR-V, but even last year's model scored five out of five stars in NHTSA's testing. 
The CR-V Hybrid is also packed with standard safety and driver-assistance technology. Both its trim levels include adaptive cruise control, forward automatic emergency braking, and a lane-departure warning with lane-keeping steering assistance. Blind-spot monitoring with a rear cross-traffic alert is standard on the top Sport Touring and costs $550 extra on the base Sport. You can't get rear automatic braking or a surround-view parking camera, though.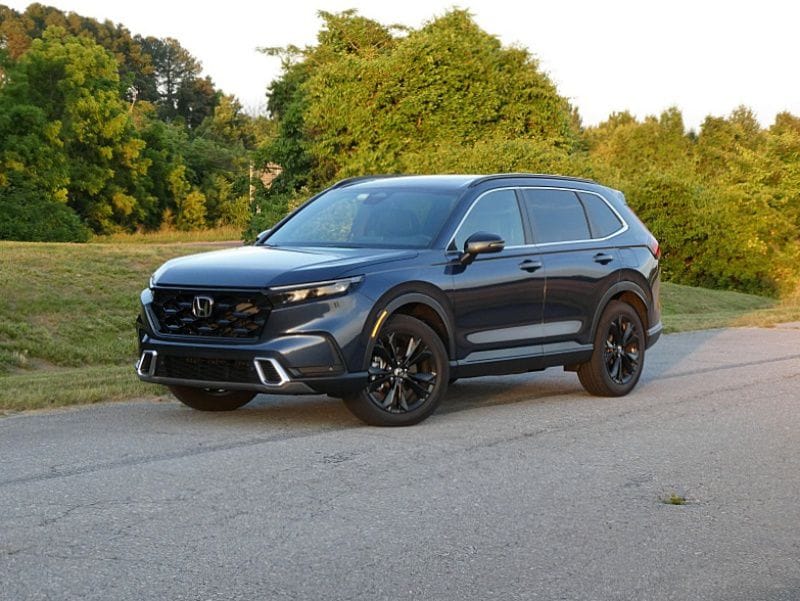 Photo by Brady Holt
Not the Lowest Starting Price
As we mentioned, the 2023 Honda CR-V Hybrid starts at $32,400. That price buys you a Sport model with front-wheel drive, and AWD costs $1,500 extra. The Sport Touring, sold only with AWD, costs $39,100. These are higher prices than last year's CR-V Hybrid, which had started at $32,010 with AWD standard. And it's more money than the base RAV4 Hybrid ($30,750), Tucson Hybrid ($31,150), and Sportage Hybrid ($27,490), though it undercuts a Ford Escape Hybrid ($33,340). 
The CR-V Hybrid does come well-equipped even in its base form, with high-end features that include a moonroof, automatic climate control, push-button starting, a power driver's seat, heated front seats, and 18-inch alloy wheels. The Sport Touring adds leather upholstery, the bigger 9-inch touchscreen, a wireless smartphone charger, a hands-free power liftgate, a 12-speaker Bose stereo, GPS navigation, a heated steering wheel, 19-inch wheels, and rain-sensing windshield wipers. That's not too bad for a fully optioned compact crossover, in part because you can't get it with quite as many high-end add-ons as rivals, like ventilated seats or a panoramic moonroof. But overall, the CR-V Hybrid isn't the crossover you choose when price is paramount.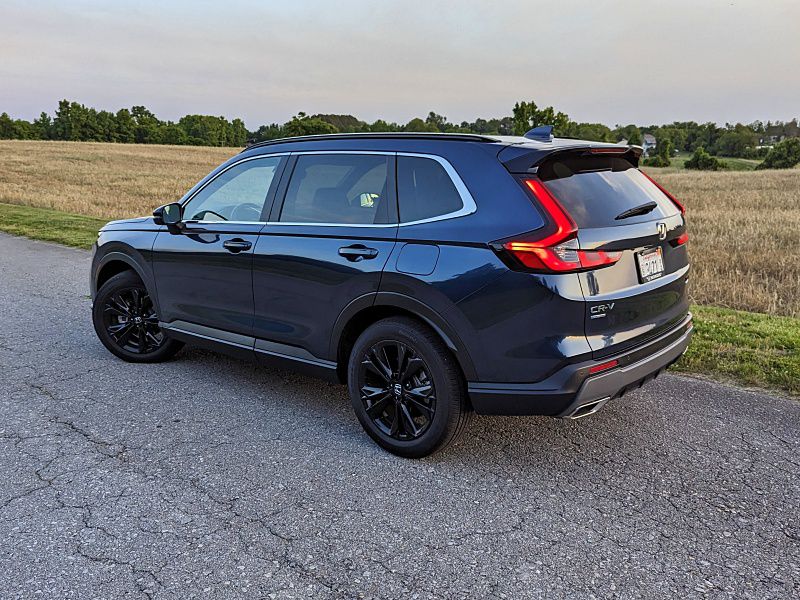 Photo by Brady Holt
CR-V Hybrid vs. the Gas Version
Honda continues to sell the CR-V with a 190-horsepower gasoline engine, which is available in a choice of three trim levels: the base LX ($28,410), the mid-level EX (at $31,060, similarly equipped to the Hybrid Sport), and the top EX-L (which costs $33,710 with some but not all of the Sport Touring's other add-ons). Both versions share an understated new exterior, but the Hybrid's "Sport" designations denote its blacked-out wheels and side mirrors, plus a revised grille and bumper design. 
Overall, the hybrid only costs about $1,300 more than a comparably equipped gas CR-V. To us, that's a no-brainer given that the hybrid powertrain is not only more economical, but also quicker and more refined than the base engine. However, the hybrid has no equivalent to a CR-V LX or EX-L, meaning the gap might grow substantially depending on the features you'd have been interested in. Another consideration is the type of driving you'd be doing. While the CR-V Hybrid achieves an incredible 12 mpg improvement in city driving, the hybrid system can't help much on the highway where the improvement is a mere 2 mpg.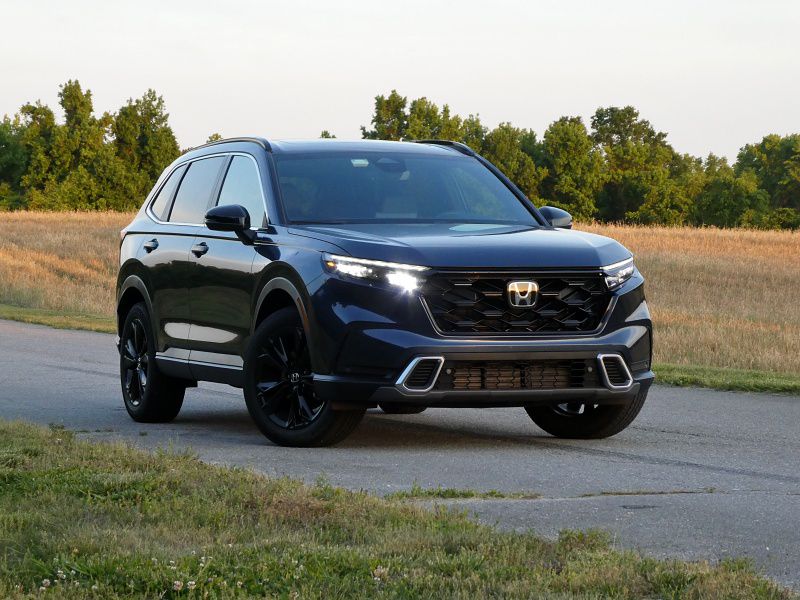 Photo by Brady Holt
CR-V Hybrid vs. the Competition
We've mentioned the CR-V Hybrid's competitors: gas-electric versions of the Ford Escape, Hyundai Tucson, Kia Sportage, and Toyota RAV4. All are well-rounded crossovers with incredible fuel savings over their gas models. 
Of these models, the Hyundai and Kia have the most room, the flashiest styling, the speediest acceleration, a long list of high-end features, and the lowest prices, but their controls are awkward to use and their gas mileage is below the class average. The Ford combines agile handling with a newly overhauled interior with an available massive touchscreen, but it can be pricey and isn't as roomy as the others. The Toyota has excellent real-world gas mileage and a rugged off-road-esque design inside and out, but it lacks the slickly polished ride, handling, and engine sound you'll find in the others. Also, all of the others (but not the Honda) are available as plug-in hybrids that give you at least 30 miles of all-electric range before needing their gasoline engines.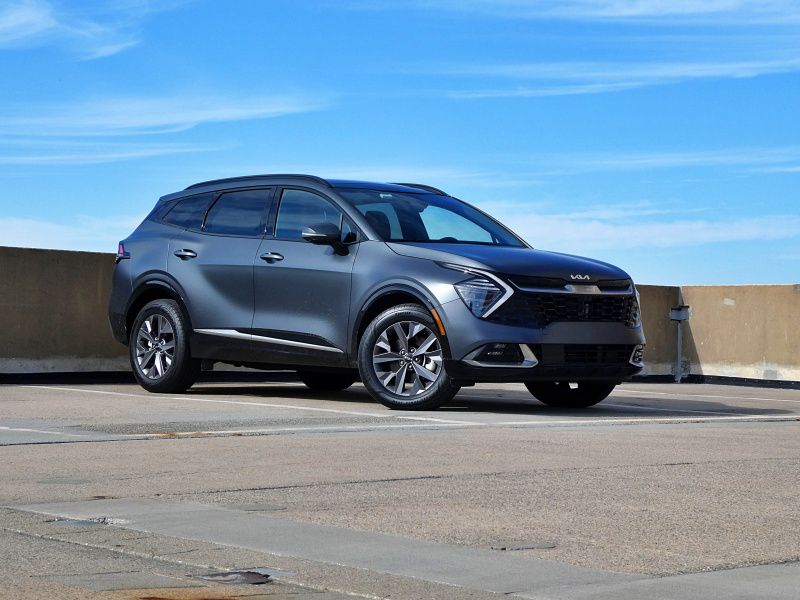 Photo by Brady Holt
Premium, Functional, and Fuel-Efficient
The 2023 Honda CR-V Hybrid has its own standout qualities in the compact crossover class, and they're understandably desirable. It has the best ride and handling among these hybrids and the most luxuriously finished interior, while also ranking among the best in the class for acceleration, interior space, and safety. And even though its gas mileage comes up a few mpg short, it doesn't cost much money to get 37 mpg instead of 40 mpg. 
We understand if you'd rather have a more extroverted design, a longer list of luxury features, maximum cargo capacity, the best possible gas mileage, or a lower price. And if you mostly drive on the highway, a gas-powered crossover like the CR-V or the economical new Nissan Rogue might be your best bet. But we think the excellent new CR-V Hybrid is worth a price premium to the right person. It's a highly functional and efficient vehicle that feels like much more than just basic transportation.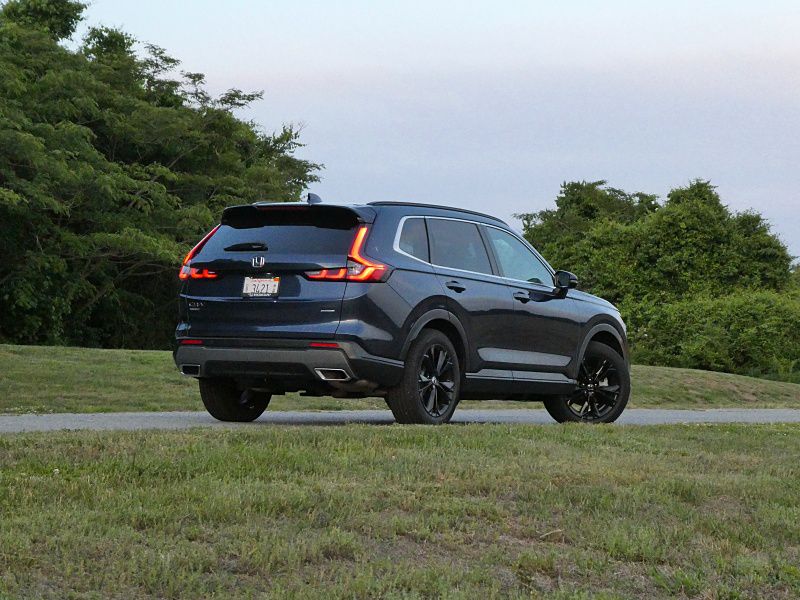 Photo by Brady Holt