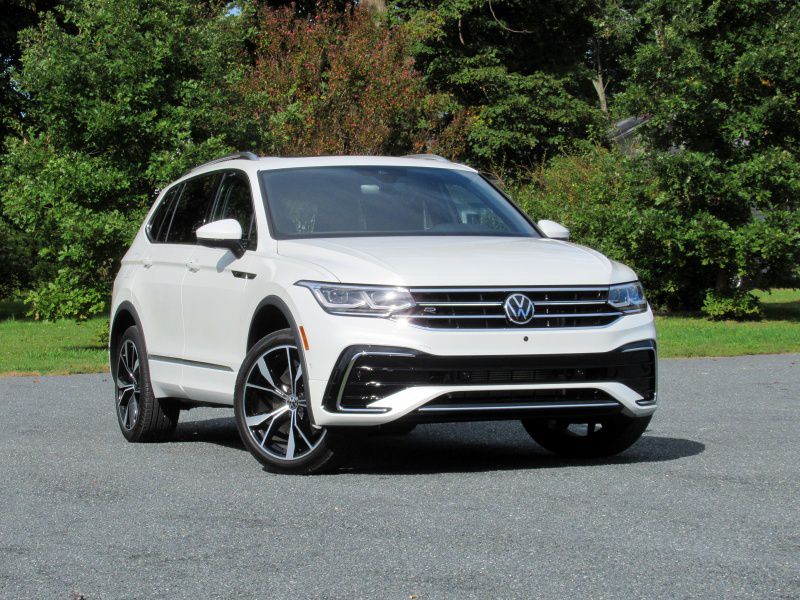 2022 Volkswagen Tiguan SEL ・ Photo by Brady Holt
It usually takes a big vehicle to get three rows of seats. And many mid-size and even large SUVs have offered small, uncomfortable third-row seating. Still, sometimes you only need to wedge in a couple of extra people — and you don't want to lug around a big, bulky vehicle for the rest of the time. 
That's when it's time to consider the two three-row compact crossovers: the newly redesigned 2022 Mitsubishi Outlander and the freshly updated 2022 Volkswagen Tiguan. Both come standard with three rows of seats (though all-wheel-drive Tiguans lose the third row). Yet they also drive like the good compact crossovers that they are, with agile handling, decently economical gas mileage, and reasonable prices. And even if you'd always keep the third row folded down, there's still a lot to like about these two crossovers. But which is best? For this review, we tested both the Outlander and Tiguan so we can compare them across eight categories and then name an overall winner. Keep reading to learn what we found. 
Pricing and Features
The Outlander and Tiguan have similar starting prices — $25,795 and $25,995, respectively. But Mitsubishi provides a lot more features for the money. 
The base Tiguan does already include automatic emergency braking, blind-spot monitoring, push-button starting, heated front seats, and alloy wheels. But aside from the heated seats, the Outlander has all that and more: lane-keeping steering assistance, an 8-inch infotainment screen to the VW's 6.5-inch, a power-operated driver's seat, and automatic climate control. That all costs extra on the Tiguan. Whichever trim level you buy (our pick is the leatherette-trimmed SE at $29,945), this Volkswagen is a solid deal. The Mitsubishi is just a better one. VW does have two years or 20,000 miles of free scheduled maintenance, but the Outlander has more content at a lower price.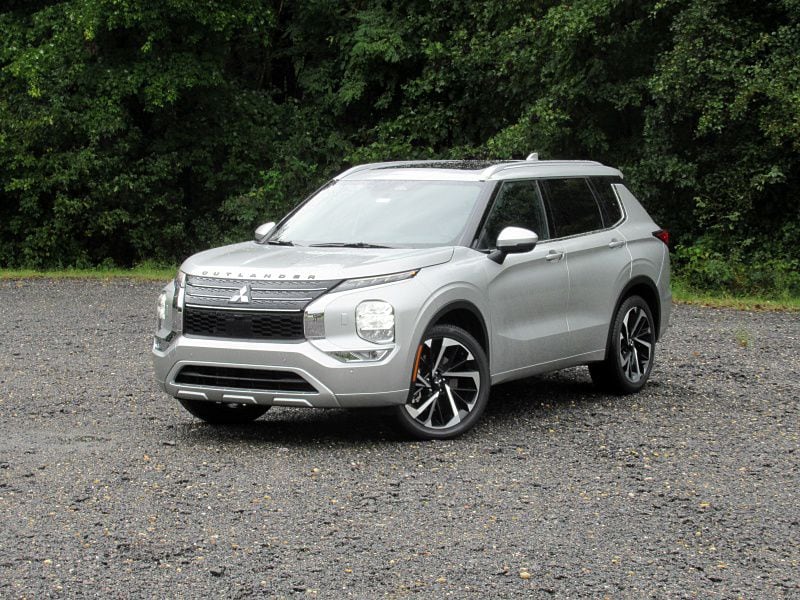 Photo by Brady Holt
Exterior Design
The Tiguan is a conservatively styled compact crossover, with straight lines and few wild flourishes. Volkswagen let its hair down a bit with the updated 2022 model, with slimmer headlights that narrow into a spear pointing toward the front fenders. But the roof remains upright and boxy, and the taillights are as straight-laced as ever. Even after the new update, this attractively conservative design will seem tastefully upscale to some buyers yet too dull to others. 
The Outlander takes the opposite approach. True, from the rear, it's crisply tailored and conventionally attractive. But everyone's attention is going to be on the front end. High, slim headlights squint next to a huge, curved, heavily chromed grille. Many people will hate it. If you've read this far, you probably at least tolerate it. But we'll let you choose your own winner between these aesthetic approaches. 
Tie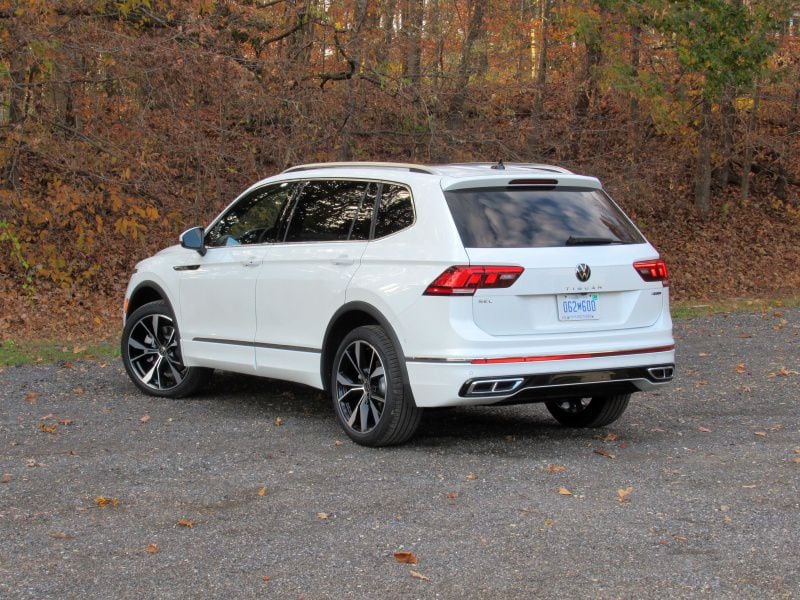 Photo by Brady Holt
Interior Design
While the Outlander's exterior is wild, this new suv borrows heavily from the Nissan Rogue — as Mitsubishi has moved increasingly under the Nissan corporate umbrella. You'll notice the similarities more inside. Mitsubishi shares the Rogue's infotainment screens (8 inches on the base model, 9 inches on other trim levels) along with the basic layout of its dashboard. The Outlander has straight lines and rich materials, conventionally attractive and contemporary. And we also appreciate its easy-to-use controls. 
The Tiguan goes for a similar vibe of elegant simplicity, but the Outlander beats it on both counts. We liked our test vehicle's two-tone black and brown seats, and its new digital instrument cluster and panel of touch-sensitive climate controls look slick. But the VW's interior materials don't feel as rich as the Mitsubishi's. Its infotainment touchscreens are smaller: 6.5 inches on the base model and topping out at 8 inches on other trim levels. And those new touch-sensitive climate controls are distracting to use while driving.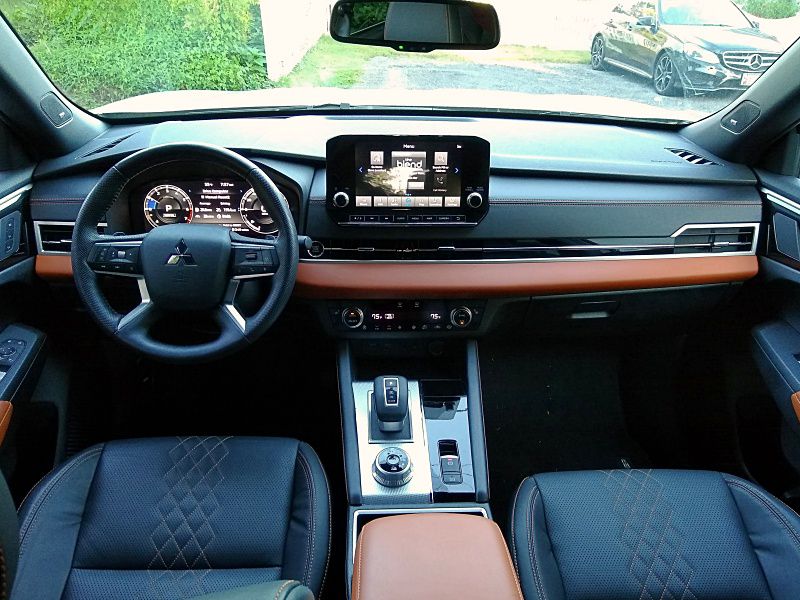 Photo by Brady Holt
Passenger Accommodations
In most of the world, the Tiguan is a small crossover with just two rows of seats. The U.S. gets a longer version with enough space for three rows and a seven-passenger capacity. The third row itself is small; adults can just barely squeeze in, and even kids would be pinched. But the nicely shaped front seats have plenty of space, and the second row is massive if you slide its fore-aft adjustment all the way back. 
The Outlander is plenty comfortable in the front seats and second row, too. But the third row is smaller. Both of these crossovers are seven-seaters only in a pinch, but the Mitsubishi pinches tighter than the Volkswagen. But if you are interested in the third row, VW limits it to front-drive Tiguans — starting this year, all-wheel-drive models seat only five passengers. That makes the Tiguan the winner if you'd buy a front-drive vehicle, but the Outlander comes out on top if you prefer AWD. We'll call this category an overall tie. 
Tie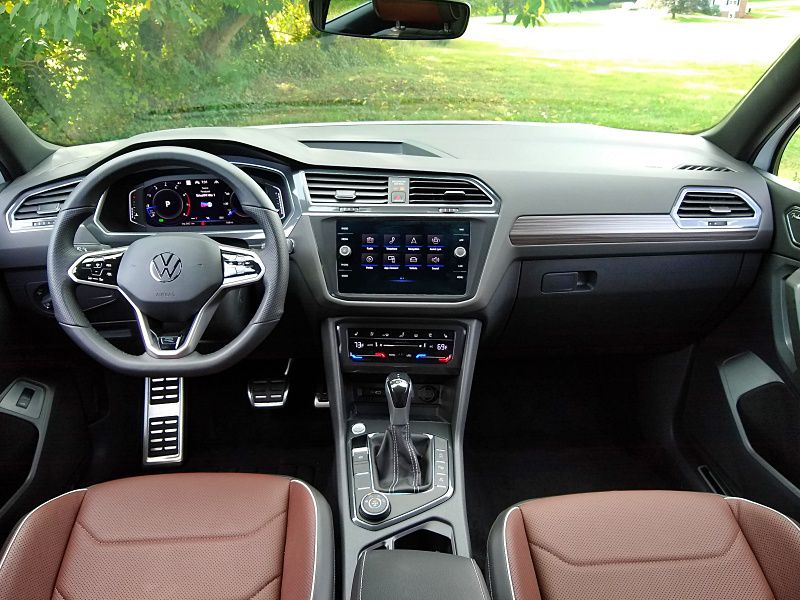 Photo by Brady Holt
Cargo and Utility
One advantage to skipping the Tiguan's third row is additional cargo space. We don't just mean because there's a mere 12.0 cubic feet behind the third row. But the folded third row also uses up some cargo capacity when it's not in use, too. That's why the three-row Tiguan has 33.0 cubic feet behind its second row compared with 37.6 cubic feet in the two-row model, and the AWD Tiguan's total capacity measures 73.4 cubic feet compared with the front-drive model's modest 65.3 cubic feet. 
While no Tiguan is tiny inside, the Outlander comes out ahead overall. We do wish the second-row seat lay flatter when it's folded, but the Mitsubishi has more space for your stuff than the VW. Volume behind the third row is a virtual tie with the Tiguan at 11.7 cubic feet, but fold it down and you get 33.5 cubic feet. The big win is with both rows folded down, where the Outlander's 79.7 cubic feet beats the two-row Tiguan and trounces the three-row model. The Mitsubishi can also tow 2,000 pounds to the Volkswagen's 1,500 pounds.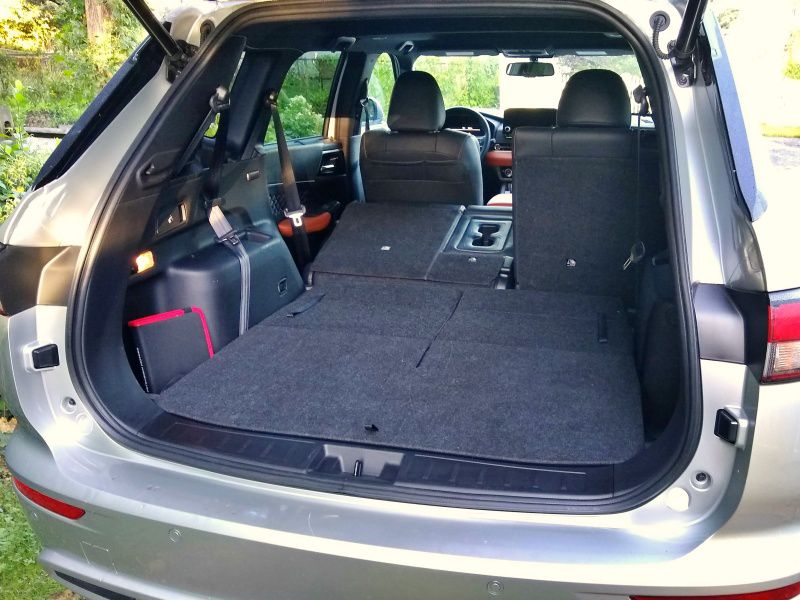 Photo by Brady Holt
Driving Impressions
Both the Tiguan and the Outlander offer firm but comfortable rides, moderately sporty steering and handling, and quiet but unremarkable acceleration from their four-cylinder engines. The result is a polished, sophisticated experience, but not one that will necessarily thrill a driving enthusiast. Overall, between these two similar vehicles, we pick the Tiguan. 
First, the Tiguan has a punchier and nicer-sounding engine than the Outlander. It's a 2.0-liter turbocharged four-cylinder that makes 184 horsepower and 221 pound-feet of torque. The Outlander's 2.5-liter four-cylinder makes 181 horsepower and 181 pound-feet of torque, and while Mitsubishi worked hard to keep sound out of the cabin, what you do hear is closer to a buzzy drone than the VW's hearty growl. Secondly, while we prefer the Outlander's taut steering at lower speeds, we found the Tiguan to be more agile once we pushed harder.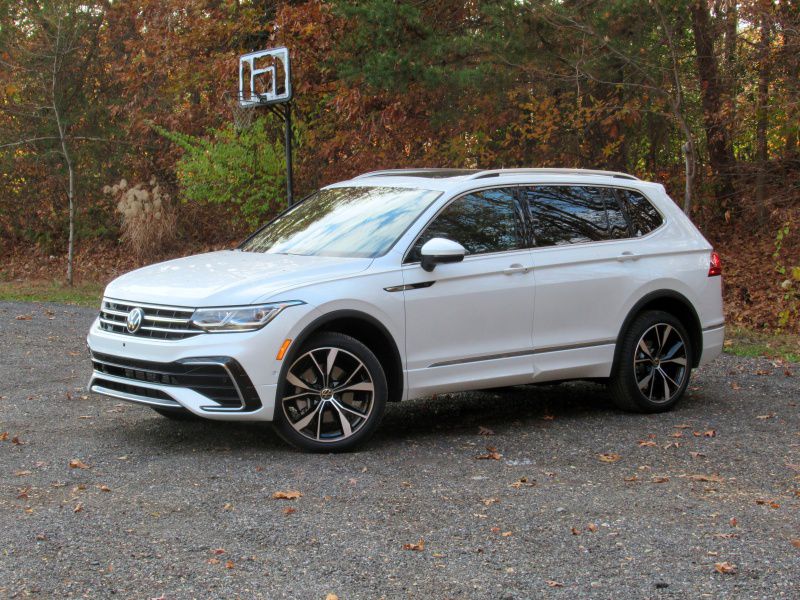 Photo by Brady Holt
Fuel Economy
The Tiguan achieves an EPA-estimated 23 mpg in the city, 30 mpg on the highway, and 26 mpg combined with front-wheel drive and 1 mpg less with AWD. The top SEL R-Line trim level, sold only with AWD, dips 1 mpg further: 21 mpg city, 28 mpg highway, and 24 mpg combined. Those aren't great numbers for a compact crossover, especially given that the Tiguan isn't super-speedy. We averaged 27 during our test of an AWD model. 
The Outlander isn't a fuel-sipper either, but it does a bit better. Front-drive models earn EPA ratings of 24 mpg city, 31 mpg highway, and 27 mpg combined, while AWD Outlanders manage 24 mpg city, 30 mpg highway, and 26 mpg combined. Our AWD test vehicle averaged 29 mpg. For extra fuel savings, a gas-electric plug-in hybrid version of the new Outlander will arrive next year; there's also a current Outlander PHEV, but it's derived from the previous-generation Outlander.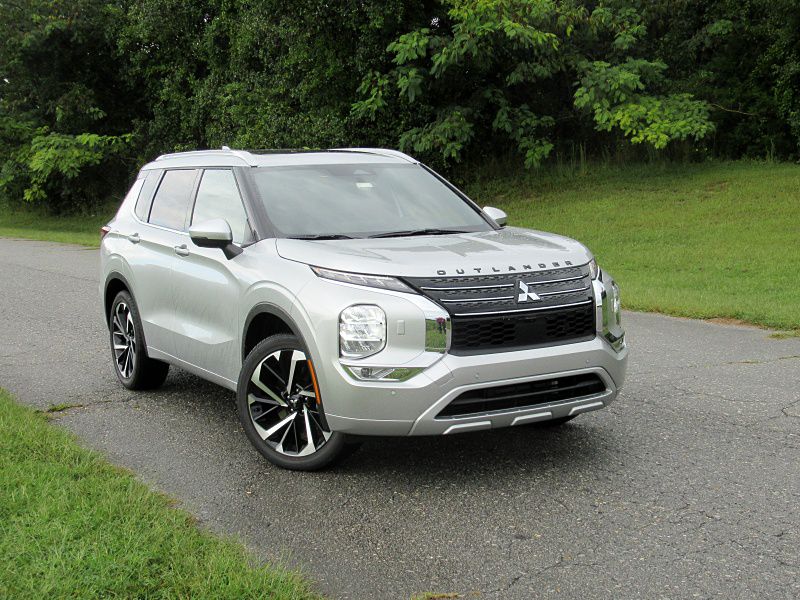 Photo by Brady Holt
Safety
Both the Outlander and Tiguan have promising crash-test scores and lots of standard safety equipment. This includes a forward collision warning with automatic emergency braking and pedestrian detection, along with blind-spot monitoring and a rear cross-traffic alert. 
But the Outlander goes further. Mitsubishi adds a lane-departure warning with lane-keeping steering assistance as standard equipment, along with rear automatic emergency braking. The Tiguan has the lane-departure features as optional equipment on the base model and standard on other trim levels; it also saves rear automatic braking for its priciest trim levels. The updated 2022 Tiguan hasn't yet been crash-tested, but the 2021 model performed well. The 2022 Outlander earned the highest possible score of Top Safety Pick+ from the Insurance Institute for Highway Safety.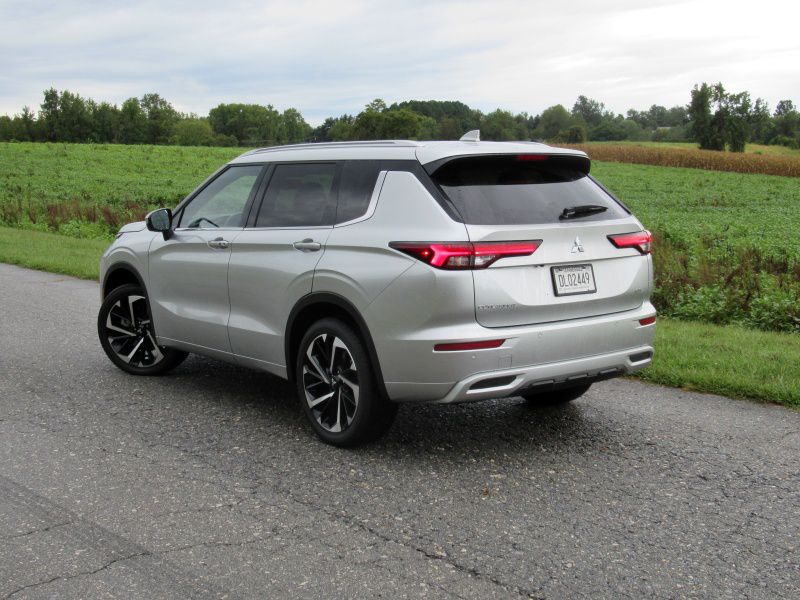 Photo by Brady Holt
Final Thoughts
In many ways, the Outlander and Tiguan are similar vehicles in completely different wrappings. There's the way-out-there Mitsubishi with its concept-car face and the subtle, subdued Volkswagen. And some buyers will be able to choose between the two crossovers just like that — getting similar prices, similar gas mileage, similar ride and handling, and similar interior accommodations. Many people will do just fine simply picking their preferred style. 
Setting aside their faces, though, the Outlander comes out on top. Even if the Tiguan isn't far behind the Outlander's affordability, fuel economy, cargo space, or dashboard decor, it is behind. And the Mitsubishi comes close to the VW's handling or acceleration, too, while offering much simpler controls. As we mentioned, the third-row seat might make the difference for some buyers: If you want the roomiest possible third row in a tidy compact crossover, that's the front-wheel-drive Tiguan. But if you want all-wheel-drive and seven seats, the Mitsubishi is your only option in this segment. (Do also consider the Kia Sorento, which is about half a size larger and offers a more usable third row.) Overall, this new Mitsubishi has a lot of substance behind its unique new face, and it's our winner.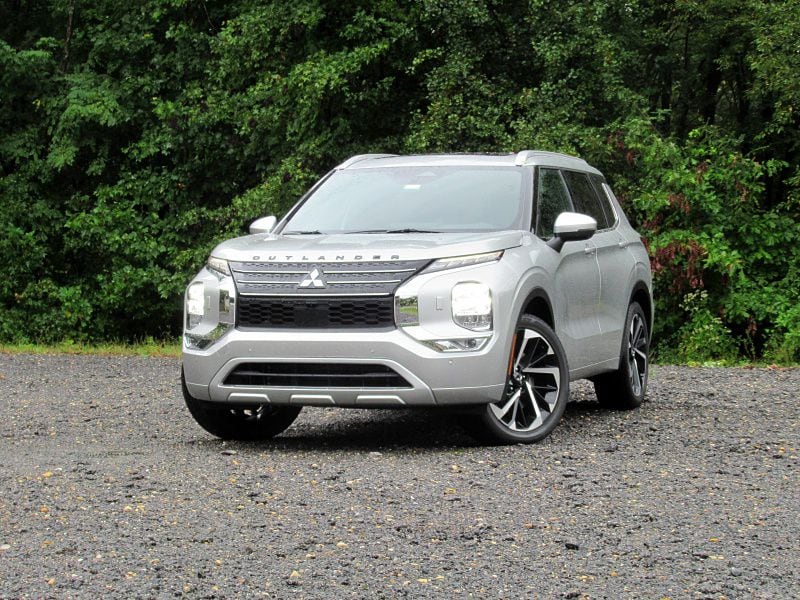 Photo by Brady Holt