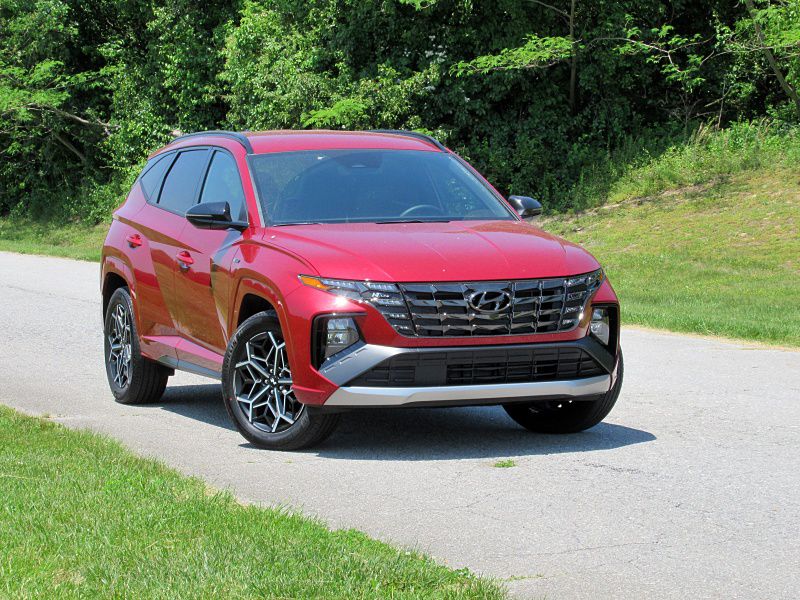 2022 Hyundai Tucson N-Line ・ Photo by Brady Holt
Sometimes, style and substance are mutually exclusive. That's because many design trends cut deeply into interior space — reducing headroom and cargo capacity. But if you want something that stands out from a crowd yet still has plenty of space and value, we just tested two redesigned compact crossovers that should suit you well. 
The 2022 Mitsubishi Outlander and 2022 Hyundai Tucson are two of the roomiest models in their class. The Tucson has outstanding cargo volume, while the Outlander packs in a third-row seat. And both of them abandon their predecessors' straightforward styling for bold new looks. Yet even if you don't love their styling, there's a lot to like about these spacious, affordable small crossovers. Keep reading this review to learn how the Outlander and Tucson stack up in eight different categories, and which one is our top pick overall.
Pricing and Features
The Outlander and Tucson both pack in lots of features for the money. The Tucson has the lower starting price — $24,950 versus $25,795 — and it's nicely equipped for the money. Still, the base Outlander ES is equipped equivalently to the mid-level Tucson SEL ($26,500); its high-end items include push-button starting, automatic climate control, blind-spot monitoring, and a power-adjustable driver's seat. 
The Outlander is also the more affordable way to upgrade from cloth seats. Its midgrade SE trim has leatherette at $28,845, while you need to spend $30,700 for genuine leather as an extra-cost option for the Tucson SEL. (The Outlander also offers real leather on its own SEL model for $31,945.) The Tucson is cheaper if you want a sunroof. It's the only one of the two to offer ventilated front seats. It has three years of free scheduled maintenance and a slightly longer warranty. And as we mentioned, it has the lower starting price. Still, we'll narrowly pick the Outlander's advantages, and you might have an easier time haggling a discount on the less popular Mitsubishi.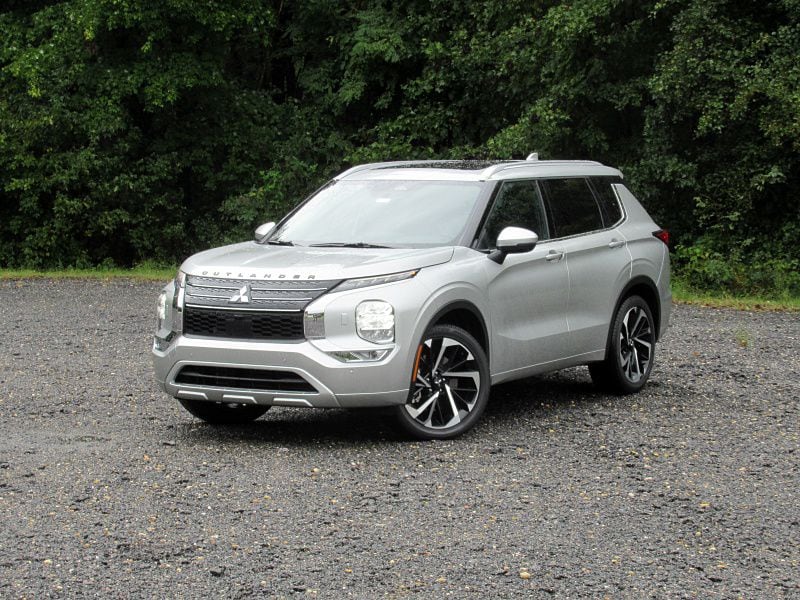 Photo by Brady Holt
Exterior Design
The latest Hyundai models have featured sharply angled exterior designs with lots of creases running in different directions. To us, the 2022 Tucson is an especially successful iteration of that design theme. Unlike on a sedan, the Tucson lets these designs double as squared-off fender bulges for an aggressive SUV look. Part of each headlight hides within the grille, and a lightbar and twin spikes decorate the taillights. The rear wiper hides up by the roof under the spoiler for a cleaner look to the vehicle's rear. All but the base model have big dressy 19-inch alloy wheels, and our N Line test vehicle has exclusive sportier wheels and bumper designs. 
Mitsubishi has meanwhile evolved its front ends into radical concept-car looks, with curves, sweeps, and slim headlights that you'd never expect to see peeking out from a parking space at your local strip mall. The look is growing on us, but if you have a viscerally negative reaction, you won't be alone. Around the back, meanwhile, the Outlander looks more conventionally classy. Crisp, straight lines look like a more elegantly tailored Toyota Highlander — a mid-size crossover costing some $10,000 more. We won't declare a winner between these aesthetic approaches. 
Tie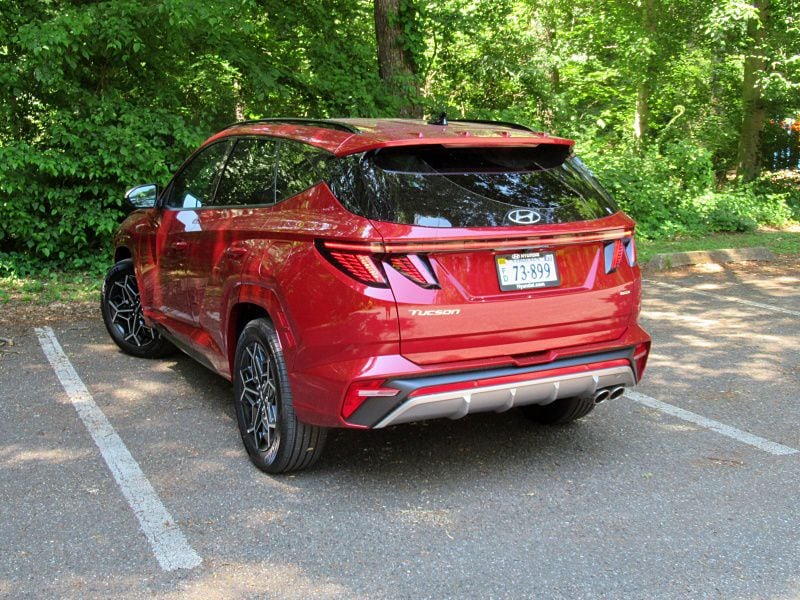 Photo by Brady Holt
Interior Design
The Tucson's instrument panel is a flat plane of glossy black trim, which smoothly incorporates a flush-mounted touchscreen — 8 inches standard with an available upgrade to a 10.25-inch unit. Top Tucson models also add an all-digital instrument cluster for an even cleaner and more advanced vibe. The rest of the dashboard is decorated with complex shapes and varied materials. But the other complexity comes in the Tucson's controls. It's difficult to spot the right button on the glossy plane, and models with the 10.25-inch screen ditch physical buttons and knobs entirely in favor of extra-fussy touch-sensitive controls. 
The Outlander has a more conventional dashboard. But it's also contemporary, beautifully finished, and — mercifully — easy to use. The dash is a straight line stretching from door to door, with an infotainment screen above it and climate controls below. All but the base ES get a 9-inch touchscreen, while the ES measures a still-respectable 8 inches. The infotainment system and many cabin materials are shared with the Nissan Rogue, due to the automakers' corporate partnership. While you may pick the more adventurously styled Hyundai, Mitsubishi's interior is richer and more user-friendly.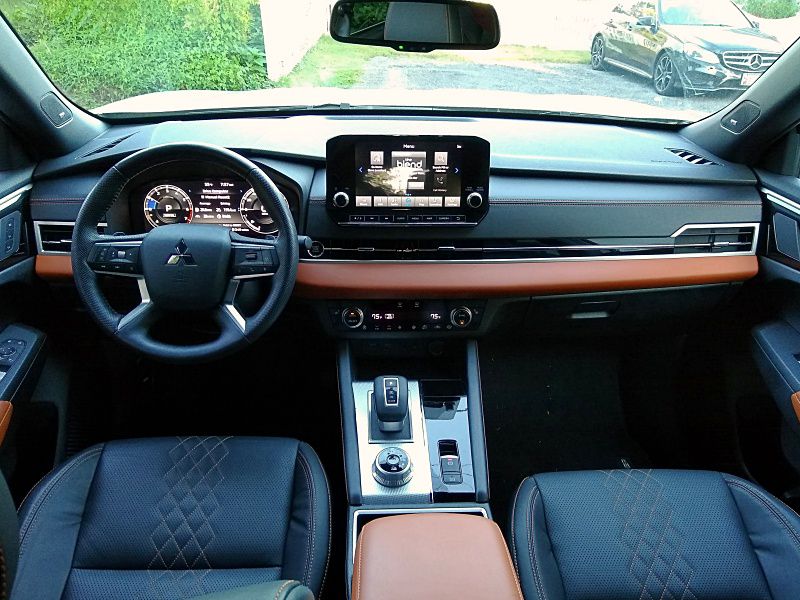 Photo by Brady Holt
Passenger Accommodations
The Outlander has come standard with seven-passenger seating since back in 2007. In such a small vehicle, the third row only big enough for occasional emergencies — but if that emergency comes up, you'll be happy this seat has been hiding in your car. The second-row adjusts fore-aft, so you can slide it forward to create more third-row legroom when it's in use. The front seats are comfortable and the second row can fit three adults. 
The Tucson used to be one of the smaller compact crossovers, but it grew substantially in its new redesign. That means extra spread-out space for the front seats and outstanding second-row legroom. And as we mentioned, only the Tucson is available with ventilated front seats. If you're absolutely sure you'd never benefit from a small third-row seat, the Hyundai is your winner in this category. Otherwise, it's the Mitsubishi.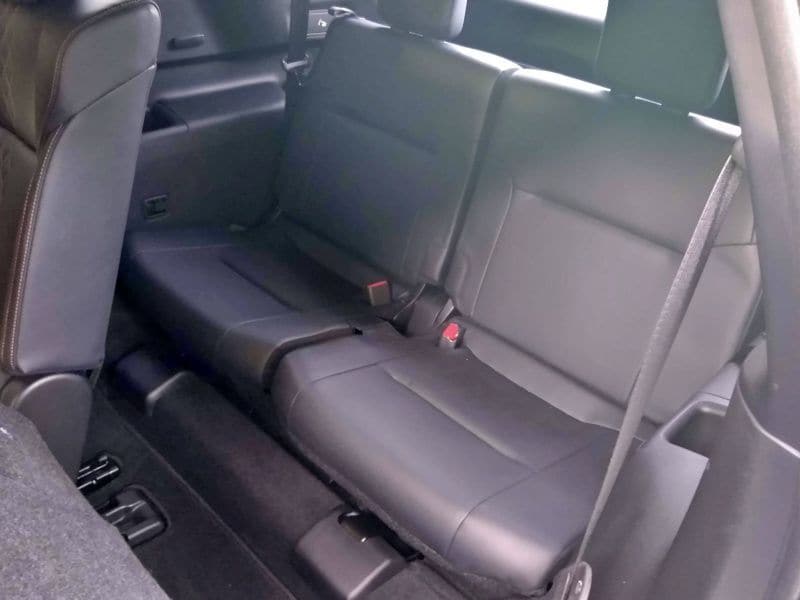 Photo by Brady Holt
Cargo Accommodations
One issue with the Outlander's third row is that it takes up some cargo space, even when it's folded down. The result is 33.5 cubic feet behind the second-row seat, about 3 cubic feet less than the Nissan Rogue and 5 cubic feet less than the Tucson. And with the third row in use, there's a tiny 11.7 cubic feet left for your stuff. 
Folding the Outlander's second and third rows does yield more total space than you get in the Tucson: 79.7 cubic feet versus 74.8 cubic feet. And the Tucson rear seat is inconvenient to fold. But we'll give the Hyundai the win for providing more space without needing to fold anything down. Both crossovers are rated to tow up to 2,000 pounds.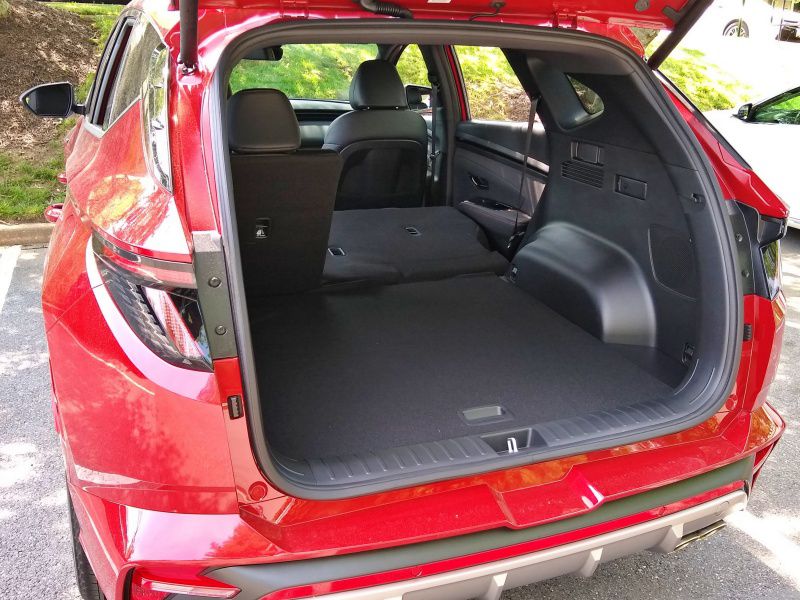 Photo by Brady Holt
Driving Impressions
Both the Tucson and Outlander became sharper-driving vehicles for the 2022 model year. More powerful base engines are both quicker and quieter, and handling has become more agile. The bigger transformation came in the Outlander, which previously felt light and insubstantial but is now one of the most solid-feeling small crossovers.
Neither of them is exactly a powerhouse, despite improvements under the hood. The Tucson comes with a 187-horsepower 2.5-liter four-cylinder engine and an eight-speed automatic transmission, while the Outlander has a 181-horsepower 2.5-liter four-cylinder and a continuously variable automatic. CVTs are sometimes responsible for droning acceleration, but we still preferred the Outlander to the Tucson; the Hyundai sometimes downshifts abruptly, sending the engine revving high during fairly gentle acceleration. You can spend about $1,000 to upgrade certain Tucson trim levels to a gas-electric hybrid powertrain that's a bit quicker and quieter — and much more economical. Overall, while both the Outlander and Tucson drive well despite middling horsepower, we preferred both the handling and acceleration of the Mitsubishi in their most popular configurations. The Outlander also has a broader selection of driving modes. The N Line is an appearance package without any acceleration or handling benefits. 
Photo by Brady Holt
Fuel Economy
Your fuel efficiency winner depends on which Tucson or Outlander you buy. With front-wheel drive, the Tucson gets an EPA-estimated 27 mpg in the city, 33 mpg on the highway, and 29 mpg combined. That beats the Outlander's scores of 24 mpg city, 31 mpg highway, and 27 mpg combined. However, Mitsubishi does a bit better if you choose all-wheel drive: 24 mpg city, 30 mpg highway, and 26 mpg combined. The Hyundai slips to 24 mpg city, 29 mpg highway, and 26 mpg combined. We averaged about 29 mpg in both our AWD Tucson and Outlander test vehicles.  
Neither of these crossovers is the most economical model in its class, but both Mitsubishi and Hyundai have additional fuel-saving alternatives. The Tucson Hybrid averages 37 to 38 mpg, depending on trim level, and an upcoming plug-in hybrid model can travel up to 33 miles per charge and then averages 35 mpg. There's also an Outlander Hybrid, which is a plug-in hybrid version of the previous-generation Outlander — without the new model's excellent driving dynamics, high-end interior, or flashy looks. And it travels just 24 miles per charge, then gets a low 26 mpg afterward.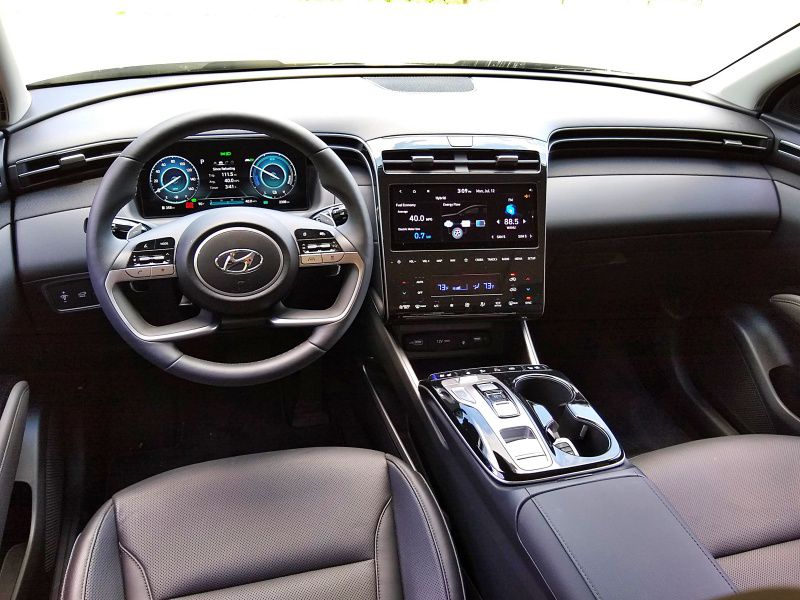 Photo by Brady Holt
Safety
Both the Outlander and Tucson are safety standouts. They earned the highest possible rating of Top Safety Pick+ from the Insurance Institute for Highway Safety, and they're both packed with safety features. Still, a couple of factors give the Outlander the edge. 
First, the Outlander has a few more standard safety features that cost extra on the Tucson: blind-spot monitoring, a rear cross-traffic alert, and rear automatic braking. Secondly, its base-model headlights outperformed the Tucson's in IIHS testing. The Tucson is available with a nifty blind-spot camera mirror on its top trim level, but we'll otherwise award this category to Mitsubishi.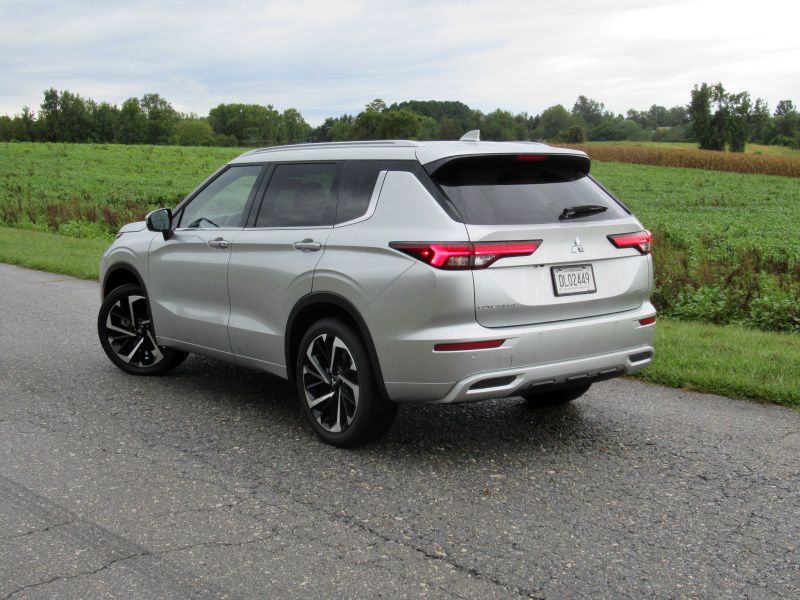 Photo by Brady Holt
Final Thoughts
The Tucson and Outlander are both roomy, comfortable, well-finished, safe, flashy-looking, and value-packed compact crossovers. And both of them have just-OK acceleration and fuel economy (unless you buy a hybrid model). If you choose mostly based on your styling preference, you will likely be happy with your choice.
Still, there are some substantive differences that tip us toward the Outlander. Besides the flexibility of third-row seating, the Outlander has even more safety features for the money, a richer interior, a superior control layout, and more total cargo room. It's a bit quieter and has slightly sharper steering. True, the Tucson has a slightly longer warranty and three years of free scheduled maintenance. Its hybrid version is an outstanding way to cut your fuel bill (albeit with a higher monthly payment). And it has more cargo room behind the rear seat. But overall, we appreciate the posh but useful and affordable Mitsubishi. You can also get similar benefits, minus the third row and long warranty, by choosing the less wild-looking Nissan Rogue. 
Mitsubishi Outlander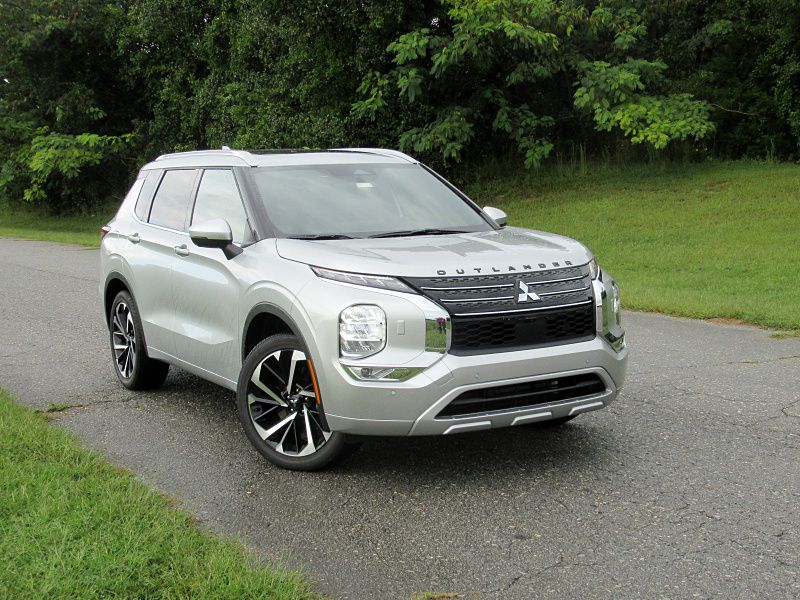 Photo by Brady Holt