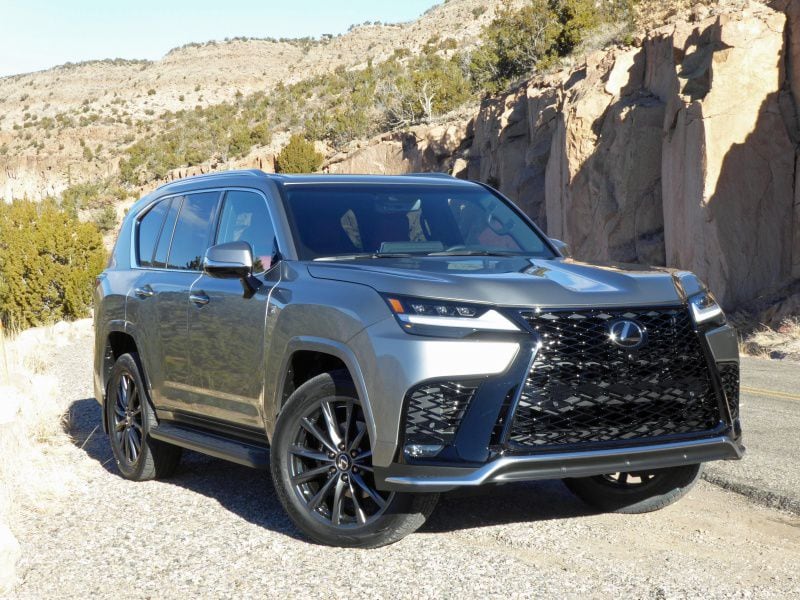 2022 Lexus LX 600 ・ Photo by Ron Sessions
A full 14 years since its last redesign, Lexus has finally redone its LX flagship SUV. The new, fourth-generation LX 600 shares the same robust underpinnings as in the new 300 Series Toyota Land Cruiser, sold elsewhere around the globe.
This year, the number of available LX trims grows to five to cover more of the waterfront. Including the $1,345 destination charge, the 2022 LX 600 model lineup consists of the "base" $88,245 5-passenger Standard, $96,345 7-seat Premium, $102,345 7-seat F Sport Handling, $104,345 7-seat Luxury, and range-topping $127,345 4-passenger Ultra Luxury trims. All LX 600 models are equipped with full-time four-wheel drive and a dual-range transfer case.
The LX 600 competes with the Mercedes-Benz GLS, BMW X7, Infiniti QX80, Cadillac Escalade, Lincoln Navigator, and Land Rover Range Rover.
New Platform
Don't be deceived by the somewhat familiar looks of the 2022 LX 600. The Lexus brand's flagship SUV is built on an all-new chassis. Underneath, its new GA-F platform is shared with the new full-size Toyota Tundra pickup and new-generation Toyota Sequoia SUV. Though still built on a stout ladder frame, the new LX gets electrically boosted power steering that's sharper coming off center than last year's hydraulic system, revised rear suspension that allows a lower third-row/cargo-area floor, sharper dynamics with reduced body roll when cornering, more linear brake pedal feel, and reduced mass courtesy of greater use of aluminum body panels and components.
Retained from the previous-generation LX is Active Height Control, which is available as an option with F Sport and Luxury trims and standard in the Ultra Luxury model. It can hydraulically adjust the ride height of the LX 600 by 9 inches, lowering it 2 inches for easier ingress and egress and raising it as much as 7 inches to clear off-road obstacles. Adaptive suspension damping, standard on all but the base LX 600, can adjust each shock absorber individually in real time for wheel control over varying road surfaces.
The F Sport shown here brings sport-tuned dampers, a rear anti-roll bar, and a Torsen limited-slip rear differential.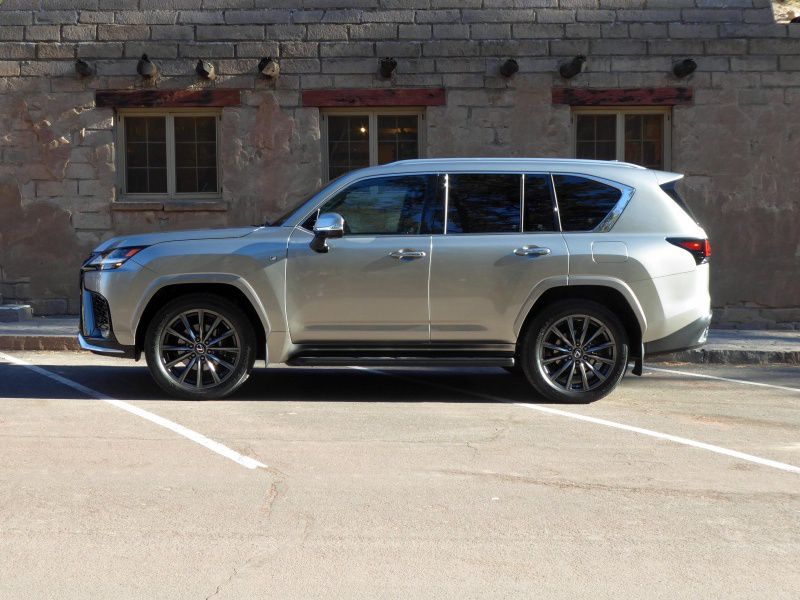 Photo by Ron Sessions
Twin-Turbo V6 Power
The big nuts and bolts news is under the LX 600's hood where an all-new twin-turbo 3.5-liter V6 replaces the long-running, naturally aspirated 5.7-liter V8. The turbo V6 is a more-powerful, premium-fuel version of the regular-fuel engine that's in the all-new 2022 Toyota Tundra full-size pickup.
In the LX 600, the twin-turbo V6 develops 409 horsepower, up 26 hp from last year's LX 570, as well as 479 lb-ft of torque, 19 percent more than what the previous V8 delivered. Even better, the turbocharged V6 reaches maximum torque at just 2,000 rpm, improving around-town throttle response.
The 2022 LX 600 can accelerate from rest to 60 mph in just under 7 seconds, about a half second quicker than the previous LX 570 accomplished the task. Maximum towing capacity rises from 7,000 to 8,000 pounds this year as well.
As part of the drivetrain upgrade, the standard automatic transmission trades last year's 8-speed for a slick-shifting, new wide-ratio 10-speed gear-swapper.
With the new turbo V6 and 10-speed transmission providing locomotion, fuel economy takes a huge 5-6-mpg jump compared to the previous V8. EPA-estimated fuel economy rises from 12 mpg city/16 mpg highway/14 mpg combined in last year's LX 570 to 17 mpg city/22 mpg highway/19 mpg combined in the new LX 600.
Photo by Ron Sessions
Cushy Cabin
The LX 600's bones may be purpose-built Land Cruiser-based, but inside the flagship SUV's cushy cabin, Lexus slathers the luxury with soft-touch surfaces and open-pore wood or aluminum trim. Standard fare includes luxury sedan-worthy 12-way power-operated leather-trimmed front bucket seats, with super-soft semi-aniline leather in F Sport, Luxury, and Ultra Luxury models. The front buckets are heated in Standard models and heated and ventilated in higher trims. Luxury and Ultra Luxury models add power door closers. A console-mounted wireless charger, power-operated leather-wrapped steering wheel (heated in Premium and higher trims), and a power moonroof are also standard.
Interior storage is improved with more console space ahead of the shifter and a deep, dual-hinged cubby under the center armrest that opens from either the driver or front passenger side. Luxury and Ultra Luxury models include a cooler in the console center compartment.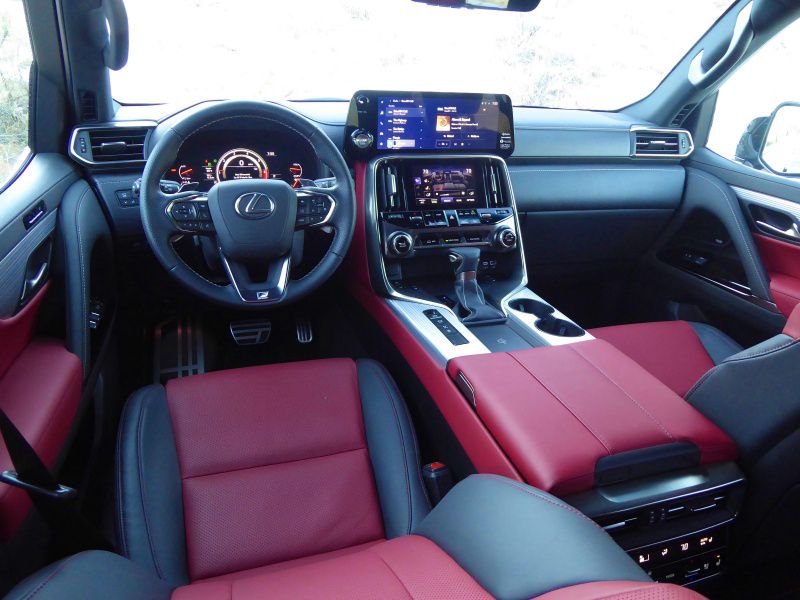 Photo by Ron Sessions
New Infotainment System
The quirky and space-stealing console-mounted infotainment remote touch interface of past models is gone. The LX 600 gets a version of the new Lexus Interface that debuted in the 2022 NX. The driver and front passenger now operate the system via one of two touchscreens, conventional dash-mounted buttons and knobs, steering-wheel controls, or voice control. There are now two center touchscreens, an upper, 12.3-inch one primarily for audio entertainment, phone, and cloud-based navigation and a lower 7-inch one for the standard 4-zone automatic climate control system, seat heating and cooling (but no driver-seat massage), and off-road functions. Voice requests for navigation destinations, audio selection, climate control settings and such are accessed via a steering wheel button or using a wake-up phrase such as, "Hey Lexus."
The system is wireless Apple CarPlay and Android Auto compatible, offers integrated Amazon and Apple Music streaming, and includes a three-month trial of SiriusXM, and a one-month AT&T Wi-Fi hotspot trial.  
Standard in Luxury and Ultra Luxury models and optional with the F Sport and Premium trims, an awesome Mark Levinson Reference 3D surround sound premium audio with 25 speakers and 2,400 watts of power unleashes concert hall entertainment.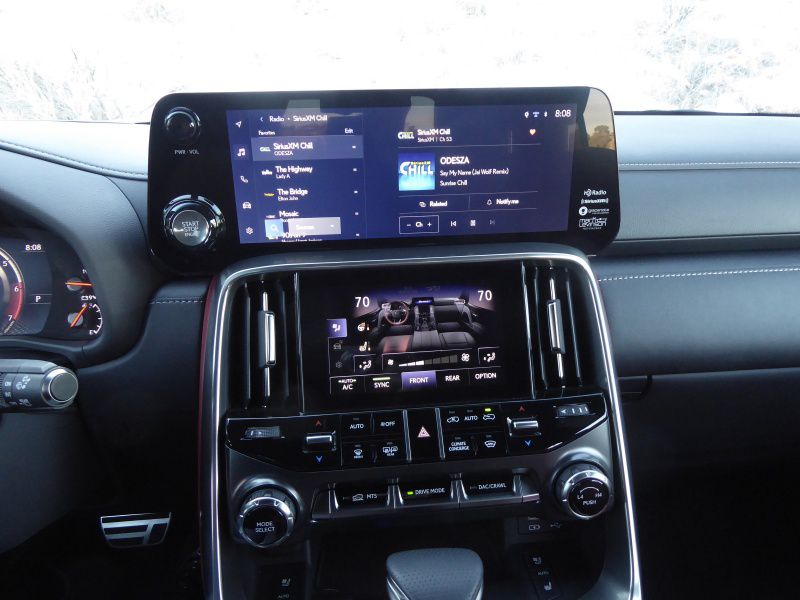 Photo by Ron Sessions
Ultra-Luxurious Reclining Second-Row Seats
Along the lines of the executive-level rear-seat accommodations available in the Lexus LS 500 sedan and Toyota Sienna minivan, the 4-passenger LX 600 Ultra Luxury model forgoes third-row seating in favor of a pair of massaging, super-reclining second-row captain's chairs with seatbacks that can tilt back up to 48 degrees. On the passenger side only, the setup includes a power footrest that tilts down from the front-passenger seatback. To facilitate maximum rear-seat legroom, the front-passenger seat is adjusted to its full forward position.
Ultra Luxury rear-seat passengers also get a combination storage table and center armrest plus wireless device charger and a 7-inch touchscreen for access to rear-passenger seat, climate-control, entertainment, and massage functions.
Photo by Ron Sessions
Third-Row Access
The LX 600 Premium, F Sport, and Luxury models come standard with third-row seats. This provides seating for up to seven passengers, the rearmost perches accessible courtesy of second-row seats that pivot and flip forward. The 50/50 split third-row bench seats two. Low cushion height means a knee-high seating position that's best suitable for children, teenagers, or small, agile adults for trips of short duration. Once in place, third-row headroom is about an inch less than in the Toyota Highlander but surprisingly more than 3 inches more generous than in the Highlander's wayback chairs. But getting in and out is a squeeze and a climb, eased by the standard running boards.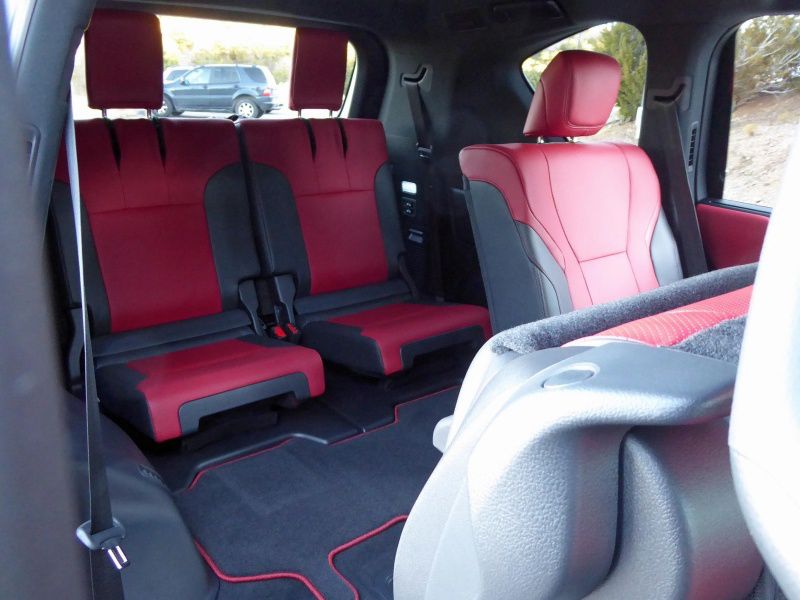 Photo by Ron Sessions
Cargo Considerations
The new LX 600 dispenses with the previous model's split rear cargo opening that featured a separate upper lift gate glass and a drop-down lower tailgate, replacing it with a single, one-piece conventional lift gate. The new one-piece lift gate is power operated with the LX 600 Standard model and upgraded to handsfree operation with a kick sensor in higher trims.
The big difference this year is the third-row seats no longer fold up along the sides of the cargo area when not in use as in the previous-generation LX 570. The LX 600's third-row seats, standard in Premium, F Sport, and Luxury trims, now fold into the floor as with most other SUVs in the market and do so via electric switches at the rear of the cargo area.
With 3-row models, maximum cargo capacity is 64 cubic feet with second- and third-row seats lowered, 44 with just the third-row dropped, and only 11 cubic feet behind the raised rearmost seats. Most buyers will opt to leave one or both of the 50/50 split third-row seat sections lowered to retain some semblance of cargo space. Two-row Standard LX 600s offer a generous 46 cubic feet of cargo space behind the raised rear seats. There is also some hidden storage under the rear part of the cargo floor, room for a camera, small purse, or tablet.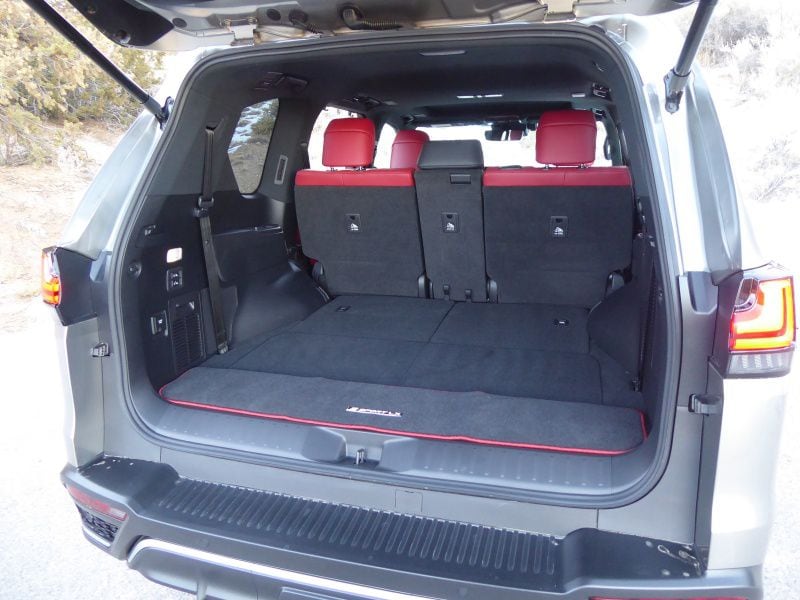 Photo by Ron Sessions
Off-Road Pedigree
Immersed in Lexus luxury, it's easy to forget that the LX 600 possesses serious Land Cruiser off-road cred. Certainly, the large, protruding Lexus spindle grille doesn't look like it's ready for rough terrain. But the Active Height Control can add as much as 7 inches of running clearance to the already impressive 8.9 inches of static clearance. The Multi-Terrain Select knob allows the driver to dial in the traction control system for dirt, sand, mud, deep snow, or rock and the standard center differential lock set to split engine power evenly front to rear. Using the Crawl and Downhill Assist Control features means the driver can set a maximum speed and concentrate on steering the Lexus around obstacles and down the trail like off-road cruise control, freed from the need to accelerate and brake. A selectable trail-turning feature when activated allows the driver to make tight turns that would otherwise require 3-point back-and-fill operations by braking and dragging an inside rear wheel. And the Multi-terrain monitor displays the trail ahead from a low-mounted front camera, great when all the driver can see out the windshield is hood and sky.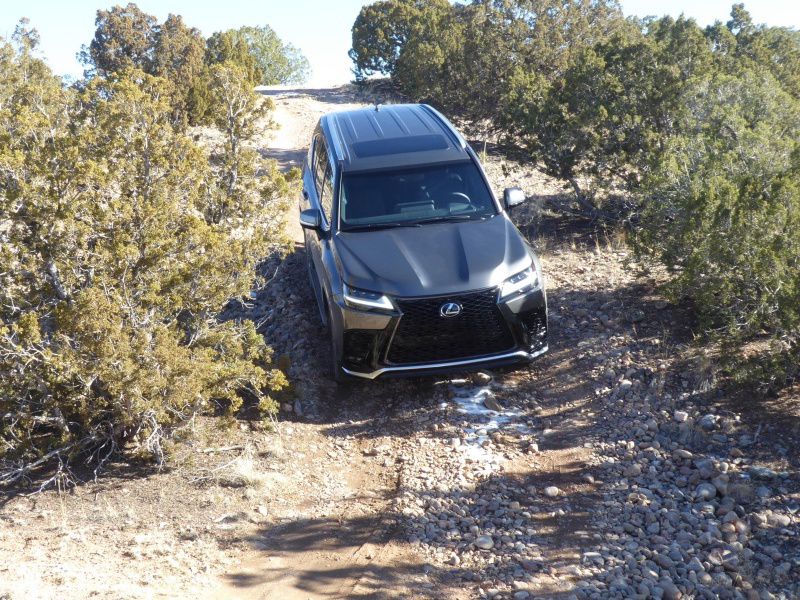 Photo by Ron Sessions
Safety and Driver-Assistive Tech
Unlike some luxury suv competitors that may group advanced driving assistance features in extra-cost tech or safety packages, the LX 600's are included as standard fare. Elements of the Lexus Safety System + 2.5 include adaptive cruise control with curve speed reduction, road sign assist, automatic high-beam control, lane departure alert with steering assist, and a pre-collision system with pedestrian and bicyclist detection, emergency turning assist, and emergency automatic braking. Other standard LX 600 safety fare includes a blind-spot monitor, rear cross-traffic and rear pedestrian detection with braking, a 360-degree panoramic-view camera, and intuitive parking assist.
Not offered in the LX 600 is a semi-autonomous, handsfree driving system, driver drowsiness detection, a rear-seat occupant reminder, or a passenger safe-exit warning system.
As of the posting of this review, neither the National Highway Traffic Safety Administration nor the Insurance Institute for Highway Safety had published crashworthiness ratings for the 2022 Lexus LX 600.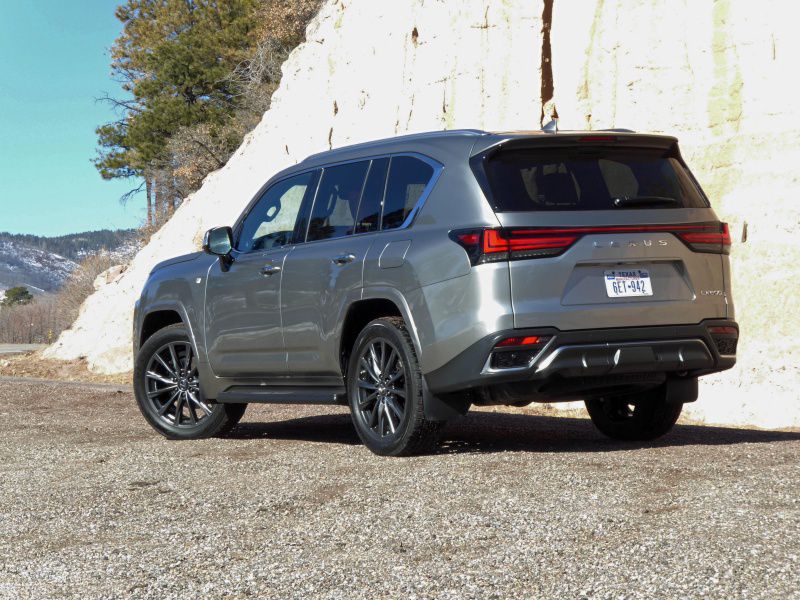 Photo by Ron Sessions
Go Anywhere Luxury
A lot of SUVs feature styling that hints of adventure to far-away places beyond the reach of ordinary sedans. The Land Cruiser-based Lexus LX is one that delivers on that promise while cocooning and coddling its discerning occupants in high-end luxury. While the outsized design of the Lexus flagship SUV may not be for everyone, its sturdy underpinnings and reputation for longevity have attracted a small but dedicated buyer base. The improvements in driving dynamics, fuel economy, infotainment, and driver-assistive safety systems for the 2022 model can only reinforce its position in the market.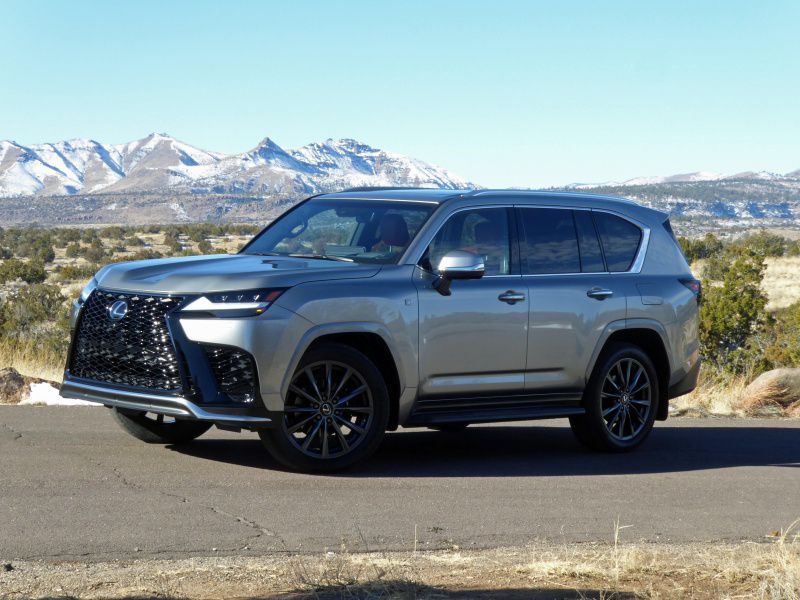 Photo by Ron Sessions