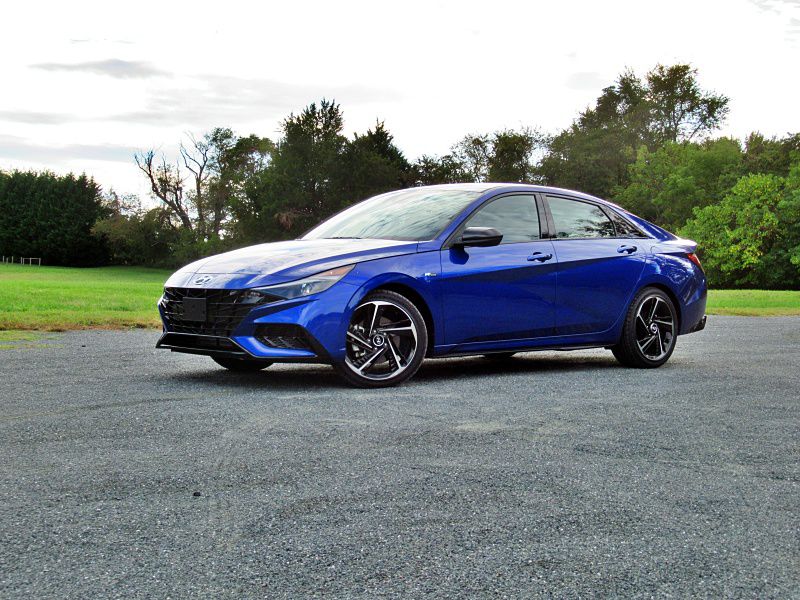 2021 Hyundai Elantra N Line ・ Photo by Brady Holt
It's easy for an affordable car to settle into quiet anonymity. When your budget is tight, even mild-mannered competence can feel like too much to ask for. But the current Hyundai Elantra compact sedan brings wild styling, a choice of four engines (two of which make more than 200 horsepower, and one of which returns more than 50 mpg), and a starting price below $20,000. 
In a world where the average new car costs $47,000 as we write, the value-packed Elantra seems almost too good to be true. What's the catch? We've tested three different Elantras to get a full understanding of this award-winning economy car. Keep reading to learn more about its pros and cons, and to find out whether it's the right money-saving option for you. 
Expressive Design
The last time Hyundai redesigned the Elantra, in 2017, it got some criticism for being too conservative. When the current generation arrived for 2021, the company took no such chances. 
The Elantra's sharply creased doors, trunk, and bumpers look like an origami project. The headlights swoop down into a bold, low grille. The angular taillights have a lightbar that runs below a pinched trunklid, and a chunk of chrome and plastic runs past the rear window the simulate additional glass. Not everyone will like it, and some will downright hate it, but others will love this bold design. The Elantra N Line sporty model has more aggressive bumpers and different wheels, and the higher-performance Elantra N is wilder still with a blacked-out front end. However, the gas-electric Elantra Hybrid has no cosmetic differences from the base gas-only model.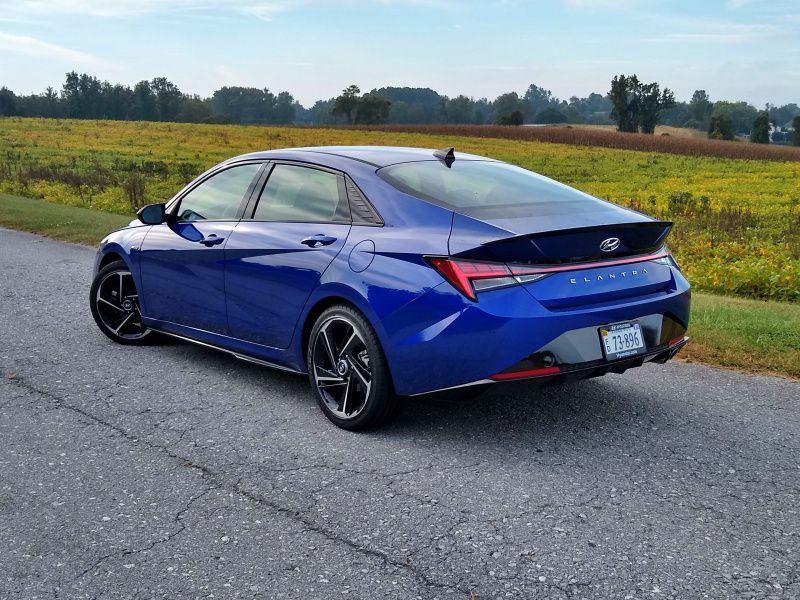 Photo by Brady Holt
Interior Flair
Like its exterior, the Elantra's interior makes an effort to catch your eye. It starts with a Mercedes-style visual connection between the gauge cluster and the infotainment screen. It extends to a horizontal strip across the dashboard that houses the climate vents, and then to a grab handle on the passenger side of the instrument panel. The asymmetric design swoops this way and that, yet the controls are still easy to use. 
Most Elantras, like the N Line in this picture, have an 8-inch infotainment screen with wireless Android Auto and Apple CarPlay smartphone integration. The top Limited model has a 10.25-inch screen and a navigation system, but it requires you to plug in your phone to use Android and Apple apps on the car's screen. High-end Elantras also include a flashy digital gauge cluster. Still, the cabin isn't perfect. The premium design is sculpted from less-than-premium materials. That grab handle is roughly finished with sharp edges. And Hyundai also makes the screens look bigger than they are by printing an image of a clock on some shiny plastic to the left of the gauges. You aren't getting a true Mercedes at this price.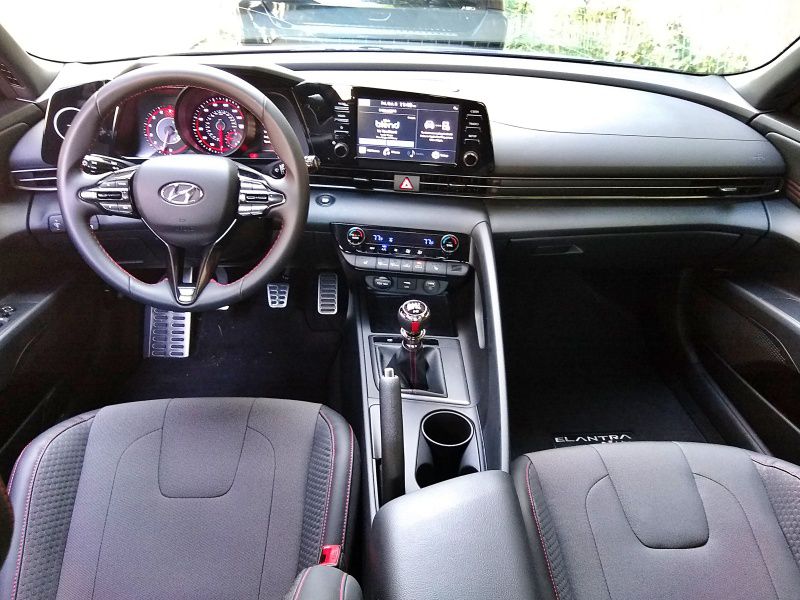 Photo by Brady Holt
Decent Space
The Elantra doesn't lead the compact-sedan class for interior space, but it holds its own. There's plenty of room in the front seats, and enough for two adults to occupy the backseat in decent comfort. Three across the back would be a pinch, and headroom and legroom aren't stretch-out spacious even for two, but the Elantra is no cramped penalty box. Trunk space is also among the best compact sedans at 14.2 cubic feet. 
Up front, you get comfortable seating regardless of the trim level you choose. Heated front seats are widely available, and the Limited uses genuine leather upholstery. The N Line has better-bolstered sport seats, but they're more notable for different upholstery than for holding you extra-securely in place. Hyundai saves the most snug-fitting support for the hardcore Elantra N.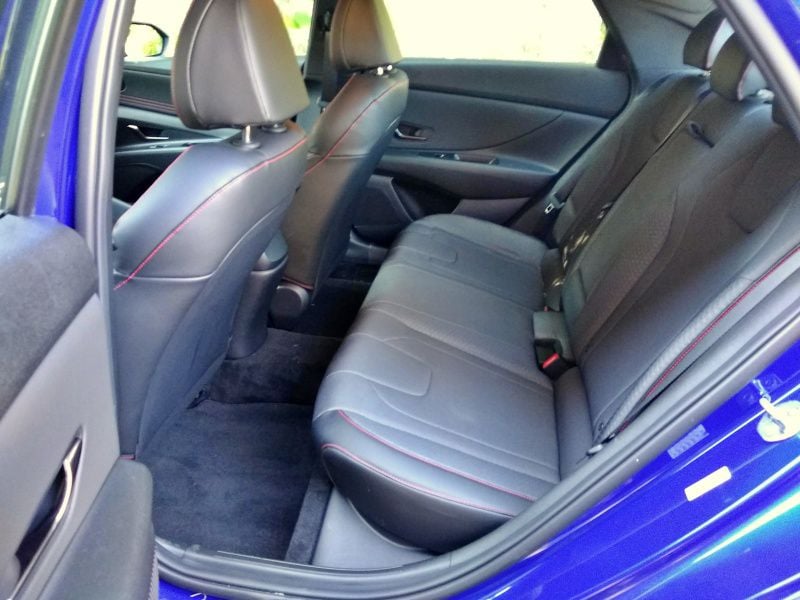 Photo by Brady Holt
Easy to Drive
Despite the new Elantra's dramatic looks, it shares plenty under the skin with the previous-generation model. And that's why it feels pretty ordinary to drive: pleasant but not exciting. The ride is generally smooth, and the steering feels natural until you push it harder; then, the vehicle's lack of sporty agility shows through. It would not thrill a driving enthusiast, but its mild-mannered competence should at least be tolerable. 
The N Line has a mildly stiffer suspension to skew the ride/handling balance a bit more toward the latter, but a weeklong test didn't reveal it to be frisky fun — more of an everyday economy car with slightly higher limits. The N is a different beast entirely, with ferocious handling yet a fairly civilized ride, thanks to a sophisticated adaptive suspension system.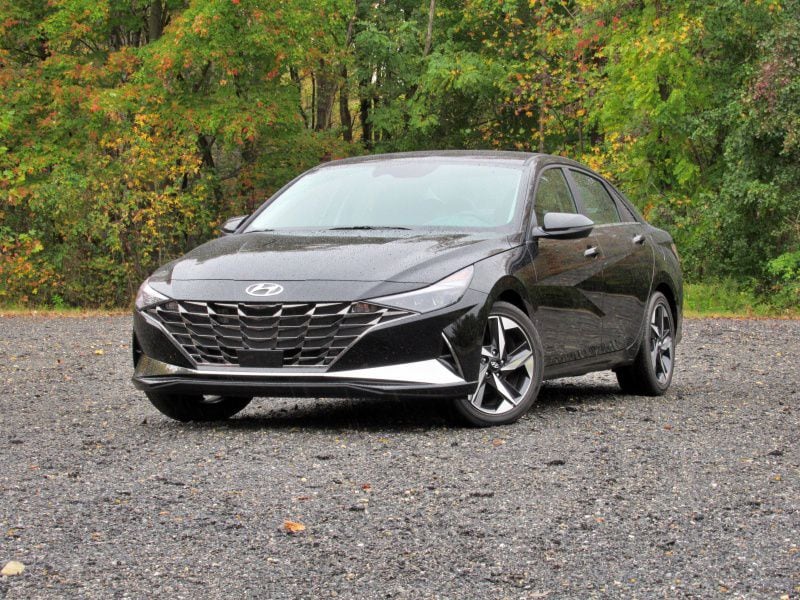 Photo by Brady Holt
Choice of Powertrains
The Elantra comes with a choice of four engines, but most people buy the base one: a 2.0-liter naturally aspirated four-cylinder that makes 147 horsepower and 132 pound-feet of torque, paired with a continuously variable automatic transmission. That's nothing amazing by the standards of the class, but the engine's whir isn't objectionable, and it's decently quick. The Elantra Hybrid makes 139 horsepower and 195 lb-ft of torque, and instrumented testing reveals no acceleration loss from the base gas-only model. 
For more zip, you can get the N Line, which is the rare affordable small car with 201 horsepower and 195 lb-ft of torque. This turbocharged 1.6-liter is zippy and smooth, delivering lively if not thrilling power. Then there's the Elantra N, whose 2.0-liter turbo makes 276 hp and 289 lb-ft of torque — a riotous amount of thrust in such a small, light sedan. Both the N Line and N are available with a choice of six-speed manual and eight-speed dual-clutch automatic transmissions. Our manual N Line didn't have the most beautifully precise shifter in automotive history, but we appreciate the chance to shift our own gears in any quick and reasonably priced car.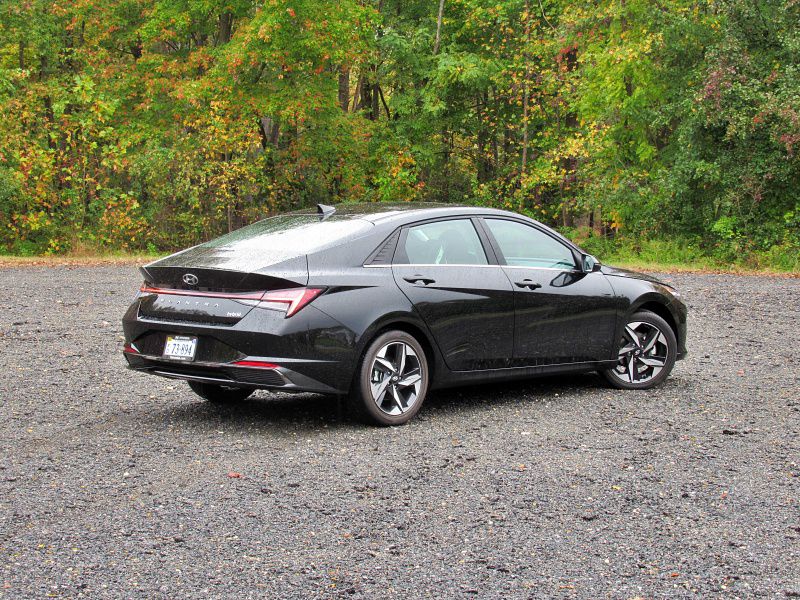 Photo by Brady Holt
Good on Gas
The Elantra gets outstanding EPA fuel economy ratings, with the base engine getting 31 mpg city, 41 mpg highway, and 35 mpg combined on most trim levels. The base SE model, weighing the least and rolling on the smallest wheels, does 2 mpg better. We averaged 37 mpg in our 2.0-liter Elantra Limited test car. The Elantra Hybrid promises a Prius-rivaling 53 mpg city, 56 mpg highway, and 54 mpg combined in base form, and 4 mpg less on the Limited model like our test car. We came up a bit short at 48 mpg, while we usually beat the Prius's EPA estimates, but 48 mpg is already a fuel-sipping performance. 
Even the N Line is economical considering its power. With an automatic transmission, it promises 28 mpg city, 36 mpg highway, and 31 mpg combined, while the manual's figures drop by about 3 mpg. We crushed that estimate to average 36 mpg in our manual test car; we've regularly beaten EPA estimates in the Hyundai 1.6-liter turbo. The Elantra N averages as little as 23 mpg in mixed driving, and this engine wants premium fuel, but fuel-savers have plenty of other Elantras to choose from. 
Photo by Brady Holt
Budget-Friendly Prices
The base 2022 Hyundai Elantra SE costs $19,950, coming standard with an automatic transmission, alloy wheels, a fully featured infotainment system, and a long list of advanced safety features. These include forward automatic emergency braking with pedestrian detection, a lane-departure warning, lane-keeping assistance, and blind-spot monitoring with a rear cross-traffic alert. For $21,200, the volume-leader SEL upgrades from 15-inch wheels to 16-inchers and a four-speaker stereo to a six-speaker while also adding automatic climate control and push-button starting. The leather-upholstered Limited comes to $25,700.
The Elantra Hybrid starts at $23,750, while the turbocharged N Line costs $24,350 — both similarly equipped to the Elantra SEL. And the all-out Elantra N, equipped roughly similarly to the base-engined Limited, starts at $31,900. All of these prices are reasonable for all the high-end content the Elantra provides, especially if you're attached to your phone. Bluetooth, wireless Android Auto and Apple CarPlay (with the 8-inch screen), a wireless smartphone charger, and even the ability to use your phone as a programmable car key are all either standard features or widely available in the Elantra lineup. Hyundai further sweetens the deal with three years of free scheduled maintenance.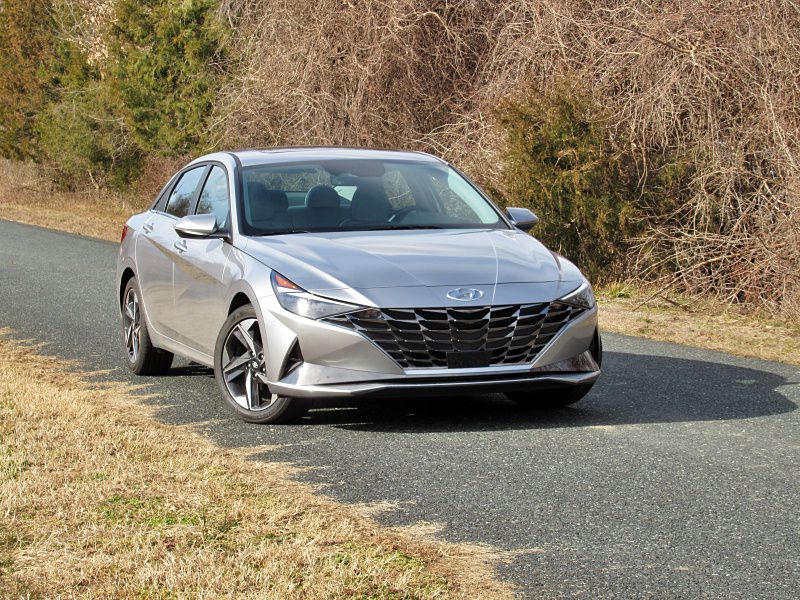 Photo by Brady Holt
Competitors to Consider
Our all-out favorite compact sedan is the redesigned 2022 Honda Civic, which punches above its price bracket for build quality, driving poise, and interior space. But it's more expensive than the Elantra, especially if you look for certain features that Honda reserves for upper trim levels yet Hyundai supplies as standard or makes widely available. And if you're drawn to the flashy Hyundai, the last-generation-looking Honda won't turn your head. 
When value is a priority, the best-selling Toyota Corolla is a top rival, combining sensible qualities like affordability, fuel efficiency, and reliability with more flash than you might expect. Its interior is better-finished than the Elantra's, too. But we preferred driving the Elantra, especially the more powerful N Line and N, and its styling is more extroverted. We see similar pros and cons while comparing the Elantra against the Nissan Sentra. Or you can get a similar driving experience to the Elantra at an even lower price, albeit with less visual spice and fewer available features, from the mechanically related Kia Forte.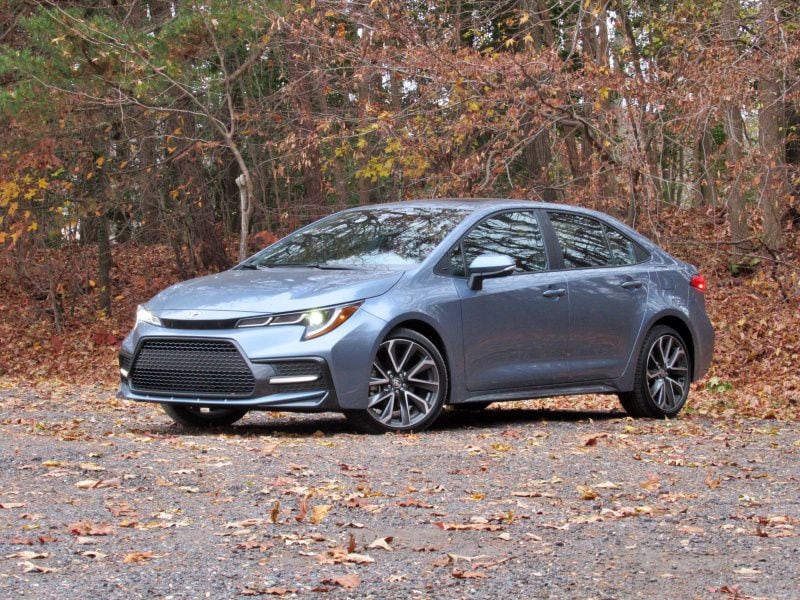 Photo by Brady Holt
Affordable Pizzazz
The Hyundai Elantra remains an affordable economy car. Under the flashy design, it harbors an ordinary driving experience (until you spring for the N model) and a basic-feeling interior. 
Still, you can buy plenty of economy cars that look just as ordinary as they feel. The Elantra's pizzazz may be skin-deep, but we think many buyers will be glad to have it at all at these prices. They'll also appreciate the car's fundamental competence and its high-end features. You'll also find few more affordable ways to get 200 horsepower than the Elantra N Line, even if it's not going to challenge a Honda Civic Si as a class-leading sports sedan. And the Elantra N means serious business for folks who like to go fast. Overall, if you keep your expectations reasonable, the Elantra is in a good position to exceed them.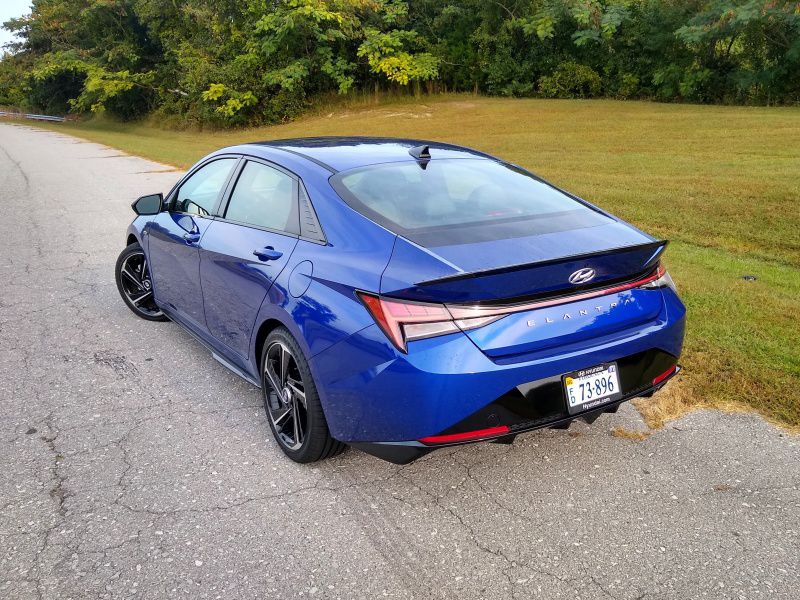 Photo by Brady Holt