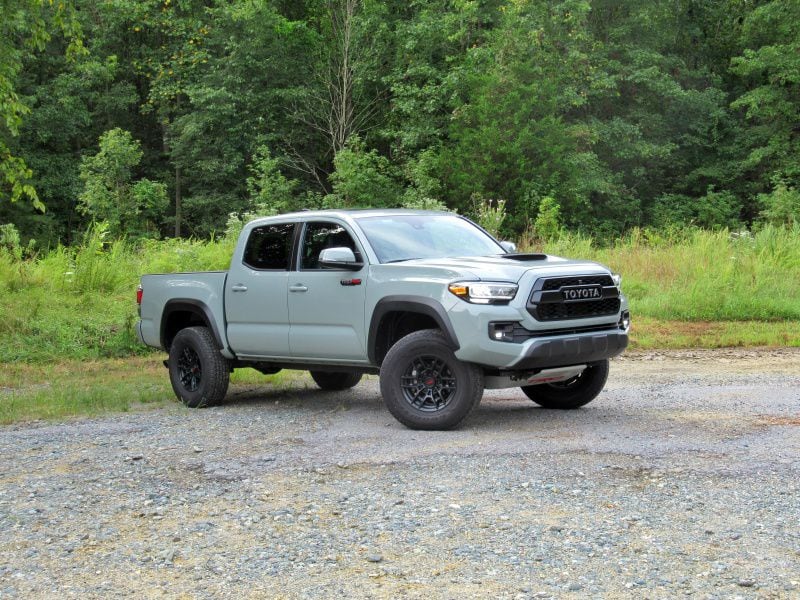 2021 Toyota Tacoma TRD Pro ・ Photo by Brady Holt
The Toyota Tacoma is America's best-selling mid-size pickup. Like generations of Tacoma before it, this Toyota promises to go anywhere, look good doing it, and chug along for decades. 
We weren't blown away by the current-generation Tacoma when it debuted in 2016, though. It lacked the roomy cabin, eager acceleration, smooth ride, and modern infotainment system we appreciate in several rival pickups. If you've felt the same way, though, it may be time to give the Tacoma another look. Since then, Toyota has added features and tweaked the vehicle to whittle away at our objections — and maybe yours, too. At the same time, the competition has only gotten stronger. Keep reading to learn about the pros and cons of the 2021 Toyota Tacoma, so you can decide whether it sounds like the right truck for you. Prices start at $26,400 and we tested a TRD Pro crew cab that hit $47,955. 
Rugged Good Looks
The Tacoma is a classically handsome truck. It's squared-off rather than gently rounded like the competing Ford Ranger and Chevrolet Colorado, yet it's tough without being over-the-top aggressive. The front end is upright, yet the grille is modestly sized compared with the grinning chrome visages on full-size pickups. Our TRD Pro test truck eliminates chrome entirely, and it also replaces the Toyota logo with the word "Toyota" on the vehicle's front and rear. As an Easter egg, "TRD" lettering hides in the passenger-side headlamp while "Pro" is printed on the driver's side. 
The Tacoma's interior continues the same design scheme. It's blocky, with more character than the Ranger or Colorado. Most materials feel solid but not luxurious; that includes our test truck's hardy-feeling leather upholstery. Only a few touches feel downright cheap — they're not great for nearly $50,000, but many buyers will prefer low-grade plastic to an overly delicate cabin anyway.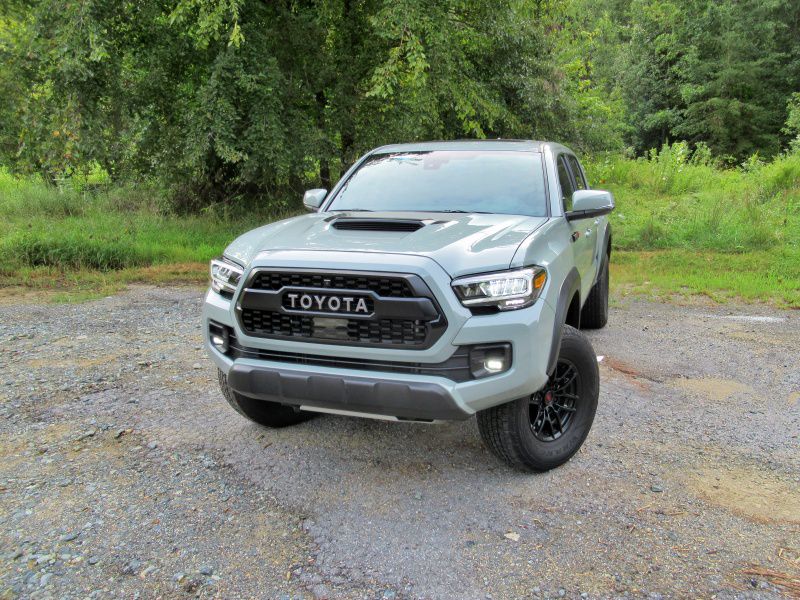 Photo by Brady Holt
Infotainment Is Catching Up
For the 2020 model year, Toyota upgraded the Tacoma's interior with new infotainment systems. Nearly all trim levels include an 8-inch touchscreen that supports Android Auto and Apple CarPlay smartphone integration, as does the base SR model's 7-inch screen. 
The system's graphics and responsiveness aren't the world's best. But this update keeps the Tacoma competitive, at least, since you can now use your phone's mobile apps like Google Maps on the truck's touchscreen. And the Tacoma's own controls are easy to use; there are plenty of buttons and knobs that let you make audio and climate adjustments without needing the touchscreen. Unless you're dedicated to a high-tech flavor, that's probably the better approach anyway.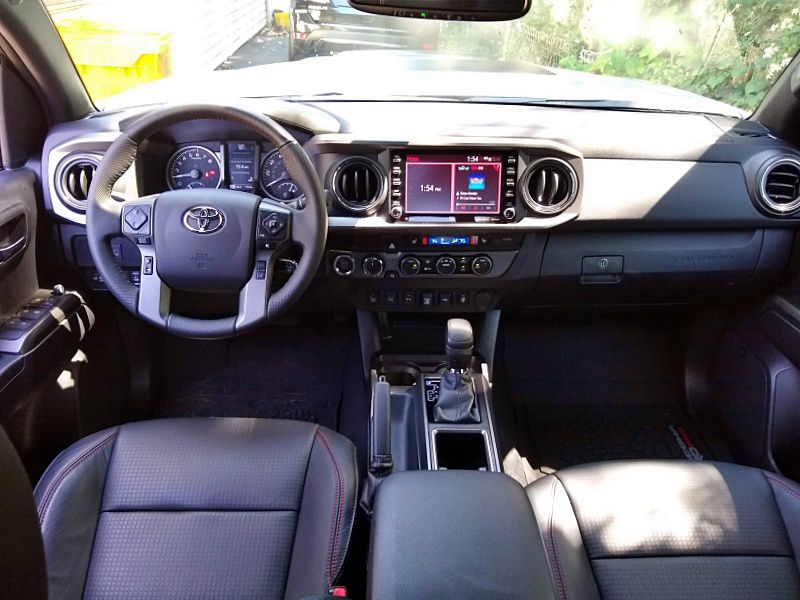 Photo by Brady Holt
Improving Comfort
Another update last year came to the Tacoma's driver's seat. At least on most trim levels, you can finally adjust it for height — the difference between this truck being usable and unusable for some drivers. A high floor and low roof mean it's extra-important to tailor the seating position, and we're grateful for this upgrade. Still, some competitors remain even more comfortable. 
The Tacoma's backseat is also a disappointment. If you're counting on a crew cab truck to serve as a family car, you'll find limited rear legroom; adults can squeeze in, but not comfortably. It's also a multistep process to turn the rear seat into a cargo hold, unlike some pickups that just let you swing the seat cushion up and away. The plus side is that the Tacoma's process yields a flat cargo floor. An extended cab model is also available with a nominal rear seat area.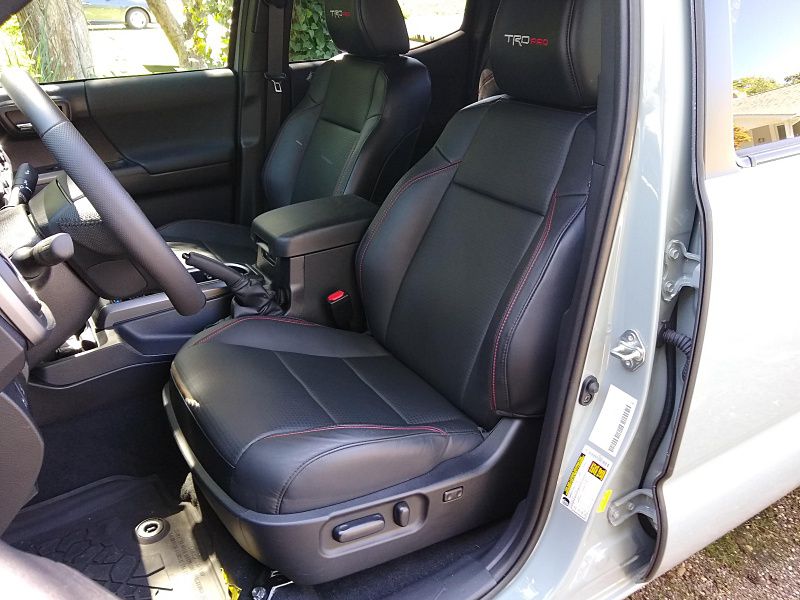 Photo by Brady Holt
Hardy Capability
The Tacoma is a pickup that's engineered for off-road use. It's ready to plow through mud and scramble over boulders. Its all-terrain features include an available skid plate, electronic locking differential, five off-road driving modes, a separate five-mode Crawl Control system that automatically accelerates and brakes the truck to get past obstacles, and Bilstein off-road shocks. Our TRD Pro test vehicle brings all the best stuff, but any four-wheel-drive Tacoma is capable. The tradeoff is that when you're on the pavement, the Tacoma has a bouncier ride and clumsier handling than several of its competitors. 
When it comes to towing and hauling, the Tacoma isn't a class standout. Maximum towing capacity is 6,800 pounds, while maximum payload capacity is 1,525 pounds. And the latter falls to just 1,155 pounds on the most popular four-wheel-drive crew cab configuration, while towing capacity dips to 6,400 pounds. The equivalent Ford Ranger can tow 7,500 pounds or hold a payload of 1,560 pounds. The Tacoma does come in a handy choice of bed sizes; while several crew cab mid-size pickups have only 5-foot beds, Toyota also offers a 6.1-foot bed.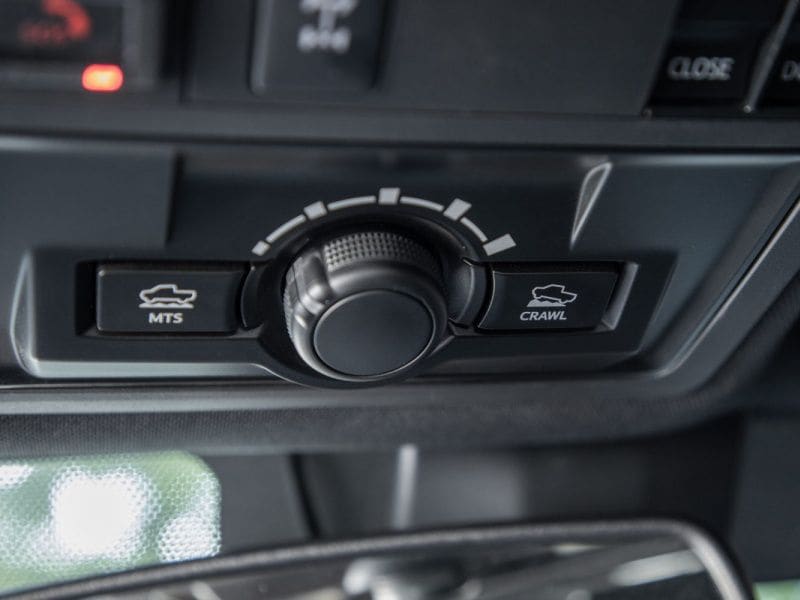 Photo by Toyota
Choice of Engines
The Tacoma's base engine is a 2.7-liter four-cylinder that makes a meager 159 horsepower. That's by far the lowest in its class. If you're a security guard driving around a shopping center parking lot, it'll be fine. Otherwise, unless you're on a super-tight budget or you embrace the experience of a bare-bones slow truck, we recommend upgrading to the optional 278-horsepower 3.5-liter V6. 
Even the V6 feels sluggish, and the six-speed automatic transmission doesn't help; most competitors have more power and more advanced transmissions. Toyota did add more sound deadening to the Tacoma's interior, which keeps some of the engine's roar at bay. The two engines get nearly identical EPA ratings: 21 mpg in mixed driving with two-wheel drive and 20 mpg with four-wheel drive on most trim levels. The V6 offers a six-speed manual on certain trim levels, knocking mileage to 18 mpg. We averaged 19 mpg in our V6 4WD automatic test vehicle, a little below the EPA estimate. These figures are on par with competing trucks but nothing special — especially considering that competitors are faster, too.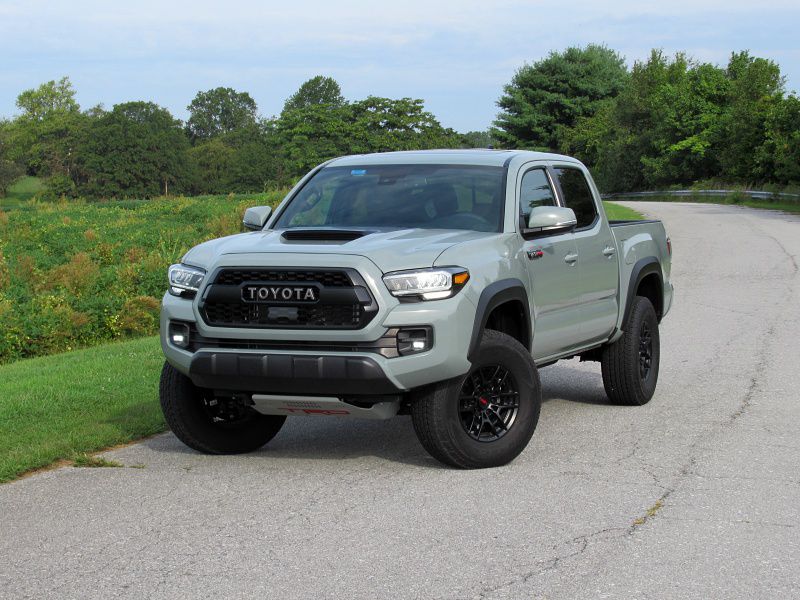 Photo by Brady Holt
Advanced Safety Technology
The Tacoma comes standard with a comprehensive suite of advanced safety features. Even the base model includes automatic emergency braking, lane-keep assist, adaptive cruise control, and more. Blind-spot monitoring and a rear cross-traffic alert are widely available, too. That's a sharp contrast with the competition; while automatic emergency braking is now standard on several mid-size pickups, only the Honda Ridgeline includes the rest at no extra cost — and that's in part because the Honda has a much higher starting price. Upper-trim Tacomas are also available with a handy surround-view camera, useful for avoiding collisions with everything from boulders to parked cars. 
If these driver aids fail to prevent a collision, the Tacoma earned four out of five stars in National Highway Traffic Safety Administration crash testing and earned the top Good score in most crash tests conducted by the Insurance Institute for Highway Safety. Only the Ridgeline does better in this class.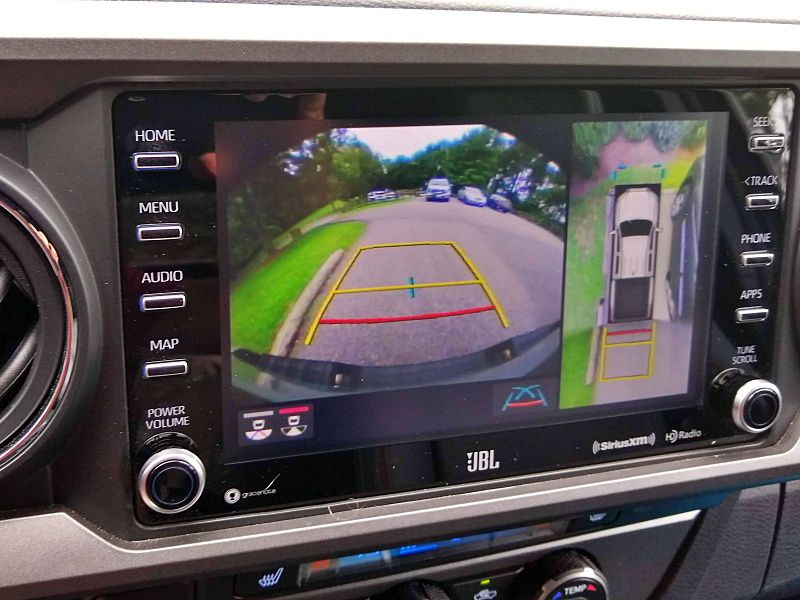 Photo by Brady Holt
Expensive New or Used
The Tacoma starts at $26,400 for a base model with a four-cylinder engine, two-wheel drive, and an extended cab. The cheapest Tacoma with a V6 engine, automatic transmission, four-wheel drive, and a crew cab runs $33,610 — still for the base SR trim level. We're not talking about a stripped-down truck with vinyl seats and crank windows, but you do still need to twist your key in the door lock and you can't raise or lower the driver's seat. As we mentioned, our test vehicle rose to nearly $50,000, which is a lot of money for a 5-foot bed and a barely usable rear seat. 
Where the Tacoma claws back is with its outstanding depreciation. Toyota pickups have historically remained valuable as used vehicles, and the current Tacoma is projected to do likewise. A big part of that is its reputation for unkillable reliability; while reliability studies haven't found the current Tacoma to be flawless, the big question is whether it will still be running in 20 years without major repairs. It'll take 20 years to know for sure, but lots of people are happy to bet on it. That's great news for you whenever you sell your Tacoma.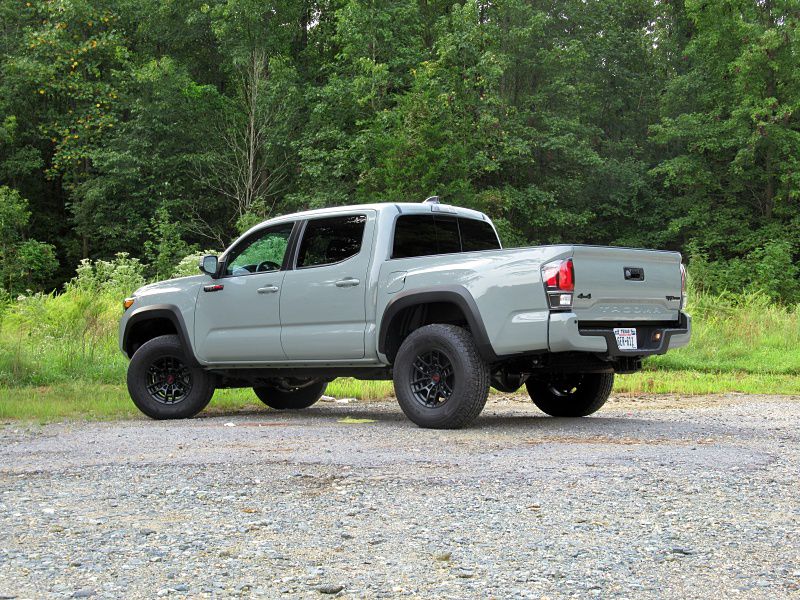 Photo by Brady Holt
Imperfect Competitors
The Tacoma's closest rival is the 2022 Nissan Frontier, freshly redesigned for the first time since 2005. The new Frontier has a similar go-anywhere vibe and styling to match, while leapfrogging the Tacoma's infotainment. But Toyota still has more standard safety gear, more available off-roading features, and the option to choose a base four-cylinder engine. 
Meanwhile, the Ford Ranger brings a turbocharged four-cylinder engine with lively acceleration and excellent towing and payload capacities, yet relatively thrifty fuel economy. And it has a roomier cabin than the Tacoma. However, the Ranger has less character than the tougher-looking Toyota, and its best off-roading features come in pricey dealer-installed packages. The Chevrolet Colorado and GMC Canyon offer outstanding on-road ride, handling, and acceleration without sacrificing power, capability, or interior space, but they have few advanced safety features. The Honda Ridgeline is an eminently sensible truck; it's roomy, smooth, quiet, agile, and safe. But even after an update this year, it won't appeal to folks who seek out a rough-and-tumble character. To the other extreme, the Jeep Gladiator is all about play — you can take off its roof and doors — yet it's also roomier and quicker than the Tacoma. It's even more expensive, though.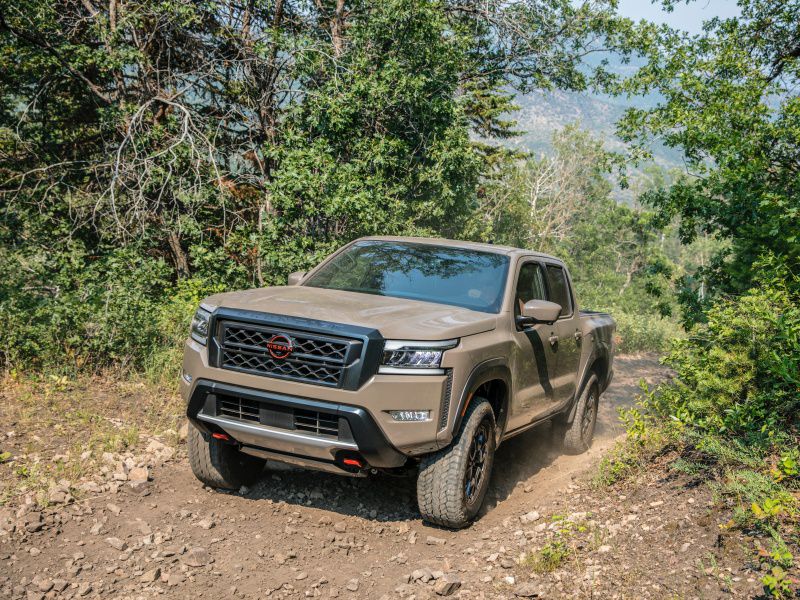 Photo by Nissan
Improvements You Shouldn't Overlook
The Tacoma is an imperfect truck. Its on-road driving manners didn't impress us — it's slow, bouncy, and not very agile. It trails the class norm whether you're hauling passengers or cargo. And it gets expensive fast. 
Still, the Tacoma competes in a field of imperfect competitors. What's more, it's improving. Since we first tested this Tacoma generation back in 2016, the truck has gotten more comfortable, quieter, safer, and more technologically advanced. And it brings those improvements without sacrificing the hardy character — both in form and in function — that folks keep flocking to. We'd still encourage you to see how its competitors fit you as well, but if you've rejected the Tacoma in the past, give it another try.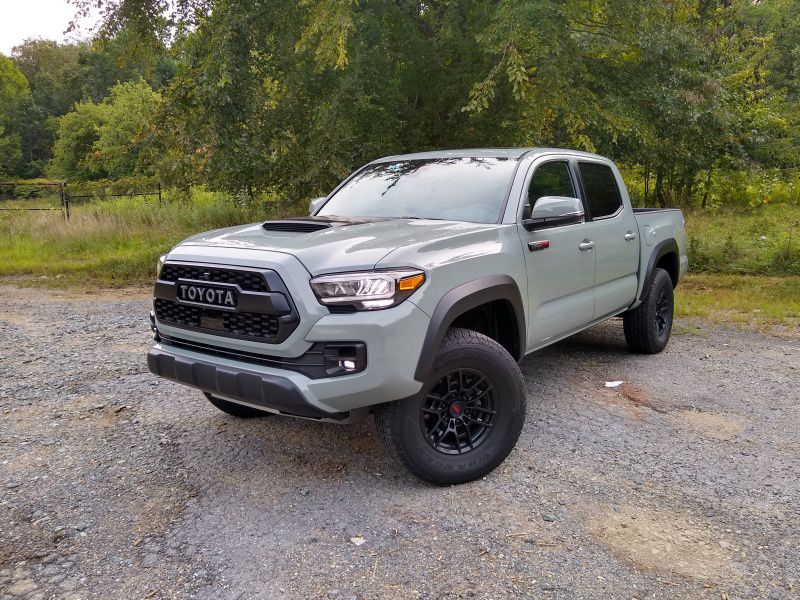 Photo by Brady Holt