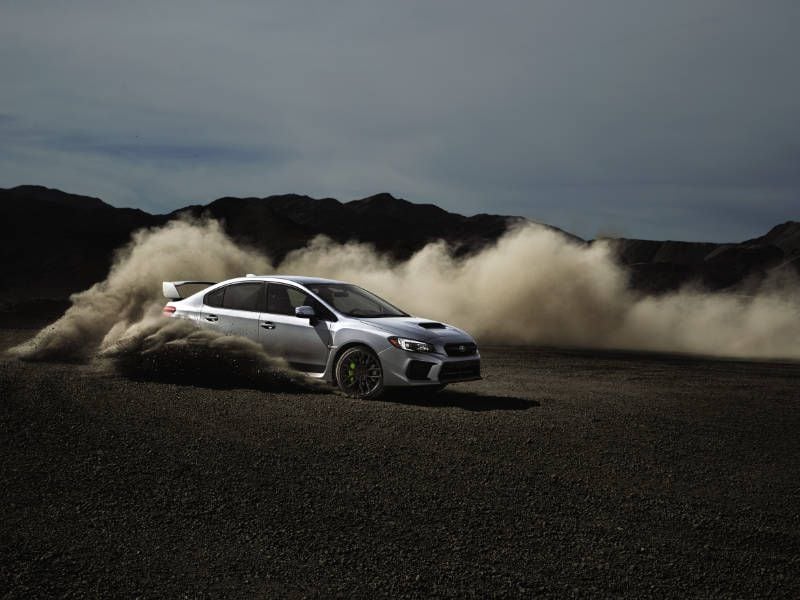 2018 Subaru WRX STI gravel hero ・ Photo by Subaru
In 2018, Subaru of America is commemorating its 50th anniversary. And to celebrate the big birthday, the company has improved its high-performance flagship, the 2018 Subaru WRX STI sedan. The result is the quickest, fastest, best handling, best stopping and most powerful Subaru of all time.
What started with the small, underpowered and unpopular Subaru 360 in 1968 has grown into one of the most successful automotive brands in America. Although it's known for safe, durable vehicles with standard all-wheel drive, Subaru also has a rich history of performance models that began with the XT coupe in the mid-1980s and continued with the 1991 SVX. The turbocharged WRX cemented the company's performance heritage in 2002, and the WRX STI arrived two years later with 300 horsepower and a massive rear spoiler to become an instant high-performance legend. 
Let's take a closer look at the 2018 Subaru WRX STI.
No Automatic Transmission
STI stands for Subaru Tecnica International. Based in Japan, STI is Subaru's in-house tuner or hot rod shop. Since the late 1980s, STI's engineers have been turning Subaru's mainstream models into some of the fastest cars on the road, adding sport-tuned suspensions, bigger brakes and, of course, more horsepower. Although only the WRX STI has been sold in America, Subaru has also created STI versions of the Legacy sedan and Forester SUV.
Now in its third generation, the WRX STI remains faithful to the model's original formula. The 2018 WRX STI is still based on the Impreza sedan, it's still all-wheel drive, and it's still powered by a turbocharged horizontally opposed four-cylinder engine. Also, a six-speed manual remains its only transmission — making the STI one of the few remaining cars on the market without an available automatic. This three-pedal-only approach has always given the car plenty of street cred with the Fast and Furious set. If you want an automatic, you have to step down to the less powerful WRX.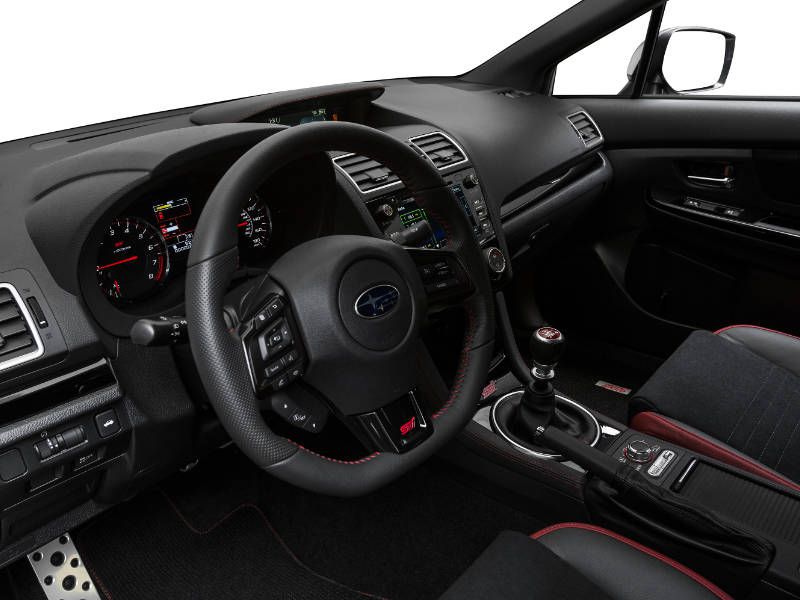 Photo by Subaru
Three Trim Levels
Built in Japan, the 2018 Subaru WRX STI is available in three trim levels: base, Limited and the new Type RA. Each is powered by a 2.5-liter four-cylinder engine that makes 305 hp in the base and Limited models and 310 hp in the Type RA. Prices start at $36,955, including $860 for destination and delivery. The base WRX STI, like our test vehicle, represents an incredible value with standard limited slip differentials, dual-zone climate control, a rear-view camera, and 19-inch wheels and summer performance tires, which are new for 2018.
Subaru will only build 500 examples of the track- ready Type RA, which is the baddest WRX ever. All will be blue with gold 19-inch BBS wheels, Subaru's celebrated color scheme from its days dominating the World Rally Championship. The Type RA also gets a modified suspension with Bilstein dampers, a massive carbon fiber rear spoiler and a lighter carbon fiber roof panel to lower the sedan's center of gravity.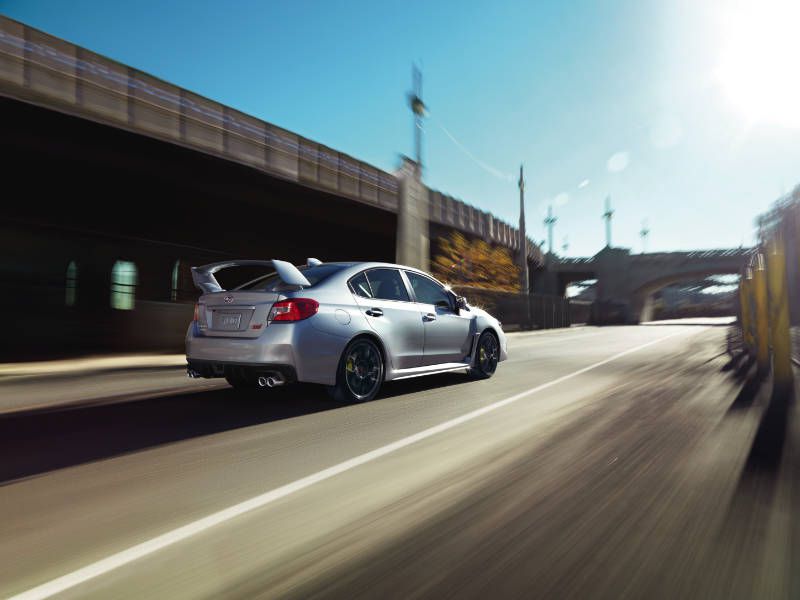 Photo by Subaru
Drives Like a Rally Car
Few cars are this fun to drive. The 2018 WRX STI is quick, sporty and responsive. It's comfortable enough for the daily grind, but this is a raw machine for people that want to hear an internal combustion engine and feel the surface of the road. In a world of homogenized hot rods that have been sanitized for your protection, this Subaru is about as visceral as you can get — especially for the price. 
Steering effort is high, but there's plenty of feel, and the ratio is very quick. The all-wheel drive system — which has been improved for 2018, along with the new larger 19-inch wheels and tires — provides an astonishing amount of grip. It's fun to drop the hammer and drive around guys in their German super sedans.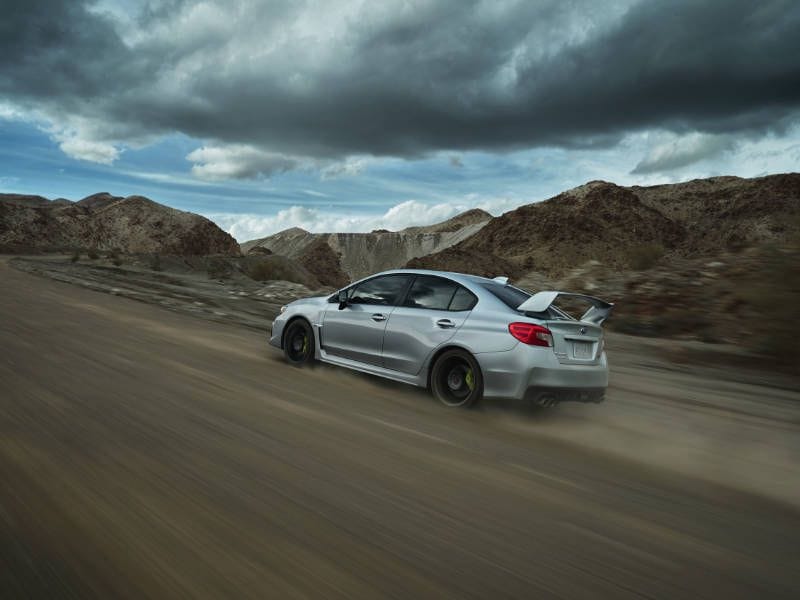 Photo by Subaru
Unique Engine
Nothing sounds like the signature thrum of Subaru's turbocharged four-cylinder engine. It makes plenty of power and likes to rev out to its 6,700 rpm redline. Launch it hard and bang through the tightly spaced gears of the six-speed manual, and the STI will run from 0-60 mph in about 4.7 seconds.
Unfortunately, it's quite thirsty. The STI is rated for just 17 mpg city and 22 mpg highway, which is worse than a V8-powered Chevy Camaro SS. Plus the Subaru's turbo four-cylinder requires premium fuel. I averaged 16 mpg during a week of mixed driving.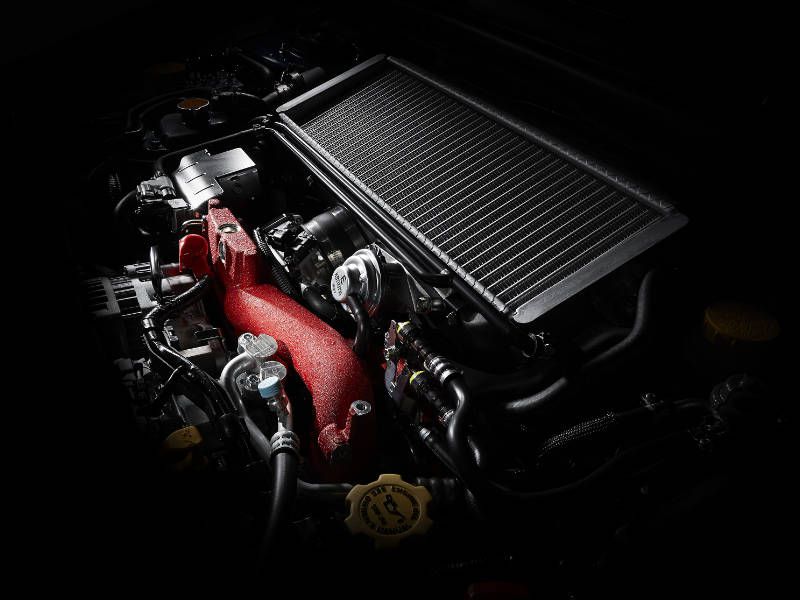 Well Appointed Interior
For 2018 Subaru has upgraded the STI's interior materials and the engineers have added insulation to keep more noise from entering the car. The STI seats five comfortably, and its rear seat legroom is abundant. Our test car's optional Recaro front sport seats were heated and exceedingly comfortable. They're aggressively bolstered and hold you in place during hard cornering, but they don't squeeze you unnecessarily.
Visibility is excellent, and it's fun to look out over the STI's big hood scoop. All the controls are well placed, simple, attractive and easy to use. I like the STI's flat-bottom steering wheel, its red seat belts, and the chrome trim on the window and climate controls. Usually, we'd call the Subaru's old-school hand-lever-operated parking brake a miscue, but not in the STI. In this car it's perfect.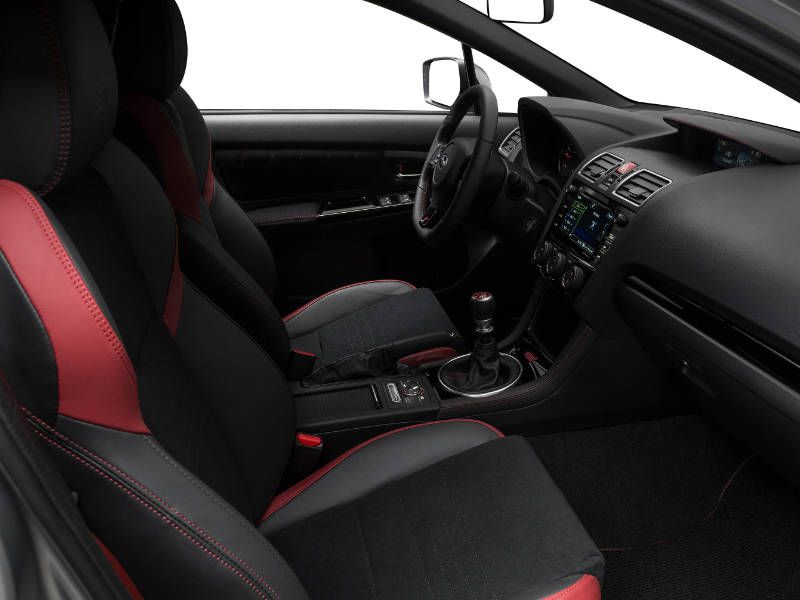 Photo by Subaru
Storage Capacity
Trunk space is respectable for a sedan this size. The 2018 Subaru WRX STI offers 12.0 cubic feet of cargo volume, which is exactly the same amount available in the trunk of a BMW M3. For more, a 60/40 split-folding rear seat is standard.
Storage inside the Subaru's cabin is not quite as generous. The center console bin is shallow and the door pockets are small, although they do have slots for water bottles. There are also seatback pockets and a sizable shelf forward of the shifter. The two front-seat cupholders are large, and they're well placed so drinks don't interfere with the shifter or any of the Subaru's switchgear. There are also two rear cupholders in the fold-down armrest.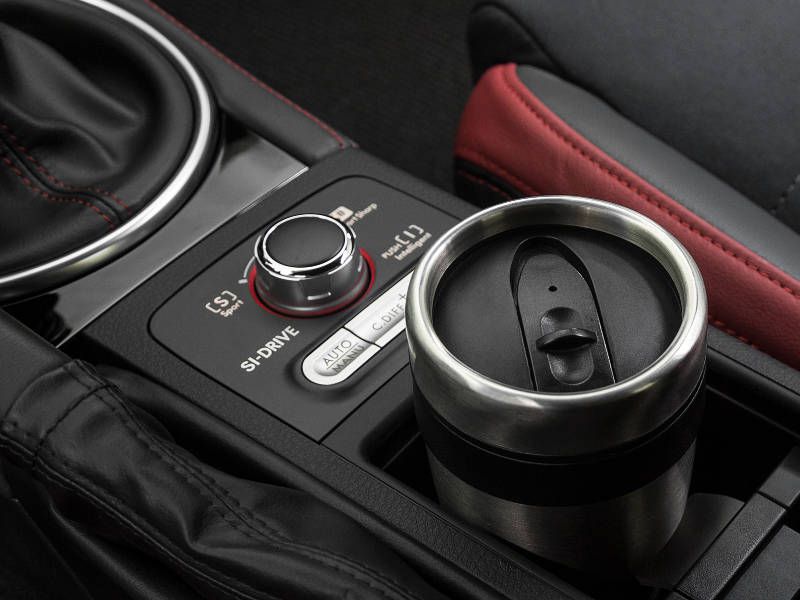 Photo by Subaru
Tons of Tech
Bluetooth is standard on every WRX STI, as is a large 7.0-inch touchscreen. Subaru's Starlink infotainment system is easily navigated, and it responds quickly. The system is compatible with Apple CarPlay or Android Auto, but onboard Wi-Fi is not available. A well-designed navigation system is standard on the WRX STI Limited.
Also standard is a second 5.9-inch color display that sits above the center stack. It's manipulated by a small toggle switch between the STI's air conditioning vents. This is where you receive all of your fuel economy information, your climate control settings like temperature, and some engine data like turbo boost pressure. A third LCD screen sits between the STI's analog speedometer and tach with a redundant digital speedometer, your gear selection and your settings for the sedan's adjustable all-wheel drive system.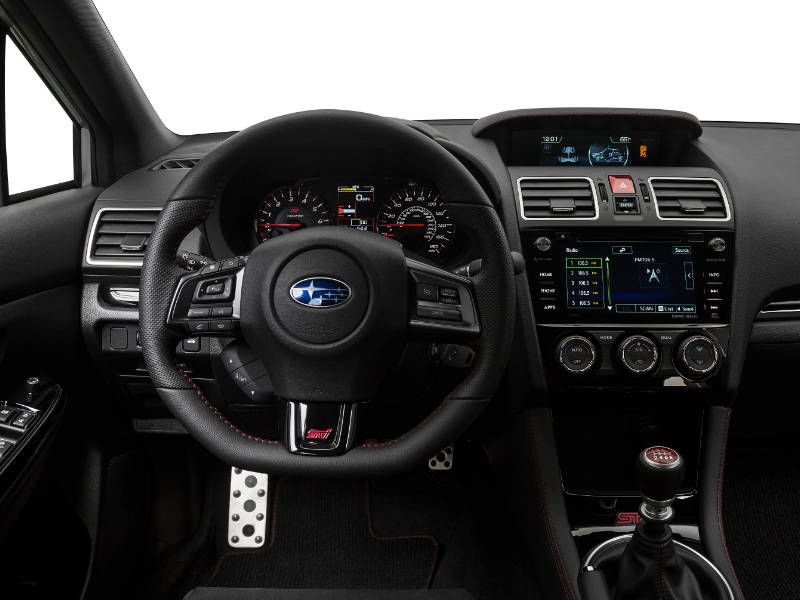 Photo by Subaru
Safety Systems
Subaru does offer tech-based safety systems on the 2018 WRX STI, but not as many as you're probably expecting. Standard on the WRX STI Limited is blind spot detection and rear cross-traffic alert. This system gives you a visual indicator if it senses a vehicle in your blind spot and warns you when traffic approaches from the side as you're backing up.
Surprisingly, Subaru EyeSight, the company's award-winning driver assist safety system, is not available on the WRX STI. EyeSight includes lane keep assist, active cruise control and a pre-collision system that warns if a vehicle or pedestrian is in your path and will automatically begin braking for you to avoid a potential accident. This system is offered on many other Subaru models, including the less expensive WRX.
Photo by Subaru
Beware the Big Spoiler
I know what you're thinking: Do you have to get the STI's big rear spoiler? And the answer is no; you don't. Although the ample appendage is functional — Subaru says it adds downforce and improves stability — if you're just too old for such a doodad, an optional "low profile trunk spoiler" is available on the WRX STI Limited.
For 2018 the STI has gotten a mild but effective facelift with a larger grille, larger air intakes and redesigned LED headlamps that swivel in turns. It all looks right and complements the STI's flared fenders, defused rear bumper and four large exhaust pipes. Other new visual candy for 2018 includes Subaru's new black 19-inch wheels, which set off our white test vehicle. The STI's Brembo brakes with cross-drilled rotors and lime green calipers also dialed up the sexy.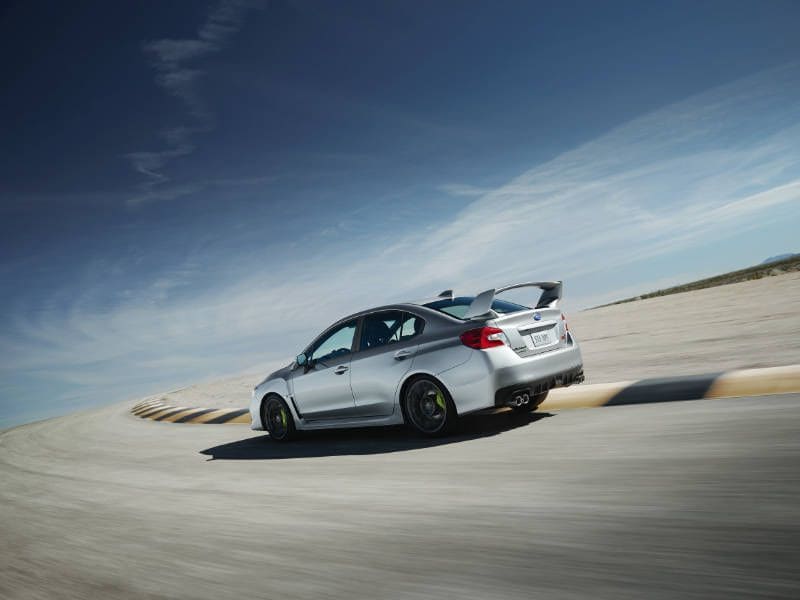 Photo by Subaru
Final Thoughts
For many years the STI's main rival was the Mitsubishi Lancer Evolution, but that model's demise in 2016 has left the Subaru without a favorite sparring partner. Today the WRX STI competes with the Ford Focus RS and Volkswagen Golf R as well as more expensive BMW M3 and Audi S3.
If you're looking for an engaging drive with room for five, the new and improved 2018 Subaru WRX STI is a very desirable choice. It's comfortable, it performs incredibly well, and it represents a high value. This car will make you smile.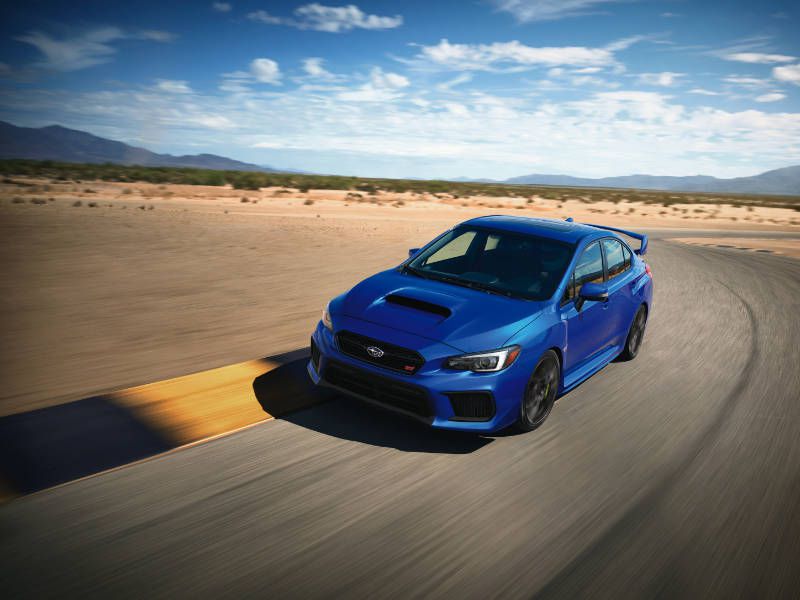 Photo by Subaru