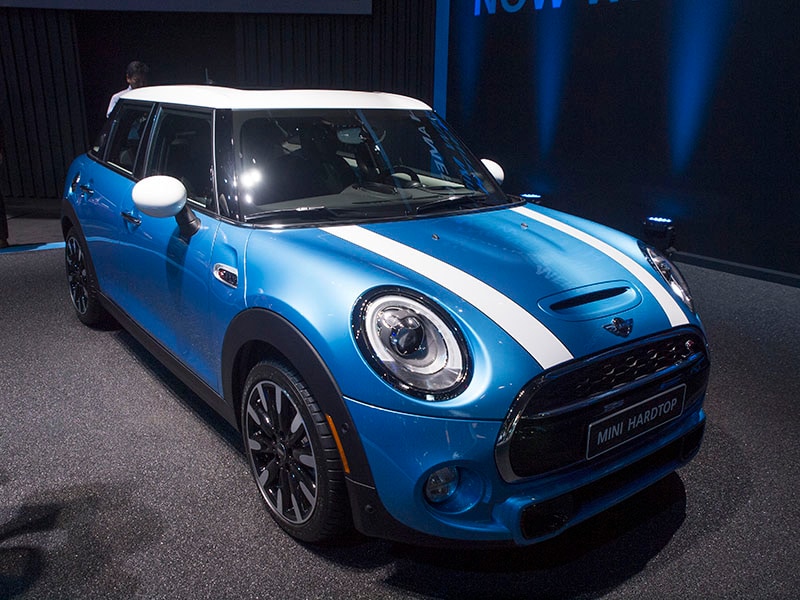 2014 LA Auto Show blue mini
If you are an independent person who doesn't care what other people think, and who would rather have things done their own way, the MINI Yours program might be just for you.
When the first Mini was launched in 1959, it quickly set itself apart. Its impressive stability and clever use of space made it a practical mode of transport, but its unconventional concept also made it an expression of the driver's personal style. For added flair, special one-off models were created for celebrity clients, and there were even versions of the Mini were created by fashion designers Mary Quant and Paul Smith. When you purchase a new MINI there are many options that allow you to configure your vehicle for your needs, with a wide range of exterior paint finishes, graphic elements, wheel selections, upholstery options, and interior color schemes. To personalize your MINI a bit more you can add mirror caps, additional headlamps, and a special roof decor.
The MINI Yours program is however the most exclusive way to even further customize your MINI in order to make it reflect your own style. You can choose from one of a selection of unusual (yet sophisticated) exterior paint finishes and choose your favorite from a choice of elegant alloy wheels. MINI Yours interior options include the finest leather, top quality wood, and precision workmanship. Specially selected leather for the seats, instrument panel, and steering wheel as well as genuine wood interior services and other high end materials are used.
Depending on the model, interior styles include MINI Yours Dark Cottonwood, MINI Yours Fibre Alloy, and MINI Yours Off-White. Exclusively designed seats such as the MINI Yours Leather Lounge style can be fitted, the MINI Yours leather sports steering wheel can be had in nappa leather with aluminium-colored contrasting stitching, and the instrument panel can also be fully covered in nappa leather.
The MINI Yours program reaches its pinnacle with the MINI INSPIRED BY GOODWOOD, a special limited edition version of the MINI 3 door. This model was produced under the leadership of the design team from Rolls-Royce Motor Cars in cooperation with the MINI design team and features a perfectly blanaced combination of top-quality interior and exterior features.
MINI Yours is available on new MINI models including the MINI Hardtop 2 door, MINI Hardtop 4 door, MINI Convertible, MINI Coupé, and MINI Roadster models.